Right after Valentina and Diane, I would like to tell you something on Bevin and Steven's symbolic wedding in Villa Gippini, too.
As floral designer my task was taking care about floral arrangements for this lovely event my colleague and friend Valentina organized.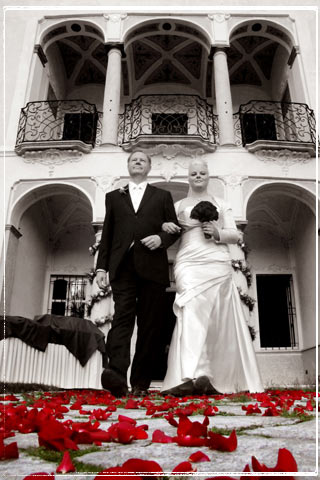 I personally thank Italian Lakes Wedding wedding planner Valentina, Diego and Estella photographers and San Rocco Hotel for the stunning floral images they put on disposal.
I never met Bevin before her wedding.
All we did was dealing via email. Bevin wrote me from United States telling here wishes.
I got her back trying to advice at my best always keeping in mind her needs.
Bevin decided for a simple but elegant arrangement which was perfect for such an intimate and cosy wedding.
At the very beginning we thought that tulips were the right choice. Tulips are very seasonal in April.
At the end her big love for roses came out so we decided to go with them.
So it was all about Red Roses! Red was Bevin and Steven's theme just like LOVE.
Red was the color of Bevin's bouquet. I created it with Red Berlin roses. This kind of roses come with blooms. They are round shaped petals. But most of all they are deep red.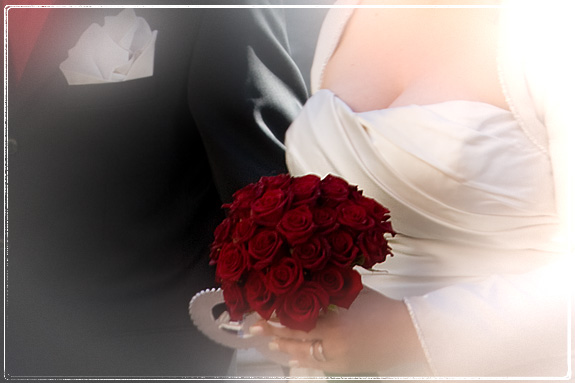 Bevin wanted a Nosegay style bouquet without any greenery where Red Berlin roses were the main character.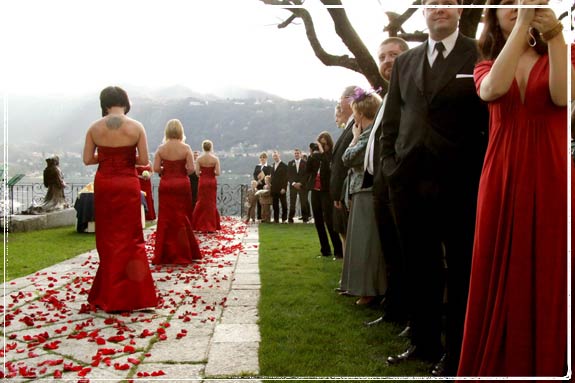 Red were centerpieces for the reception to Hotel San Rocco. I used Red Berlin roses too.
The shape was rounded but a littel bit wider than the bouquet. In order to obtain this effect I used acid green Alchemilla and Chamaelacium greenery. All was laid down on a base of deep green ferns.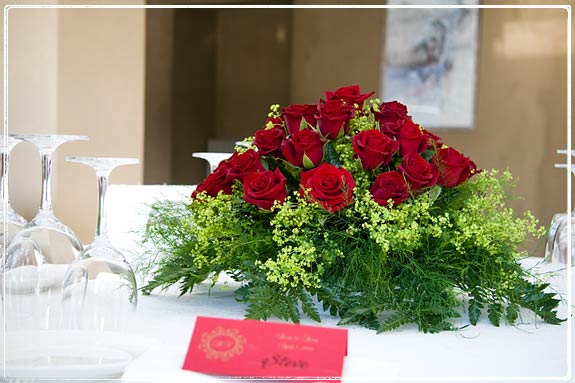 The only different color I used was white.
I used Iceberg white roses for the four bridesmaids' bouquets, too. I loved Bevin's choice to create a lovely contrast between bouquets and beautiful cherry red dress.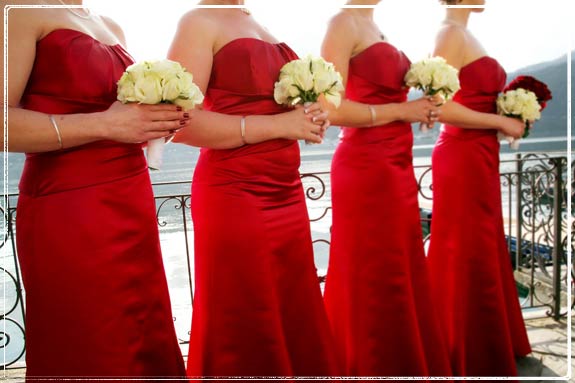 I used it to decorate columns at Villa Gippini, too. I realized it with long festoons of Ruscus embellished Iceberg white roses and Gypsophilia.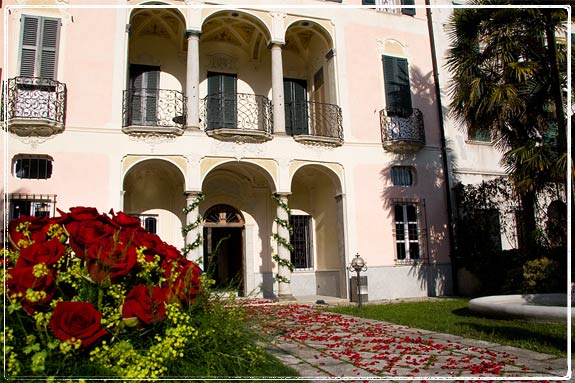 As floral designer I think that sometimes a simple and sober flower arrangement could give even a better final results, just like it was for Bevin and Steven's wedding. What do you think about that?
All Images © Estella & Diego, Photo27.com – Milan.
Monika Andenmatten is La Piccola Selva's floral designer.
Based in lake Orta, has worked with brides for over 20 years to create floral arrangements for weddings in the Italian Lakes district.

For more information about wedding flowers arrangements on Lake Orta please contact us.