If you are planning your wedding on Italian Lakes, Villa Gippini could represent the ideal venue to plan a wonderful cocktail party on Orta Lakeshore.
It was built during 1700 near Hotel San Rocco that now owns it. Together San Rocco hotel and Villa Gippini are one of the best luxury solution for a wedding party.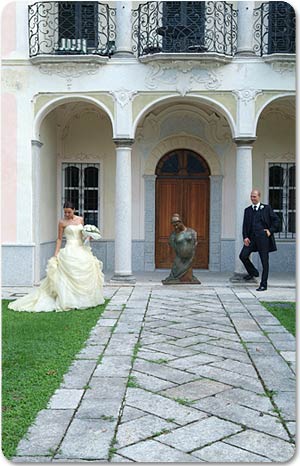 Hotel San Rocco is a special and charming place. For more than 150 years it has been a convent. This happened up to the end of 60s when it was converted in the main building of the hotel.
Villa Gippini was added after some years. The baroque building is rich precious handcrafts, stuccoes and frescoes. Its garden is just a romantic corner overlooking the lake with a precious little fountain and pleasant shadowy trees.
Usually photographers love to shoot some pictures to bridegrooms with the unforgettable panorama on St. Julius Island on the back.
Another important fact is that Villa Gippini is located at just few steps from Villa Bossi, Orta San Giulio town hall where civil bendings are held.

The villa is easily reachable by feet from Maria Assunta Church in Orta or Orta Sacro Monte one too where religious bendings are held.
History, nature, idyllic scenario and Orta Lake: stunning features that make Villa Gippini one of the best venues in Lake District.
Consider that the garden could be rented just for a cocktail party or a pleasant aperitif, a wonderful place to celebrate your big day together with relatives and friends.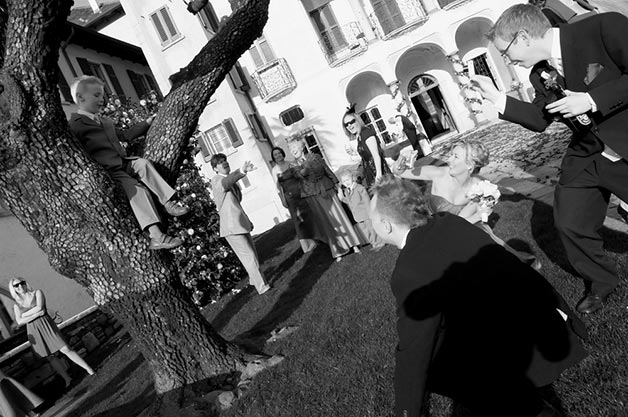 A cocktail party wedding is a classy, low-stress, lower cost option to a full-blown reception. One of the key elements that make them so appealing is that they are shorter in length and much more relaxed than traditional sit down dinner receptions. Often they are a good way for people to get acquainted, since guests often stand and mingle with each other.
A final note for your wedding cocktail party at Villa Gippini: hiring a event/wedding coordinator is the simplest way to avoid mishaps, and to take the pressure off of the bride and groom on your big day.
They also are good insurance against last minute problems that inevitably pop up!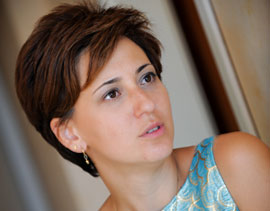 My name is
Valentina
and I work as wedding coordinator on
Lake Orta
and
Lake Maggiore
.
Before being a wedding planner and coordinator I worked for an American company planning events. I turned into wedding planning for SposiamoVi group, more than 5 years ago. Since Italian Lakes Wedding was founded I work with them to make bride and groom's dreams come true on this wonderful Lakes of North West Italy and Piemonte region.
l love creating with my couples the perfect event for them following their wishes and needs, helping to find the best solution for their ideas and budget.
I like meeting people talking with them and know more about their cultures and traditions. I do like sharing Italian customs with them and working in team with couples to let them experience a real and dreamy Italian wedding!
I will be pleased to guide couples along lovely traditional and pedestrian roads of Orta village discovering the beauty of this romantic Lake between villas, traditional restaurants wonderful churches and enchanting St. Julius Island.
I will be happy to let couples discover bigger and charming Lake Maggiore with its Borromeo Islands, wonderful hotels and villas overlooking the waters.
I'm sure you would be amazed by the beauty of these special corners of Italy so I'm simply wait for you for a lovely experience to create and live together.
For any information about wedding on Lake Orta CONTACT ME