Today we would like to tell you about a very special event Italian Lakes Wedding Team followed:Bevin and Steven Wedding to Villa Gippini in Orta San Giulio – Lake Orta.
A special event for so many reasons. One above all: symbolic ceremony was arranged just on the lake shores with evocative St. Julius island in the background.
Let's go through ever single detail of it!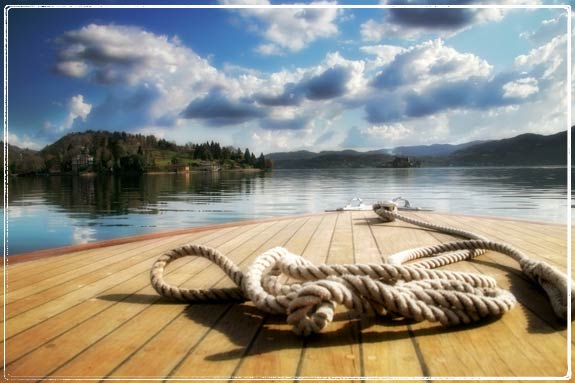 Special One: Lake Orta as you've never seen before!
it was a wonderful Spring sunny day. Sky was clear with small clouds. Lake water was completely transparent and mountains were green after a long winter.
This was the great scenery for Bevin and Steven's wedding.
Just the right day to promote this lake!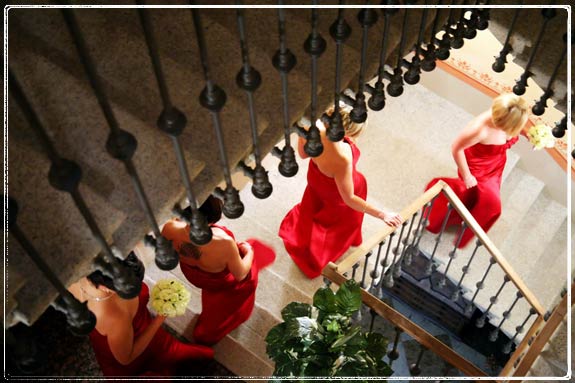 Special Two: Diego and Estella photographs.
Diego and Estella are two creative and state of the art photographers!
We decided to put them as "Special Event" of the day because their shots were simply great. Let's have a look to the PHOTO GALLERY with the most beautiful Diego and Estella pictures of Bevin and Steven's wedding.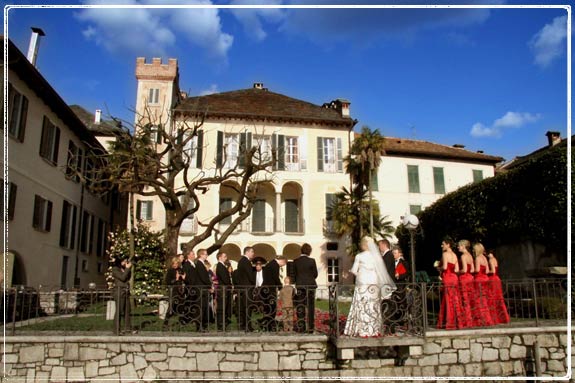 Special Three: Villa Gippini, the most exclusive venue on Lake Orta.
Villa Gippini is an ancient villa date back to 1500 located just on the lake shores.
It was built in the medieval center of Orta San Giulio.
Nowadays Hotel San Rocco is the owner of the villa and it rarely allows its utilization for special events, like Bevin and Steven's wedding.
Villa Gippini is a private venue which not open to public. It created a very intimate atmosphere for the wedding.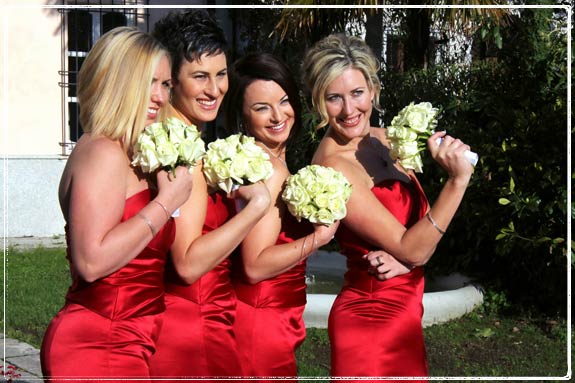 Special Four: Bevin's bridesmaids.
They were all in a elegant but sexy cherry red dress.
The four bridesmaids were all so friendly and smiling. They were able to add a touch of glamour and real fun to the ceremony that sometimes could seem even too serious.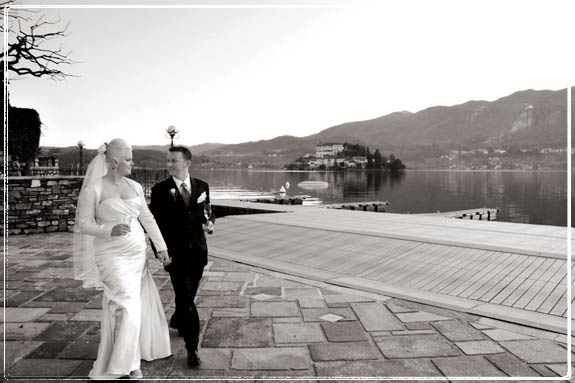 Last but not least: Bevin and Steven!
They were the real main characters of the day!
Bevin is a lovely and friendly Californian girl and Steven a shy and brilliant Irish guy.
They decided to get married in Orta without coming over before. They just fell in love with the beauty of this place looking at the images they saw and stories they read.
When they arrived here they discover something even better they could even though.
They decided for a small party wedding but it was really fun…they got style!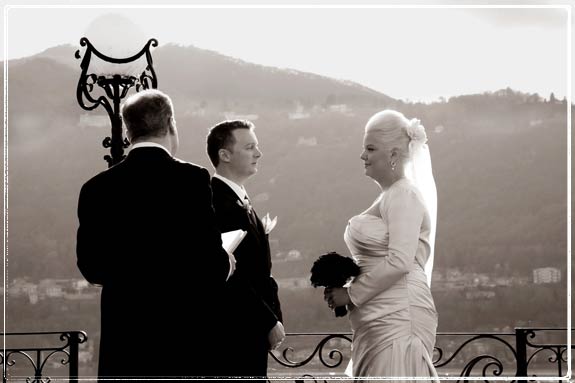 Symbolic ceremony was conducted by Giuseppe Rossi and Diane Wheeler celebrants.
Floral arrangements were created by Monika Andenmatten. They will post soon their thoughts on this wedding too.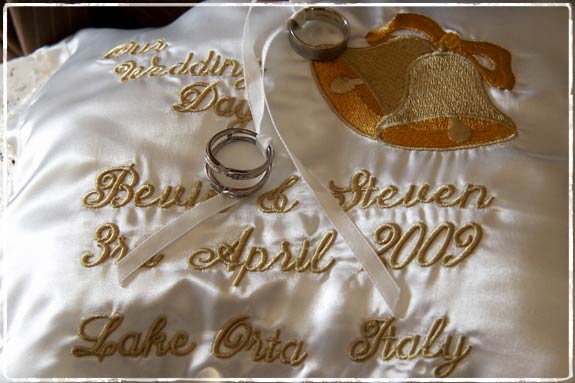 Exclusive venue, wonderful spring sunny day, the ceremony by the lake, the lovely organization.
This was Italian Lakes Wedding succesful formula for Bevin and Steven wedding.
Something special on Lake Orta!
My name is Valentina and I work as wedding coordinator on Lake Orta and Lake Maggiore.
Before being a wedding planner and coordinator I worked for an American company planning events. I turned into wedding planning for SposiamoVi group, more than 5 years ago. Since Italian Lakes Wedding was founded I work with them to make bride and groom's dreams come true on this wonderful Lakes of North West Italy and Piemonte region.

l love creating with my couples the perfect event for them following their wishes and needs, helping to find the best solution for their ideas and budget.
I like meeting people talking with them and know more about their cultures and traditions. I do like sharing Italian customs with them and working in team with couples to let them experience a real and dreamy Italian wedding!

I will be pleased to guide couples along lovely traditional and pedestrian roads of Orta village discovering the beauty of this romantic Lake between villas, traditional restaurants wonderful churches and enchanting St. Julius Island.
I will be happy to let couples discover bigger and charming Lake Maggiore with its Borromeo Islands, wonderful hotels and villas overlooking the waters.

I'm sure you would be amazed by the beauty of these special corners of Italy so I'm simply wait for you for a lovely experience to create and live together.

For any information about wedding at Villa Gippini on Lake Orta please CONTACT ME.