There is an Italian song called Cielo d'Irlanda (Irish Sky) by Italian singer Fiorella Mannoia. This is a real celebration to Irelend as Italians see it.
A wonderful green land where you can drawn in the blue (this is a verse of the song). This song is the perfect union between Ireland and Italy as Shauna and Marco wedding we would like to tell you about in our post today.
After Helen and Daehun's wedding here is another very human and symbolic wedding on Lake Orta. Shauna is Irish and Marco is Italian. We love thinking that this wedding is a perfect union between two nation that has been always friends!
Both Ireland and Italy have this special human and natural feeling that goes beyond every difference.
A union begun centuries ago thanks to close relationship between Irish church an Vatican. You can see it with the Flight of the Earls back in 1608 one of the most famous event in Irish history.
We cannot forget about James Joyce who wrote in Italy many of his books. You can also see Italian classical tradition in rich Irish artistic patrimony.
These days Italy and Ireland are among the best supporters of European Union. From the touristy point of view Irish people love to come to Italy and Italians love travel to Ireland. Italy and Ireland are close also in soccer world, national soccer team's coach is an Italian man: Giovanni Trapattoni.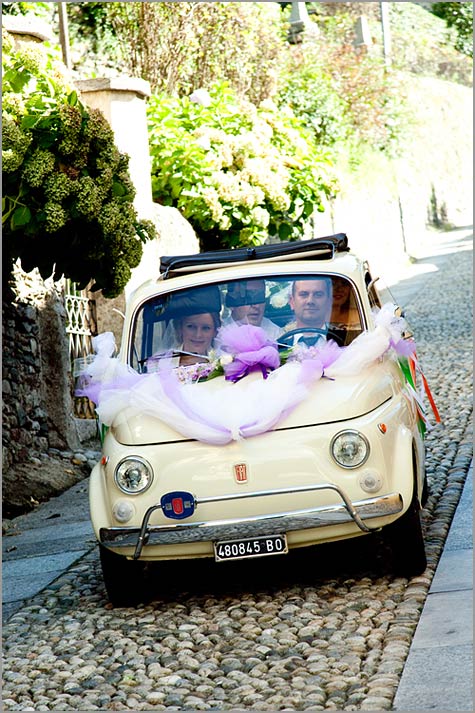 For these and other reasons we love to think that Shauna and Marco's wedding is another confirmation that Ireland and Italy are so close to each other.
The day had many little details that make us think about this. The religious ceremony was celebrated both in Italian and English and the epic vintage Fiat 500 Shauna an Marco used for their wedding. it was decorated with green-white-organge and green-white-red ribbons to recall both national flags.
Let's read what Shauna and Marco told us:
it is so difficult describing with words impressions and emotions of our big day.
The ones among our guests who knew Orta and the others who were new to the location both said that this is a magic place for a wedding!
It was just fun seeing who guests got into the wedding mood. It is intimate and exotic some way.
Our bilingual ceremony mixed different cultures and made the moment just amazing. Then we spent a wonderful and happy time for the reception to a Castle few kilometers from Orta village.
– Shauna and Marco
As floral designers Monika and I followerd the flowers arrangements at the church and at Castello di Miasino. Shauna chose an elegant white for her theme color.
She opted for white lysianthus and roses for the ceremony and more white roses this time with white lylium for the reception to the Castle.
The only exceptions were bridal bouquet, bridesmaids and flower girls bouquets. We created them with lilac and white roses.
Thank you for all! For the flowers you created but also for your kindness and graciousness. All our guests loved your flowers as we did! Our wedding was just as we dreamt: simple but very elegant. Both church and Castle are wonderful did not need many decorations, they are two wonderful places. You created a perfect atmosphere, all our guests were comfortable with it and they all enjoyed the party!
– Shauna and Marco
From all Italian Lakes Wedding Team a special thank to Enrico Mocci by ArteFotoArona who gave us they great shots of Shauna and Marco's wedding. As usual the ones we show you in this post are just a little selection. We invite you to have a look to full photo gallery with all images of the event.
All services we had for our wedding were amazing! Musicians, photographer, catering company, drivers were all great! A great job, they were kind with us and all our guests. We all loved it. Thank you so much!
– Shauna and Marco
All images © Enrico Mocci – ArteFotoArona – Lake Orta. All rights reserved.
Together with Monika, Paola is La Piccola Selva floral designer. She is part of La Piccola Selva team who are specialized in floral arrangements and lovely bridal bouquets on Lake Orta and Lake Maggiore.

After her graduation in English language her passion for nature and flowers brought her to a long and successful career in floral design.
Thanks to her long experience and creativity Paola will be able and happy to suggest you best flowers, color, details, shapes and styles that could match your tastes and ideas.
She will be able to add a final touch that could turn your wedding in an even more special day!