Thinking about a wedding we can imagine big parties, wonderful dresses and big wedding cakes.
If you are thinking about all this, Helen and Daheun's wedding could be really out of ordinary!
But in its dimension and semplicity it was one of the loveliest wedding on Lake Orta.
An event full of emotions and symbols which is rare to face nowadays.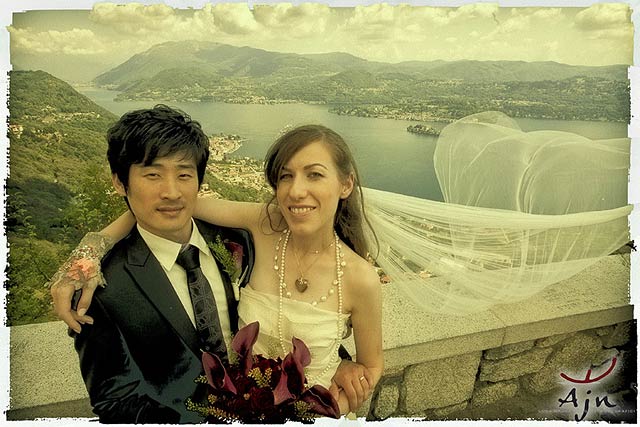 It was special also for wedding images: Helen and Daehun chose Luca Rajna – Ajn Luca Rajna Progetti Fotografici – as their photographer. We met him in occasion of Loretta and Scott's wedding on Lake Maggiore last year. Luca Rajna is a creative and innovative photographer.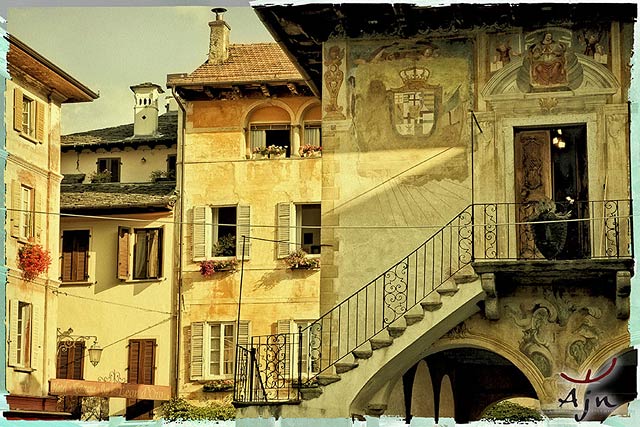 For this occasion all images has been edited with a special technique called Polaroid Transfer.
Polaroid is the legendary camera of the 70s which was able to develop pictures immediately.
Polaroid transfer technique is simply pressing a just-shot photo with a Polaroid on watercolor paper. The result is really artistic an vintage with some irregolar shaped edges. Luca Rajna created the same effect for great shots of Helen and Daheun's wedding.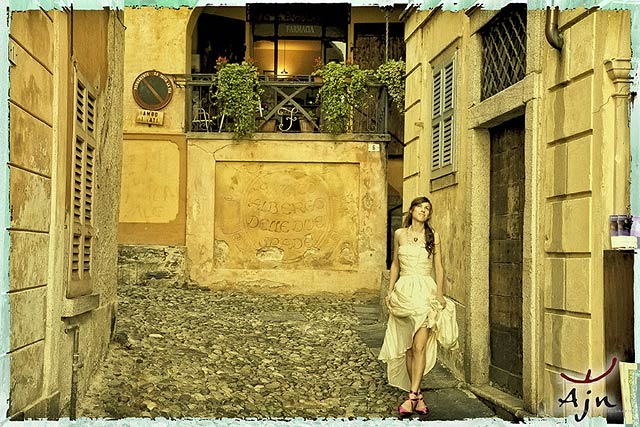 Helen was born in Illinois she is optimist and loves nature. She is vegetarian and loves colors and scent of flowers. After her degree to Columbia University in Manhattan she moved to South Corea where met Daehun her groom.
Helen loves South Corea and people there. After the wedding she came back over there where she teach English to elementary school to Siheung City.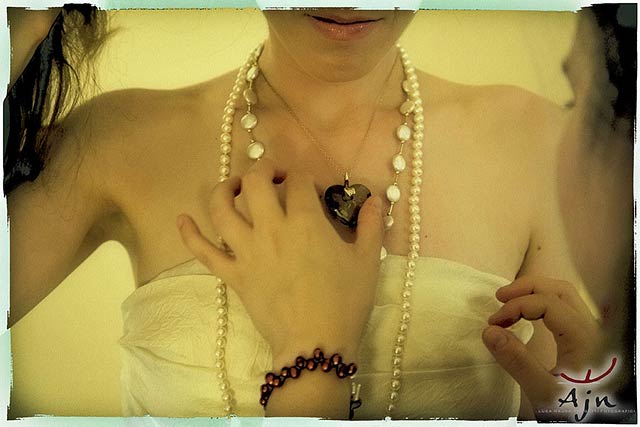 Helen wanted to get married and have a lovely honeymoon across Europe. She never been over here.
It was not easy choose the right destination… then browsing on the internet Helen found out Italian Lakes Wedding and decided immediately for Madonna del Sasso church.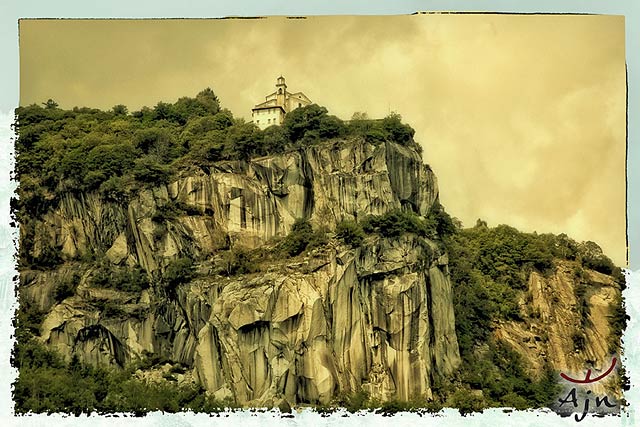 This lovely church was built on a rock right above Lake Orta. Madonna del Sasso church is one of the most wanted churches on the lakes and one of the most scenographic in Italy.
The inside of the church is grand, rich of works of art of 1500 and 1600.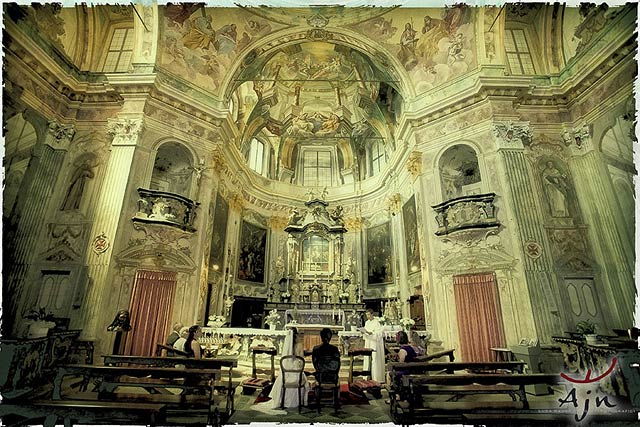 Helen and Daehun's wedding was intimate and simple.
Together with the couple there were only Helen's parents, two bridesmaids (Maria Isabel and Stephanie) and Katie bride's best friend.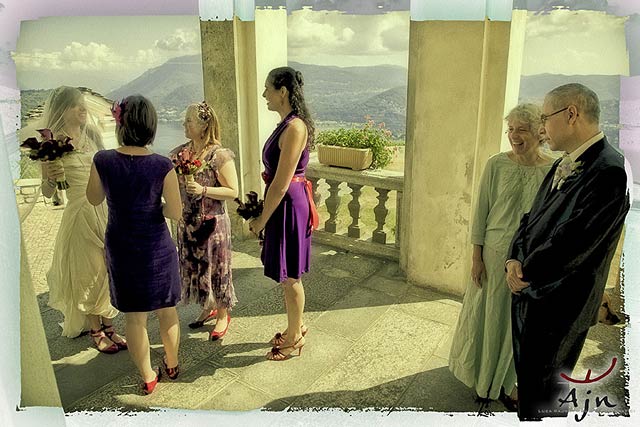 There was another guest: Nellie the cute doggy girl who is the guide of Helen's mother Wilma who is sightless.
For this reason Helen chose for the church arrangements lavander and freesias so her mother could smell the perfume of the nature!
Deep love for nature also for the bridal dress choice. it was really eco friendly.
Helen describes it like this:
My dress is made by Lindee Daniel, who is in California. It is made from two types of organic peace silk. This means, the silk worms are allowed to naturally complete their life cycle rather than being boiled alive so as to preserve the cocoons. The silk is woven by a women's cooperative in India. Her label used to be called Puridee, but now she is changing it to her name, Lindee Daniel. The design I got is called the "Rebecca," named after Rebecca from the Bible. It is her most popular design. She made it to measure for me and mailed it to me in Korea. ?
I wanted an organic dress, so it made shopping for one easier. I didn't have to look at millions and millions. I fell in love with this dress as soon as I found it, which was only the second day I started searching online for dresses.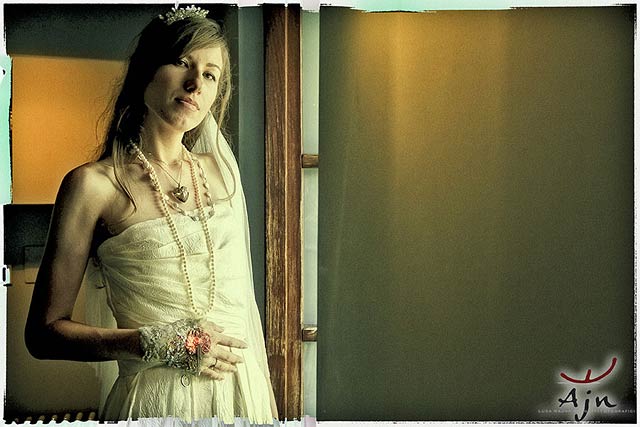 Cuff Helen wore was really original. It was created by Estonian artist Krista Silvia Raak.
Wearable art for the romantic soul – this is how Krista Silvia Raak describes her works.
I am inspired from different vintage materials and of course – colors! I love all colors and feel excited about to create different color harmonies. I get lots of ideas from historical costumes- ball gowns and accessories of past centuries-Baroque, Victorian Era and Art Nouveau rich decorated dresses and elaborate embroideries. Sometimes I watch movies over and over to see beautiful vintage dresses exposed there : I love embroidered flowers- roses, orchids and all kind of fantasy flora. Old mansion interiors, antique costume jewelry and vintage millinery techniques are an endless source of inspiration.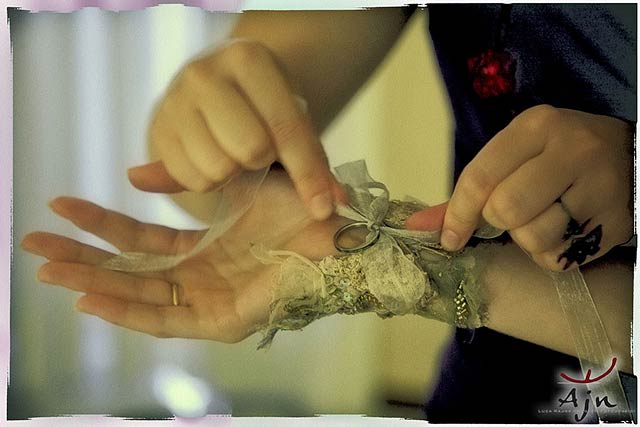 Helen adds:
The cuff is by Krista Raak in Estonia. Her cuffs are unique designs, hand embroidered and beaded from vintage materials. She also made the earrings worn by my friend Katie in the flowered dress. The hair comb is from Million Design Company in the UK.
Ceremony in Madonna del Sasso church was really cosy accompanied by touching Psalm 104 of the Holy Bible read by Maria Isabel.
There was a light Smentana's Moldau music as background played by a string duo. Smentana's Moldau was written by Bohemian composer Bedrich Smetana, ad brought to fame by Italian tenor Giuseppe Cenci with Fuggi fuggi da questo cielo as title.
The violins also played the Bach Double [violin concerto], first movement. It brought back a lot of memories for me and my mom of Suzuki Institutes at Steven's Point, WI.
At the end of the ceremony Helen and Daehun went out of the church with Mendlesshon Wedding March as background. Their guest threw petals and lavender. Mother of the bride Wilma was more then happy!
Nellie the little dog wanted to join the party too. Isn't it cute this picture her paw together with bride and bridesmaids?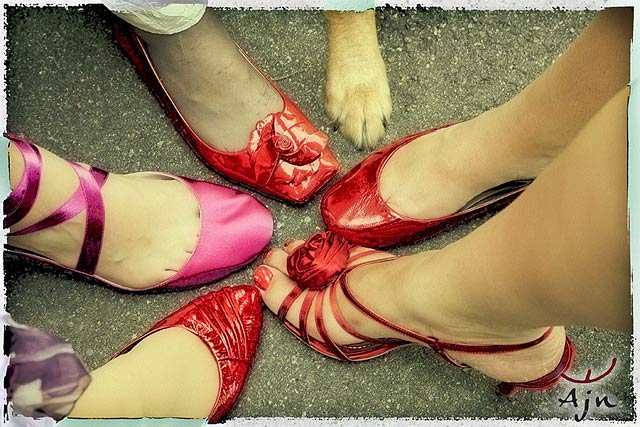 Madonna del Sasso church yard is a special place to have wonderful pictures and Helen and Daehun did not want to miss the occasion!
Bridal bouquet was really lovely. It reflected the spirit of Helen and Daehun's wedding.
It was created by Paola one of the floral designer of La Piccola Selva with Red Passion roses and amazing Dominique callas in a bordeaux-purple shade.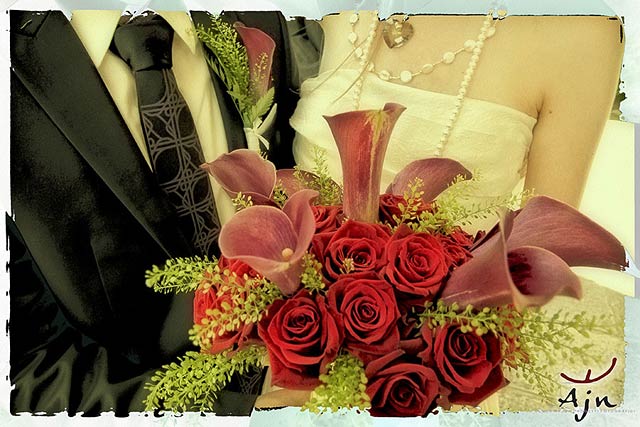 Helen and Daehun reception has been arranged on St. Julius Island and cruising from Orta to the Island Daehun was the captain of the ferry too!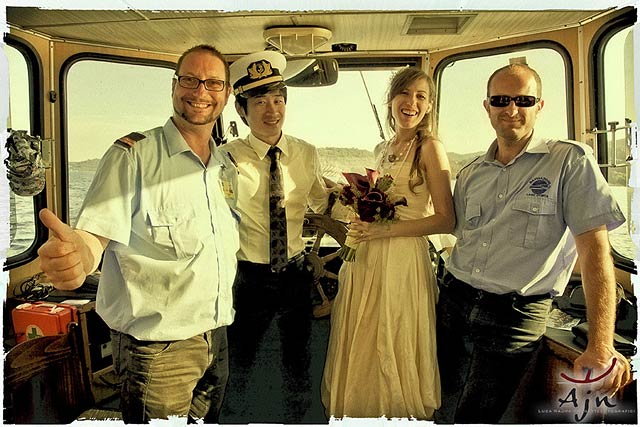 We told you about many times about St. Julius Island, it is a magic and ideal for more wedding pictures.
St Julius restaurant hosted bride and groom with their guests with a vegetarian and perfect eco-friendly menu.
When lights went down the group got back to Orta village.
On Summer nights Orta is really lively and appealing. Helen and Daehun took another chance to remember forever their special eco-friendly wedding on Lake Orta.
Italian Lakes Wedding Team follow the event with Valentina Lombardi and Stefania Zen as coordinators. Stefania Zen is our planner on Lake Bracciano and Rome but she often follows some weddings over Northen Lakes. So for once she forgot about Sistine Chapel and Odescalchi Castle to get into romantic atmospheres of Lake Orta… but always with a great success!
Great Teamwork and great job Stefania!
Italian Lakes Wedding Team is made up of several professional wedding planners and floral designers with a long experience on Italian Lakes locations.
The Team knows the territory in every single detail and will be able to follow you on every important choice you will take.
Our coordinators are based locally in the areas we serve so whether you decide for a wedding in Rome or Bracciano, a wedding in Como or Stresa, or a Wedding on lake Garda or Lake Orta, we will grant the same level of service.
Our Team will be able to provide you every kind of supplier, florist, photographers, musicians, designers celebrants, witnesses and help as far as your documents are concerned, and anything you may think of.
Italian Lakes Wedding Team will literally pamper you!

For any information about wedding on Lake Orta please CONTACT US.