Today I'd like to go back a little in time to talk about Melanie and David's special day, which was our last wedding of the spring season.
Melanie and David are a delightful couple hailing respectively from England and the United States. For their Italian wedding they chose the fantastic setting of Villa Rusconi Clerici by the shores of Lago Maggiore.
Their wedding was the last Spring event but the first to welcome the summer! Melanie and David opted for a wedding based on sunflowers and lemons, which are typically warm and sunny mediterranean themes.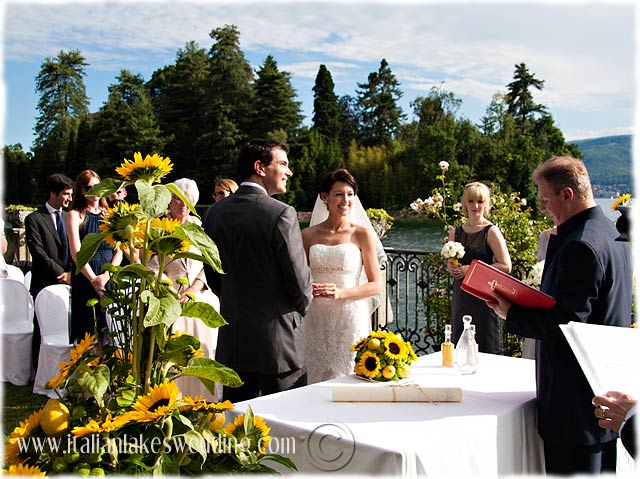 This was perfectly highlighted by glorious sunshine which thankfully arrived after a few days of bad weather. Their wedding was characterised by a limpid blue lake, a light breeze that chased away the clouds and bright green of the landscape all around. An exceptional contrast of colour made the various yellow hues used in the arrangement designed by Monika and myself, stand out even more.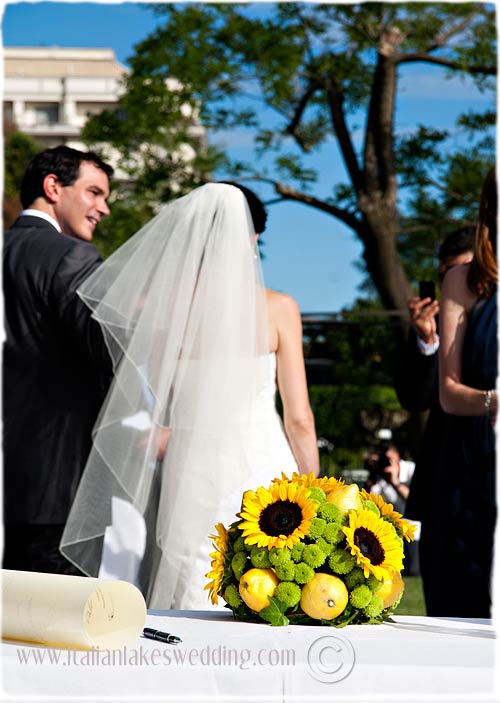 The event was organized by Valentina, Italian Lakes Wedding's experienced wedding planner, who has become a true expert in weddings taking place at Villa Rusconi Clerici.
I planned this event in collaboration with my lovely and valued colleague, Stefania who is based in the Southern Lakeside regions of Italy, (including Lake Bracciano) but who occasionally assists us here in the Northern Lakes.
It was such a pleasure to have assisted Melanie, who was one of the most co-operative brides of this year. As a couple our bride and groom 'to be' complemented one another perfectly. Melanie was an incredibly stylish American Bride and David, a very handsome British Groom. They had enjoyed their first vacation together in our country and so had their hearts set on Italy as the destination for their special day. We had to plan certain details at relatively short notice but Melanie was precise and punctual, which made working with her a sheer delight!
Valentina – wedding planner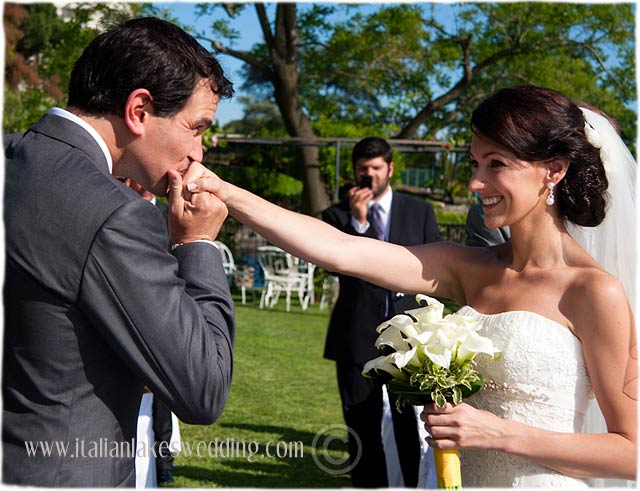 I was inspired by Melanie's creative ideas and pleased to offer suggestions based on my vast experience of organizing weddings in the area. It was fulfilling to collaborate with the Bride and help make her dream of a stunning and sophisticated wedding at Lake Maggiore come true.
Melanie and David expressed a desire for a romantic blessing ceremony, (tastefully and thoughtfully conducted by Celebrants, Giuseppe and Diane) and their vision of an elegant and chic countryside event was realised at Villa Rusconi Clerici, one of the most romantic locations in the area.

Paola from La Piccola Selva helped us to achieve the required atmosphere by designing beautiful arrangements of country style flowers with a touch of elegance, a consistent trademark of La Piccola Selva.

We selected only the most professional catering service, whose culinary skills contributed to the overall success of the event held exclusively at the Villa. The Bride and Groom were treated to a sumptuous aperitif with their wedding guests in the grounds, followed by an enchanting dinner by the majestic lake. This was an intimate wedding and certainly one of the most romantic of the season!
Valentina – wedding planner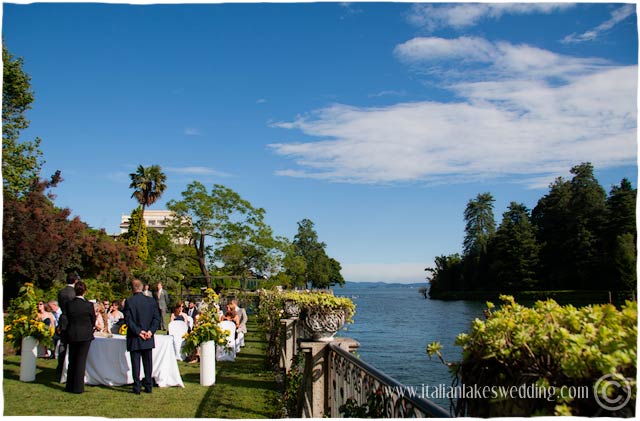 When Valentina introduced me to Melanie, I soon realised that our bride had precise ideas concerning the theme of her wedding. She wanted a flower arrangement with a typical mediterranean flavour, cheerful and sunny, based on yellow tones. The choice was soon made to include the complementary characteristics of lemons and sunflowers.

Lemons and sunflowers, together with elegant 'Bottom Green', became the main elements of all the floral arrangements, including those for the ceremony aswell as the chairs and table centre pieces used for the reception.
Sunflowers in particular played an important part in the design of the event. The sunflower is a rustic, vigorous and sunny flower, perfect for an outdoor wedding event such as Melanie and David's.
Thanks to their impressive size, the sunflower stands out even from afar and is perfect for an effective floral composition. The sunflower is a true protagonist and for this reason we decided not to add other kinds of flowers. In Melanie and David's case, the combination of lemon fruit was not only natural but further enhanced the beauty of these striking mediterranean flowers.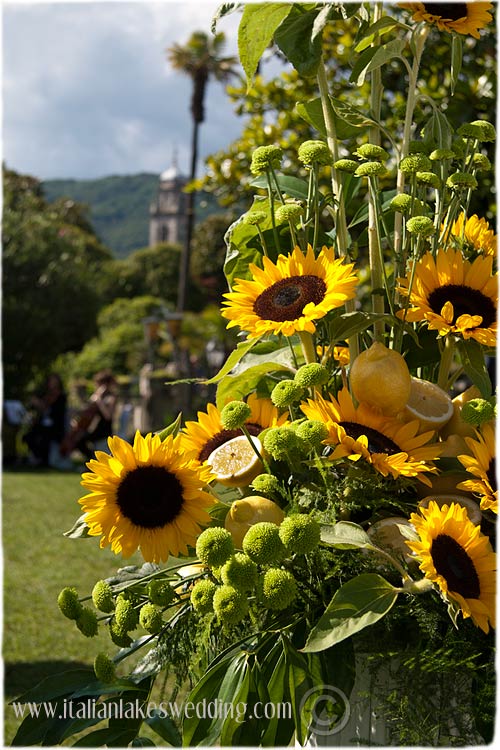 Instead, for the informal aperitif in the beautiful gardens of Villa Rusconi, we created lovely centrepieces with glass cube vases, in which we arranged lemons in an asymetric manner.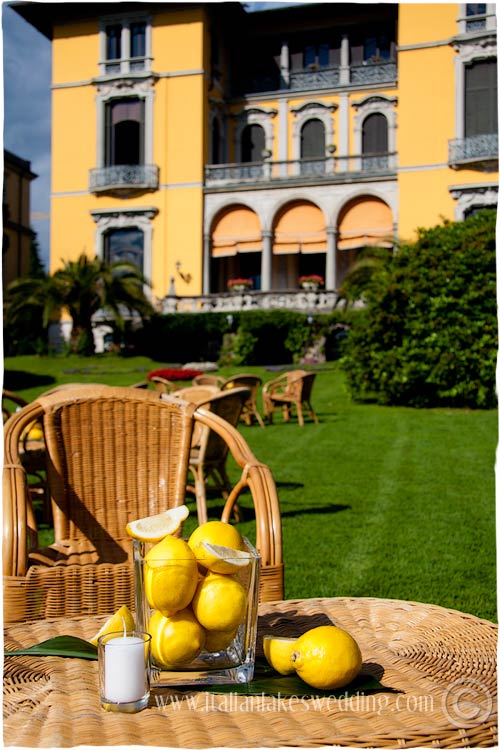 The only exception was the Bride's bouquet, for which we used mini 'calle bianche' as Melanie wished. The bouquet was refined and elegant, perfectly suited to the bride's slender silhouette and glamorous wedding dress.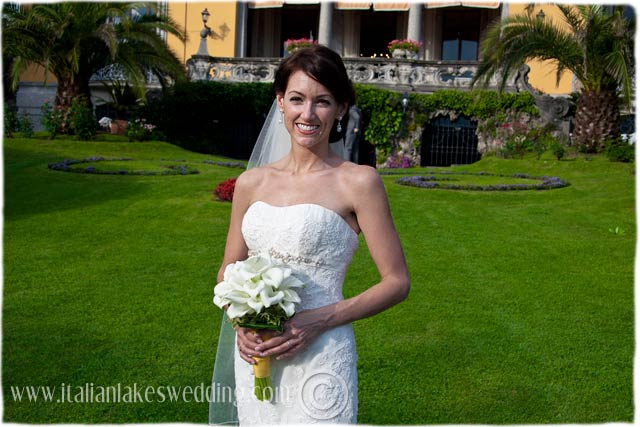 Last but by no means least, I would like to give special mention to our Celebrants Diane and Giuseppe, who skillfully conducted the ceremony, held in the spectacular grounds of Villa Rusconi, overlooking the shores of the lake.
It gives me great pleasure to conclude this article with some beautiful words written by Diane Wheeler regarding our bride and groom.
We travelled to Lake Maggoire the day before the ceremony to meet Melanie and David at an informal pre-wedding gathering at a restaurant in Stresa. We received a warm and enthusiastic welcome and were immediately introduced to their wedding party, including Melanie and David's gigantic but cute dog, Dexter!

Melanie was most definitely a bride who knew what she wanted and took a keen interest in all aspects of her wedding. She was very involved in the construction of her ceremony, which also involved a 'sand ceremony', which took place directly after the bride and groom exchanged their mutual vows.

Incidentally there was a moment during their vows when we all thought the heavens were going to open but only a few drops fell to bless the bride… and the umbrella that had hastily been offered by a gallant best man was soon gratefully put to one side!
Diane – celebrant
While Giuseppe performed original words (scripted by us) describing the beautiful symbolism of the event, Melanie and David each poured bottles of different coloured sand in turn, which combined within one vessel to form a striking momento which they would be able to display at home.

The bride and groom also adapted vows to make them more personal, which not many couples do. We think this kind of involvement demonstrates imagination and great personal interest in the content of their ceremony. Melanie in particular was very creative and gave us some great personal information to work with.

The story of how they met was highly entertaining and we were provided with ample material from which to compose a touching script. One thing became quite clear…there was definitely a third party in the relationship and Dexter was not only present during the ceremony (albeit in the background) but also featured in sentiments expressed by David… who wanted Melanie to know 'that on seeing her beautiful face every morning on the pillow next to his, that he is reminded that he is the happiest man in the world'…when Dexter doesn't obsure the view!
Diane – celebrant
For further information on a wedding to Villa Rusconi – Lake Maggiore please CONTACT Italian Lakes Wedding Team.
All Images © Italian Lakes Wedding © All rights reserved.
Together with Monika, Paola is La Piccola Selva floral designer. She is part of La Piccola Selva team who are specialized in floral arrangements and lovely bridal bouquets on Lake Orta and Lake Maggiore.

After her graduation in English language her passion for nature and flowers brought her to a long and successful career in floral design.
Thanks to her long experience and creativity Paola will be able and happy to suggest you best flowers, color, details, shapes and styles that could match your tastes and ideas.
She will be able to add a final touch that could turn your wedding in an even more special day!