e are back to tell you about all our wonderful weddings our Team planned for
June 2017
!
As we mentioned one month ago this is a great season full of
great events all over Italian country
. And it is not over yet!!
Let's see together all weddings we planned over Lake Maggiore, Lake Garda, Lake Orta, Langhe and Monferrato in Piemonte Countryside, Tuscany Countryside, Amalfi Coast, Lake Bracciano and Lake Como. What a great month and most of all congratulations od all our newly weds!
June 2017 – Amazing Summer Weddings all over Italy
We open the month with two events on Piemonte Lakes on 3rd June.
The first one was followed by our planner Valentina on Lake Maggiore: Deepa and Roberto's wedding. They planned a lovely Indian Fusion event at Villa Rusconi Clerici. A romantic day for Deepa and Roberto coming from US with all their families and friends. A traditional lite version of Indian ceremony in the big lawn of the villa and aperitif and reception to follow in the garden by the shores and Pavilion of the villa. A great dohl drummer named Sameer was present to the day to enhance the Indian theme of the day. A wonderful Ethnic wedding by the shores of Lake Maggiore.
Photos by Enrico Mocci – Special thanks to Sameer Bhatt.
This wedding is also featured on our partner site Italian Ethnic Wedding site.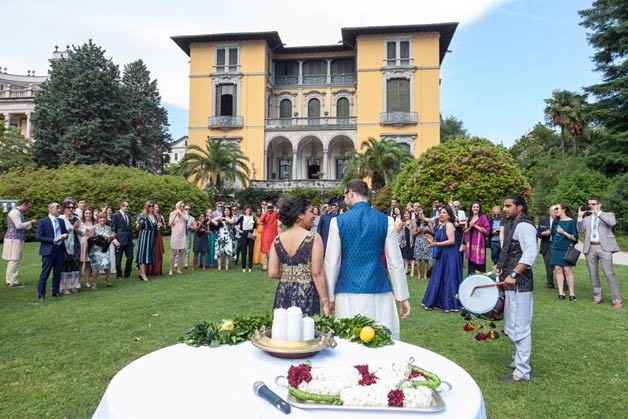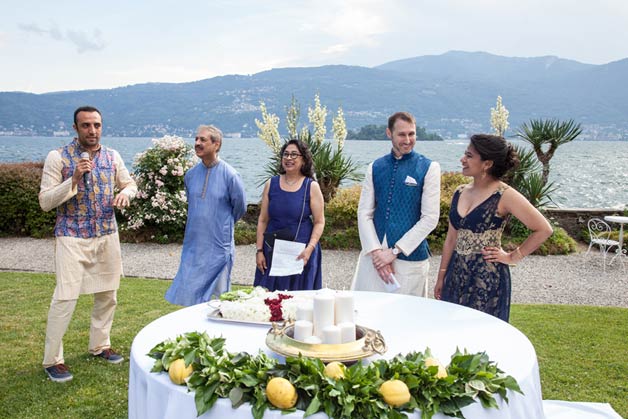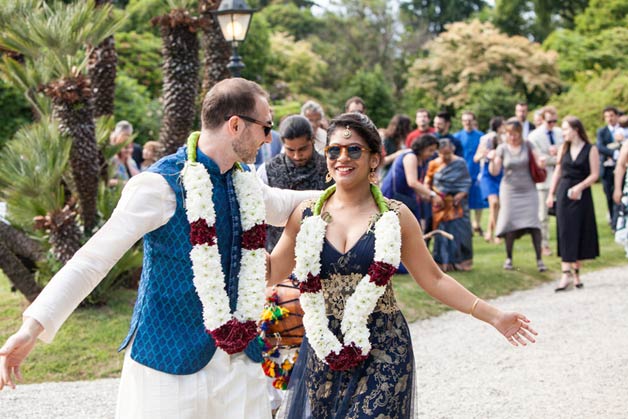 On the same day La Piccola Selva Floral Designer Team followed Simona and Dario's wedding on Lake Orta. A wonderful arrangement with a lot of hydrangeas, a romantic bridal bouquet with white and light pink peonies, many wedding decor details for their table plan, lanterns with candles, flowers and much more. Ceremony was planned at Madonna della Bocciola church and then a welcome cocktail at Villa Gippini with seated wedding reception to follow at Hotel San Rocco.
Photos by Leandro Biasco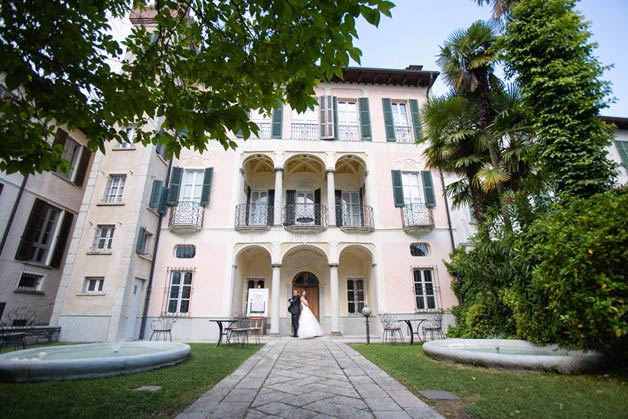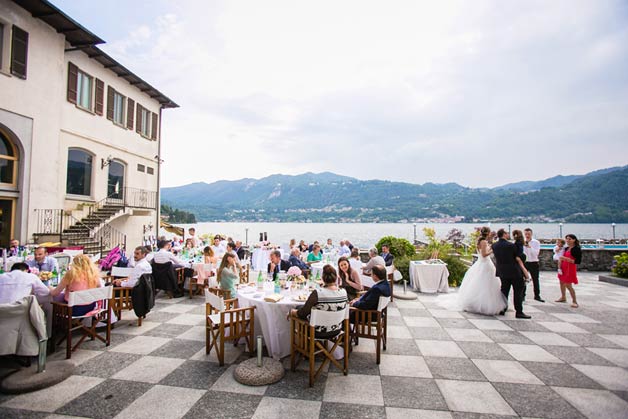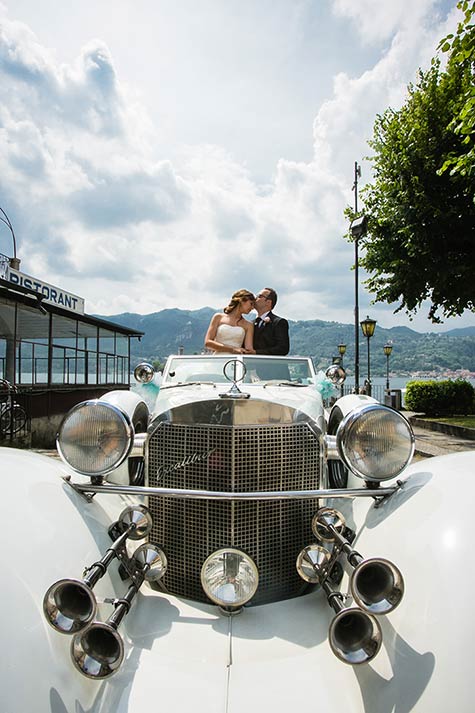 On June 6th Valentina followed romantic Elope on Lake Orta: Mairead and Brian's.
Valentina and Ernesto had the pleasure to play an important role for them side of being their wedding planners. They were their witnesses at the Roman Catholic Ceremony they planned to tie the know at the Church of Santa Maria Assunta in Orta.
What a honour! Valentina followed all details for Mairead and Brian. A lovely colourful bridal bouquet created by La Piccola Selva Floral Designer, a boat trip to the Island for special wedding photos and a romantic celebratory meal.
What a romantic day on Lake Orta!
Photos by Independent Pictures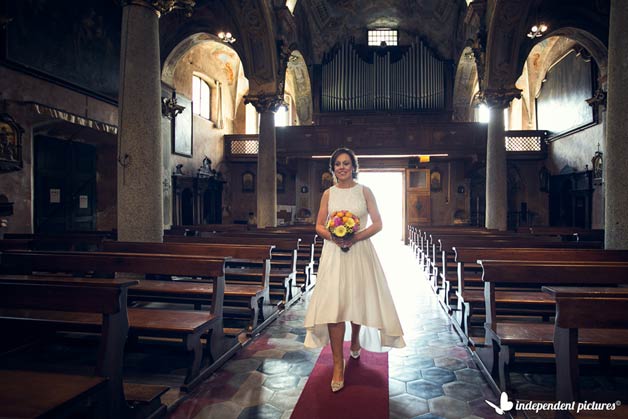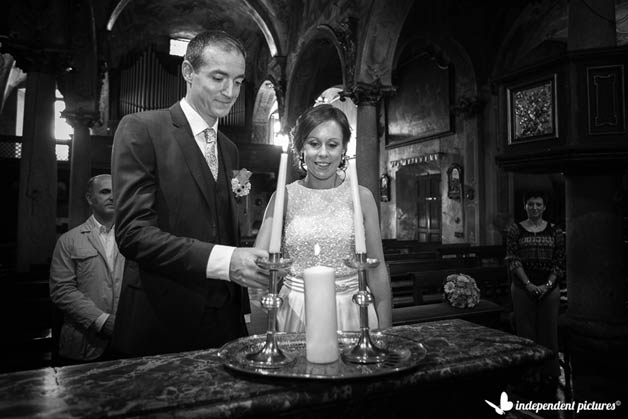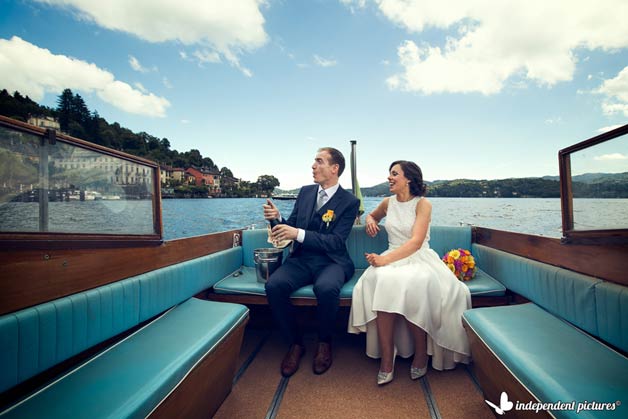 On the following day June 7th our planner Stefania followed a lovely Country wedding in Tuscany: Robin and Donald's.
They planne a bucolic country style wedding in a country venue on Tuscany hills close by Florence. What a great destination for a wedding in Italy.
Ceremony and reception was planned in the same venue and country decor was really enchanting just like the view surrounding the venue.
Photos by David Bastianoni
This wedding is also featured on partner site Italian Country Wedding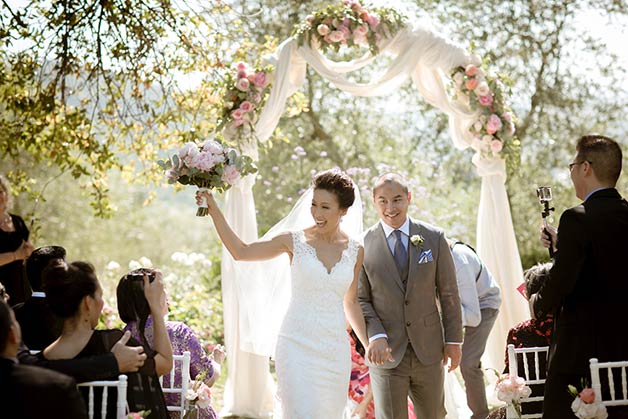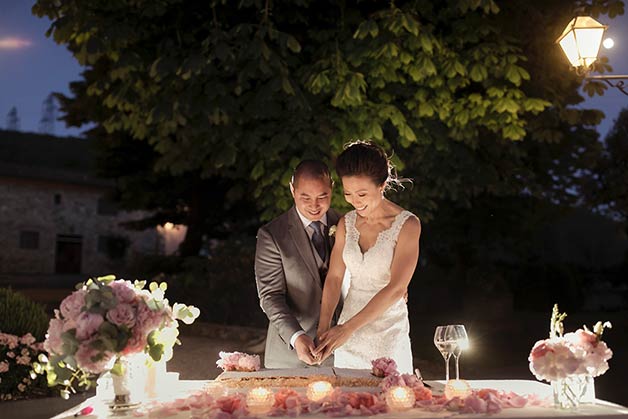 We get back to Northern Italy for another wedding on Piemonte Lakes with our planner Valentina. Frances and Mark got married on June 8th on Lake Maggiore. A very intimate group of people: just 4 including bride and groom for a very intimate elope on Lake Maggiore.
A chic aperitif at Grand Hotel Iles de Borromee and then a boat trip for all to reach Villa Giulia in Pallanza. Frances and Mark got married with a civil ceremony on top of the terrace of the villa overlooking a stunning view! Aperitif for the couple and their guests was planned in the garden of the villa and then a romanic boat trip on the Lake for just the bride and groom. They choose a wonderful vintage Riva style motorboat. Romantic outdoor celebratori meal on Pescatori Island.
Photos by Independent Pictures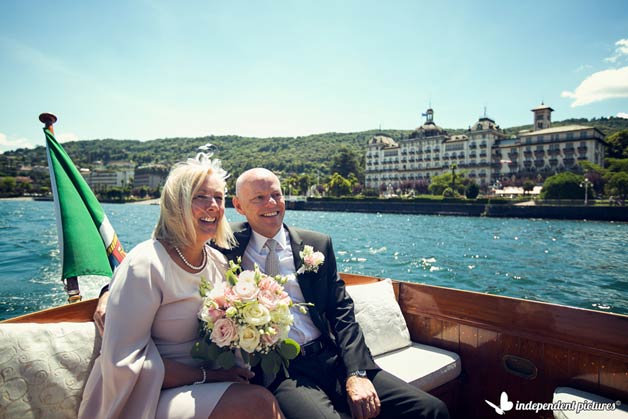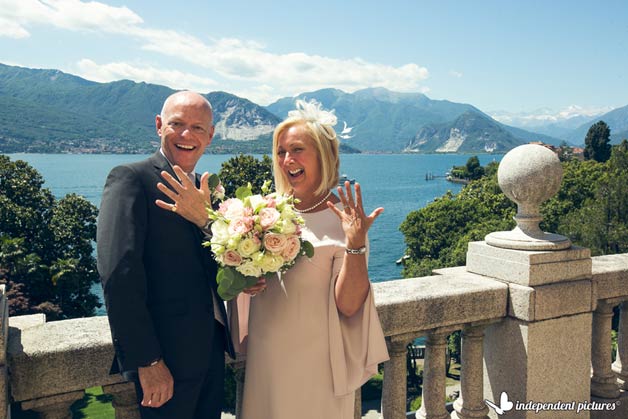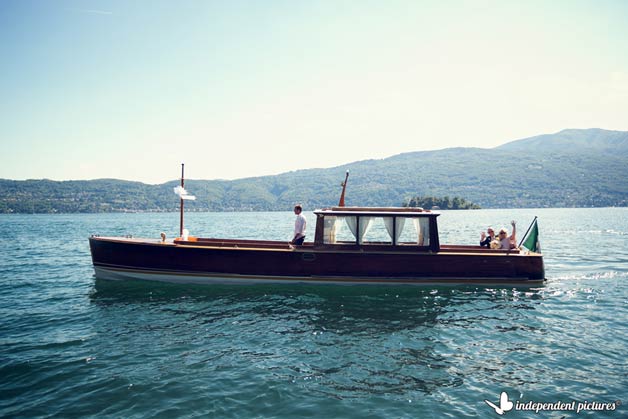 We go Southern Italy now! Stefania planned a wonderful wedding on Amalfi Coast: Miray and Kerem's special day on June 9th.
They chose Sorrento as their wedding destination and a great appealing wedding venue for both ceremony and reception to follow. The view was just stunning overlooking Capri Island.
Sorrento lemons were one of the main characters of the wedding for the decor bride and groom chose. Flowers matched the style in the shades of pink, peach and yellow.
Photos by Alessandro Zingone
This wedding is also featured on partner site Italian Seaside Wedding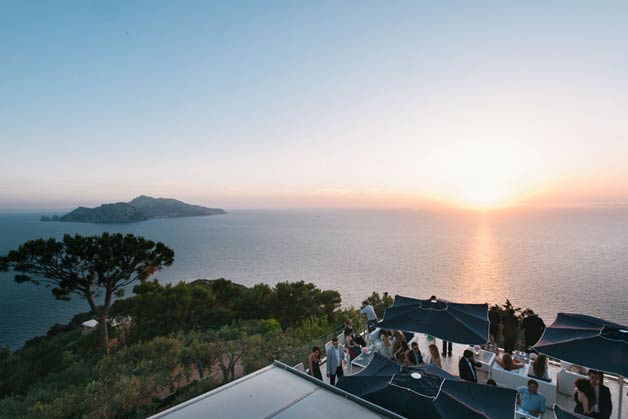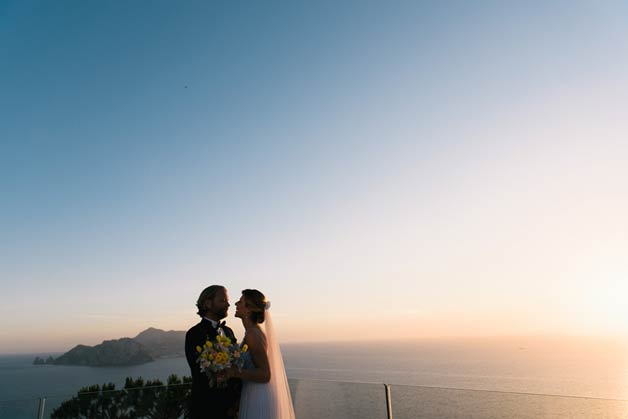 Busy days for our planner Stefania that on June 10th followed Ovelinda and Tom's on Lake Bracciano. We are always happy to get back to Bracciano it us such a lovely destination for a wedding close to Rome! In this case Stefania planned for them a romantic elope.
Ovelinda and Tom tied the know by the shores of Lake Bracciano with a romantic symbolic blessing overlooking the waters. A wonderful floral arch was the perfect frame for their wedding vows.
For their romantic celebratory meal they opted for village of Acquarella di Bracciano such an enchanting location!
Photos by Alessandro Zingone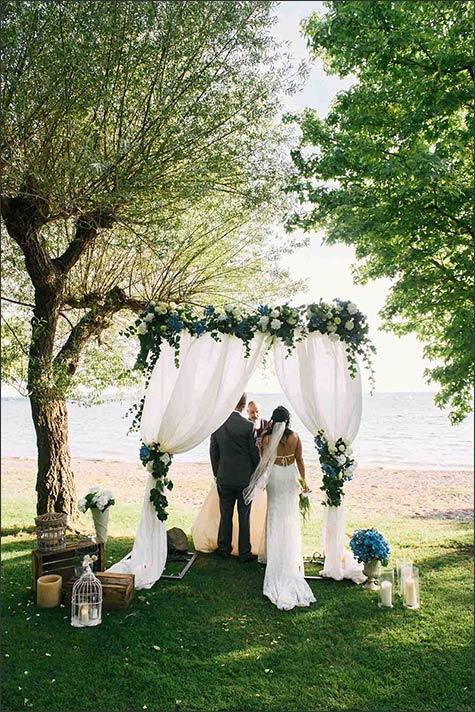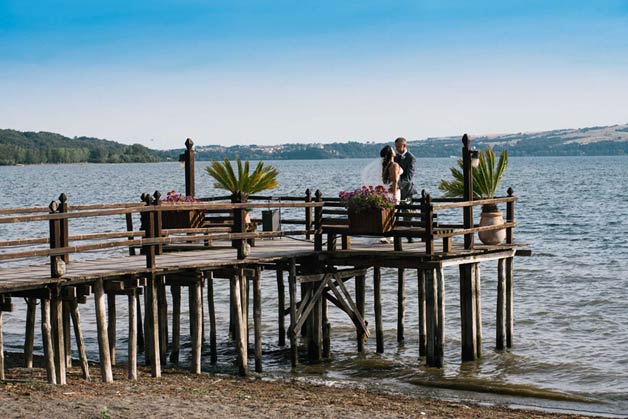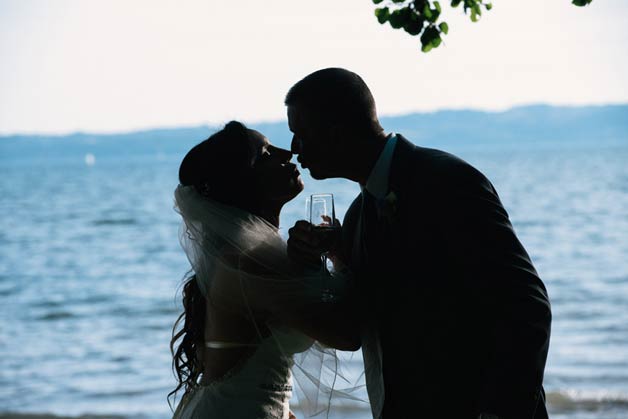 On 13th June Alessandra and Veronica follow Trenée and Derrik's wedding on Lake Como.
A small party of less than twenty people came from US to celebrate a fantastic day.
They planned a romantic ceremony at Villa del Balbianello with a small boat trip to follow to stop to Bellagio village. Bride and groom took the chance to have some wedding photos on a luxury boat then they reached a pretty restaurant overlooking Lake Como for a wonderful meal under the stars.
Photos by Cristiano Ostinelli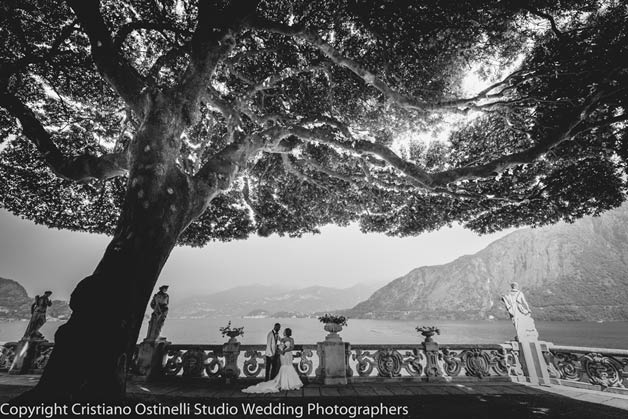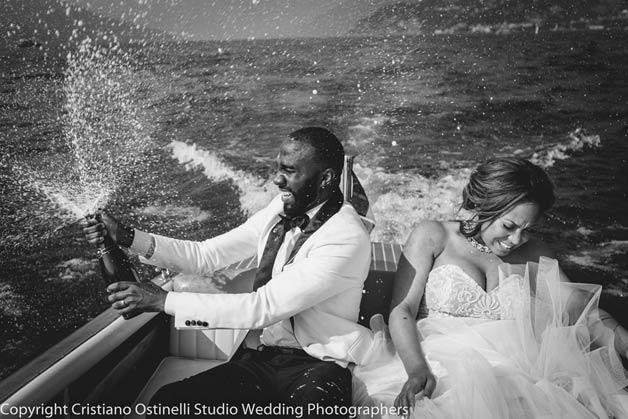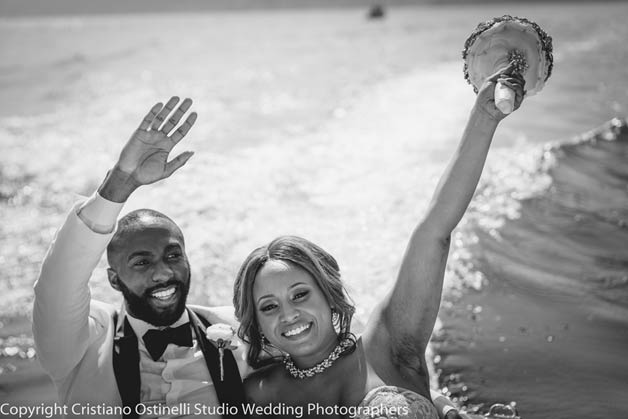 We get back to Lake Orta for another wedding followed by La Piccola Selva Floral Designer: Valentina and Emanuele's special day! They opted for a Roman Catholic ceremony in Assunta Church in Orta village. After the ceremony they offered their guests a boat tour on the lake and a fun reception at Ristorante Ustaria Ca dal Rat.
That was a more than romantic event: Emanuele composed and performed with his guitar a song dedicated to Valentina… she was over the moon!
Photos by Estella Lanti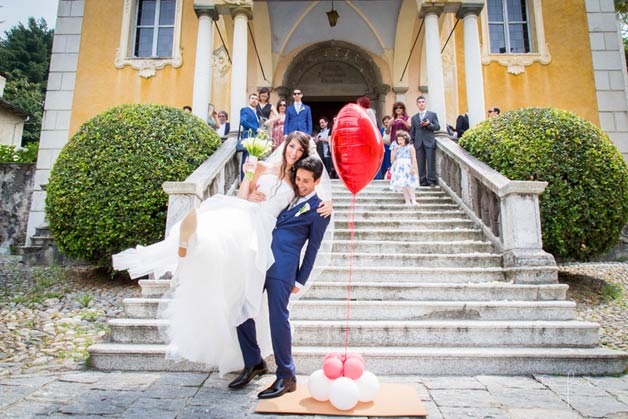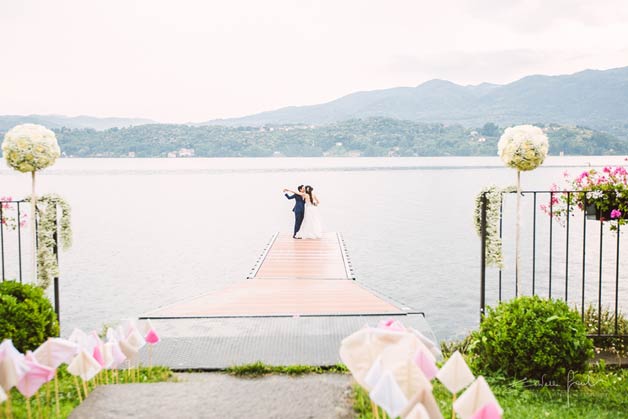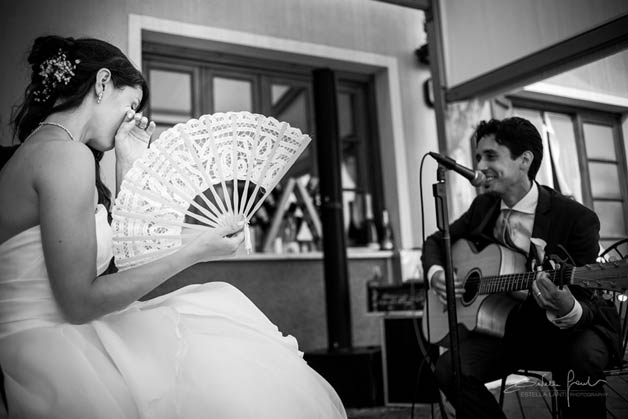 On June 16th both Stefania on Amalfi Coast and Valentina on Lake Orta were busy with two lovely events.
Stefania followed Leigh Ann and Paul's wedding in Ravello on Amalfi Coast.
They chose a legal civil ceremony for their elope in Ravello. It was performed at Ravello town hall.
For their celebratory meal they chose a wonderful Terrace of the garden of Principessa di Piemonte in Ravello. Leigh Ann was simply stunning in her wedding dress and her sweet romantic bouquet made of cala lilies.
Photos by Gianni Di Natale
This wedding is also featured on partner site Italian Seaside Wedding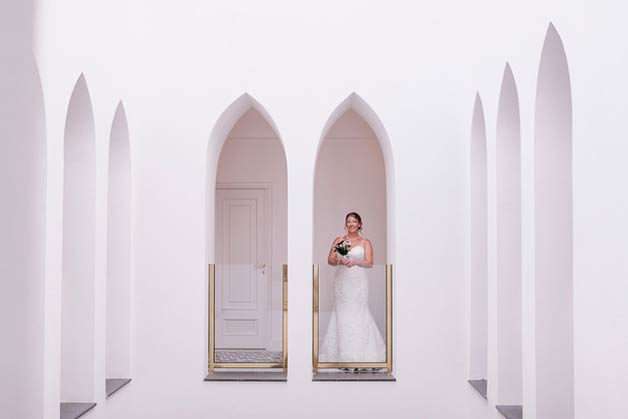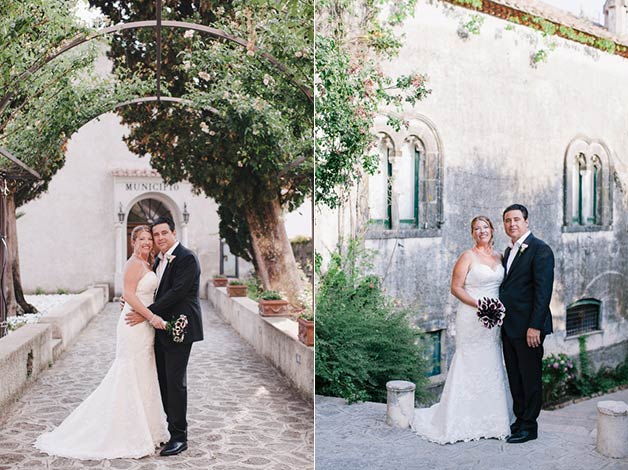 On the same day Valentina followed Trond and Katrine's wedding on Lake Orta.
They came from Norway to celebrate! For their legal civil ceremony they opted for Villa Bossi town hall garden. Ceremony was enriched with lovely music of violin, voice and piano and a special blessing performed by a Norwegian Protestant Pastor.
A nice toast to follow in the main square and a romantic reception at Hotel San Rocco with romantic pastel colours wedding centrepieces and original wooden themed wedding stationary and wedding favours: a cigar for men and fans for ladies.
Photos by Leandro Biasco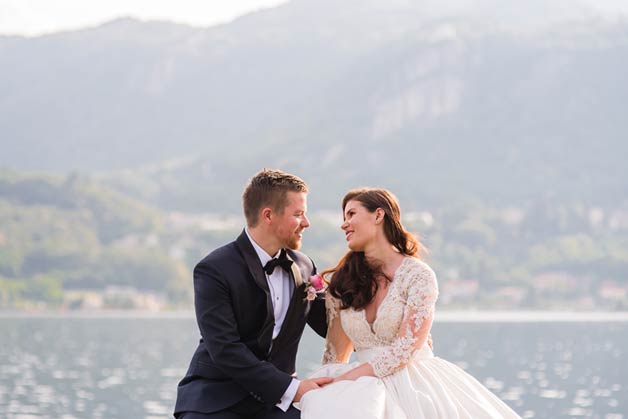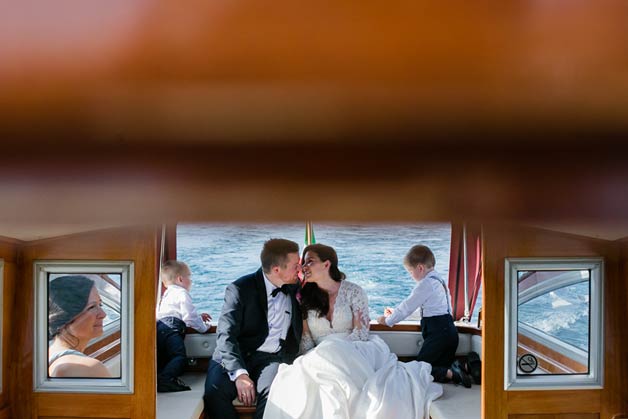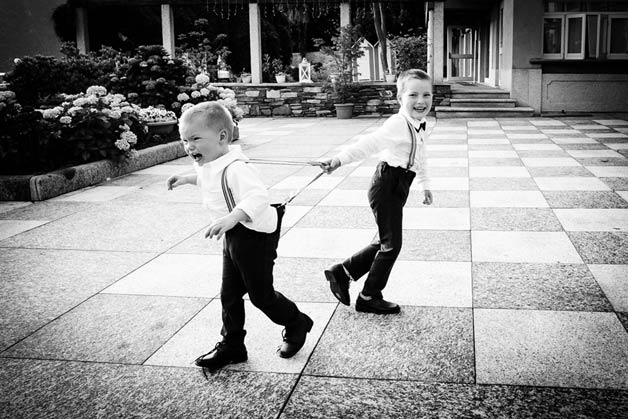 Piemonte Countryside – Langhe
for
Valentina
on
23rd June
:
Laura and Mikael's wedding
. They came from
Finland
to tie the knot with about 30 guests.
For their civil ceremony they chose a wonderful and very original option. Legal civil ceremony was performed by Barbaresco mayor on top of
Barbaresco tower overlooking amazing vines hill
where precious wine of Barbaresco is produced. This is a brand new possibility for those who want to
get married in Barbaresco
. After a wine tasting to follow in a little wine cellar of the village the group moved to an amazing ancient and contemporary venue all in once. It is a wonderful Cascina now renewed in style overlooking a magnificent view on Langhe hills and further Alps.
A gourmand Piemonte style aperitif and dinner and lot of dances up to late at night.
Photos by
Independent Pictures
This wedding is also featured on partner site Italian Country Wedding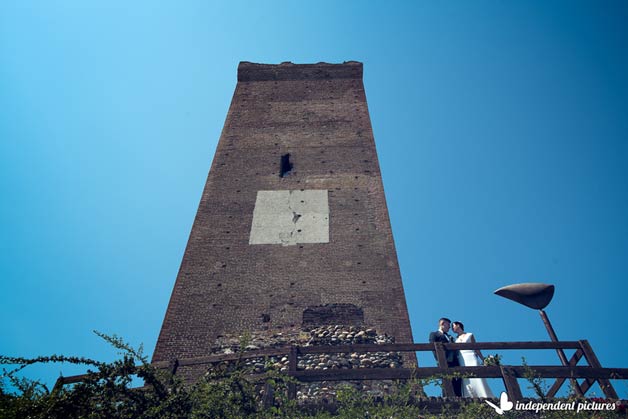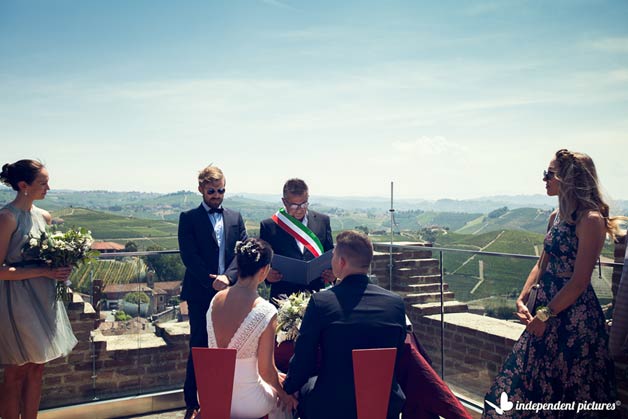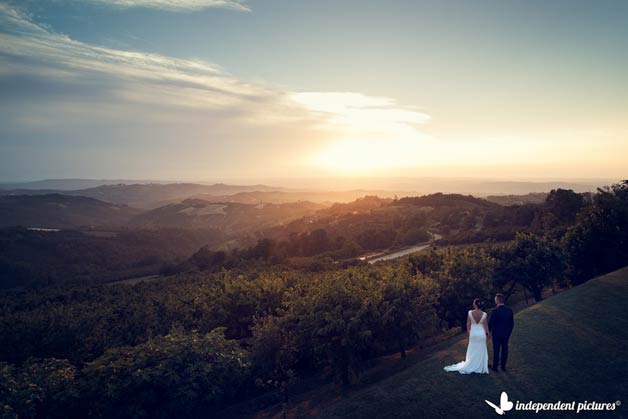 On June 25th we get back to Piemonte Countryside – Monferrato for Anna and Larry's Jewish wedding. Valentina followed the event for us.
An enchanting venue for a Jewish ceremony outdoor in the nature. A wonderful huppah for the ceremony decorated with white fabrics and white flowers.
Reception to follow was planned in one of the most beautiful room of Relais they chose for staying and reception. It was richly decorated with white roses and orchids, laces details and elegant lighting.
For their wedding photos bride and groom visited close by vineyards and for dances and most of all hora dance at night a great dj set with fantastic lights!
Photos by David Bastianoni
This wedding is also featured on partner site Italian Country Wedding and Italian Ethnic Wedding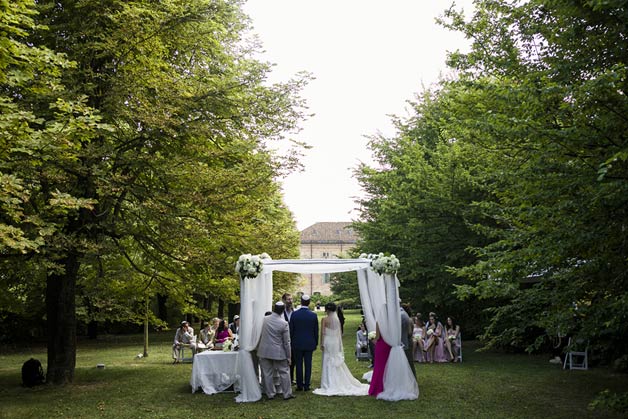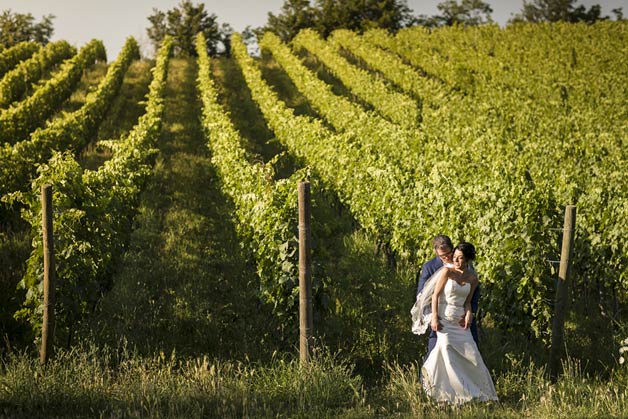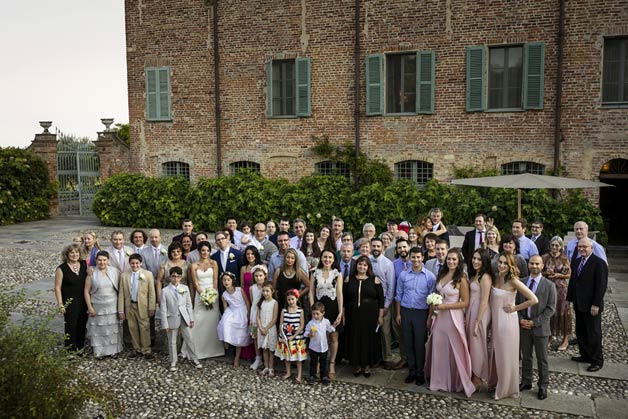 On June 27th Alessandra and Veronica followed Daniel and Maureen's special day.
They came from Australia for a romantic elope on Lake Como with a vows renewal at Villa del Balbianello with boat tour to follow and a private celebratory meal in their luxury suite terrace.
Bride and groom were accompanied by their kids. Daughter wore light pink and bride wore deep pink.
But the real surprise of the evening was Daniel's, he planned a special firework show for his family! Such a wonderful and romantic day!!
Photos by Franco Milani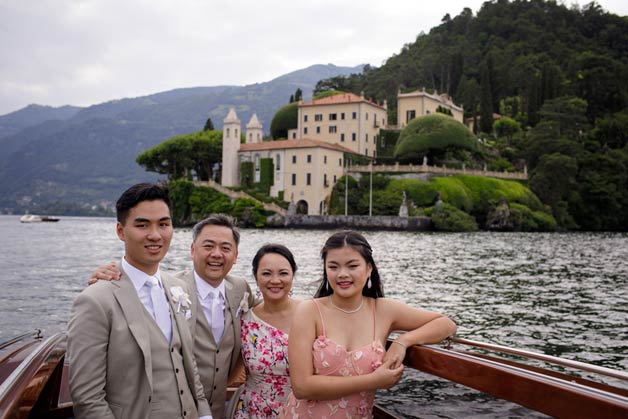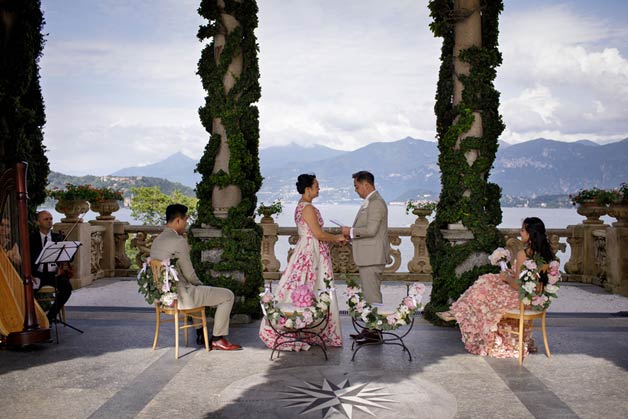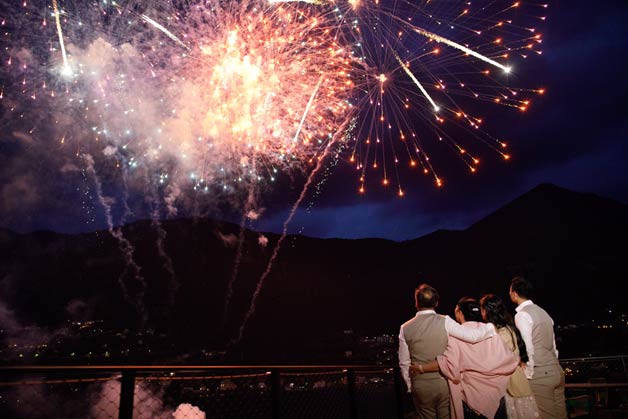 On the same day Alessandra and Veronica followed another event Alvin and Melina's wedding. They got married with three ceremonies! As per Melina's Chinese heritage they had an intimate Tea ceremony in the morning of the wedding day then a Roman Catholic ceremony in the Church in Varenna village with a fun boat trip to follow to reach Villa del Balbianello where the couple planned a third symbolc ceremony overlooking the Lake. Aperitif and reception to follow at Villa del Balbianello with enchanting decor in the shades of ivory, white, greenery and a touch of purple.
Photos by Italian Wedding Company
This wedding is also featured on partner site Italian Ethnic Wedding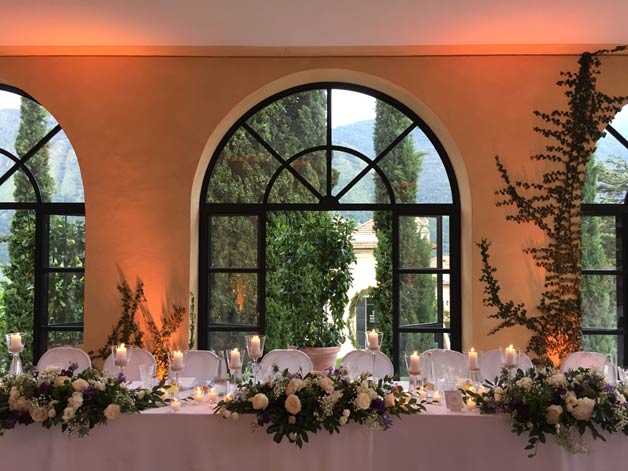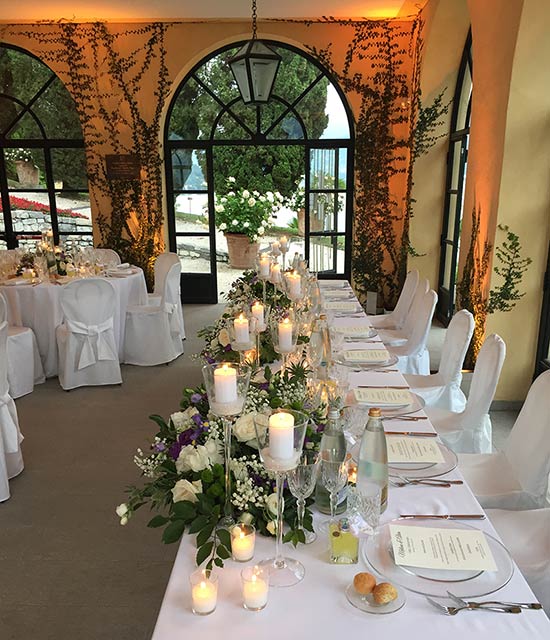 On 28th June Katiuscia followed Linn and Øystein's wedding on Lake Garda .
They came from Norway to tie the know with a civil ceremony at Isola del Garda accompanied by the romantic sound of an harp.
For their wedding reception they chose a a lovely restaurant by the Island in San Felice del Benaco village.
A romantic and relaxed day for all!
Photos by Sergio Sarnicola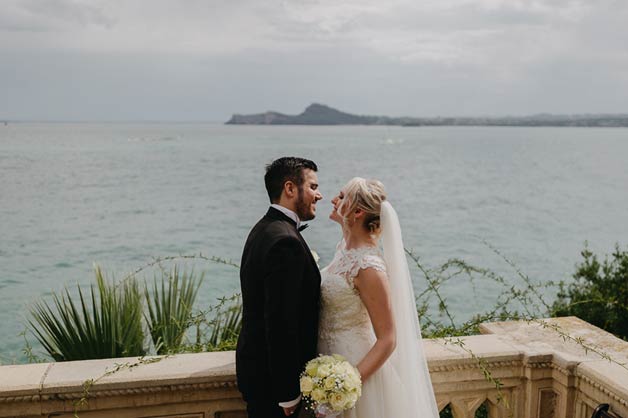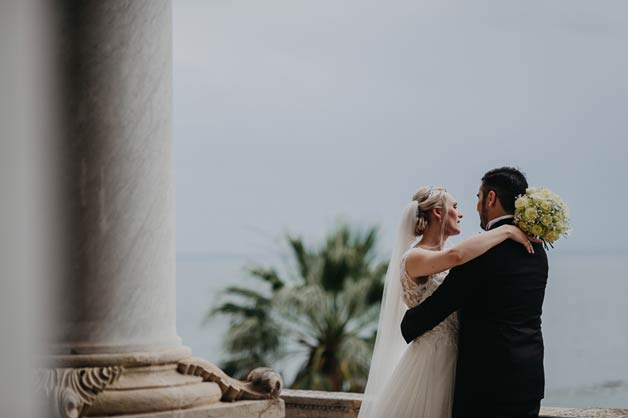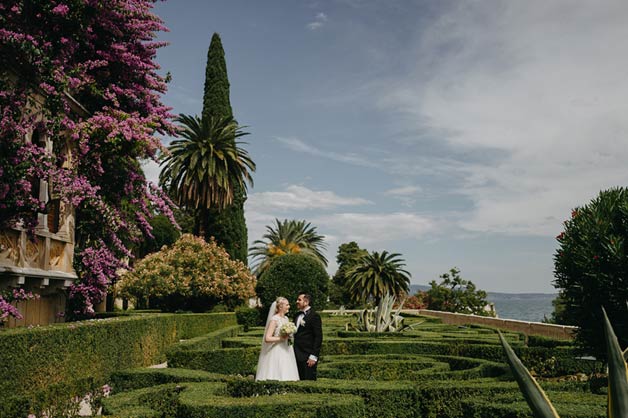 On 29th June Valentina followed Zoe and Johnatan's wedding on Lake Maggiore.
A very intimate group of about 35 guests for a special day on the Lake.
They planned their legal civil ceremony at the small town hall on Pescatori Island, the first time for us for a ceremony here. It was surely special!
After the ceremony and a very pleasant boat trip the group reached Skybar in Stresa where they had their aperitif and dinner to follow.
Amazing view over the Lake and its islands for a magic location. They surely touched the sky!
Photos by Independent Pictures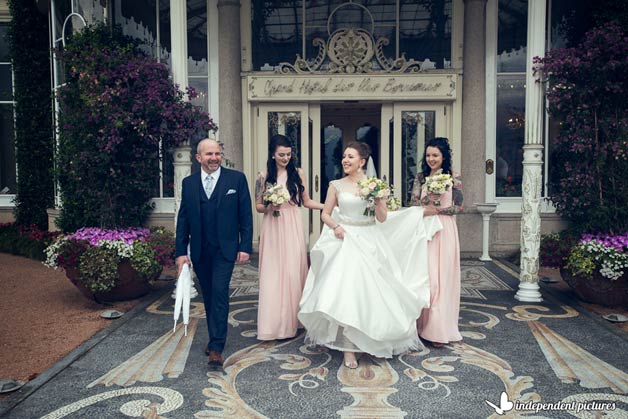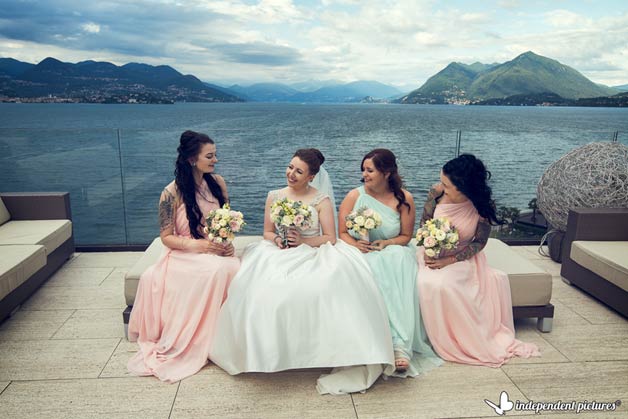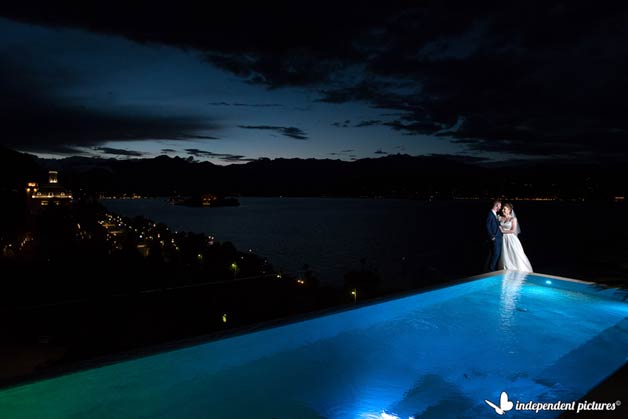 On the same day Alessandra and Veronica followed Maria and Roland's wedding on Lake Como.
They planned a lovely symbolic blessing at Villa del Balbianello. It was a Star Wars themed wedding! Such a great original idea!!! Bride and gromm, their celebrant and also their guests were all dressed in theme! There were also four Stormtroopers present to the wedding. As the matter of fact bride and groom are huge Star Wars movies fans and so they wanted an intimate ceremony in the precise venue where Padme and Anakin Skywalker secretly married in the movie. After the ceremony Alessandra and Veronica planned for them a boat trip with guests and member of the staff, Stormtroopers included… all together as a big family!
Photos by Daniela Tanzi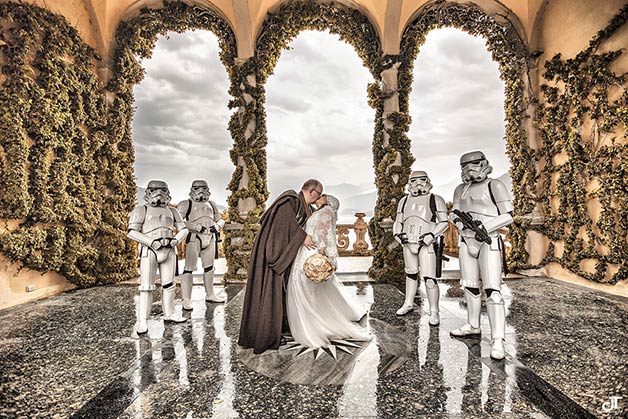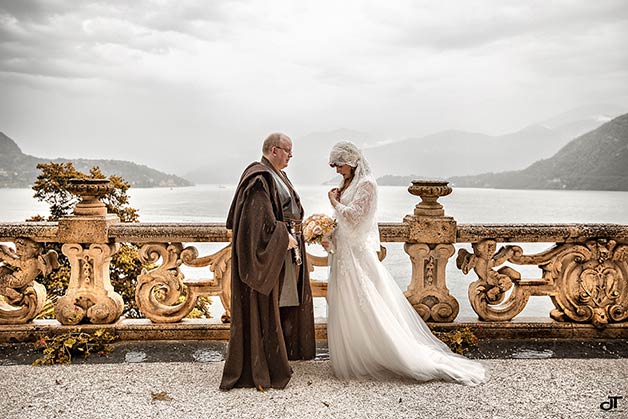 And last but not least another wedding on Lake Como in Varenna: Ubie and Matt's wedding!
Ubie has Chinese heritage and Matt is English.
They had a traditional tea ceremony and a small symbolic wedding ceremony to follow in Varenna.
Colours of the day were surely green she planned many details in this shade: ribbons on the chairs of the ceremony, water glasses for the reception, flowers..
Guests came from both England and China and in spite of very different cultures and customs the group was simply perfect. They all had great fun with great food, chats, music and polaroid photos for the special guests book!
Photos by Italian Wedding Company
Another great month has passed and we had the pleasure and honour to share with our newlyweds and their guests, very special days.
It is the best reward seeing smiles on their faces and happiness so thanks to all for choosing us and as usual thanks to all great professionals who worked with us to create such amazing events!
We are proud and happy to work with such a great team!
Congratulations to all bride and groom!!