very love story has its own magic elements but
Anastasiya and Manuel's one
has all the ingredients of a
fairy tale just like their wedding on Lake Garda
!
It is a great pleasure for us telling about this wonderful story as this has been also published on famous style magazine
Grace Ormonde Wedding Style Magazine
. We are proud to be
Platinum Members on Grace Ormonde
and happy to share such a great event on our pages too.
We could really say that this wedding is for sure one of the best we have on Lake Garda area considering also fantastic photos we can show you. We are sure you will fall in love with them immediately.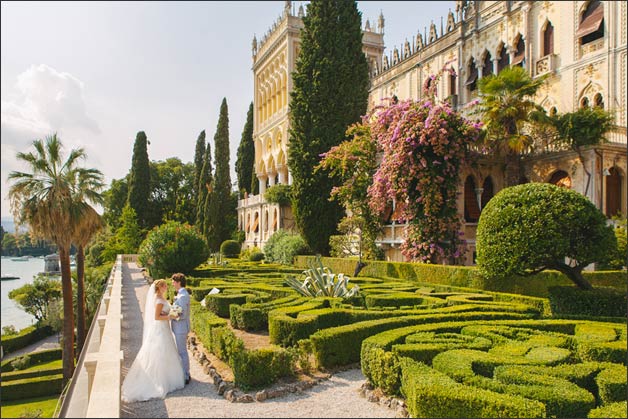 SERENDIPITY!
Anastasiya
,
a wonderful Russian girl
, met
Manuel
,
a handsome Austrian guy,
at the investment bank in London where they both worked. They felt attracted by each other since the very beginning but it would have taken longer to fix their first date if Fate hadn't literally pushed them into each other's arms! It was just bound to happen: not long after that day by the metro train when they bumped into each other, Manuel got in touch with us and their wedding planning started.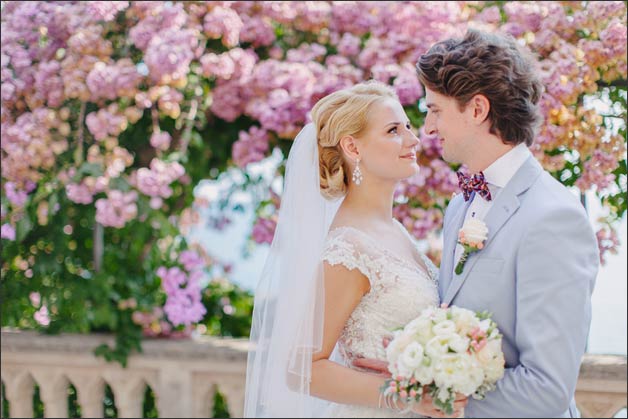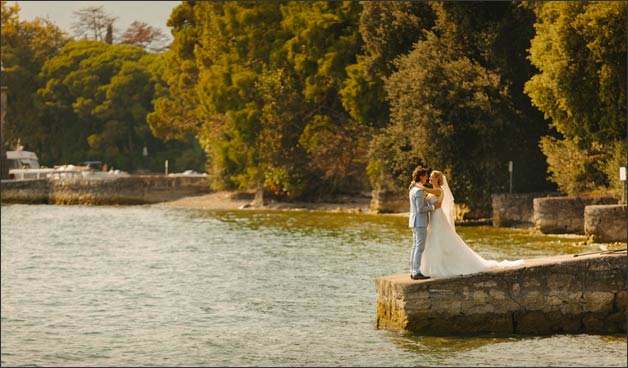 "Love isn't something you find but something that finds you", Anastasiya said and this is exactly what had happened.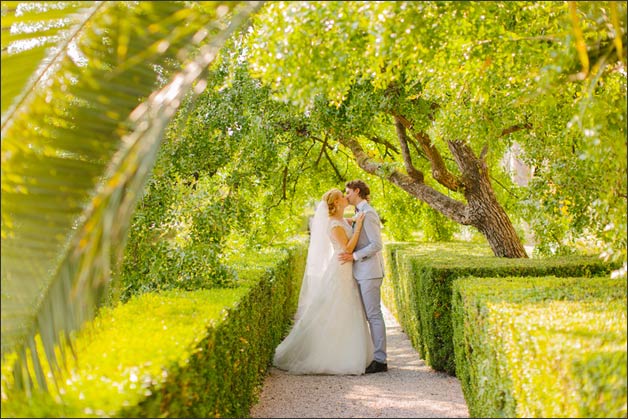 A FANCY LOCATION FOR A WEDDING CEREMONY ON LAKE GARDA
Manuel had been acquainted with the enchanting landscapes of Lake Garda since he was a kid. This is the reason why they both wanted their big day to be happen on the lake.
Manuel got in touch with us in Spring 2015: only three months before the ceremony! Surely time was not that much but they could fall back on Katiuscia's professional expertise, and this is what they enthusiastically did!
Majestic neo-gothic terrace of Isola del Garda with its stunning view over the lake was the perfect venue for the ceremony.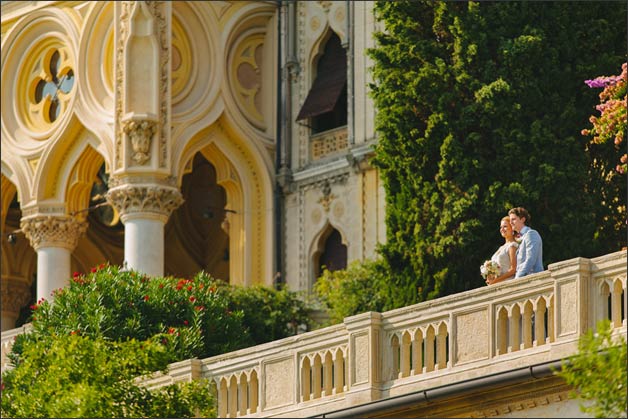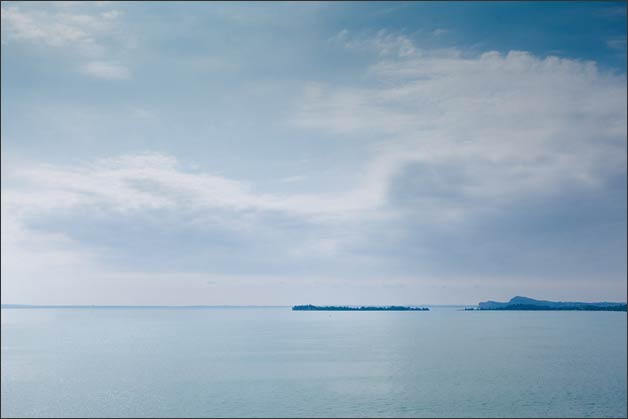 After some months of planning, Katiuscia met Anastasiya and Manuel just on their wedding day when every single detail had already been carefully agreed.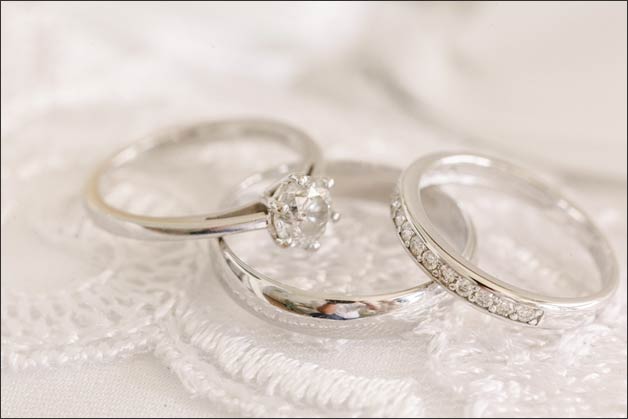 GETTING READY OVERLOOKING LAKE GARDA
Hairstylist and a make-up artist took care of our lovely bride while photographer Cristiano Brizzi started his photo shoot. A classy and very elegant updo to highlight the glowing make-up, a dreaming laces wedding dress. She was just beautiful, ready to meet her husband-to-be.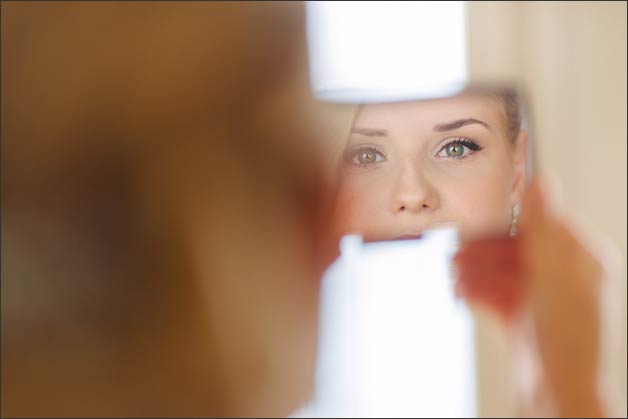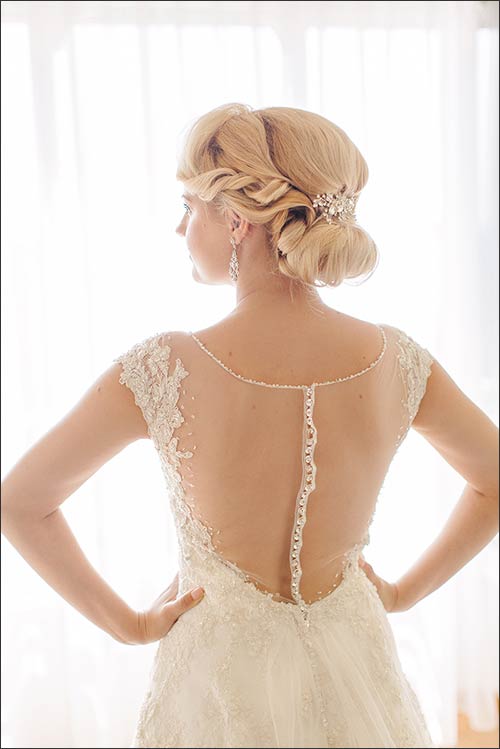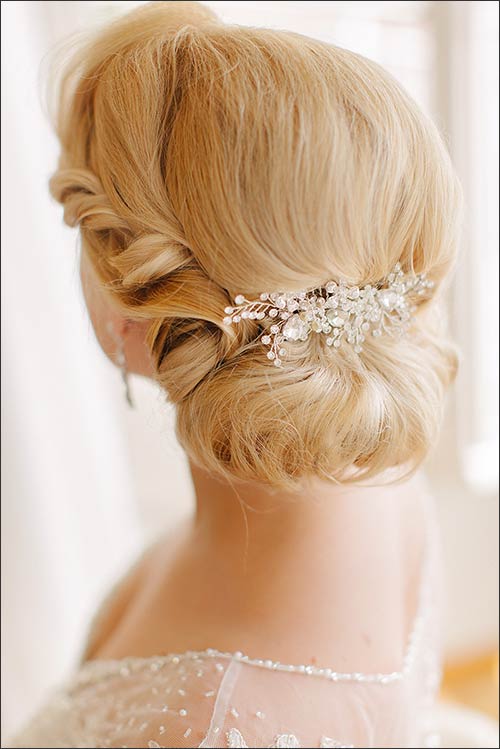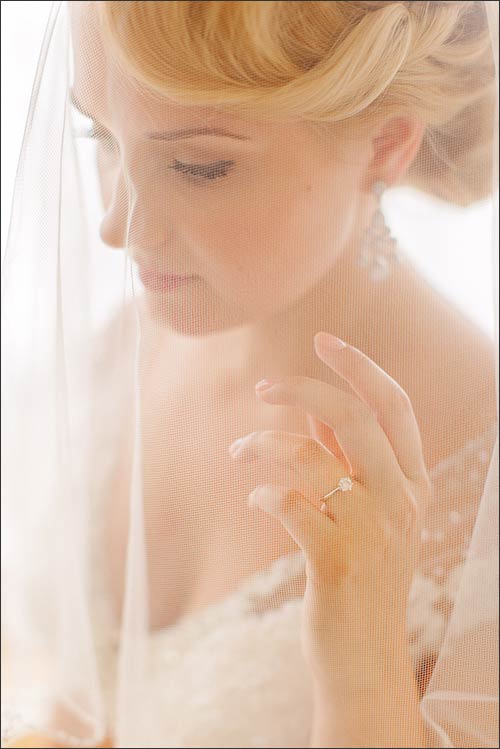 ON DAD'S ARM WALKING DOWN THE AISLE AT ISOLA DEL GARDA
The blend of excitement and peace of the lake made her radiant when, on her dad's arm, got on the nice wooden boat which led them to Isola del Garda where groom and guests were waiting for her. They all reached the venue on a nice speedboat. At the little dock of Isola del Garda, a golf car drove Anastasiya and her dad through the luxurious gardens of the Villa, up to the Loggia where Manuel was waiting for his wife-to-be. It was hard not to get moved when she met her smiling groom, ready to welcome her to the song of Christina Perry A Thousand Years.
They chose romantic white flowers for the ceremony that really matched elegance Anastasya wanted for her wedding in Italy.
It also matched her beautiful bridal bouquet made of white flowers and also some light peach shaded ones.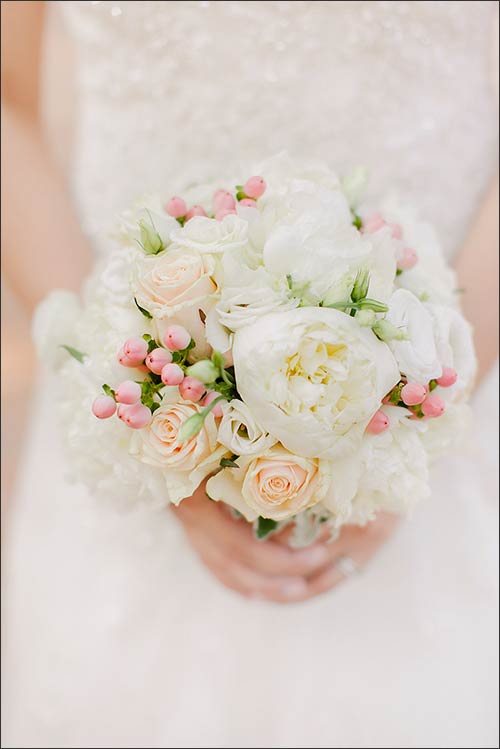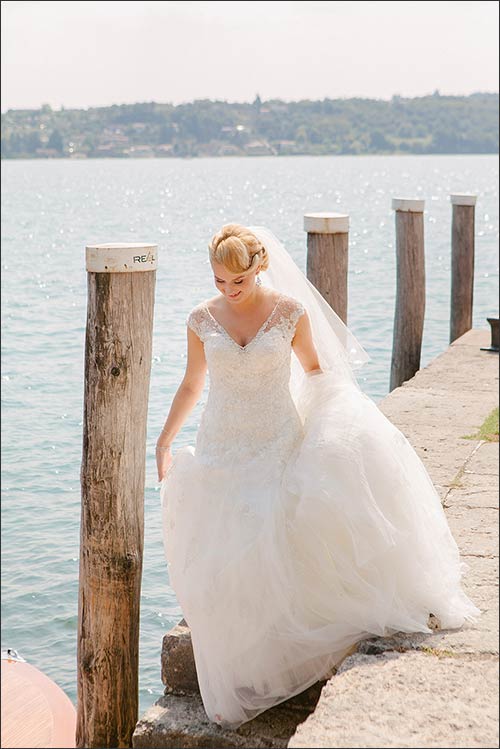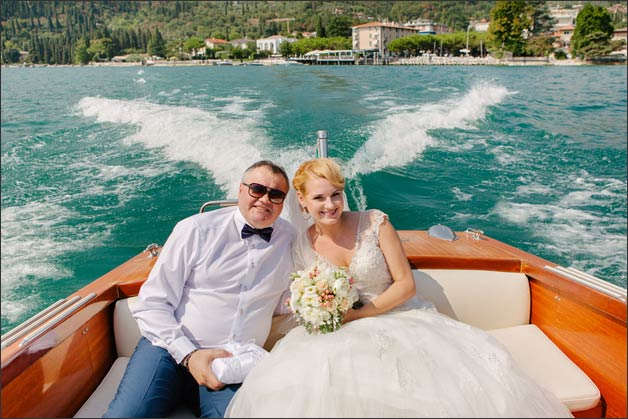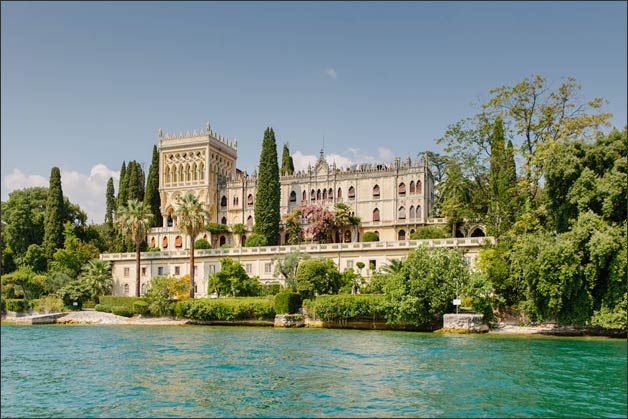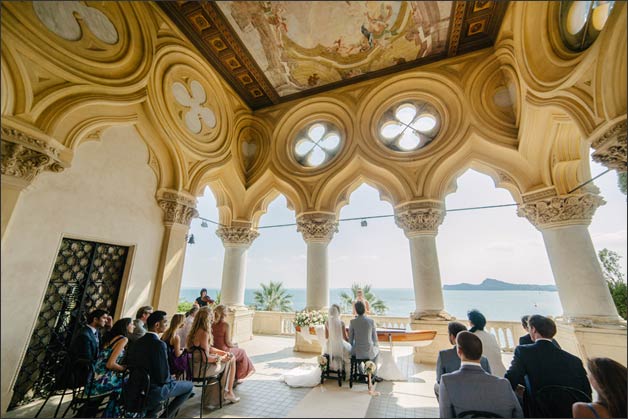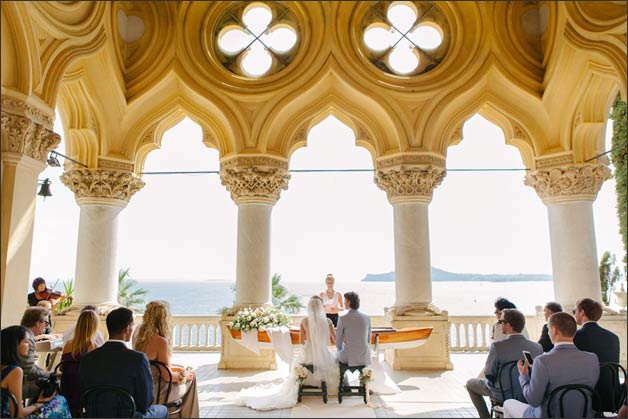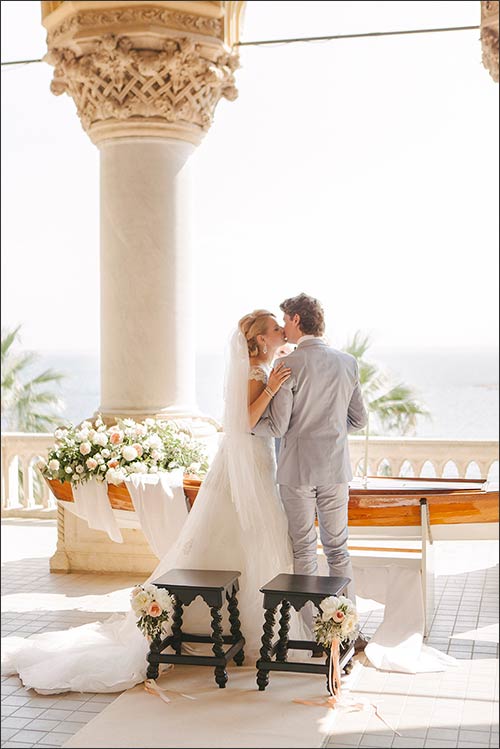 Both very young, they were breathless while posing for their wedding photos in the gardens of Isola del Garda after the ceremony.
Basically Isola del Garda owns two levels of gardens: one is on lake shores, with lush green and an ancient greenhouse for herbs. The other one is located on the upper level, a geometrical beauty of an Italian Garden with its shaped hedges is the setting of the ancient porch where the after-ceremony aperitif took place.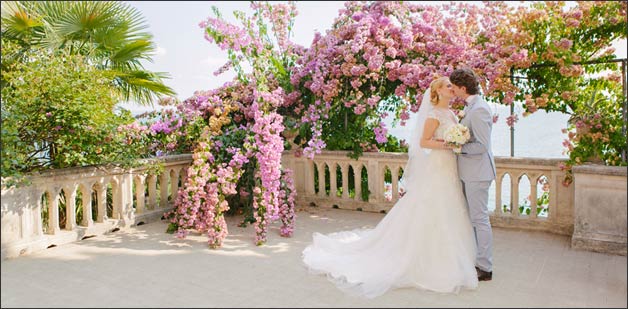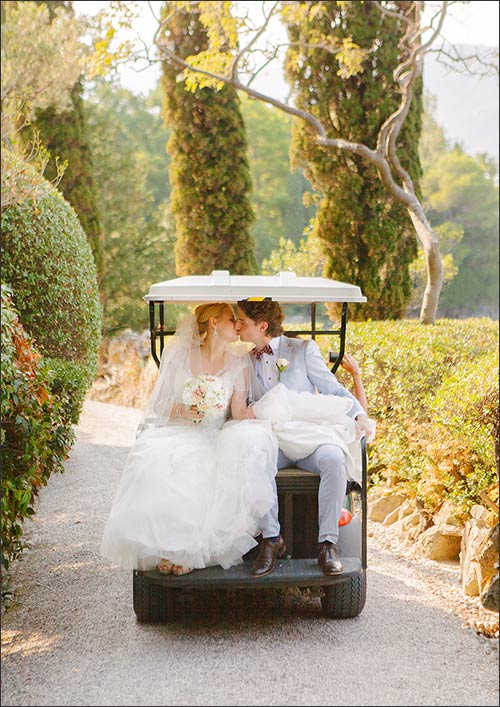 A FUN CRUISE TO THE RESTAURANT TO CELEBRATE
A bigger boat took newlyweds and all their guests to the restaurant where a fun celebratory dinner had been set up. This pretty venue is sober and intimate and its stunning view over Lake Garda matches its gourmand cuisine which is great. As the matter of fact this restaurant is listed among the top restaurants on Lake Garda. How charming was when the bride decided to toss her bridal bouquet!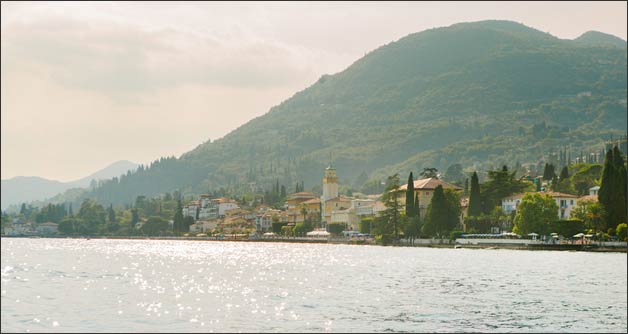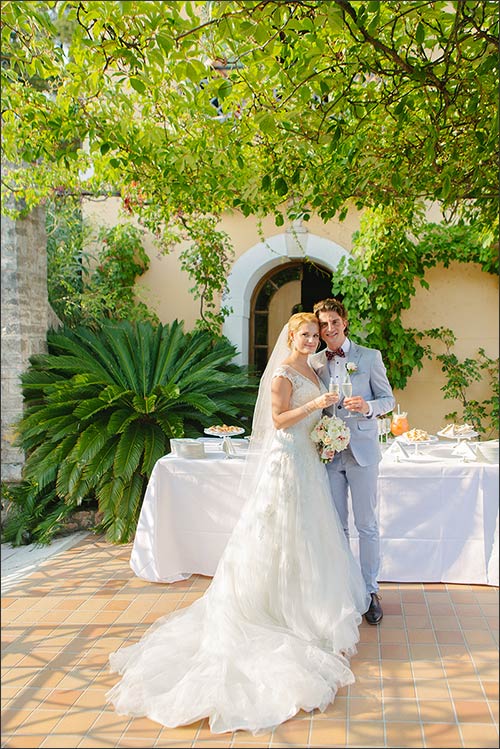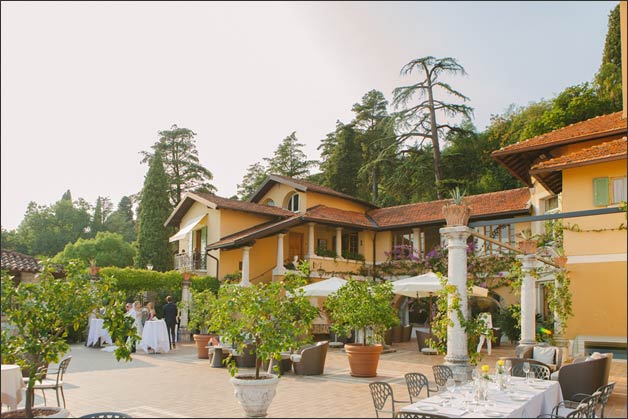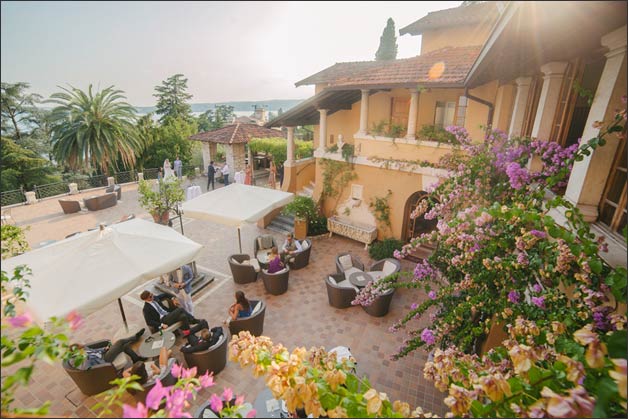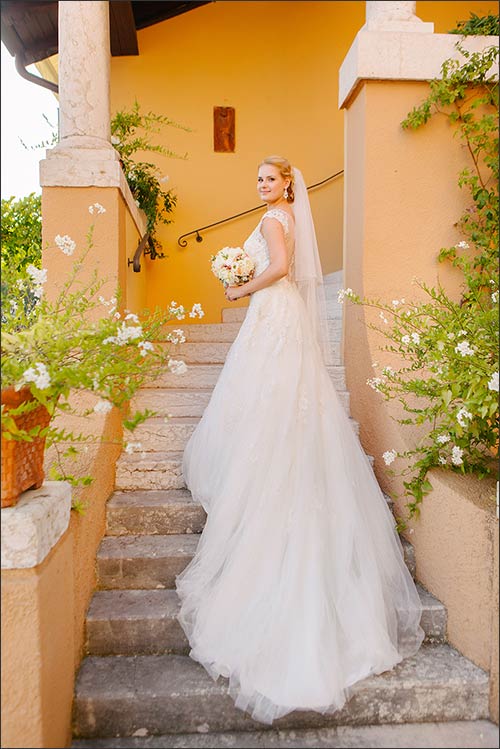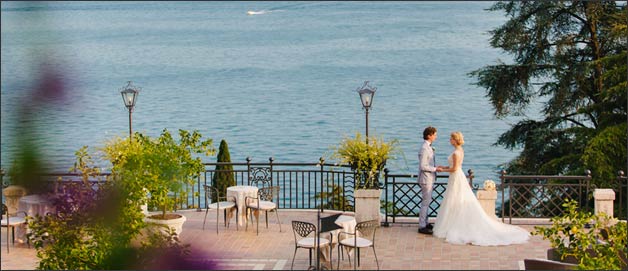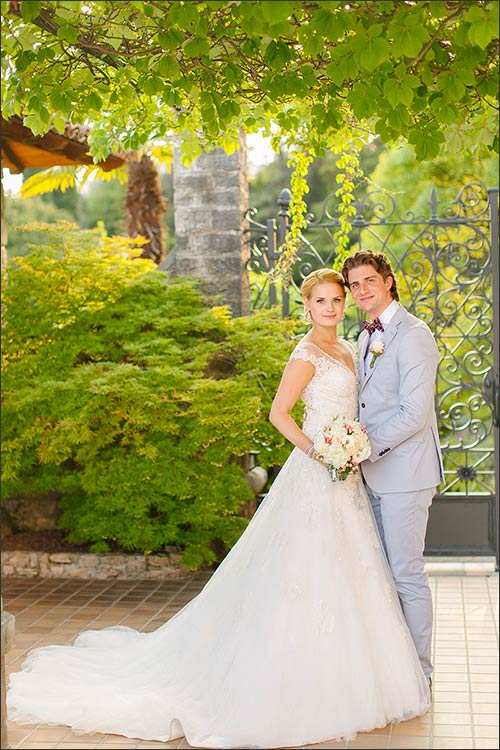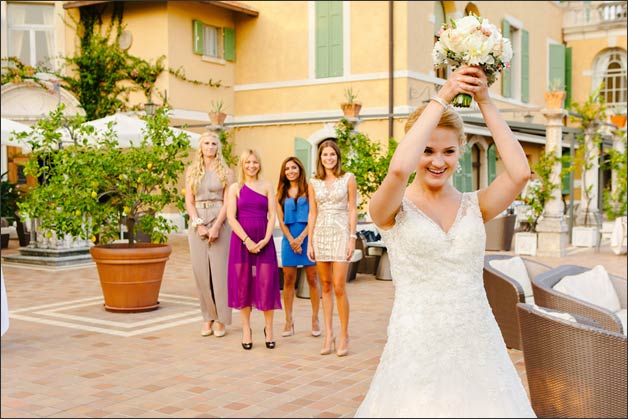 A PERFECT SCENERY OVERLOOKING LAKE GARDA
Delicate combination of colours such as white and peach with a refined touch of silver had been the choice for Anastasia and Manuel's big day theme. A warm light of the sunset on the enchanting terrace added a delicate nuance to wedding decor of the long imperial table. It made wedding venue simply gorgeous: silver chandeliers, immaculate china, delicate bouquets of white and peach buttercups and roses as centrepieces.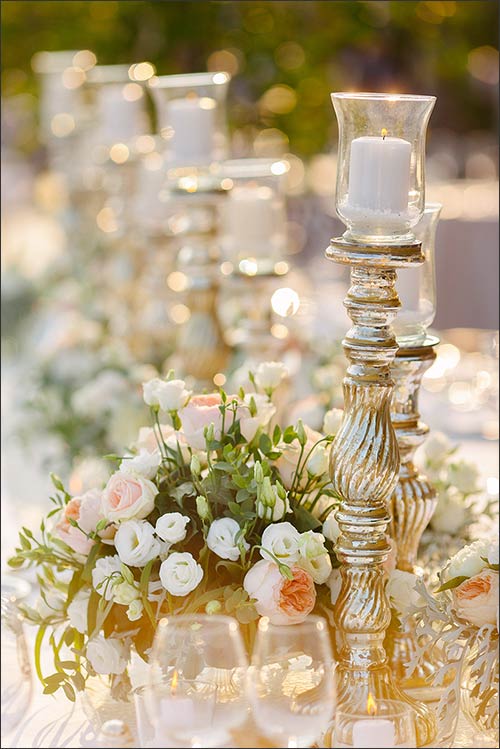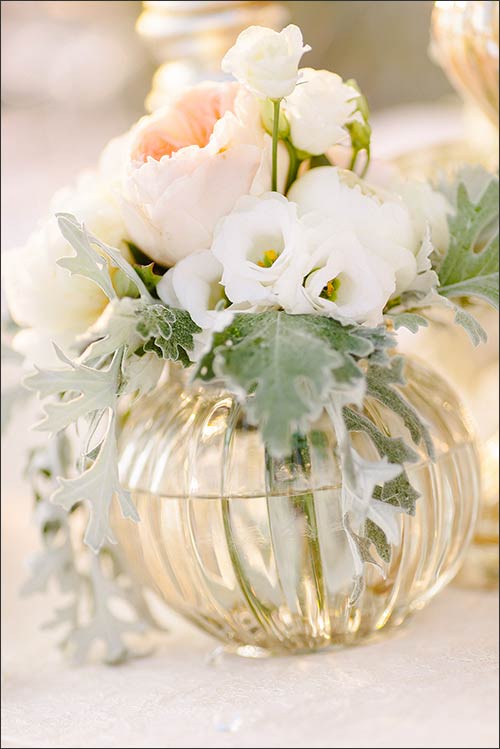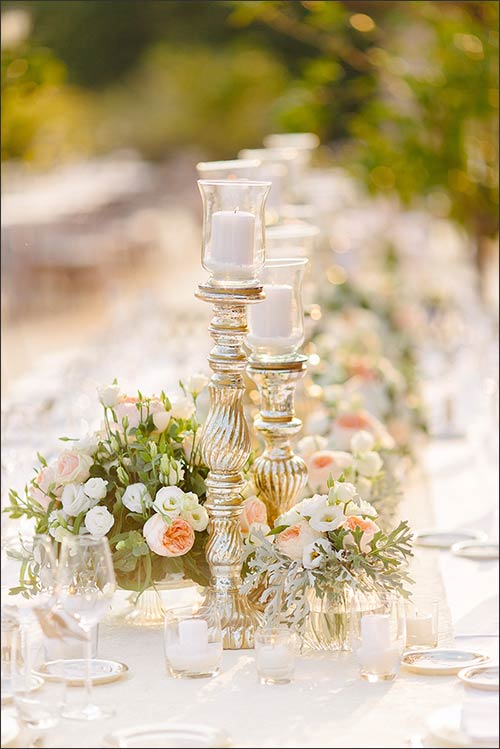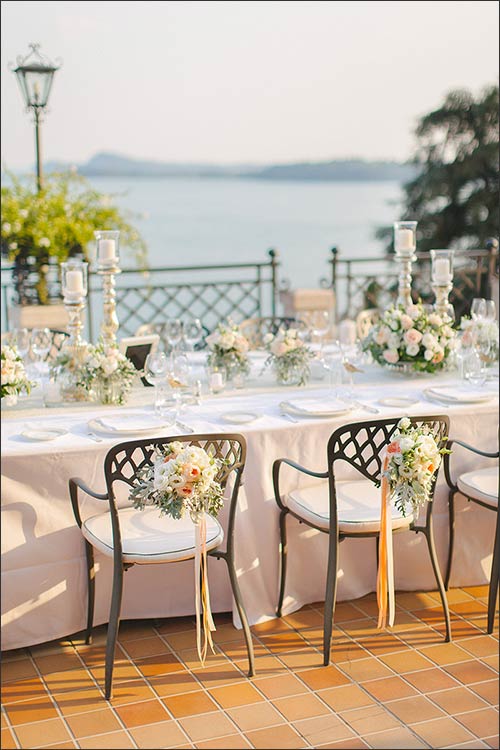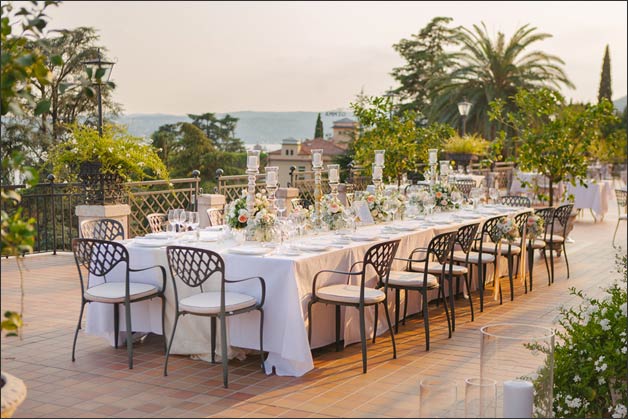 Candlelit dinner was simply delicious. Lovely whipped cream and peaches wedding cake setup matching same decor theme. Anastasiya wanted all the guests to have a precious bottle of the famous lemon-flavoured liqueur Limoncello del Garda from the ancient lemon orchards of the lake, as a souvenir and wedding favour of a special day.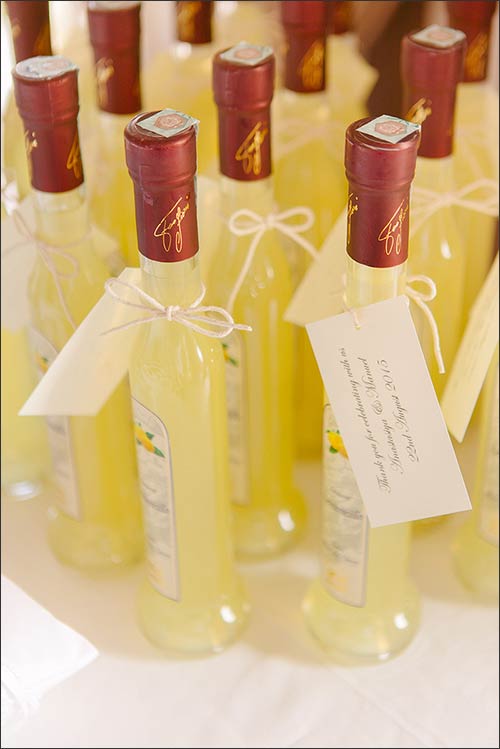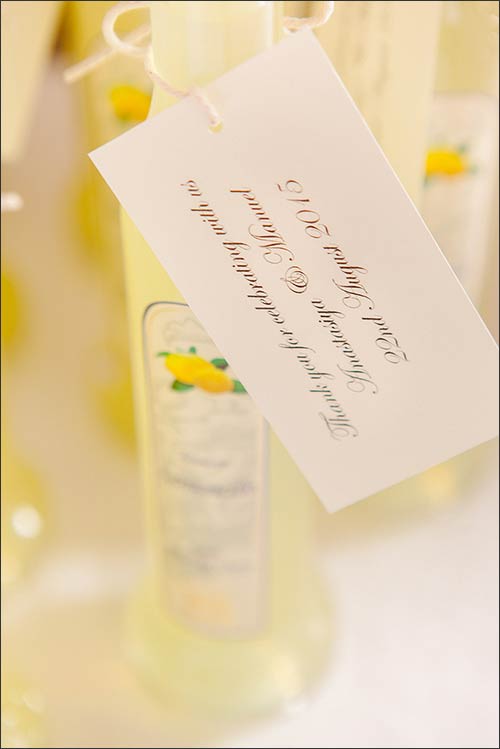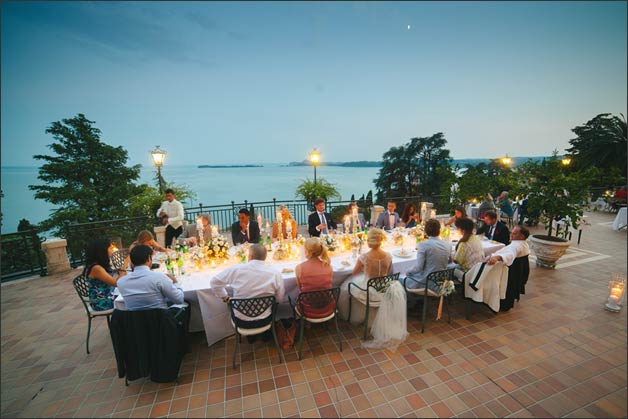 A WEDDING ON LAKE GARDA, SIMPLY UNFORGETTABLE!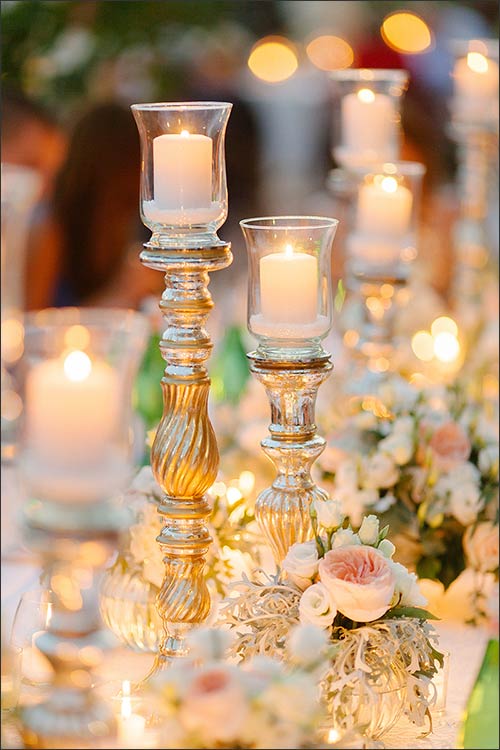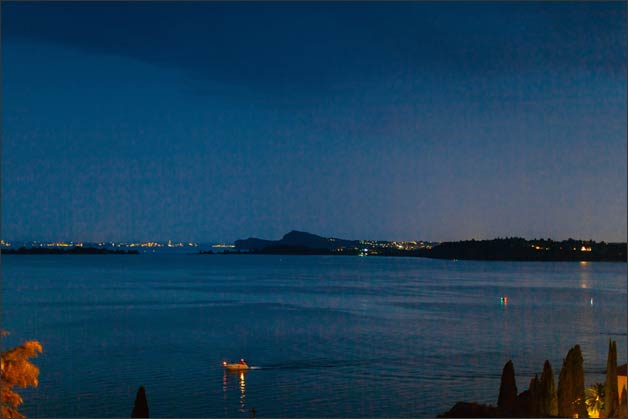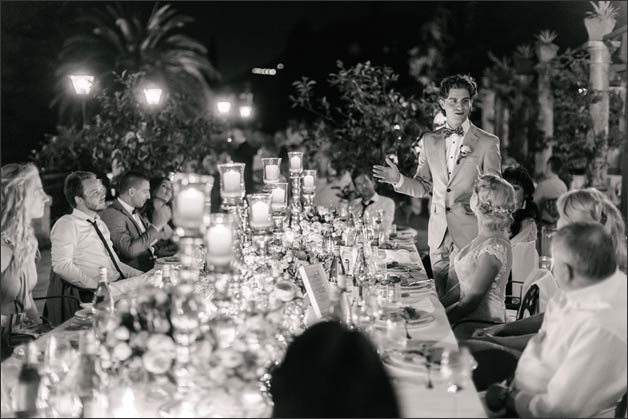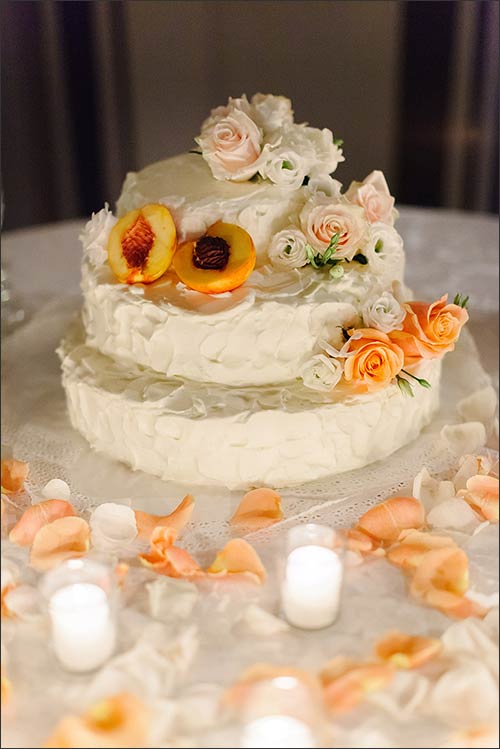 The view over Lake Garda is fantastic, encrusted with twinkly lights under a starry sky. Dinner is almost over when, to the piano melody played by the groom's best friend, newlyweds started their first dance. Could anybody ever forget about a day such as this?