fter a long winter we are all finally back on the road!
2014 Wedding season
started at last with some wonderful Spring weddings on Lake Orta, Lake Garda and Lake Como.
Soon many other weddings from these and other lakes will fill our pages so… stay tuned!
Siobhan and Roger's wedding – Lake Garda
We start with Lake Garda: Angela and Katiuscia planned a lovely intimate wedding in Malcesine.
Siobhan and Roger came from UK to celebrate their marriage with family and friends who came from Austria and UK.
This event can be really considered the kick off of 2014 season. It took place in March.
Siobhan and Roger choose Malcesine for their special day staying with all their guests in a lovely residence in the heart of Malcesine village.
For their ceremony, aperitif and celebratory meal they stayed in Malcesine having all events all walking distance from each other.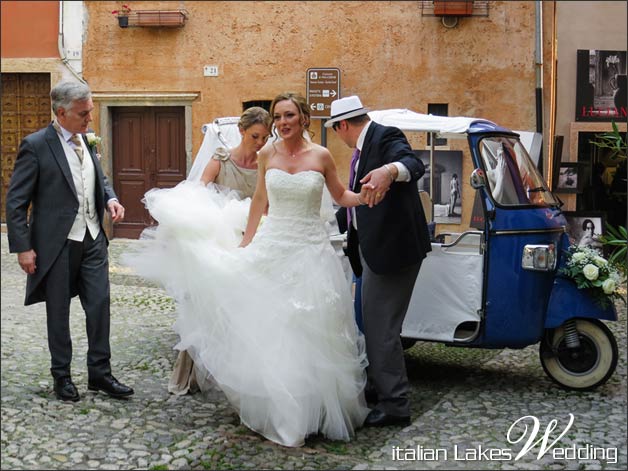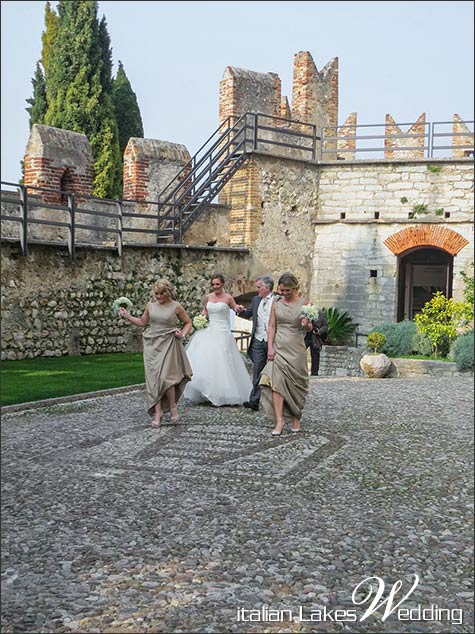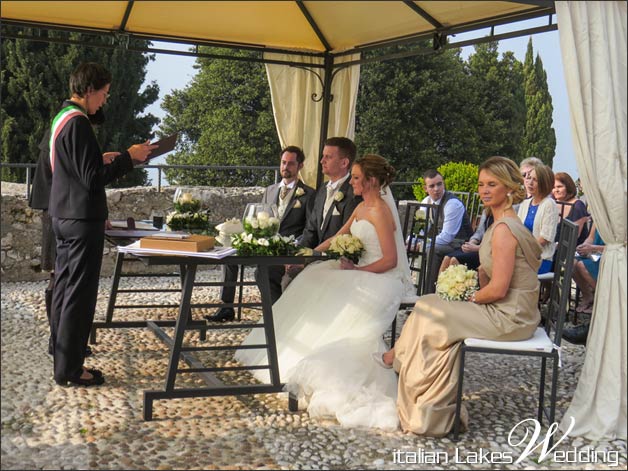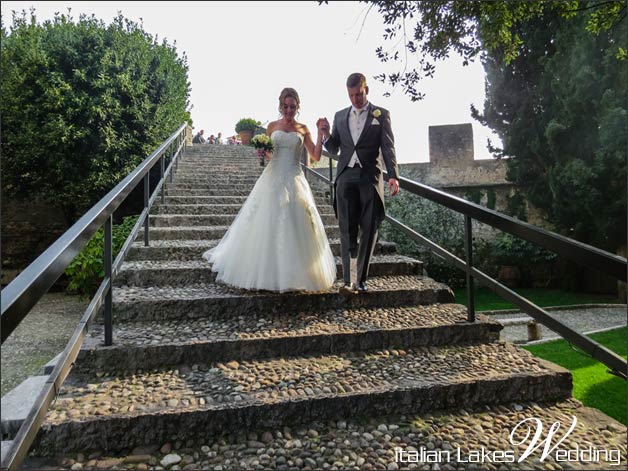 Lucinda and Stephen's wedding – Sestriere, Italian Alps
Spring in Italy could be really strange… if flowers blooms on the lakes and by the seaside… to the mountains we still have snow in March!
Stephen and Lucinda take advantage of this planning a wonderful Winter Wedding to the Alps!
Valentina – our planner for Lake Maggiore and Lake Orta but even for Piemonte countryside and Alps – followed this lovely event.
Lucinda and Stephen got married in Sestriere in the snow. They choose a wonderful luxury hotel and snow resort by the ski slopes for their ceremony and fun reception to follow.
Guests arrived from all over the world to share with Lucinda and Stephen this special day on the snow.
Feathers, red roses and pine branches were the main elements Lucinda chose for her wedding.
Some great shots in the snow, mountain local cuisine and lot of fun for the dances did the rest!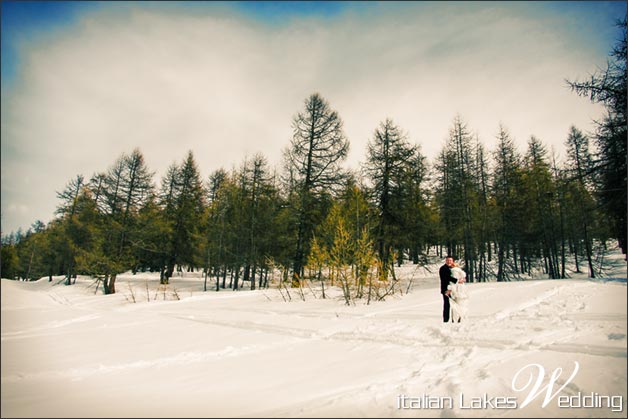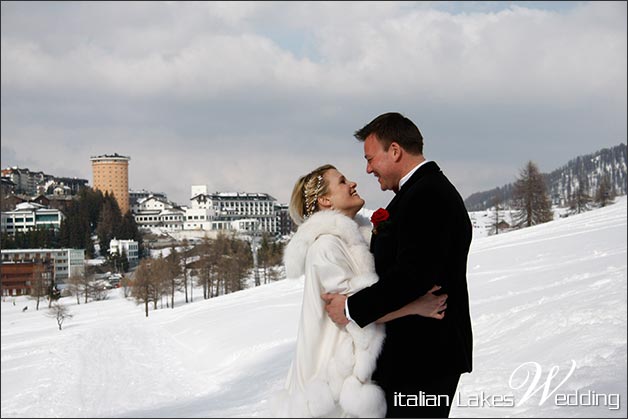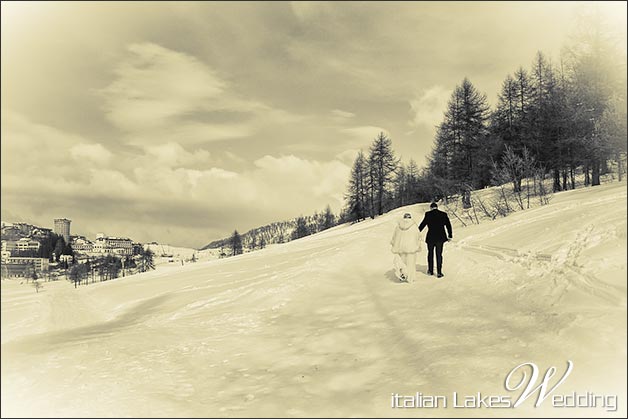 Lucinda and Stephen's wedding is also featured on our thematic web site: Italian Country Wedding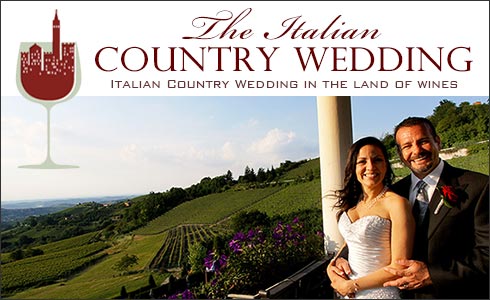 Fei and Li's wedding – Lake Como
Then April arrived and it tools wonderful warm and sunny days for some lovely spring weddings.
We start with a very intimate elope on Lake Como. The event was followed from Alessandra and Veronica.
Fei and Li are Chinese but they both live in US.
They really wanted an intimate wedding on Lake Como for just the two of them.
They choose stunning Villa del Balbianello to tie the knot.
Simple but elegant decorations with ivory Vendela roses and an intimate celebratory meal in a fine restaurant in Tremezzo village overlooking the lake. A wonderful dream!
Photos by: Alessandro and Veronica Roncaglione.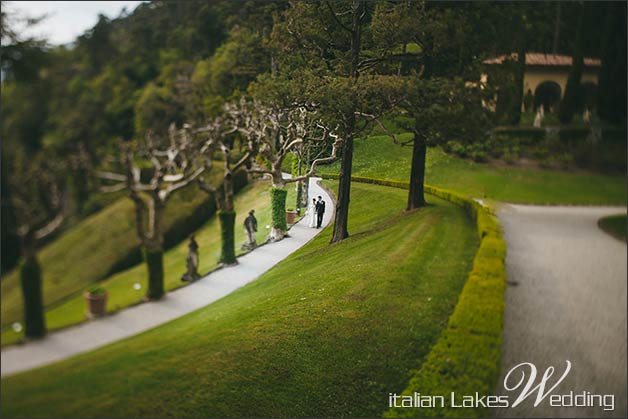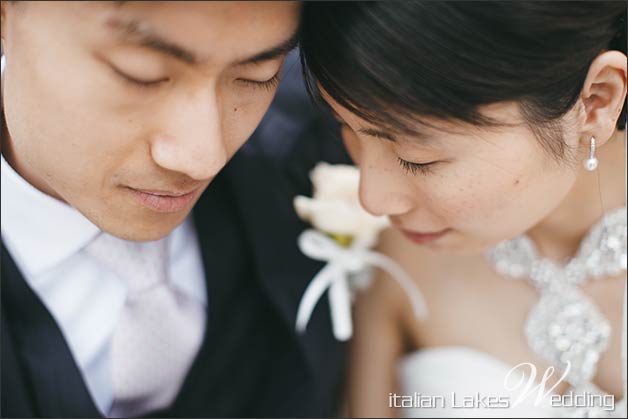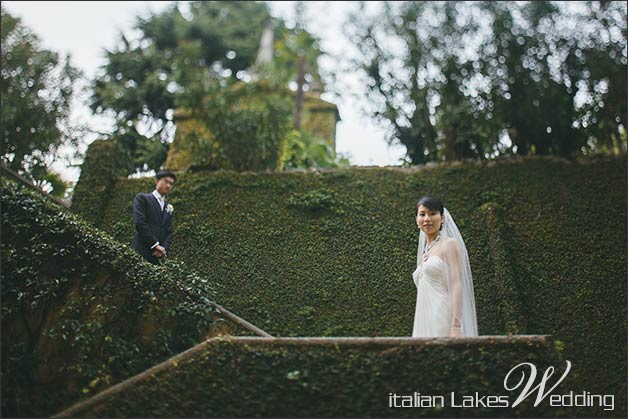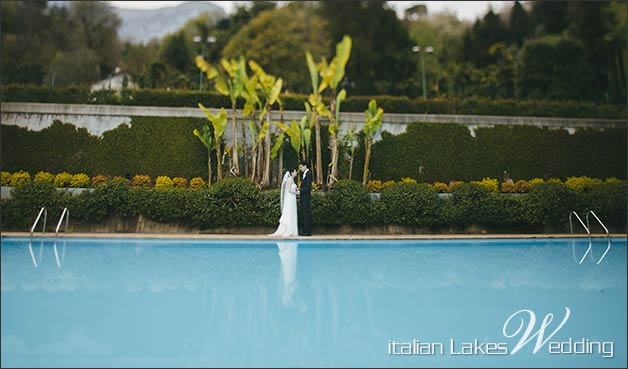 Monica and Alessio's wedding – Formazza Valley, Northern Piemonte
Moving to Piemonte La Piccola Selva Team followed a lovely wedding for an Italian couple.
We are talking about a charming event to the mountains of Northern Piemonte just above Lake Orta and Lake Maggiore.
Here you can find some of the most beautiful Alpine destination of Piemonte region.
If you are looking for a country wedding in an off beaten track destination this location could be perfect. We are on foot of Mt. Rose where you will find Ossola Valley, Vigezzo Valley (aka Painter's valley), Formazza Valley and its wonderful river Toce falls. There are also some romantic Alpine lakes in Antrona valley and some SPA destinations such as Bognaco and Crodo – it is just in Crodo that famous Italian aperitif Crodino was born… can you believe it? –
Alessio and Monica
choose
Crodo
surroundings for their wedding.
They planned their reception at
Hotel Belvedere Wellness & SPA
. A wonderful wellness hotel with a relaxing view on Antigorio Formazza valley.
It is just a little corner of paradise in Piemonte few kilometres from Switzerland and Lake Maggiore.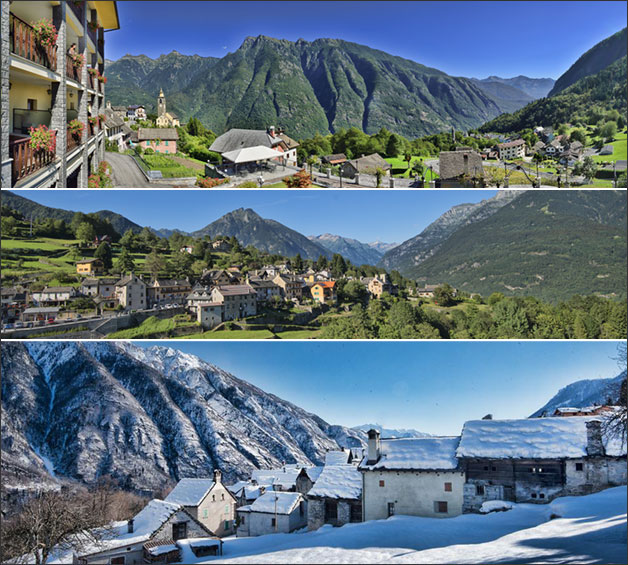 La Piccola Selva Team was there for Italian Lakes Wedding. They planned a wonderful total white arrangement with April flowers: Lilac flowers (botanic name: Syringa Vulgaris) and Stock flowers (botanic name: Matthiola Incana).
They could be a perfect choice for a fresh April wedding. They are seasonal and easy to find.
La Piccola Selva used these pretty flowers for the arrangements at the ceremony, reception and bridal bouquet. A wonderful teardrop bouquet enriched with lime green roses.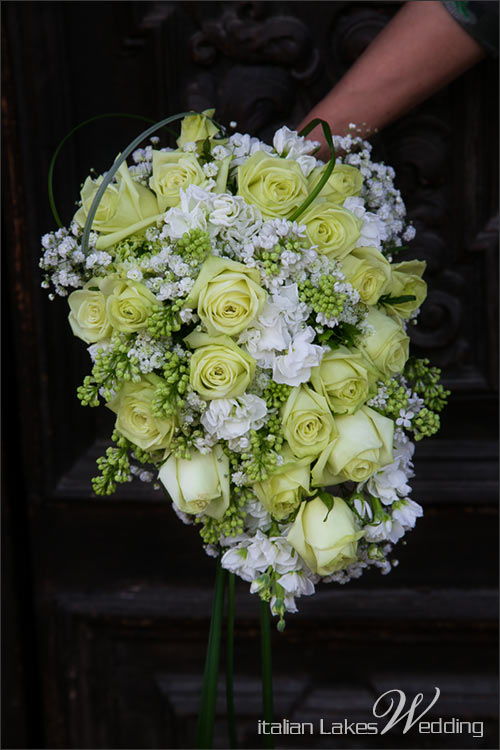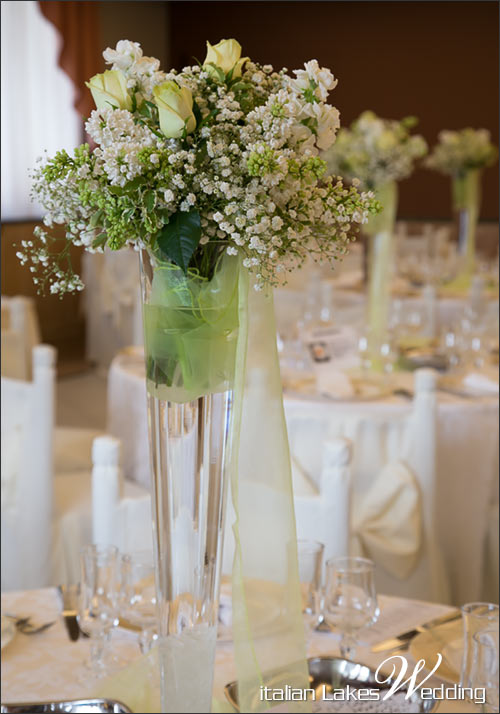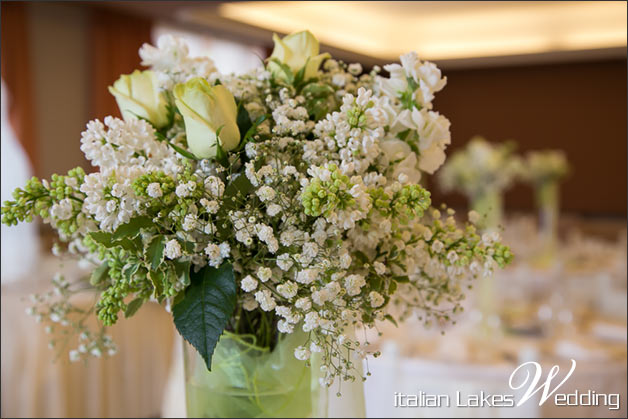 Lisa and Duncan's wedding – Lake Orta
We move to down Lake Orta where Valentina followed an unusual wedding just before Easter.
Lisa and Duncan chose for their event a Rainbow theme! Isn't it really original?
For their civil ceremony they opted for Villa Bossi, a must of you want to get married on Lake Orta.
A multi color decoration for the table of the ceremony, for men's buttonholes, ladies corsages and, of course bridal bouquet. And what about Lisa's arrival to Villa Bossi… a multi color entrance for sure!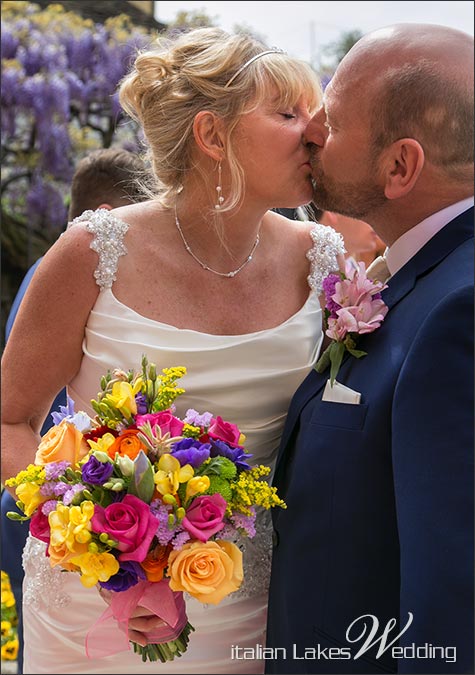 After the ceremony and a lovely boat tour on the lake, guests were welcomed by the staff of Orta Beach Club for the wedding reception.
Each table was named after a color and floral centrepieces matched each of them.
A great party on the lake closed a wonderful flower power event!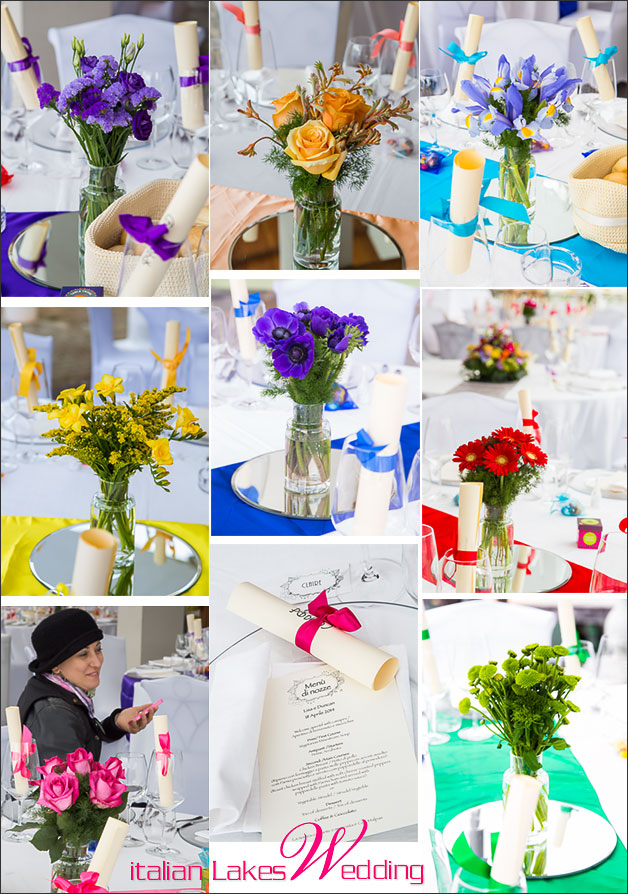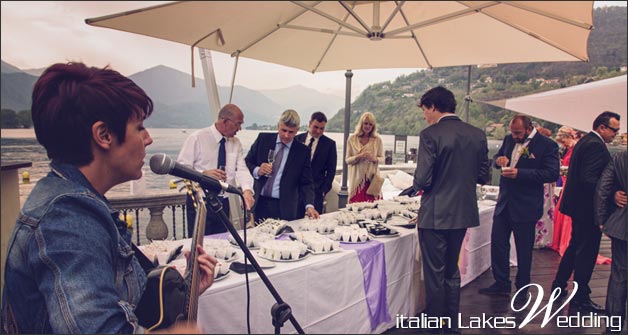 Manon and John's wedding – Lake Como
We get back to Lake Como with Alessandra and Veronica for Manon and John's wedding.
They came from UK for an intimate and romantic wedding on this wonderful Italian lake.
Ceremony was planned in an historical villa overlooking the lake and intimate reception in one of the most famous and luxury hotel on Lake Como.
Music was very important for bride and groom… they really wanted an event full of music.
All the guests enjoyed the choice and wonderful landscape of Lake Como.
Manon wanted an all white wedding with some touches of green and since we were close to Easter some olive branches, a nice touch to make floral decorations a little more original!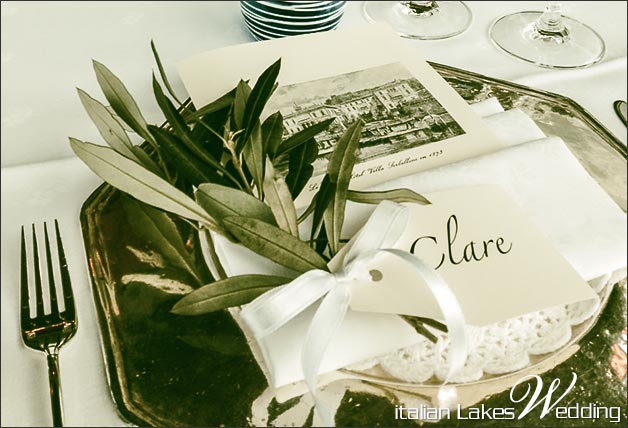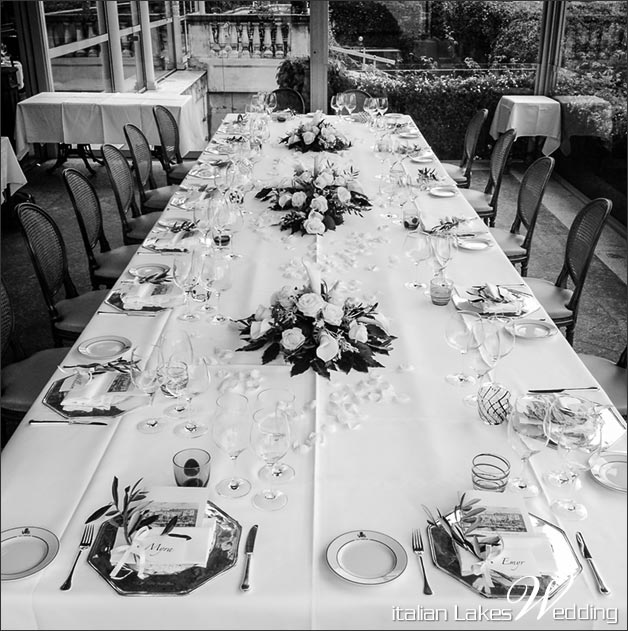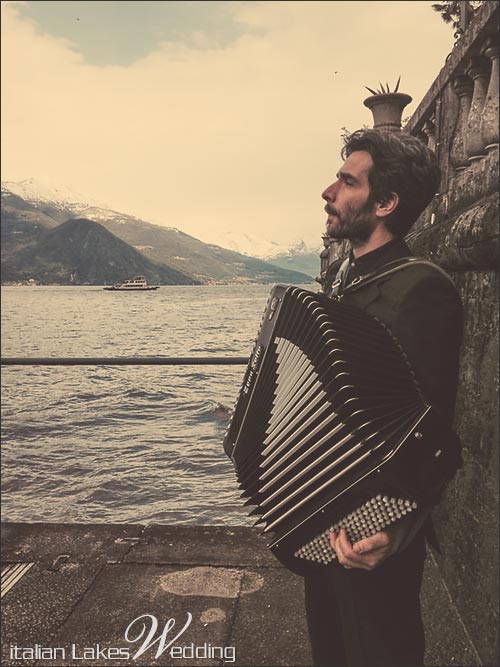 Susan and Conor's wedding – Lake Como
We close our post with a lovely Irish couple: Susan and Conor.
Alessandra and Veronica planned for them a wonderful intimate event!
For their ceremony they choose a Catholic rite in a church in Varenna village.
Susan chose white, pink an fuchsia for her floral decorations made with Aqua roses and pink Lysiathus. Lovely bridesmaids wore in fuchsia too perfectly matching Susan's color scheme.
After the ceremony bride and groom took some time for their own to reach Villa del Balbianello for some magic shots. Villa del Balbianello is always a great scenario for wedding photos!
For their intimate reception Susan and Conor chose an exclusive hotel overlooking the lake spending a great time with their close family and friends.
Photos and Video by Daniela Tanzi.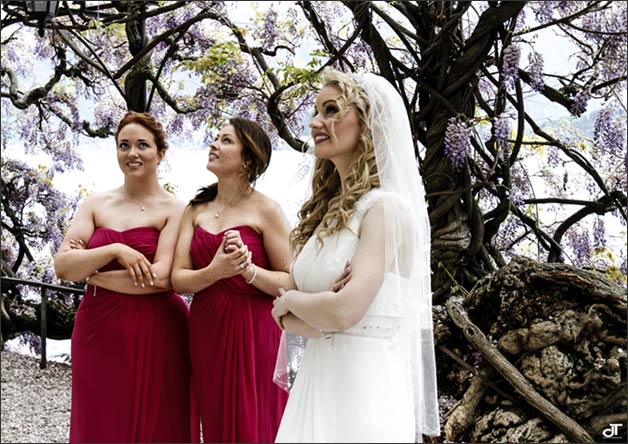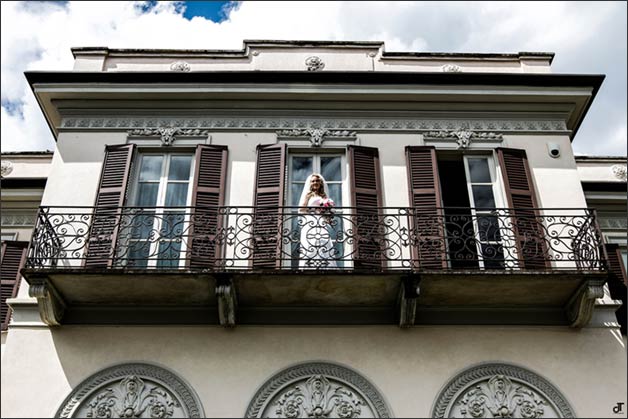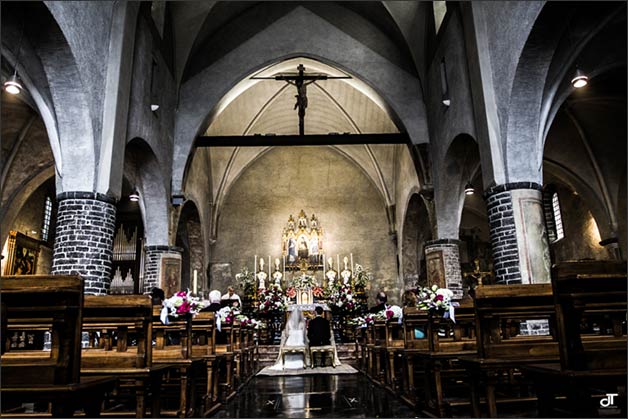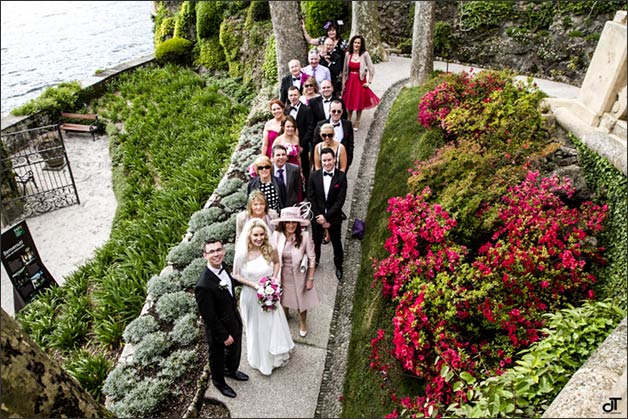 We are really excited about this wonderful 2014 wedding season kick off!
Summer season is coming and we are looking forward to tell you more about our weddings!
Stay tuned for more to come!