ith May we officially start
2014 wedding season!
We are so excited to tell you about our newly weds. Our team worked for many couples this month and as usual we are here to tell you about all of them!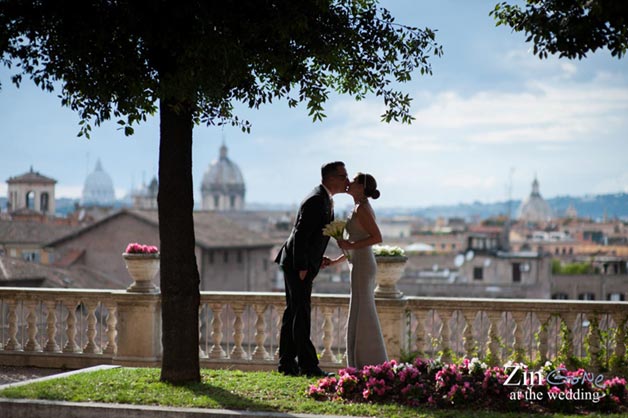 Wolfgang and Anna's wedding in Cortona, Umbria
This time we start with Umbria and Tuscany region with Wolfgang and Anna's wedding on May 3rd.
Our experienced planner Elia and his staff planned for them a lovely wedding between Umbria and Tuscany.
Wolfgang is German and Anna is Russian, they choose Italy because they decided to spend the rest of their lives in Tuscany. How romantic! How beautiful!
They chose to celebrate their wedding ceremony in their own property to move then to an ancient villa.
They choose an elegant wedding with white romantic flowers: white roses, peonies lysianthus and gypsophila.
An outdoor aperitif on the steps of the villa and an elegant dinner to follow inside the precious rooms with frescoes on the walls and a wonderful vaulted ceiling.
For the wedding cake cut they choose park of the villa with fun and dances for all afterward.
A special thanks to Marco Miglianti photographer for these lovely shots!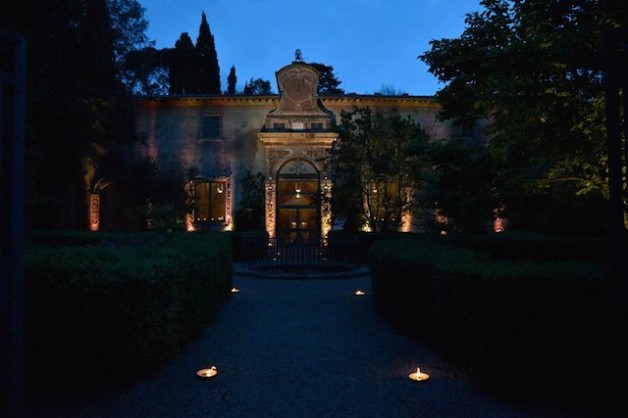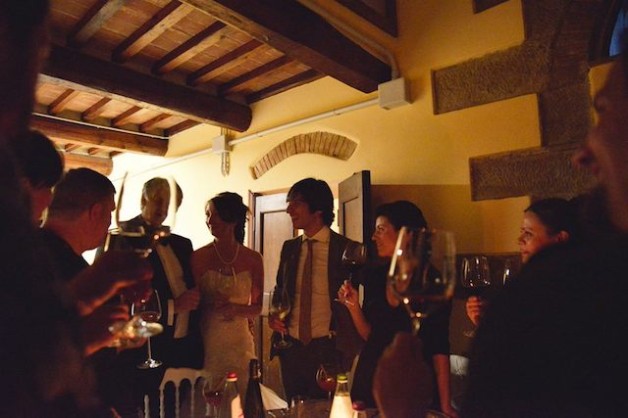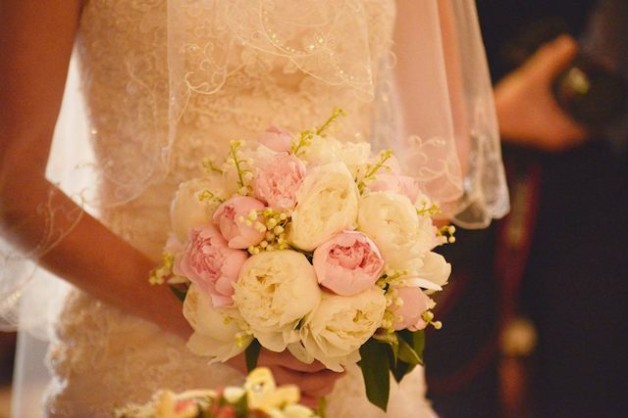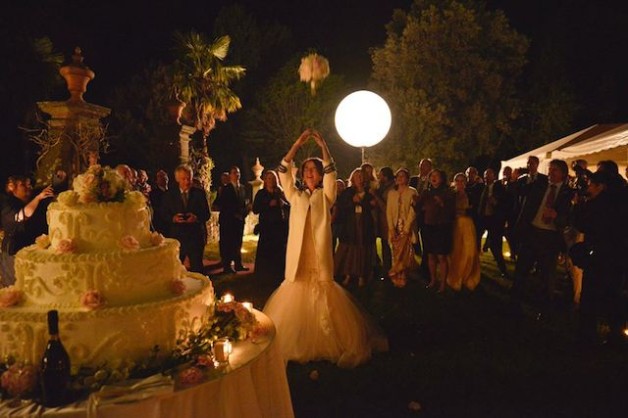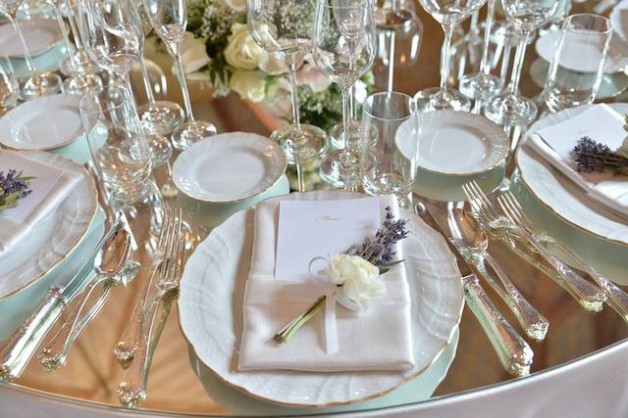 This event may be featured also on our partner site: Italian Country Wedding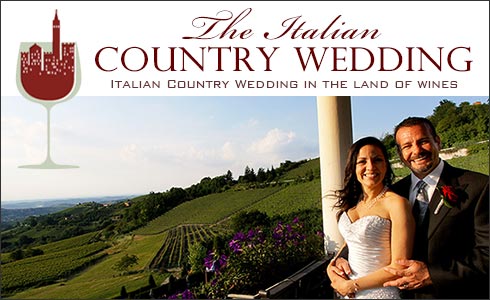 Gabriella and Stefano's wedding on Lake Maggiore
From central Italy we move to North West on Lake Maggiore.
Gabriella and Stefano got married on May 5th and they choose for their catholic ceremony a panoramic little church overlooking the Lake: San Antonio church in Solcio di Lesa.
Solcio di Lesa is a lovely village located between Stresa and Arona.
For our Team there was Monika from La Piccola Selva who created for the couple a total-white floral decoration for the church made of Lilium Longiflorum.
For the teardrop bridal bouquet Monika used Erigeron flowers, hydrangeas and roses.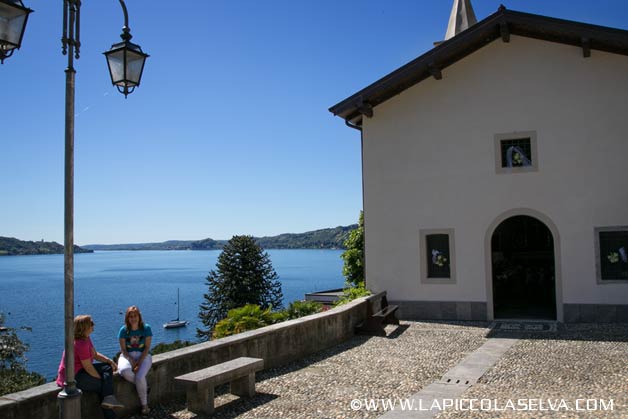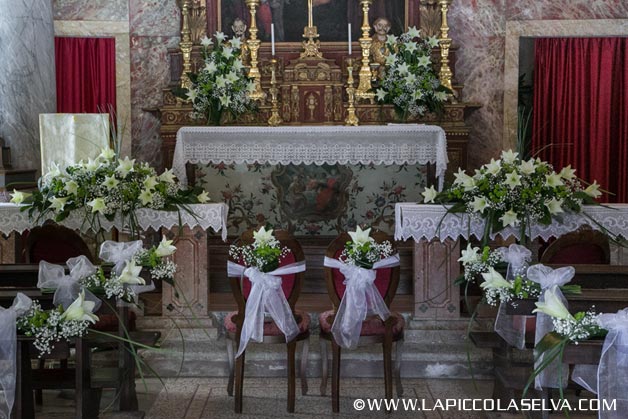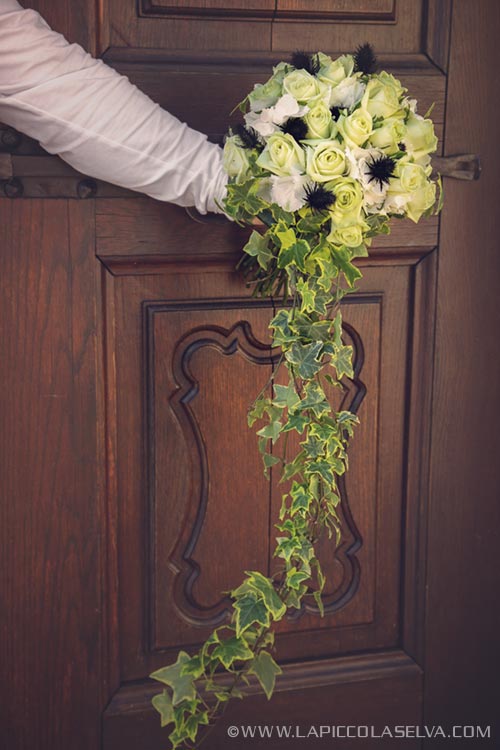 Lauren and Christopher's wedding in Varenna, Lake Como
We move on Lake Como for Lauren and Christopher's wedding on 10th May.
Alessandra, Veronica and their Team followed the event for us.
Lauren and Christopher wanted a Catholic ceremony in the lovely church of Varenna, Bride had a lovely bouquet in peonies and roses, very romantic! They stayed in Varenna for their reception choosing a pretty restaurant on the hills.
Lauren and Chris come from Louisiana US and they wanted a very intimate ceremony for the two of them. They were so moved at the ceremony but Alessandra and Veronica's team were very good in put them them at ease and let them enjoy their day!
A boat tour made them relax and experience a unique day on Lake Como.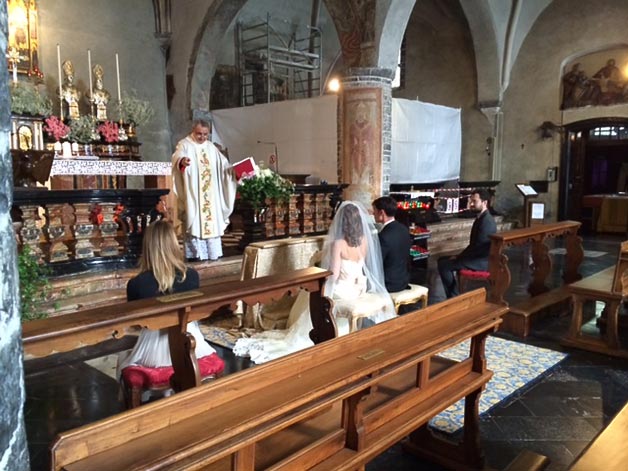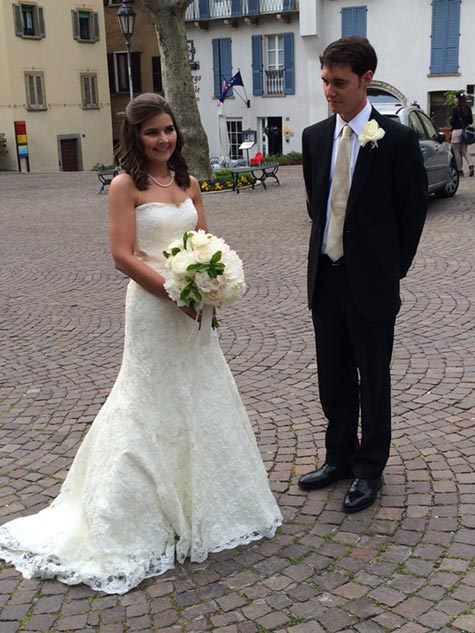 Marissa and Michael's wedding in Rome
In the meanwhile on the same day, Stefania planned a wonderful wedding in Rome. Marissa and Michael got married in a wonderful roman church: Santa Maria del Popolo right in the beating heart of eternal city in Piazza del Popolo.
Both bride and groom came from US and both have Italian heritage. Italo-American guests were super happy to be again in Italy… in Rome!
Marissa choose Santa Maria del Popolo because she literally loves Caravaggio paintings and inside this wonderful church you can admire stunning Caravaggio's painting: St Peter's Crucifixion.
Many churches in Rome host Caravaggio paintings and we can ensure that seeing them live is an experience of a lifetime!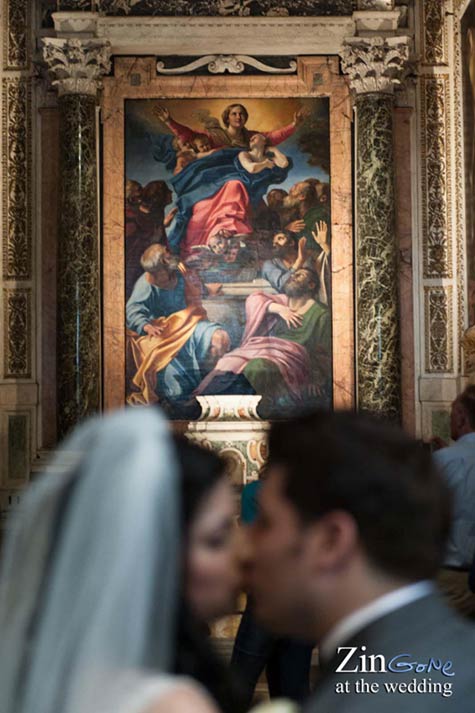 For their reception Marissa and Michael choose one of the most beautiful panoramic venue in Rome.
A lovely restaurant located on Pincian hill in Villa Borghese park, just side of Piazza del Popolo.
The restaurant is located inside an ancient villa built in 1837.
Keeping in mind the idea of a Roman event she wanted a vintage theme with pastel colours such as gold, blue, peach and pink. We could not imagine a better choice for such a wonderful location.
A special thanks to Alessandro Zingone for beautiful photos.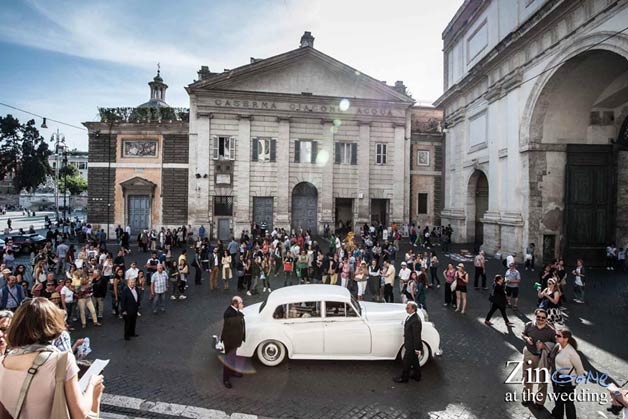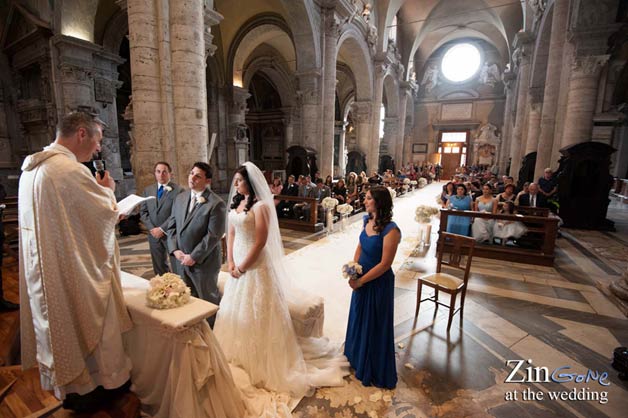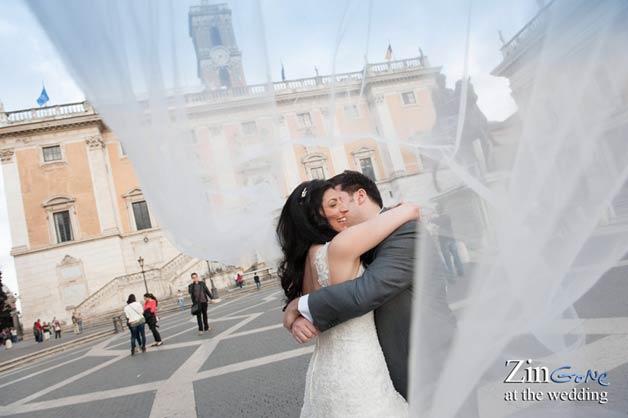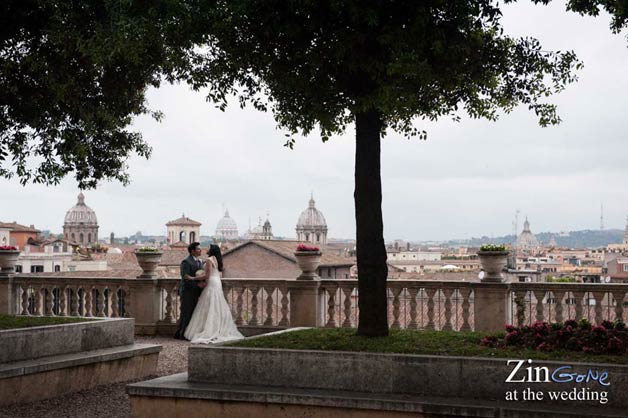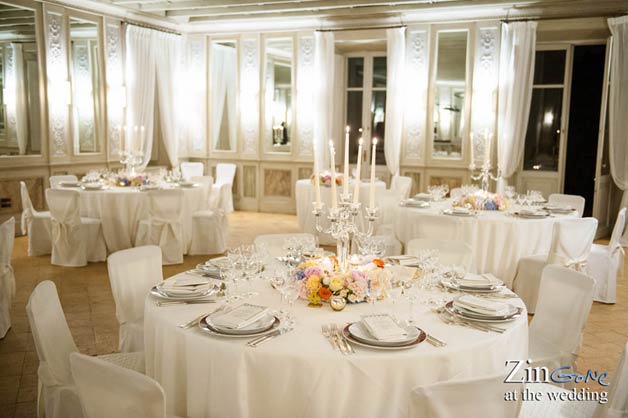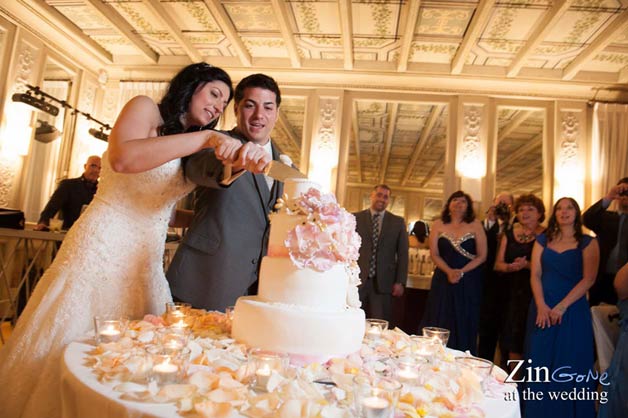 This event may be featured also on our partner site: Italian Rome Wedding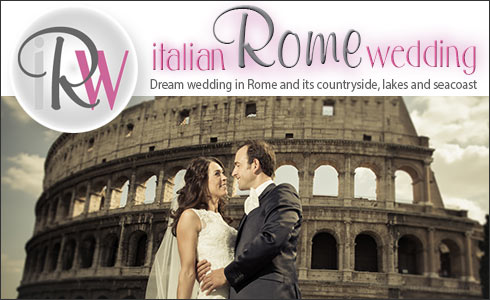 Bettina and Luciano's wedding on Lake Orta
On May 17 Monika from La Piccola Selva followed two events:
Bettina and Luciano's and Federica and Francesco's weddings. They both took place on Lake Orta.
For Bettina and Luciano photographer Enrico Mocci part of our Team followed the photography service too. A wonderful sunny day for a civil ceremony at Villa Bossi and for their getting ready and reception bride and groom chose charming Villa Crespi.
Bettina's bouquet was round shaped all with Vendela roses: an evergreen classic!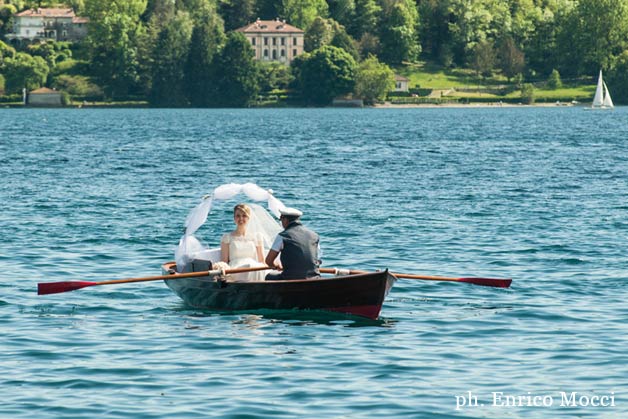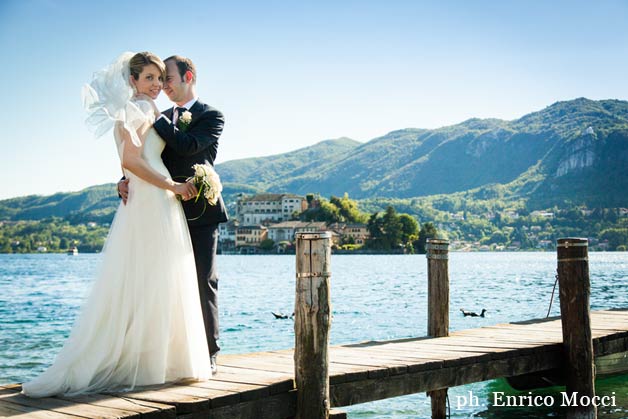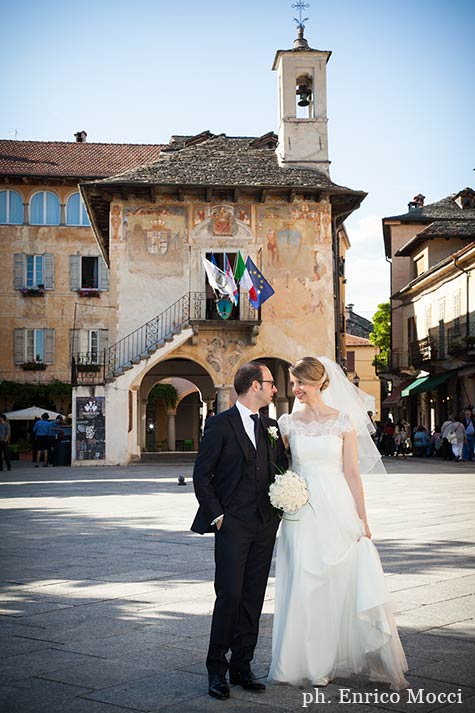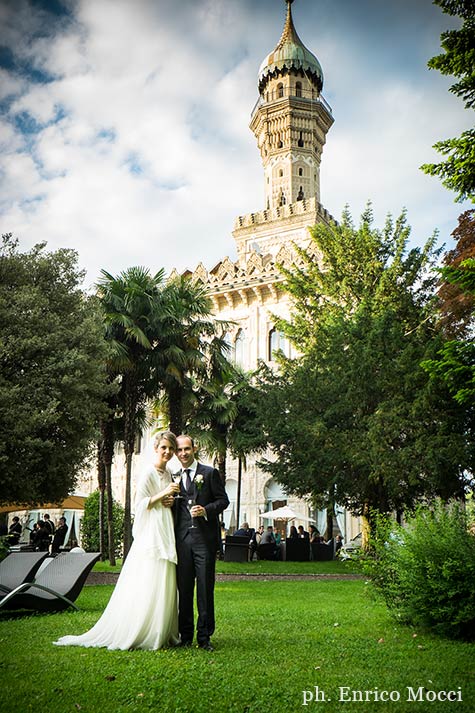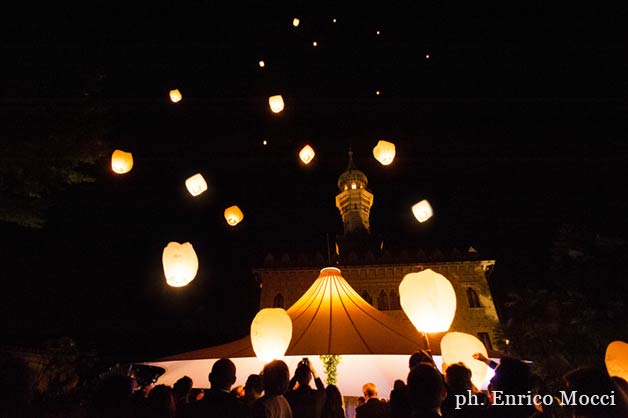 Federica and Francesco's wedding on Lake Orta
On same day Federica and Francesco chose a Catholic ceremony in panoramic church of Sacro Monte di Orta.
Federica reached the church on a wonderful vintage Rolls Royce. Monika from La Piccola Selva created for her a total white phalenopsis orchids bouquet! Amazing!
For the church she used white orchids with apricot roses.
Centrepieces and wedding cake colours were a perfect match!
The reception was held at Hotel La Bussola and friendly and kind photographer Manuela Lovo gave us these lovely shots of the day.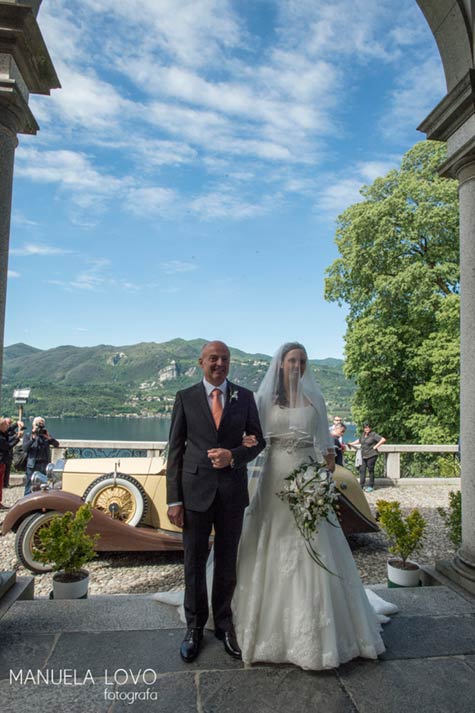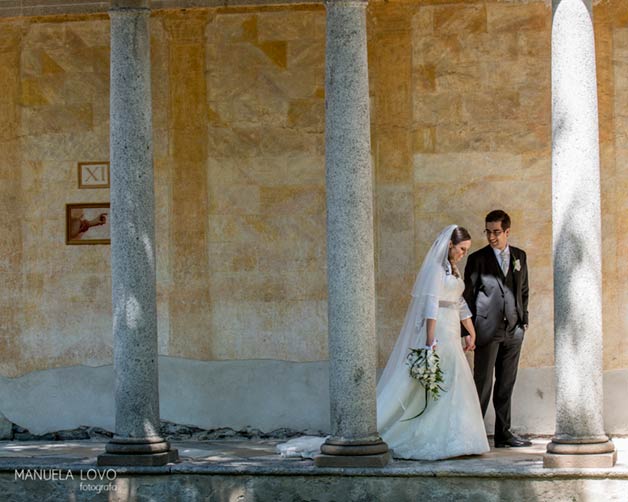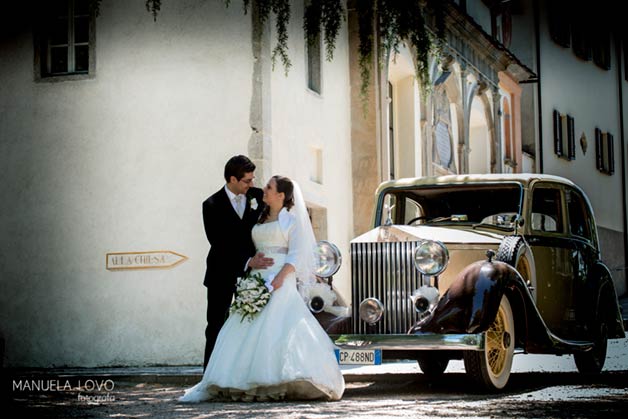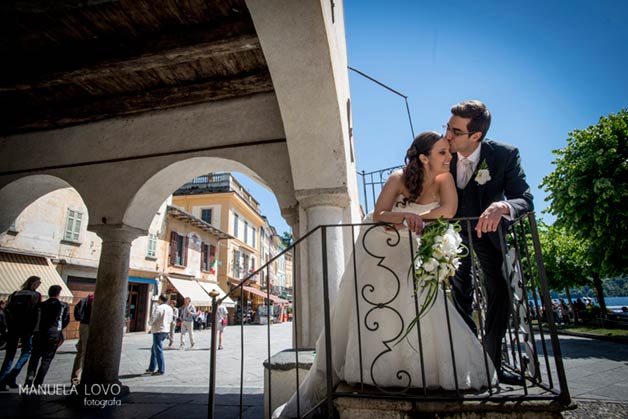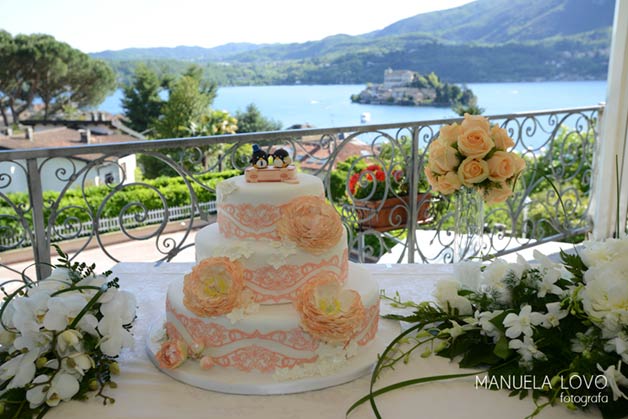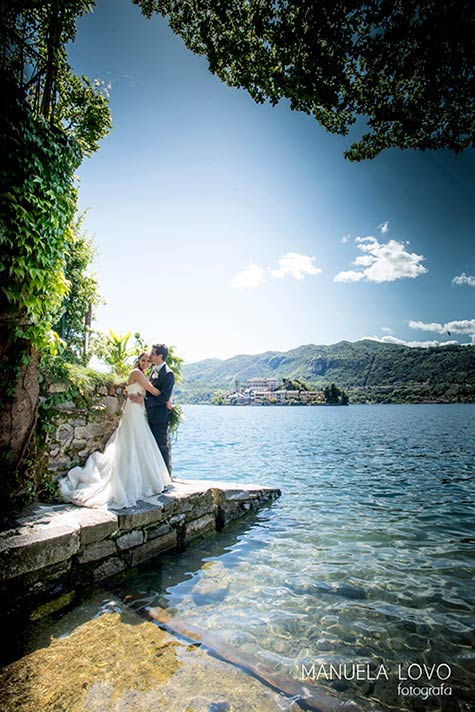 Mélanie and Denis's wedding on Lake Orta
On 20th of May Mélanie and Denis tied the knot on Lake Orta.
Valentina followed the event for us.
A sweet Canadian couple who opted for a very intimate wedding on romantic Lake Orta.
Catholic ceremony was held in Santa Maria Assunta church in the heart of the village.
A boat tour took the intimate group on the lake to reach Ustaria Ca dal Rat for their celebratory meal.
Thanks to Independent Pictures Photography for the shots of this sweet day.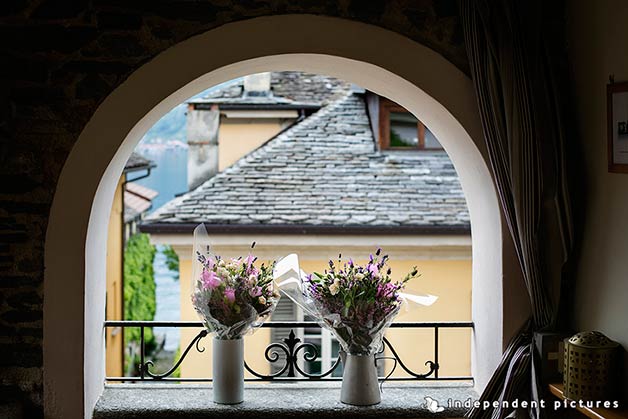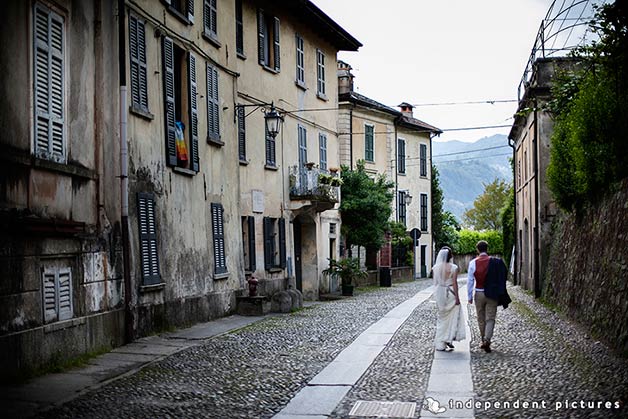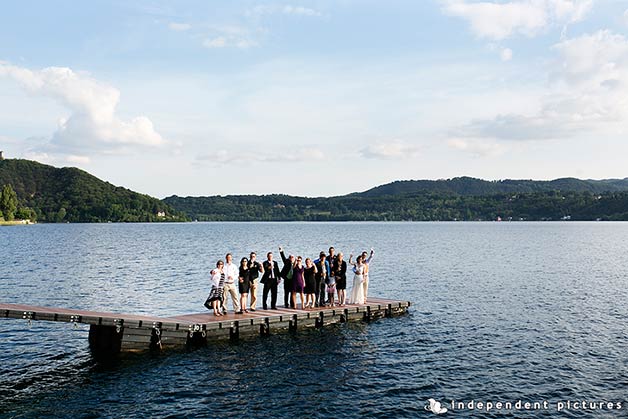 Michelle and Simon's wedding on Lake Orta
On 23rd May Michelle and Simon got married! We are again on Lake Orta.
This is a totally DIY- wedding but some members of our Team got involved in the planning: Monika from La Piccola Selva for the flowers, Valentina for the paperworks at the town hall and Enrico Mocci for the photography – who gave us these lovely shots in no-time! Thanks for this.
Michelle and Simon came here from UK and they opted for a civil ceremony at Villa Bossi.
Peonies everywhere! Have a look to lovely bridal bouquet and centerpieces at Hotel Giardinetto. So romantic!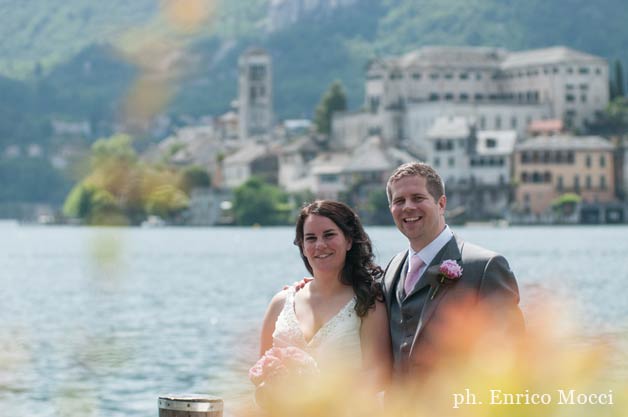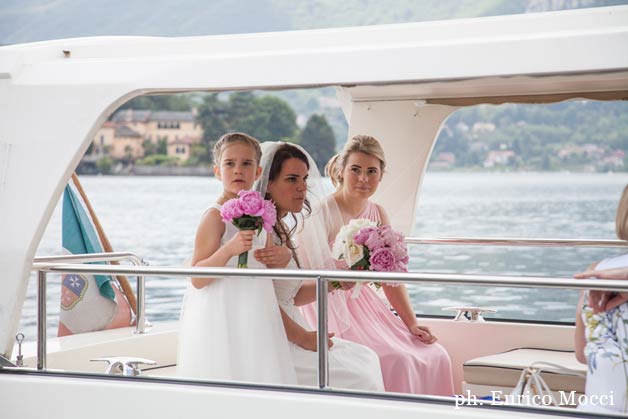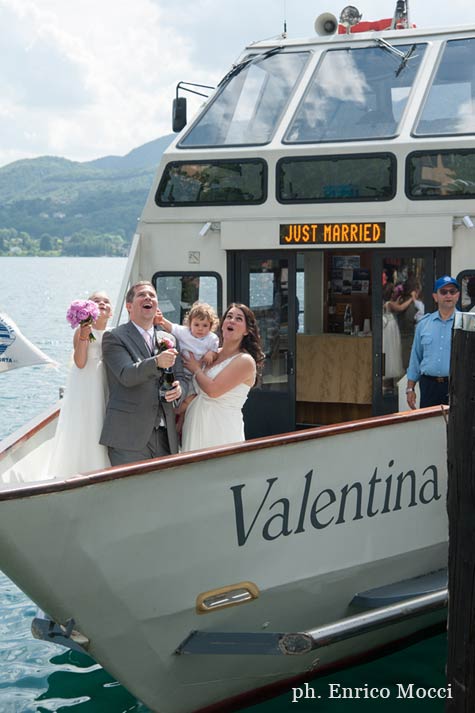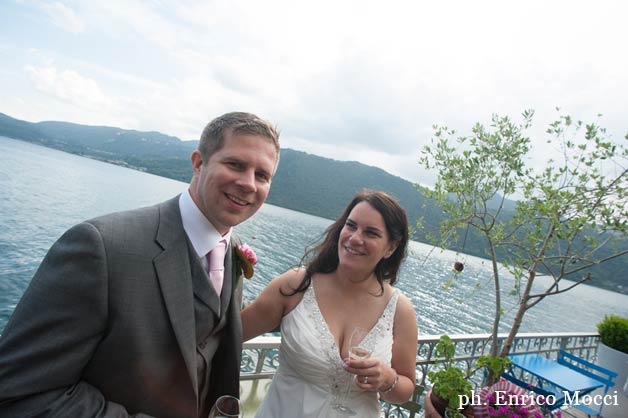 Rebecca and Robert's wedding in Cortona, Umbria
On 24th May we get back to Umbria and Tuscany. We are again in Cortona with our planner Elia.
Young English couple, Robert and Rebecca chose chose the town hall of Cortona for their civil ceremony.
For their reception they opted for a venue with a wide park overlooking Tuscan countryside!
A fresh and young wedding with guests coming from all over the world!
Rebecca was beautiful in her wedding gown. Purple and sunflowers yellow were the theme colours for this happy event.
An aperitif in the park and a wonderful valley for the country style dinner. So unique!
Thanks to Lisa Poggi photographer for great shots.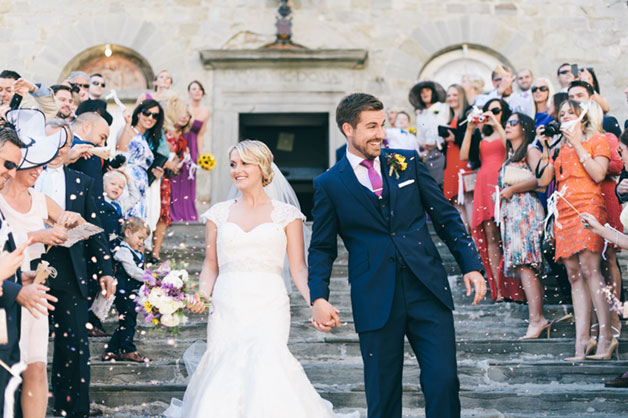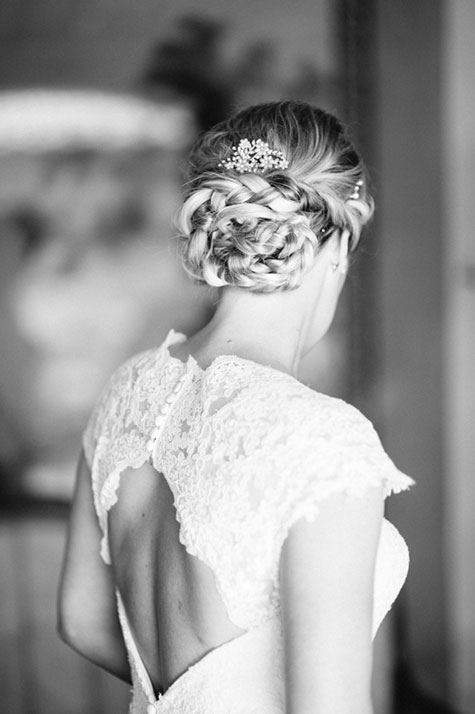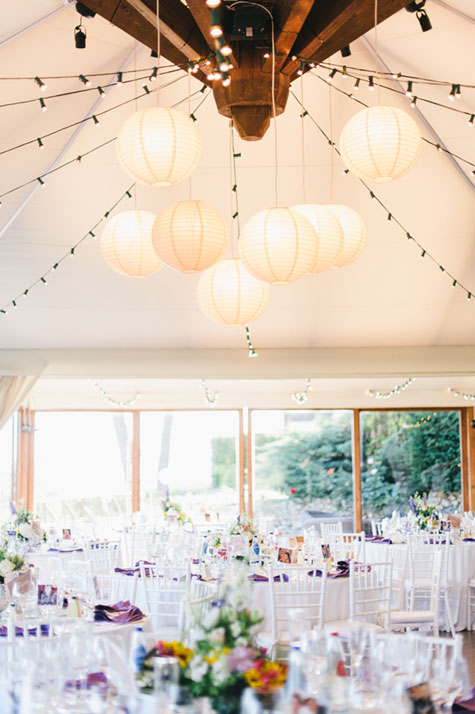 This event may be featured also on our partner site: Italian Country Wedding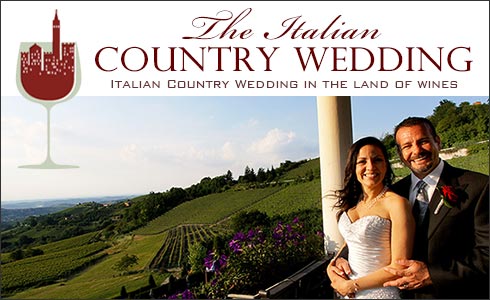 Silvia and Jörg's wedding on Lake Orta
On 25th of May La Piccola Selva Team got back to Palazzo Penotti Ubertini located in the centre of Orta village. Palazzo Penotti Ubertini was the reception venue Silvia and Jörg chose for their wedding reception. Have a look to perfect bouquet for the bride and centrepieces!
A wonderful Italo-German couple coming from Munich who fell in love with the appeal of romantic Lake Orta.
Bride was amazing in her St. Patrik's dress that tailored by wedding dress stylist Maria Letizia Grifasi of Le Spose di Letizia, part of our team too.
The atelier is located in Stresa on Lake Maggiore and Maria Letizia Grifasi is a great professional! The ideal choice if you want an italian wedding dress without spending a fortune.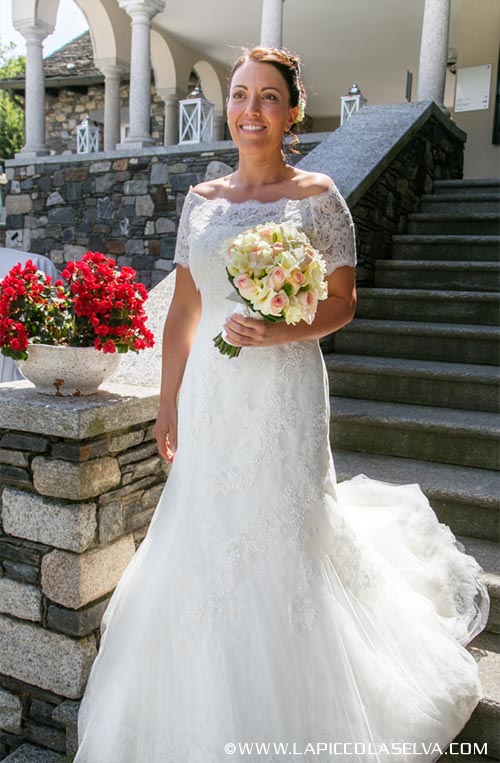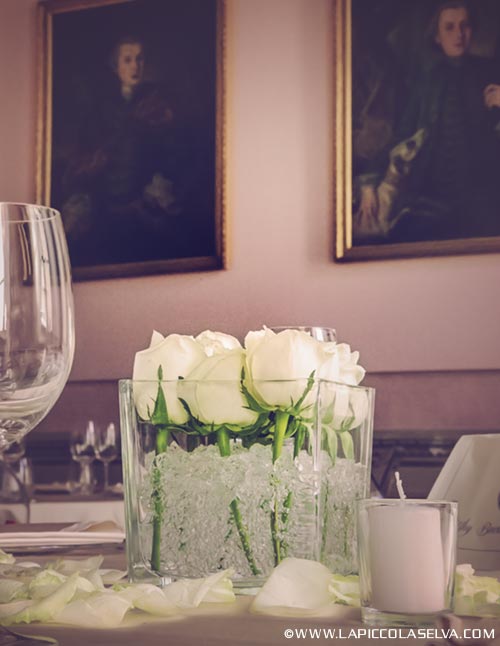 Katy and Hal's wedding on Lake Orta
On May 26th Valentina followed Katy and Hal's wedding on Lake Orta.
Some more sunflowers for an intimate wedding on the shores of this romantic spot of Italy.
Katy chose a sunflower themed event with hessian details, very rustic!
The civil ceremony was held at Villa Bossi with the bride arriving by rowing boat as per local tradition!
Reception was planned to Hotel San Rocco just by the shores.
For bouquets and centrepieces Katy wanted sunflowers and purple Lysianthus. Hessian was used to tie the bouquet, for the little bags of sunflowers seeds as wedding favours and as special decoration for the wedding cake: lovely little cup cakes with sugar sunflowers decorations on them.
A band for the evening made all dance after a delicious dinner prepared by Hotel San Rocco new Chef.
Photos by Independent Pictures photography.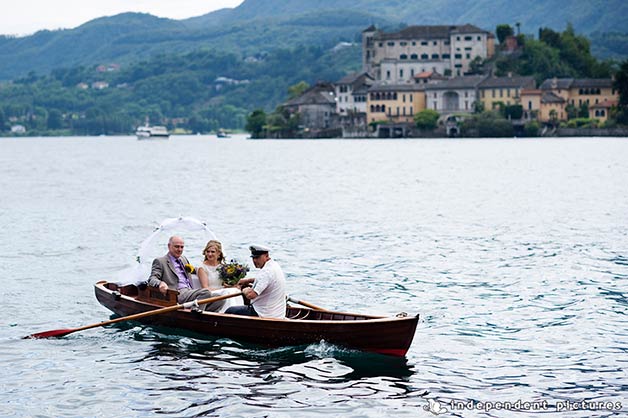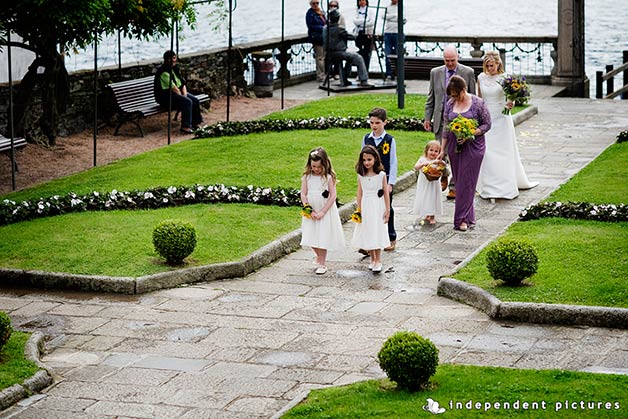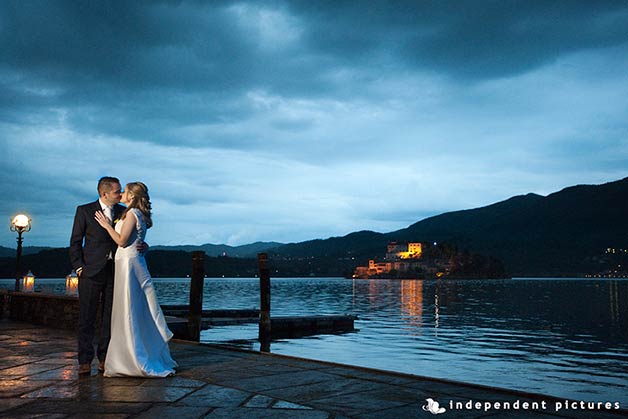 Lian and Sean's wedding in Cernobbio, Lake Como
In the meanwhile Lian and Sean got married on Lake Como.
As usual Alessandra and Veronica's Team was by their side!
Lian and Sean wanted a civil ceremony in Cernobbio a couple of days before for intimate friends. Then on the wedding day they planned a symbolic blessing in a wonderful luxury hotel close by Cernobbio where reception was held too.
White again but with a touch of peach. White hydrangeas, lysianthus and peach roses where all used for bridal bouquet and reception.
A big party to follow up to very late at night in a special room of the hotel where celebrations can go on up to very late!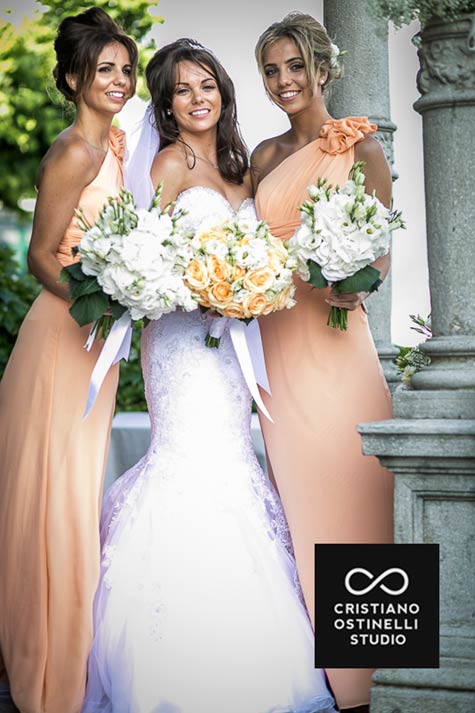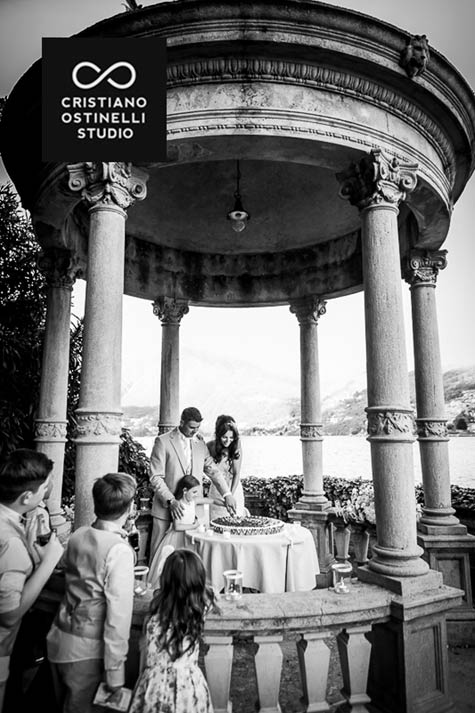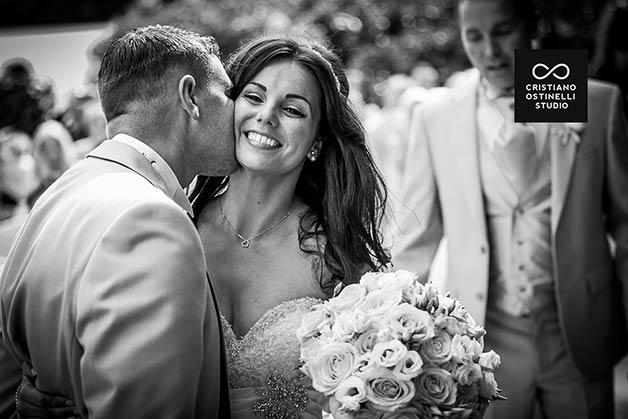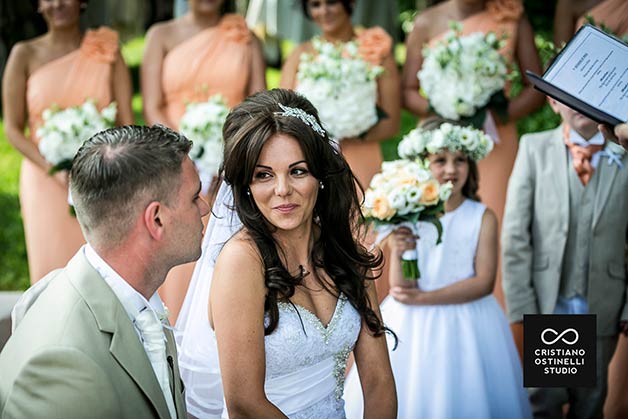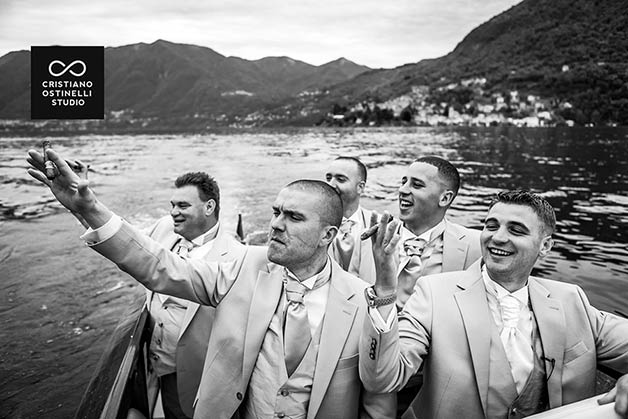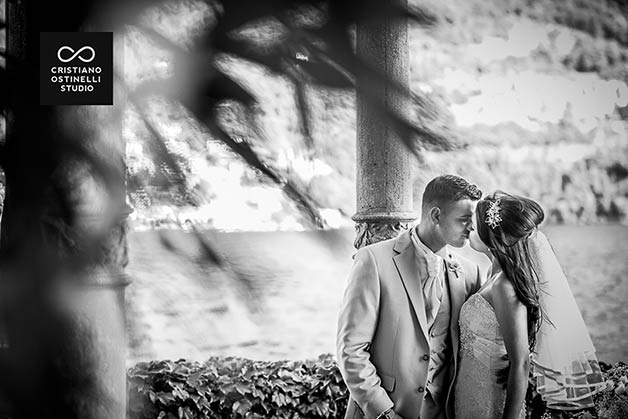 A special thanks to Cristiano Ostinelli Studio for these lovely shots!
Seb and Becky's wedding on Lake Orta
On May 30th Seb and Becky got married on Lake Orta. Valentina followed the event for us.
Seb and Becky are a wonderful couple: happy, relaxed and so friendly!
They opted for a Catholic ceremony in Maria Assunta Church in Orta village.
Becky arrived with her father and blue dressed bridesmaids walking up the hill!
Light blue, a touch of pink and white flowers for her and bridesmaids bouquets.
After the ceremony Seb and Becky wanted to offer a boat tour to all the group, they had a lot of fun.
They all reached Ustaria Ca dal Rat but not for the wedding reception! They planned there just a rich aperitif to enjoy the view of the Lake and its Island.
Boat came back to pick the group up and lead it to Hotel San Rocco where the reception was planned. A wonderful meal and dances afterwards closed the evening with a great sunset on the lake!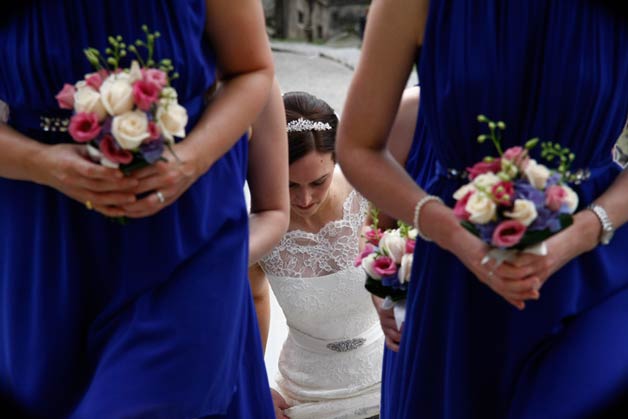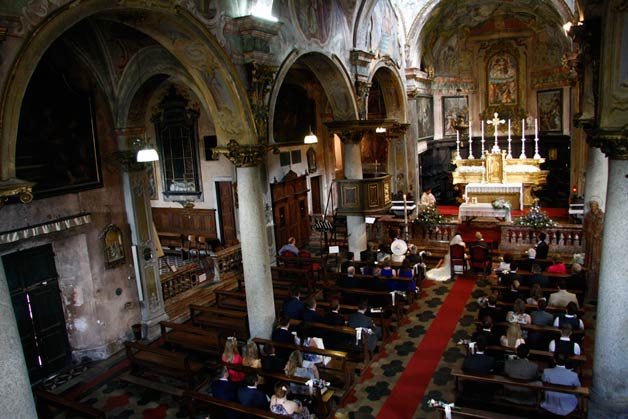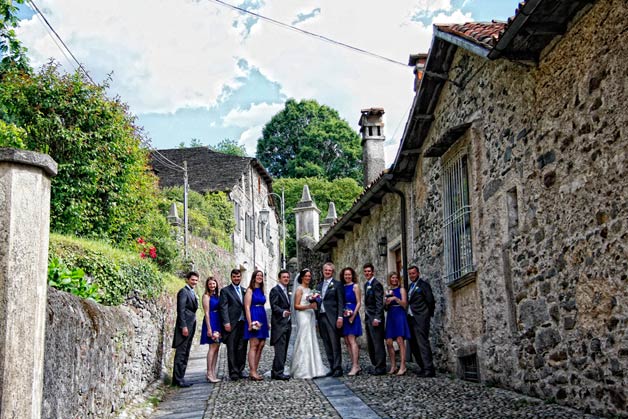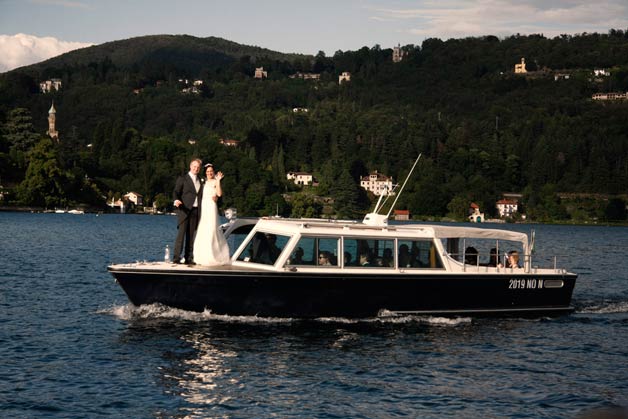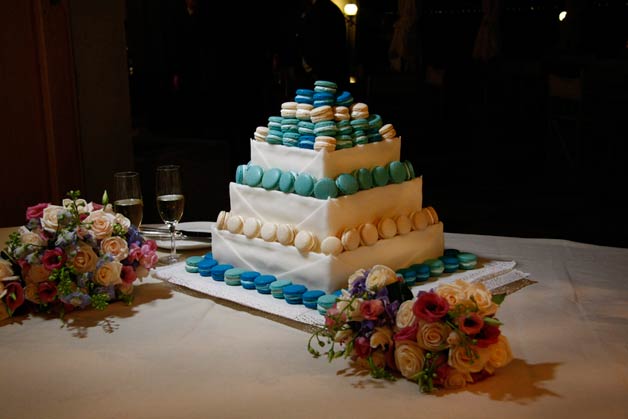 Diana and Charles's wedding in Rome
May 31st sees again Valentina on Lake Orta and Stefania in Rome working for two weddings.
Stefania followed Diana and Charles' wedding. A Canadian couple who chose a very intimate event: an elope for the two of them in Rome!
They got married in Red Room of Capitolium in Rome… amazing venue, amazing location! The beating heart of a magic city!
After the ceremony Alessandro Zingone photographer took them to Roman Folurms and Spanish steps for amazing and unforgettable shots!
A wonderful couple. Diana wore a very elegant light grey dress with strass and a simple calla lilies bouquet. Charles wore a back tuxedo with… black Convers sneakers!
For their romantic dinner they choose a wonderful restaurant called Aroma Restaurant located on a terrace just in front of Coliseum. This can be really called a Roman Holiday!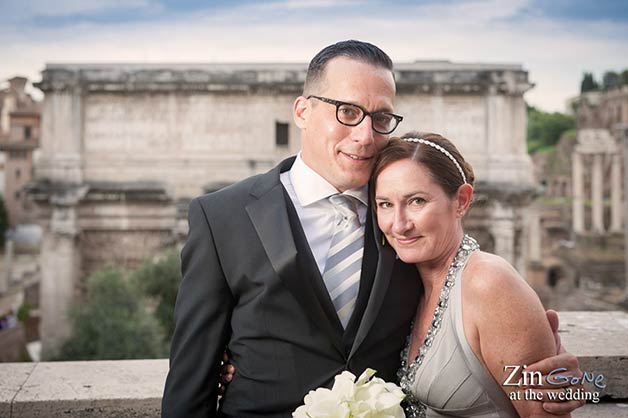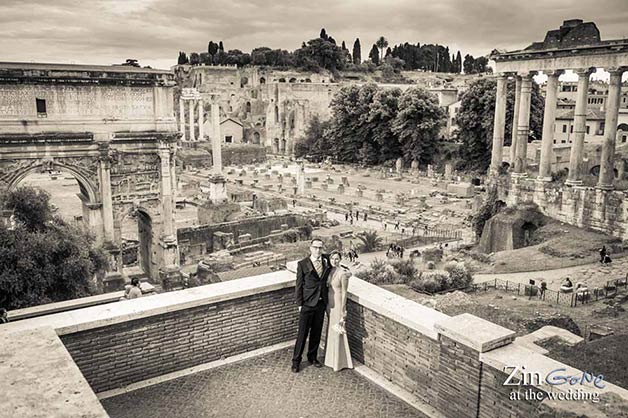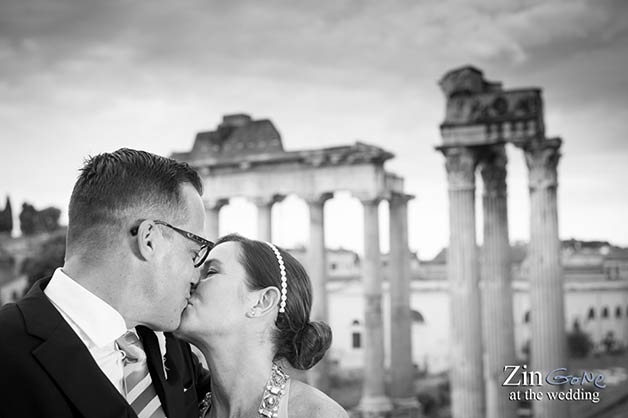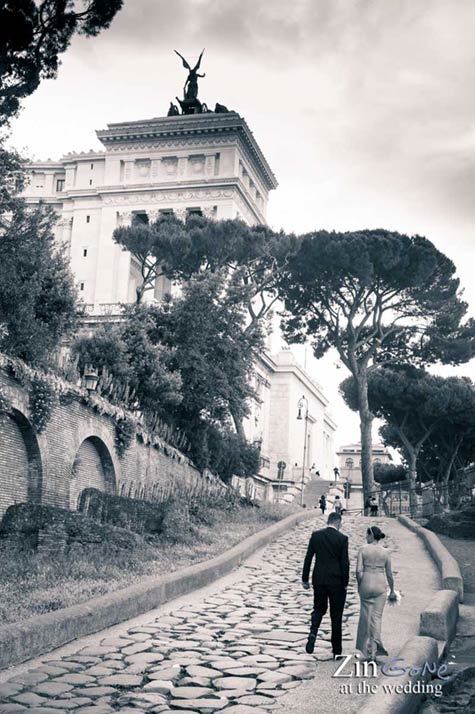 This event may be featured also on our partner site: Italian Rome Wedding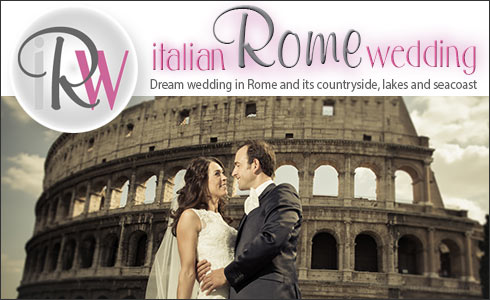 A. and D.'s wedding's wedding on Lake Maggiore
Valentina followed A. and D.'s wedding. We respect couple's wish to not be recognisable on web pages.
A wonderful Irish couple for a fun wedding on Lake Maggiore.
A long day full of events and activities.
The whole group met in Stresa main square to reach San Martino church in Lesa by boat.
A. arrived right after by car.
After a touching ceremony the whole group including bride and groom took the boat back to reach Isola Madre one of the most undiscovered island of Borromeo Archipelagos.
Ice cream and Prosecco toast welcome all guests while bride and groom and bridal party took the chance to have a walk and some photos in the botanic garden of the Island.
Another boat trip to reach Pescatori Island for the reception overlooking stunning view on Isola Bella.
After the cutting of the cake back to Stresa again to party up to late at night in a local bar by the shores. Irish music and dances for everybody!
Thanks to Independent Pictures for great shots!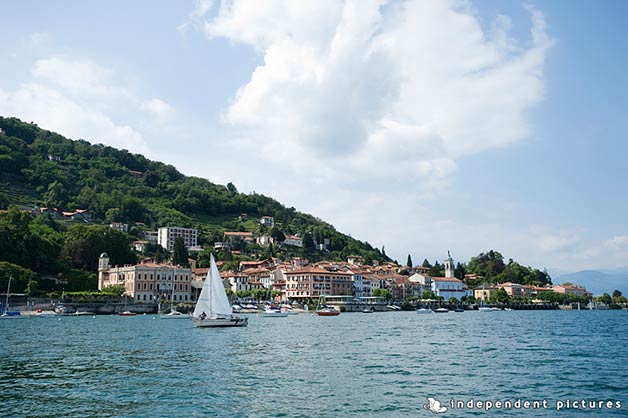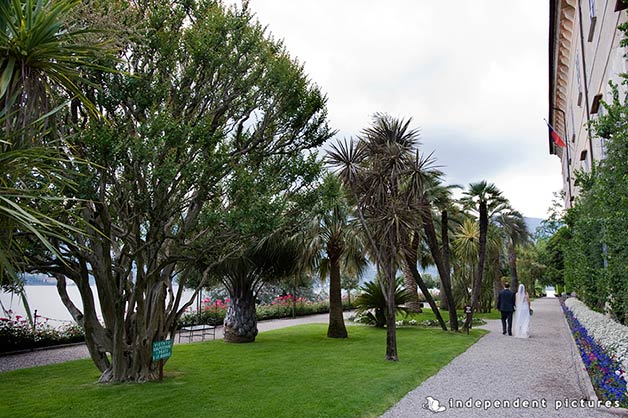 What a month! And we are ready for June… in these last few days of this month we have had already some events….you will know more about them soon!
Season is really started and we are really excited to tell you about all our weddings!
Stay tuned!