e planned
Krista & Matthew wedding
at
Villa Regina Teodolinda
on Lake Como in the lovely village of Laglio, yes, it is that Laglio, where
George Clooney
goes on holiday! WOW! Can you imagine that?
Wedding style of Villa Regina Teodolinda is very familiar and intimate, nothing grand or too majestic. On the contrary it is truly
Italian style
.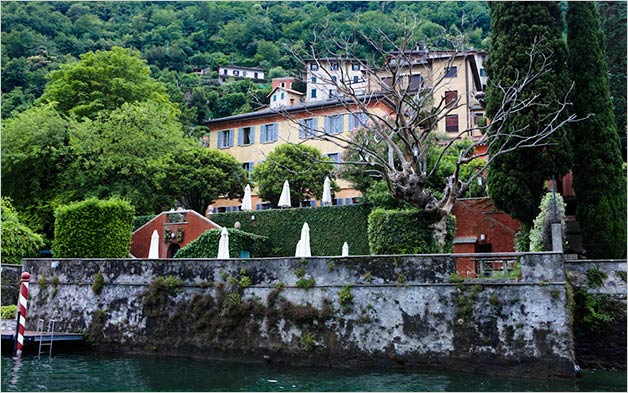 Focus on flowers for a fantastic wedding on Lake Como
The wedding floral decoration trend 2018 was all about garden style, natural, authentic.
Forget about the arches full of flowers like merengue cake or ballon of roses and compact bouquet.
Lake Como has the perfect scenery for these decorations.
For Krista & Matthew we designed a path in the garden full of seasonal flowers and greenery, perfectly integrated in the nature, nothing fake but just naturally rich.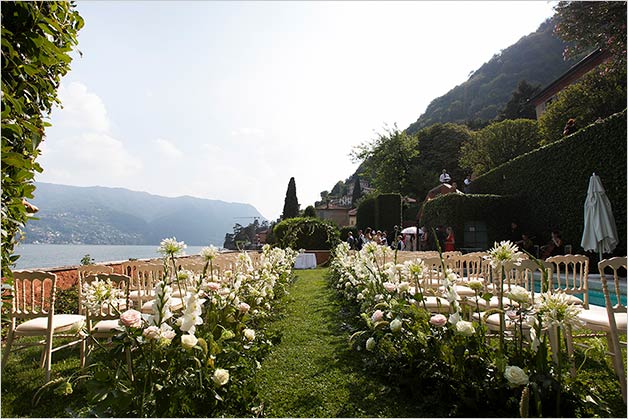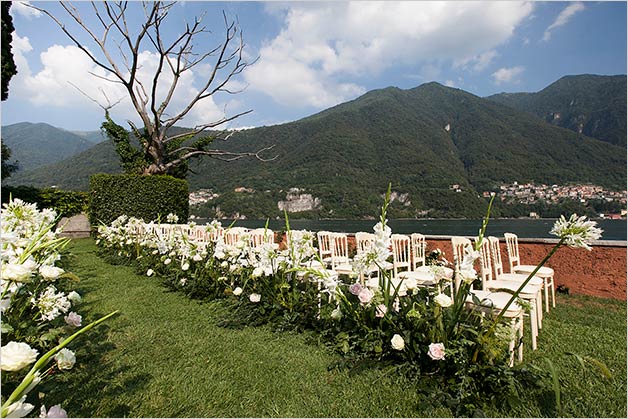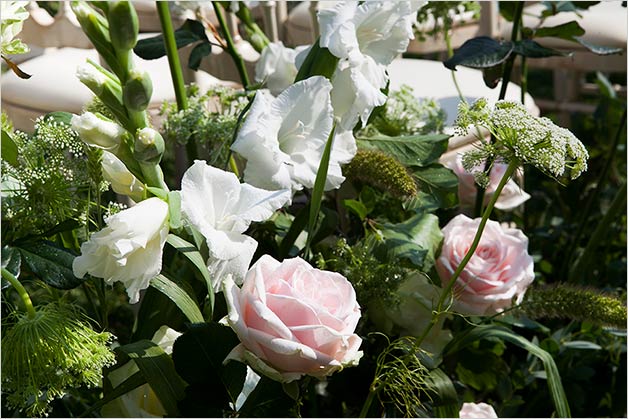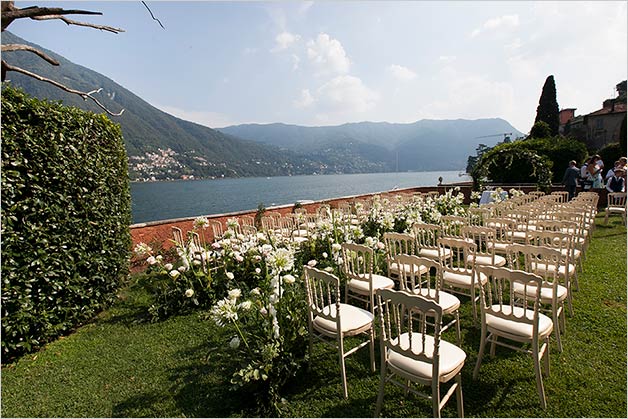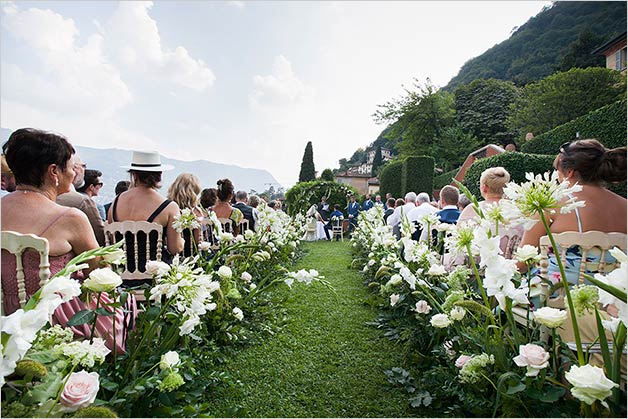 The ceremony arch… non arch
The ceremony frame was not a real arch, but a circle. Amazing!
A mix of green and flowers, blossoms and leaves, chic but wild at some time.
I cannot imagine a better backdrop for exchanging the rings… the circle of love.
A special thank to Imagiflora flowers and design for this magical set up!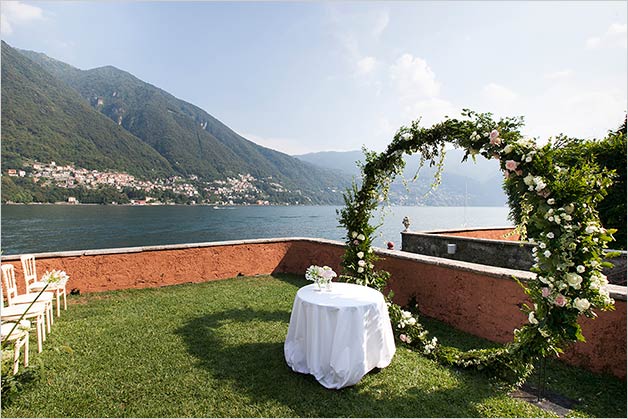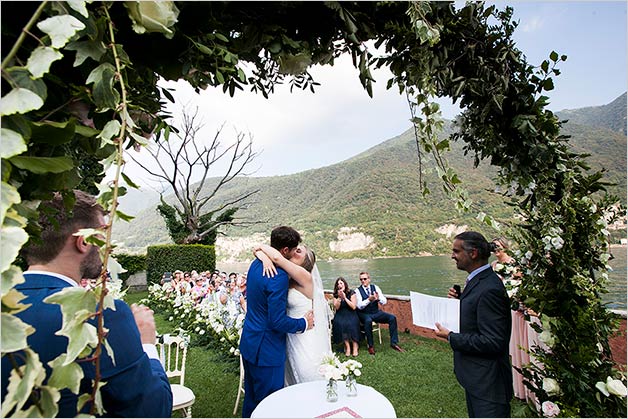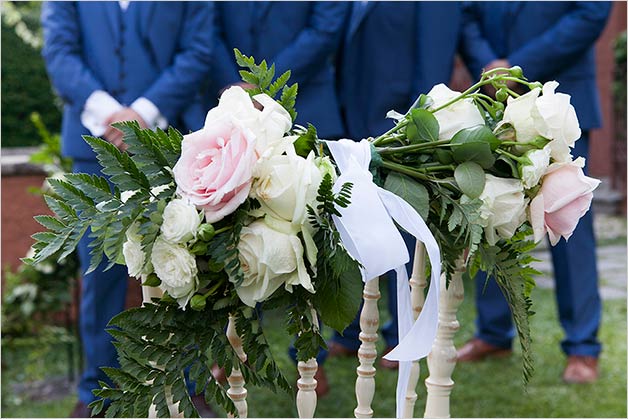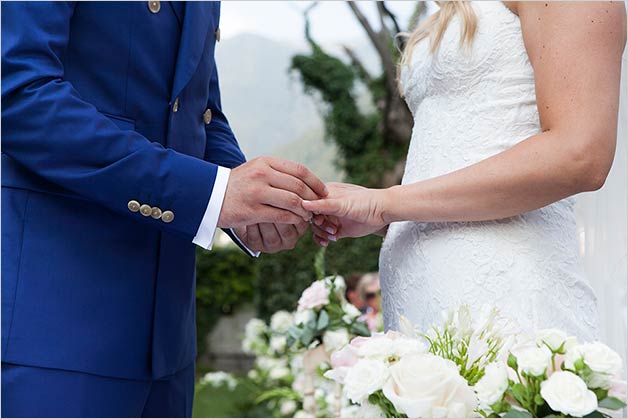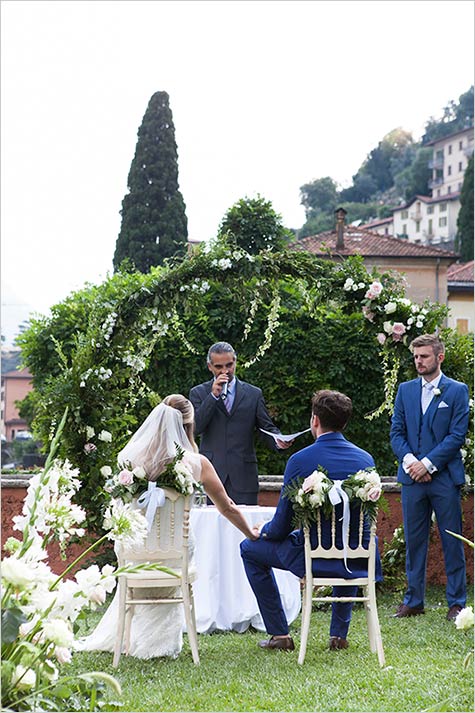 Outdoor Wedding Reception dinner in the garden
Villa Regina Teodolinda garden on Lake Como reminds me my childhood in the holiday family house.
It is accurate, not too big, a true invitation to outside events and dinner.
The style of reception dinner followed the natural and wild style of the ceremony.
Soft colours, white tablecloths.
Small vases similar to French bottles of perfume to give a charming touch.
Seasonal flowers, not elaborated and extremely fresh.
Everything ready to taste delicious Italian food!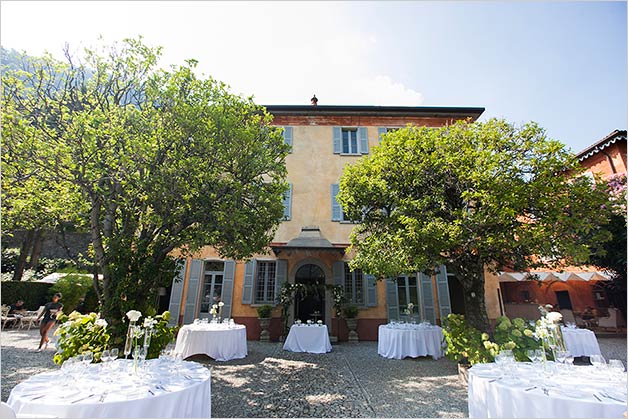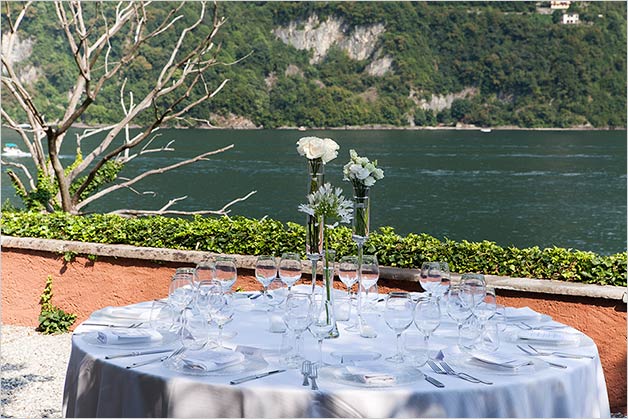 The sweetheart table for bride and groom
For the dinner, Krista & Matthew went for the most romantic and classical choice: the sweetheart table.
This is also a way to offer all guests a good vision of the couple during the whole dinner without exceptions or preferences.
Focus on bride & groom, it is their big day!
The touch that made their table unique was given by a natural cascade of flowers and greenery all around the table.
The most cool ever, I loved this floral design!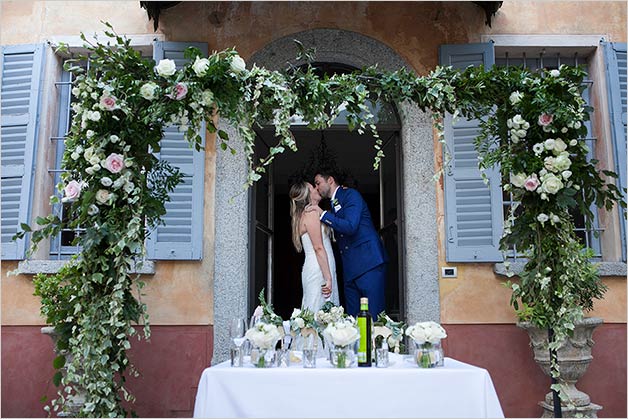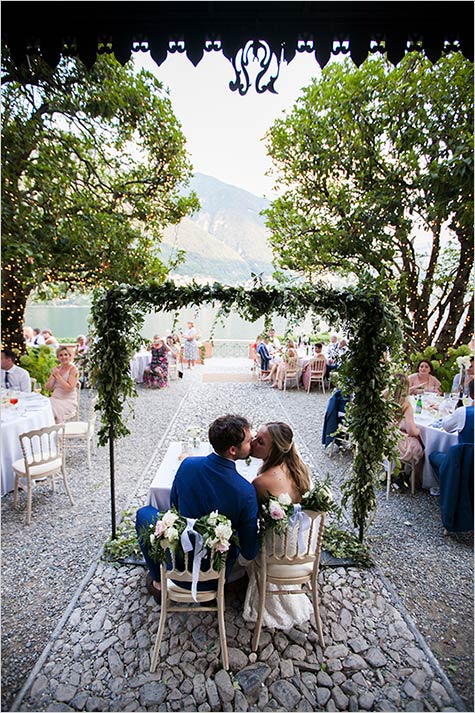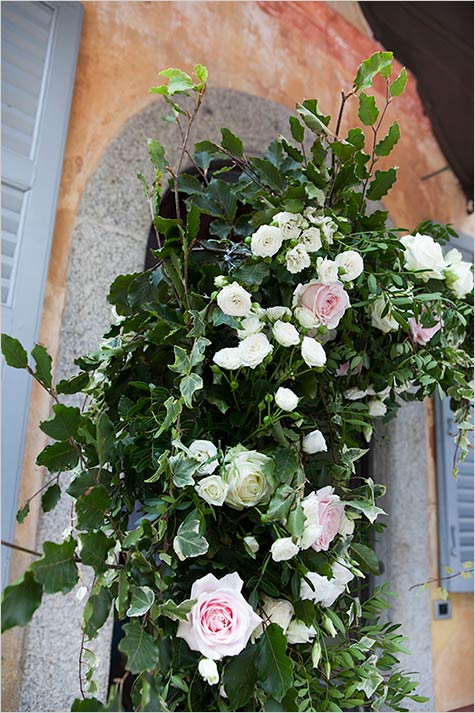 Italian Food for a gourmand wedding reception
We are on Lake Como: it is charming, elegant, romantic but we don't have to forget we are still in Italy!
Food, food, food.
It is a big thing for Italians: it has to be tasty, fresh, delicious and well presented.
In Italy we use to say: 'you first eat with your eyes…'
Not sure if this is common but the sense is that a well presented table, a well presented plate makes the difference.
Judge yourselves!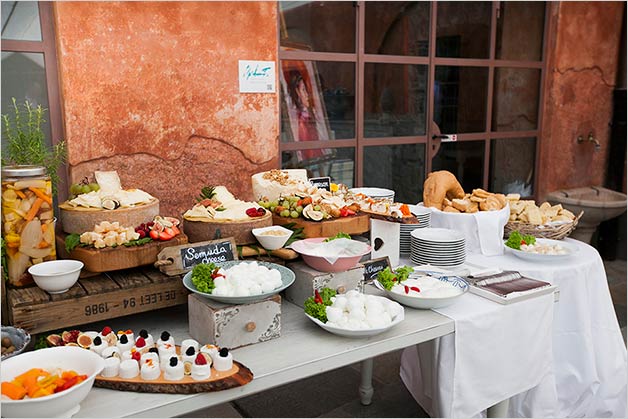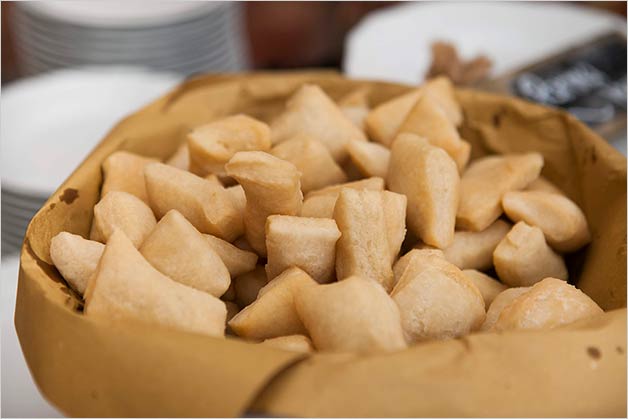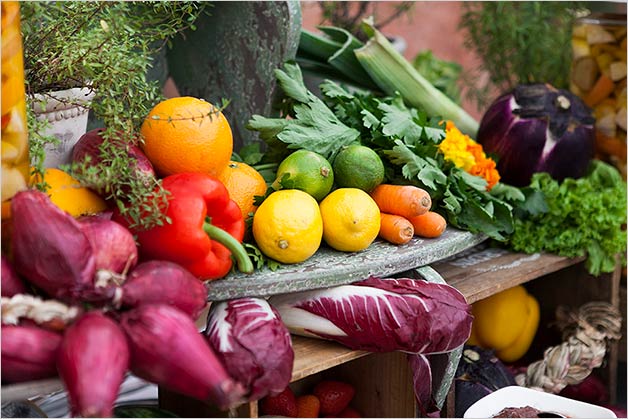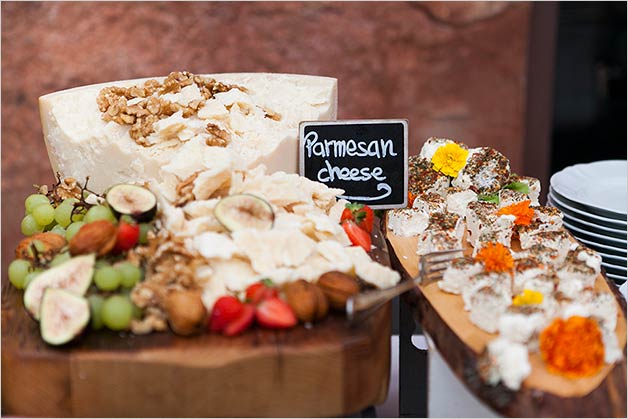 We are so honoured they chose us as their wedding planners and hope you will also fall in love with Villa Regina Teodolinda and Lake Como so that we can plan next wedding here again!