elcome to our Just Married page! In this special section of Italian Lakes Wedding web site where you can discover all about our Just Married couples!
At the end of each month
of our Wedding Season we post here a sneak peek of the weddings our Wedding Team followed.
Here you can read all about our just married couples just a few days after their wedding! You can read about destination bride and groom chose, what flowers and decorations they opted for. You can also see some wedding photos taken by their official wedding photographers or some our planners shot on the day.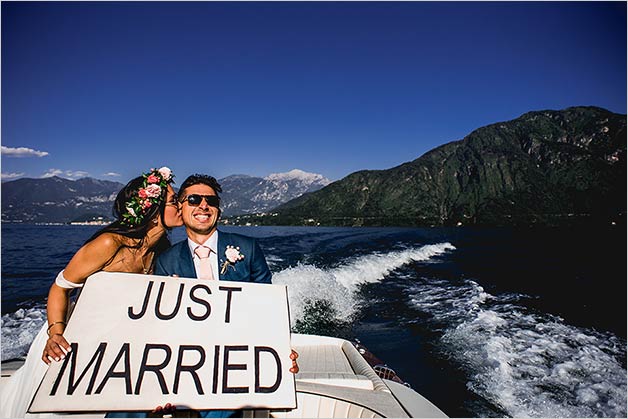 Month by month you can see our Team's work across Lake District – Lake Orta, Lake Maggiore, Lake Como, Lake Iseo, Lake Garda, Lake Trasimeno, Lake Bracciano, Lake Albano and Lake Bolsena. But you will find also weddings planned in other Italian destinations such as Italian Countryside, Italian seaside, Venice, Rome and Apulia with special connections to our partner sites: Italian Country Wedding, Italian Rome Wedding, Italian Seaside Wedding.
So… congratulations to our newly weds and enjoy our posts! We hope that these pictures can inspire you for your wedding in Bella Italia!
A very special thanks to our couple who chose Italian Wedding Company to plan their weddings in Italy and to wedding photographers who gave us these great shots you can see on our Just Married posts!

We are closing our 2017 wedding season. It was great, simply amazing, challenging and emotional for all! We are here to tell you about the final weddings of the season: weddings we planned in September. We are going to have a couple of other events in October and November and we will post them separately. This post is to celebrate a great end of an exceptional wedding season. We are about to tell you about romantic weddings in Apulia, Rome, Capri, Lake Orta, Lake Maggiore, Lake Como, Piemonte and Umbria Countryside, Lake Garda and Venice.
Are you ready? Let's go!

When we are posting this post Summer goes towards the and so our wedding season and our Just Married posts. No worries! We still have a lot to tell you for September and October events but today we would love to tell you about our wonderful weddings for August. Our full summer weddings all over Bella Italia. We have some great events to tell you about on Lake Como, Lake Orta, Lake Maggiore, Piemonte Countrside, Venice, Apulia, Rome and Roman seaside. Ready?

As promised we are back with some more exciting weddings for July 2017. Month has just finished saw out Team working for many weddings all over Italy: Lake Como, Lake Garda, Lake Orta, Lake Maggiore, Puglia, Rome and Piemonte Countryside.

We are back to tell you about all our wonderful weddings our Team planned for June 2017! As we mentioned one month ago this is a great season full of great events all over Italian country. And it is not over yet!! Let's see together all weddings we planned over Lake Maggiore, Lake Garda, Lake Orta, Langhe and Monferrato in Piemonte Countryside, Tuscany Countryside, Amalfi Coast, Lake Bracciano and Lake Como. What a great month and most of all congratulations od all our newly weds!