e are closing our
2017 wedding season
. It was great, simply amazing, challenging and emotional for all! We are here to tell you about the final weddings of the season: weddings we planned in September.
We are going to have a couple of other events in October and November and we will post them separately. This post is to celebrate a great end of an exceptional wedding season. We are about to tell you about romantic weddings in Apulia, Rome, Capri, Lake Orta, Lake Maggiore, Lake Como, Piemonte and Umbria Countryside, Lake Garda and Venice.
Are you ready? Let's go!
We start with Southern Italy and a great wedding in Apulia: Charlotte and John's special day on September 3rd.
Michela and Michela followed the event for our Team.
A special blend of American and English guests.
They planned a romantic symbolic blessing in the chapel of an Apulia Castle performed by an American Pastor who was a family friend.
The aperitif after the ceremony was served in the gardens of the castle and the dinner inside the wonderful rooms of the building.
The wedding decor was made of olive trees and candles, a perfect atmosphere for a romantic wedding in Apulia. Long green garlands on the tabes with English roses and peonies, candles, wooden names cards and a limoncello bottle as wedding favour.
The party was planned in a close by modern venue where bride and groom also cut their lovely wedding cake.
Photos by Cinzia Bruschini
This wedding is featured on Italian Country Wedding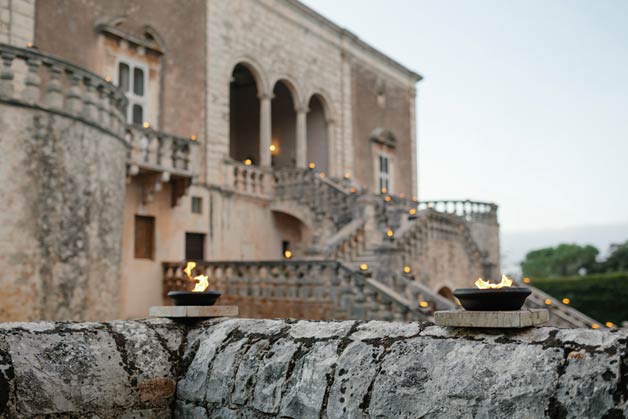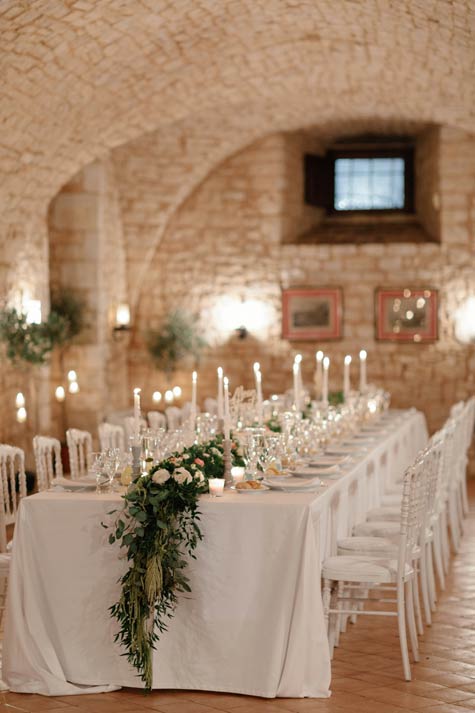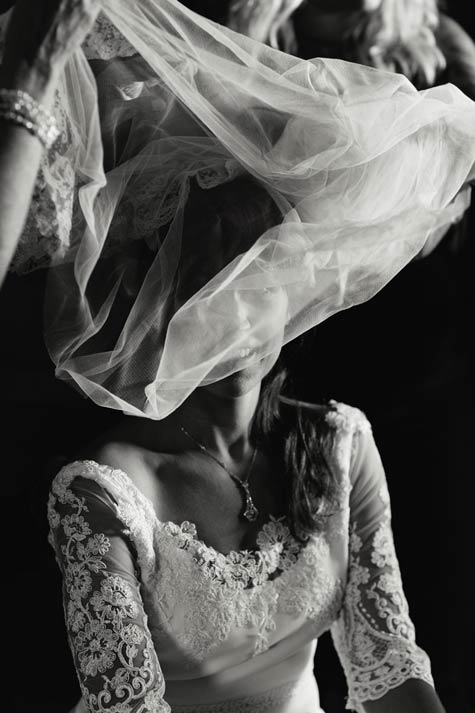 We move to Rome where Stefania followed Venneth and Louis' wedding on September 7th.
Bride and groom came with their small group of guests coming from Philippine and Canada to celebrate a special day in Rome.
They tied the knot with a romantic Roman Catholic Ceremony in the church of San Pietro in Montorio just on Gianicolo hill in Rome. An enchanting setting overlooking Rome skyline.
Bride and groom took the chance to have some great photos in the centre of Rome right after the ceremony and for their celebratory meal they chose a wonderful venue in the heart of Villa Borghese, one of the most enchanting location in Rome where the view is just stunning!
Photos by Alessandro Zingone
This wedding is featured on Italian Rome Wedding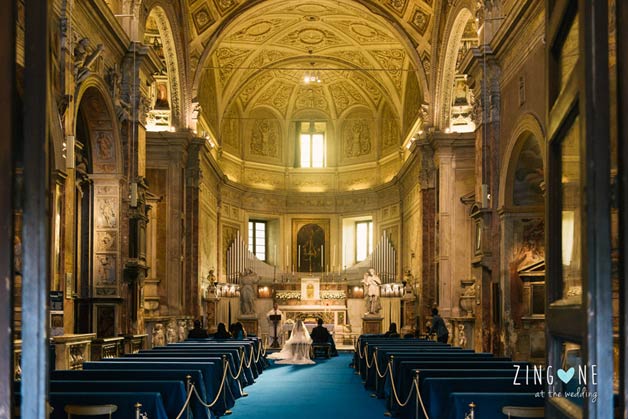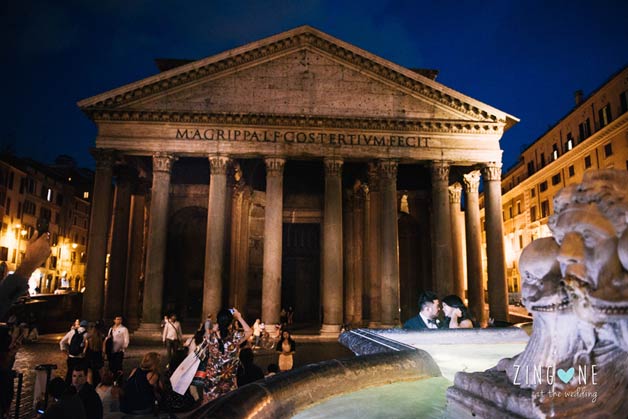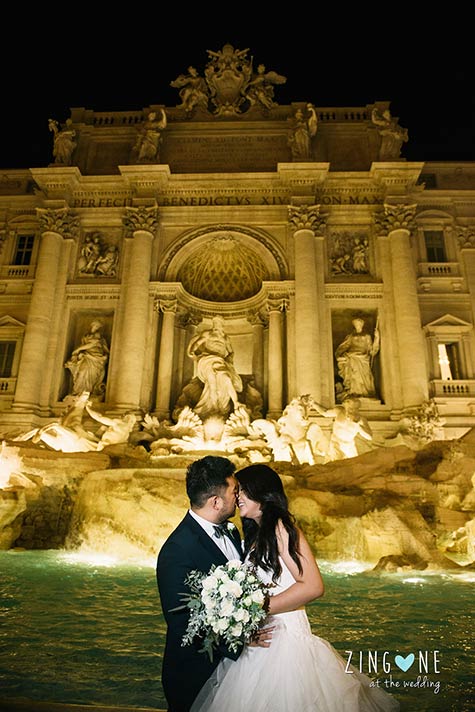 On the same day Katiuscia followed Kendra and Andrew's wedding on Lake Garda.
They came from US with their 45 guests to celebrate their special day on Isola del Garda.
Ceremony was performed overlooking the stunning view of the lake with the sound of a string quartet in the background.
As colour theme they chose white, green, gold and blue an original combination that lead to a fantastic result.
The reception was held in a restaurant close by the Island where they all tasted a wonderful menu and enjoyed a great party afterwards.
Photos by David Christian Lichtag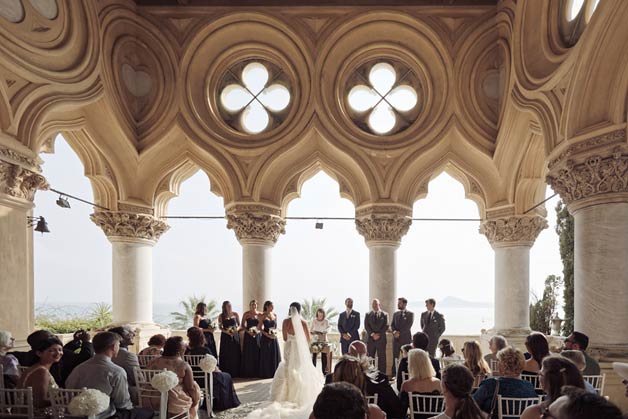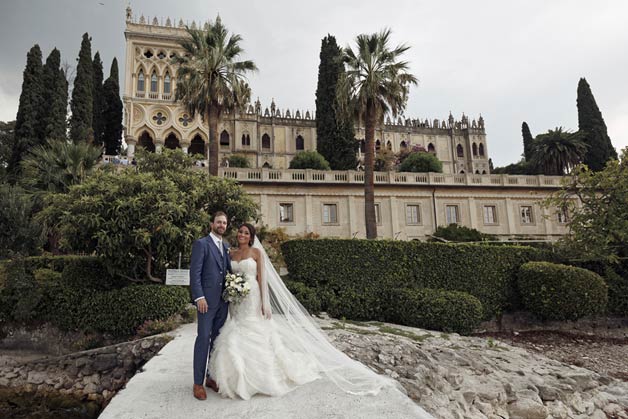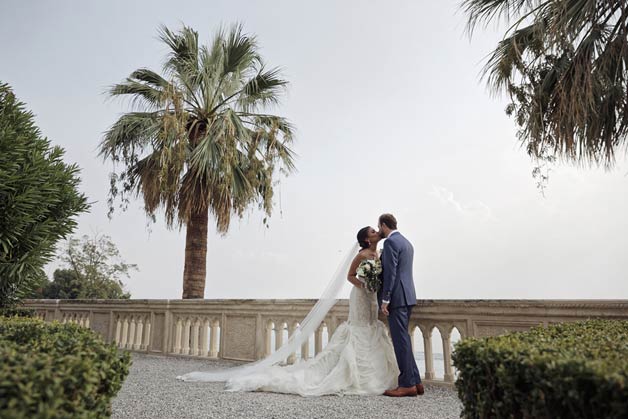 On September 9th Alessandra and Veronica followed Karina and David's wedding on Lake Como.
Legal civil ceremony was planned in Ossuccio village. Ceremony was performed under the portico outdoor. Bride decorated it with floral composition she did by herself! Just stunning!
After the ceremony bride and groom and their guests took a lovely boat tour on Lake Como with aperitif on board.
Wedding reception was planned in Varenna where they stayed for their Italian days.
Photos by Lisa Digiglio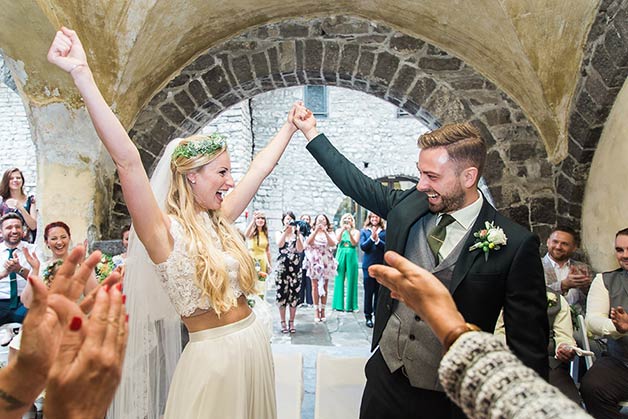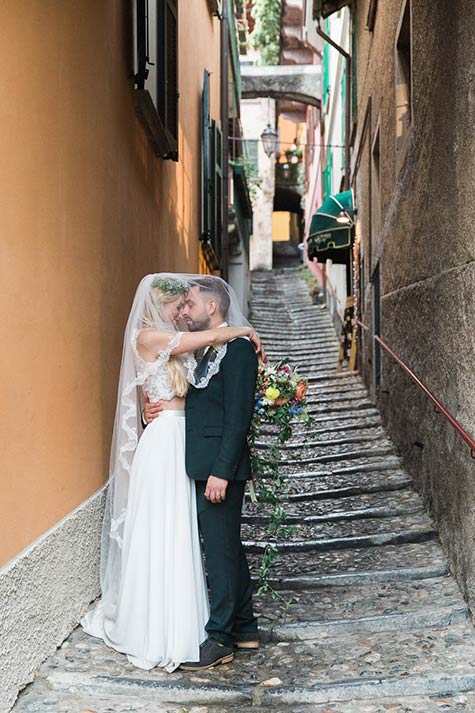 On the same day Valentina followed Hannah and Kai's wedding on Lake Orta, a wonderful couple coming from UK.
They had a romantic Roman Catholic ceremony at Assunta church, ceremony was really touching.
After the ceremony they all had a nice toast in Orta main square and in spite of the rainy day Hannah and Kai took to change to have great photos on St. Julius Island.
Reception was planned at Ustaria Ca dal Rat where La Piccola Selva Floral Designer created a wonderful floral decoration for the top table and modern squared centrepieces for guests tables.
Party was great with a fun dj set!
Photos by Nabis Photography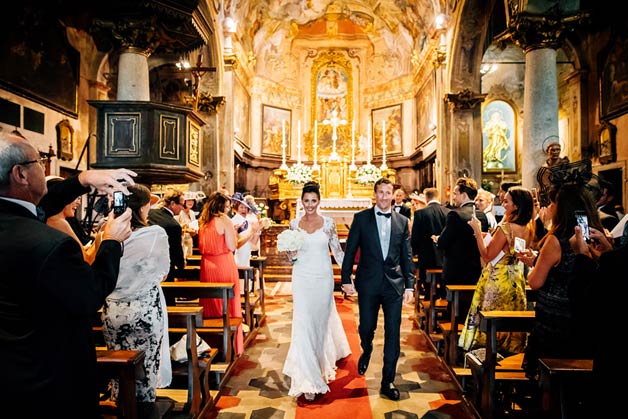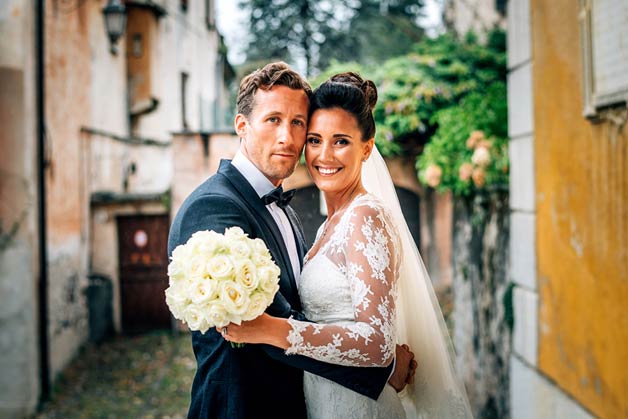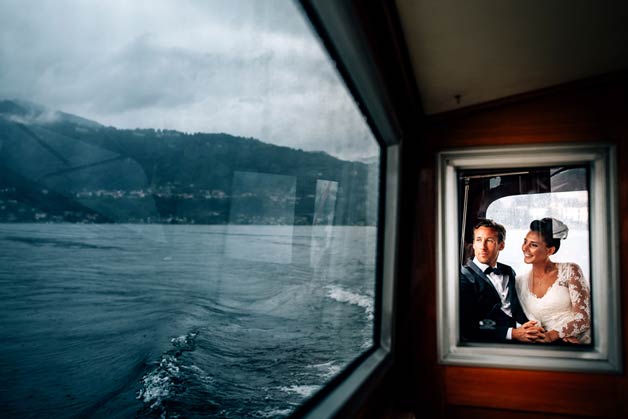 On September 11th we get back to Lake Como for Sabrina and Joshua's wedding. She is half Brazilian and half Japanese and he is American and they both live in Dubai.
They planned their wedding on a wonderful villa in Laglio village.
Symbolic blessing was planned in the garden go the villa by the Lake side the swimming pool.
After the ceremony they planned a romantic luxury wooden boat while all the guests was enjoying a lovely aperitif in the garden of the villa.
Bride decorated with amazing origami two trees in the villa. Wedding reception was served inside the villa and the wedding cake back in the garden under fairy light en lit trees.
Party went on up to late at night inside the villa with a great dj set.
Photos by Nicola Nesi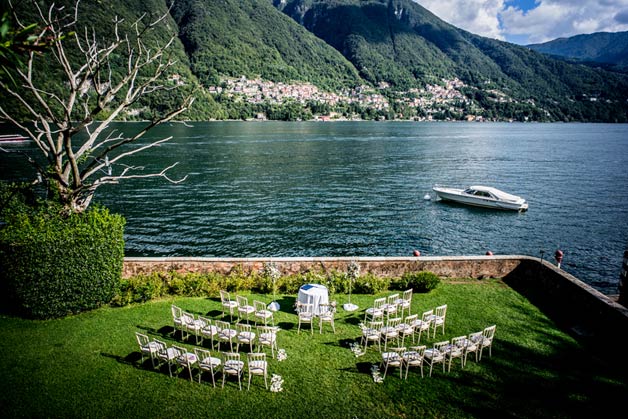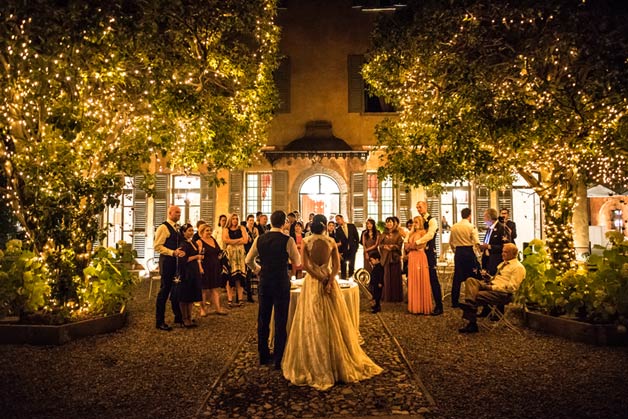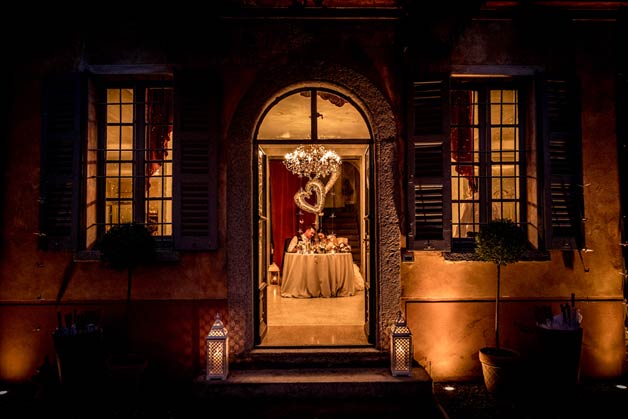 The day after on 12 September Alessandra and Veronica followed another wonderful wedding on Lake Como. Marie Claire and Maroun came from Lebanon to celibate their special day.
They planned a romantic symbolic blessing at Villa del Balbianello with a boat tour to follow and romantic celebratory meal in a restaurant overlooking Lake Como.
Photos by Sergio Pancotti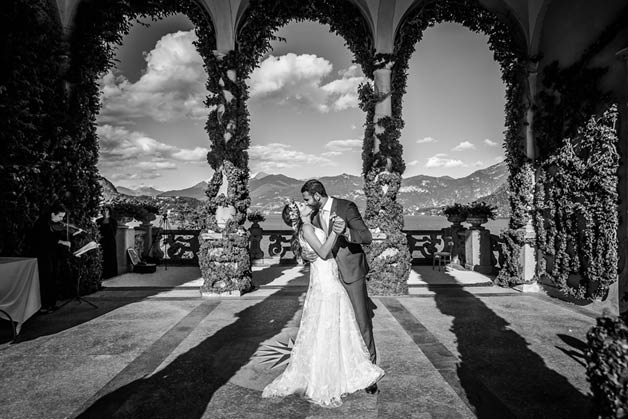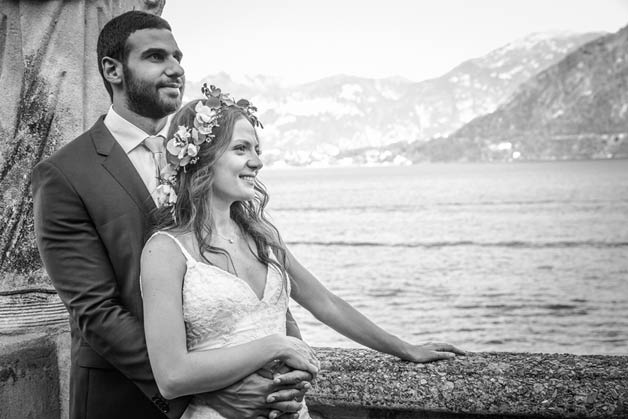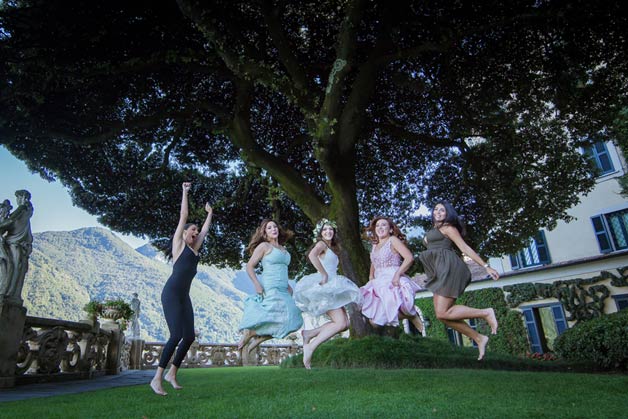 We move to Capri for another romanic elope Stefania planned on September 13th.
Kelly and James tied the knot on a famous terrace in Capri overlooking the sea. Cream and fuchsia bouquet matched the romantic composition on the table of the ceremony.
The photos were taken by the terrace and by the sea to Capri lighthouse. Just fabulous!
Celebratory meal was planned in a romantic restaurant in Capri.
Photos by Gianni Di Natale
This wedding is featured on Italian Seaside Wedding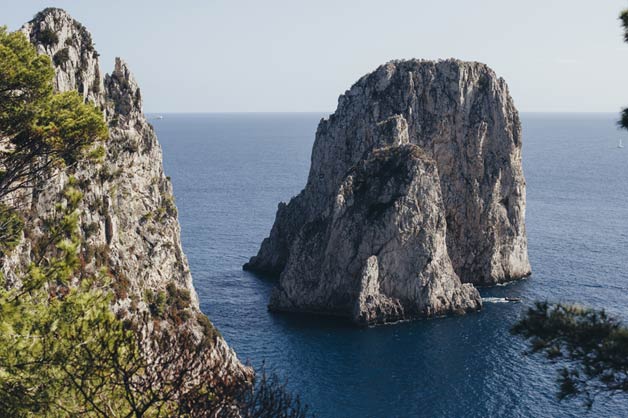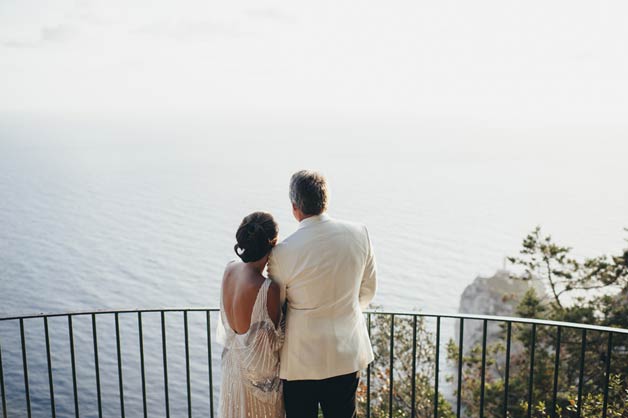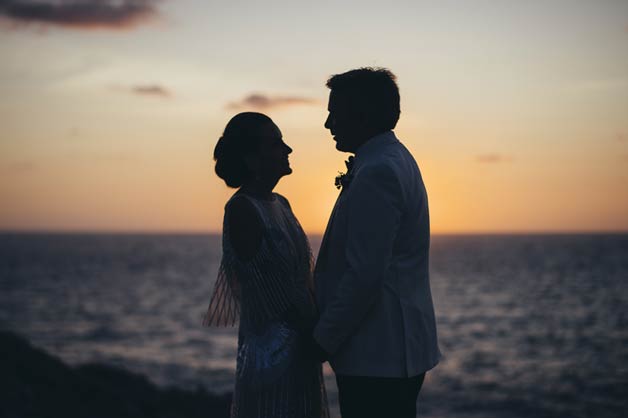 Back to Southern Italy in Apulia for Jacqueline and Gary's romantic elope on 15th September.
Michela, Michela and Emanuela followed the event for us with their team.
A very sweet couple who got married in the white village of Ostuni.
They stayed in a Relais Chataeaux with Michelin Stars a wonderful venue!
On the panoramic terrace they planned the civil ceremony performed by Ostuni mayor, Emanuela was the interpreter and Michela and Michela their witnesses. Just so sweet.
After the ceremony they got on a tuk tuk to take some wonderful photos in Ostuni village.
Celebratory meal was planned in a private area of the Relais.
Photos by Morlotti Studio Bari
This wedding is featured on Italian Country Wedding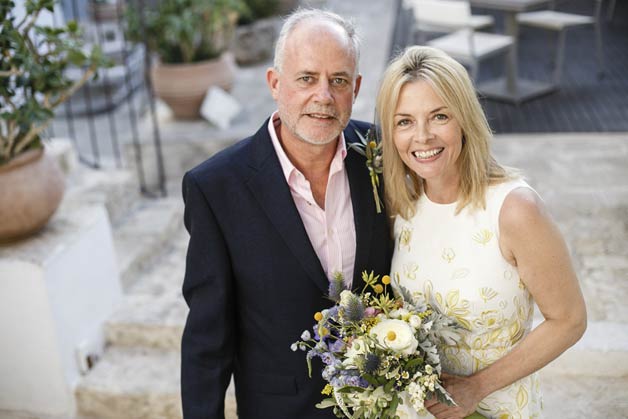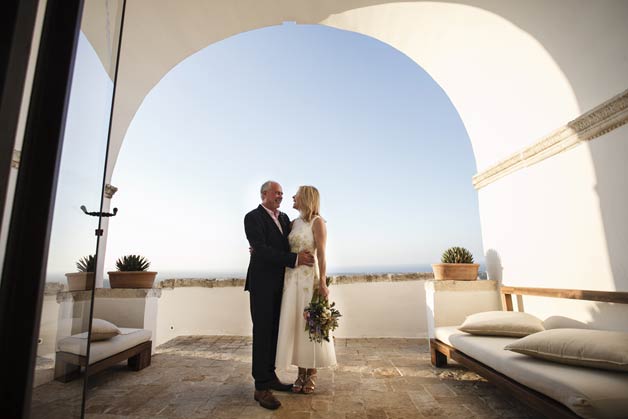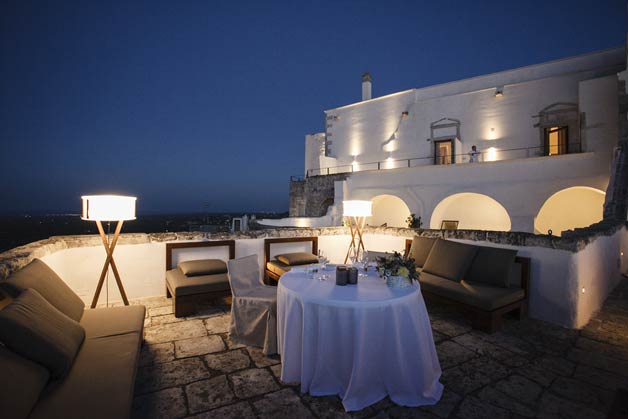 On the same day Katiuscia followed Melissa and Alex' wedding on Lake Garda.
They came from Florida and tied the knot in the church of Sirmione village.
Ceremony was accompanied by the sound of an organ and a soprano.
Reception was planned in a lovely restaurant in the historical centre of Sirmione village where the group tasted a lovely meal and had a great party to follow!
Photos by David Christian Lichtag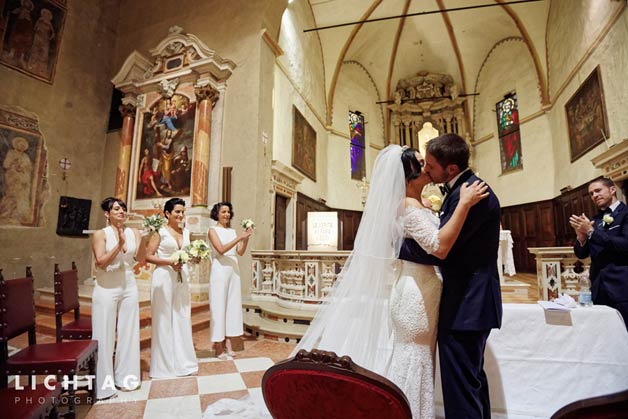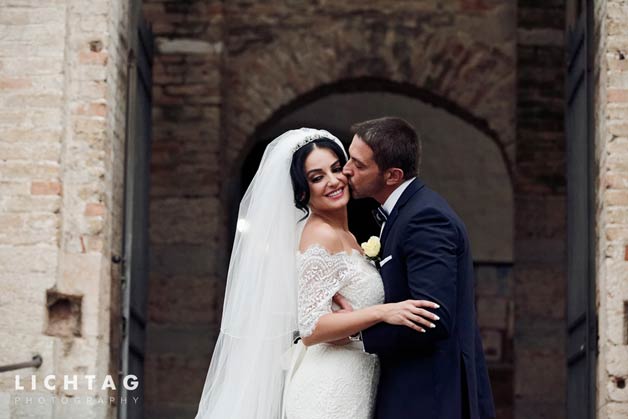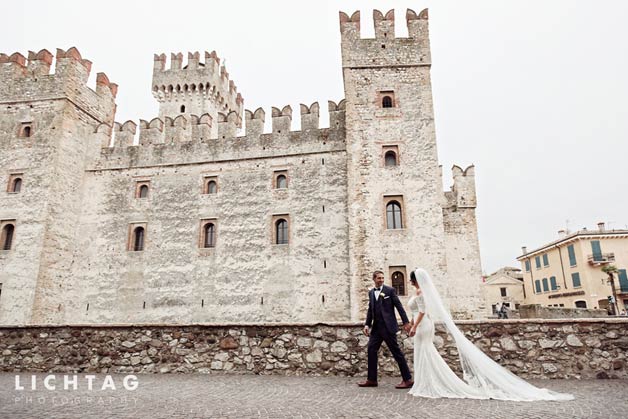 September 16th
Alessandra
and
Veronica
followed
Belinda and Simrit's wedding
. A
Same Sex wedding
on
Lake Como
.
As you know we are happy and pleased to serve all couples!
A wonderful couple for a beautiful event!
The day before of the wedding they took a long boat trip on Lake Como with an aperitif and music on board and then a photos shooting in Bellagio.
For their wedding day they opted for a symbolic ceremony in a wonderful
villa in Laglio
village.
Ceremony was accompanied by a great string quartet.
Dinner was served inside the villa on a long table decorated with stunning flowers.
All details were planned very carefully from flowers to personalised wedding stationary.
A great party to follow with a dj set.
Photos by
Franco Milani
This wedding is featured on
Italian Gay Weddings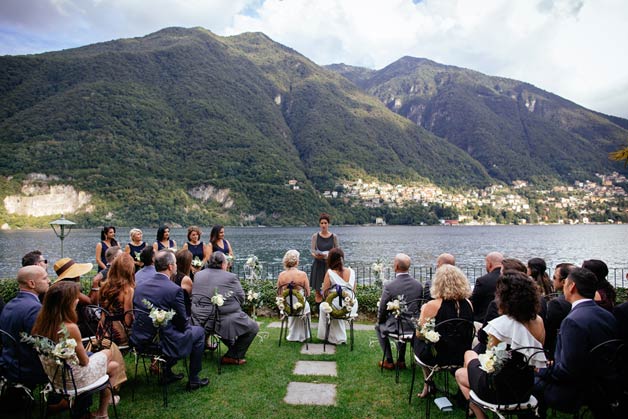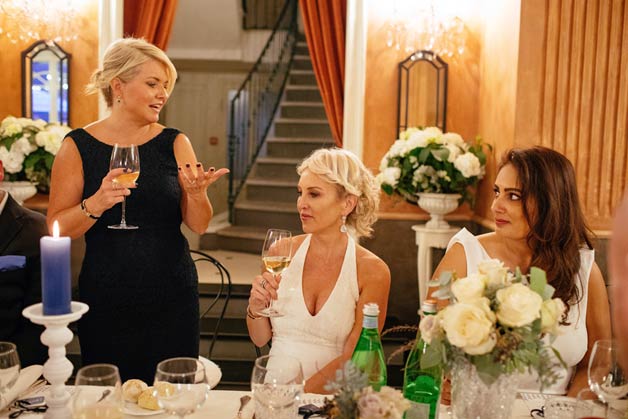 On September 17th Stefania followed Keisha and Ayo's Rome wedding. A group of 20 people came with them to celebrate with them. They opted for a symbolic ceremony in a hotel in Via dei Fori Imperiali in the beating historical heart of Rome.
Wedding photos were taken just inside Roman Forum… amazing shots for sure.
Intimate wedding reception was planned in a villa in Villa Borghese with a stunning view over Rome skyline.
A long table was decorated with fuchsia and white flowers and lots of candles. A stunning setting for a real Rome wedding!
Photos by Alessandro Zingone
This wedding is featured on Italian Rome Wedding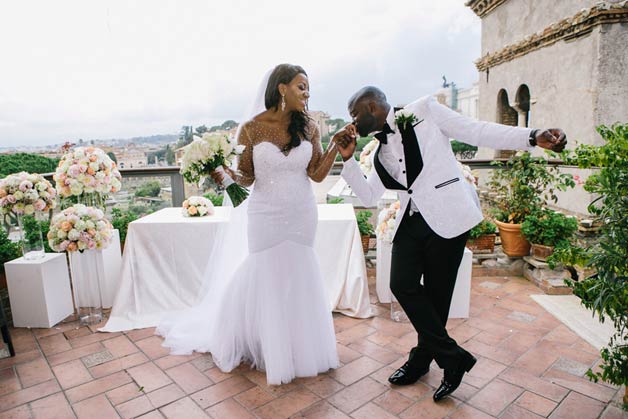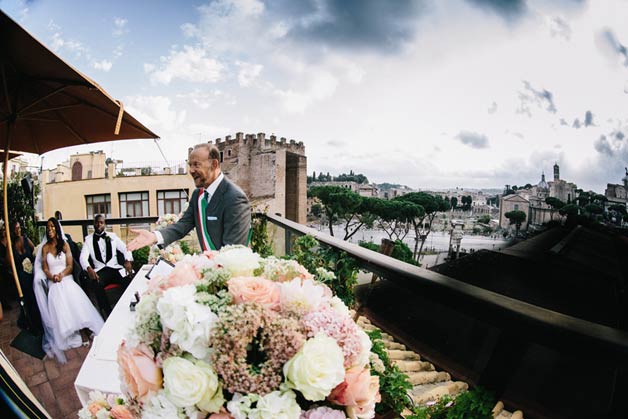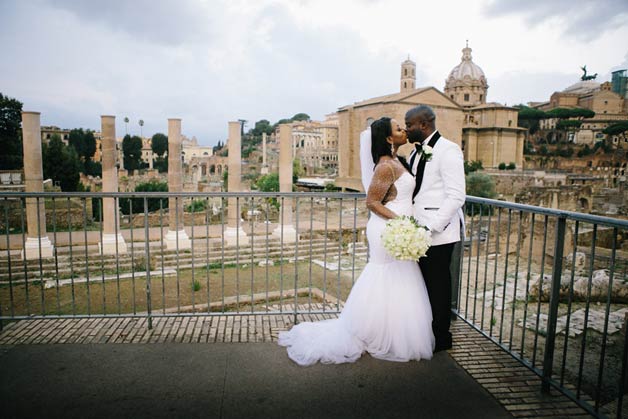 On September 18 Alessandra and Veronica followed Morgan and Bryan's wedding on Lake Como.
They came from US for a romantic elope on Italian Lakes.
They planned a symbolic ceremony by the lake shores in a villa in Laglio.
After the ceremony bride and groom took to chance to take amazing photos and a boat tour on Lake Como. A romantic day on Lake Como!
Photos by Davide Zanoni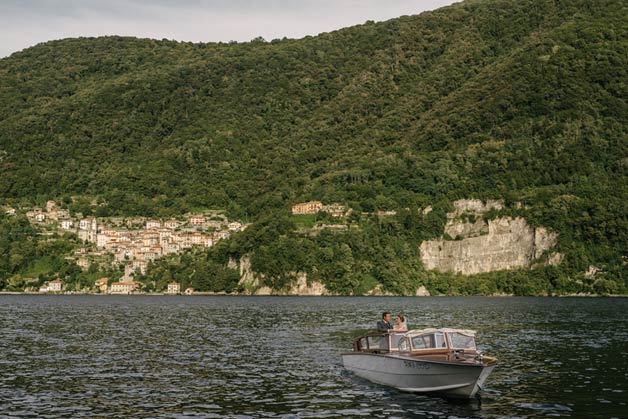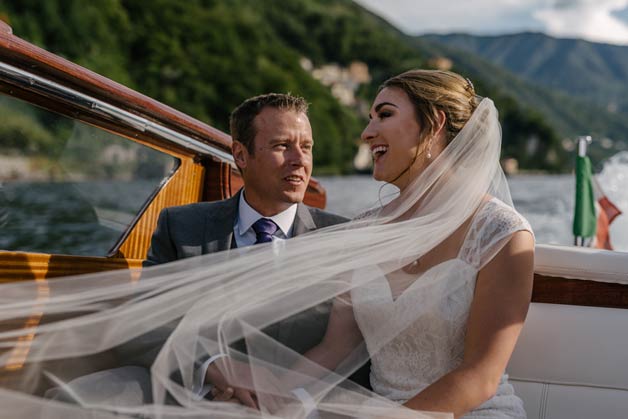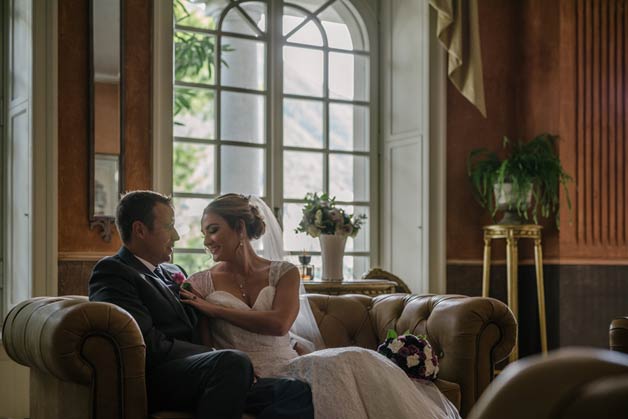 On September 19th we move to Venice, the city of love! Meghan and Ryan's elope in Venice, one of the most romantic city in Italy!
Katiuscia and her assistant Sara were the witnesses for the ceremony inside the town hall of Palazzo Cavalli. Just enchanting!
Photos shooting was planned on the roads of Venice passing by Rialto Bridge, Venice Market (a Venetian Palace close to Grand Canal) and then a boat tour to reach San Giorgio Island to get back to San Marco square! Amazing spots in a fantastic Italian city.
Meghan had a red and blue bouquet that was really dear to her.
Photos by Franco Milani
This wedding is featured on Italian Seaside Wedding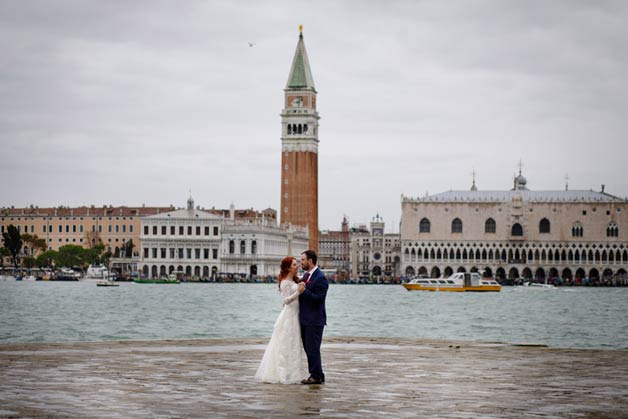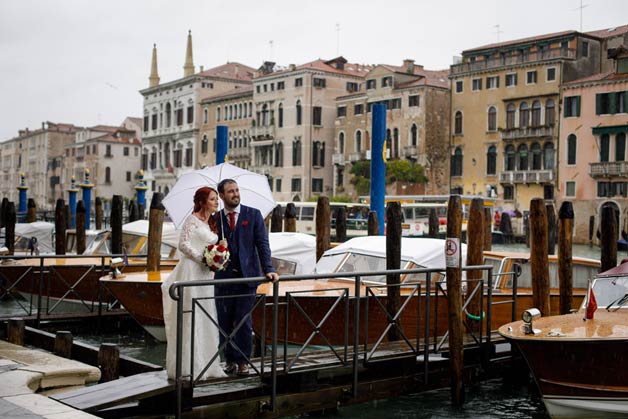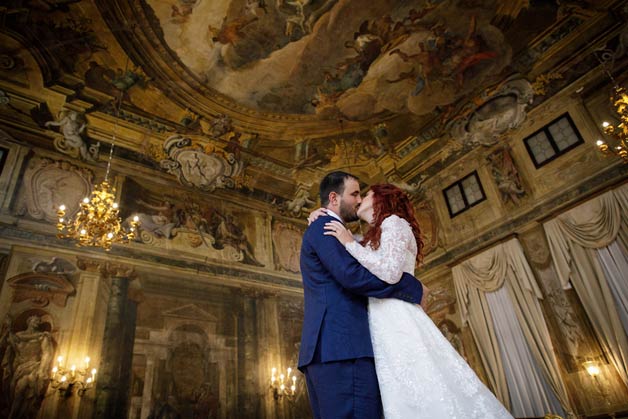 On September 23th Valentina and her Team followed Orla and James' wedding on Lake Maggiore.
Orta and James planned their Roman Catholic wedding ceremony at Carciano church in Stresa. The ceremony was really emotional, a wonderful string quartet played for all and Orla in person sang two songs during the ceremony. Such a wonderful voice!
Orta and James took the chance to have amazing photos inside the gardens of Islola Bella while guests where enjoying a nice aperitif by the shores.
Elegant reception was planned at Grand Hotel Iles de Borromee in Stresa, one of the best Hotels on Lake Maggiore.
Flowers were all in the shades of pink and white on tall and rich compositions. Dinner was served inside the main room of the hotel with gold details and tapestries.
A swing band accompanied the reception up midnight and then a geat dj set up to later at night!
Photo by Italian Wedding Company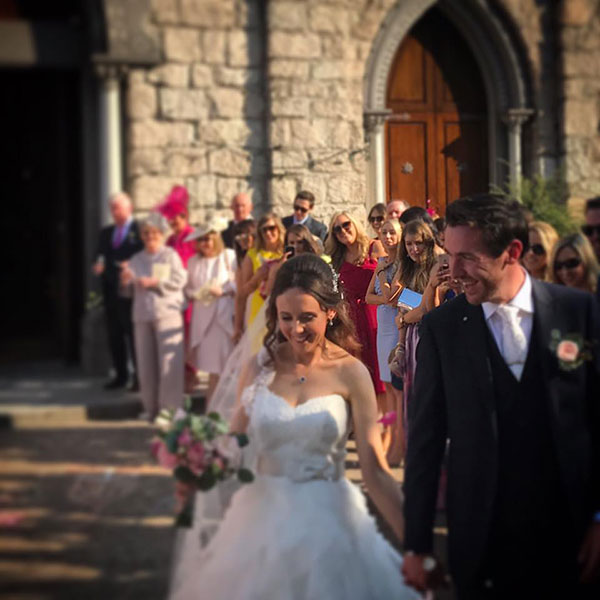 And then on September 30th, back to Northern Italy with Vivian and Alistair's wedding in Piemonte Countryside. Vivian and Alistair chose a fantastic castle in Monferrato overlooking Piemonte vines.
Ceremony was planned in the courtyard of Medieval castle outdoor with a lovely aperitif to follow on a lower terrace.
Dinner was served inside the ancient armoury of the castle and party up to late at night to follow on the noble floor of the building.
The wedding was a perfect blend of Colombian and Scottish traditions.
A swing band played for the first part of the reception and bride and groom's friends also sung a Colombian serenade for the bride wearing colourful sombreros!
Groom and his men wore their kilts as Scottish tradition wants. A perfect mix of enchanting customs!
Photos by MouMou Photography
This wedding is featured on Italian Country Wedding and Italian Ethnic Wedding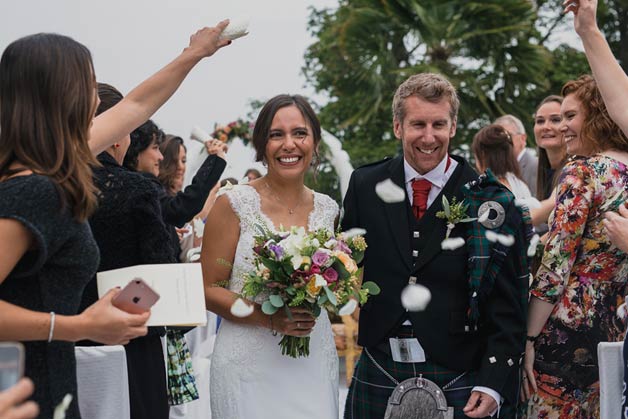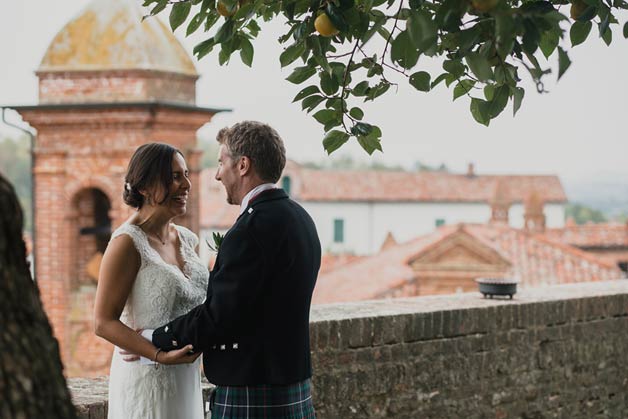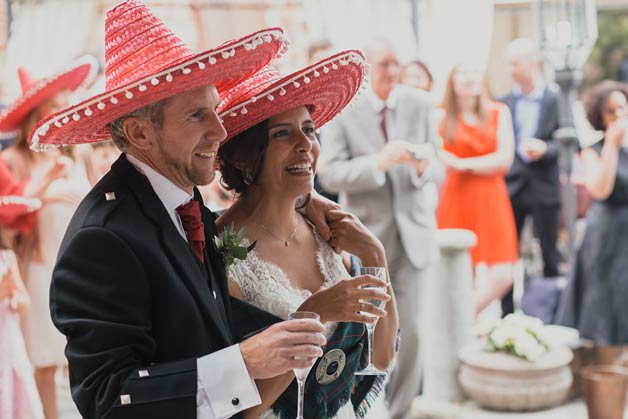 We arrived to the end of this amazing 2017 season. It was a great experience for all of us! It was challenging but full of emotions and love!
A big thanks to all couples who chose us and to the ones who are choosing us now to plan their 2018 wedding!
Thanks to our readers who follow our long posts and appreciate our hard work, our web master who put together great posts for all the team.
A big thanks to our colleagues and assistants
who follow us in crazy preparations and amazing days of the wedding.
A huge thanks to all professionals who worked with us
to create these amazing events: photographers for their fantastic shots that enrich our posts, video makers, reception venues and all their staff, caterers, ceremony venues, floral designers, musicians, djs, interpreters, boats drivers, transfers companies, hairdressers, make up artists, stationary and favors designers and all who work with us with passion and professionally.
Thanks to all of you: this year has been simply amazing and keep in touch for 2018 season to come!