Lake Como is one of the most extraordinary places for a destination wedding in Italy. So if you are looking for a romantic wedding on Lake Como, read more below… we are sure you will get inspired! Lake Como is surrounded by Alps. It is famous all over the world for its beauty, elegance, refinement, and breath-taking views. That's why I adore planning destination weddings here.
If you are dreaming about getting married on Lake Como just read more, I'm going to tell you story of Amanda and Samson's romantic wedding on Lake Como.
A big thanks to David Christian Lichtag photographer, for these great shots.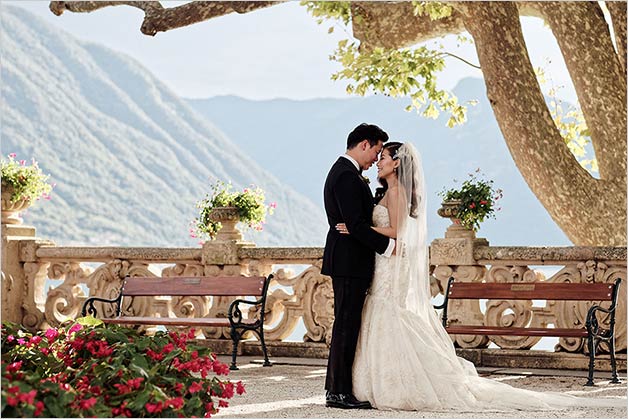 An unforgettable day celebrating love on Lake Como
Amanda and Samson are a young Asian couple from the US.
When we talked for the first time, they told me that they wanted a ceremony influenced both by their own culture and the also Italian one. They wanted to experience Lake Como without forgetting about their traditions.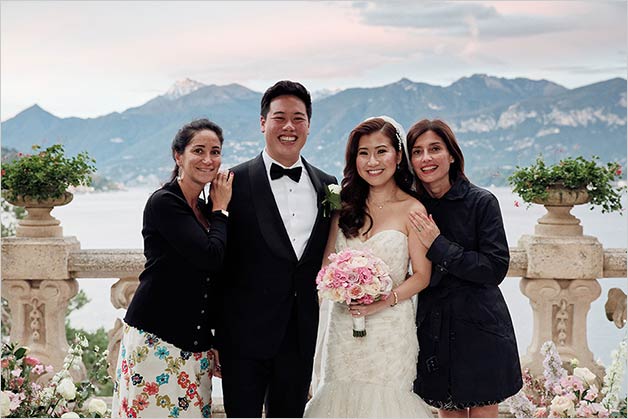 "I love working with couples coming from other countries because I have the opportunity to know different cultures and fall in love with all of them".
The ceremony at Villa del Balbianello on Lake Como
Amanda and Samson chose Villa del Balbianello for their ceremony in September 2019. Villa del Balbianello is located on Lavedo peninsula. The Villa has a breath-taking view over Lake Como. This featured makes it one of the most spectacular properties in the area.
After getting ready in majestic Grand Hotel Cadenabbia and taking some wonderful wedding pictures, Amanda & Samson sailed to Villa del Balbianello. As the matter of fact Villa del Balbianello can be easily reached by boat.
Once there, bride and groom took the opportunity to tie the knot under the unbelievable Loggia Durini, the precise area of the Villa from which you can enjoy the whole Lake view. Just stunning! This is the essence of a real romantic wedding on Lake Como!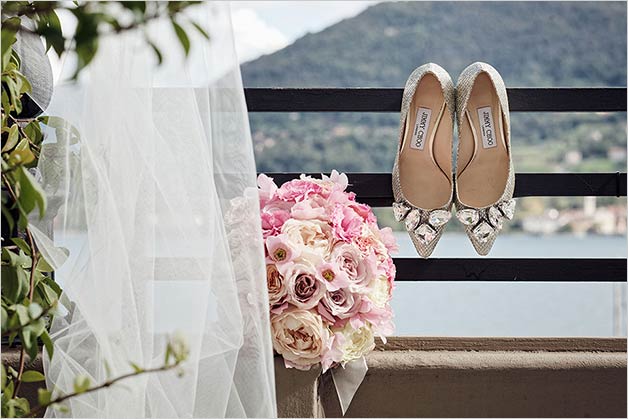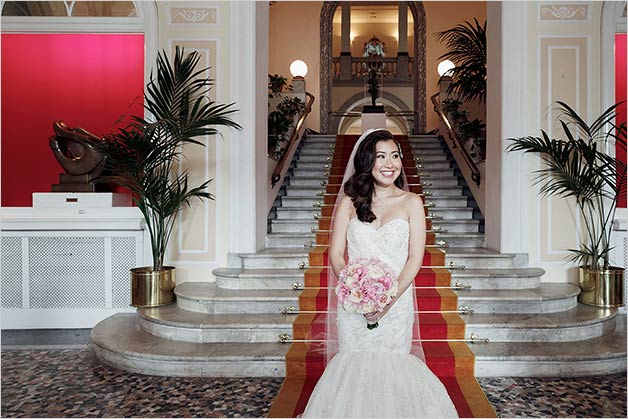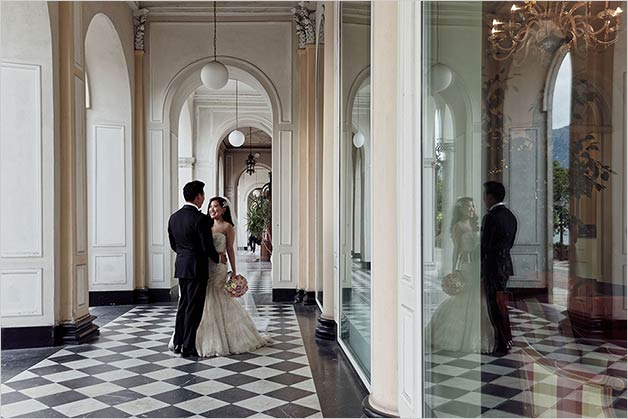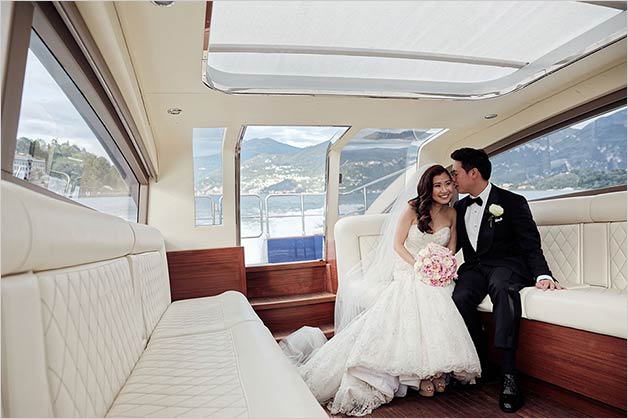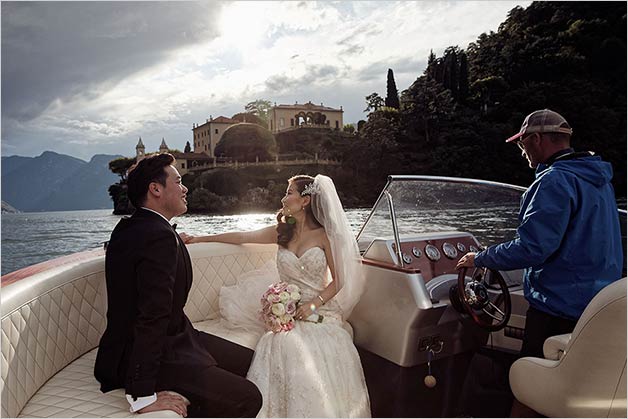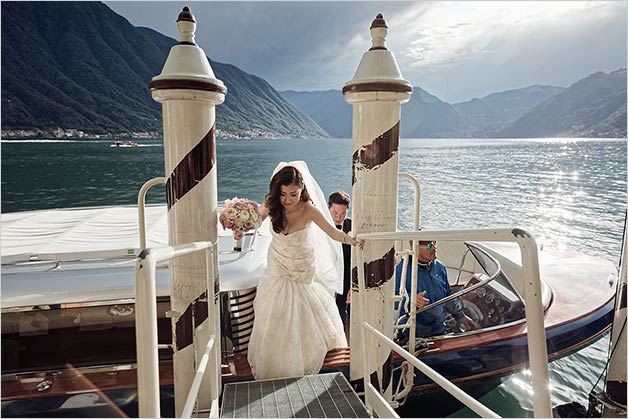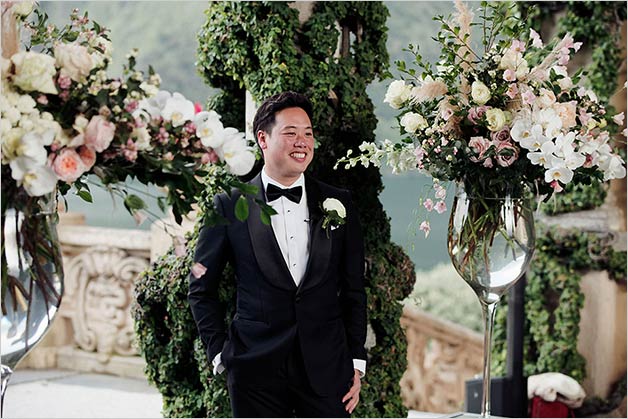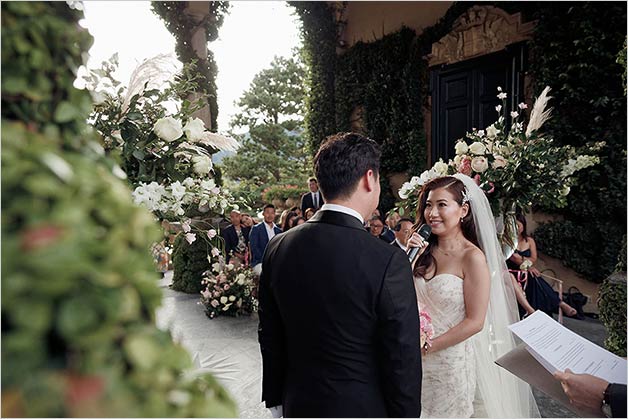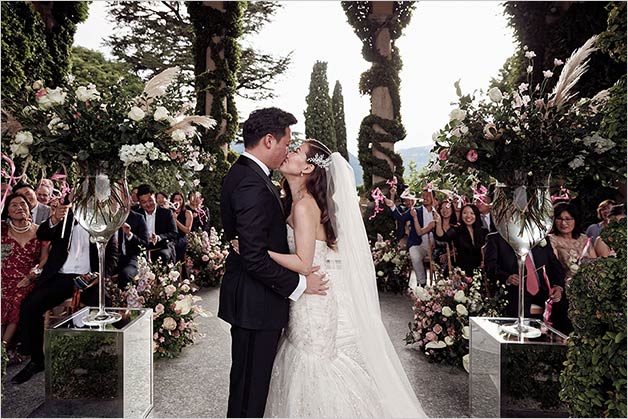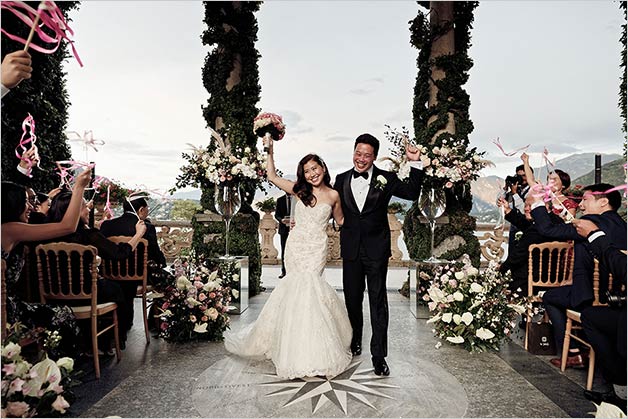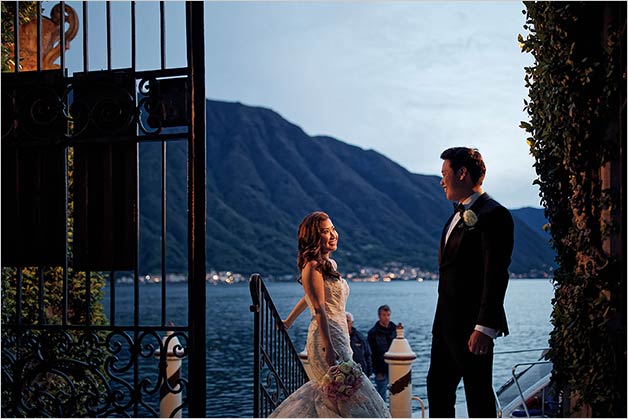 A romantic wedding reception on Lake Como
When the ceremony ended, Amanda and Samson sailed back to the restaurant where they hosted their wedding reception dinner and the wedding party. Acqua Dolce is the name of the restaurant they chose. It is a hidden gem located on the Western shore of Lake Como. It is nestled in a romantic garden with an access from the private dock.
"I highly recommend a lake-front restaurant to brides and grooms who want to celebrate with both intimacy and fun party with lots of music".
During the wedding party, not only the restaurant surprised the guests with their great cuisine but the bride herself did it! She reached the wedding reception venue a new red outfit, an auspicious colour according to the Asian culture.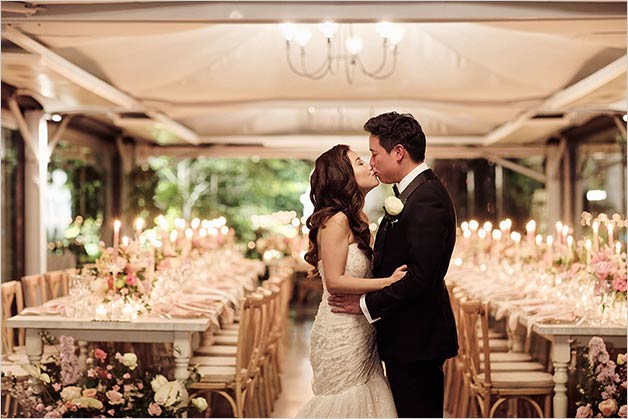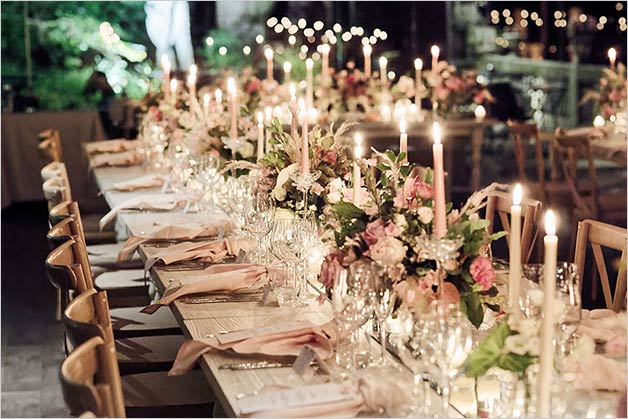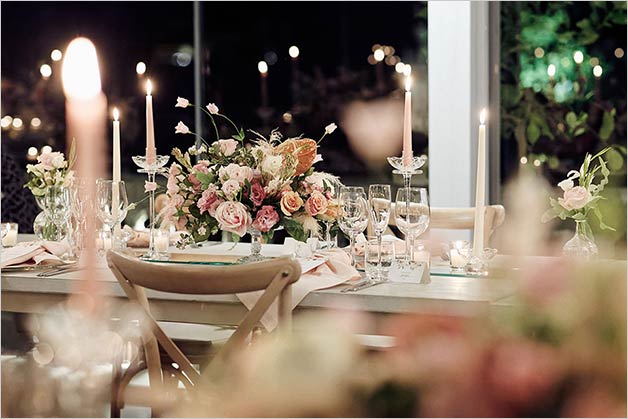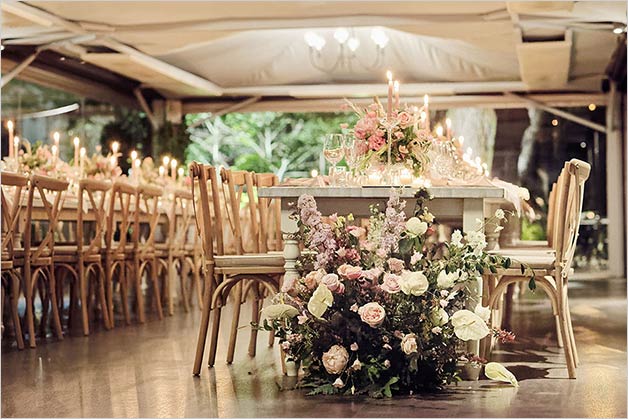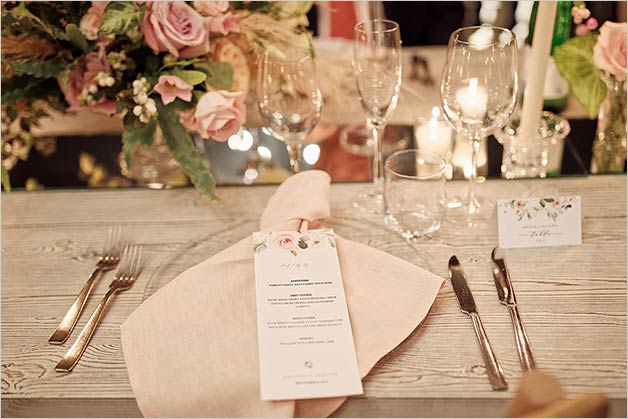 For their special wedding cake, Amanda & Samson chose something traditional Italian: a one-tiered cake. And after the cutting of the cake, everybody enjoyed a fun deejay set and danced the night away.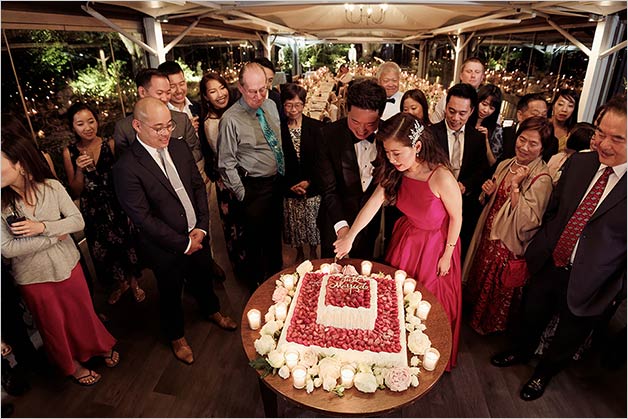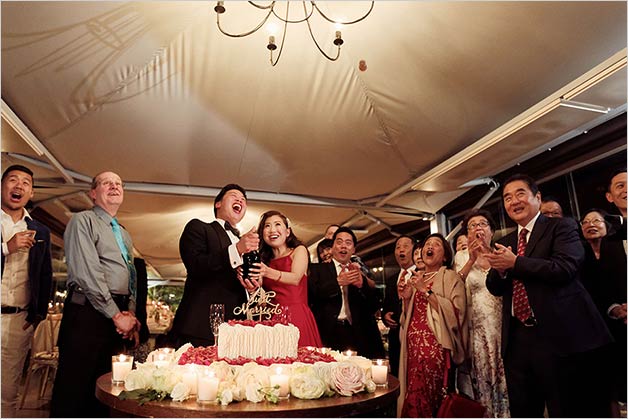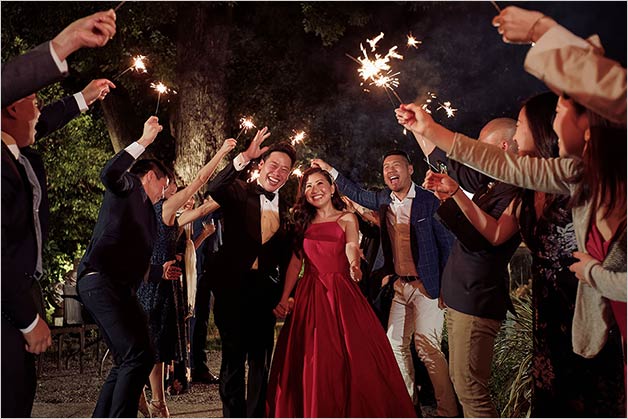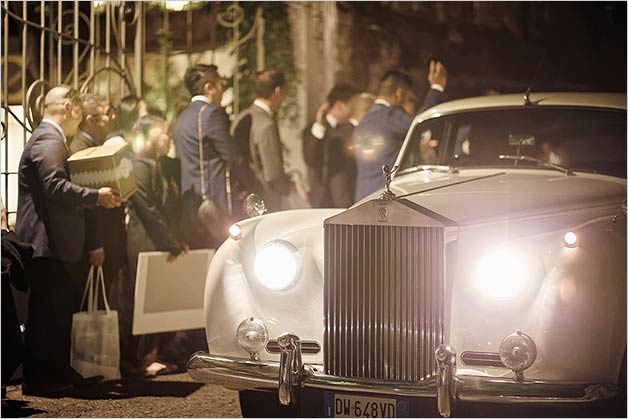 At the very end of the day, with their hearts full of love and their minds full of sweet memories, the bride and groom left the party on a Rolls Royce car.
What a romantic wedding on Lake Como!