An Elope on Lake Maggiore could be such a great and very stylish idea! Michelle and Daniel opted for it and they chose to tie the knot at the very beginning of wedding season, in March when nature is waking up ready for a fantastic summer.
Lake Maggiore hides hidden jewels that could be ideal for romantic elopes in Italy.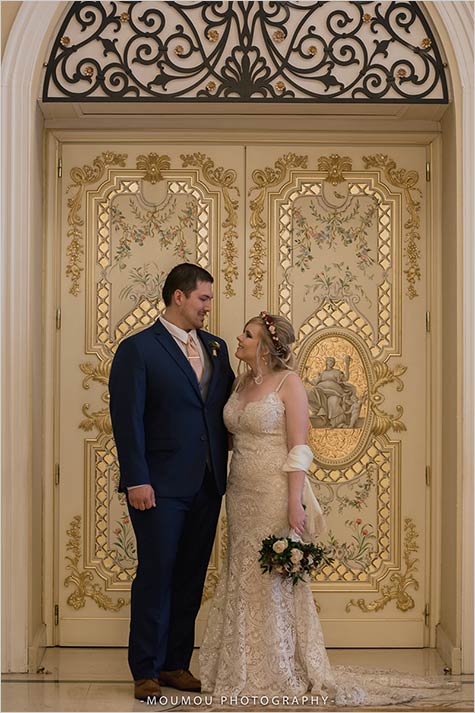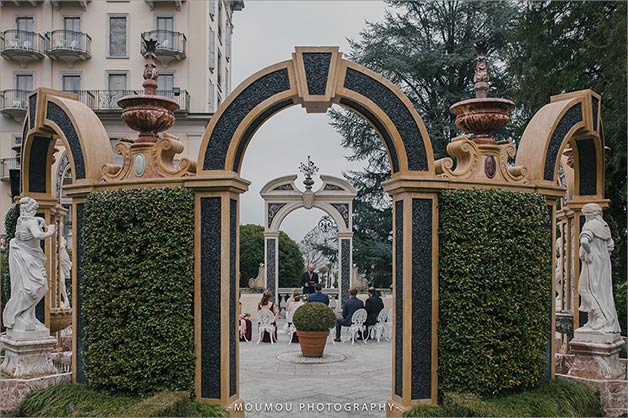 Grand Hotel Des Iles Borromées and its charm
Grand Hotel Des Iles Borromées is one of the leading hotel in Stresa. The hotel opened its doors to tourists on 21st march 1863, 155 years before Michelle and Daniel decided to have their wedding here. Over centuries Grand Hotel Des Iles Borromées kept its charm and appeal. Many celebrities used to come here to enjoy Lake Maggiore view, queens, kings, actors, poets and writers.
Michelle and Daniel come from US and they arrived here with a small group of friends to celebrate a romantic spring elope on Lake Maggiore.
While bride and her bridesmaids were getting ready guys enjoyed some drinks in the luxury bar of the hotel.
Once ready it was time for the wedding ceremony.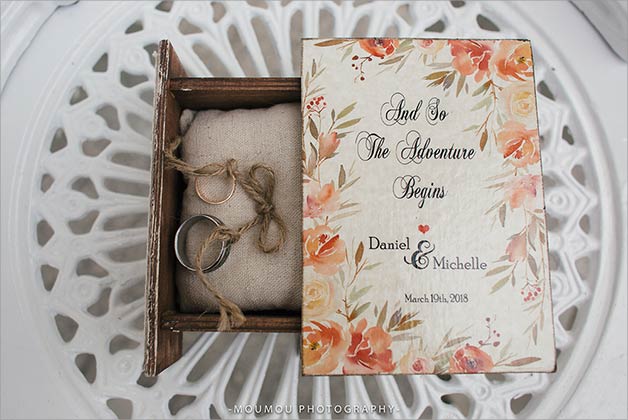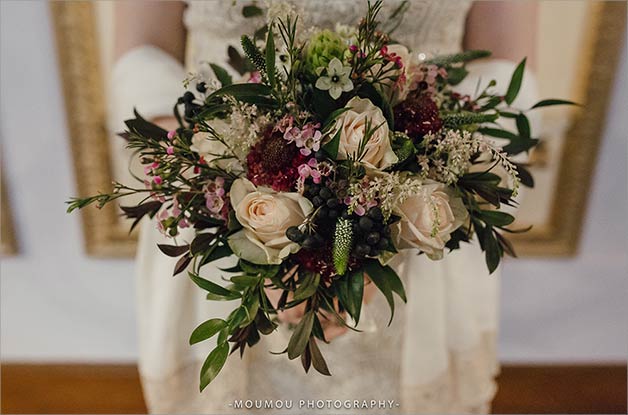 A Wedding blessing at Ninfeo dei Continenti – Grand Hotel Des Iles Borromées
Ninfeo dei Continenti is a special spot in the grounds of Grand Hotel Des Iles Borromées.
It is a sculptural complex located in the park of the hotel. The park has precious secular trees, azaleas and camellias groves. Ninfeo dei Continenti is in the middle and it is embellished with marble statues and fountains. It reflects a classical Italian style garden and statues represent the five continents. Each hour a music box in the fountain plays Ode to Joy by Beethoven.
It is just at Ninfeo dei Continenti where Michelle and Daniel exchanged their vows.
A Violinist accompanied the moving ceremony. Wedding ceremony was moving and touching. Fun group of friends shared their joy with bride and groom.
Bride look so elegant in her laces wedding dress and burgundy themed bridal bouquet.
Flowers matched perfectly floral headpiece in bride's hair and bridesmaid's dresses. Very stylish.
At the end of the ceremony they took some photos in front of Ninfeo dei Continenti a then a small toast at the bar of the hotel.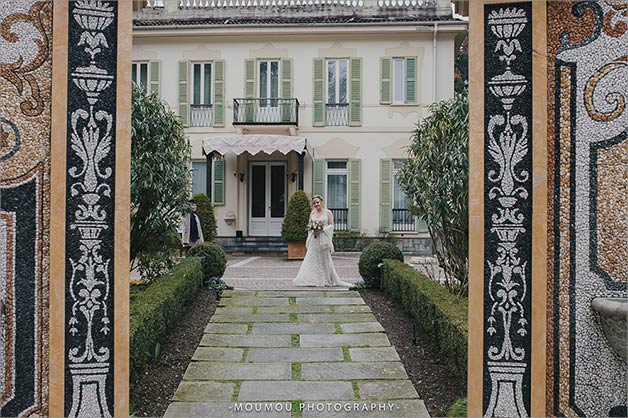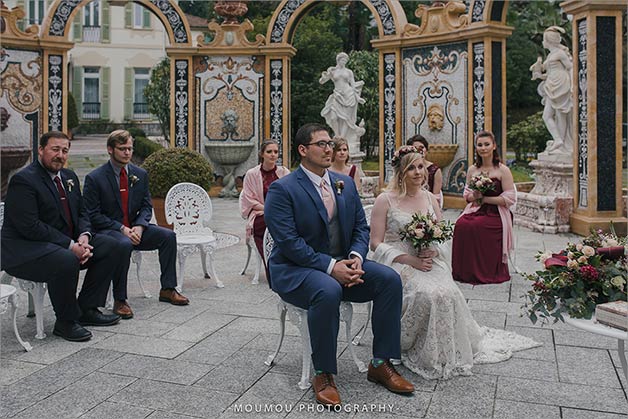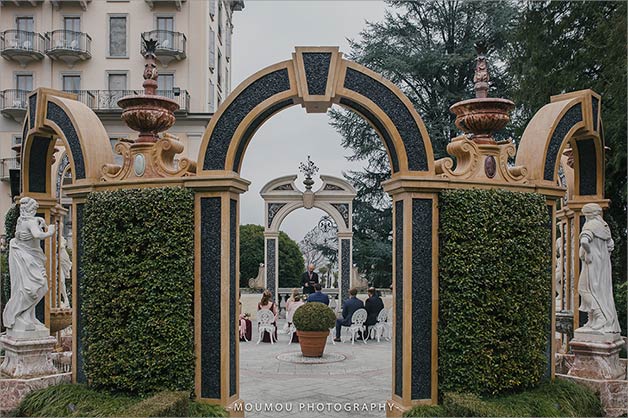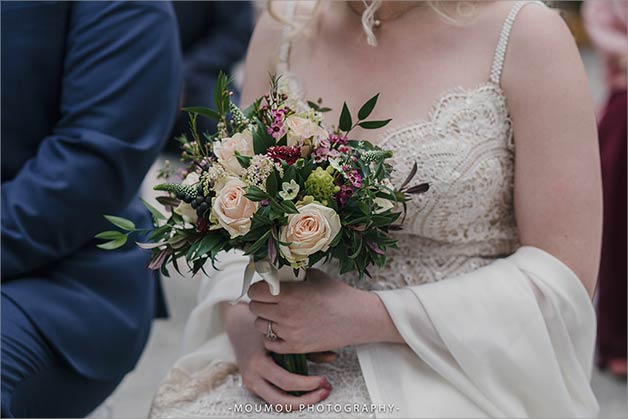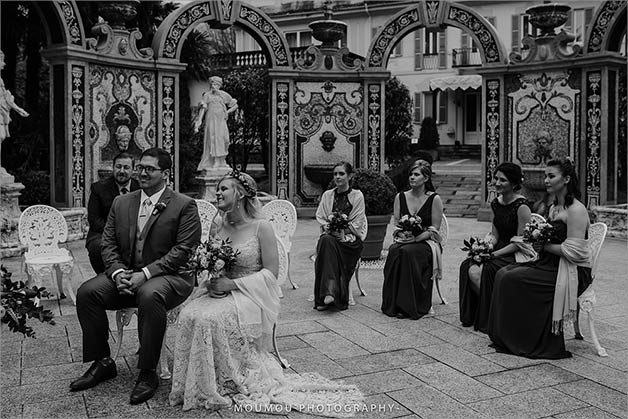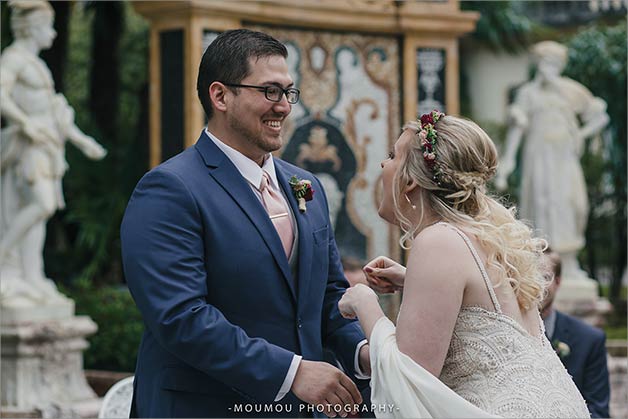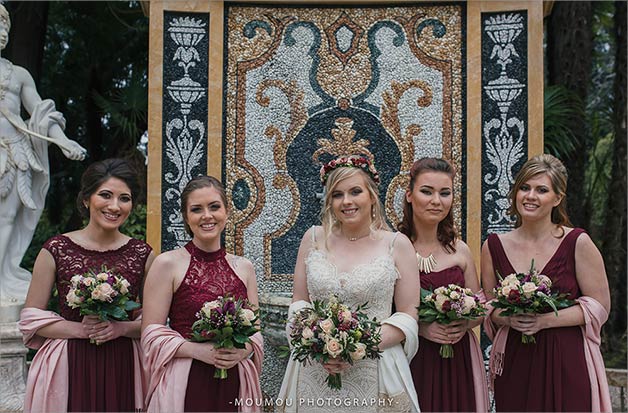 A boat tour on Lake Maggiore and photos on Isola Bella
Bride and groom and their friends got on board of a motorboat for a fun tour of Lake Maggiore. They reached Isola Bella for romantic photos.
You can find here a lovely selection. MouMou Photography took these great shots of the day.
Boat trip was a lovely way to visit Isola Bella and its beauty. Week days in March could be the best days to visit Borromeo Islands enjoying silence and peace.
After wedding photos group got back to Grand Hotel Des Iles Borromées for an evening tea.
Dinner was planned on Pescatori Island in the evening.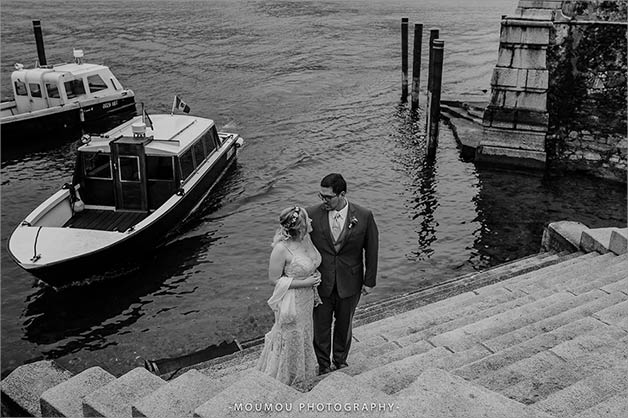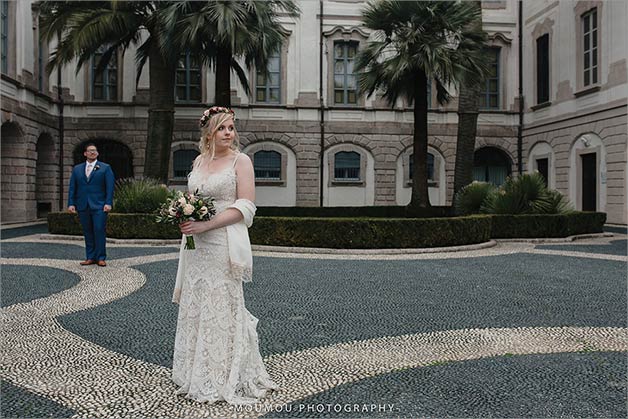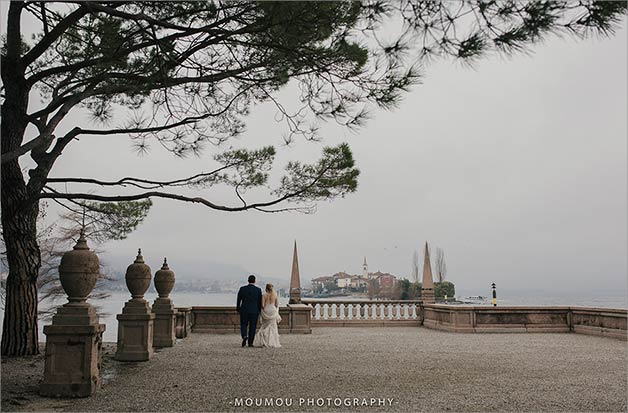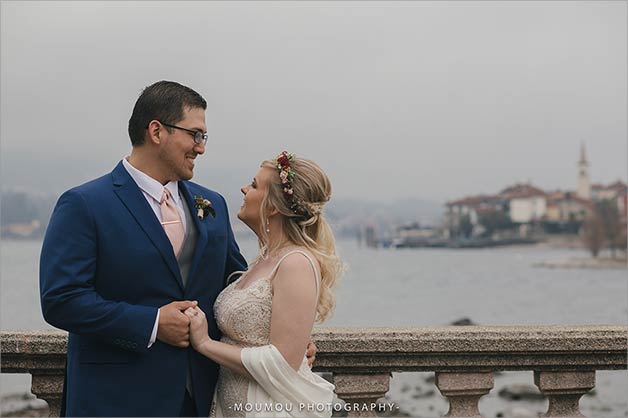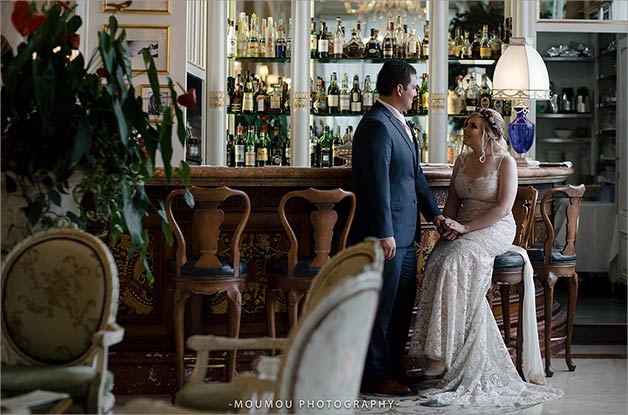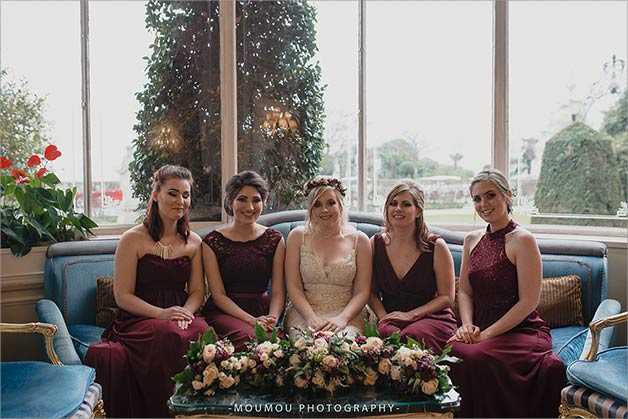 Such a great day on Lake Maggiore. A pretty and peaceful day in the beginning of Spring for a romantic elope on Lake Maggiore!