ll begun in September 2016 with a very romantic proposal in
Ireland
! James proposed to Orla in the most romantic way. A big heart on the sand of
Stradbally – Ireland
asking
Orla will you marry me?
She said of course yes and so we fly forward in September 2017 to celebrate Orla and James' wedding in Stresa on Lake Maggiore.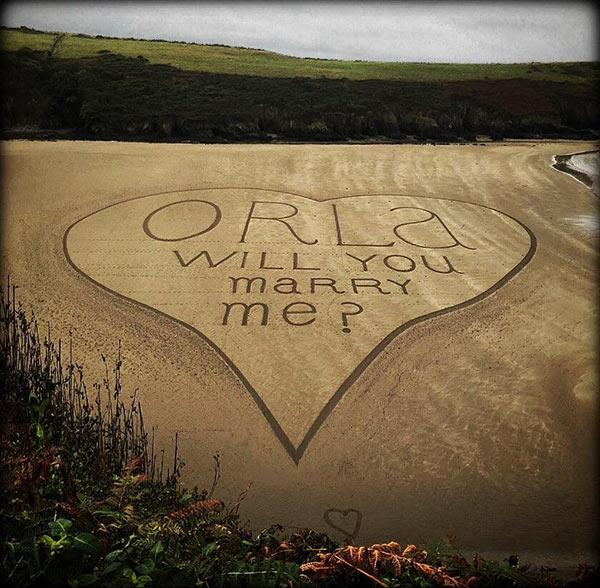 I had the pleasure to follow this amazing sweet and romantic couple during their wedding planning with meetings and lot of preparations.
Orla had all very clear in mind, her style, her wedding decoration the look and the flair she wanted to give to her special day. The final restult was amazing.
Getting ready in style at Grand Hotel des Iles Borromées in Stresa
Orla and James chose amazing Grand Hotel des Iles Borromées in Stresa to get ready and to celebrate their wedding in Italy. Grand Hotel des Iles Borromées is a leading hotel and it is famous all over the world for its beauty and charm. Hemingway wrote here Farewell to the Arms in this hotel. It is a real piece of history.
Orla got ready in her room with her bridesmaids and family and James was in his room with his friends. Both had a very special view over Borromeo Islands. Just magic.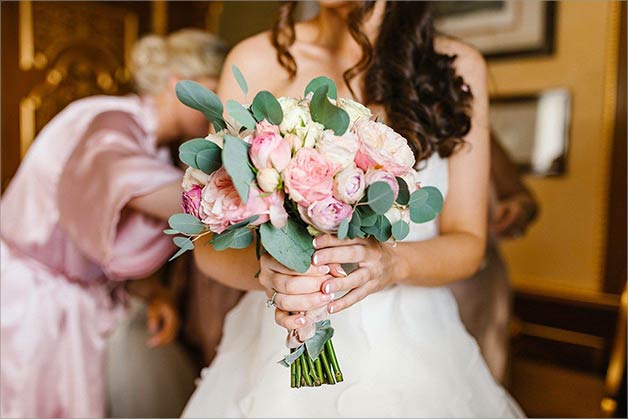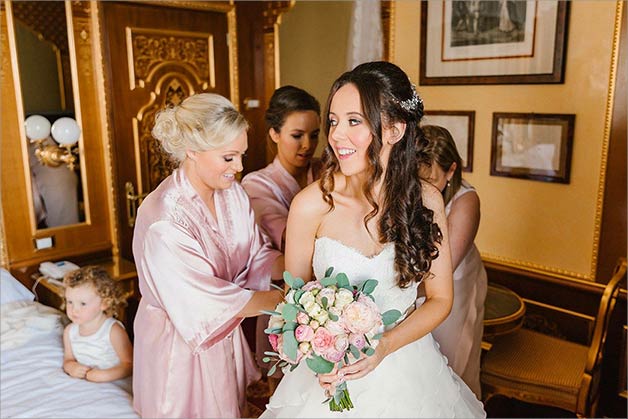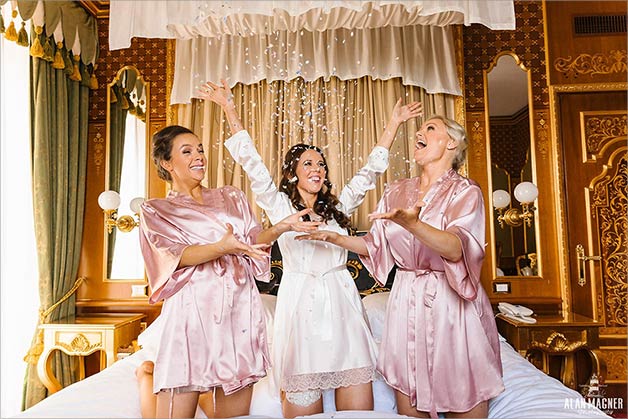 Roman Catholic Ceremony in Carciano Church
There is a lovely neo gothic little church just outside Stresa called Church of Carciano. From here you can see Lake Maggiore, Borromeo Islands and enjoy a wonderful relaxed atmosphere.
Church is wide, full of light and very welcoming. This is where Orla and James decided to tie the knot.
Roman Catholic ceremony as incredibly moving and Orla also sang two songs during the service including one in Italian. She was just perfect!
String quartet accompanied her beautifully.
Floral decoration were in the shades of ivory and light pink, classic, refined and very romantic.
All matched Orla's style, wedding dress and bridal bouquet.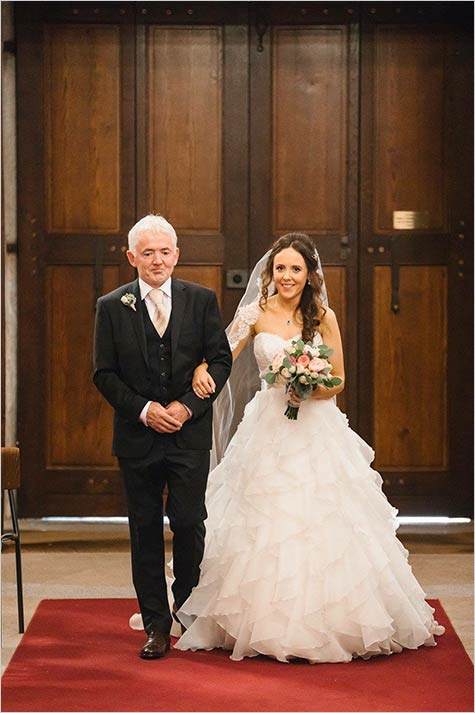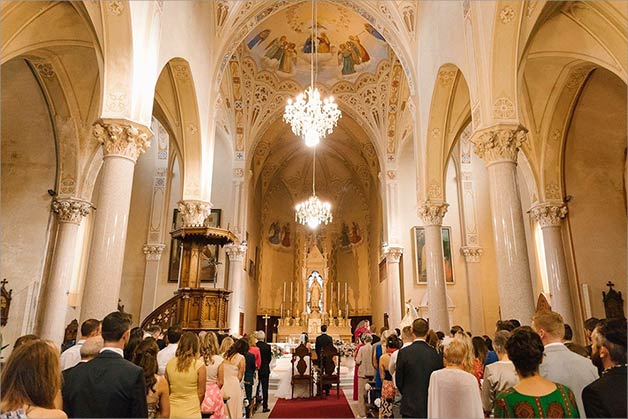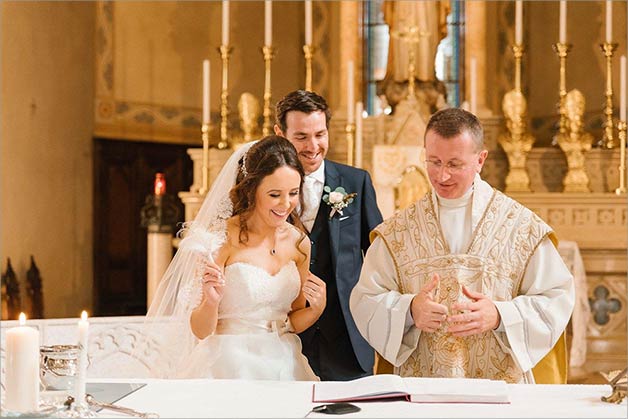 After the ceremony all guests could enjoy a pleasant aperitif by the shores while bride and groom took a private boat to reach Isola Bella for enchanting wedding photos in the beautiful gardens of the most beautiful Island of Borromeo Archipelagos.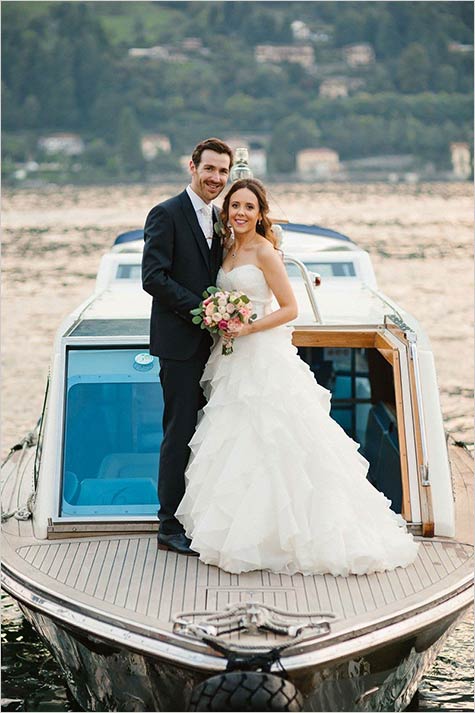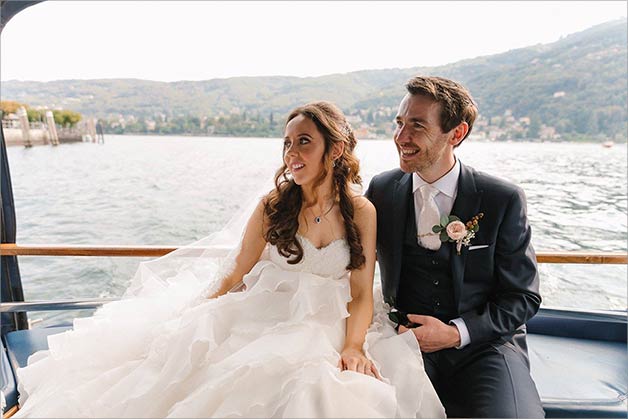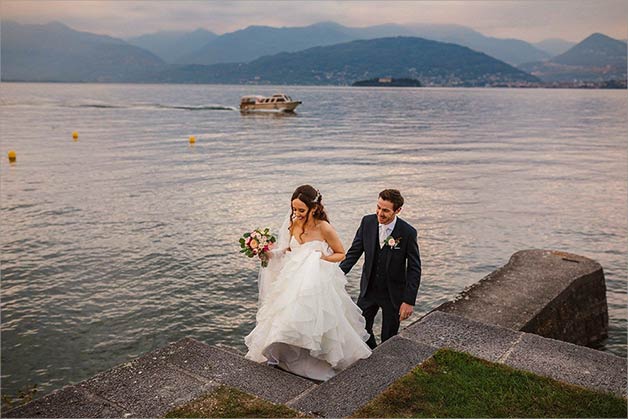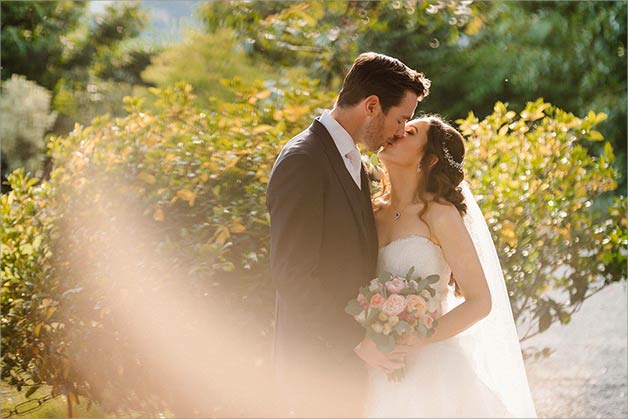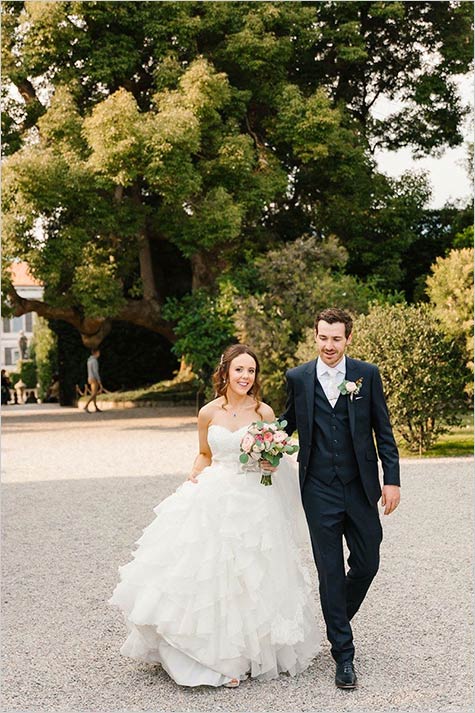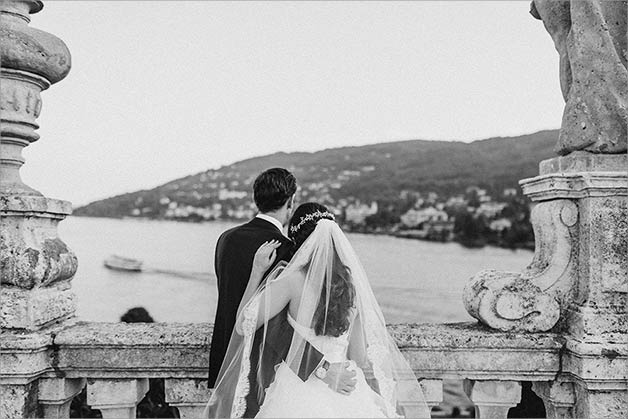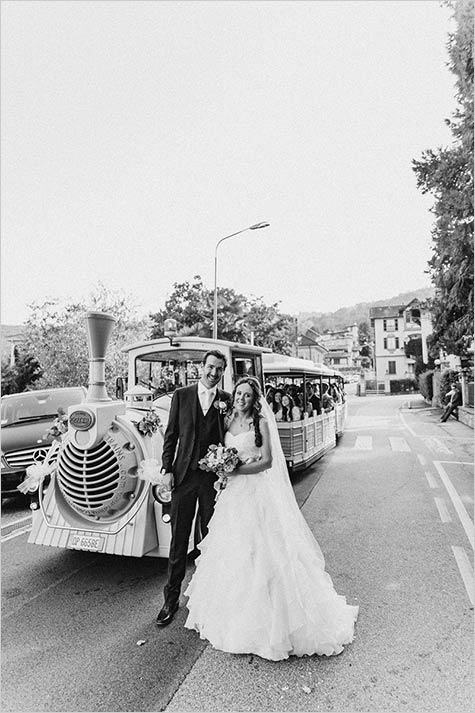 A chic wedding reception at Grand Hotel des Iles Borromées
Wedding reception Orla and James wanted was a very chic and refined event.
The whole group was welcome in the gardens of Grand Hotel des Iles Borromées with a rich aperitif and wedding toast. A swing trio played live for all guests.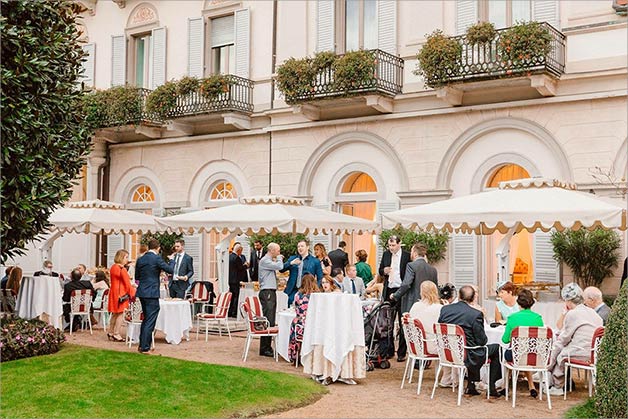 Once aperitif was over it was time for the wonderful meal in the amazing reception room of the Hotel. It was just like a fairy tale. Wonderful crystal chandeliers, tall centrepieces with beautiful ivory and light pink flowers, tall candelabras, golden and sparkling wedding stationary, velvets curtains and precious carpets for the most beautiful wedding reception.
After wedding speeches dinner could start and it was a great success.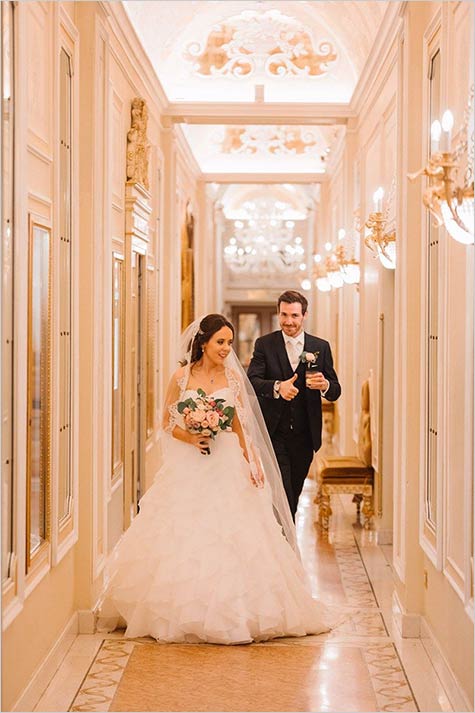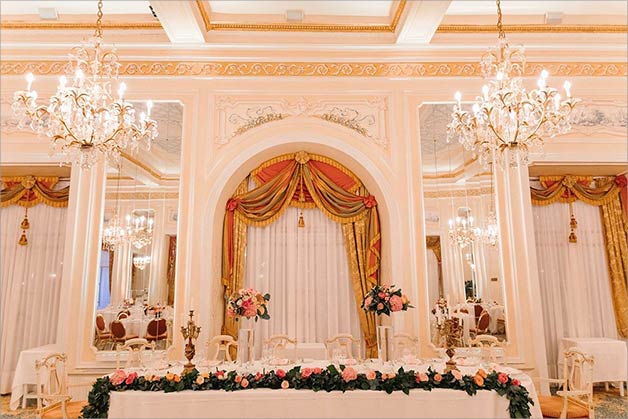 After the dinner the party could start with the cutting of a wonderful and delicious wedding cake a first dance on the notes of Dean Martin's That's Amore and a 5 element swing band playing for the group.
Could it be more romantic than this?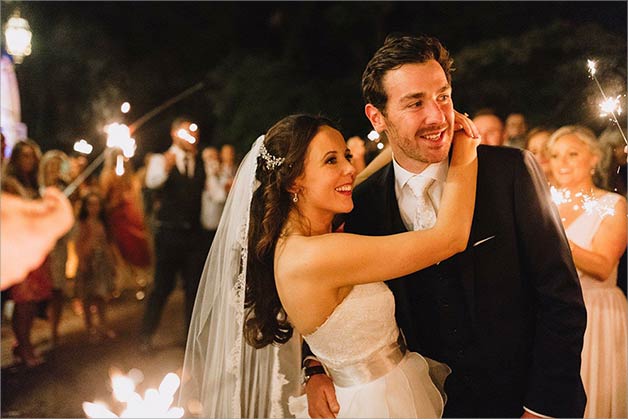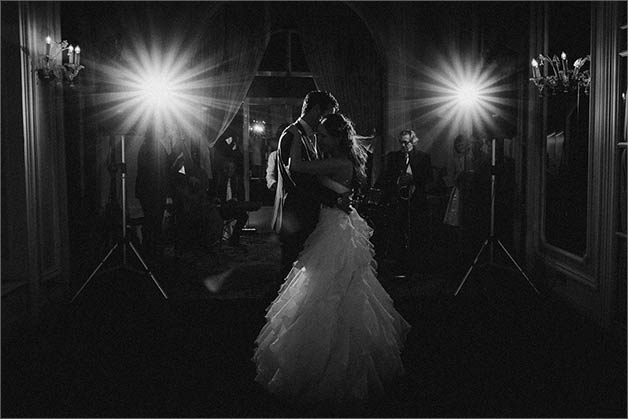 Thanks Orla and James for sharing such a wonderful event with us you will be always in our hearts!