It is always so nice thinking that more than being a romantic and happy moment, weddings could be a meeting between different people and different customs.
This wedding I will tell you about is a real example for that.
Francesco is Italian from Verbania on Lake Maggiore and Sarah has Indian heritage. Both live and work in London but chose to get married in Italy with Jehovist ceremony.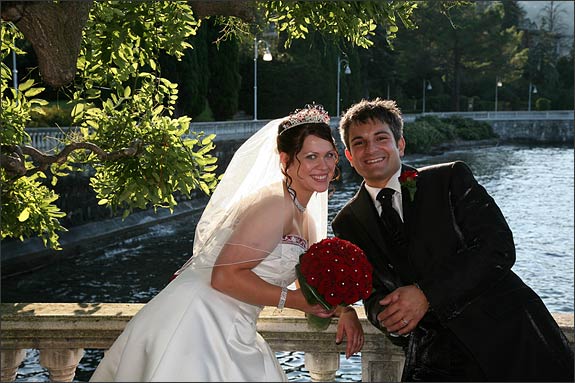 As Mariana and Matteo (main character of the picture who won the contest Shot of the Year 2009) Francesco deep love for his hometown affected Sarah. So this is the reason because they chose Lake Maggiore as frame for their wedding.
As floral designer I managed all flower arrangements for Sarah and Francesco's wedding: from their ceremony who was held in Sala del Regno in Verbania and reception to Grand Hotel Dino in Baveno. Last but not least I created also bridal bouquet with red roses and wonderful sparkling Swarovski that Sarah brought from UK. Such a perfect choice! The lovely sunny weather made them sparkling all thay long just like little diamonds.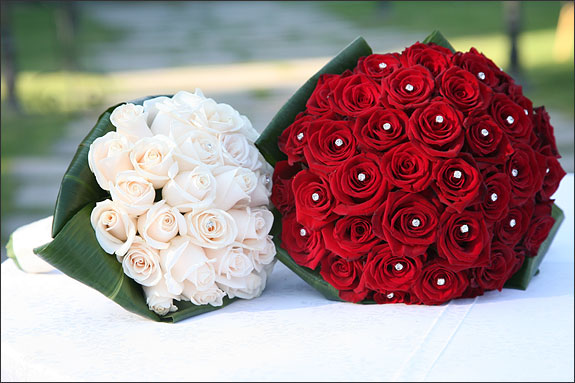 Religious ceremony with Jehovah service has been held in Sala del Regno in Verbania. It is a big and bright building with lovely garden.
Religious service of Jehovah's Witnesses is very simple but surely strict. It follows rules that founder Charles Russell established in middle 1800 and spread through religious magazine The Watch Tower.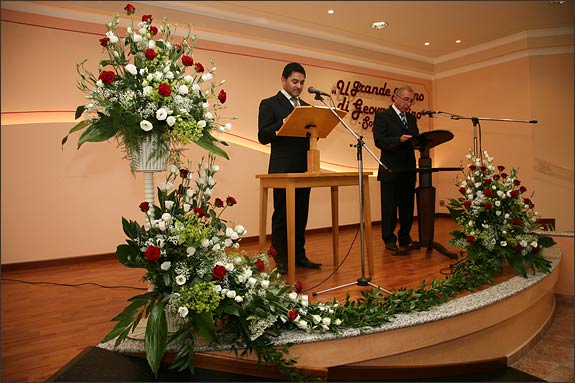 Sala del Regno in Verbania has a very minimal style in its inside. It has no altar or columns although my flower decoration was placed on metal and wicker holders.
Grand Prix roses matched white Lisianthus and apple green Alchemilla with some Ruscus festoons.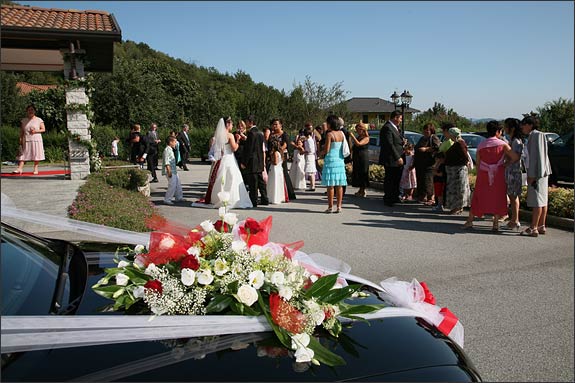 After the ceremony Sarah and Francesco took a walk on Stresa promenade with Isola Bella on the background for wonderful wedding pictures.
We take the occasion to thank wonderful photographer Davide Caravaggio from Verbania (Caravaggio, just like the famous painter!!)
The image with bride and groom and Isola Bella, to me, is one of the best taken on Stresa promenade. Such a lovely contrast between lights and shadows that make this image the perfect spot – a symbol for weddings on Lake Maggiore. Great job Davide!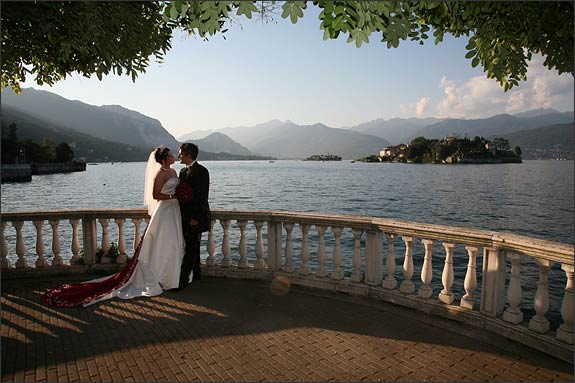 After Stresa bride and groom went to Grand Hotel Dino where all their guests were waiting for them.
If you are looking for a luxury wedding on Lake Maggiore in wide, bright rooms just on the shores, Grand Hotel Dino in Baveno could be the right choice!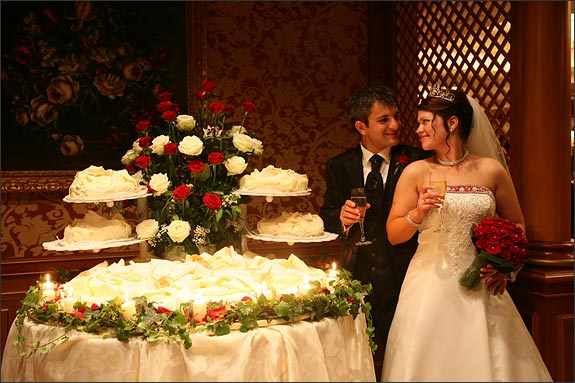 In the wide function room of Hotel Dino I created lovely centerpiece matching Sara's bridal bouquet style. It matches elegant and luxury atmosphere too. I created fine compositions with a touch of essential simplicity in order to let all guests admire the beauty of the place too.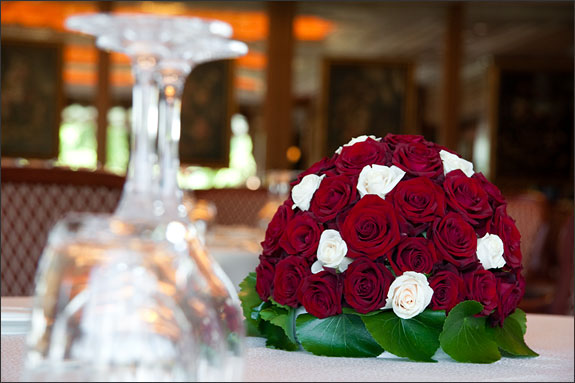 Last but not least I really want to show you this wonderful picture. You will see Sarah in it. Doesn't she look like a queen? Her joy, her jewels, tiara, necklace and earrings together the bouquet I created for her make her just a wonderful vision.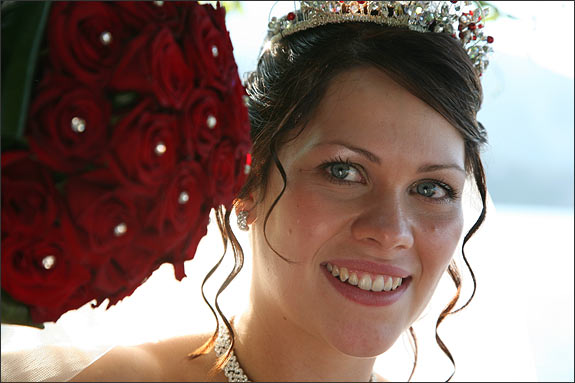 This the best memory I have from amazing Sarah and Francesco's Wedding on Lake Maggiore!
Monika Andenmatten is La Piccola Selva's floral designer.
Based in lake Orta, has worked with brides for over 20 years to create floral arrangements for weddings in the Italian Lakes district.
His wedding arrangements are creative, elegant and sophisticated. Monika will be able to help you choose how best to incorporate floral design into your wedding celebrations. From the initial consultation to the wedding day, she will make your wedding flowers truly an expression of your dreams.

For more information about weddings on Lake Maggiore please contact us.