A wedding on the Lake Orta can be romantic, like Rachel and Mark's wedding, celebrated at sunset, on the lake shore…
Or it can be intimate like Silvia and Giorgio's wedding for 3 celebrated in the garden at Villa Bossi…
But a wedding on the Lake Orta can also be fun and festive…. Just like the one celebrated by Mariana and Matteo, the fantastic couple I will tell you about today.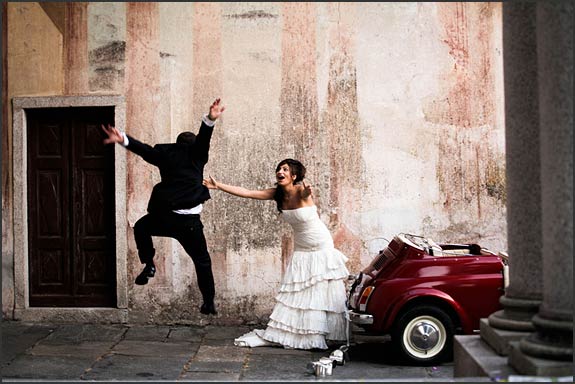 Matteo and Mariana are an Italian-Armenian couple who live and work in London. Matteo is originally from Torino and he is just like every good boy coming from Piemonte, he is in love with his own homeland. Over time, Mariana was infected with this love as well, and thus their decision to choose one of the most charming places in Piedmont for their wedding: the Lake Orta.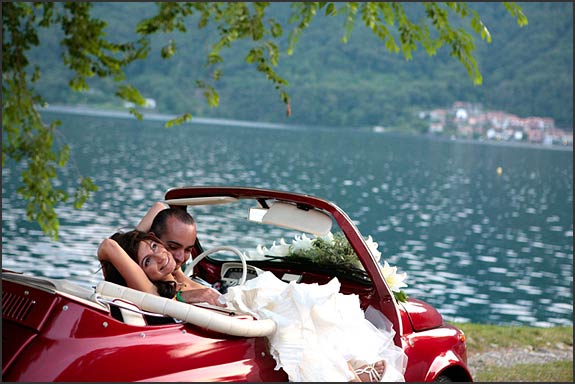 Fun and joy are two words which perfectly describe Mariana and Matteo's wedding. You will certainly see that in the photos accompanying this post: pictures that tell of their friend's feast and fun, the first pranks of marriage, the couple's happiness after the ceremony… emotions and feelings captured by Maren Ollmann's lens from the Photography Studio Ollmann/Ottaviano in Torino. In the PHOTO GALLERY you will find 27 exceptional shots filled with the passion and magic which bring together the most wonderful emotions of Mariana and Matteo's Big Day.
Mariana and Matteo's wedding on the Lake Orta took place in 3 venues: Hotel Villa Crespi, where the bride and groom and their relatives stayed, the Church, Sacro Monte di Orta, where the religious ceremony took place, and finally Villa Ortea, where the wedding reception continued till the early lights of dawn.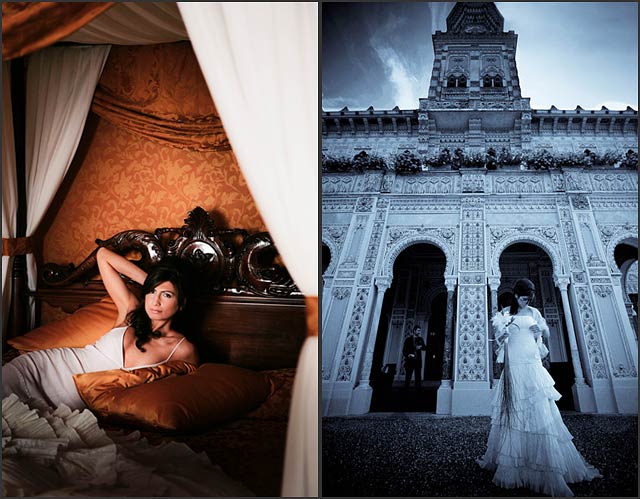 For their stay in Orta and their first wedding night, Mariana e Matteo chose the Executive Suite in Hotel Villa Crespi. It was a fantastic room overlooking the lake with XVIII century furniture, a refined marble bathroom with a hydromassage and a magnificent four poster bed.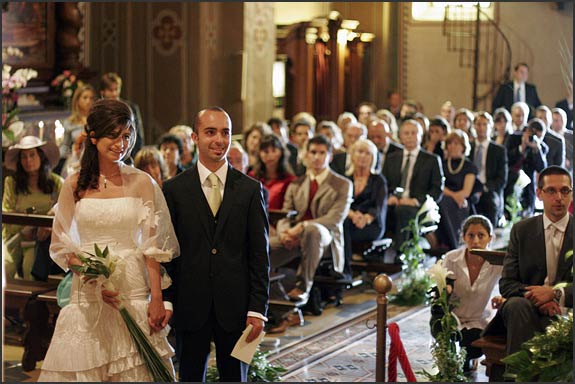 The religious ceremony, a mixed catholic-orthodox service, was celebrated in the beautiful church of Sacro Monte in Orta. As the flower designer I was in charge of the floral arrangements, which I created with the precious assistance of my colleague, Manuela.
The entire design, begun with bride's bouquet. It was based on large Lilium Longiflorum and various types of greenery, in particular Aspidistra and Bear Grass.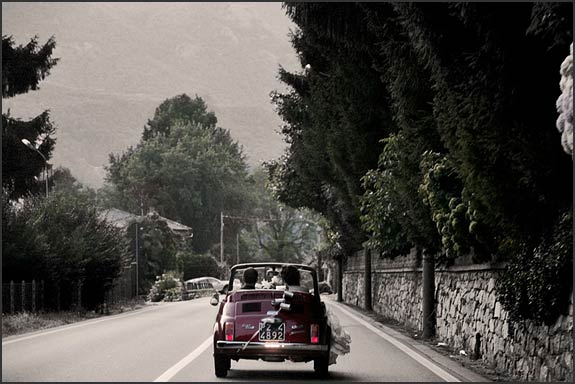 When the religious ceremony ended, bride and groom left the church in a bright red Fiat 500 from the 60s. While driving the legendary Italian car, Mariana and Matteo reached lake shores for the must-have, keepsake photos. Then they kept on driving to Villa Ortea, where their guests were waiting for them.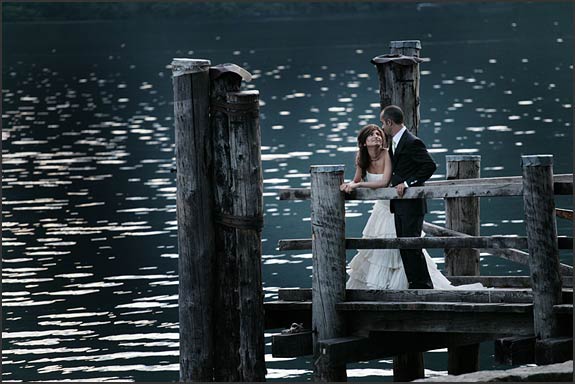 Villa Ortea is certainly one of the most beautiful settings on Lake Orta. It is surrounded by a wide park it has a fantastic view of the lake. A warm summer evening helped organize the reception in the garden. Special retro-lit tables were decorated with candelabras that Manuela and I had covered with various greenery, white rose buds and large slices of old movie film.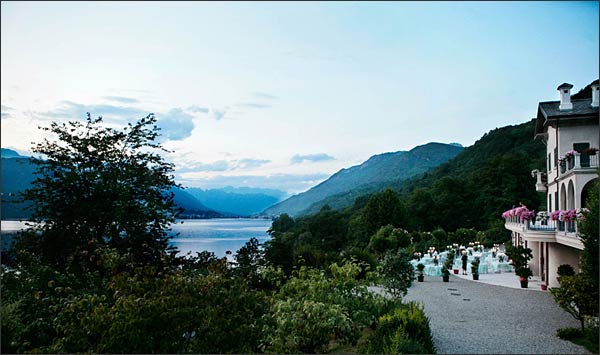 CINEMA, in fact, was for Mariana and Matteo's wedding theme. Wedding soundtrack was made up by music and actors' voices by famous films from the past, just like like Gone with the Wind, On the Waterfront, and the Dolce Vita by Federico Fellini.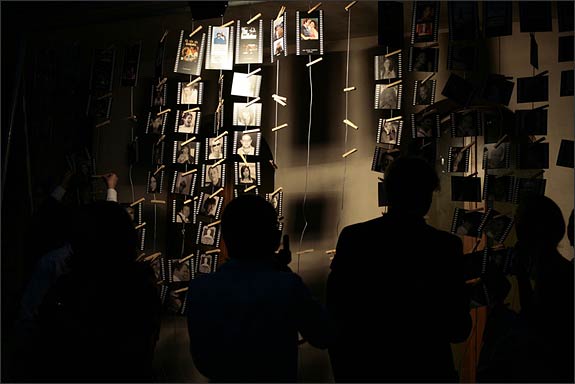 On the tables, in addition to the candelabras and old movie film, there were glass table mats imprinted with a famous picture of Charlie Chaplin. A magnificent, gigantic table chart displayed photos of the guests as if they were pictures from an old film.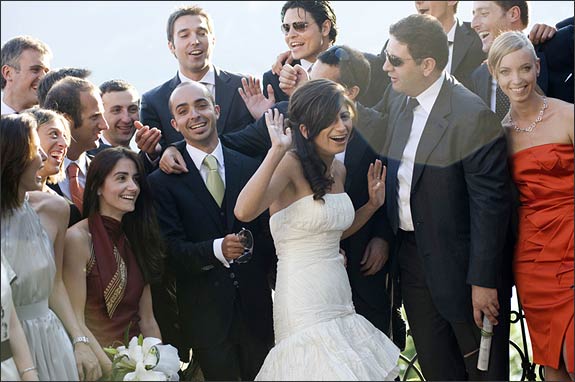 An original and truly amusing idea for one of the most enjoyable weddings I have worked for in 2009.
Mariana e Matteo: Get Married… and have a good time on Lake Orta!
All pictures were taken by Ollmann/Ottaviano Photography Studio in Torino. For further details please visit the site www.photographi.it
For information contact the Studio at the email address marenollmann@virgilio.it
or call +39 349 63 66 903.
Monika Andenmatten is La Piccola Selva's floral designer.
Based in lake Orta, has worked with brides for over 20 years to create floral arrangements for weddings in the Italian Lakes district.
His wedding arrangements are creative, elegant and sophisticated. Monika will be able to help you choose how best to incorporate floral design into your wedding celebrations. From the initial consultation to the wedding day, she will make your wedding flowers truly an expression of your dreams.

For more information about weddings on Lake Orta please contact us.