appy new year to everybody from your planners on Lake Como –
Alessandra
and
Veronica
and from all our team!
After an intense 2018 wedding season, our newly-engaged couples and us are already for a year of destinations ahead.
Here is an overview of my personal favorite wedding trends for 2019 captured from popular posts all over the web and from previous works we did!
We hope you will like them! Happy 2019!!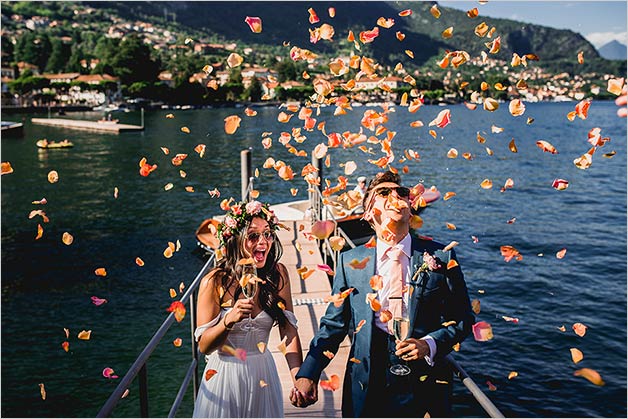 Photo by Barney Walters

New destinations & Lake Como is on the list of new trends 2019
Among the many coolest wedding destinations such as South of France, Mykonos and Croatia you can find Lake Como!
We are so proud and excited about this: Lake Como is on the 2019 list of favourite wedding destinations. Great!
We are honoured to work in such a beautiful area that can boast bespoke wedding venues like Villa del Balbianello, Villa Erba, Villa Pizzo, Villa D'Este and many many others. You can see many of our posts of weddings we planned here.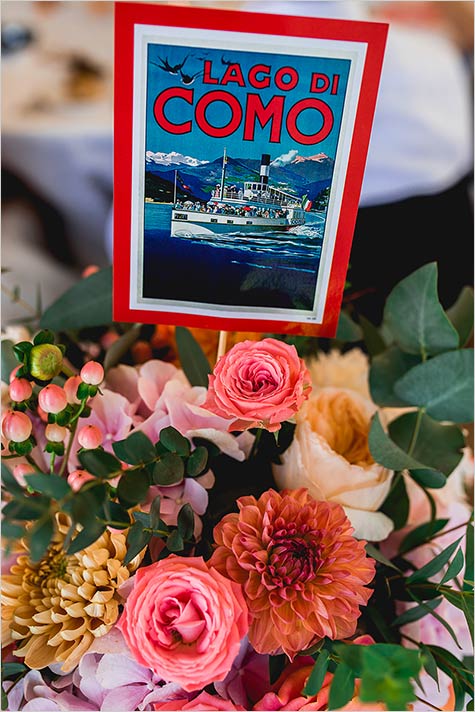 Photo by Barney Walters
Color, color, color
Be ready!! In 2019 colours are gaining ground.
An explosion of orange, yellow and purple mixed up with violet, periwinkle and peach, instead of champagne and blush neutrals. Pale pastels will be infused with life in 2019, as brighter colors pop to the forefront of wedding trends. And let's not forget about the new colour of the year by Pantone Living Colour.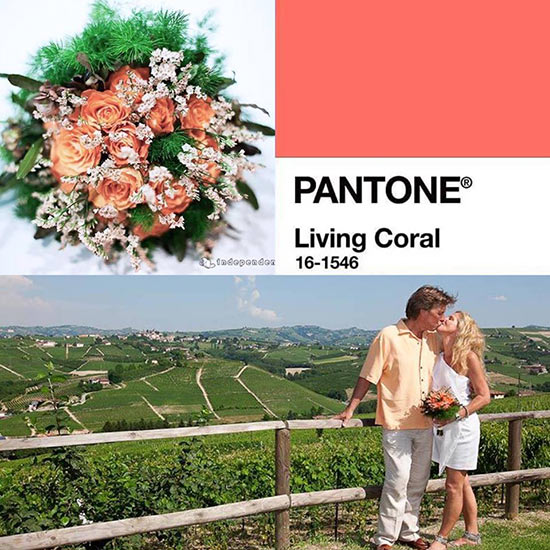 Spring no longer means only light green and blue, and fall doesn't require deep jewel tones. Colours are no longer seasonal.
This will bring unexpected combinations throughout the year. Rich hues, especially vibrant blues, are on the rise for all seasons. Think turquoise or aqua in the fall, sky blue in the winter and royal blue in the spring. And for summer? Anything goes. Bright colors like yellow and pink, deeper colours like emerald, and everything in between is fair game for summer 2019 weddings.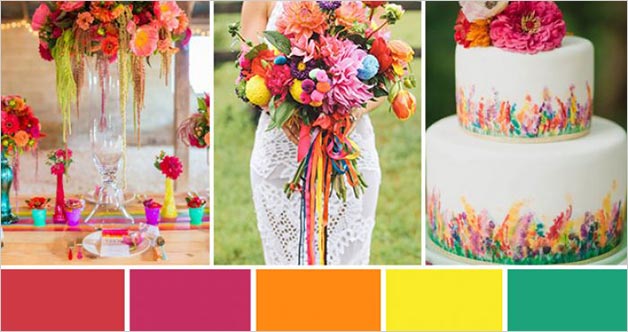 The Bloom Boom
Greenery has been adorning weddings for several years, and often it is used in lieu of flowers or with minimal floral accents. This year, say goodbye to pale accent flowers and grab a bright bouquet. Flowers are in and they are gonna be big! From sunflowers to peonies and dahlias, 2019 flowers will be bigger and brighter than before, and while the greenery garlands are here to stay, they will be coexisting with these large, bright blooms. 
Greenery is also expanding from traditional leafy strands and pine boughs to palm leaves and even succulents. Bouquets, boutonnieres and centrepieces can also incorporate succulents and cacti for an unexpected twist in any season.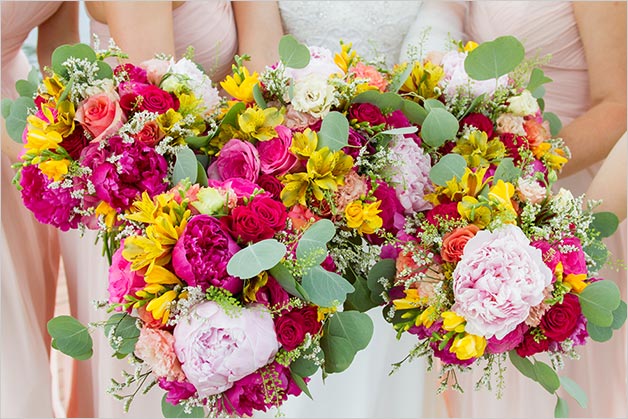 Photo by Bellagala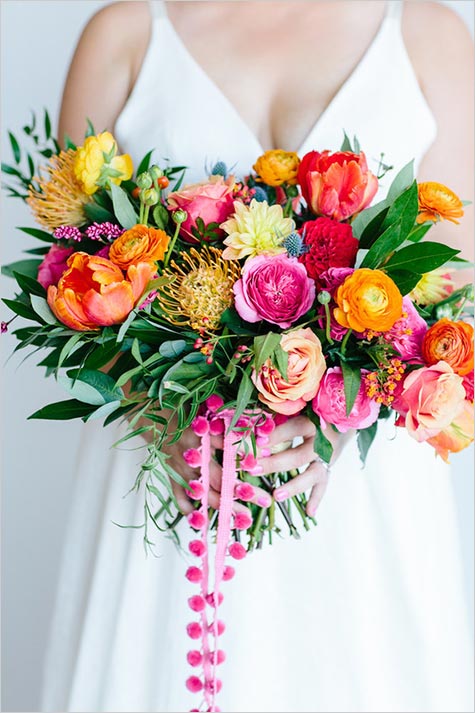 Photo source: 100 Layer Cake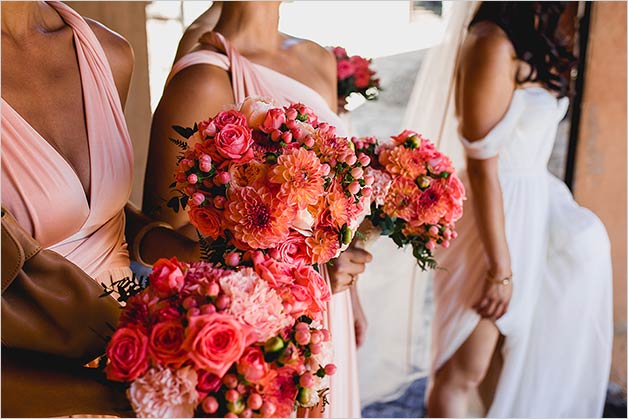 Photo by Barney Walters
Colourful table decor

For ages white plates, white linens, silver place settings and crystal glassware were the standard.
Table settings and decor were in step with the all-white wedding. Finally, couples, together with experts and creative wedding planners started to update the look by adding a charger, coloured glasses or coloured napkins. 2019 wedding trend is creating an individual table.
This is a perfect artistic expression of your new "coupledom".
Let's dare!
Mix and match different colours, patterns and shapes.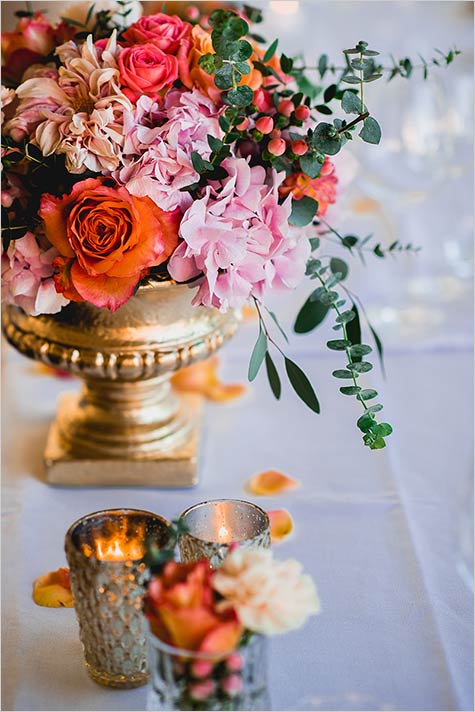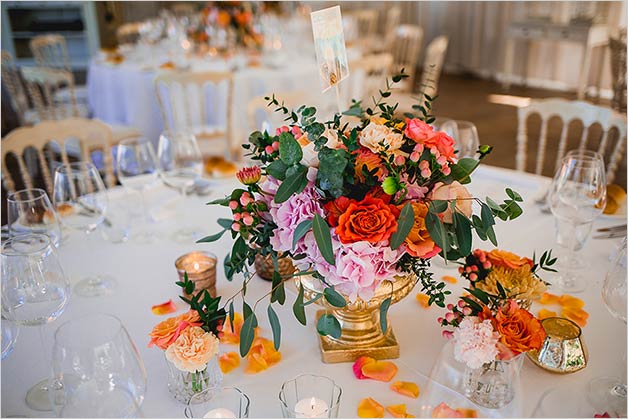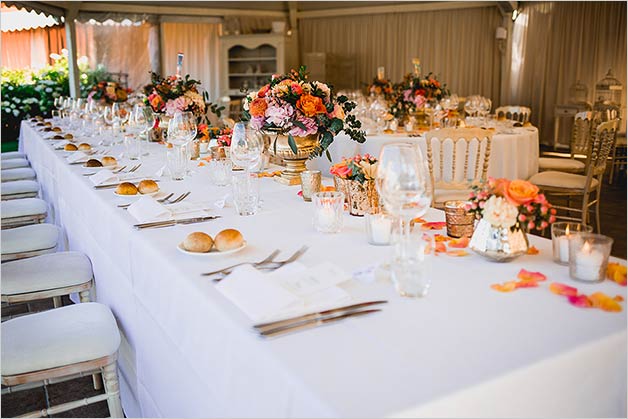 Photos by Barney Walters
The possibilities are endless
Group similar colors, layer shades of the same color, or select a common element or motif that ties together your dinnerware. Add consistency to your table setting with matching cloth napkins or coordinating silverware.
Mixing and matching your table linens and napkins is another way to add visual interest to your table. Match them to your cooler palette if they are different patterns or stick to the same pattern if they are different colours.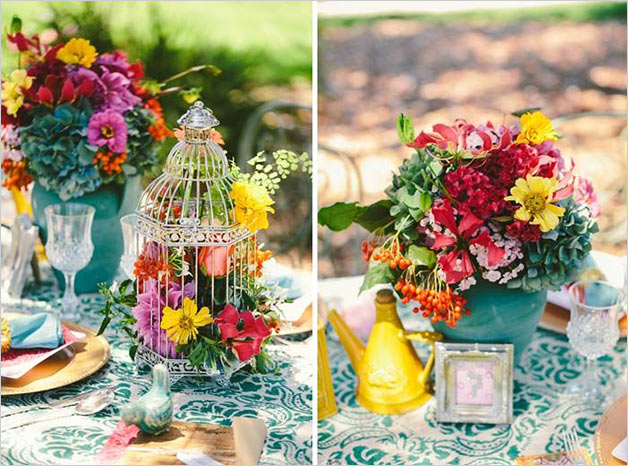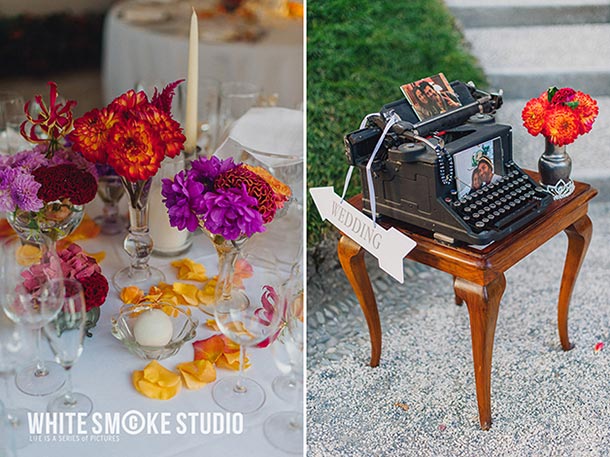 Also glasses can be mixed and matched. Coloured glassware is an unexpected touch that elevates any table. Mixing shades and shapes not only adds whimsy but also helps your guests to know which one is their own!
Even candles are getting an upgrade from the standard white and ivory. Couples are using candles to add a splash of colour. Statement candelabras with coloured tapered candles, coloured tea lights or peppered throughout the reception space add something unexpected to the setting.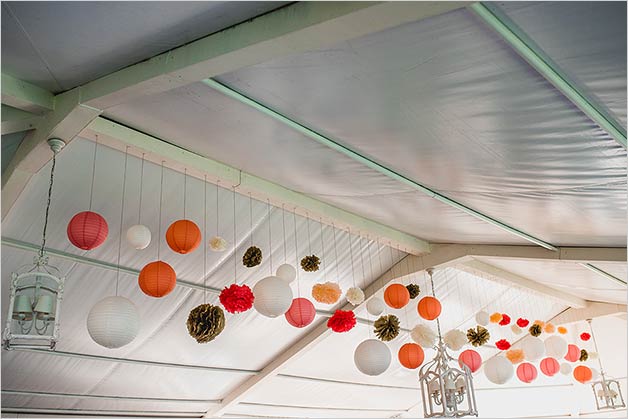 Photo by Barney Walters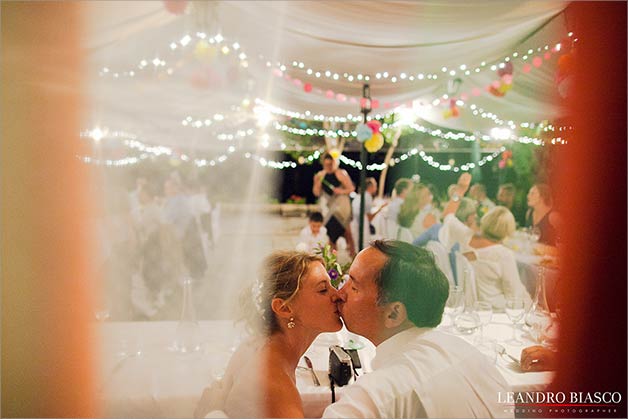 Photo by Leandro Biasco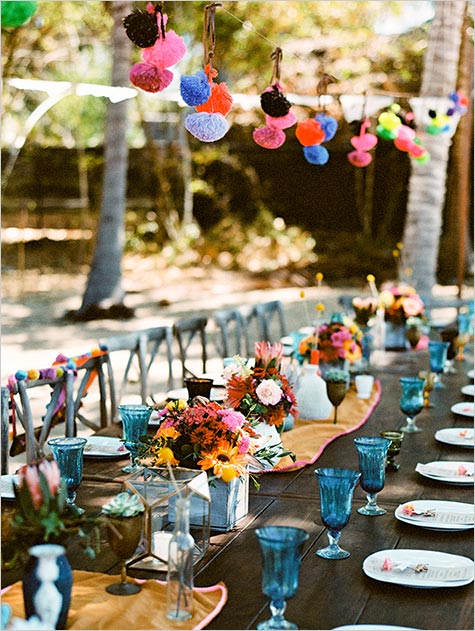 Photo by Snippet & Ink

But still a bit of… timeless traditions
"Something old, something new, something borrowed and something blue"
Some traditions will never go out of style. This Victorian rhyme is loaded with sentimentality. Couples use the rhyme as a way of honouring friends and family who have been a part of the couple's journey. Items with sentimental attachments are incorporated into the wedding details.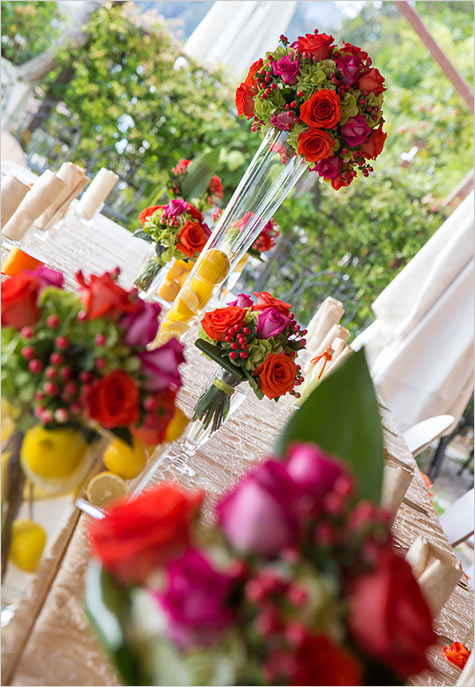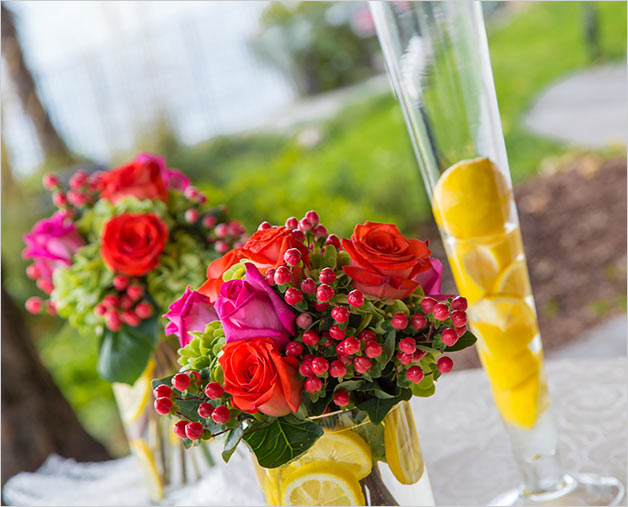 Photos by La Piccola Selva floral designer

Invites trends: bespoke illustrations
Gimmicky invites have lost their charm and we're seeing more couples choose traditional options with bespoke illustrations. These custom designs are used throughout the wedding stationery including place names, maps and menus.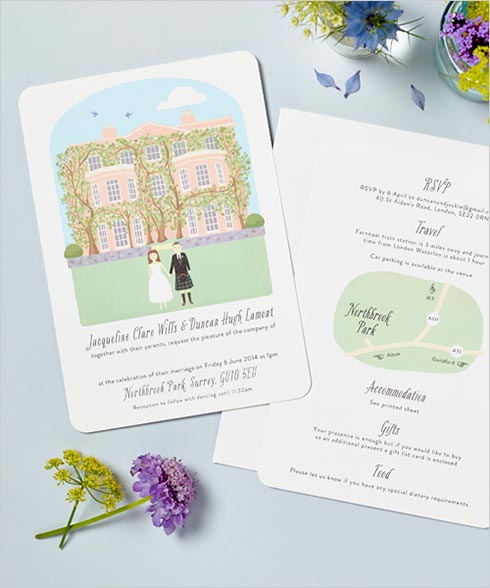 Photo by Northbrook Park Wolfwhistlestudio

Attention to details and little touches
Couples are going the extra mile when it comes to treating their guests and table favours are being replaced by hand-delivered gifts.
In 2019 we'll focus on unique proposals for hangover packs, customized eye masks and welcome food packs.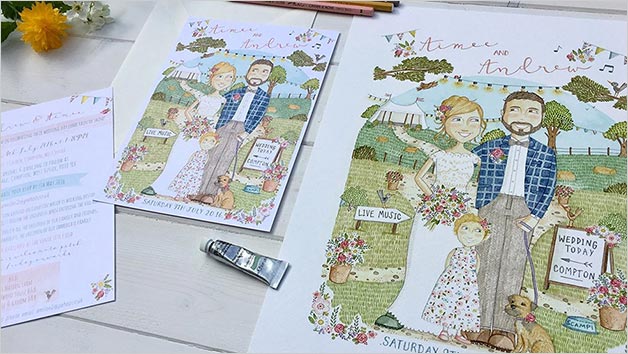 Photo by Aimee Paints Illustrations
Another small but precious detail that caught my attention is the 'fancy ice'.
Floral ice cubes are proving the new ice sculpture as a simpler way to jazz up drinks.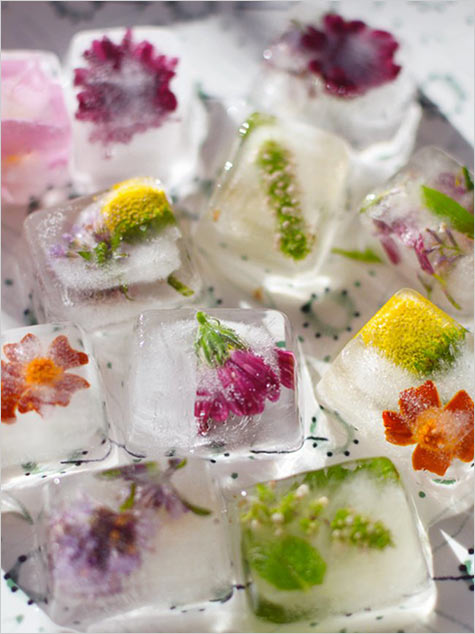 Photo by funnyhowflowersdothat

Recycling & zero environment impact
I have loved the idea of recycling.
Especially the ceremony flowers that can be recycled and turned into little bouquets for delivering them to guests rooms alongside a thank you postcard from the just-married couple.
Following in the footsteps of Princess Eugenie, brides-to-be are thinking more about the planet while planning their big day and choosing to go plastic-free when possible. It helps that linen napkins and glass straws looks much chicer than their plastic counterparts.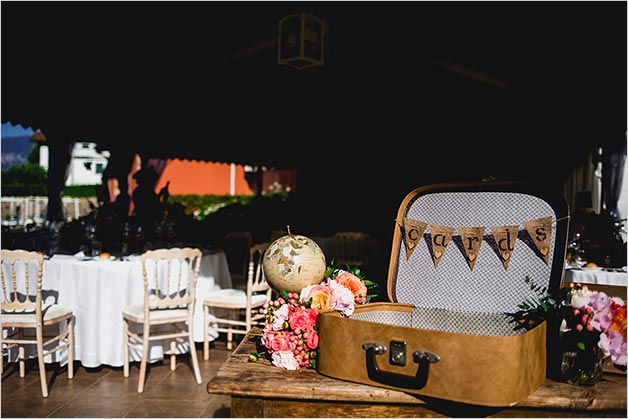 Photo by Barney Walters

Experiential Entertainments for your destination wedding in Italy
One of the main concerns of destination wedding couples is how entertain guests during their wedding day or their wedding weekend.
Here is the answer to this question: experiential entertainments!
Tarot cards readers or character coat check staff make memorable talking points, this is the right and unusual choice you could do for your 2019 wedding.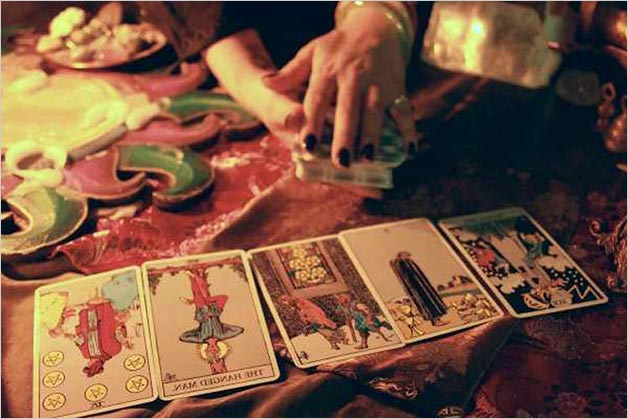 Photo by Cronache dalla Campania

Something new for Photo Booth
Photo Booth has become traditional at the wedding but… unique, organic backdrops are a new way to experiment with guest photography. A greenery wall with garland, a floral wall with peonies and ranunculus, or giant transparent Balloons filled with glitter and decor with fringes for a unique photo area. Anything with a texture that captures the theme of your wedding can make a good photo area. A natural backdrop makes a beautiful accent piece in the reception space and becomes a hallmark of guest selfies.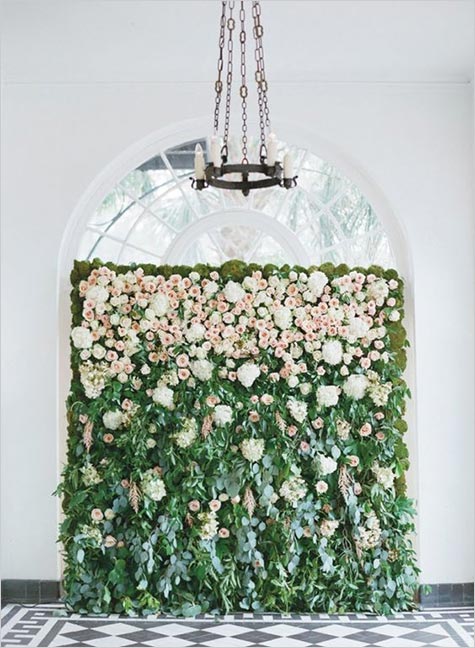 Photo by Elisabeth Messina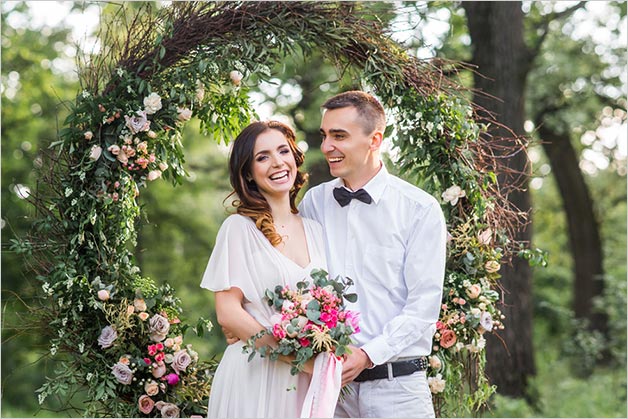 Photo by Red Dirt

Bridal Party Attire: Mix & Match!
In early Roman times it was the bridesmaids' job to form a protective shield as they walked the bride to the groom's village. The bridesmaids were to protect the bride from any vindictive past lovers with malicious intent. The bridesmaids wore dresses similar to the bride to not only confuse her duped exes but also to outsmart evil spirits.
Today's couples are reality based and nixing this tradition. Bridesmaids are not "one size fits all" in body shape or personality. Brides have been taking this into consideration for awhile now so mixing and matching dresses is not a new trend. The key to pulling off a stunning individual look is to have one cohesive element whether it be color, fabric or dress length. Give bridesmaids a color palette and let them choose a style of dress they feel amazing in.
But why stop at bridesmaids dresses?
Wedding parties are now choosing different accessories to suit their individual styles. Jewelry, shoes, hair pieces and other adornments are the perfect exclamation point to highlight each person's individual style!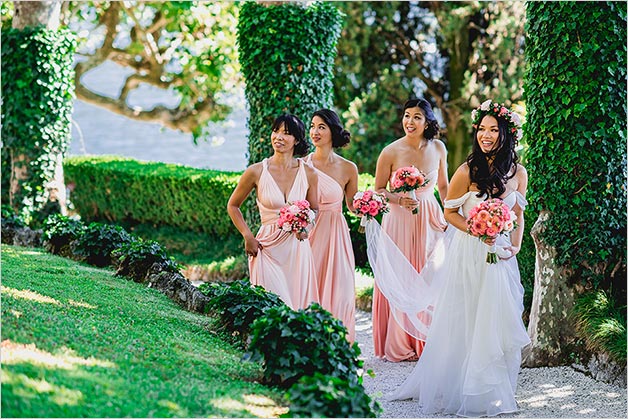 Photo by Barney Walters
What about groom's attire? Have fun!
Let the men in on the mix and match fun! 
21st century wedding parties can have both genders on either side of the wedding party so there is no reason to limit creativity to ladies only… Megan Velez of Destination Weddings Travel Group says "We predict menswear to take centre stage down the aisle, with a heavier focus on tailored fits and pops of colour. Checkered patterns, floral prints, and refined polka dots are just a few styles popping up more and more."
A classic black tux will never go out of style but men too appreciate a fresh take that adds a layer of depth and dapper style. Some grooms opt for classic tailoring with a pop of colour, others look undeniably sharp with coordinating hues of the same colour with the other groomsmen. Neutral suits are a perfect and popular choice for a seaside wedding. They not only compliment the bride and the setting but help beat the heat as well!
Adding a touch of personality is suitable for more than casual affairs. Print shirts under a solid suit, unique ties, vests and suspenders are all ways to highlight each groomsman's individual style while creating a cohesive look.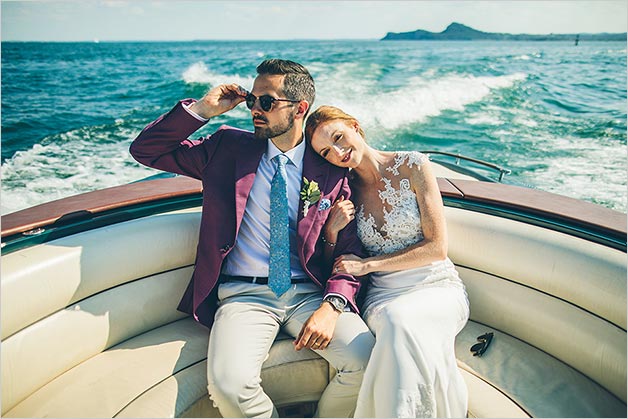 Photo by The Crawleys
Treat Yourselves!
Wedding planning can be very stressful… but not for our brides, hihihi!
Brides are now indulging with wedding subscription boxes, which contain everything from eye masks and earrings, to "Just Married" car stickers, vow books and silky robes, all to destress before or use during the wedding. One of the most popular boxes is Miss to Mrs. Bridal Subscription Box, which provides a monthly package to invite relaxation and supply you with goodies for the wedding day.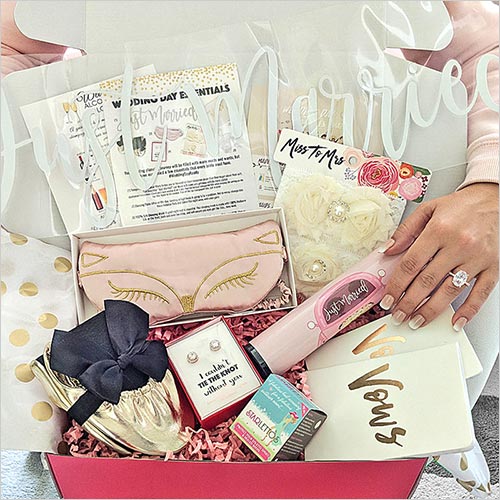 Photo by misstomrsbox.com