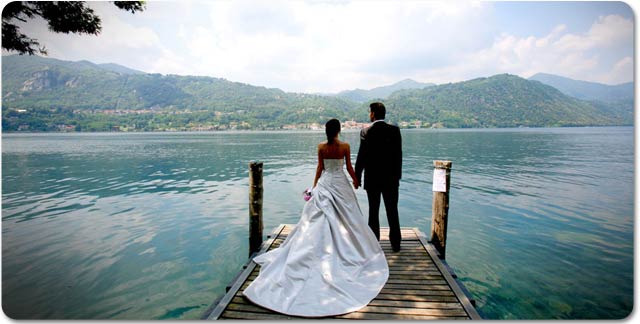 As a wedding coordinator I travel a lot in Piemonte organizing events: Langhe, Monferrato, Olympic valleys near Sestriere, up to Stresa and Pallanza on Lake Maggiore.
Every single place has a special appeal but nowhere is like enchanting Lake Orta to me. Planning a wedding in Orta San Giulio is always a magic emotion…
This was also in for Luisa and Massimiliano's wedding.
A Saturday in the beginning of this summer. The day begins with a shady sun that soon turns in a wonderful, sunny and warm day. Just like Luisa wished.
Luisa and I have worked together for months, just one close to the other to plan her wedding in every single detail.
Right after the photographs in stunning main square of Orta, Luisa is getting closer to the great moment.
There is an oar boat waiting for her leaving from for Orta pier to lead her to Villa Bossi.
Over there, there is Massimiliano, the handsome groom, waiting for her with all relatives and friends. As soon as she is arrived she walks through the aisle of the villa with lots of wonderful roses and charming sound of a harp in the background.
Right in front of the the town hall porch the civil ceremony takes place. Skillful photographer Ivana Porta from Torino is taking all the reportage of the service with her good experience, shooting every single detail of the event, from the ring exchange to the flower arrangements made up by Peonies and Baby's breath.
At the end of the ceremony, right after the traditional rice and petals throwing, Luisa and Massimiliano take a beautiful white motorboat that from Villa Bossi will take them to St Julius Island on of the most outstanding places of Lake Orta take some everlasting pictures thanks to Ivana Porta.
After the romantic shooting they go straightaway to Hotel Giardinetto where all the guests are waiting for them for their aperitif and reception.
Hotel Giardinetto is one of the nice facilities on the Lakeshore of Pettenasco, just few km from Orta San Giulio. The best spot of the Hotel is the wide terrace on lake from which bride and groom will cut their wedding cake with wonderful panorama. High standard cuisine was served with wide choosing of red and white local wines.
A great atmosphere of joy, music and dances with colorful handmade favor by SposiamoVi and bouquet throwing!
This is a party that bridegroom and guest will remember for long time!
View more pictures about Luisa and Massimiliano's wedding in Lake Orta.