If you casually read Alessandra's post dedicated to Villa del Balbianello, you will notice for sure for sure how many comments are posted by our readers. They are all interested in receiving information's about getting married in this famous Lake Como Villa.
In fact, Villa Del Balbianello is considered one of the most exclusive and luxurious Italian wedding venue.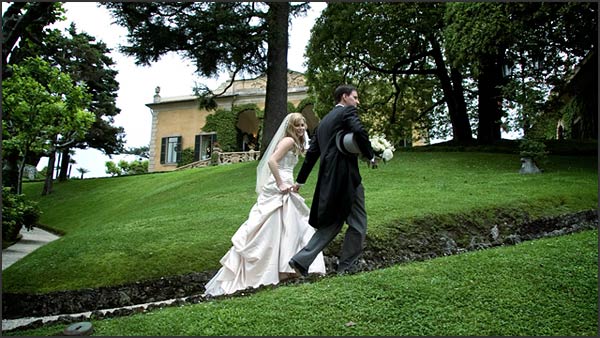 In occasion of Kristi and Ben wedding, a nice and friendly couple, we're here again talking about Villa del Balbianello. Ben comes from UK, Kristi is Australian: both are two young successful people in the high finance.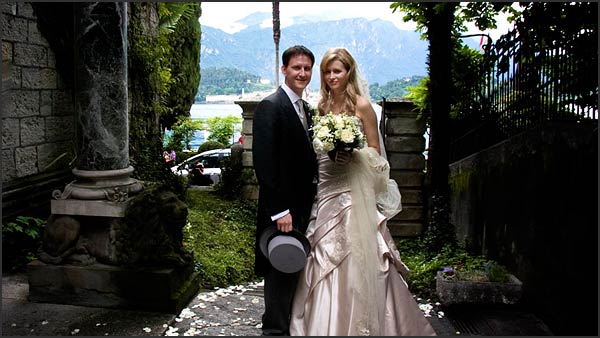 Kristi and Ben were looking for the best for their wedding: and so the decision of choosing Italy, Lake Como and above all Villa del Balbianello
For their video service they chose Myitalianwedding, specialists on Lake Como weddings.
[kml_flashembed fversion="10.0.0″ movie="http://www.italianlakeswedding.com/video/balbianello-miw.swf" targetclass="flashmovie" publishmethod="dynamic" width="640″ height="440″]
[/kml_flashembed]
Myitalianwedding always offers an accurate and top level service, working constantly with the best Italian and International wedding planning agencies.
For more information please visit www.myitalianwedding.net.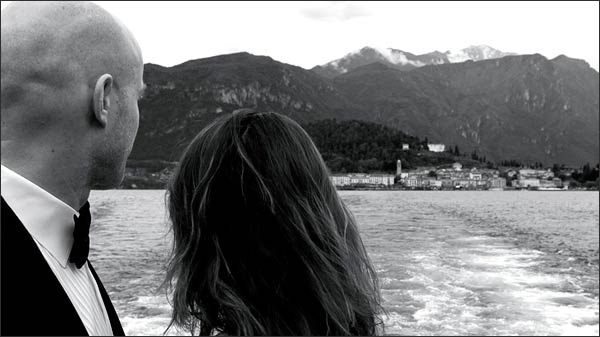 Bellagio, the beautiful small Town located in front of Lenno promontory, was chosen as 'departure point'. Bride and groom, together with relatives and friends slept at the prestigious Grand Hotel Villa Serbelloni. They to left it with a private boat, crossing the lake toward the small pier of Cadenabbia Ascension Church.
Anglican Church of Cadenabbia is an authentic architecture jewel studied by young Italian architect Giuseppe Brentalo. Church has been completed and consecrate in 1891, it was built over the ruins of an antique chapel located inside the Hotel Bellevue park.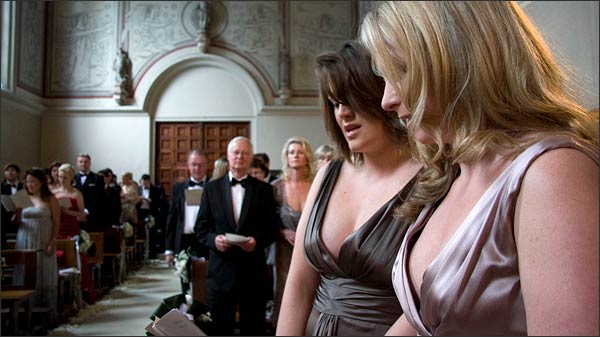 The wedding ceremony was very touching, thanks also to ladies voices choir who accompanied hymns and thanks to music of string quartet as background.
Flowers decoration was very refined,too. It was planned all on white tones, in a profusion of roses, Lisianthus and daisies.
To note the stunning Gypsophila chains which adorned the Church benches and the white roses petals all over the floor, from the main entrance to the major altar.
At the end of the ceremony, after the usual kisses and congratulations, Kristi and Ben got on a motorboat from Church pier which was waiting for them. They were followed by a ferry with all the relatives and friends on board. Destination: Villa del Balbianello.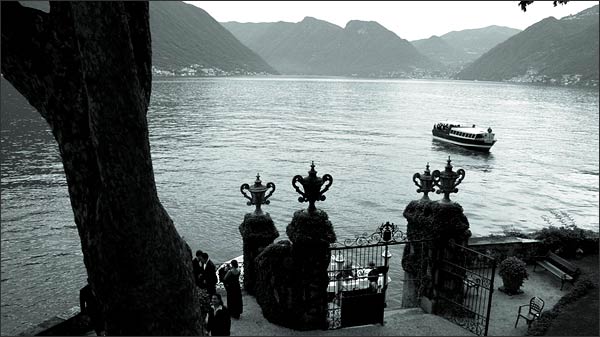 Villa del Balbianello dock is something really unique and evocative. It is characterized by elaborated wrought iron gates and it is dominated by 4 columns on which are located enormous amphorae. From here a little parh conducts to the Villa which dominates the area from a hill, surrounded by a panoramic terraced garden.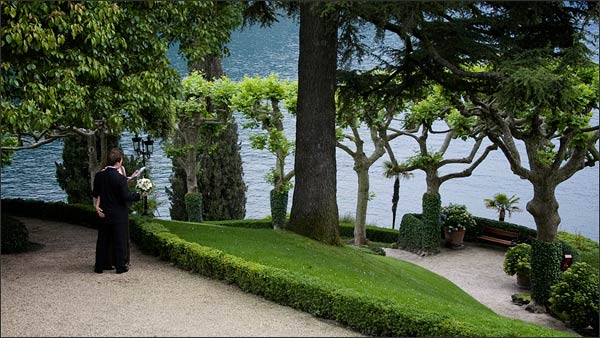 But real masterpiece of Villa del Balbianello is the elegant three arcades Loggia, thickly covered by a majestic Ficus Repens. The Loggia allows a double landscape: Tremezzina on one side (central lake) and on the other side basin toward Comacina Island.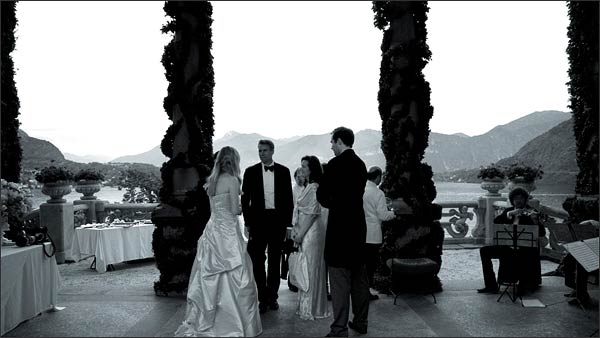 Gorgeous Italian Style gardens are the real breathtaking part of the villa. They gradually go down to the Lake and they are all very detailed where numerous plane trees, pruned in a chandelier shape, stand out: what a fabulous scenery for the newlyweds and their guests!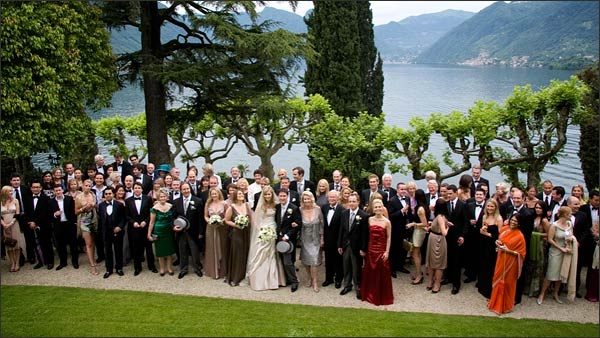 After a rich aperitif served under the Loggia an elegant dinner followed. It was arranged in the elegant Pavillion on the lake.
To be noticed the fantastic centerpieces created in high 'Martini' glasses: an authentic floral cascade with long white Phalaenopsis orchids stems, together with Lisianthus and green Molucella.
The party continued between dances, speeches and toast until the final apotheosis of the fireworks on the lake.
A fantastic end of a real unforgettable wedding at Villa del Balbianello!
Balbianello Villa – Official Rental Fees 2012

Many of you write us to ask further information on Villa del Balbianello rental.
For this reason we would love to give you more information on our blog that we hope could be useful.
As mentioned Villa del Balbianello is a very exclusive and unique venue, for this reason rental fee is related to the luxury and exclusivity of the location itself.
Click here to find official rental fee that Villa del Balbianello property gave us for 2012
All images and video © Myitalianwedding. All rights reserved. Use without permission is illegal.