ast year we had the pleasure to meet a lovely couple
coming from New York
:
Christina and Michael
. Christina has
Mexican heritage
and Michael's family, on the other hand, come from Korea.
They decided to have a summer
destination wedding on Lake Como
with some typical
Italian old style features
.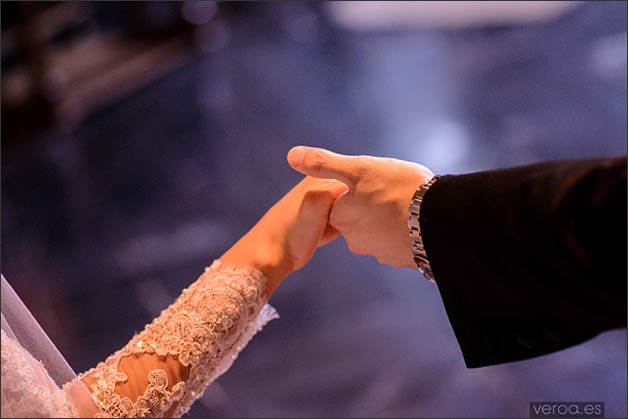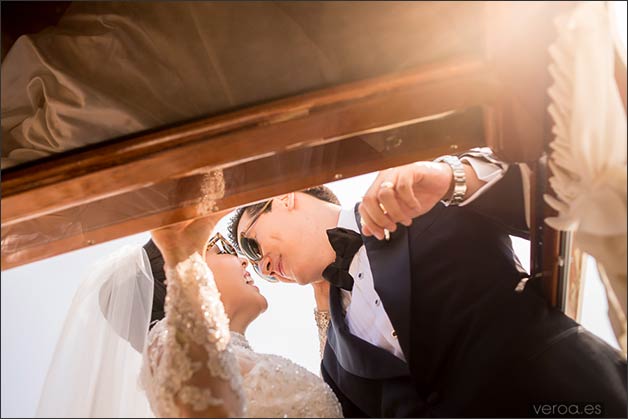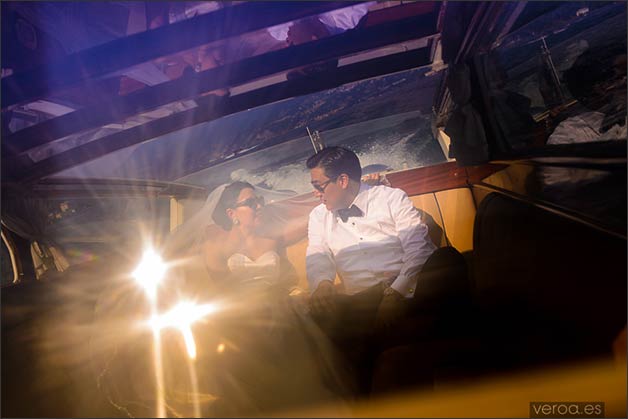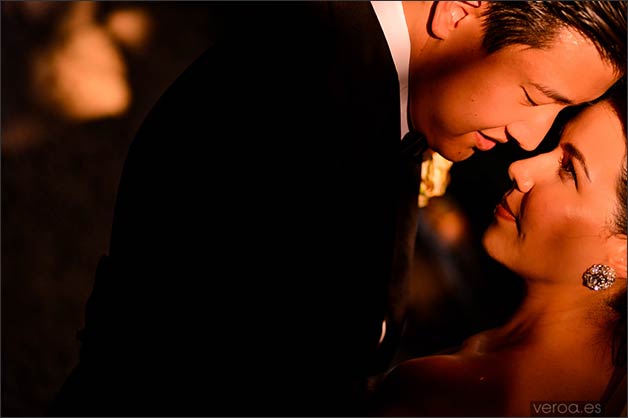 Getting ready for a special day
We loved and supported their choices about a unique wedding on Lake Como. They really wanted to find a perfect connection and balance between their families origins, a luxurious athmosphere on the lake shores and a touch of Italian old style.
As wedding planners we suggested them to offer to all guests and families a relaxed and very intimate staying. Christina and Michael chose lovely hotel overlooking the lake in Moltrasio, a cozy small town on the West lakeside near George Clooney's villa.
This turned out to be a very appreciated choice even for all wedding preparations. Christina become a real a princess under her bridesmaids' and her very proud and touched parents' eyes in a luxurious suite. In the mean while Michael changed into a very refined charming prince in another one with his best men.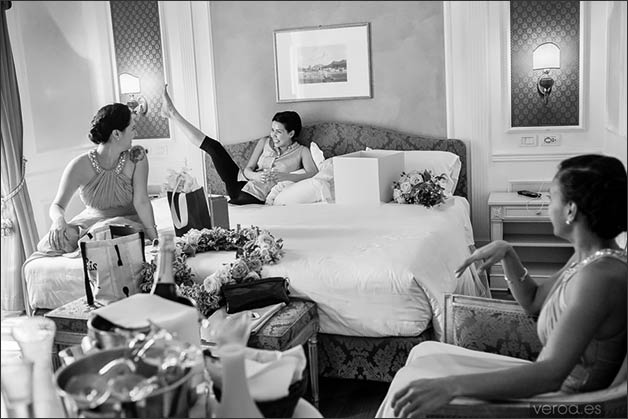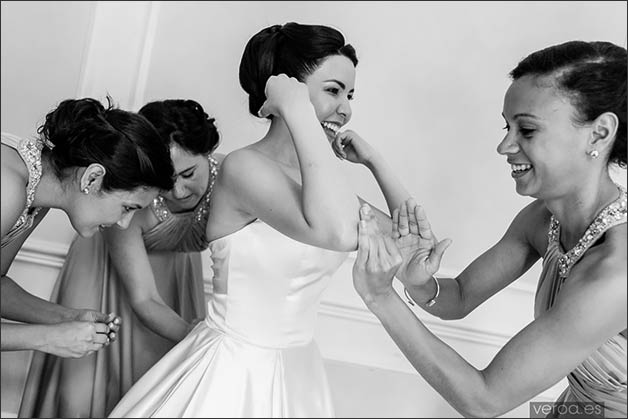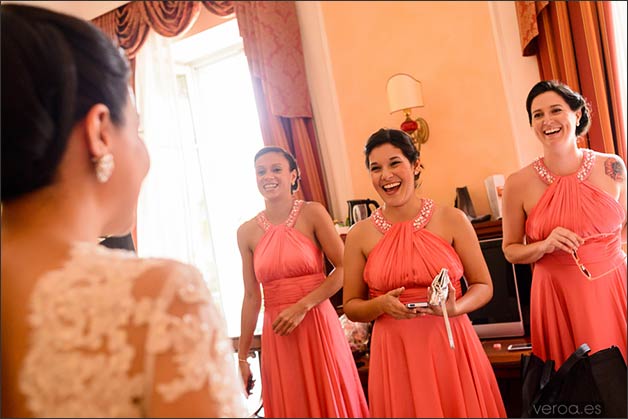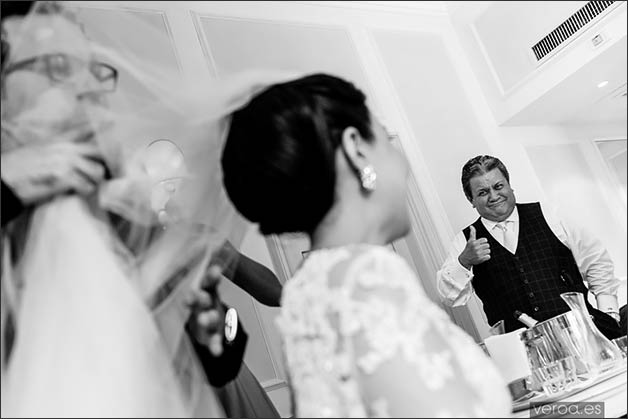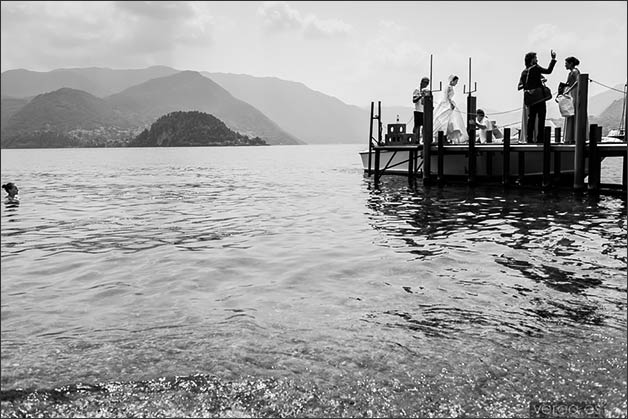 A catholic wedding ceremony in an old Italian style atmosphere
When you dream about your wedding day on Lake Como you could surely consider how fun could be moving by boat. It's such a great experience for you and all your guests!
That's why Christina and Michael decided to reach picturesque Catholic church in Varenna by boat. Michael and all guests were really thrilled when Christina arrived in her adorable white laces wedding gown holding her light pink and peach roses bouquet.
A traditional and moving wedding ceremony made Christina and Michael husband and wife!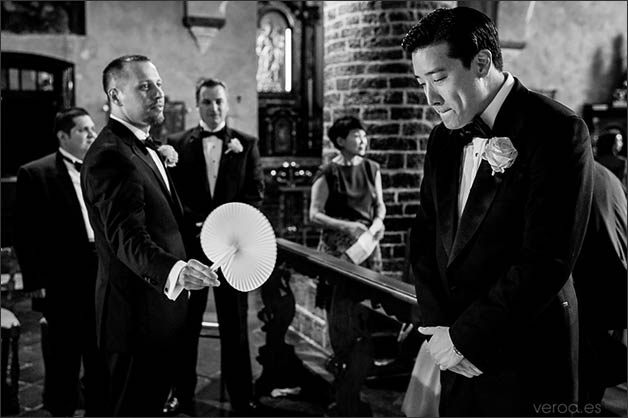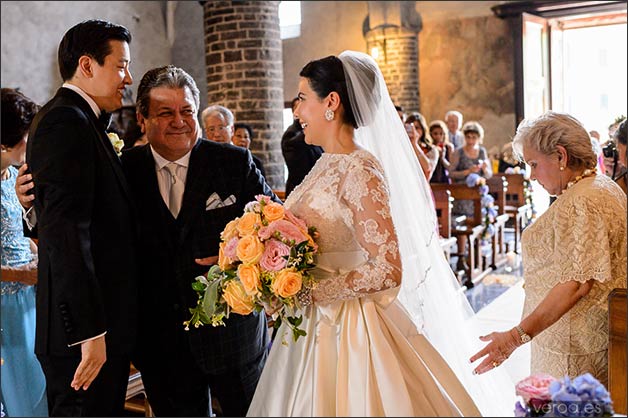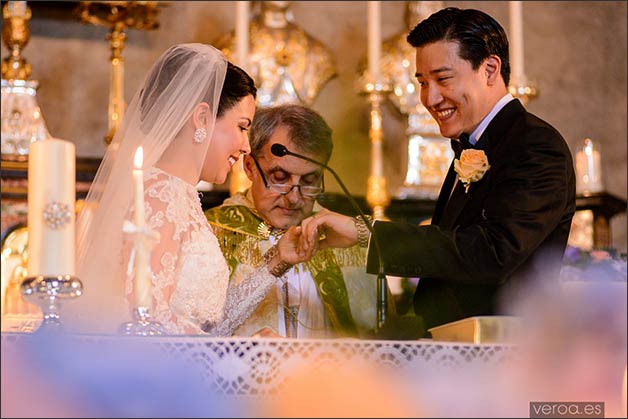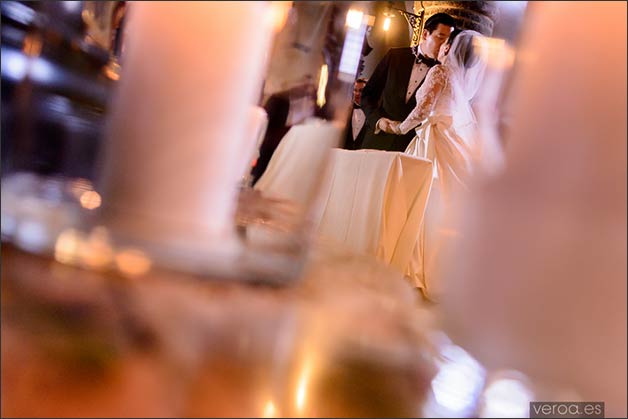 The first great surprise we planned was a traditional Italian band playing outside the church, in a perfect The Godfather style!. We placed in the yard of the church a cute 50s style ice-cream cart to add an unexpected Italian mid-century atmosphere and to refresh all guests in a hot summer day! Everybody enjoyed music and ice cream up to the time to get on board of another boat to reach the wedding reception venue.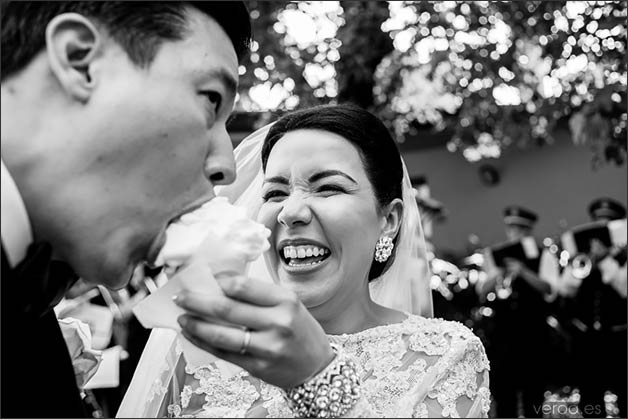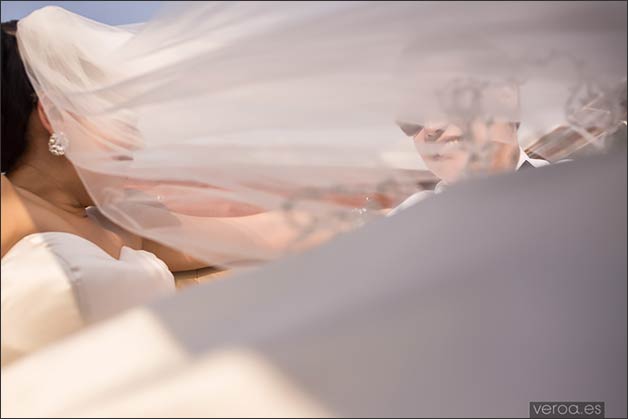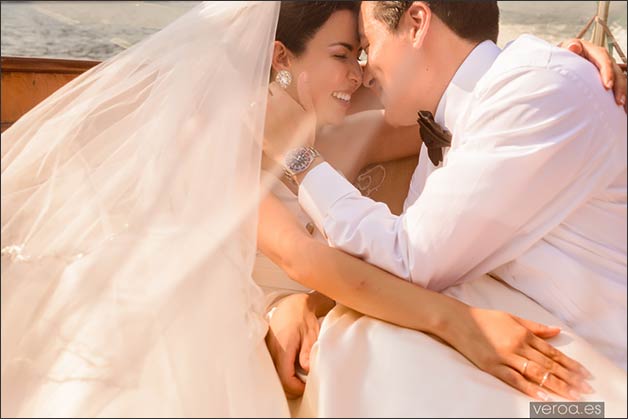 An unforgettable reception in a stunning private villa
Christina and Michael wanted an unforgettable wedding party for all and we planned it in wonderful villa in Cernobbio. We had the pleasure to plan every single detail to make their dream come true.
When families and guests arrived to the magnificent villa, they were welcomed by a rich and tasty cocktail overlooking the lake. The joyful atmosphere was completed by an Italian folk style trio playing.
In the meantime we planned a hair and make up restyle for Cristina to allow her to change her look and dress for the party.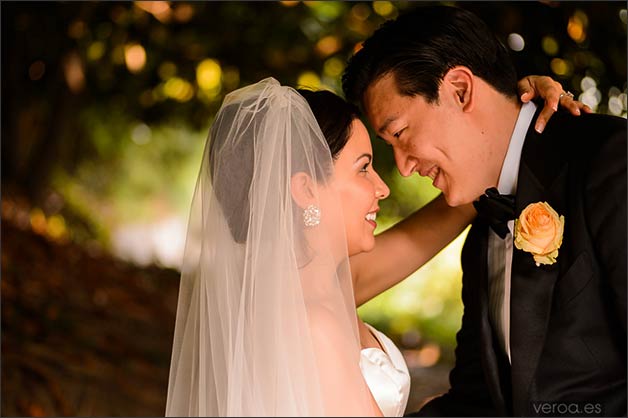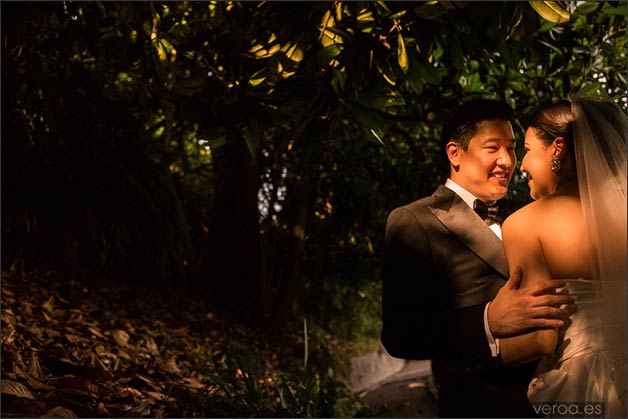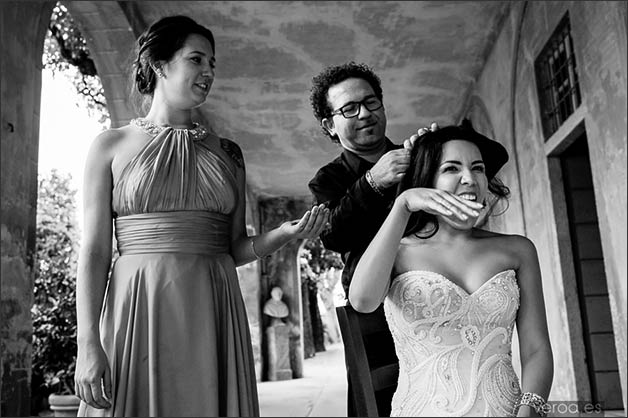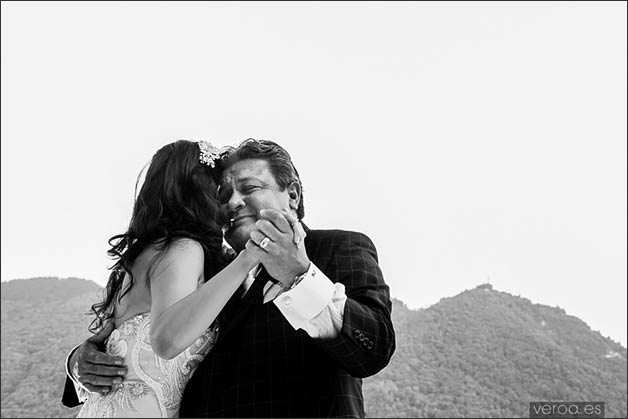 At sunset Micheal and Christina and all their guests had an exquisite dinner outdoor in a lovely garden overlooking the lake. Beautiful view, lights reflected into the lake waters, amazing food and live music played by a band on the stage set near tables were such perfect ingredients for a magic wedding reception!
Christina asked us to organize a very special moment to declare her feelings in front of everybody. So right after the dinner, Christina amazed everyone getting on the stage and performing a touching love song dedicated his Michael. Tears of joy and emotion for all… such a great moment!
It was a unforgettable surprise who left everybody speechless and moved.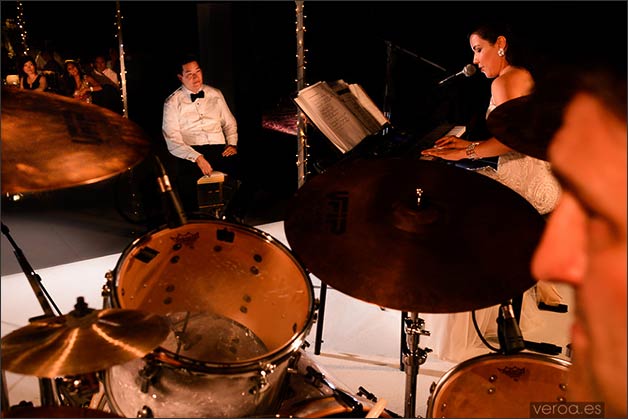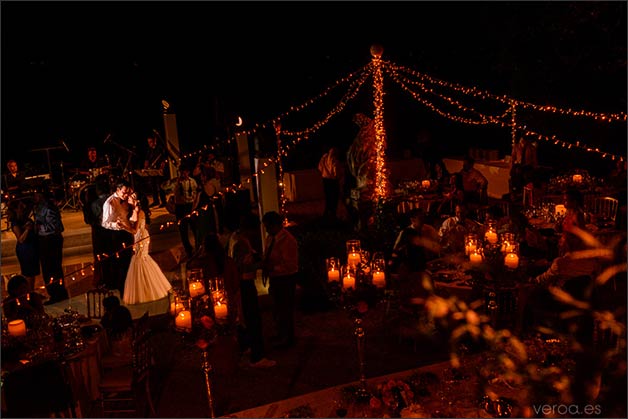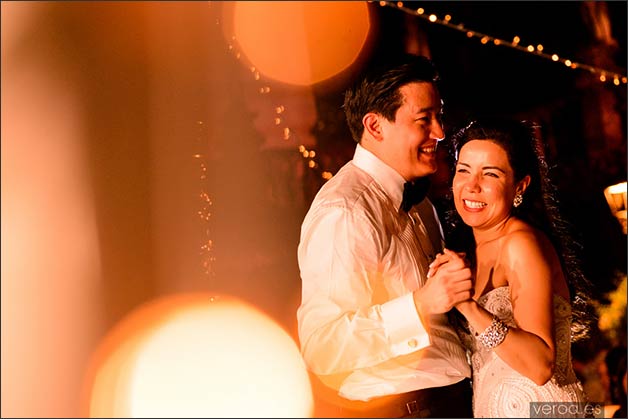 After tears of joy it's party time!
Christina and Micheal cut their four tiered wedding cake decorated with blue hyrdageas. A mariachi trio played in the background… another unexpected music moment that made everybody dance and have fun.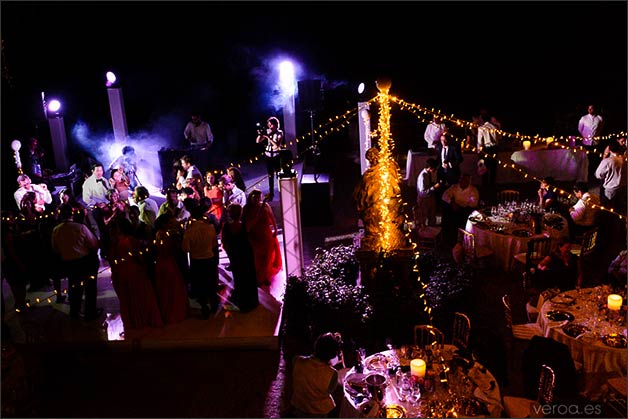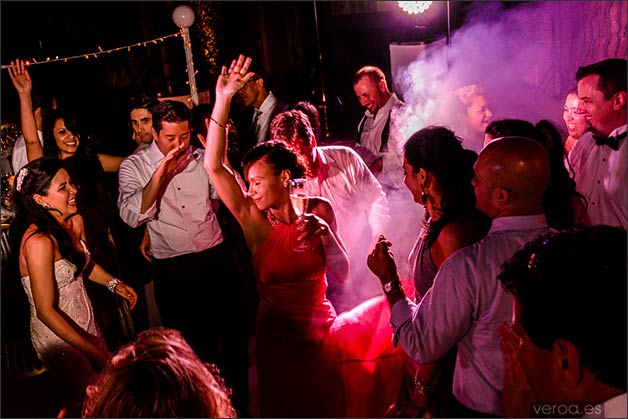 We had the most amazing day. Christina and Micheal's dream came true thanks to our work. Everybody enjoyed their Italian old style destination wedding and they all loved the little tourches they added to personalize it.
We wish them all the best for a happy life, as their wedding day was!
A massive thank you to VEROA.ES Fotografía Artística de Bodas, España for the amazing photos!
ALESSANDRA AND VERONICA – Lake Como wedding planners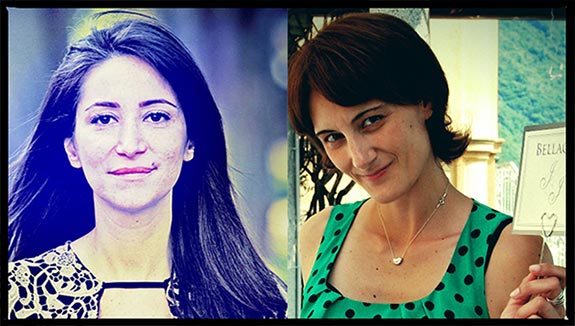 Alessandra and Veronica are the Italian Lakes Wedding's coordinators for lake Como area.
It will be a great pleasure for Alessandra and Veronica to help you plan your wonderful wedding on Lake Como: If your idea of wedding is refined, sophisticated and with a special attention to details, they are your perfect wedding planners! They make each client feel unique and treat each wedding as if it were their own.
With their help, glamour and bon ton will be the main features of your special day while Lake Como will be the enchanting setting. And if you need help in choosing your bridal gown, your honeymoon destination or the most chic wedding favors, just ask them and you'll be surprised by their fervid imagination!
For any information about wedding on Lake Como:
CONTACT ALESSANDRA AND VERONICA