I've already told you some months ago about the wonderful hotels on Lake Maggiore. These are ideal venues for an elegant wedding on these magic shores.
Chris and Suzanne choose Grand Hotel Majestic for they big day.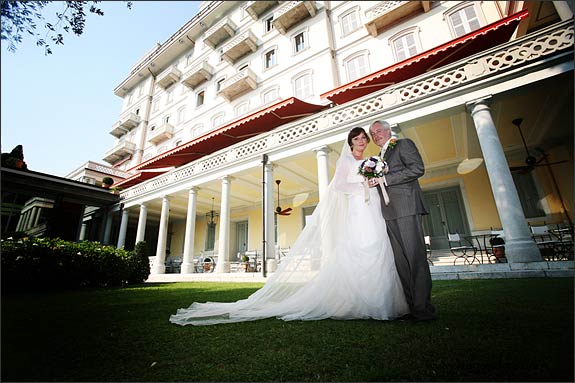 They came here with relatives and friends from United Kingdom to celebrate a wonderful event that was studied in every single detail.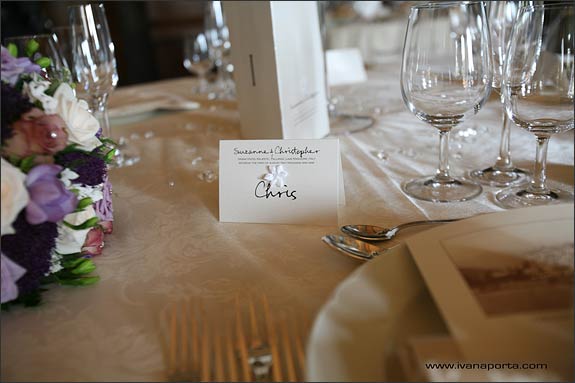 Suzanne choose a theme inspired on lilac and café au lait enriched by many little crystals.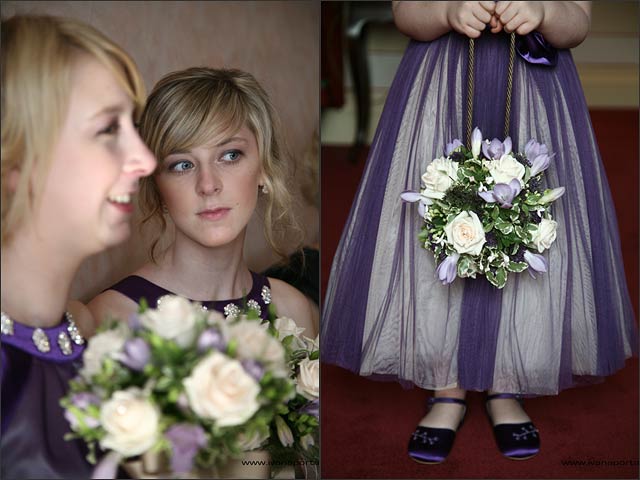 Suzanne designed personally Bridesmaids and flower girl dresses just thinking about these details.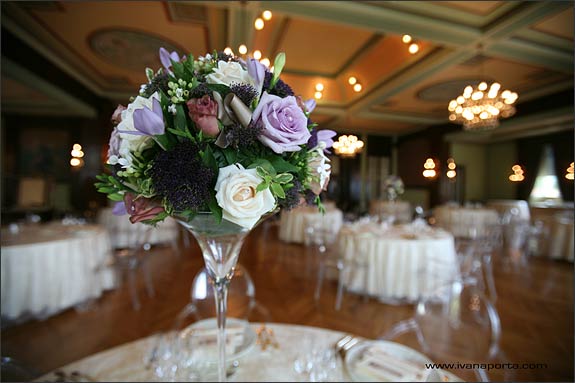 Flower arrangement Suzanne wanted was very detailed.
All arrangements were created by Manuela one of the floral designer who work in close collaboration with La Piccola Selva. Basing on the theme Suzanne wanted, Manuela created a rich vintage arrangement.
She used Freesias blooms and Aqua Girl roses for lilac, and Cofee Break rose for cafe au lait shades. Purple was made with wide Trachelium and classic Vendela roses and Stephanotis made the white accent.
Little fabric Stephanotis were on all wedding stationery Suzanne and Chris had on their tables: invitations, names card, table chart and trivia boxes.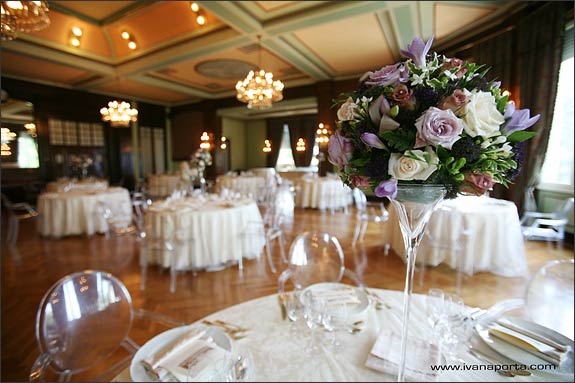 Crystals were on the tables to match Kartell chairs rented for the occasion and crystal vases supporting flowers decorations.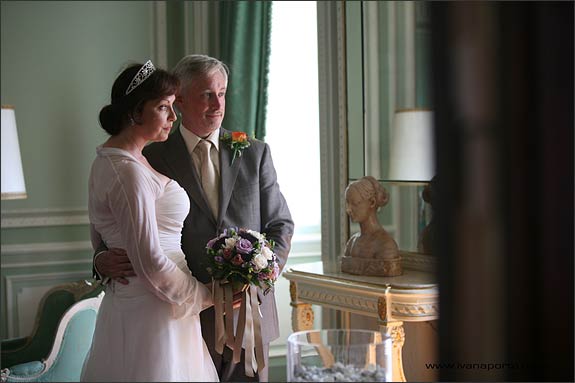 Some other little crystal were inside the Stephanotis flowers in centerpieces and bridal bouquet, just a little compact and rounded jewel.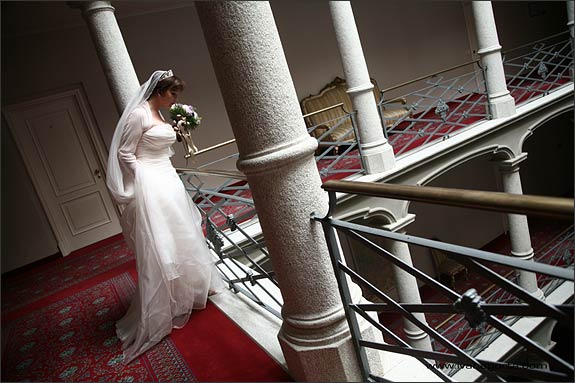 Suzanne matched crystals on her dress too. There were crystals on the veil, on the dress and the wonderful vintage pin she had on her waist. Bridal dress was italian by Spose di Gio.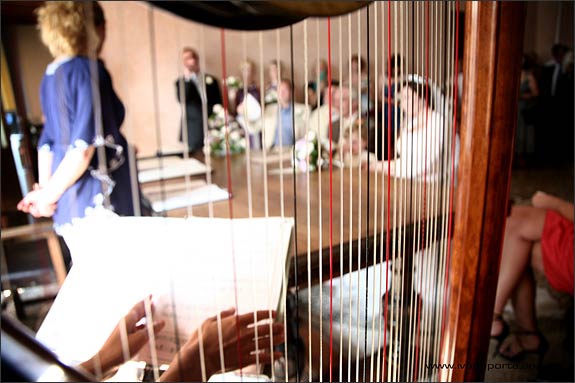 The ceremony was celebrated at the nearby Pallanza Town Hall.
In order to make it even more elegant bride and groom wanted a corsage for every guest: a little rosebud each. Groom and his guests reaches town hall walking while bride arrived there on a wonderful Fiat Balilla, the legendary Italian car of 30s.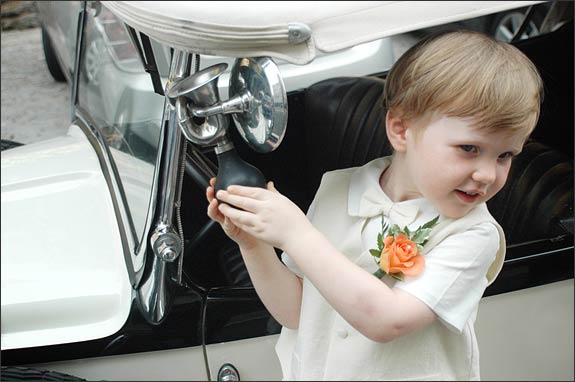 After the ceremony Suzanne and Chris arranged a surprise boat tour on the lake and they reached the hotel on the vintage car for some pictures in the garden by the shores.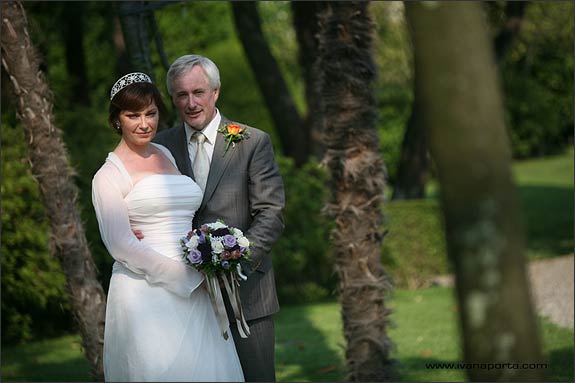 Grand Hotel Majestic has a wonderful garden on the shores. It is just a little quiet oasis with many secular trees and flowers. It seems a peaceful terrace on the lake.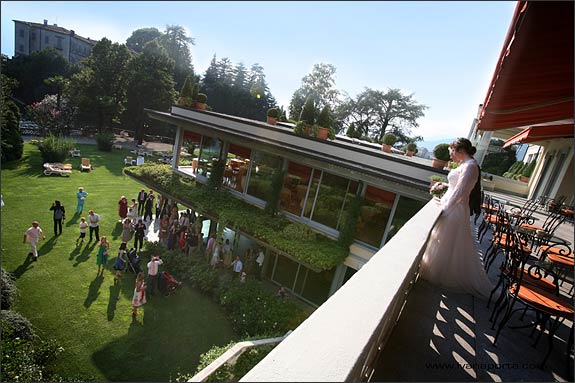 When guests arrived Suzanne and Chris welcome them on the terrace of the hotel for a nice aperitif.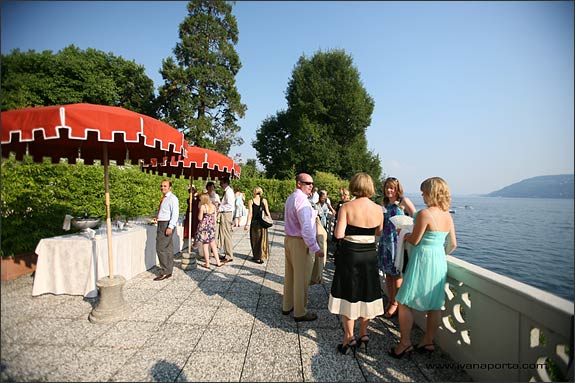 Dinner to follow was served in the historical Toscanini room. It is dedicated to famous Maestro Toscanini that used to spend his holiday in this wonderful hotel The great elegance and beauty of this room evoke the greatness of Belle Époque. It has original wooden floors, crystal chandeliers and wonderful curtains.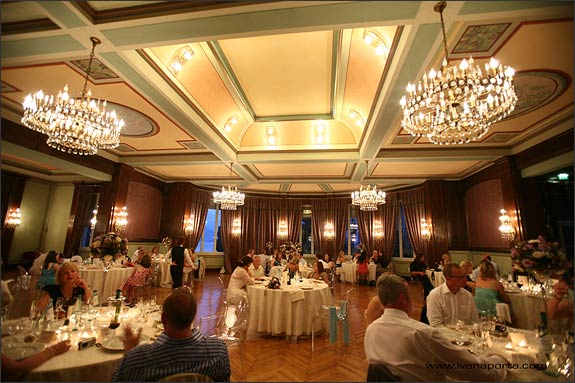 But it is not enough!
After the dinner bridegroom and their guests enjoyed a wonderful pyro-musical show.
Fireworks have been arranged on the waters of the lake and on the terrace of the little island in front of the hotel.
10 amazing minutes of show on Earth Song by Micheal Jackson and Nessun Dorma.
Wonderful wedding cake has been prepared by Costantino Guardia maitre chocolatier from Torino. Once again wedding cake matched perfectly the theme Suzanne chose.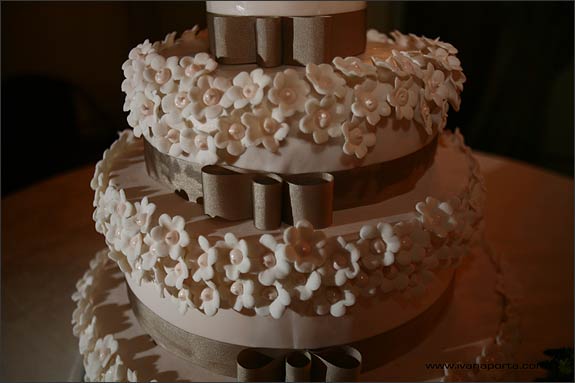 The after dinner party was very enjoyable with open bar and live swing music.
A very special night in one of the most elegant hotel on Lake Maggiore.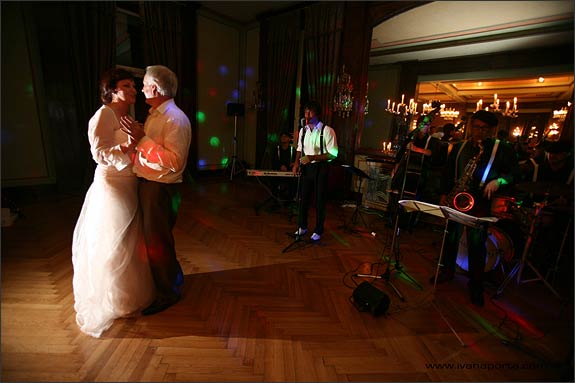 We would like to thank Ivana Porta for Suzanne and Chris' wedding pictures she took to Grand Hotel Majestic in Pallanza.
To know more about Ivana Porta's lovely style do not miss Suzanne and Chris' wedding album or visit her web site www.ivanaporta.com.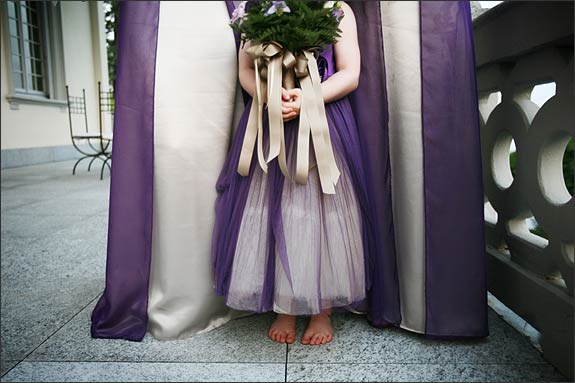 ---
All Images © Ivana Porta photographer © All rights reserved.
Valentina Lombardi is the Italian Lakes Wedding coordinator for Lake Orta and Lake Maggiore area.

She follows Italian and foreign bridegrooms who wish to celebrate their wedding in Piemonte and Italian Lakes area.

Valentina is Italian; she has worked in event organization business for years before becoming a wedding planner.

For more information about weddings on Lake Maggiore, please contact us.