oday we are getting back to a special wedding we planned some time ago.
We like the idea to tell you about this unique event as new post production for wedding photos has been done by
Estella Lanti Photographer
who followed the event and because we also love the idea to link this post of ours on our new web site
Italian Ethnic Wedding
.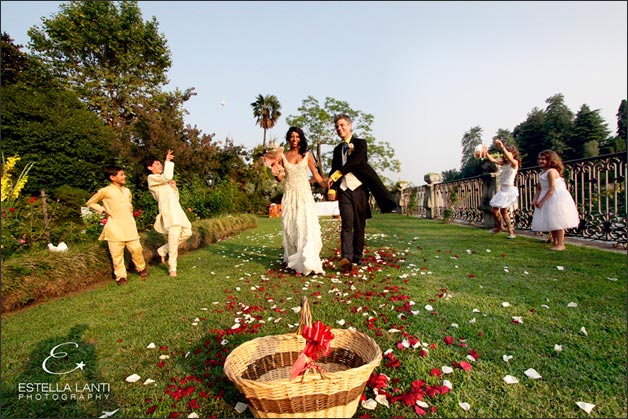 Getting ready overlooking Lake Maggiore
Rani and Edward
got married some time ago on
Lake Maggiore
.
It was a different and unique wedding for us to plan.
Rani and Edward are both
English
but Rani is
Indian
too and so she wanted to incorporate many
Indian details
to her special event on Lake Maggiore.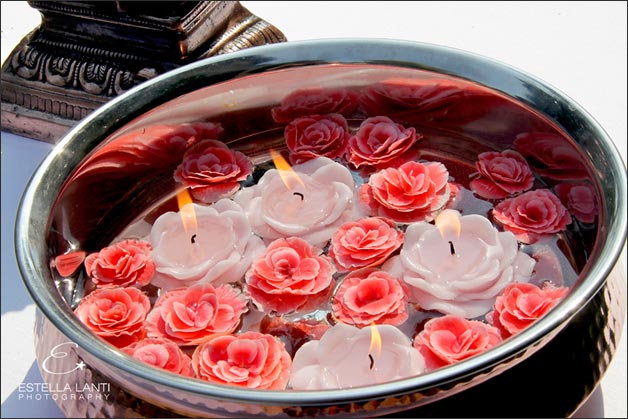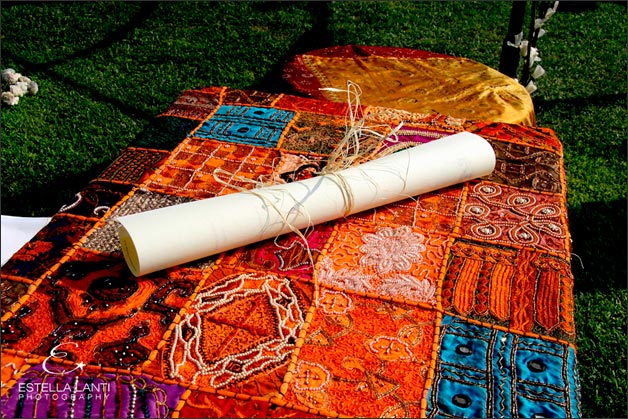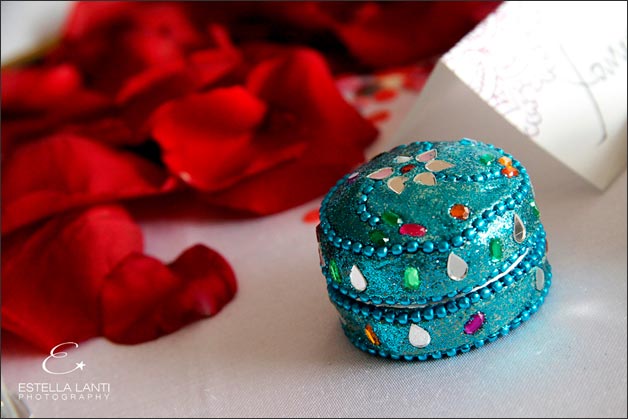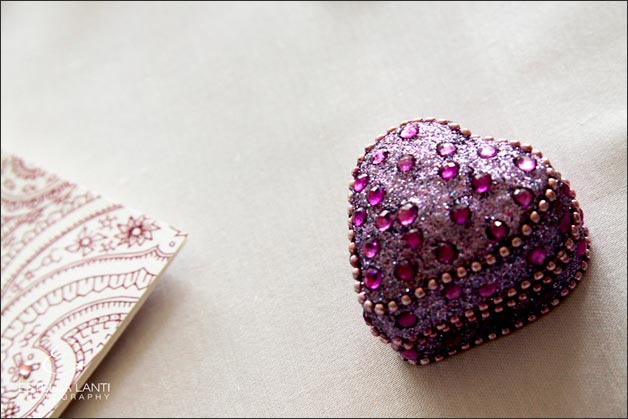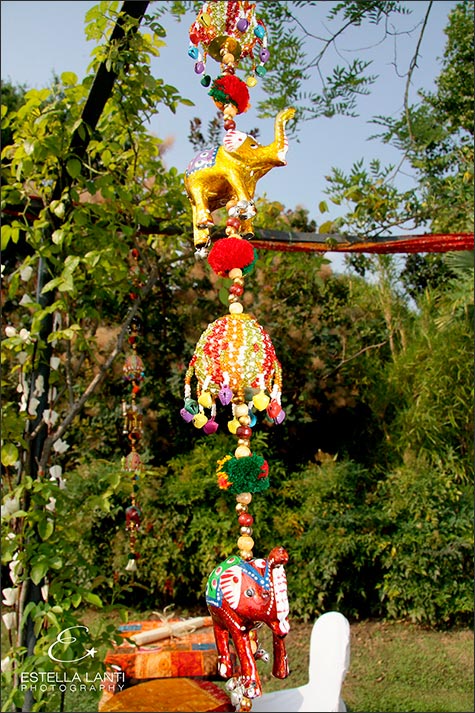 She got ready at Grand Hotel Majestic in Pallanza in a wonderful room overlooking the lake. Rani was with her pretty bridesmaids and once ready she reached Villa Rusconi Clerici where all guest and Edward were waiting for her.
She decided to arrive by the garden accompaigned by her father who for the occasion wore a traditional Indian outfit.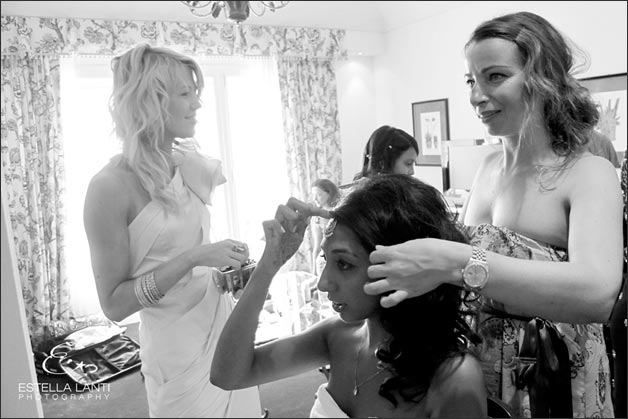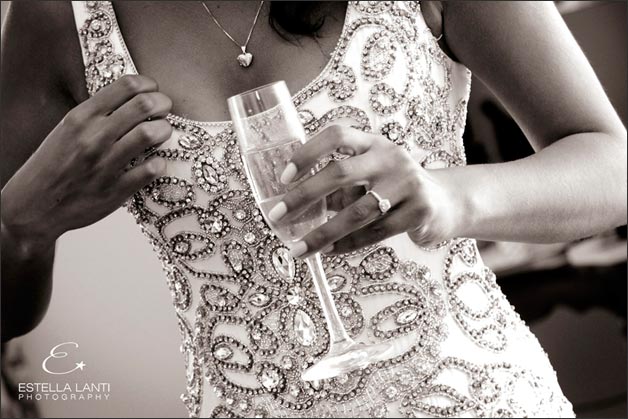 An Hindu Ceremony by the shores of Lake Maggiore
At the entrance of the villa there was a statue of Ganesh who represents the balance between male and female energy, between strength and sweetness, between power and beauty. It also gives prosperity and fortune.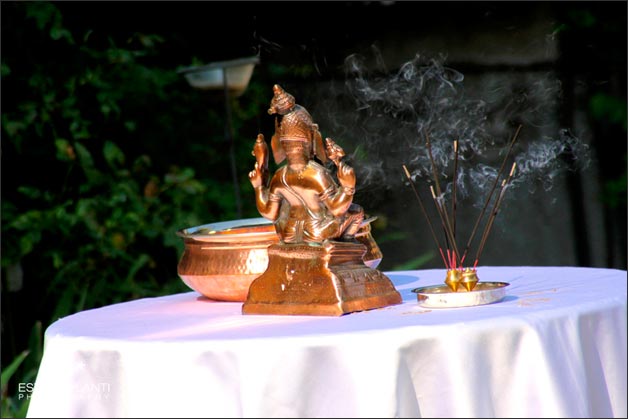 Rani wore a wonderful ethnic Indo Western wedding dress.
A wonderful ivory and gold gown. She left her hair down with her Indian headpiece and lovely ethnic earring.
For her bouquet she choose something very simple white and pink lilies in a casual bunch.
We cannot forget her mehndi on her hands.
Do you know what a Mehndi is? It is wonderful and very intricate design made with henna. They are usually done by a member of the family the day before the wedding. Often hidden within the mehndi pattern the name or initials of the groom are applied.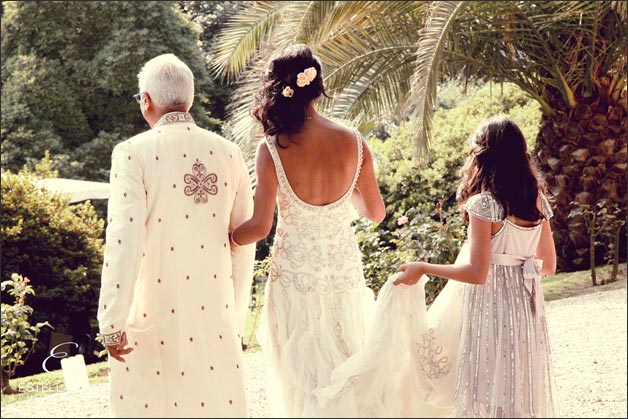 For their ceremony Rani and Edward chose a symbolic one to be celebrated in the gardens of the villa just by the shores. Table of the ceremony and gazebo of the villa was decorated with lilies and indian drapes and decors.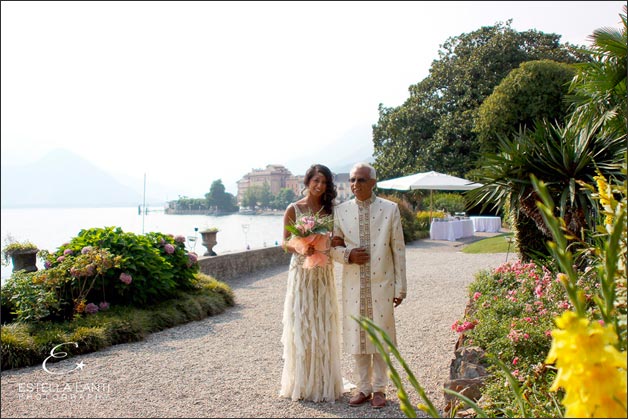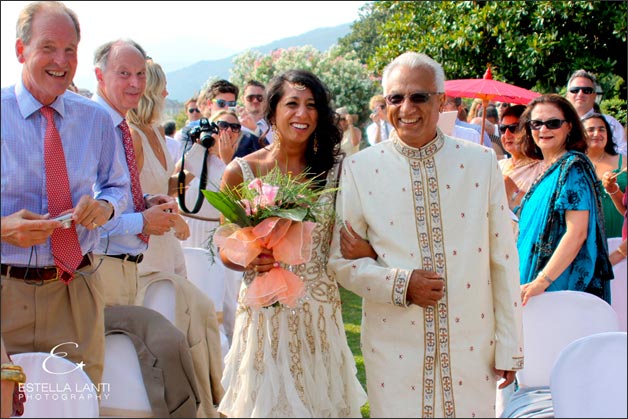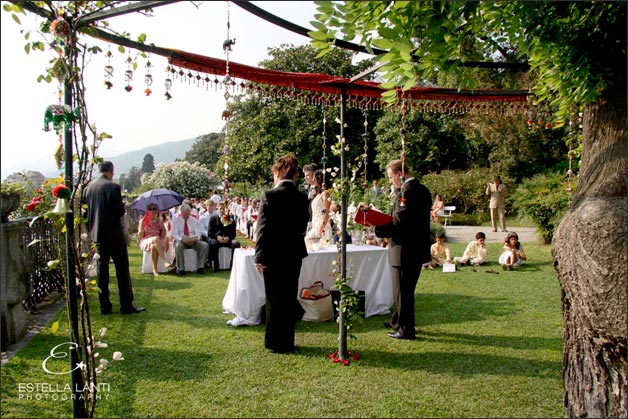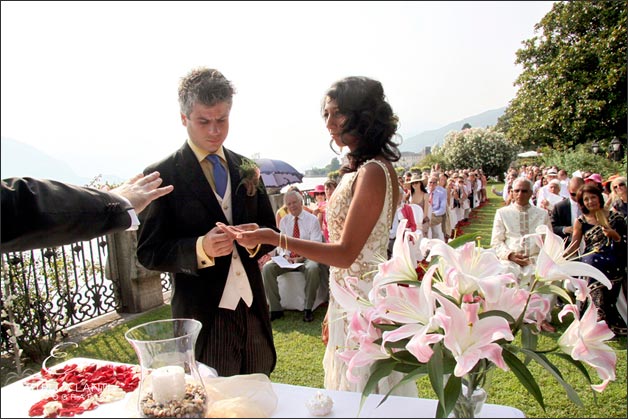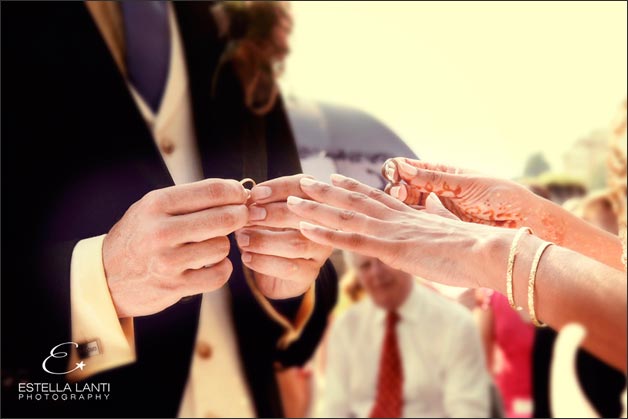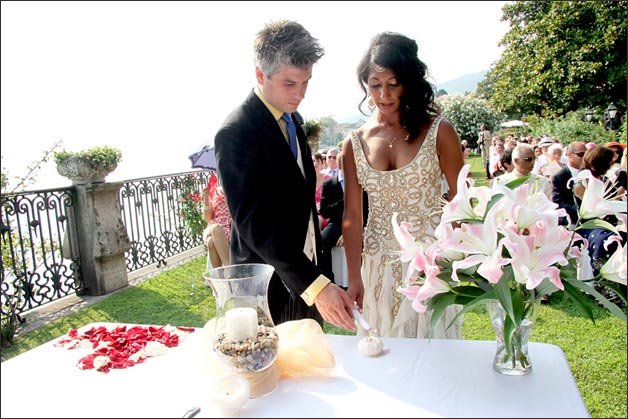 As Edward was not Indian they choose to have a dual ceremony with a Western part celebrated by Giuseppe Rossi and Diane Wheeler and another purely Hindu celebrated by Rani's aunt.
Hindu part of the ceremony was very different and full of symbols and rituals such as:
The Panigrahana – a ritual in presence of fire, where the groom takes the bride's hand as a sign of their union and the Saptapadi – is the most important ritual. It is also called the seven step ritual, where each step corresponds to a vow groom makes to bride, and a vow the bride makes to groom.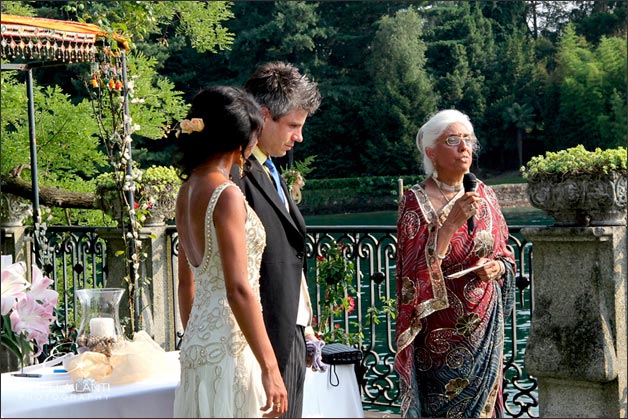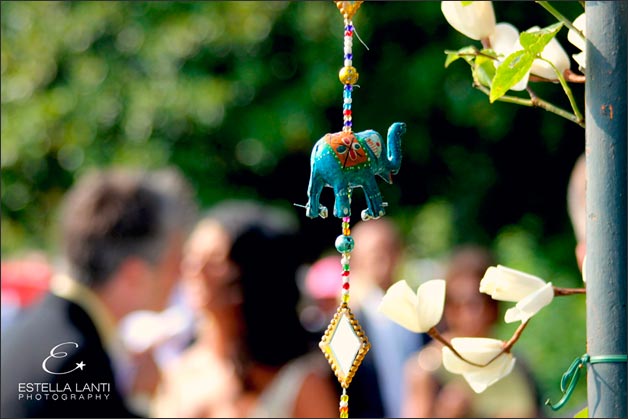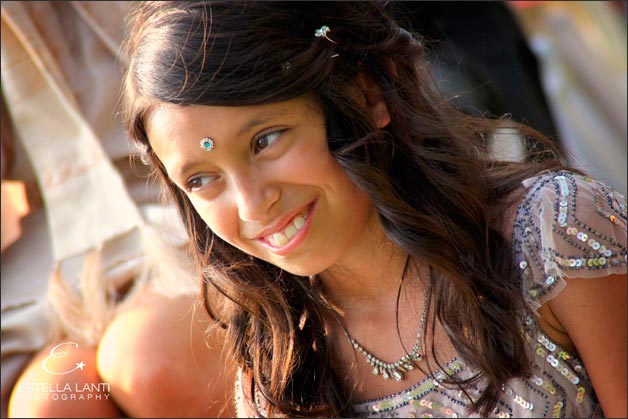 The vows are pronounced in Sanskrit. Saptapadi is often performed near a fire; and after each of the seven oaths to each other, the groom and bride perform the ritual of agnipradakshinam – walk around the fire, with the end of their garments tied together. The groom usually leads the bride in the walk.The fire is a form of yajna – a vedic ritual where fire is the divine witness (to the marriage).
After Saptapadi, the couple are considered husband and wife and party could begin.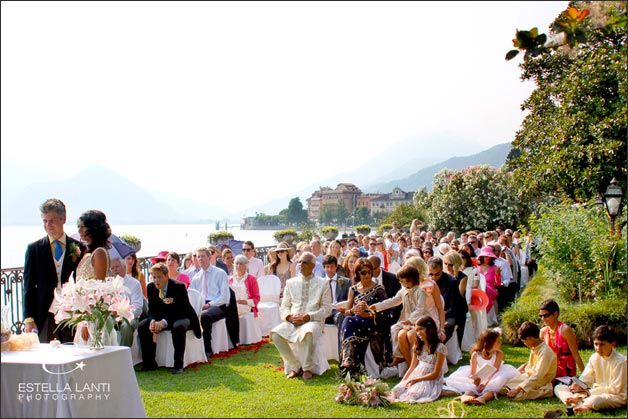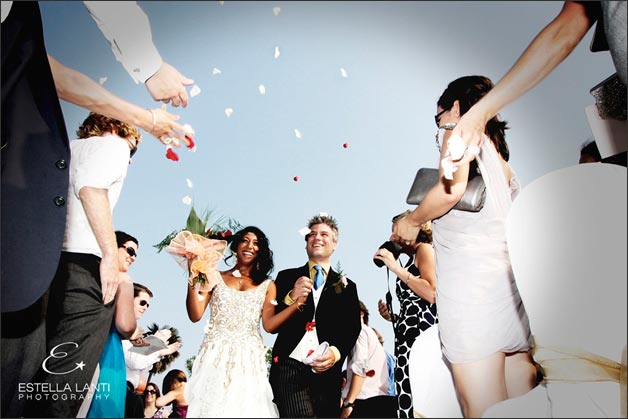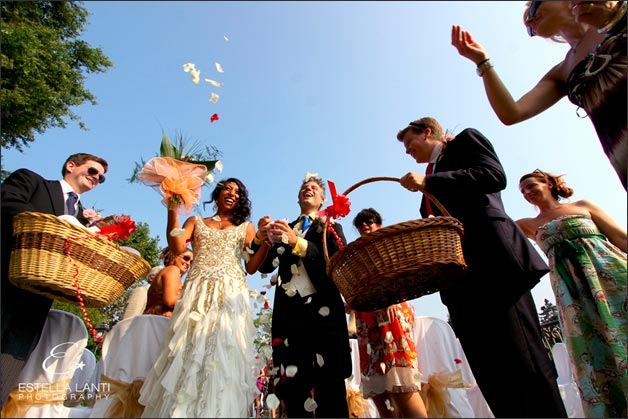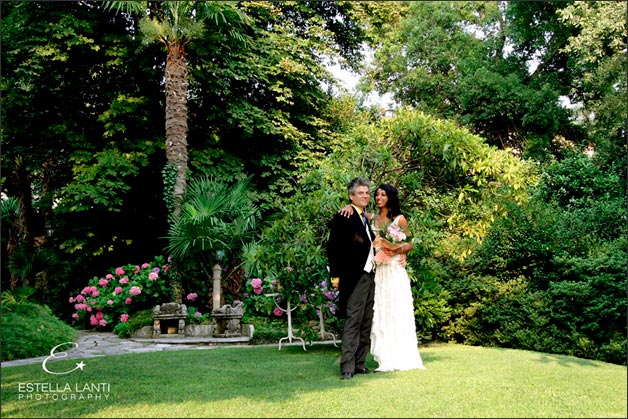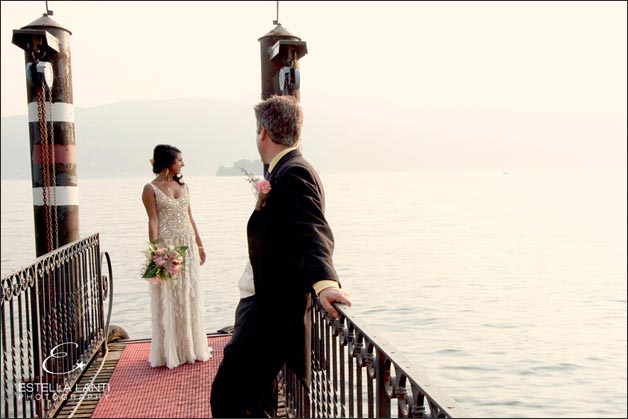 Fun Reception at Villa Rusconi Clerici
The aperitif was served in the big lawn of Villa Rusconi Clerici at sunset with sun nice Indian parasols for shades.
Some traditional Indian food was served together with traditional Italian food served by wonderful banqueting service.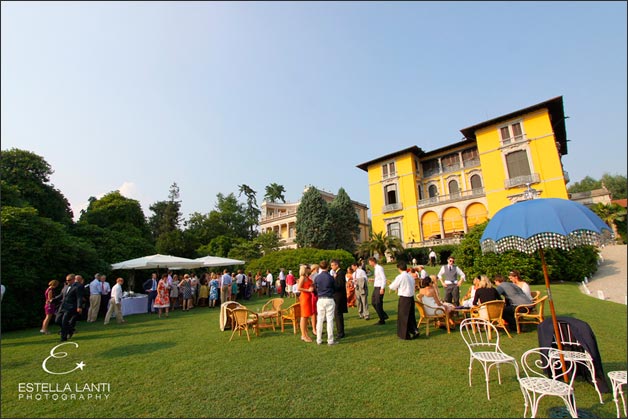 The wedding dinner was served inside the marquee of the Villa right after traditional wedding speeches.
Lovely Indian details on the tables such as lanterns, little sparking boxes as favours and lots of hindi bracelets for women.
Rani wanted many lilies on top table and on every round table of the guests. with some deep red petals.
The party went on up to late at night with dances and lots of music.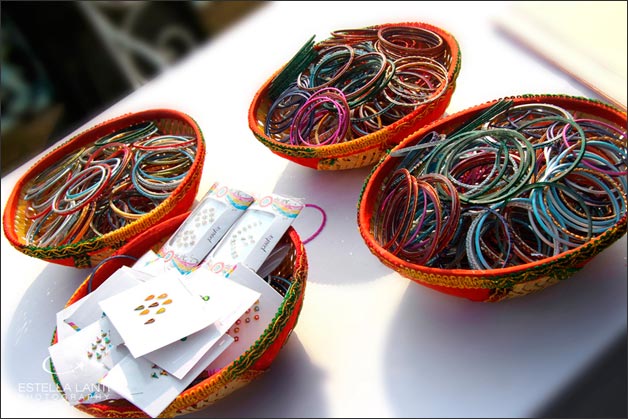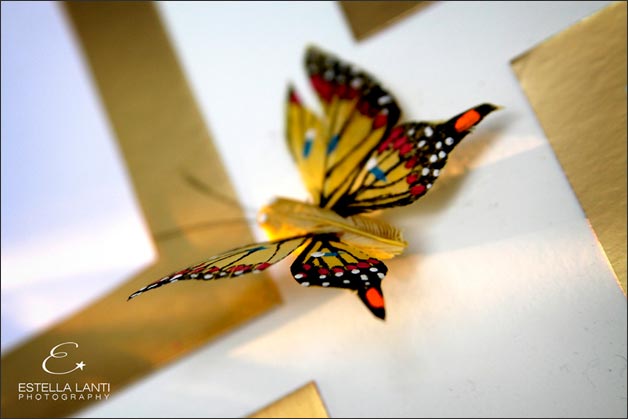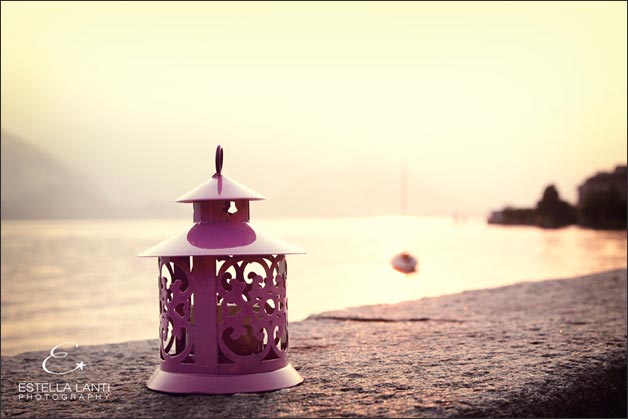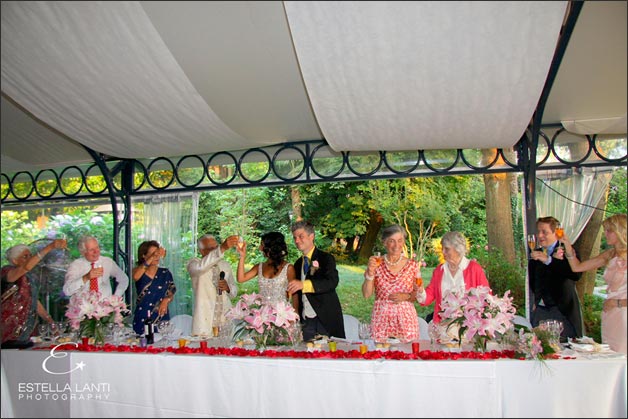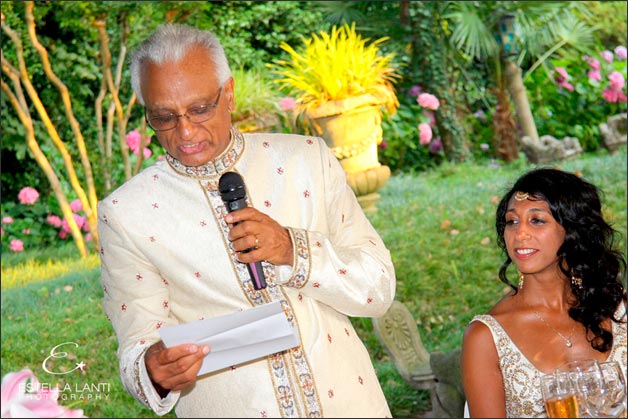 An Indian wedding was a great occasion to see Villa Rusconi Clerici with different decorations and with a different look. Personal customs and traditions are always something we suggest to incorporate in an Italian wedding to make it more emotional and also more colourful and different.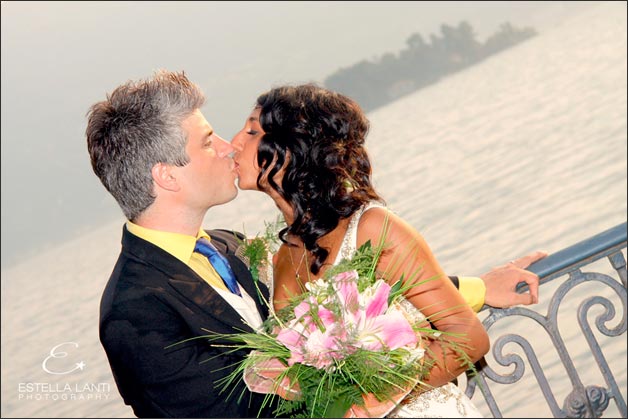 Just do it as Rani and Edward did, we will be happy to help you planning a wonderful Ethnic wedding in Italy!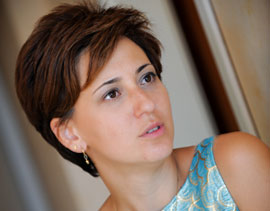 My name is
Valentina
and I work as wedding coordinator on
Lake Orta
and
Lake Maggiore
.
Before being a wedding planner and coordinator I worked for an American company planning events. I turned into wedding planning for SposiamoVi group, more than 5 years ago. Since Italian Lakes Wedding was founded I work with them to make bride and groom's dreams come true on this wonderful Lakes of North West Italy and Piemonte region.
l love creating with my couples the perfect event for them following their wishes and needs, helping to find the best solution for their ideas and budget.
I like meeting people talking with them and know more about their cultures and traditions. I do like sharing Italian customs with them and working in team with couples to let them experience a real and dreamy Italian wedding!
I will be pleased to guide couples along lovely traditional and pedestrian roads of Orta village discovering the beauty of this romantic Lake between villas, traditional restaurants wonderful churches and enchanting St. Julius Island.
I will be happy to let couples discover bigger and charming Lake Maggiore with its Borromeo Islands, wonderful hotels and villas overlooking the waters.
I'm sure you would be amazed by the beauty of these special corners of Italy so I'm simply wait for you for a lovely experience to create and live together.
For any information about your ethnic wedding on Lake Maggiore CONTACT ME