Abbazia di Santo Spirito – Villa Giannone is a wedding venue different from all the others. It is a real mix of history, art, nature and all this is just few minutes from Lake Maggiore.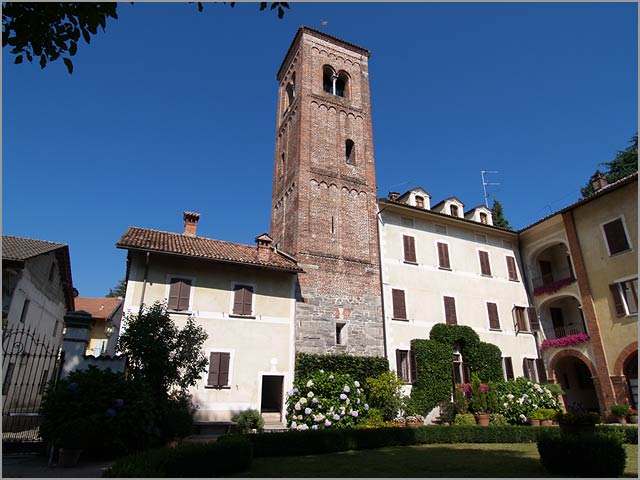 This wonderful mansion is located on the hills South Lake Maggiore, only 10 minutes drive from pretty town of Arona in a unique country environment. It is a green and relaxing oasis, the perfect setting for your special day!
One of the main feature of Abbazia di Santo Spirito – Villa Giannone is that it is the only venue in Piemonte and Lombardy region that has a private chapel inside the venue itself. The romantic chapel can host your legal religious ceremony but the ceremony can be held also outdoors in the lovely garden.
Your reception can be hosted in the garden too or inside the ancient armory with arches that can seat up to 180 guests.
And let's not forget how close the Abbazia is to Milano Malpensa airport!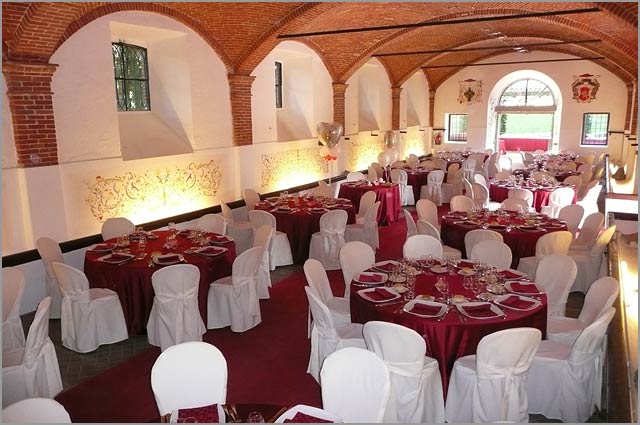 Once you go inside the Abbazia you will breath the atmosphere of ancient times. The building was edified in mid 1200 by Humiliated Monks who used to farm and wool weaving.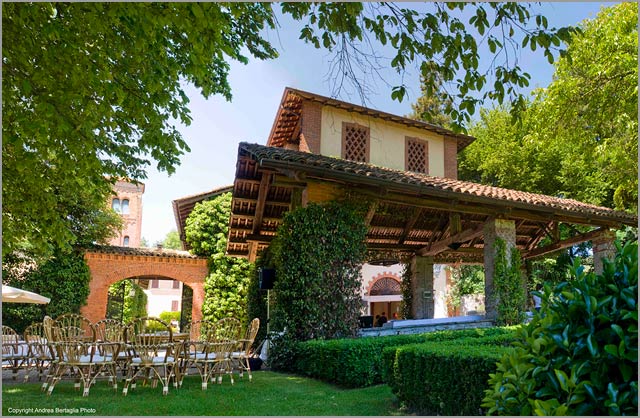 At that time the tower was built and this is the real symbol of the Abbazia. In 1200 too was also built the pretty little private church where bride and groom can celebrate their evocative and romantic wedding.
During centuries Abbazia had several owners that changed this convent in a luxury court with horses and dogs for hunting.
At the end of 1700 Abbazia was acquired by Giannone family who is still the actual owner. The Abbazia now is a wonderful venue for elegant country weddings.

Abbazia di Santo Spirito – Villa Giannone is surrounded by a wide park with secular trees and blooming areas. The venue faces a lawn where you could celebrate your outdoor religious ceremony in the nature, such an enchanting atmosphere!
At the end of the park there is a rustic portico with stone columns with scented jasmines on. It could be the perfect place for your buffet aperitif. Over here you can also arrange lovely garden furniture or even tables and chars for your outdoor wedding meal.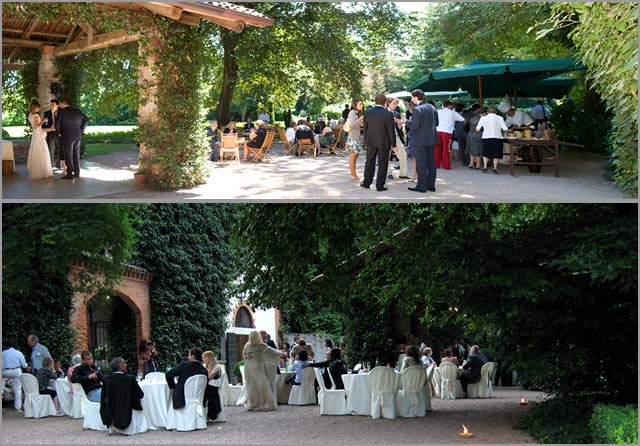 From the park you can reach the reception room directly.
It can host up to 180 guests and it is embellished with frescos and brick arches. The room appears like an ancient armory a real masterpiece of architecture.
And it is not over! Abbazia has other surprises for you: the Corte Antica. It is a special area of the venue which is specially reserved to bride and groom and their wedding pictures. Corte Antica is a lovely portico with a pretty and stylish Italian garden enriched by a roses pergola, lemon trees and other secular trees.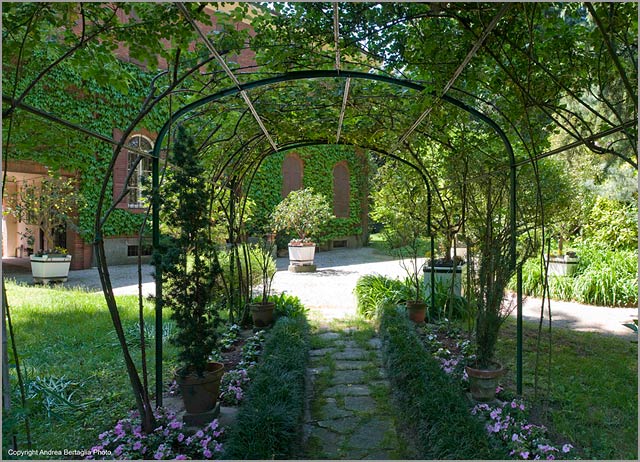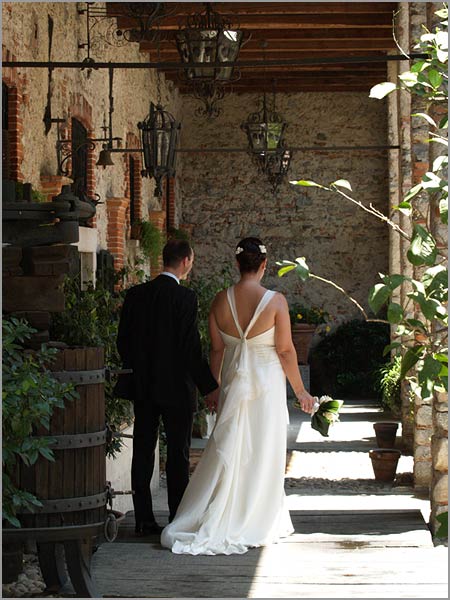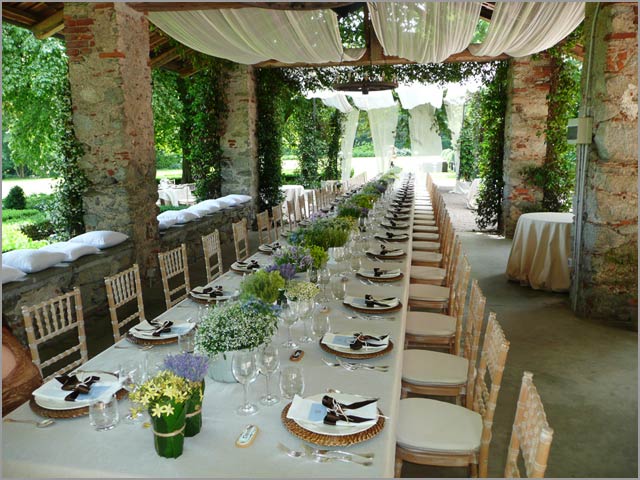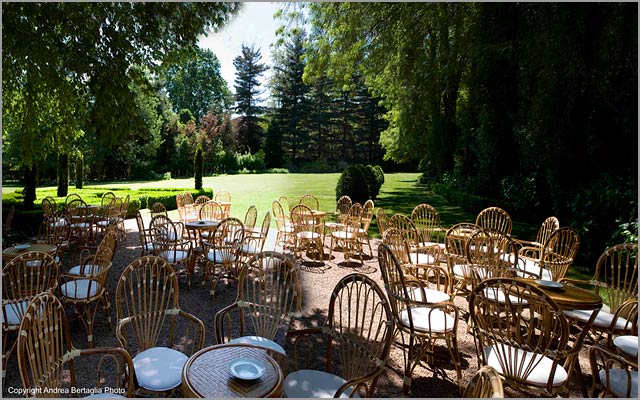 And if you want more why don't go on Lake Maggiore, in Arona, Stresa or reaching Borromeo Island by boat? It could be another amazing occasion to take some more stunning wedding pictures.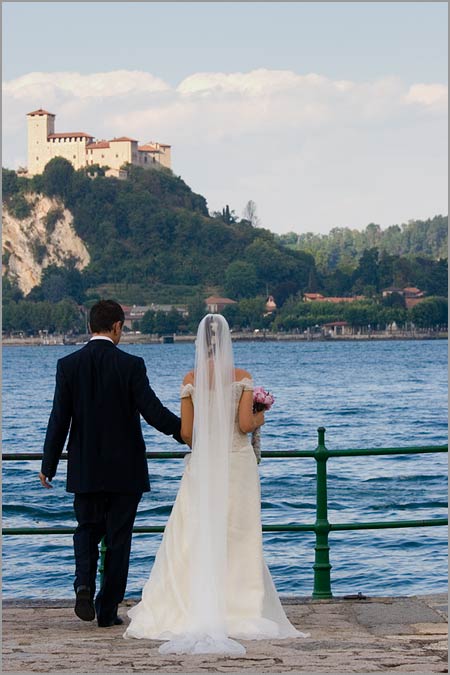 Abbazia di Santo Spirito will be the perfect venue you've always dreamt of!
For further information on a wedding to Abbazia di Santo Spirito – Villa Giannone please contact Italian Lakes Wedding Team or filling out the form below:

CONTACT Abbazia di Santo Spirito - Villa Giannone:
Copyright © All rights reserved.