June has arrived and long wedding season on Lake Orta officially begun.
I would like to go back for while speaking about Daniela and Giuseppe our Italian couple who opened wedding season on 6rd of March 2010.
It was the first wedding of 2010 for us as florist but also for Villa Bossi Orta town hall and St. Julius Restaurant the venue the couple chose for their wedding reception.
March is such a perfect day for a romantic wedding in Orta San Giulio. Village is not crowded by tourists yet and enchanted intimacy make it a different world.
Do not forget that March could also have wonderful sunny days!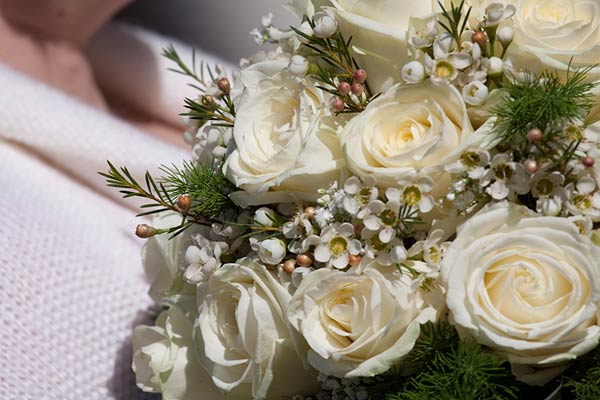 At first sight it could seem curious but Giuseppe and Daniela live close to Como. But they actually chose Lake Orta.
We would like to let them speak about that:
We chose Lake Orta even if we live close to Como. This because it quiet, romantic and more intimate. Walking in the narrow roads of Orta Village seems to live again ancient times experiencing unique atmospheres. They are just perfect for a wedding. We were more than happy of our choice.
From Como to Orta for a romantic wedding: a simple choice.
The civil ceremony has been held to Villa Bossi and its Orta town hall 1700 building. Such an intimate ceremony with close family and friends. They celebrated in in the garden on open air but in this occasion the garden seemed so quiet and romantic like it and Orta village was all for Daniela and Giuseppe!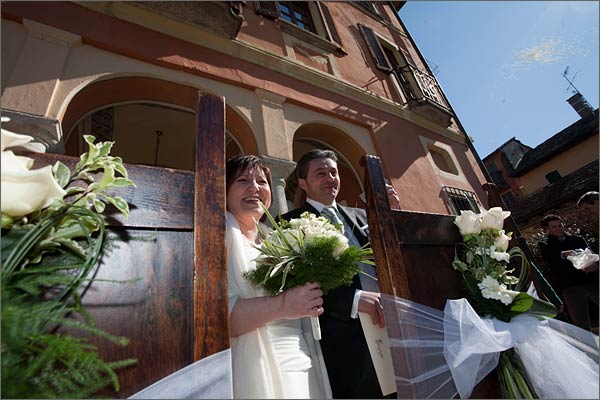 Villa Bossi with its entrance from the lake it is simply scenographic. Ceremony in the garden is surely different from a room in a town hall. In fact since the civil ceremony is shorter than the religious one we wanted it to be special and unique.
Thanks to Ms Roberta our celebrant to Town Hall this was possible.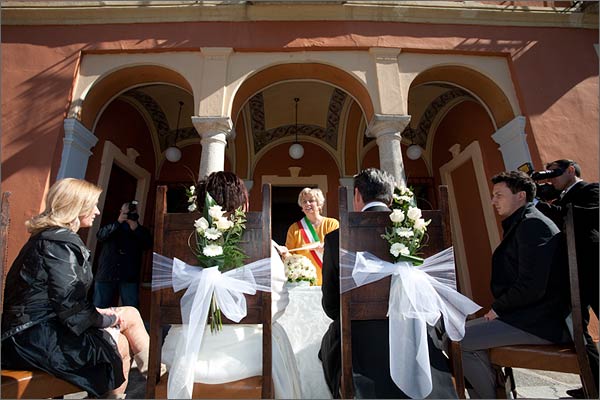 As far as Villa Bossi is concerned I've created ivory roses and white gerberas arrangements, They were like a bunches and fixed on the columns. I've also added some gerberas on the buxus that enrich the villa aisle. It was simple but very elegant matching Daniela and Giuseppe style.
We wanted our guests enjoy a motorboat tour and we took some time to have some pictures in the pretty village of Orta. When guests came back we jumped on the motorboat too and we reached St. Julius Island the location we chose for our wedding reception.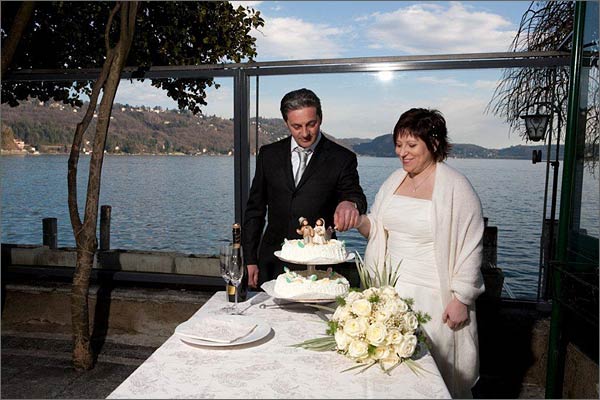 Right into the quietness of St.Julius Island, just on the shores, St. Julius Restaurant bears great scenarios and a warm atmosphere.
St. Julius Restaurant suggests regonal Piemonte dishes.
You can taste them on the terrace or inside the wonderful rooms of 1700 with frescoes just amazing!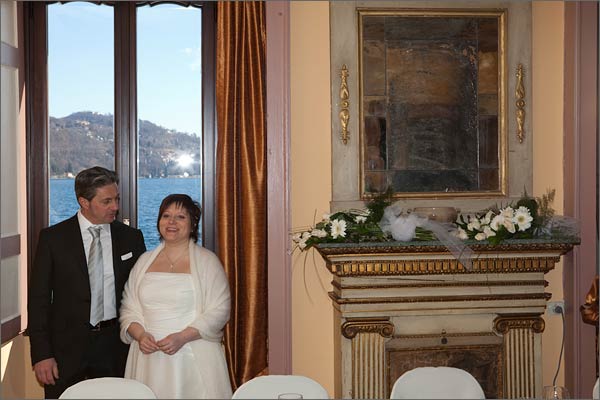 We chose St. Julius Island because we decided for the lake as main theme and so we wanted to reach it only by lake! After seeing a lot of venues we thought it was the most intimate and the managers of the restaurant are very kind and friendly.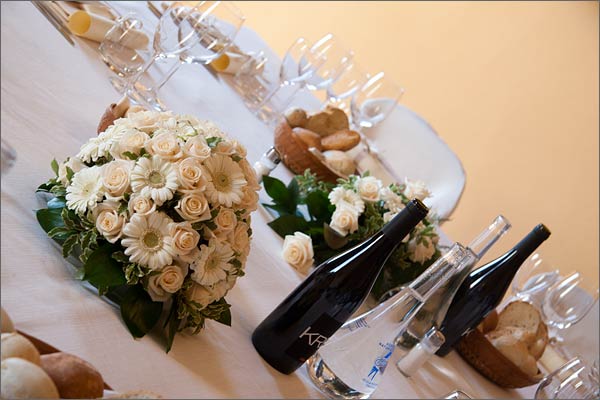 A wonderful day with a bright sun and an intimate and romantic atmosphere even more than usual!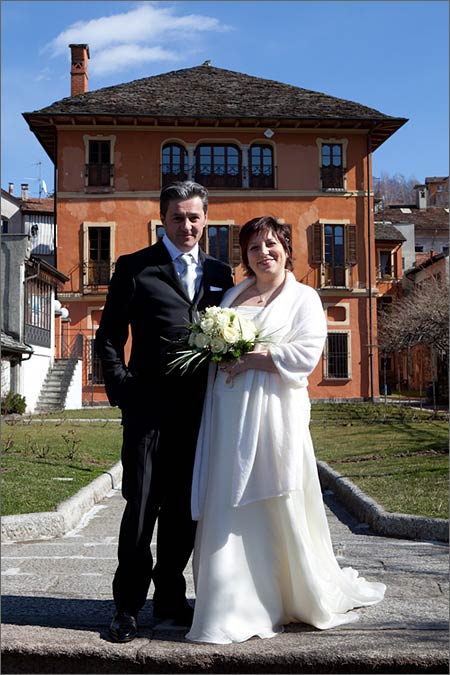 We would like to send Daniela and Giuseppe our best wishes and a warm thank you for choosing Lake Orta.
All images: © Studio FOTO BIANCHI – via Cavour 7 22069 Rovellasca (Como)
Monika Andenmatten is La Piccola Selva's floral designer.
Based in lake Orta, has worked with brides for over 20 years to create floral arrangements for weddings in the Italian Lakes district.
His wedding arrangements are creative, elegant and sophisticated. Monika will be able to help you choose how best to incorporate floral design into your wedding celebrations. From the initial consultation to the wedding day, she will make your wedding flowers truly an expression of your dreams.
For any information about wedding on Lake Orta please contact us.