eonies, hydrangeas and rose petals… did you know that this is one of the most trendy match for this year's weddings?
We tell you about this just in occasion of
Lucia and Francesco's wedding on Lake Orta
in the
church of Maria Assunta
and reception to follow at
Villa Crespi
.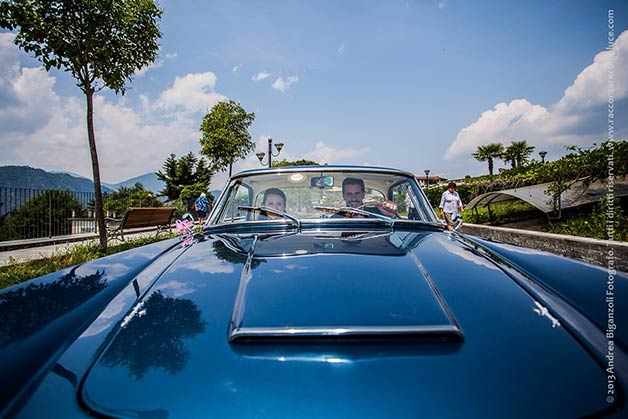 Our brides simply love peonies since some years and recently they fell in love with hydrangeas too. They are very trendy this year, they are the most wanted for spring and summer weddings.
This wonderful match, peonies and hydrangeas, works very well with roses too. Roses are just classical and they are surely an evergreen for our brides.
Roses are available all year, they are perfect for every style and they resist well to hot summer temperature of summer – not the same for hydrangeas and peonies. Roses become a must have for wedding floral arrangements.
Bridal bouquet with pink peonies
Lucia had no doubt about the flowers for her bridal bouquet: romantic pink peonies.
It is not a casual choice! Ancient Chinese traditions says the peonies are the most important flowers in nature. Two peonies tied together can catalyse energies and improve love and romanticism between bride and groom. Lucia bouquet was just perfect!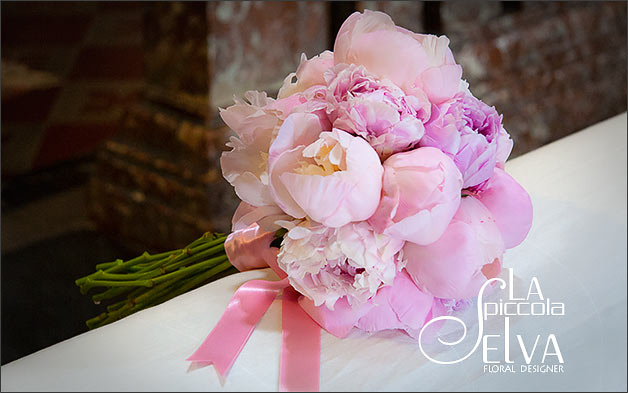 Ceremony at Church or Maria Assunta
Lake Orta has many churches that could be perfect for a romantic and scenic wedding ceremony.
It is really impossible saying which one is the best. Each of them is beautiful for its own. Our brides and grooms' preferred one is Maria Assunta Church which is just in the very centre of Orta medieval village. Same was for Lucia and Francesco!
After few meeting with Lucia, wee decided for a total white arrangement. A white carpet for the aisle, bride and groom chairs and pews covered with white fabric and two long compositions made of white baby's breath (gypsophila) along the balusters. You can see the final result in these photos.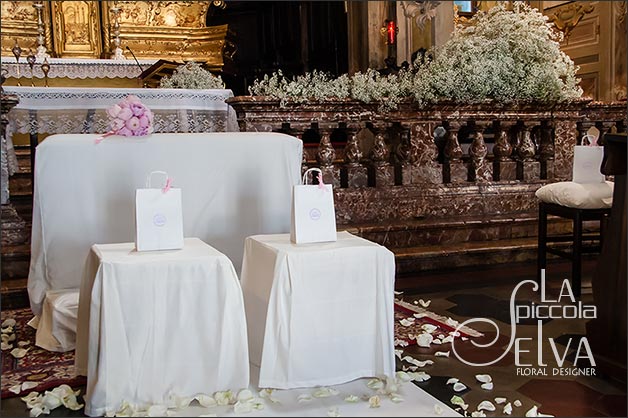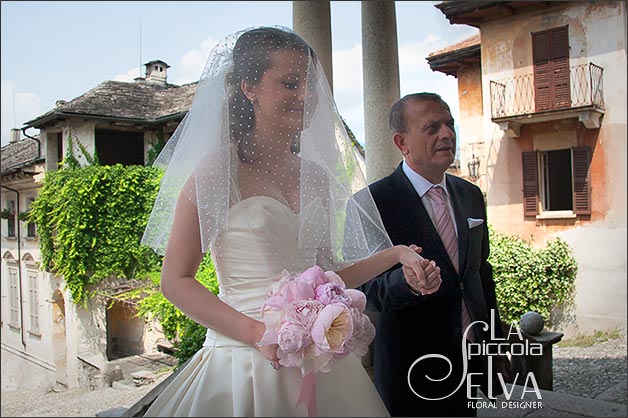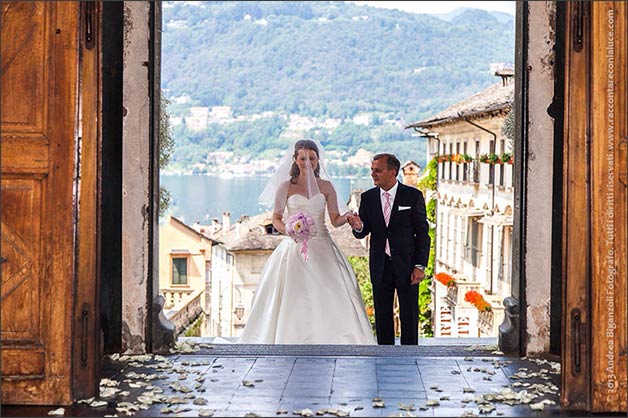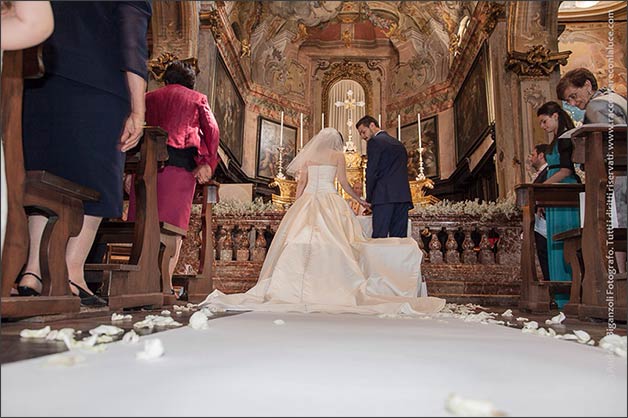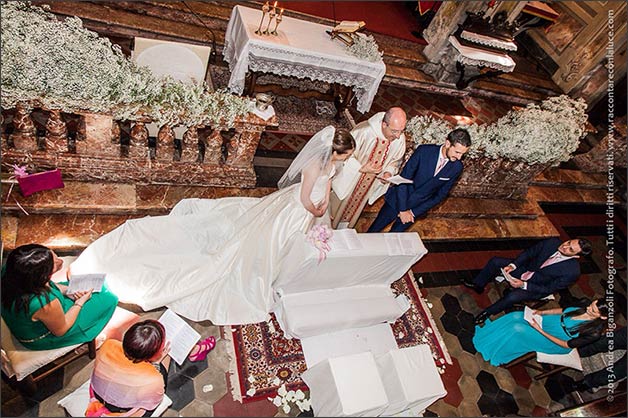 Have a look to pretty rings barer, with green hydrangeas that page boy brought to the altar.
There were also original wedding bags for the guests with rice to throw, order of service, a thanks card, a fan for ladies and some personalised tissues… for tears of joy!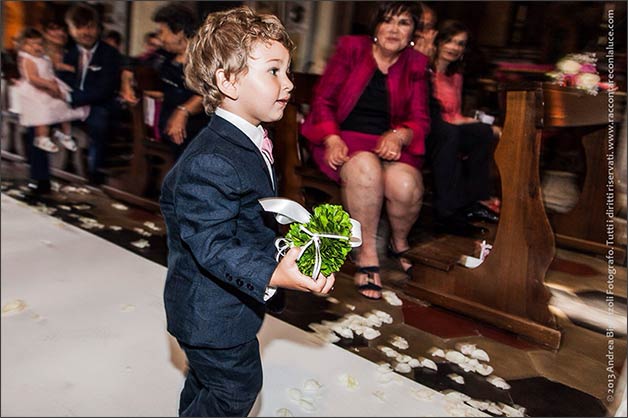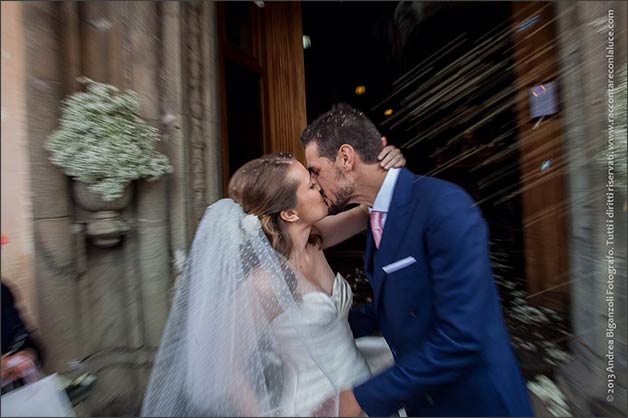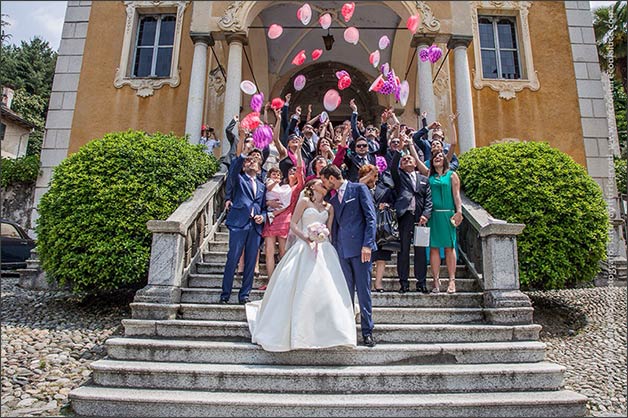 Lucia and Francesco's wedding in Andrea Biganzoli's photos
Orta medieval village has many little corners for amazing wedding photos as ANDREA BIGANZOLI took for Lucia and Francesco.
A special thank to photographer Andrea Biganzoli from all our team for giving us these lovely hots so quickly. An entire photo service after only 3 days! Pictures are really pretty! Thanks Andrea!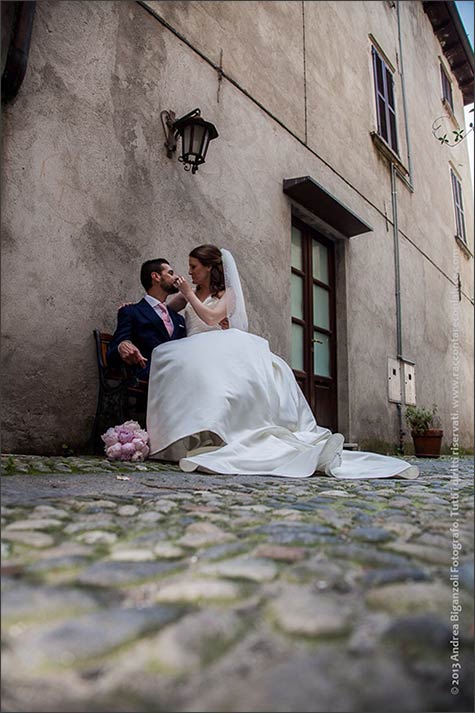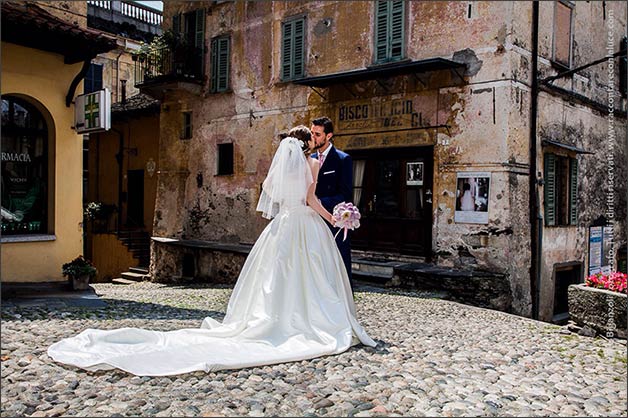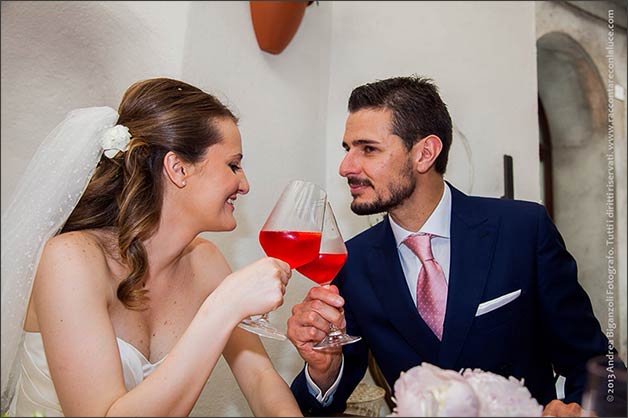 Wedding Reception at Hotel Villa Crespi
You would say… and hydrangeas? We ket them for the reception at Villa Crespi.
Moorish style and Arabian Nights atmosphere at Villa Crespi make this venue unique. Very different from the others on Lake Orta.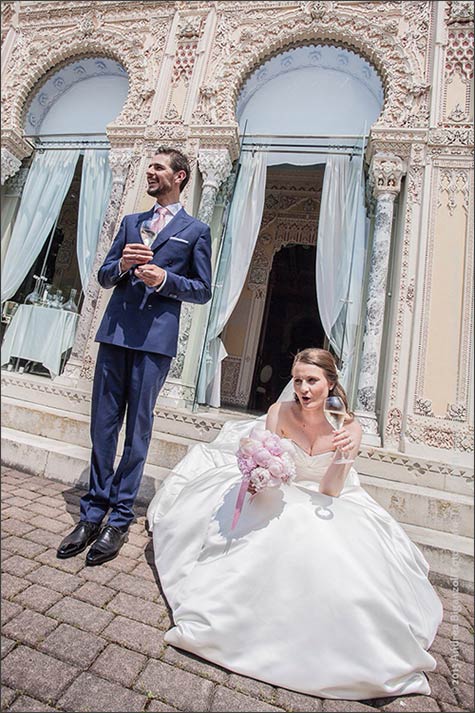 As floral designer we worked several times at Villa Crespi. Each time we paid a lot of attention to match our composition to the unique style of the venue.
Being a intimate event Francesco and Lucia choose a single room of the restaurant.
It is a indigo blue room with ancient pictures on the wall and precious golden plasters.
We choose pink as main colour. Big pink hydrangeas in vintage bird cages decorates with small hearts. They were our centerpieces.
And for bride and groom's table, rose petals and LOVE sign.
Isn't it romantic just an Italian song could be?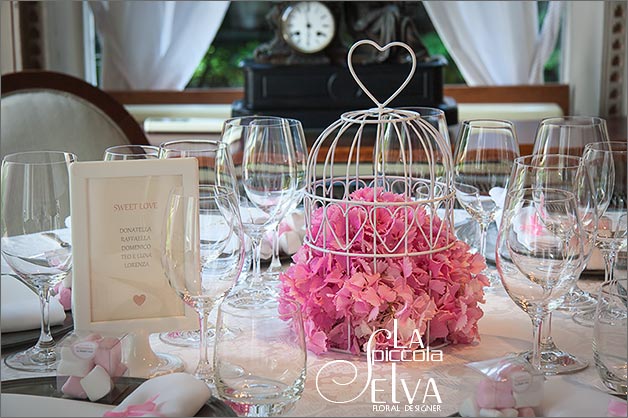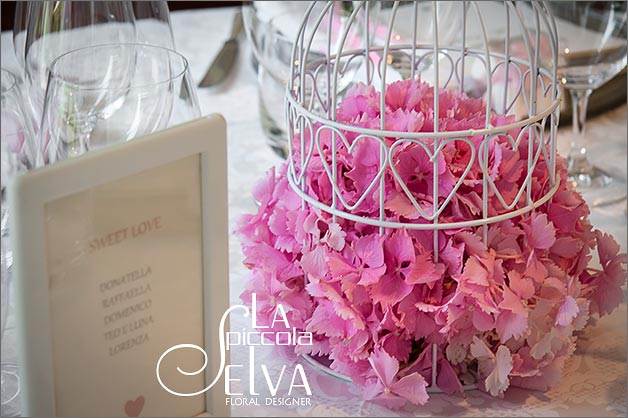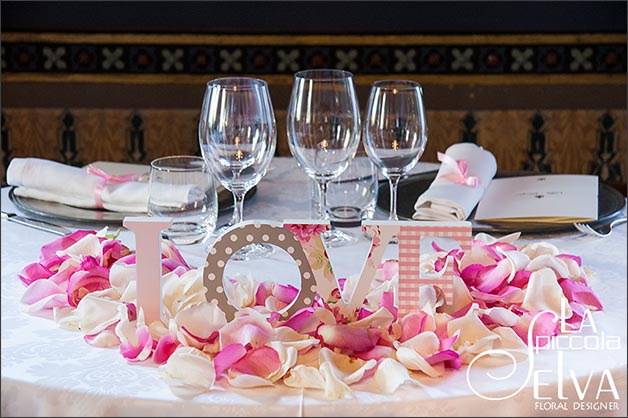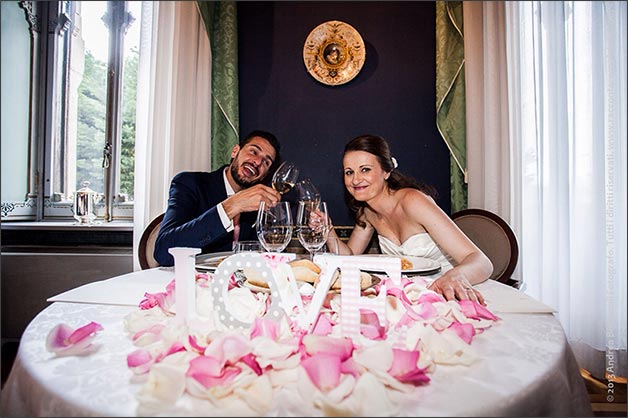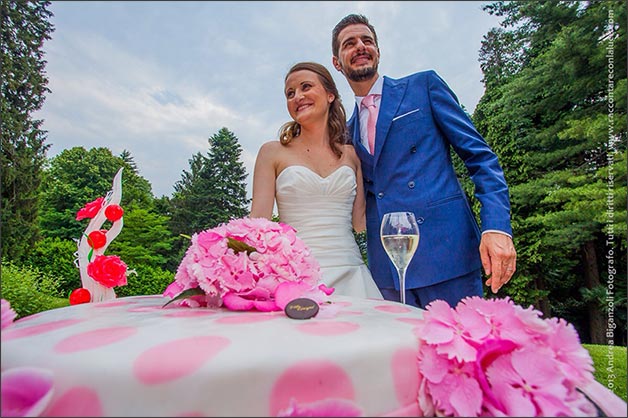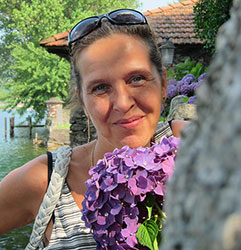 ABOUT THE FLORAL DESIGNER
Monika Andenmatten is La Piccola Selva's floral designer. Based in lake Orta, has worked with brides for over 20 years to create floral arrangements for weddings in the Italian Lakes district.
His wedding arrangements are creative, elegant and sophisticated. Monika will be able to help you choose how best to incorporate floral design into your wedding celebrations.
From the initial consultation to the wedding day, she will make your wedding flowers truly an expression of your dreams.
Congratulations to our bride and groom Francesco and Lucia for their big day on Lake Orta. And thanks for choosing us as your floral designer for your wedding at Villa Crespi!