Among all past Autumn weddings Chiara and Stefano's wedding was one of my favorites. Bride and Groom were very nice and they choose a wonderful location for their wedding… but most of all Chiara's dress was simply amazing.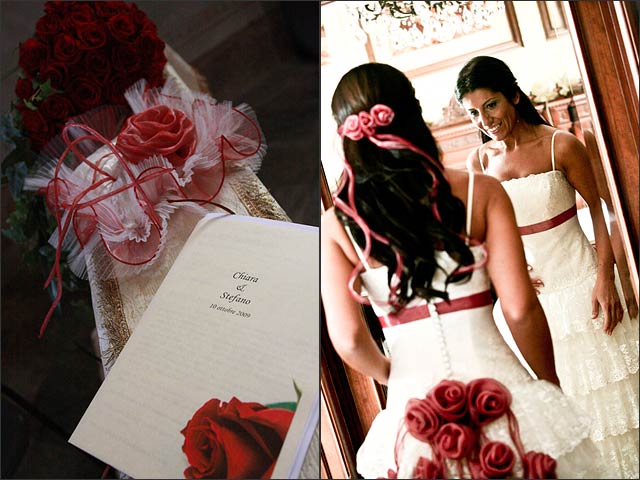 As floral designer I really appreciated bride's approach towards me. Even if she gave me precise information on her color scheme, she totally trusted me giving me wide freedom on style and shapes for her floral arrangement. This gave me the opportunity to express myself without being to tight on fixed schemes. I believe that for a floral designer is could be the best way to create and express her skills.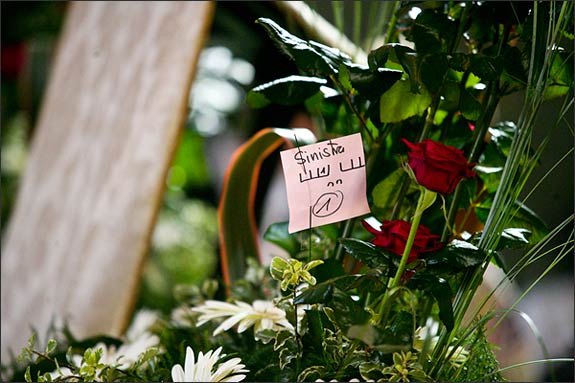 Chiara and Stefano's big day was arranged on Lake Maggiore. Photographers Manuele and Laurence of Studio Foto Benaglia followed the days with their pictures. The followed the group from the early hours of the day until very late at night. This great italian-french couple of photographer realized a lovely natural and spontaneous reportage service taking every single detail of the day. Have a look to the nice Photo Gallery on Chiara and Stefano's wedding relized by Foto Benaglia.
From Veneto to Piemonte region: Chiara and Stefano reached Lake Maggiore from Treviso in Veneto region, just like at least half of their guests. Chiara was born in Arona and her heart was set here and Stefano fell in love with this lovely town too. So they opted for Lake Maggiore for their destination wedding. All guests loved this choice they did not know how beautiful could be our magic lake.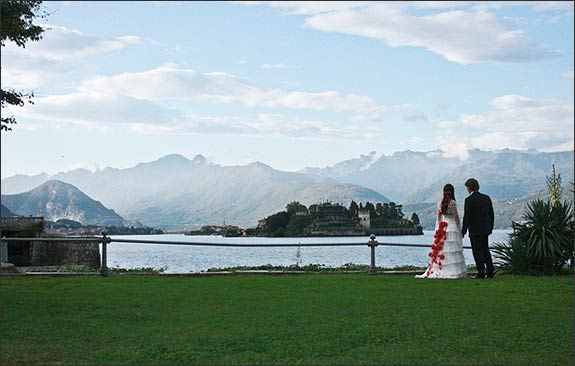 Chiara choose red for her wedding theme color. Deep red for flowers, invitations, and wedding shoes. Cherry red for a fantastic organza roses fall on her wedding dress. A very original dress for sure! Chiara designed it and she could realize it thanks to the help of Rosanna, the owner of a little atelier in Feltre on foot of Belluno Dolomites.
The shoulder cover, bustier and part of the skirt were mad of laces with plisse' tulle. Main feature was roses fall in cherry red that started from waist point to create a little train.
Simply wonderful!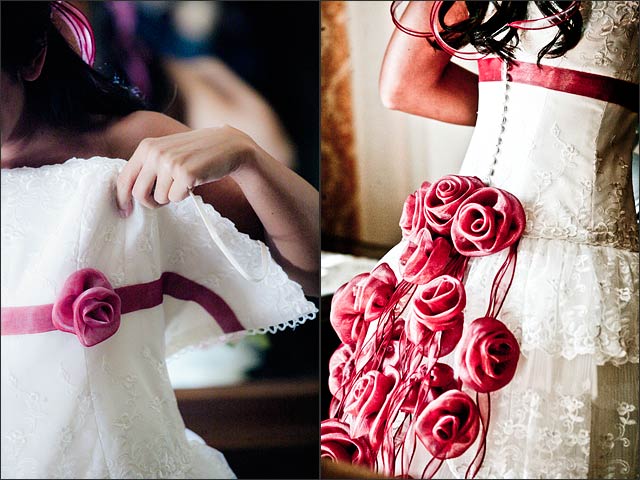 Groom opted for a tailor made suit, too. He was surely elegant and handsome.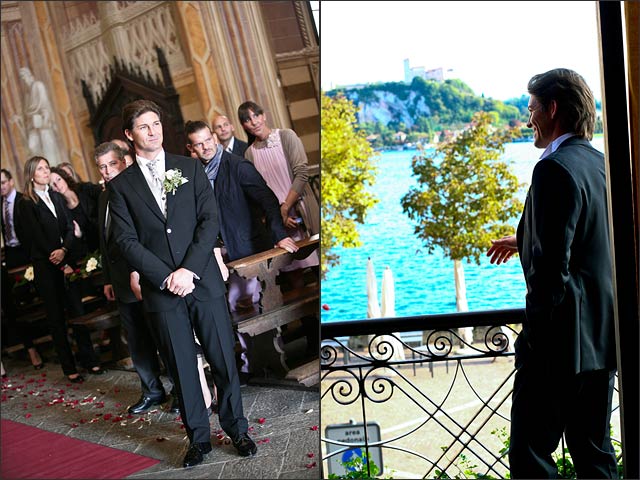 Chaira and Stefano got married on October 10 on a wonderful warm day similar to summer time. Religious ceremony was held in Santi Martiri Church in Arona, also known as San Graziano church. Church is located in highest part of the town and has a baroque facade and Gothic nave inside. One of the most beautiful detail is the lovely staircase that from San Graziano square leads to church's entrance.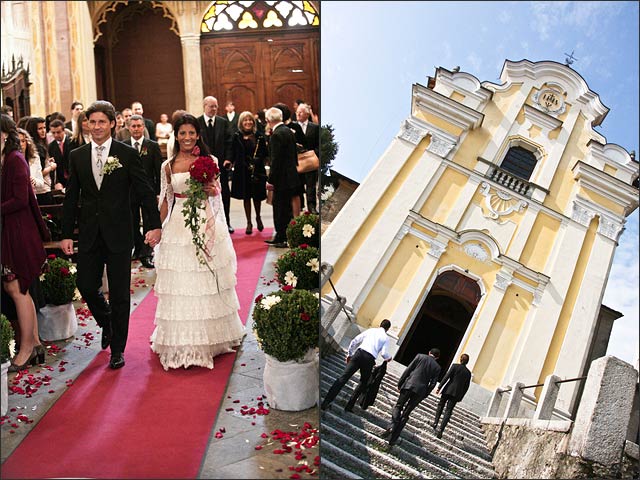 Floral arrangement was really detailed. On side of aisle red carpet I placed a series of balloon shaped Buxus enriched with red roses and white Gerberas. I also added scattered rose petals on the floor and little bouquets on the pews.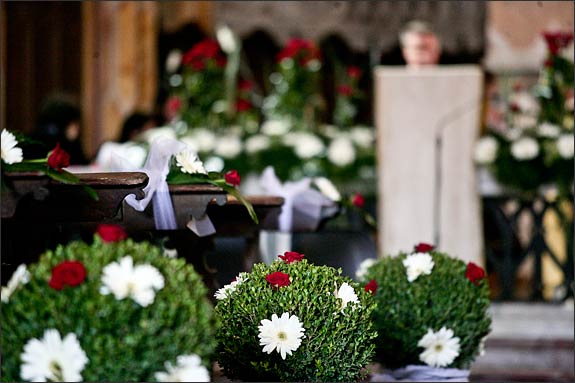 On white marble balusters I created different height arrangements, just in the middle between ancient and modern style. On a white Gerberas and Monstera leaves base I placed Passion Roses on different levels and on side of them I added some Bear Grass.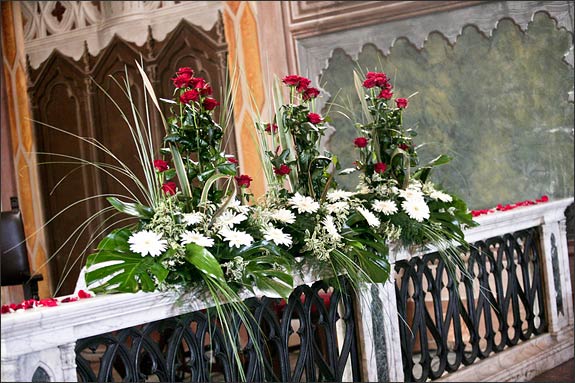 Wonderful Passion Roses were on long Chiara's bouquet. I also added bear grass and most of all some ivy and Beucarnea to give an accent to falling effect of the arrangement. As final touch I inserted a cherry red ribbon using same fabric of bridal dress.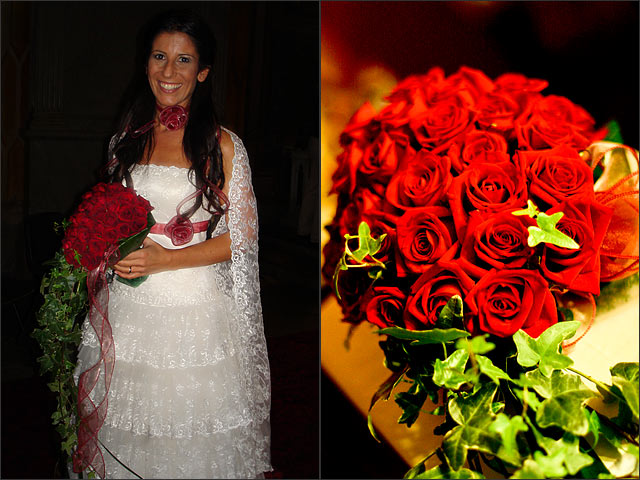 After the ceremony Chiara and Stefano left for the reception on a vintage Corvette to reach Grand Hotel Bristol in Stresa.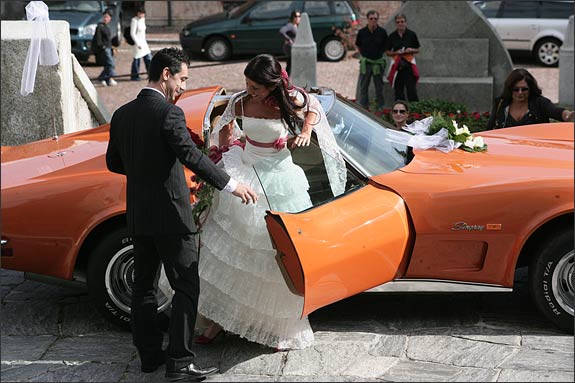 Before reaching their guests they took a romantic walk on lake side in Stresa where Laurence and Manuele photographers had the occasion to take wonderful shots collecting great images. You can see some of them here. Click here to see complete photogallery.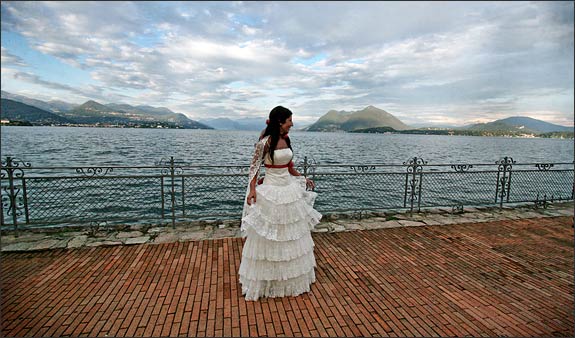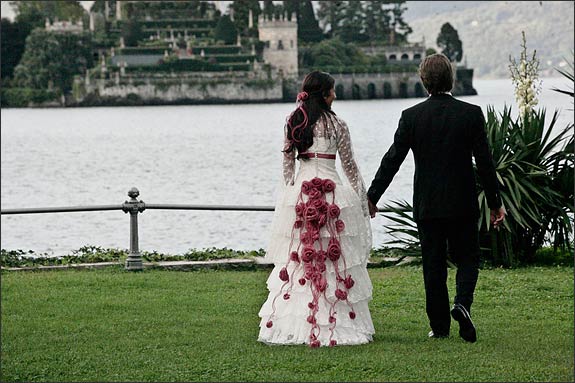 Table chart to Grand Hotel Bristol was original too. On a floral base I added some red hearts on several levels. I attached on them tables names using lovely butterfly shaped pins.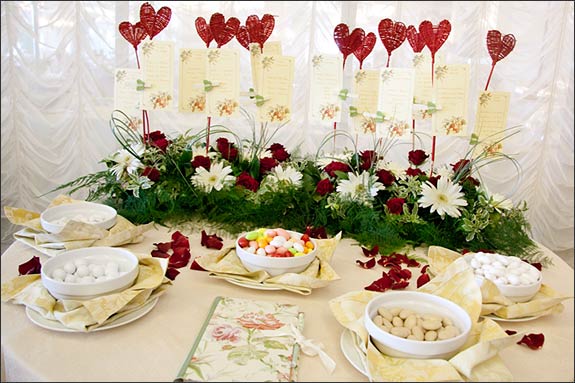 The party ended with the great four tiers cake made of hundreds of Chantilly cream bignè with strawberries, blackberries and red berries.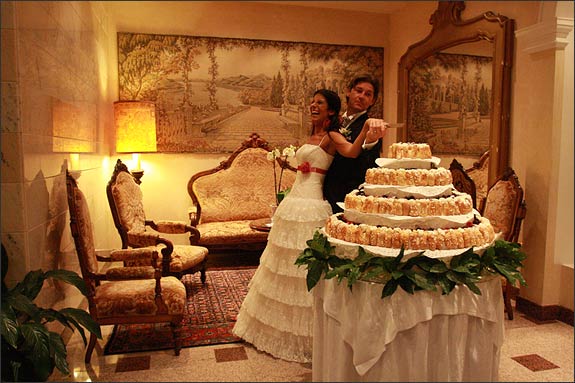 As floral designer I can say that it was a real pleasure for me having the occasion to work on Chiara and Stefano's wedding. Such a nice couple! One of the best wedding of 2009 on Lake Maggiore.
Monika Andenmatten is La Piccola Selva's floral designer.
Based in lake Orta, has worked with brides for over 20 years to create floral arrangements for weddings in the Italian Lakes district.
His wedding arrangements are creative, elegant and sophisticated. Monika will be able to help you choose how best to incorporate floral design into your wedding celebrations. From the initial consultation to the wedding day, she will make your wedding flowers truly an expression of your dreams.

For more information about weddings on Lake Maggiore please contact us.