ast season I had the chance to meet a very special couple. I loved them for their sweetness and gorgeousness:
Kathy and Martti
.
They come from
Estonia
and they contacted me to find the perfect location for their intimate and fine wedding on Lake Garda.
I gave them many options to guide them creating a wonderful atmosphere that could match their ideas and wishes. They decided for
Malcesine Castle
for their ceremony and a lovely
restaurant in Malcesine
for their intimate reception.
An Elegant Hotel to get ready
Kathy and Martii chose a wonderful and cosy hotel on the hills overlooking Lake Garda to get ready. The prefect set for wonderful getting ready photos.
They chose a great photographer Team for their event: Morlotti Studio.
Kathy chose a skilful make up artist and hairdresser Stefania Bon who studied for her a glamorous style. I would love to thank her for her wonderful job.
Once ready Kathy wore her wedding dress. She was absolutely elegant in her laces wedding dress.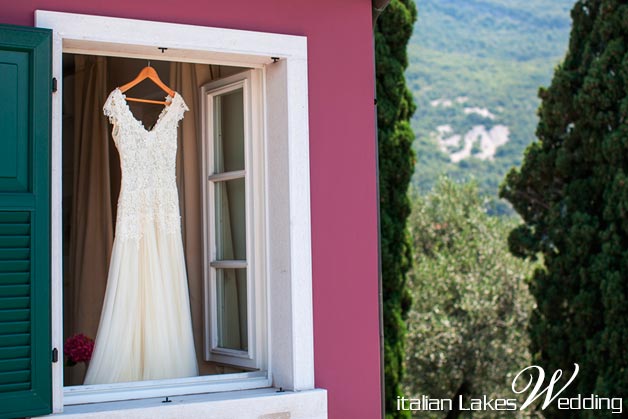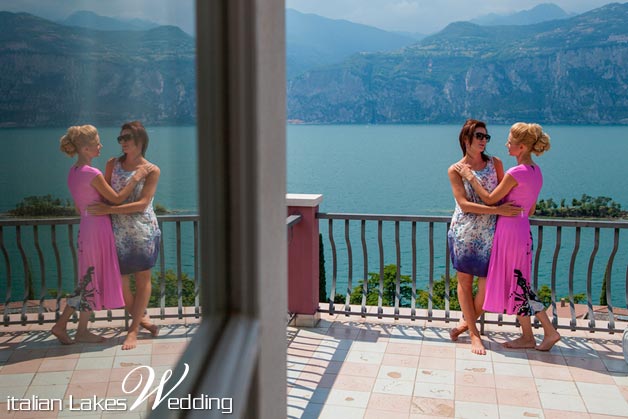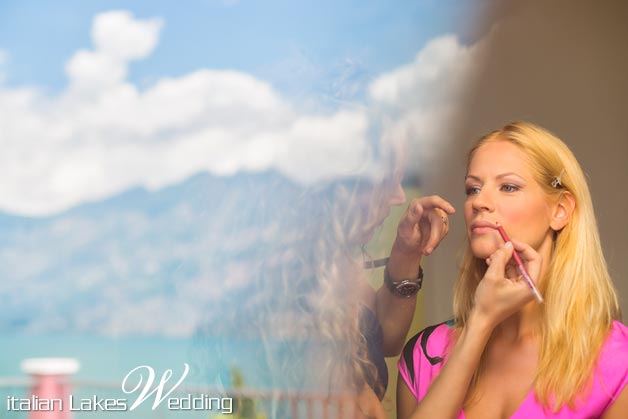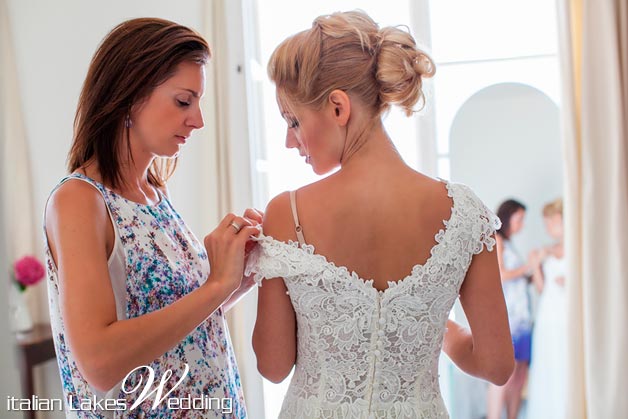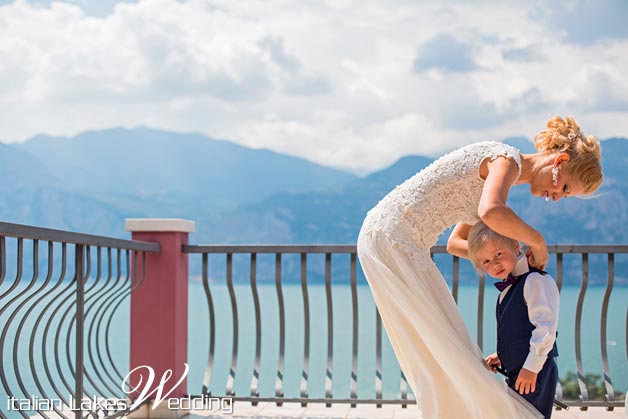 An Estonia Ceremony at Malcesine Castle
Kathy and Martii's ceremony was planned at Malcesine Castle. A stunning venue overlooking Lake Garda. Wonderful floral decorations in different shades of pink enriched the aisle and the balcony with great panorama. It was the perfect frame for an intimate ceremony accompanied by a string quartet.
Ceremony has been created on bride and groom's tastes and needs and as Kathy wanted, it was completely translated in Estonian. It was a special touch that added a lot of emotion to the event.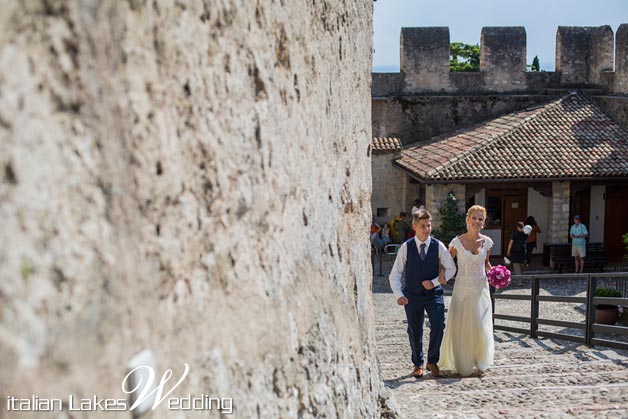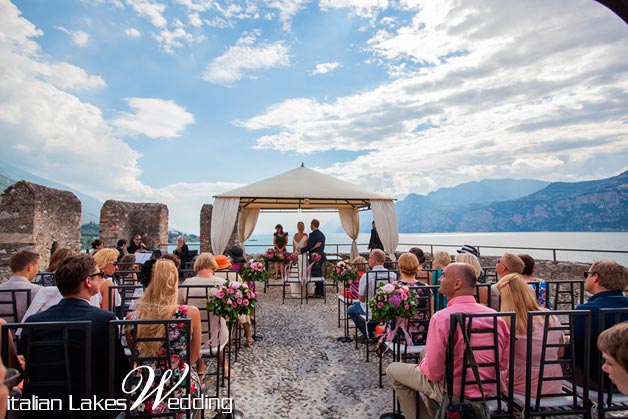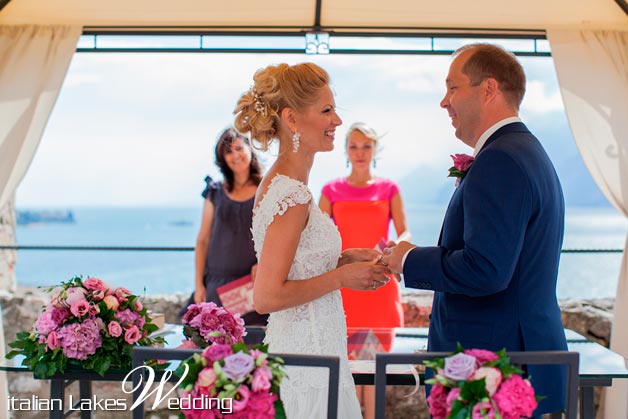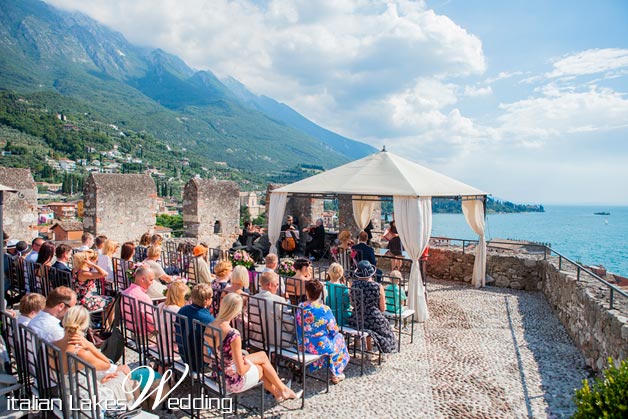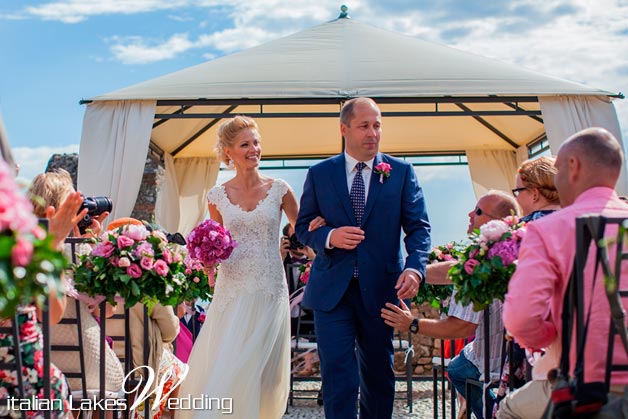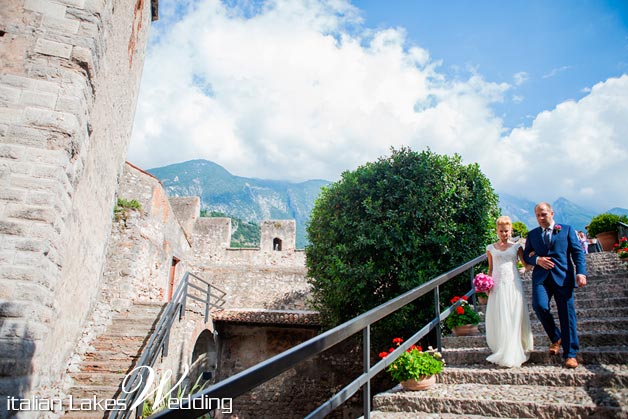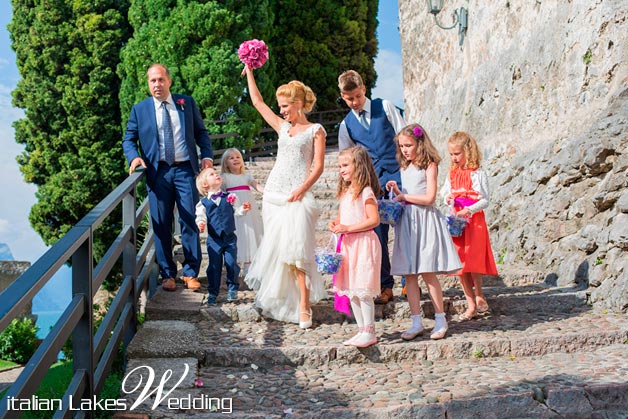 A Cruise on Northern side of Lake Garda
After the ceremony bride and groom and their guests got on a boat for a trip on Northern side of Lake Garda sipping Prosecco wine. A sunny and warm day did the rest, air was so clear that you could even see the other side of big Lake Garda.
A special experience everybody will remember forever!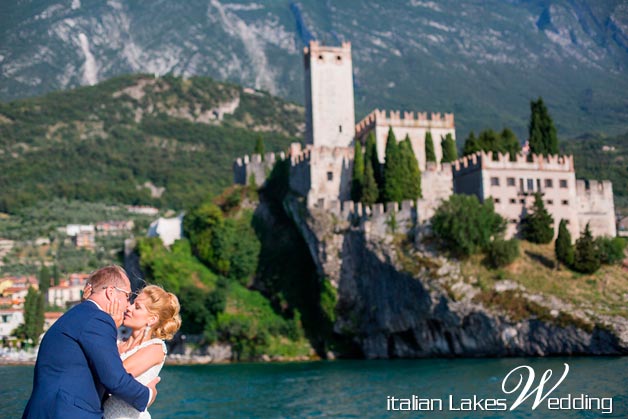 An Intimate wedding reception in the heart of Malcesine Village
After the mini cruise bride and groom and their guests reached a lovely restaurant in the centre of Malcesine with a pleasant walk.
It is an intimate venue for a delicious dinner.
Floral arrangements welcome the group at the entrance. Aperitif was set in the terraced garden of the restaurant overlooking the Lake. From here they could also see the castle where Kathy and Martti tied the knot!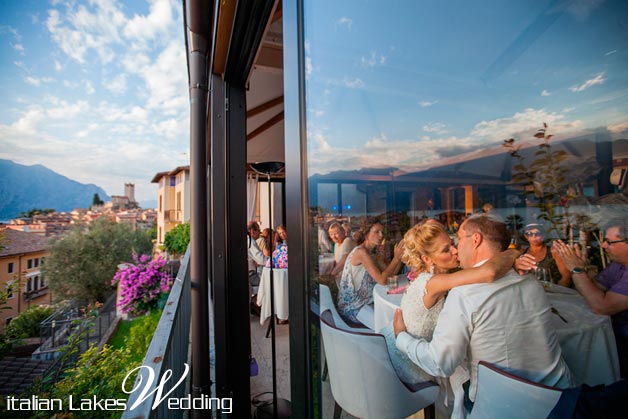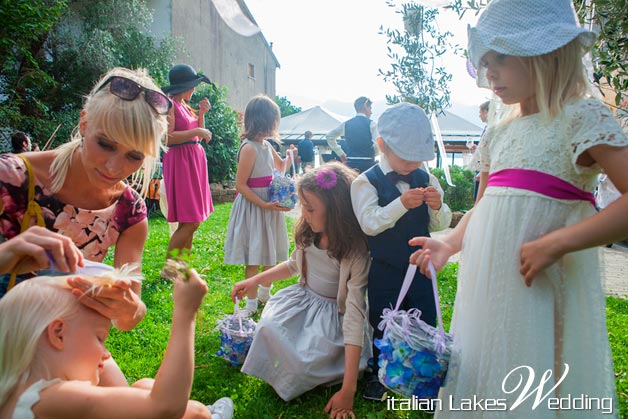 After a lovely dinner wedding cake was served in the olives garden. Olive trees are typical on Lake Garda and Kathy really wanted to set the wedding cake cut here with lanterns and fairy lights. She was really moved. It was what she dreamt for this moment!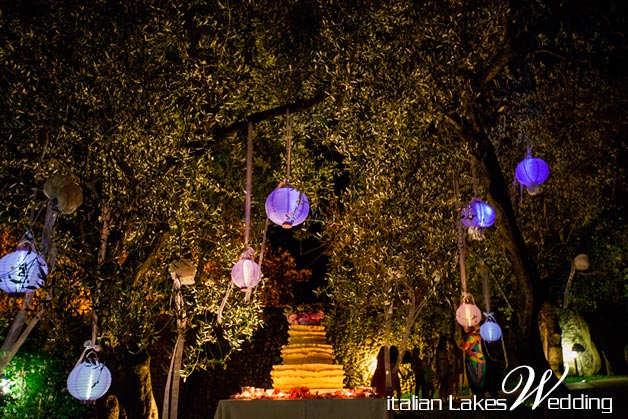 After the cake it is time for music! They choose Renato Micaglio. An incredible performance! He was the same musician that played also at Tom Cruise and Katie Holmes' wedding on Lake Bracciano in 2006.
For their first dance Kathy and Martti chose an Italian song: Il Mondo by Jimmy Fontana an evergreen for Italians.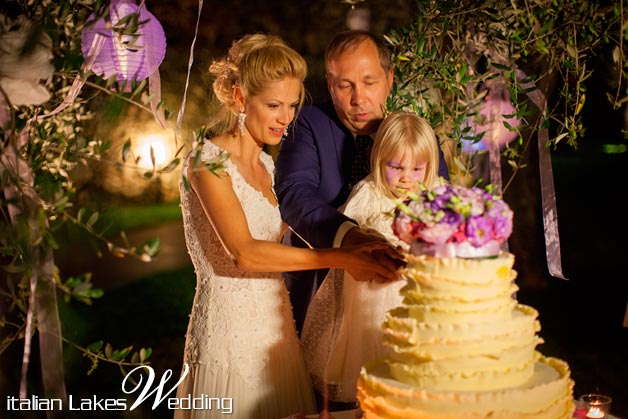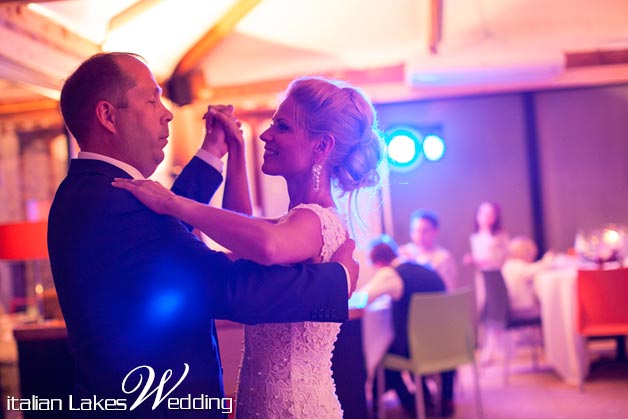 What a great day! I loved ever single moment of it!
This wedding is also featuring on HELLO! – Estonia magazine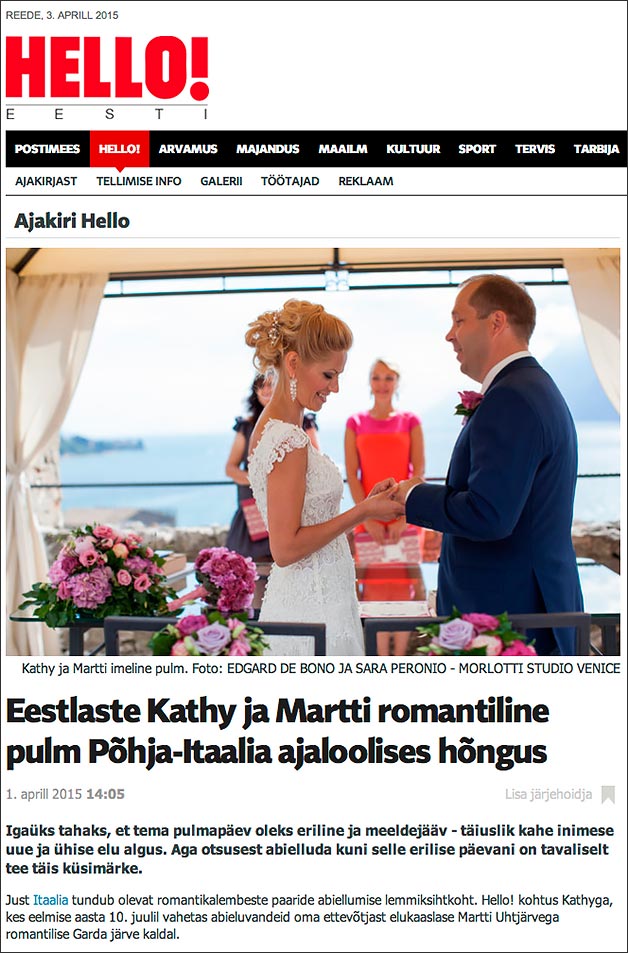 Thank you Kathy and Martti for sharing such a great moment of your lives with me!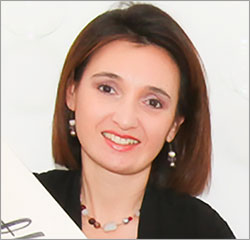 Katiuscia
is our chief planner for Veneto region, Lake Garda, Verona, Venice, Valpolicella Veneto Countryside and Dolomites. She has a degree in Architecture and Interior Design and she comes from this world.
Her background and natural creativity will be at your disposal to create a wonderful scenography, some amazing arrangements and choose little pretty details that will make your wedding just unique!
Moreover her problem solving qualities will be helpful to arrange to a wonderful day on Lake Garda.

For any information about a
wedding at Malcesine Castle on Lake Garda
please
contact Katiuscia