ust imagine a small medieval town surrounded by breathtaking nature: Lake Garda on the West side and Mount Baldo on the East side. Between lake and mountain
Scaliger Castle
stands out with its majestic battlements and towers. This is the town of
Malcesine
, chosen by
Corrianne and Christopher
as perfect destination for their
wedding in Italy
.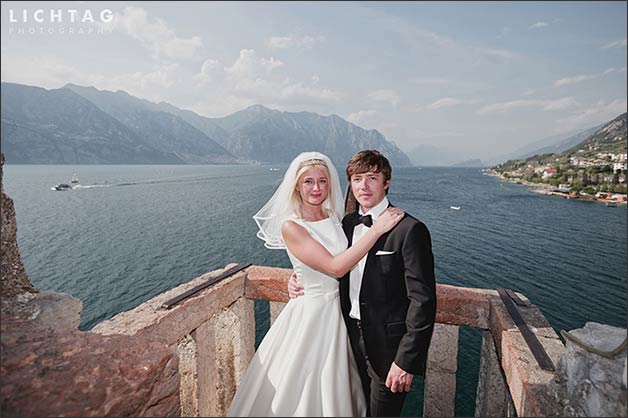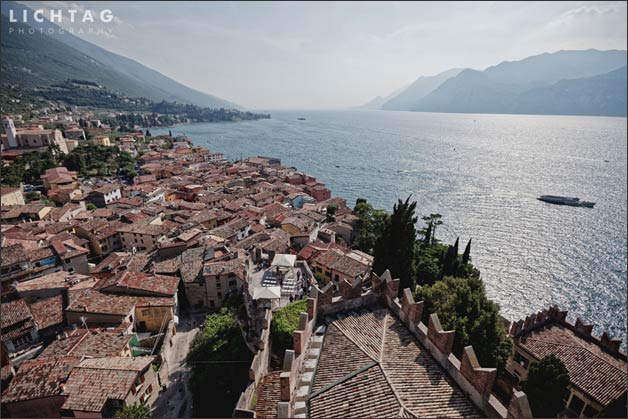 This lovely English couple contacted us last season. From the beginning they felt that they could fall back on their professional planner to the point that they never visited the locations in person before the wedding. Katiuscia offered them a wide range of options, but when she sent them image of the stunning venue from the terrace of the Scaliger Castle over the glowing lake, Corrianne fell in love with it and she had no doubt: this was to be their wow factor!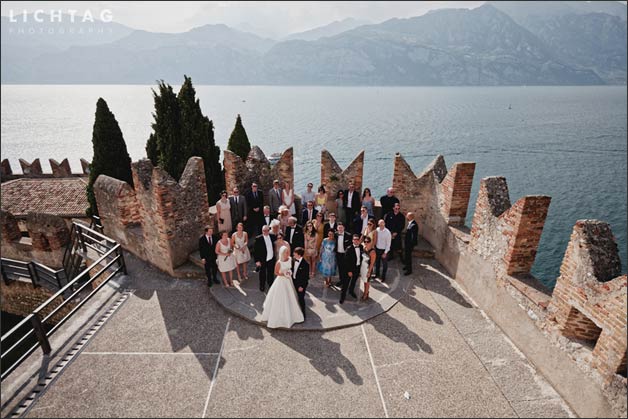 Bride arrives at the Castle overlooking Lake Garda
Bride and groom's hotel was located just a few steps away from the medieval heart of Malcesine village, just few steps from the fairy-tale castle where they exchanged their wedding vows.
After getting ready at the hotel, a white nice decorated tuk-tuk drove the dreamy bride and her bridesmaids to the castle, up to narrow medieval roads of Malcesine. What a fun way to reach the ceremony venue!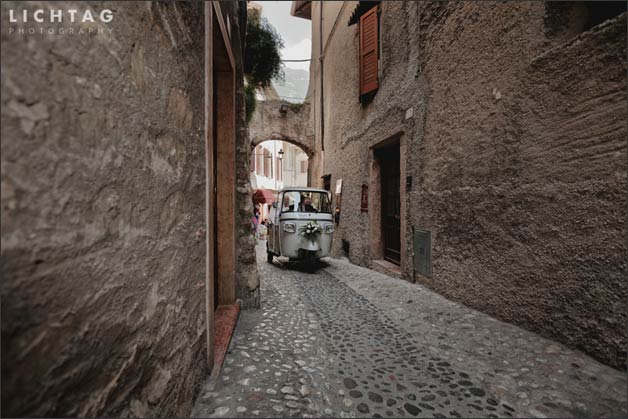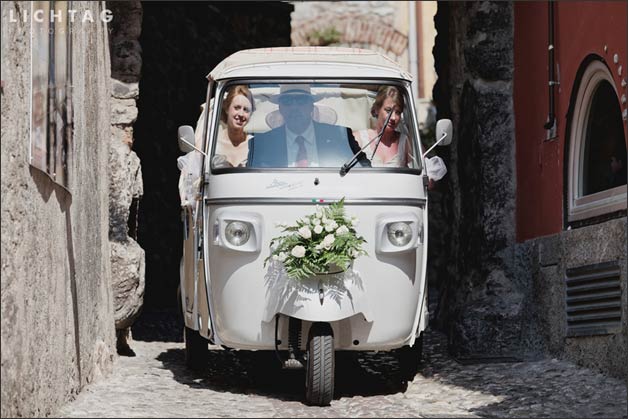 An intimate ceremony at Scaliger Castle on Lake Garda
Corrianne chose a very elegant and simple lily-white silk gown which made her just stunning. When the bride got to the castle terrace on her dad's arm, groom and guests were already waiting for them. A string quartet started to play classic music, making the bride's grand entrance really touching!
360 degrees amazing view over the Lake Garda, beautiful baroque music, bride and the groom looking into each other's eyes: a very intense emotion which left everyone speechless.
The groom was dashing in his stylish black suit and bow tie.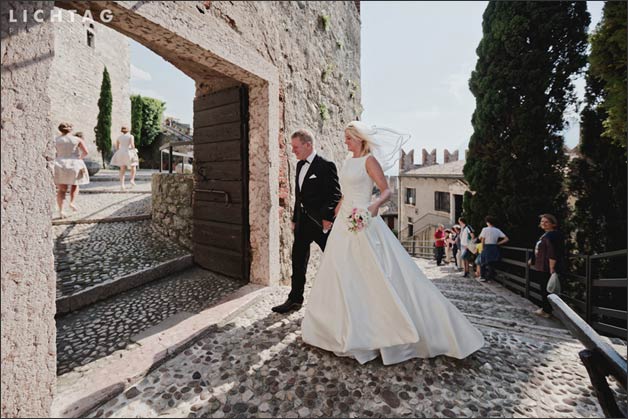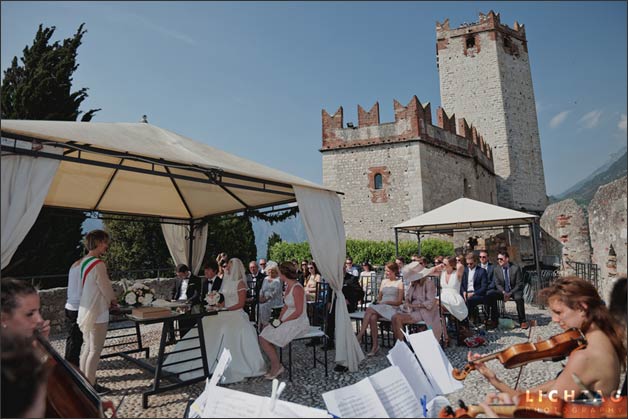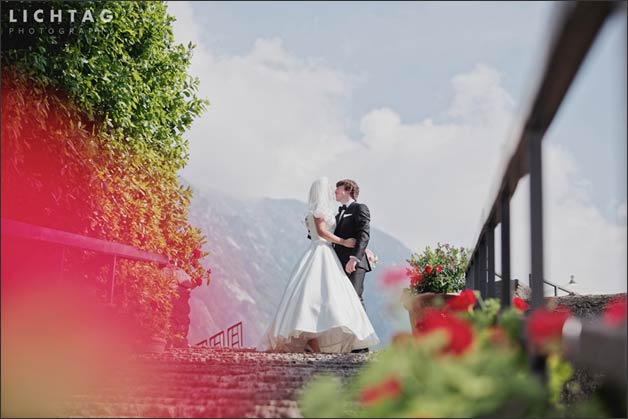 A cruise around the North part of Lake Garda
After the intimate and suggestive ceremony, there was no need to change location to have a fantastic photo shoot: a professional wedding photographer such as David Christian Lichtag can make of your big day a real masterpiece with a scenery like this!
A pleasant walk down the rocky roads of romantic medieval hamlet with their ancient buildings made of stones and bricks, took the newlyweds and their guests to the dock of Malcesine.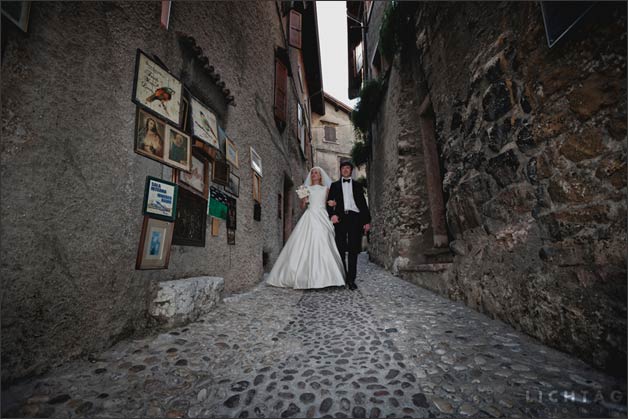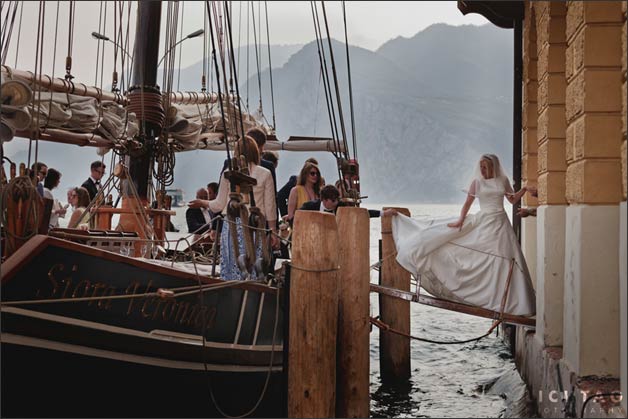 Everybody was charmed by the beauty of a real gem of Lake Garda: an accurately restored ancient clipper ship waiting to take everybody on a very special cruise along the Northern coast of Lake Garda. A unique perspective over the stunning landscapes, not visible otherwise from the mainland, it was enchanting!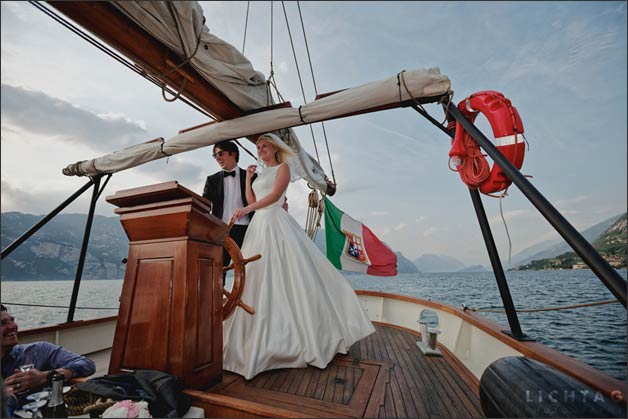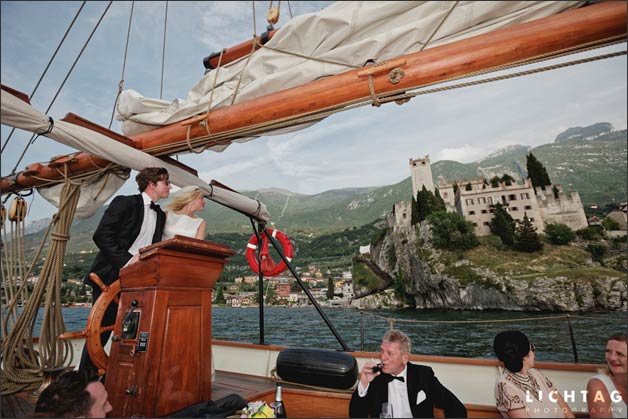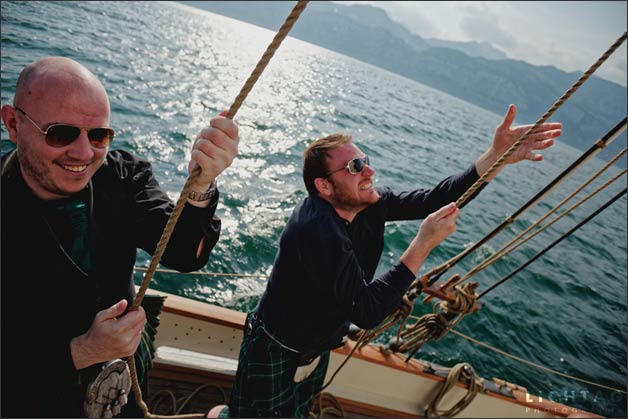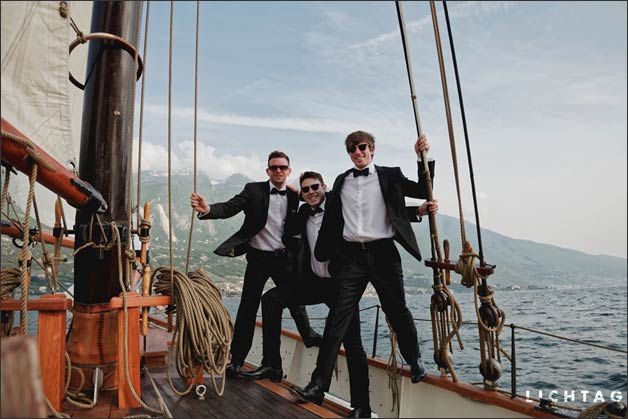 An intimate restaurant on Lake Garda to celebrate
For their wedding party, Corrianne and Christopher chose a Michelin starred restaurant in the heart of medieval town. While having their aperitif on the terrace, the guests could enjoy the glorious view of the castle where the ceremony had taken place.
In the garden among ancient olive trees, inspiring speeches of the guests were given in an atmosphere of magic intimacy.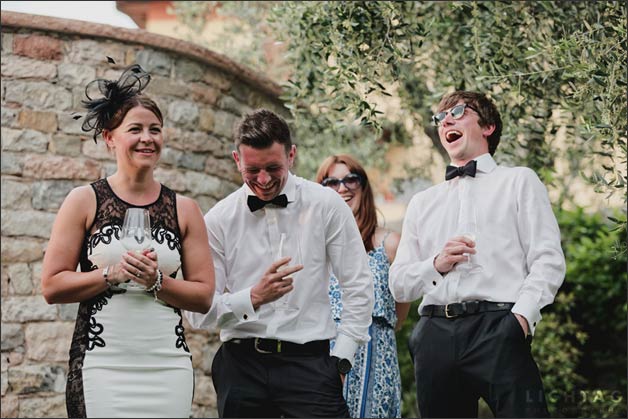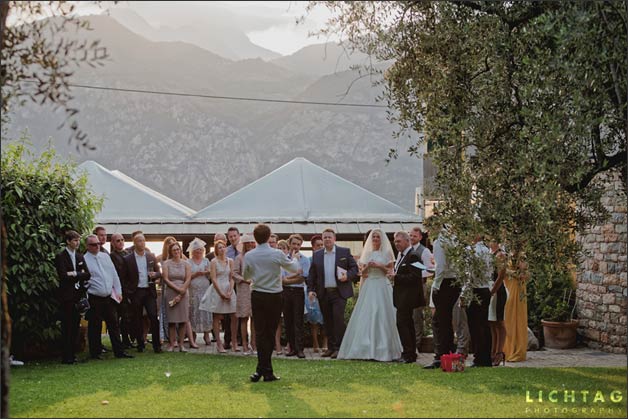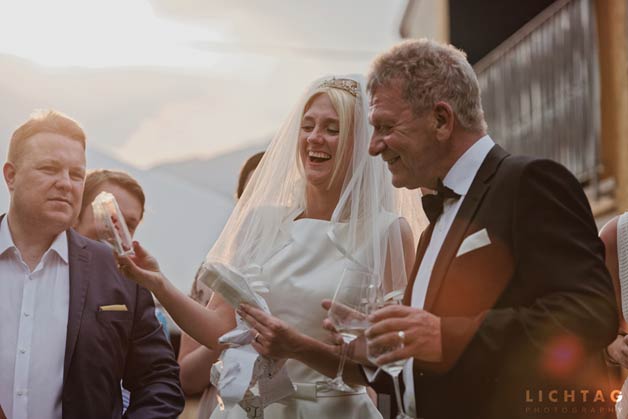 Italy knows how to pamper its guests when it comes to food and wedding banquet was just sumptuous, an unforgettable experience which honoured the food heritage Italy is proud of!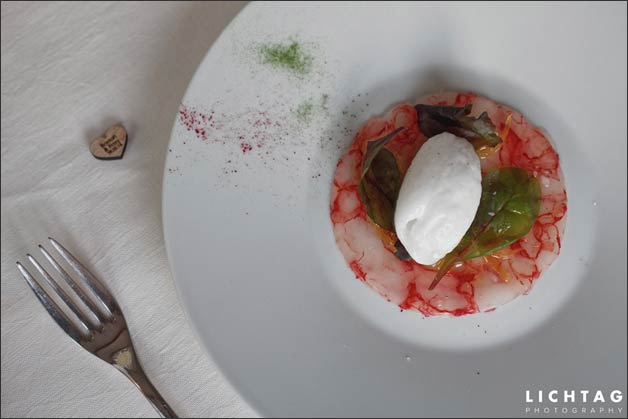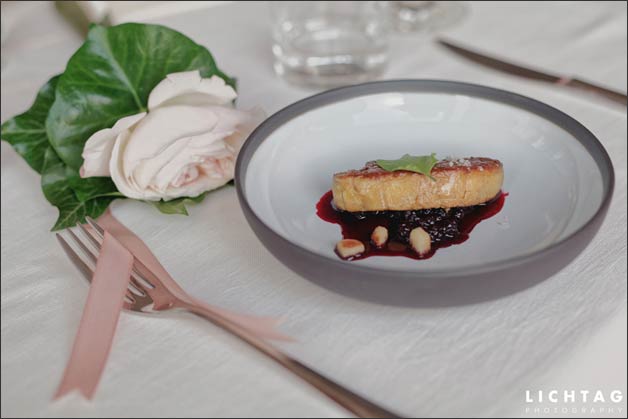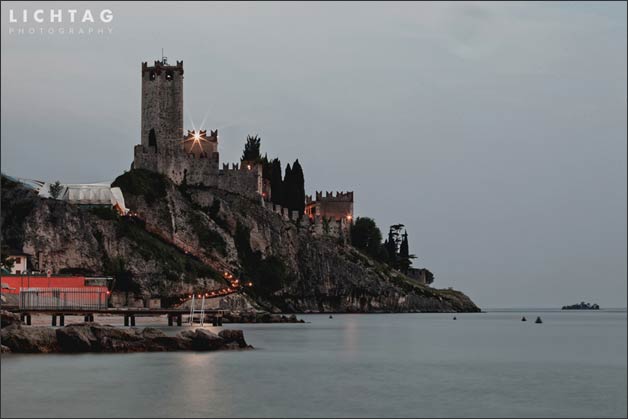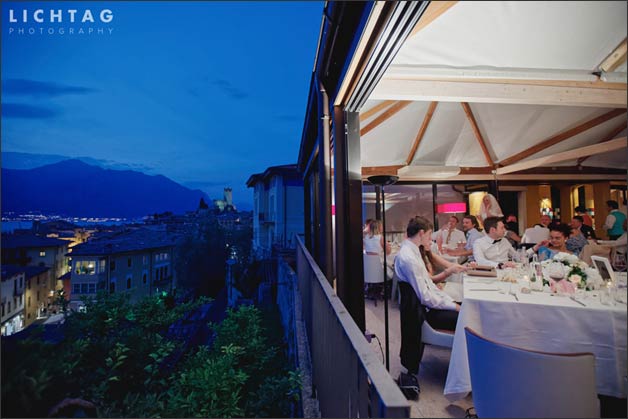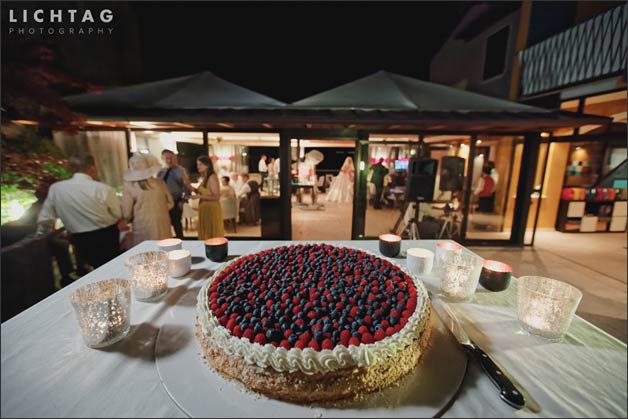 After such a luscious banquet, it's time for music! A live DJ-set was arranged to make peopleshake and have fun till late at night. Corrianne and Christopher led the first dance, of course!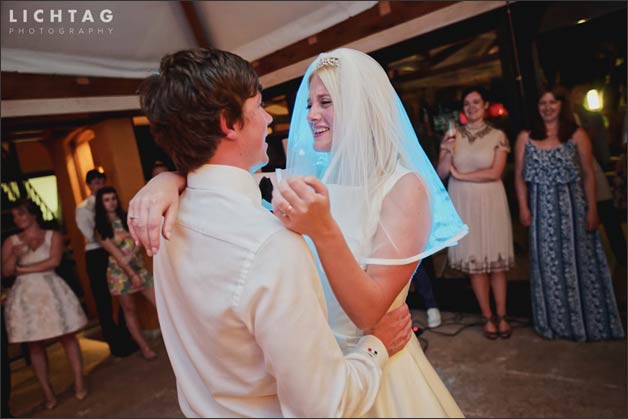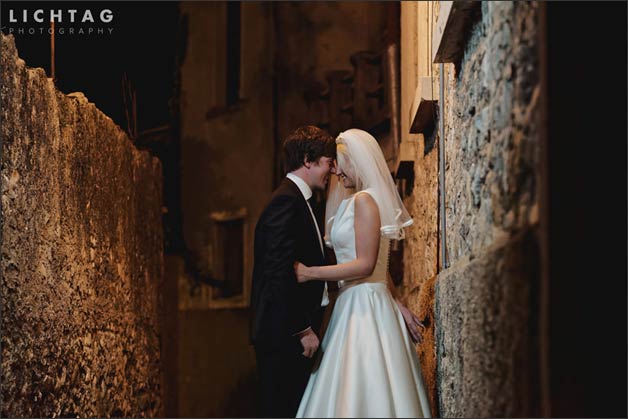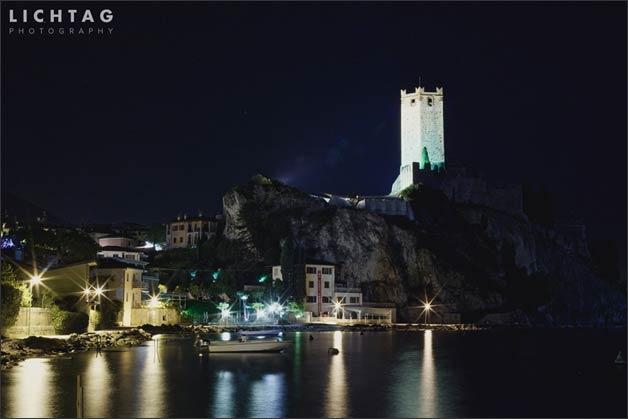 The twinkling lights of Malcesine by night were magic: a romantic frame for a picture which will forever be in Corrianne and Christopher's hearts.