We had many different wedding on our likes but this time I would like to telly about a very special event to me: an Italian-Japanese wedding on Lake Maggiore.
Roberto and Ryoko are a very special couple. He is Italian and she is Japanese they both live together in China.
For their wedding they choose Amazing views of Lake Maggiore because Roberto family lives in the surrounding area. For Ryoko this was the occasion to celebrate her wedding in Italy in a very different way.
Roberto and Ryoko was a perfect blend of different traditions.
First of all we cannot notice Ryoko wedding dress, it was a kimono.
I've learnt a lot of interesting things about kimonos. They are T shaped straight-linen robes worn so that the hem falls to the ankle, with attached collars and long wide sleeves. Kimonos are wrapped around the body always with the left side over the right and secured by a sash called obi which is tied at the back.
Ryoko wore a wonderful kimono in red, cream and green colours. Getting ready this time was really different. Ryoko also wore traditional Japanese hairdo with a big flower and charms.
Wedding shoes very particular too she had her so-called geta with split-toe socks called tabi.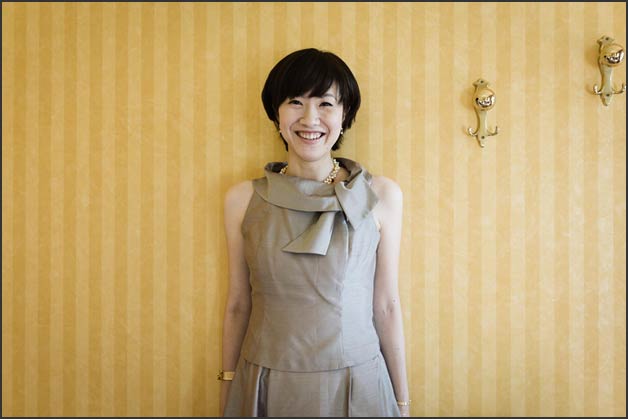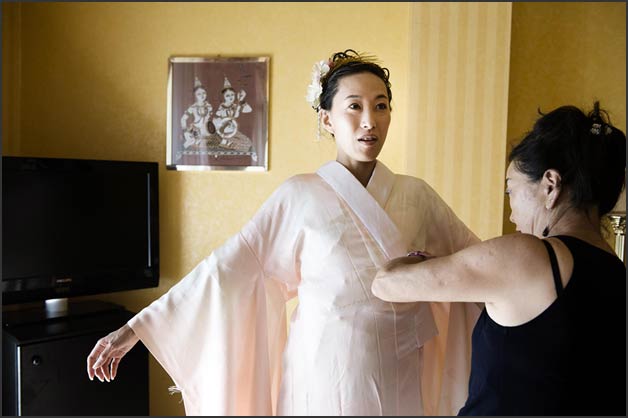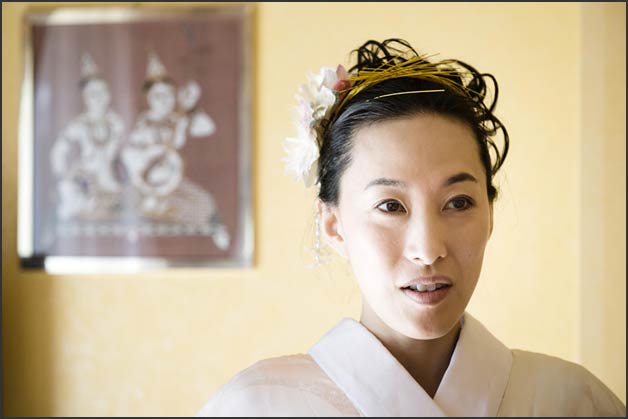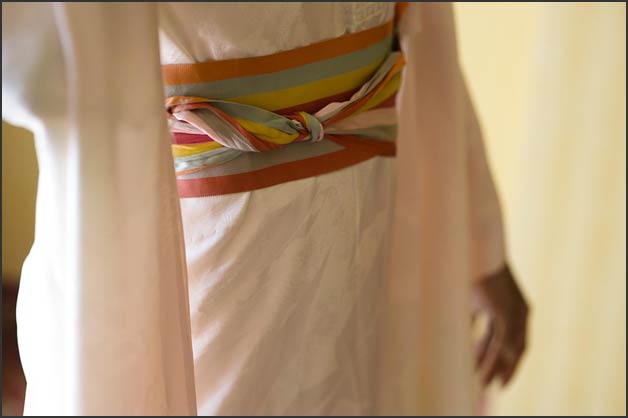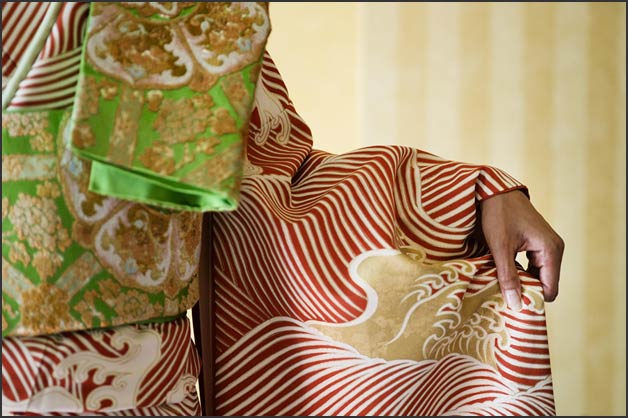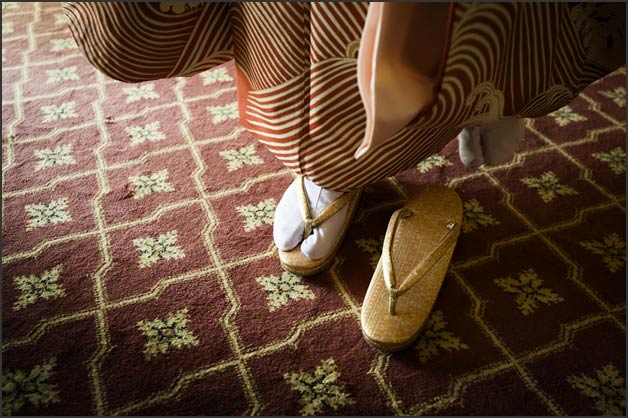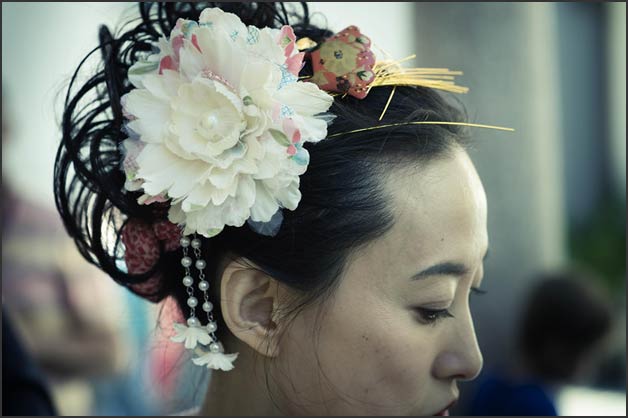 She was absolutely beautiful!!
To complete all this beauty a wonderful orchids bouquet designed by La Piccola Selva floral designers.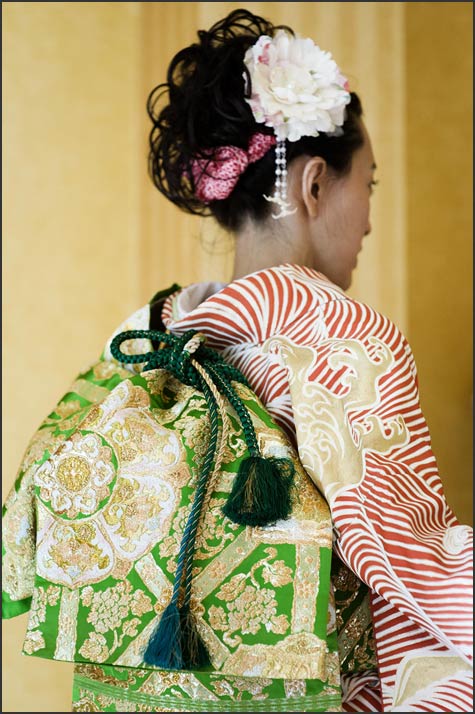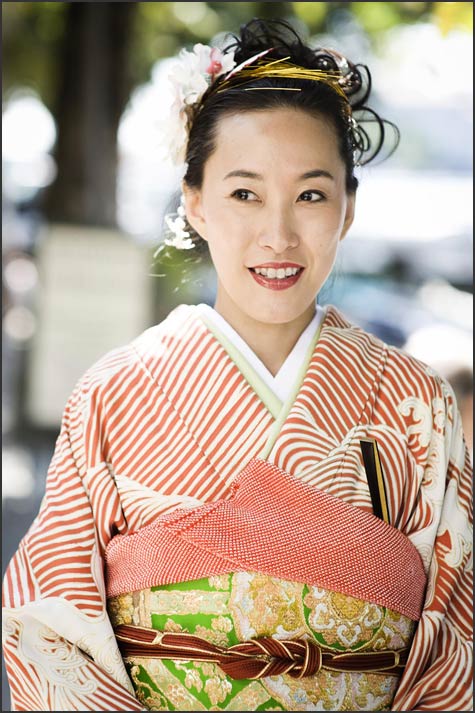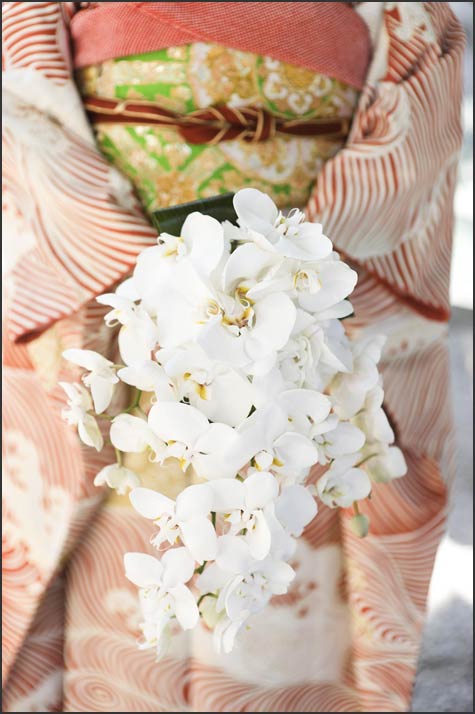 After getting ready Ryoko reached Pescatori Island where Roberto and the whole family was waiting for her.
Roberto and Ryoko opted for a Catholic ceremony in the lovely little church on Pescatori Island, St. Vittore Church.
The church was absolutely stunning with orchids and a very intimate group of guest who joined such a private and cozy event.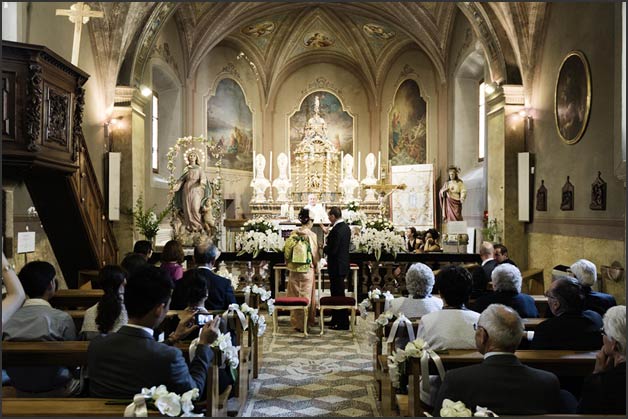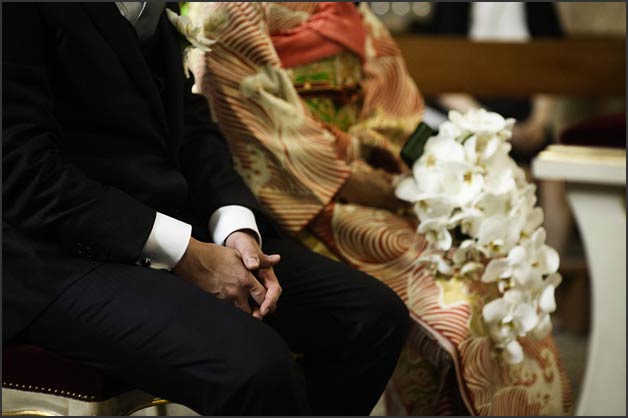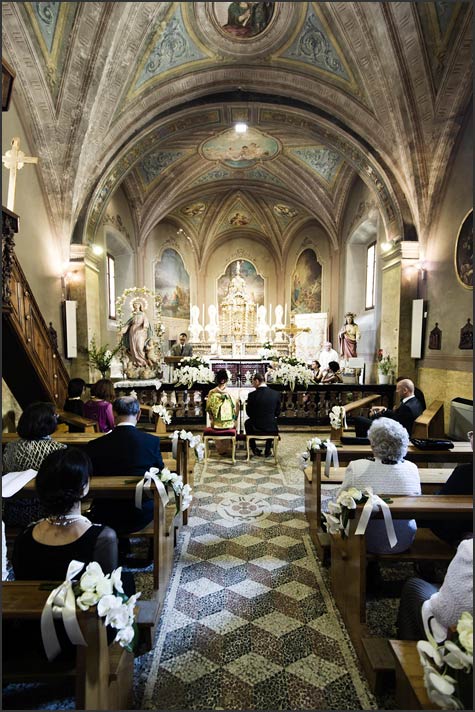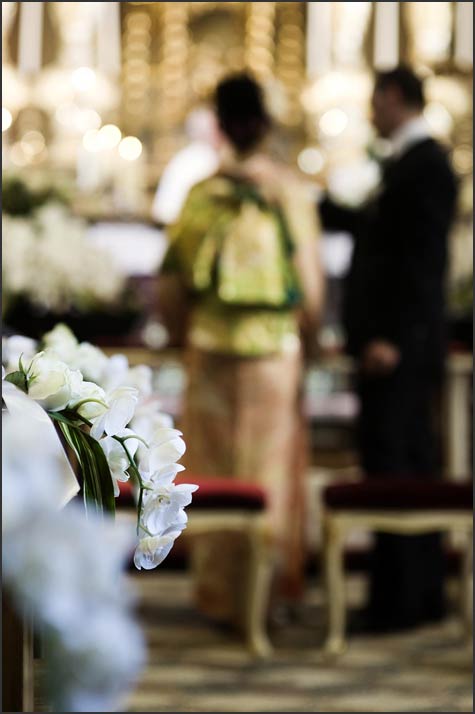 After the ceremony Roberto and Ryoko took the chance to have a short boat trip on the Lake and on Isola Bella. Just the time to have some wonderful wedding photo taken.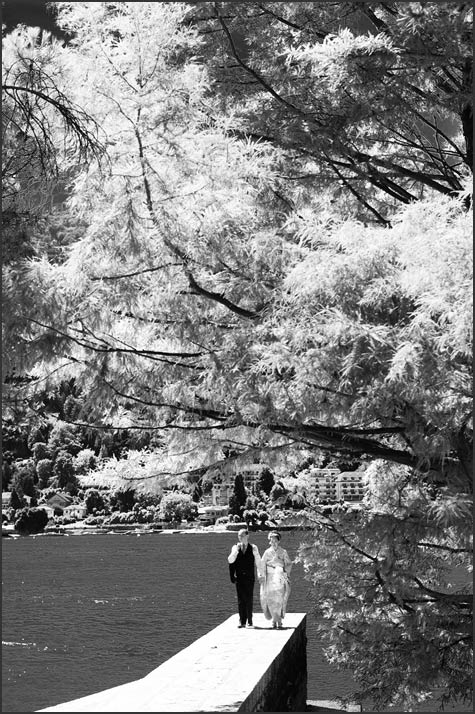 Reception was held in lovely restaurant on Isola dei Pescatori overlooking Isola Bella.
Ryoko decided to wear another elegant and less traditional dress for the reception to be more comfortable and enjoy the day with her guests and husband!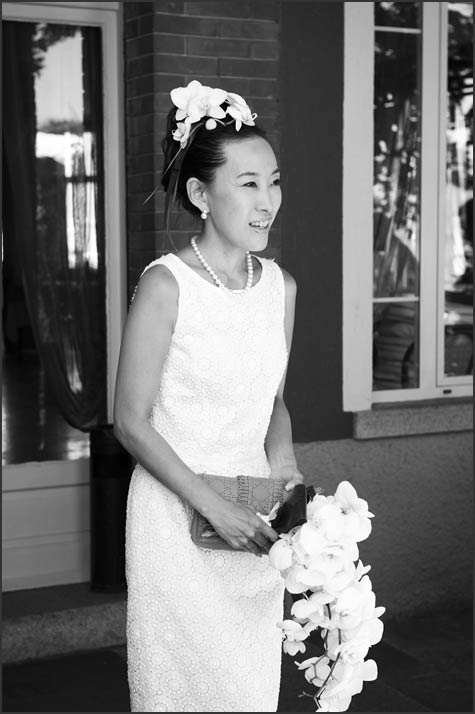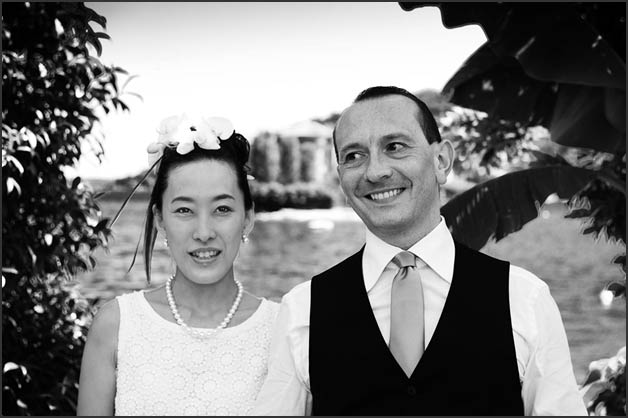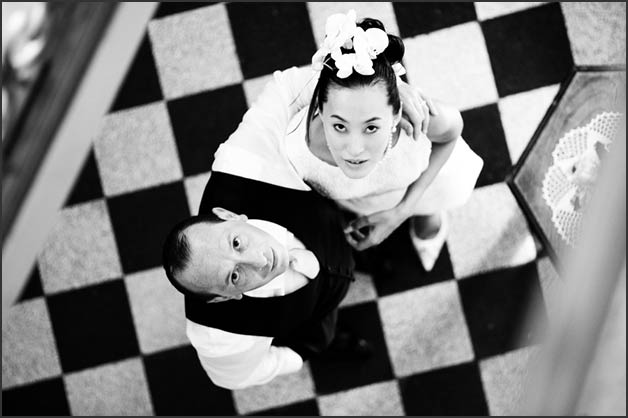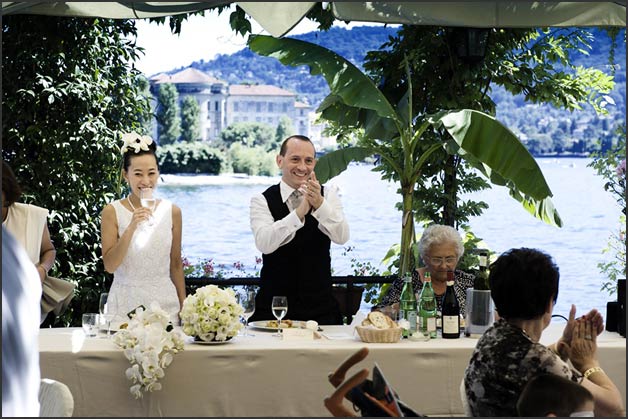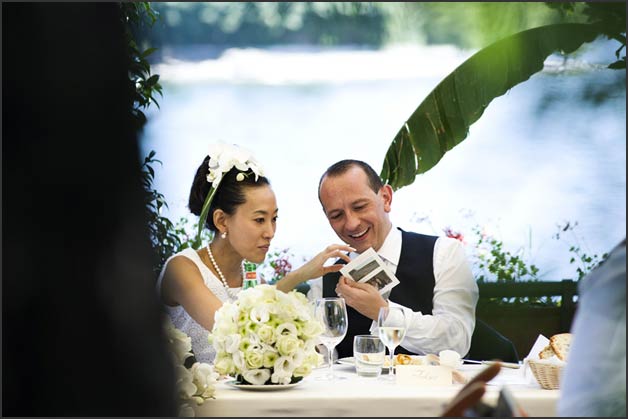 Beautiful floral arrangements by La Piccola Selva embellished the tables.
They were all made by Lisianthus, Chrysanthemum pompon and roses.
Some other little details like silk little bags with traditional Italian sugared almonds, fine wedding menus cards written in Italian and Japanese and some Italian-Japanese restaurants to make the conversation easier for all.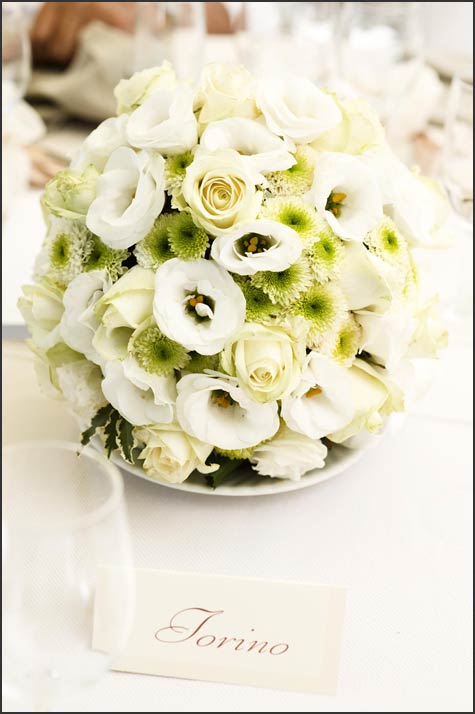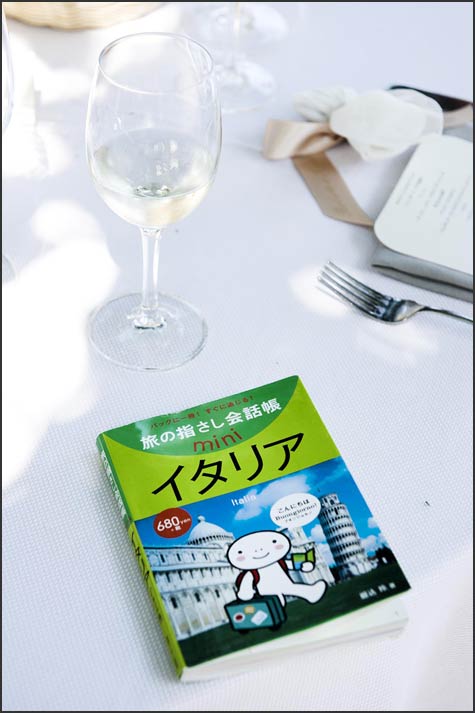 Respecting the Italian tradition Roberto wore a light black suit with grey tie and reception was held for lunch.
After the reception youger guests spent the rest of the day and evening in local clubs on Lake Maggiore… just keeping the night alive!
This is surely a different wedding on Lake Maggiore, we loved planning this and Ryoko and Roberto were an amazing couple.
Congratulations guys!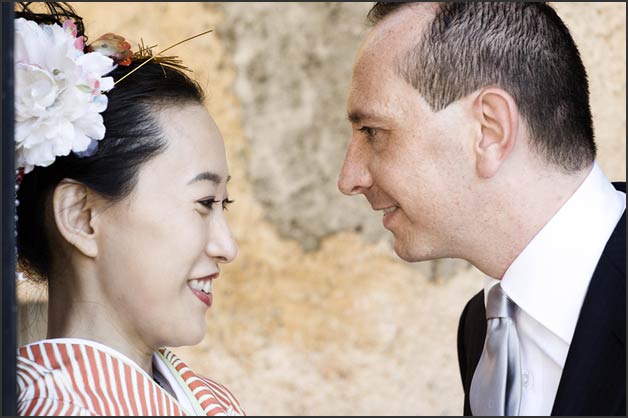 A very special thanks to Alessandro Zingone for wonderful shots of the event and to my lovely colleague Stefania Zen – who usually work on Lake Bracciano but that was a great help in this case!