oses, Orchids and Freesias… these are the flowers that
Bianca and Gianluca
chose for their wedding on Lake Orta. They planned their religious ceremony in the church of Sacro Monte di Orta and wedding reception at Villa Crespi.
They chose an elegant and fine arrangement based on white. This is what our lovely bride Bianca loved… well in Italian Bianca means white! But she did not choose it for this reason.
I choose white because it symbolize purity, innocence, peace of mind, it's exactly how a wedding should be when two people in love are united in front of God.
Bianca and Gianluca's love story is beautiful! They met in a chat on internet 8 years ago and fell in love! Gianluca lived in
Milano
and Bianca in
Timisoara
one of the most beautiful city of
Romania
. Viennese baroque architecture and parks make it considered as a
Little Vienna
.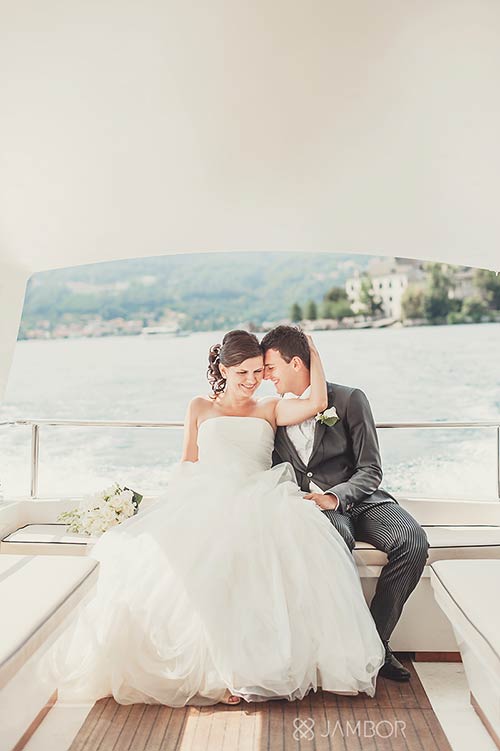 A long love story with such a big distance in between is difficult to manage but this is not Bianca and Gianluca's case. Their love grew up so much that they arrived to the great step: the wedding!
Once decided they wondered where…and again internet was a great help! Surfing on the web Bianca found Italian Lakes Wedding blog where as La Piccola Selva we are present with many posts.
Bianca loved Isola Bella on Lake Maggiore at first but then she was literally captured by the appeal of Villa Crespi. That special atmosphere of Arabian Nights… it was love a first sight!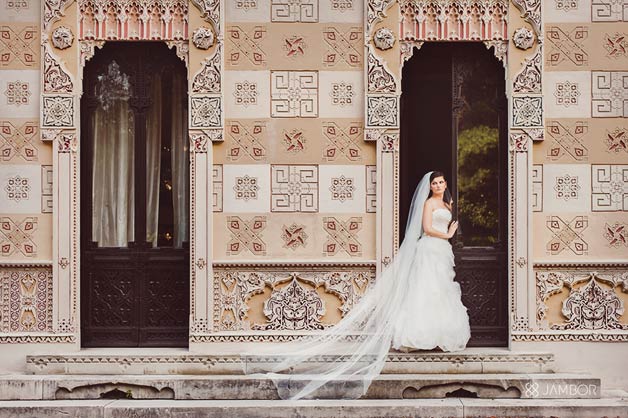 A total white wedding on Lake Orta
After choosing the venue it was my turn! Flowers! As floral designer I was contacted by Ernesto and Valentina, Bianca's wedding planners that followed their event.
Bianca was really decided on flowers she wanted: roses, orchids and scented freesias….and most of all a single colour: white. All should be white for her floral wedding arrangements: bridal bouquet, bridesmaids bouquets, Sacro Monte Church arrangement and centrepieces at Villa Crespi.
White it's so royal… my bouquet was inspired by the bouquet of Charlene Wittstock, the princess of Monaco, which was total white… but mine was better!
This is the best award I could get as floral designer that have worked for more than 20 years with brides with passion and love! Thank you Bianca!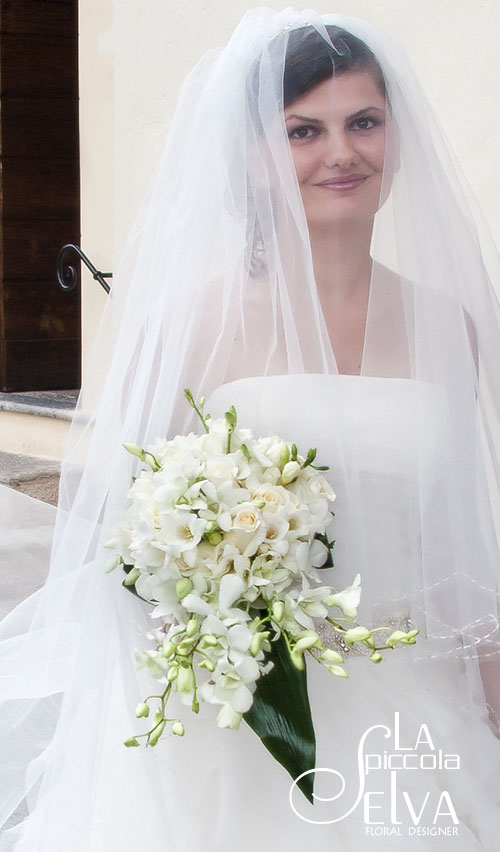 Bianca wanted her bridesmaids in white too! A different choice from usual where bridesmaids wear a different colour.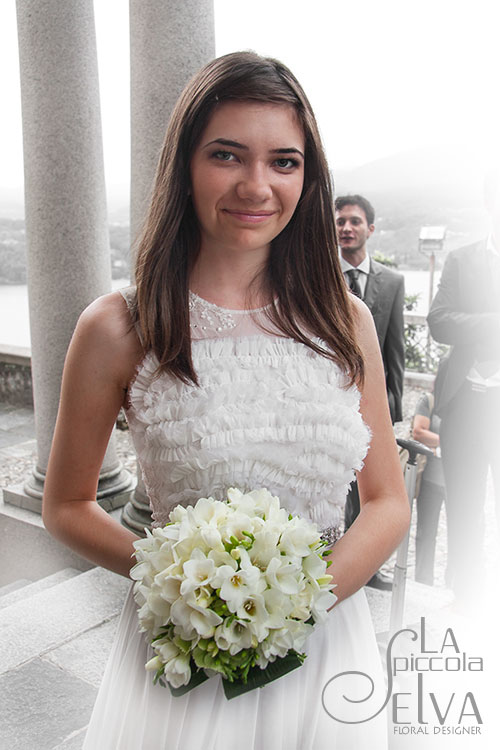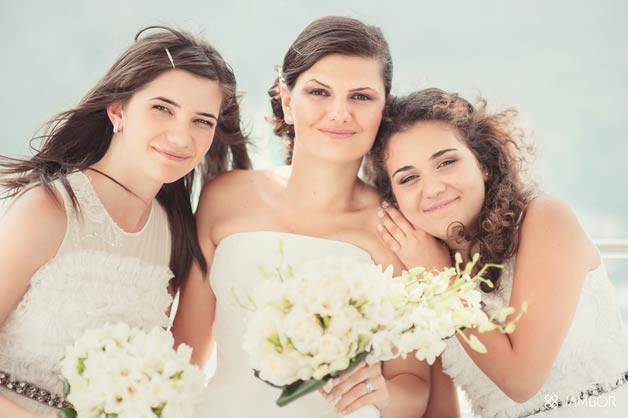 You will notice that also bridesmaids wear white… it was intended to be so, to not make any difference between me and them, because a bridesmaids should be bride's helpers… so her little guardian angels in that special day.
So, for the bridesmaids I created round shaped bouquets with many white and scented freesias on a base of green hydrangeas.
The wedding ceremony at Sacro Monte Church
Bianca was a great bride!
Have you ever seen a bride arriving 40 minutes before groom and guests? This is hard to believe especially in Italy where many brides are often late! Sometimes it is very embarrassing!
Bianca arrived to Sacro Monte church on a Alfa Romeo Giulia Spider, a wonderful sport car of the 60s. it was red with leather interiors and convertible… a perfect Italian style jewel! A very special touch for a wedding.
Bianca was just amazing in her Pronovias wedding dress. She was calm and relaxed.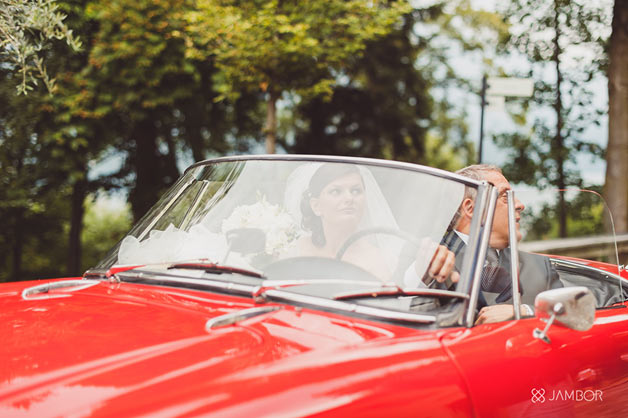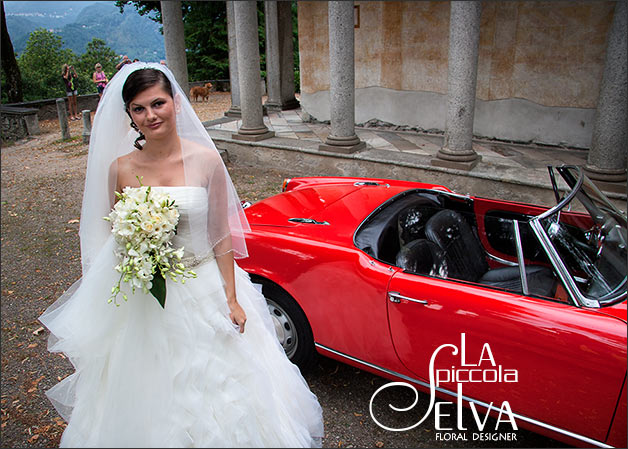 I saw a lot of brides that, because of of their emotions, did not enjoy their wedding day… I knew that the day I get marry and is not "the end of the world" … I was simply happy, maybe because everybody on that day treated me very well indeed 🙂 and it s nice to feel once in your life "number one".
To be sincere i don't like brides that cry… I don' t see the meaning… should be a day of joy and joy means happiness and smiles.
At about midday once guests and groom arrived, ceremony started!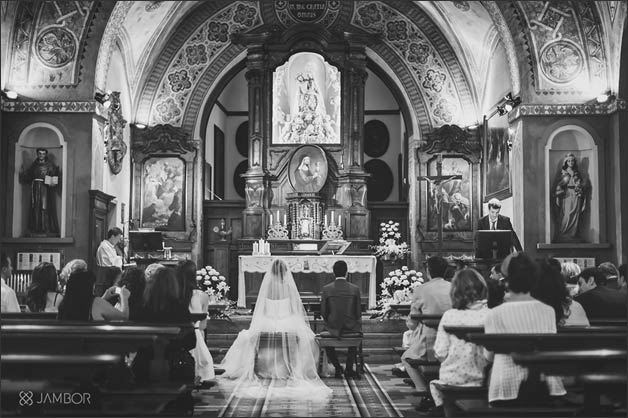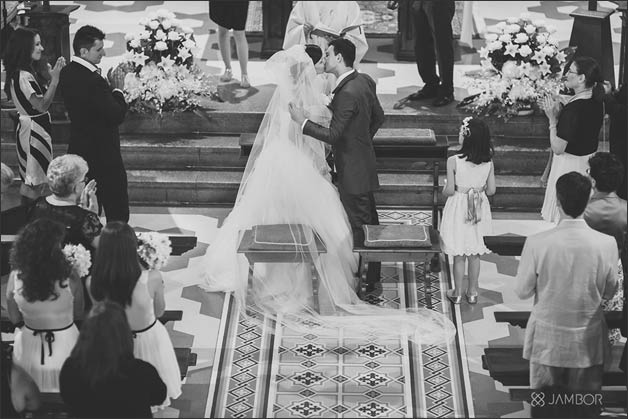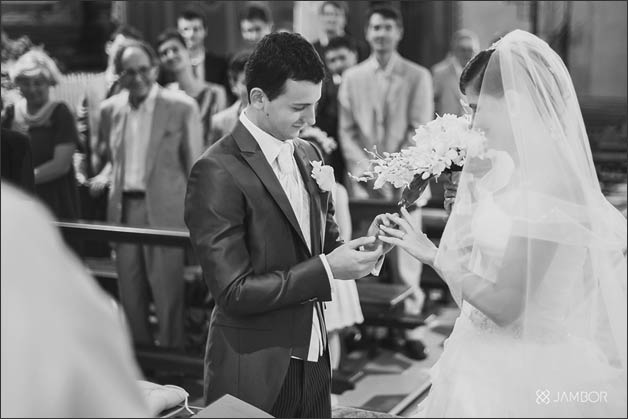 The entire ceremony was held in two languages, iIalian and English… I entered got into church with my brother on "Ave Maria" …the funny thing was when my husband forgot the text of the exchange of our vows, he was very emotional… thanks god that he didn't faint :-).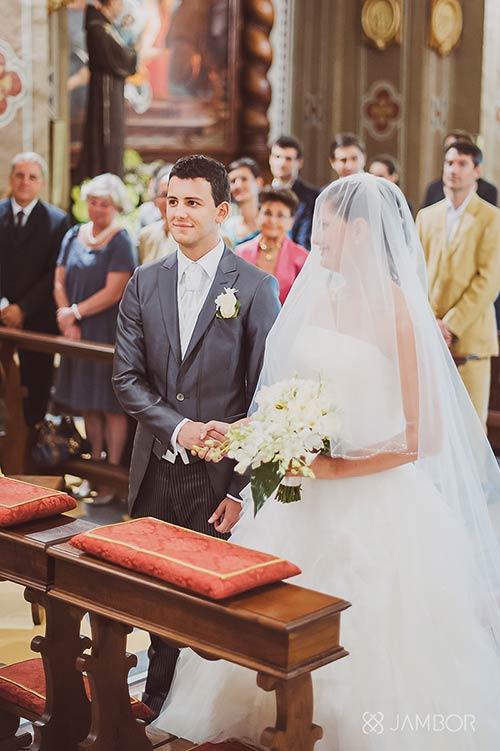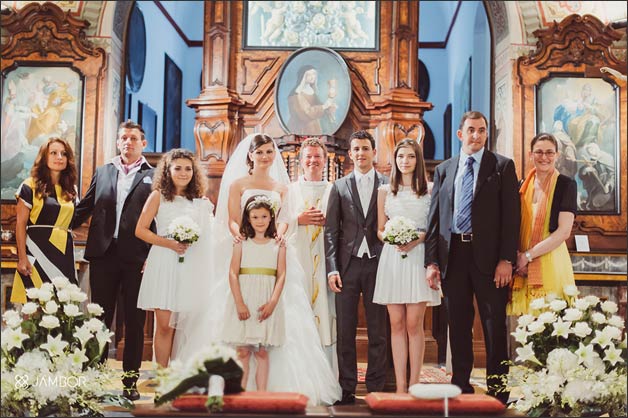 When the ceremony ended and after all pictures that we've taken in front of the church, a little bit to rain started. I was very worried but i remember that someone around us told me "sposa bagnata, sposa fortunata" (this is an italian saying that means "wet bride, lucky bride")…After some minutes the rain stopped and the sun came out I was so glad! Ieft the church with Gianluca on that red vintage car as "husband and wife".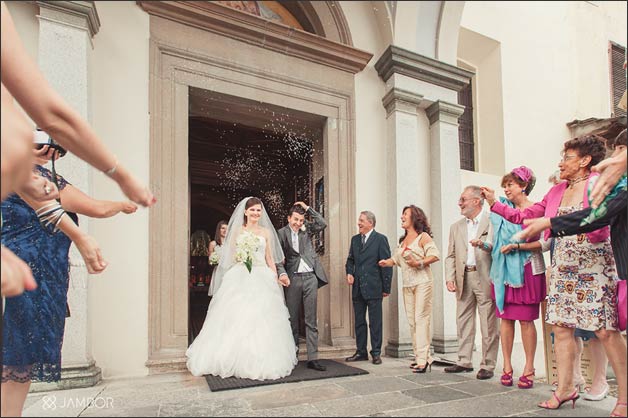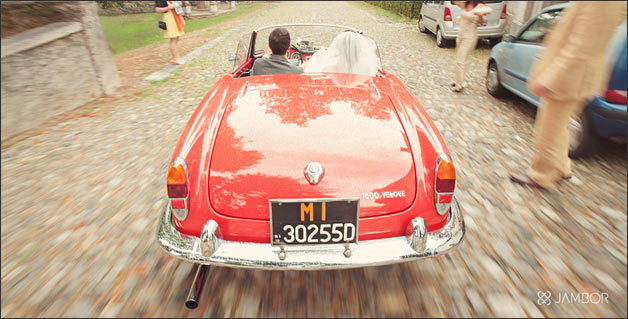 Bianca and Gianluca drove away from Sacro Monte church to reach Orta village main pier. Here there was a motorboat waiting for them to reach St. Julius Island. If you get married in Orta you cannot miss it! Wonderful photos can be taken here, it is a magical place!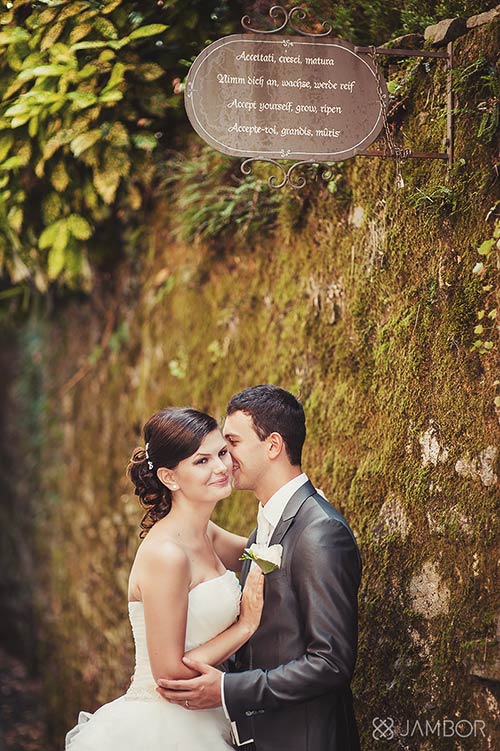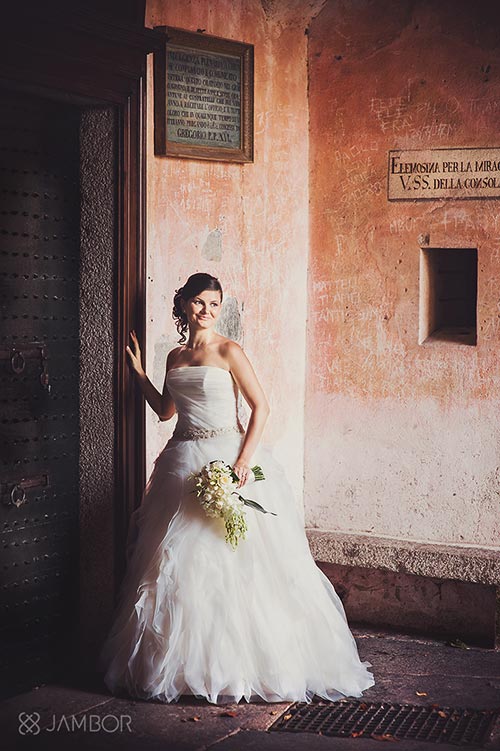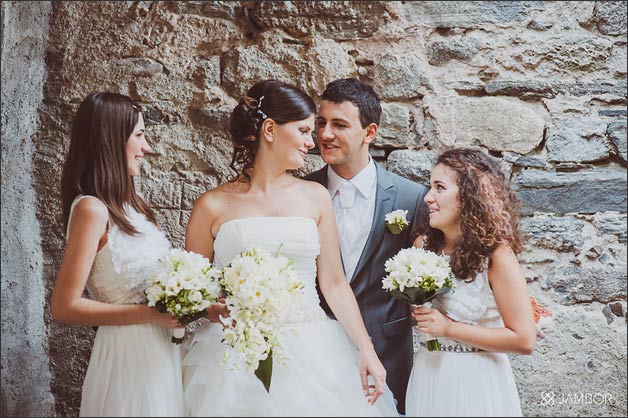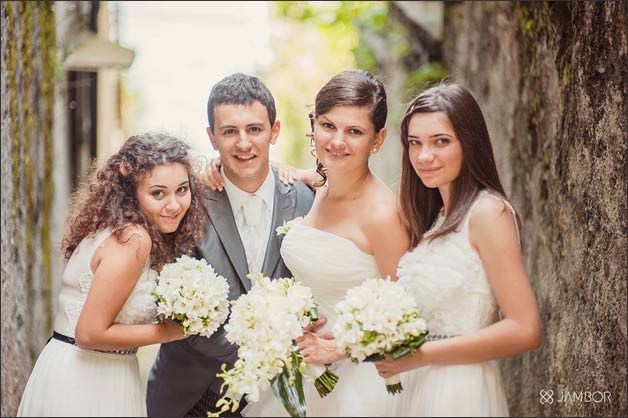 Centrepieces at Villa Crespi for the wedding reception
And here we are at Villa Crespi, the venue Bianca loved looking at our post on Italian Lakes Wedding blog!
Wedding lunch was served in the main room, the same of Lucia and Francesco's wedding , do you remember it? Main colours are blue and gold so white flowers Bianca chose were perfect!
I created the centrepieces with Dendrobium orchids. They were placed on top of tall glass vases.
Compositions lightly dropped out of the vases creating a little and joyful floral explosion. it was perfect to break a little the dark blue of the reception room.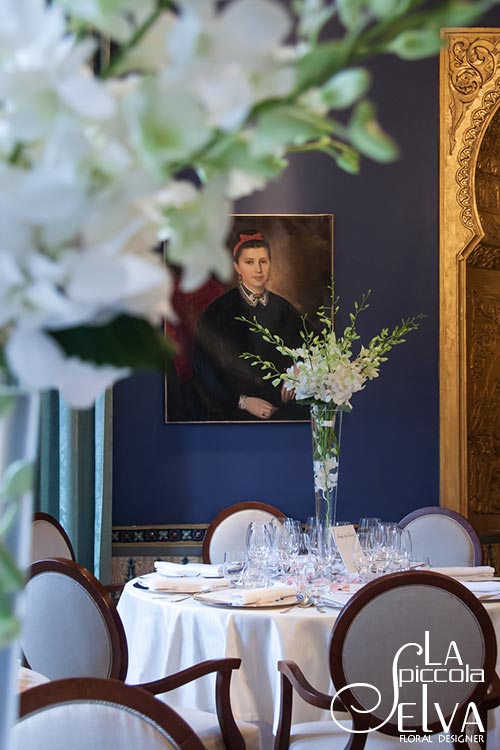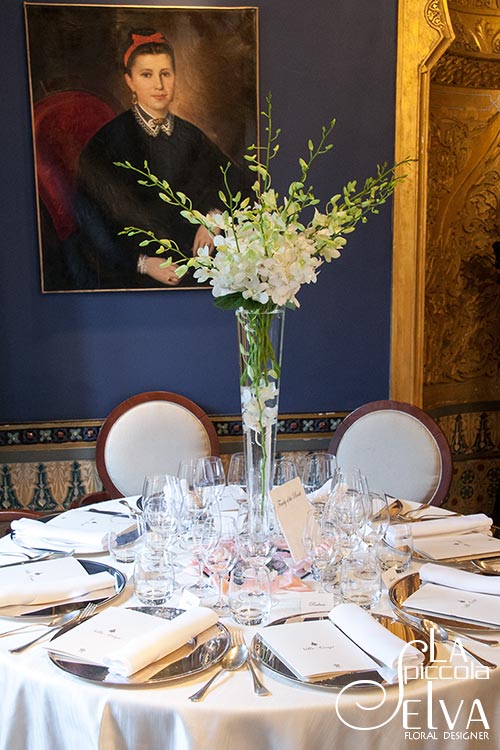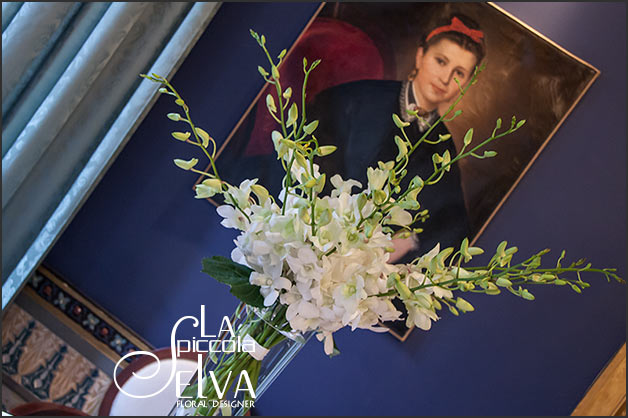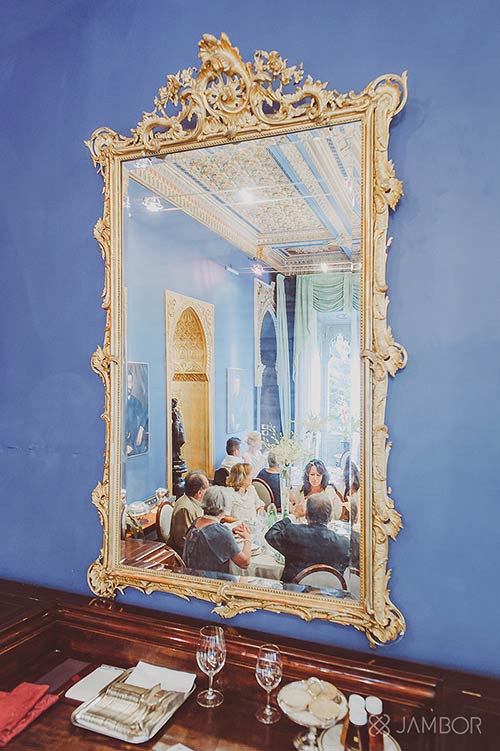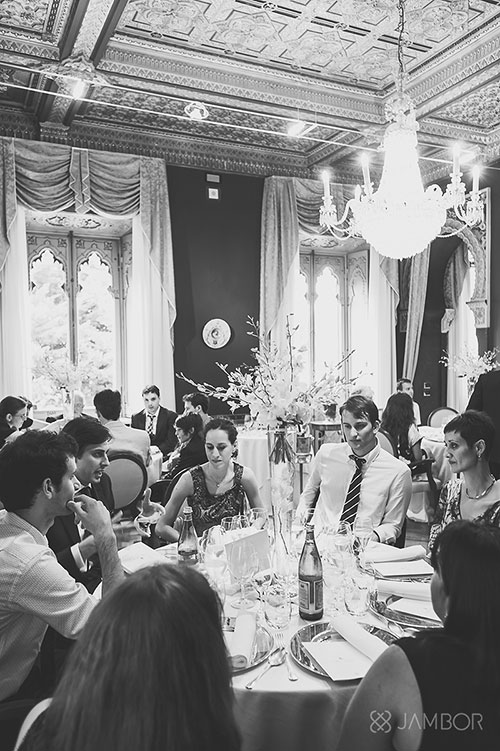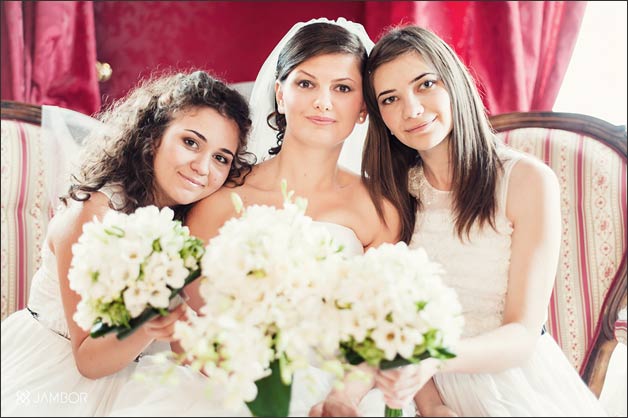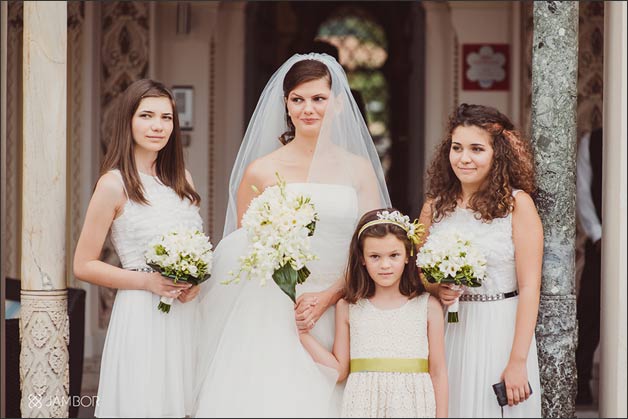 The best part of the reception was the wedding cake! A wonderful total white wedding cake cake with peach and vanilla filling, gorgeous!. It was decorated with roses buds, orchids and scented freesias.
The cake it's the only sweet thing I ate on my wedding and it was real good 🙂 and again the flowers made that wow effect, a truly masterpiece from another time… perhaps from Shakespeare's wonderful play A Midsummer night's dream.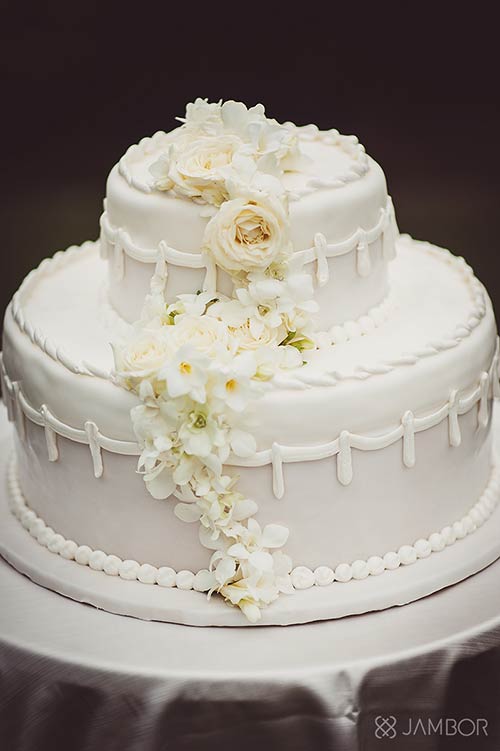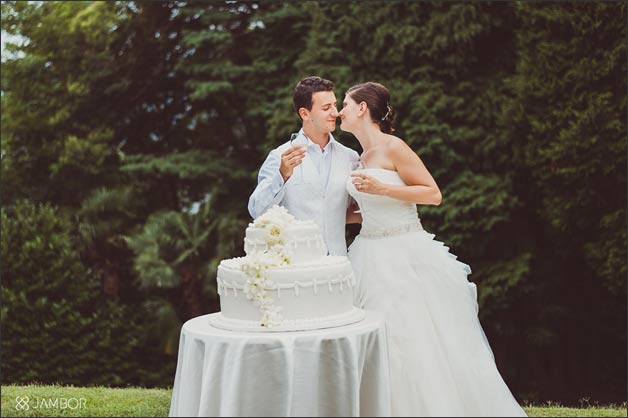 Do not miss Riccardo Lavezzo trailer video. There are just few minutes but you can appreciate magic atmosphere of the day of Bianca and Gianluca. Music is by Guns n' Roses – November Rain.
I like Guns N' Roses, it's one of my favourite bands… I grew up with their music!
I choose November Rain (in the full video for the entrance in the church, just the piano intro) because when I was a kid I was mismerized by the beautiful bride / model Stephanie Seymour. '90 were the best years of my life.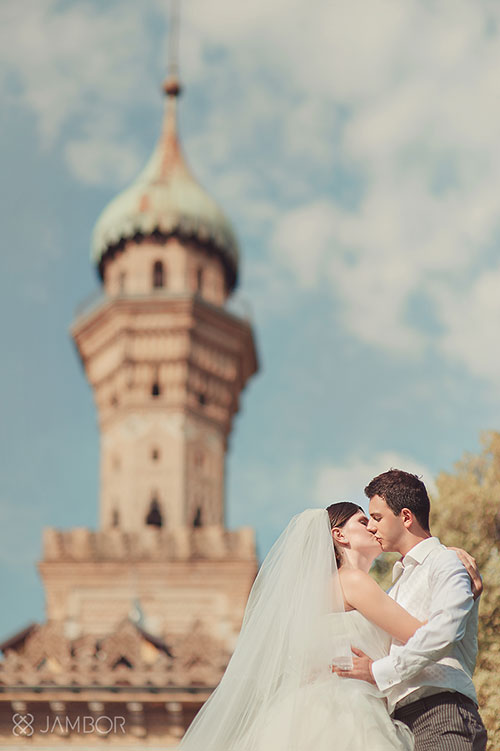 As floral designer for me is always a pleasure working at Villa Crespi.
I loved making Bianca and Gianluca's dream coming true, a romantic love story of our days. Their wedding on Lake Orta was just what they deserved! Thank you again Bianca and Gianluca!
ogether with Monika,
Paola
is
La Piccola Selva floral designer
. She is part of
Italian Wedding Company
team who are specialized in floral arrangements and lovely bridal bouquets on Lake Orta and Lake Maggiore.
After her graduation in English language her passion for nature and flowers brought her to a long and successful career in floral design.
Thanks to her long experience and creativity Paola will be able and happy to suggest you best flowers, color, details, shapes and styles that could match your tastes and ideas.
She will be able to add a final touch that could turn your wedding in an even more special day!