Lake Como is very famous all over the world for its beautiful surroundings, but sometimes its main City, Como, is the less known. And this is a sin! In fact Como Town offers lot of things to do and see all year long (not only during spring and summer). Como lies directly on the lake and has great shops, museums, churches, tea rooms and a famous theatre.
Have a wedding in Como means match both the beauty of the lake and the comfort of a city. In particular, civil weddings ceremonies can be performed in a splendid ancient Villa on the Lake protagonist of many artistic exhibitions. The location is public, with large gardens and an area reserved for the ceremony in order to guarantee the privacy.
Beautiful pictures can be done by the photographer before moving at the reception venue. In case you are oriented for a symbolic ceremony, this can be arranged directly in the splendid gardens of the private villa where also reception will take place.
After the ceremony and pictures, just few steps, walking on the lakeshore, the newlyweds and their guests can reach a really hidden beauty property for the aperitif, music and dinner.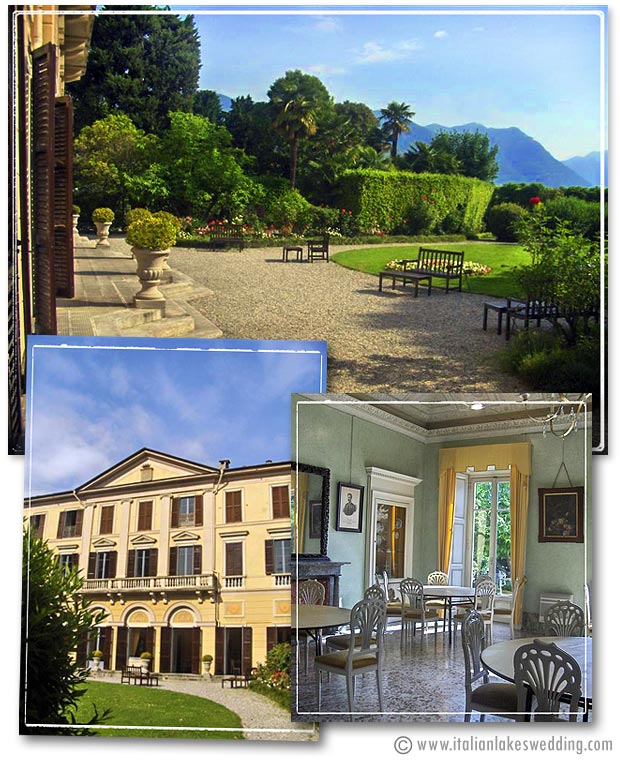 This private Villa has beautiful rooms and gardens and offers different options in terms of rental (from only one room and gardens to the whole villa). Of course this doesn't mean that more than one wedding is admitted at the same time! Simply, those rooms not rented remain locked.
The choice of the catering is free so there are thousand options: from classical to typical to extremely modern and refined or special ethnic etc…
Aperitif outdoor with live music or piano creates a special romantic atmosphere and for the dinner, depending on the weather, it's possible to remain outdoor or moving inside the stunning decorated rooms continuing with music and party.
After dinner the cut of the cake and the white table can be enjoyed open air in a magical candle lit setting or inside the dramatic pink room.
The Villa is not a Hotel and doesn't have accommodations but the area is plenty of possibilities only a walking distance.
You and your guests can spend some unforgettable days in this Town doing excursions, food tasting, gardens visits, boat trips and much more things that will stay forever in your heart and mind!
Alessandra Fabi is the Italian Lakes Wedding's coordinator for lake Como area. If your idea of wedding is refined, sophisticated and with a special attention to details, she's your perfect wedding planner!
She makes each client feel unique and she treats each wedding as if it were her own.
For more information about Wedding Venues in Como Town please contact us.