t's a warm September morning. The air is clear and the sun is shining over
Malcesine
, a small medieval village on
Garda Lake shores
.
The lake is standing still, colourful birds sing cheerfully and all local people are ordering at the bar
caffé e brioche
.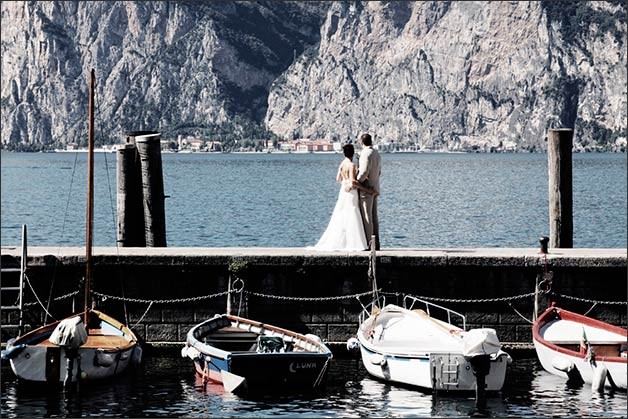 In an enchanting hotel room Emma is getting ready for the most memorable day of her life. Her wedding dress is simply gorgeous. It is all made made of white silk and elegant laces.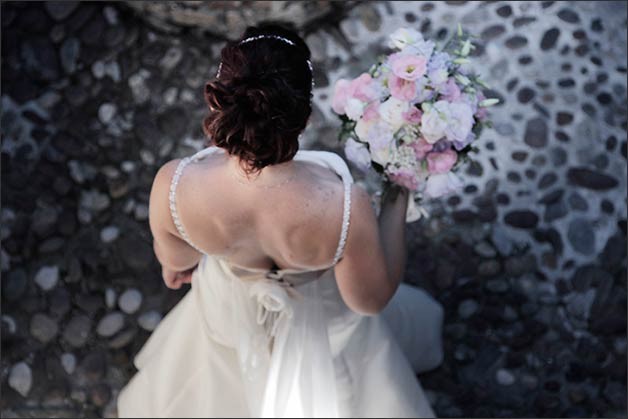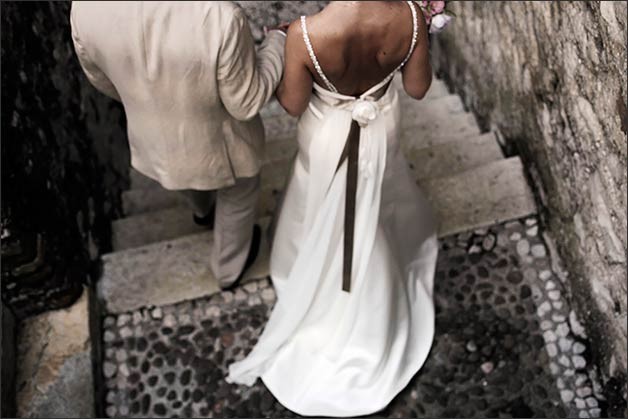 Her mother and closest friends are just by her side, making her smile and dreaming of what this special day is about to be.
Stephan is waiting for her at majestic Castle of Malcesine.
This ancient residence is going to host an exclusive and magic wedding: Emma and Stephen's.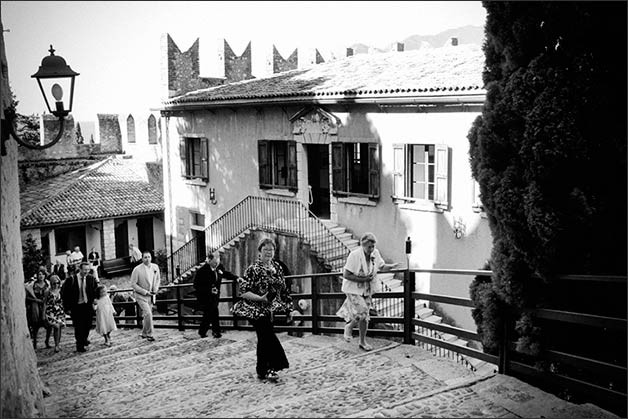 For their special day bride and groom opted for a civil ceremony on the beautiful terrace of the castle.
The view is break-taking. Immensity of the lake is the caring witness of Emma and Stephen's love.
It's like walking into a dream! And this is what Emma should have thought in the precise moment she reached Malcesine Castle.
Holding her roses bouquet and accompanied by her father, she walked down the aisle wearing her shiny smile.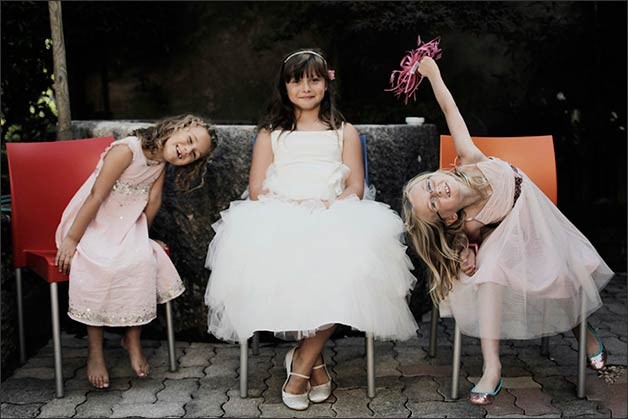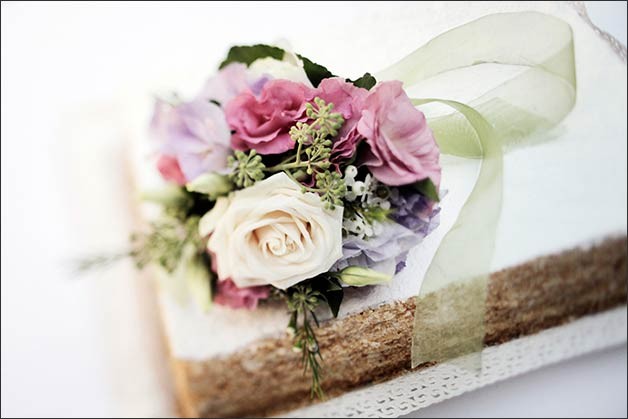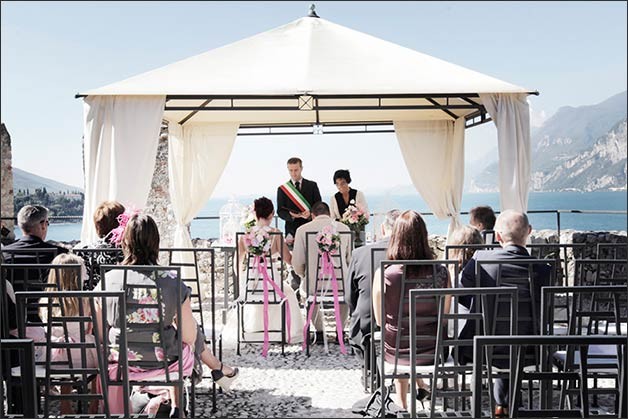 The terrace has been embellished with fresh wonderful flowers. Emma chose Purple and white to give a magic touch to her romantic wedding on Lake Garda.
She also wanted white lanterns and glass vases to add a romantic vibe. They have been gently placed everywhere.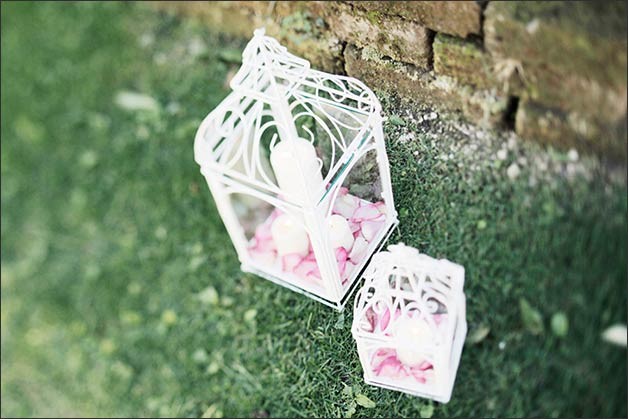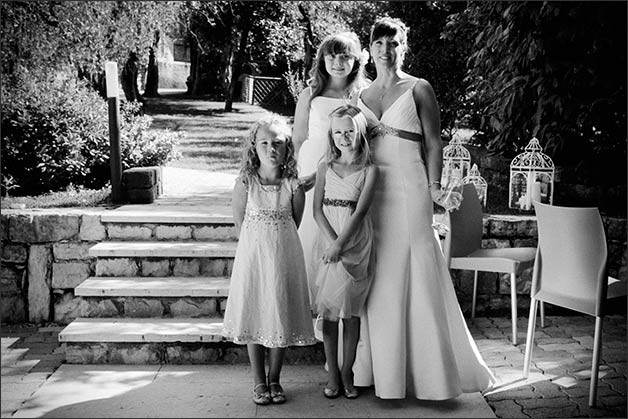 A talented violinist played Romantic Handel and Schubert music and tears of joy are rose on newly weds eyes.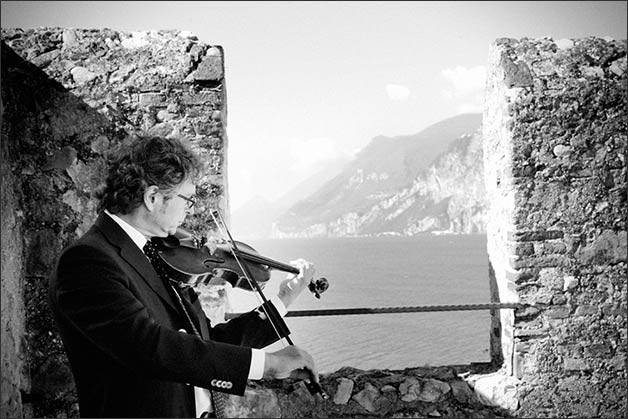 The ceremony, so touching and magic, ended with a passionate kiss.
Emma and Stephen are now Mr & Mrs Bostock.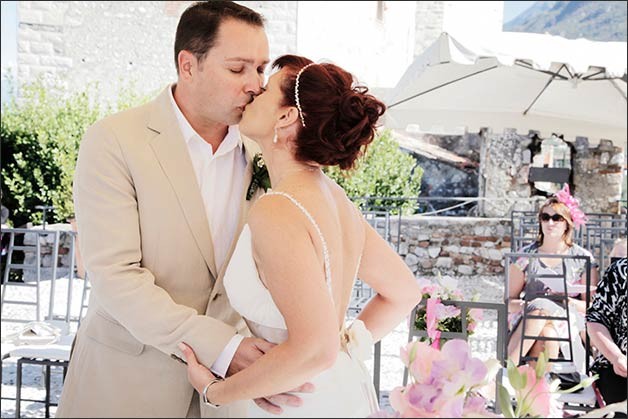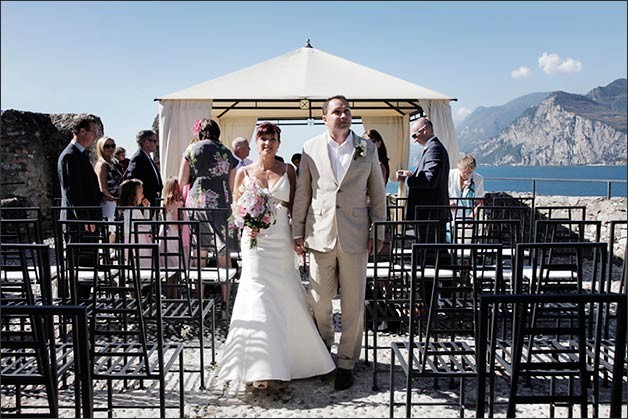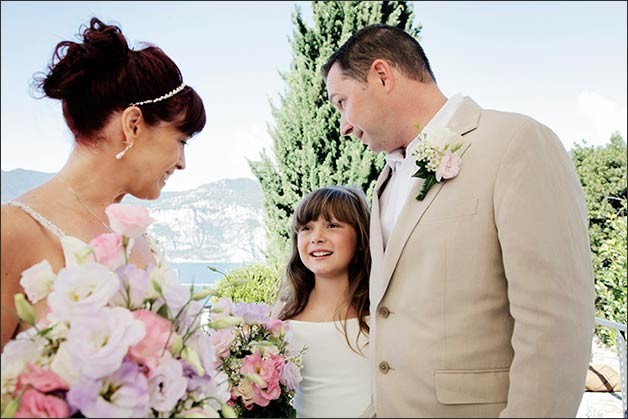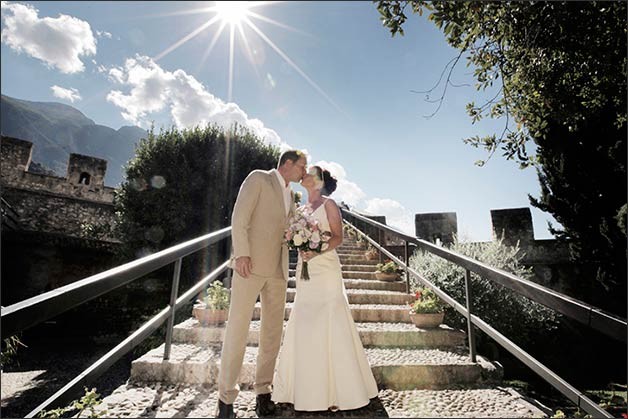 As the tradition wants a white wooden horseshoe with a small heart has been given to the spouses. They are now ready to celebrate with their close friends and family with music and soap bubbles.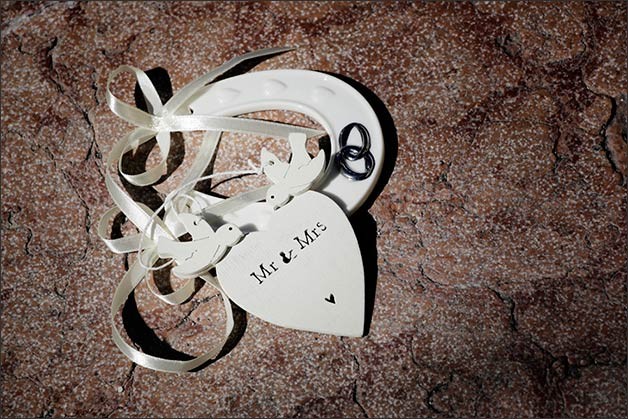 The atmosphere is joyful. Everyone is having a good time and looking forward to have a pleasant walk around the fascinating medieval hamlet.
The roads are rocky and the buildings are made of stones and bricks. Time seems stop in Malcesine and the photographer is keeping on taking lovely shots of the happy couple and their family and friends.
A special thanks to Beatrice Mancini for amazing photos.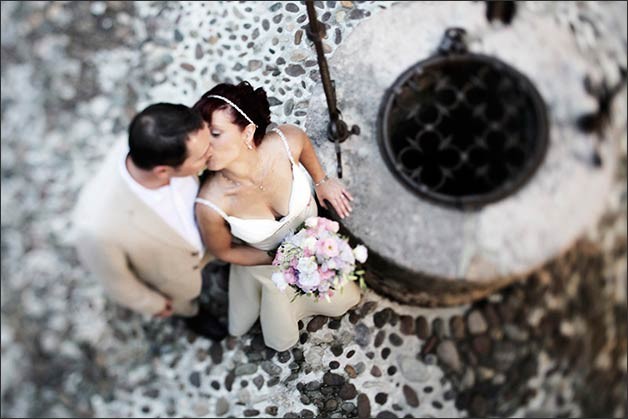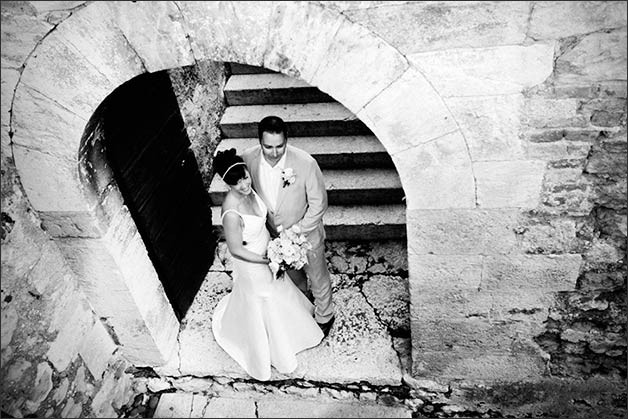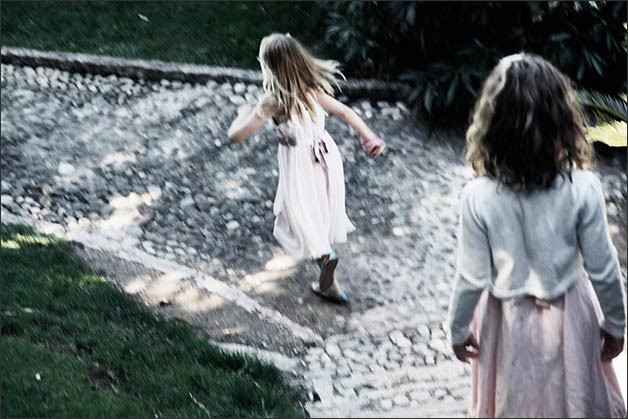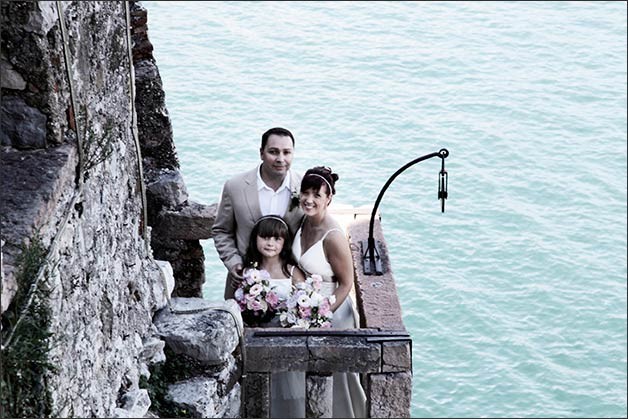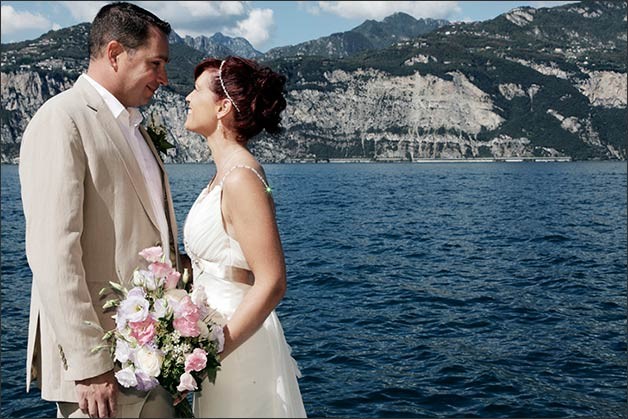 The restaurant is just a few steps away from Malcesine Castle. Emma and Stephen chose for their wedding reception, one of the most famous venue of the area. A Michelin-star restaurant is the perfect venue to celebrate in style.
The wedding welcome aperitif was served under the olive trees of Restaurant amazing garden, closed by an imposing wrought iron gate. Good music to set a lovely atmosphere.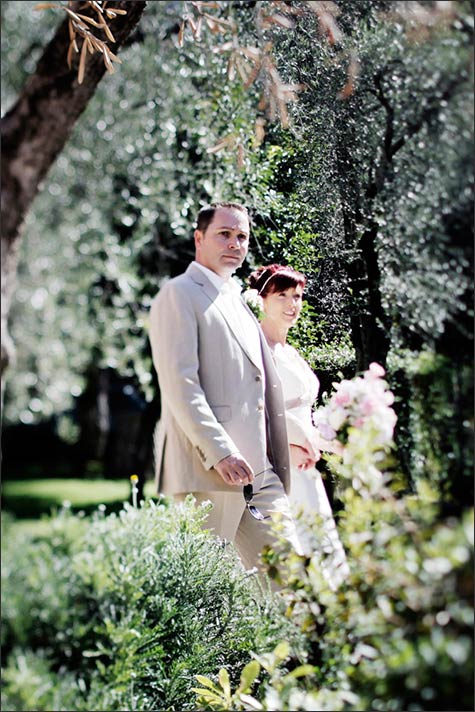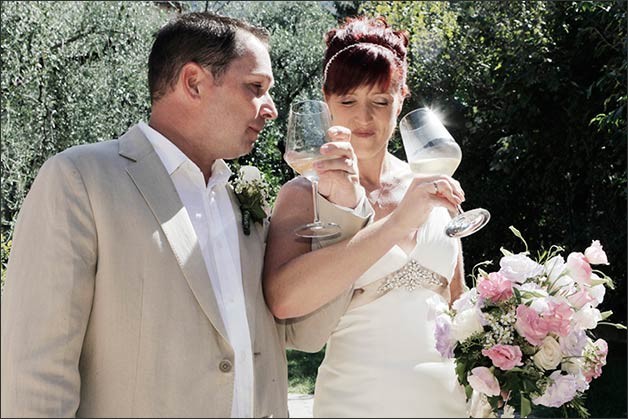 The party has continued in Restaurant indoor terrace, where guests took their seats on an long table facing Garda Lake and its great view.
Fine menu and and a romantic laid back atmosphere contributed to make Emma and Stephen's wedding reception simply an unforgettable. The reception ended with the cutting of Emma and Stephen's wedding cake, a delicious Italian millefeuille with sugar flowers on it. It was served in Restaurant romantic garden.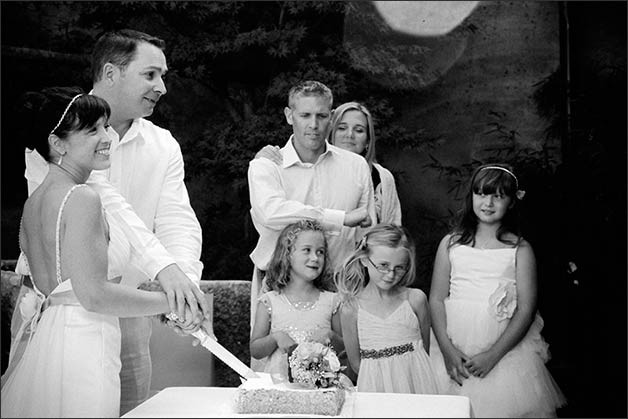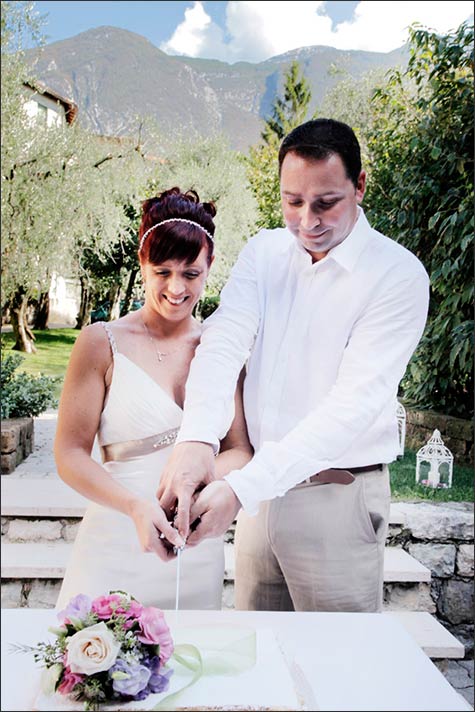 An inspiring couple, a dreamy Italian wedding, happy smiling souls.
The best way to enjoy a wonderful Destination Wedding on Lake Garda.