abriella and Francesco's wedding was really a classical and romantic wedding. A real
Italian style wedding
! They have dreamed about it for 8 years and dream came true on amazing scenario of Lake Maggiore. 
A dream day on
Borromeo Gulf
between
Pallanza
and
Stresa
. We hare so happy to read the full story told by the bride and groom in person. We are so proud and happy to post it here. A huge thanks to
Gabriella and Francesco
for sharing with us their romantic, emotional and passionate love story.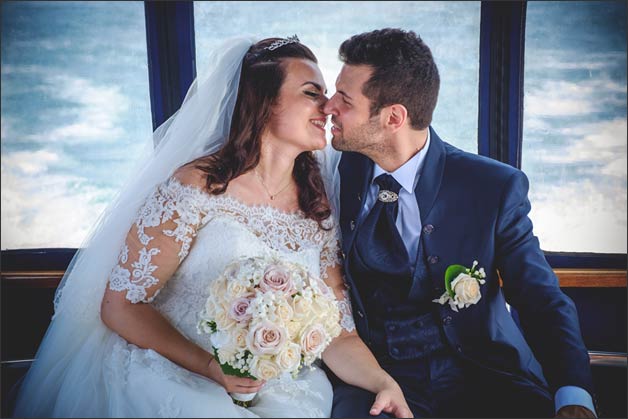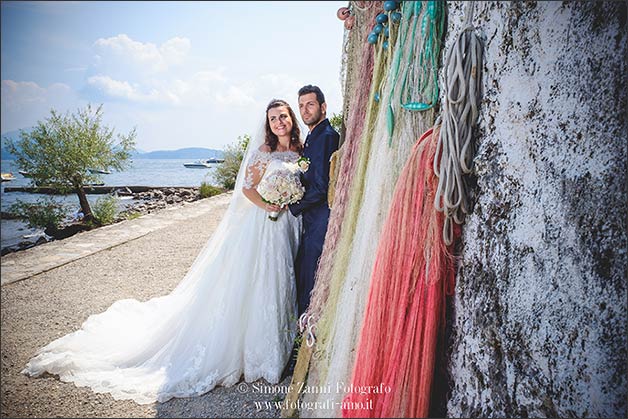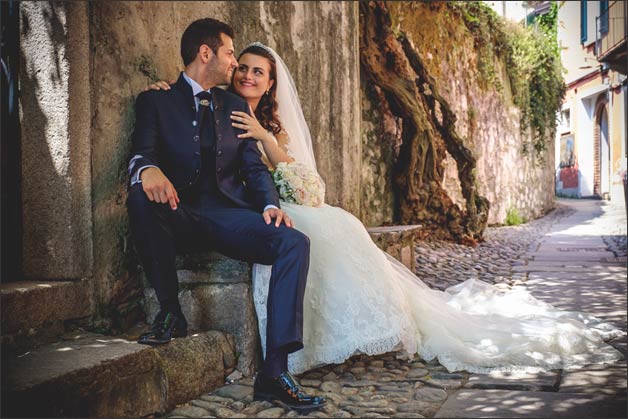 Our Story and Our Wedding – An authentic Italian Style Wedding
If I should describe our wedding in few words I would say a happy ending of a fairy tale begun eight years ago on 30 July 2008.
So we got married on 30 July 2016. We really wanted that date as it was our 8th anniversary of our engagement. We tied the knot after a long time together in wonderful church of San Leonardo in Pallanza. Our dearest friends and family coming from all parts of Italy were with us. 
It was a warm sunny day. About 30 guests in total as we really wanted an intimated and traditional wedding. We surely counter trended to many young couples who prefer big parties and big groups. We really wanted that our wedding was the real union of two families where every single guest could share with us our happiness. A classical and romantic wedding a real Italian style wedding on Lake Maggiore.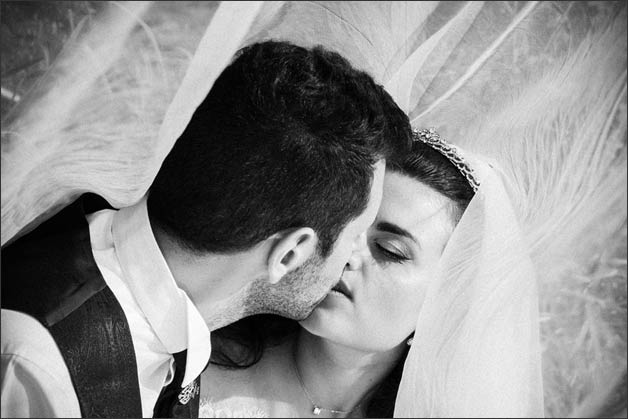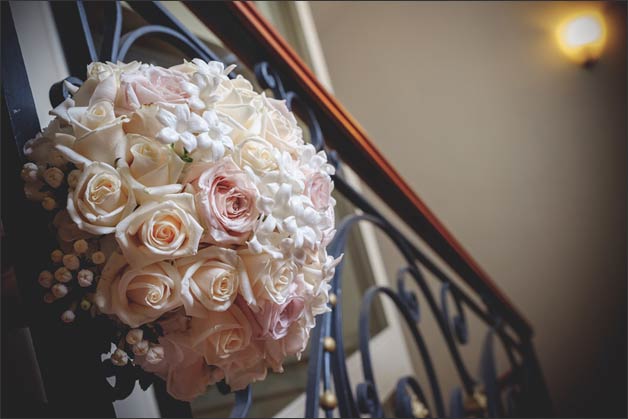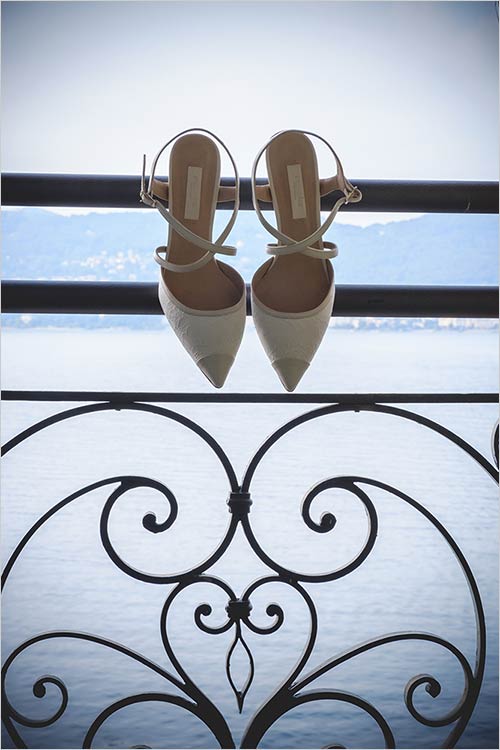 © Images: Simone Zanni – www. fotografi-amo.it

My Wedding Dress

For the most beautiful day of my life I chose a Pronovias wedding dress. The model I chose was Pleasant. Even for the wedding dress I had clear ideas. When I wore it I know that it was the one. It was entirely decorated with Chantilly laces with a long train (3 mt) and a wonderful cathedral veil. I just felt like a princess for a day. I also wore a romantic vintage silver tiara that my mum wore on her wedding day. To complete the frame tear drop earrings given as engagement gift by Francesco.
My mum bought my wedding dress as special gift as tradition wants in my family.

Francesco opted for a very elegant suit. A Carlo Pignatelli model in navy blue with Corean style jacket, plastron and waist coat. To complete the frame a wonderful silver pin and family cufflinks.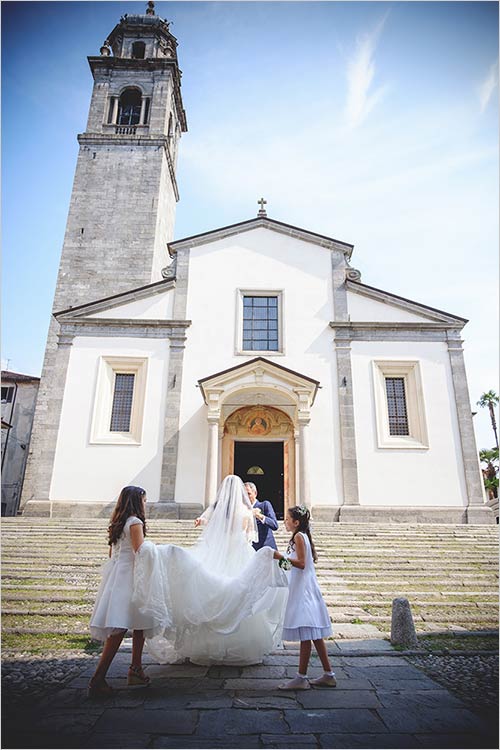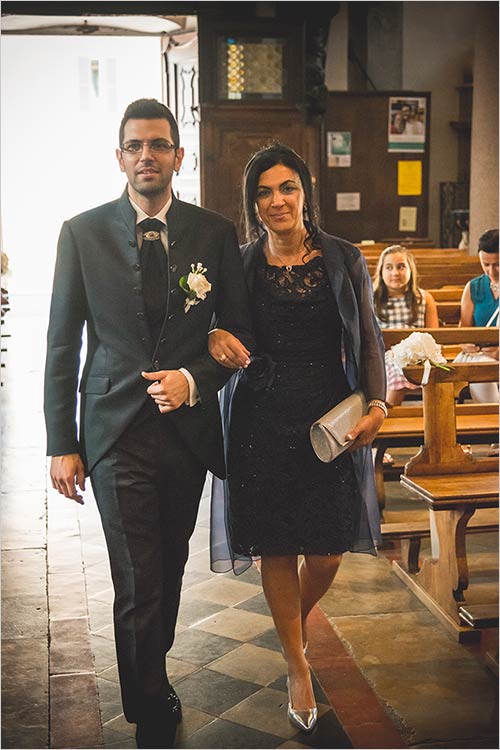 © Images: Simone Zanni – www. fotografi-amo.it

Ceremony in wonderful church of San Leonardo in Pallanza
My father walked me down the aisle and a small group of bridesmaids made of my cousins and my younger sister accompaigned us.
My younger sister was my witness too and maid of honor. For my big day I chose to get ready with my sister and my mum on in a wonderful hotel in Pallanza by the shores, just few steps from the Church.
Francesco was waiting for me at the alter. He was incredibly handsome and very emotional. Wagner's Wedding March announced my entrance in the church. It was played by Ariel Jazz string quartet. Beautiful. I immediately noticed amazing floral decoration made for me by Paola of La Piccola Selva Floral Designer.
I loved my dusk pink roses bridal bouquet, white hydrangeas and Madagascar jasmines. It was exactly how I dreamed it just as I was the designer. I was enchanted by romantic vases full of flowers on foot of the alter with dusk pink and ivory roses, white Hydrangeas just as I wanted.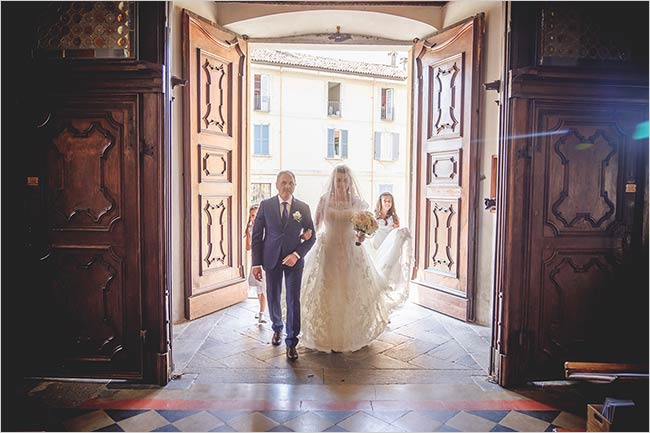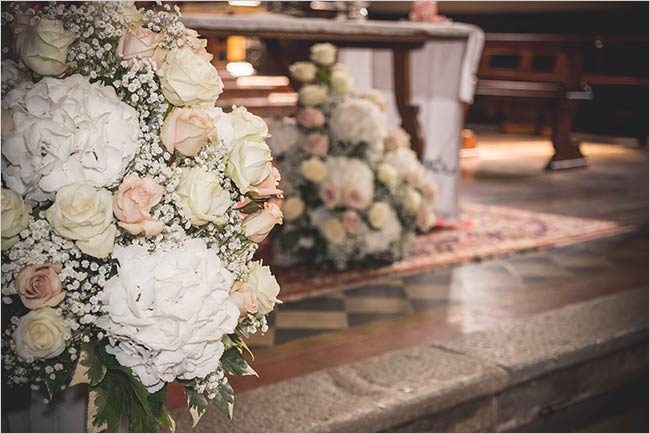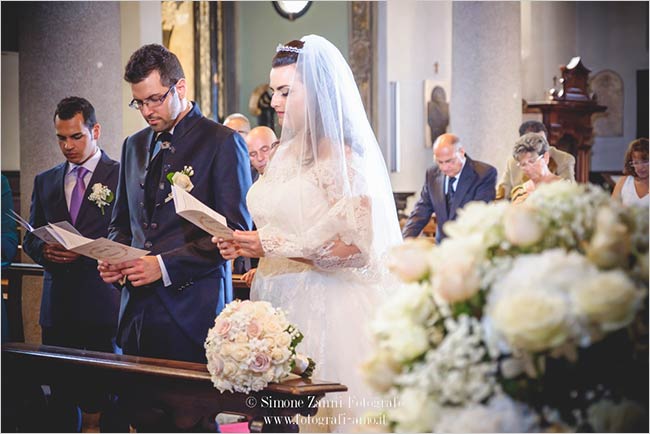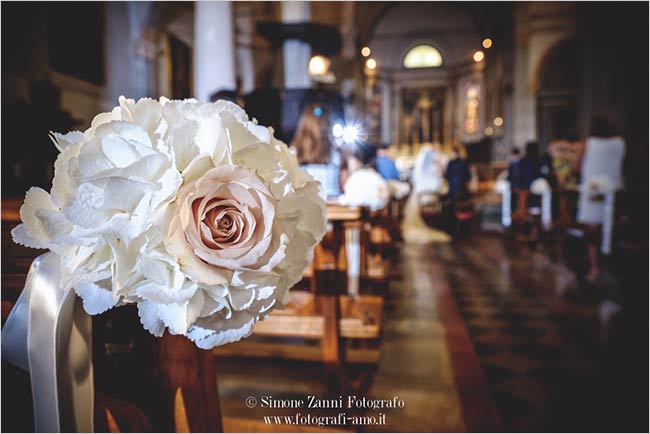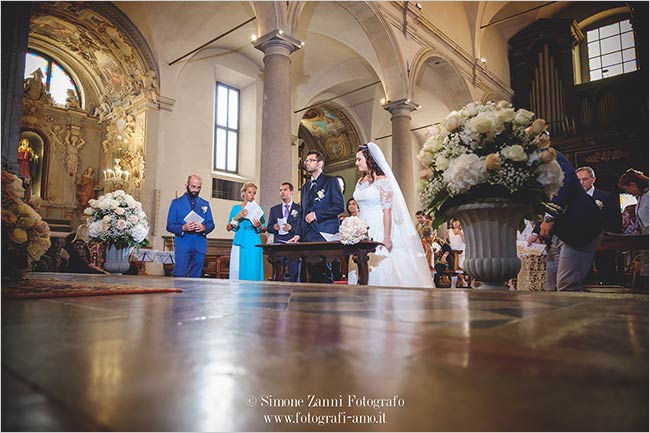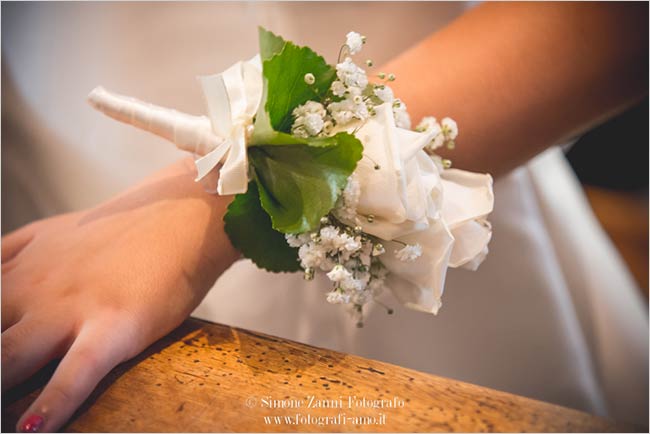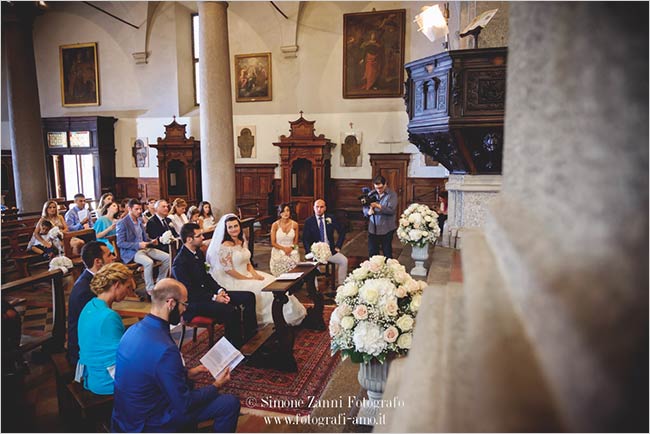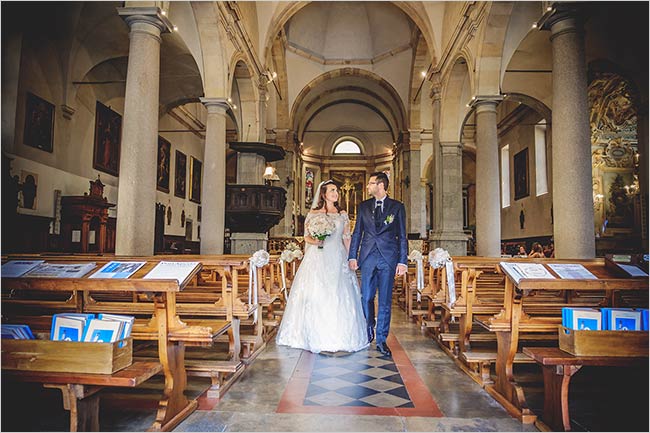 © Images: Simone Zanni – www. fotografi-amo.it

A lovely boat tour on Lake Maggiore
After the ceremony and rice and rose petals tossing on the bride and groom…. a must in every Italian wedding, we reached the lake shore. A private motorboat was waiting for us to lead us to a lovely boat tour on Lake Maggiore. This was our special gift to our guests arriving from other Italian regions. 
Francesco and I got off the boat on Isola Pescatori for our wedding photos. Simone Zanni and his team made of Davide Denti and Sara Dresti were the official photographers. 
I really thank them all for their discrete presence and excellent job. 
They shot every single detail of our wedding ceremony and all our special moments. Guests followed their tour to lead to Villa Aminta where a rich aperitif was waiting for them. It was served in the garden facing the lake.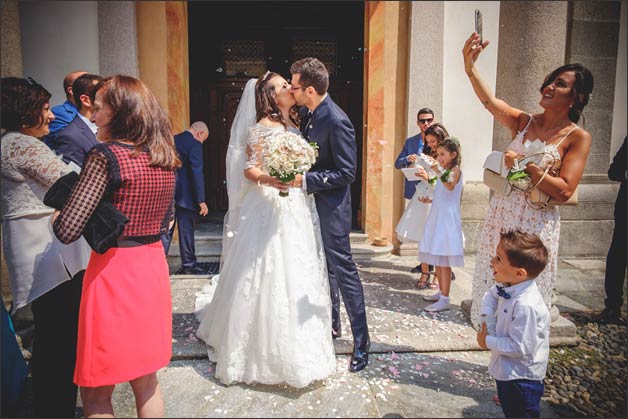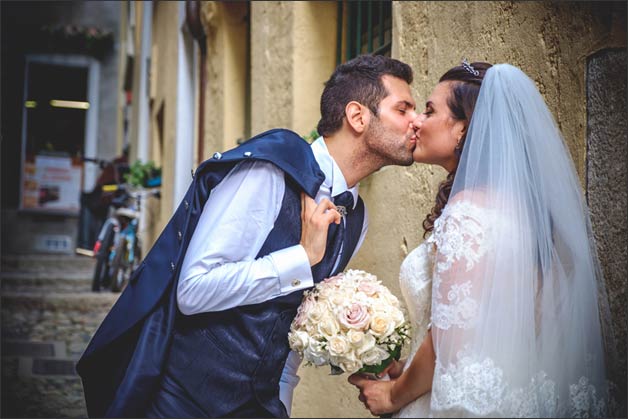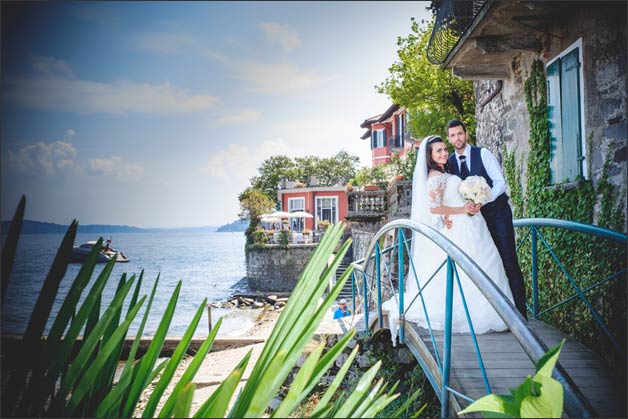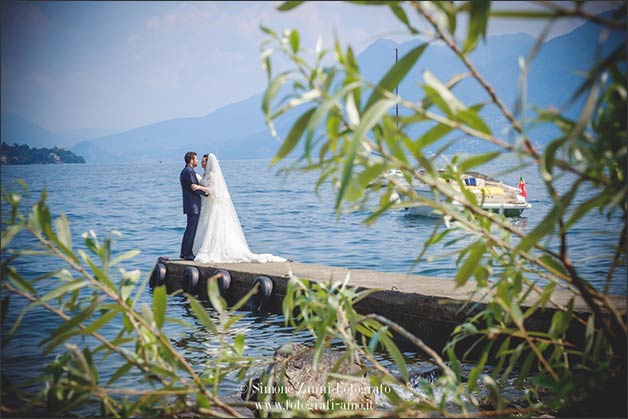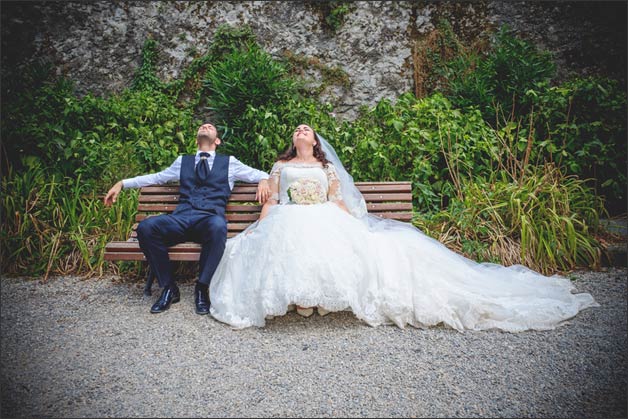 © Images: Simone Zanni – www. fotografi-amo.it
Wedding reception at Villa Aminta in Stresa

We did not chose Villa Aminta…. it chose us!
 We did not intend to chose Villa Aminta where we were shopping around for a wedding venue in Stresa. We incidentally arrived in Villa Aminta parking area and we have been taken by its incredible facade. We got inside we looked in each other eyes and we immediately understood that that was our wedding reception venue.
We have been literally bewitched by Villa Aminta. It had everything we wanted for our wedding day: luxury rooms, with amazing furniture and details and decors coming from all over the world part of owner's collection. It was perfect for our wedding photos!
A magical atmosphere in the middle between a royal palace and a private mansion. An amazing Mediterranean style garden with lemon trees, palms, hydrangeas, scented jasmines reminded us about our roots in Liguria, Sicily and Calabria regions.
 And what about enchanting terrace overlooking Lake Maggiore? We could enjoy a a magnificent view over Borromeo Islands. We closed our event just here cutting our beautiful wedding cake of five tiers. It was made for us by Pasticceria Visconti in Verbania Intra.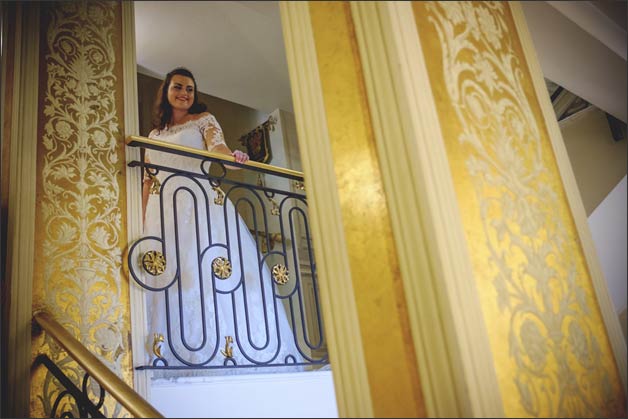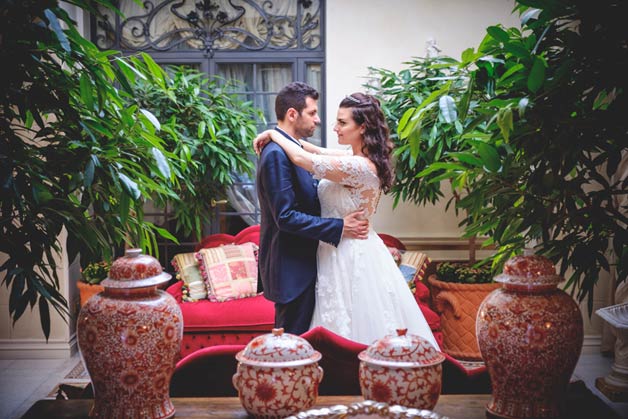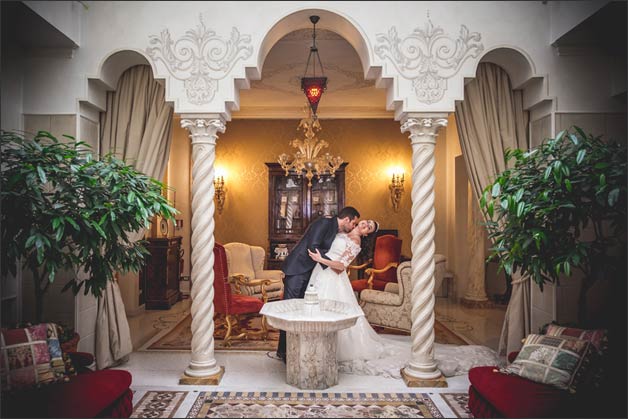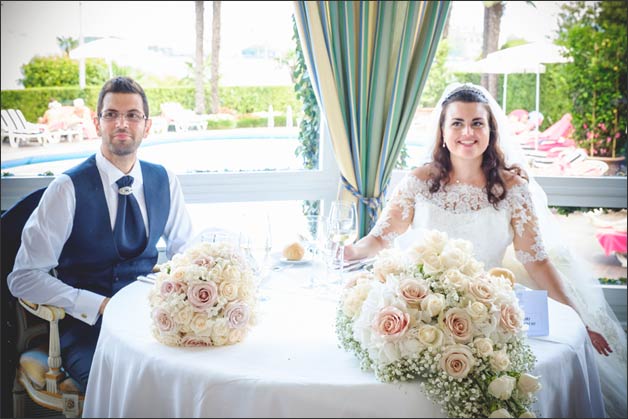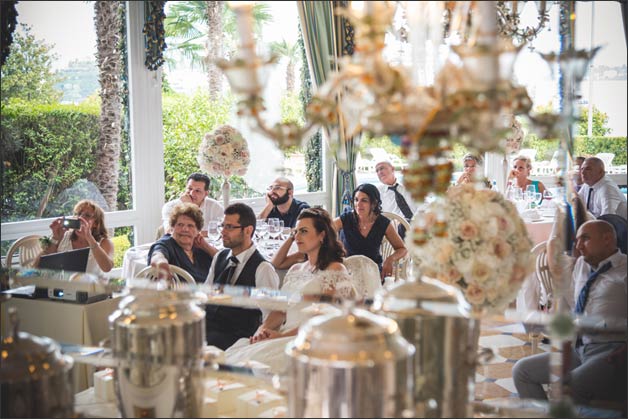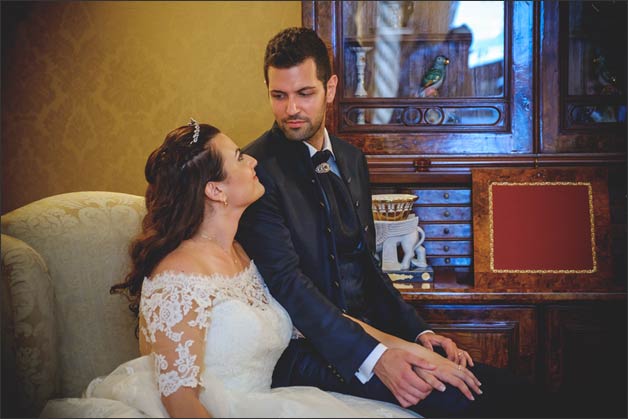 © Images: Simone Zanni – www. fotografi-amo.it

Last but not Least: the floral decorations in Villa Aminta
Centerpieces in the reception room of Villa Aminta perfectly matched colors and flair of the Hotel and everybody loved them. They were fine, beautiful and even Hotel staff loved them!
My color palette was romantic dusk pink with fine ivory and white. The final result exceeded my expectation! I know I have been very a very demanding bride. Before hiring La Piccola Selva Floral Designer I looked many other floral designers. I just wanted the best. They met all my requests and they really created a masterpiece. Everybody keep on telling me how wonderful my wedding flowers were even after months!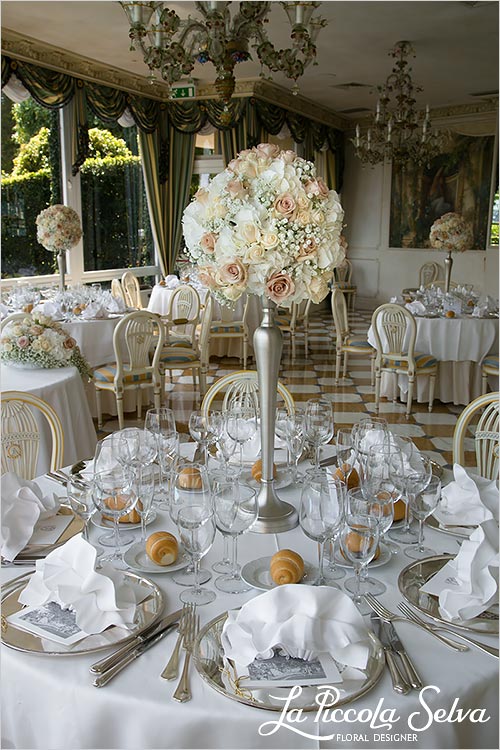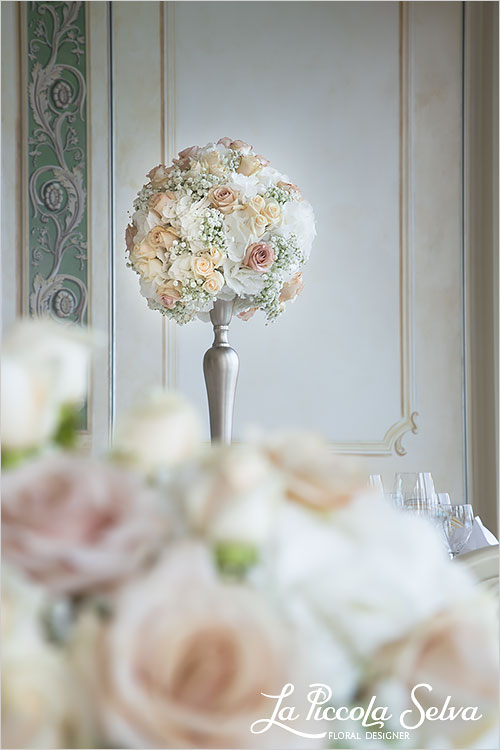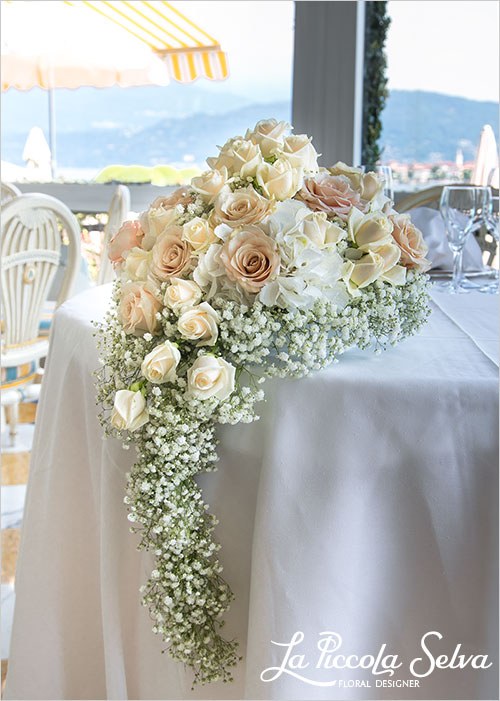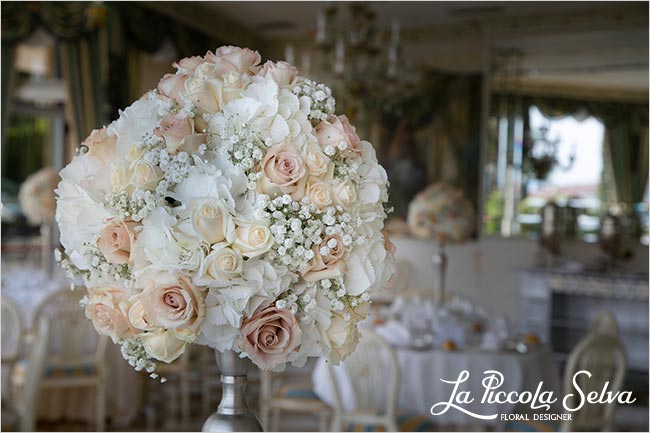 Thanks for sharing our day with us!
It was just beautiful living this day with you, it was unforgettable thanks to you! Thanks also for giving me the opportunity to write this post. It is a little long but I hope you will enjoy reading it as I enjoy writing it.

Thanks again Gabriella and Francesco for your authentic Italian style wedding on Lake Maggiore!
CREDITS