fter recent approval for
Civil Unions Law in Italy
(
same-sex marriage
) , this big dream become reality in Italy too. We are really pleased about it.
With great pleasure we proudly tell you about
Marco and Mario's wedding
:
the very fist same sex ceremony at Villa Bossi on Lake Orta!
As you know Villa Bossi is one of the most romantic destination for civil weddings in Italy, thanks to idyllic setting and atmosphere. Bucolic Lake Orta and its St. Julius Island, medieval village and natural setting create the perfect frame for a romantic wedding in Italy. Villa Bossi can be just perfect for a special wedding, especially if you choose an intimate and sweet ceremony by the shore. It is a unique venue for sure.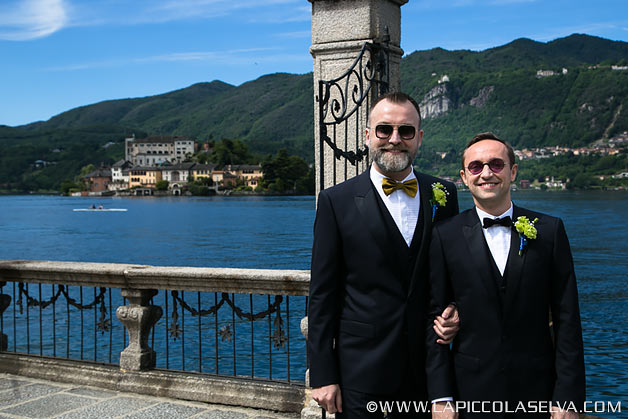 On our blog you can read about many civil wedding ceremonies planned at Villa Bossi by Italian Lakes Wedding Team in these last years. Marco and Mario's ceremony has been the very first same sex ceremony at Villa Bossi. La Piccola Selva floral designer was there for our Team to create special floral decorations for the civil union at Villa Bossi and reception in luxury Villa Crespi where famous chef Antonino Cannavacciuolo works.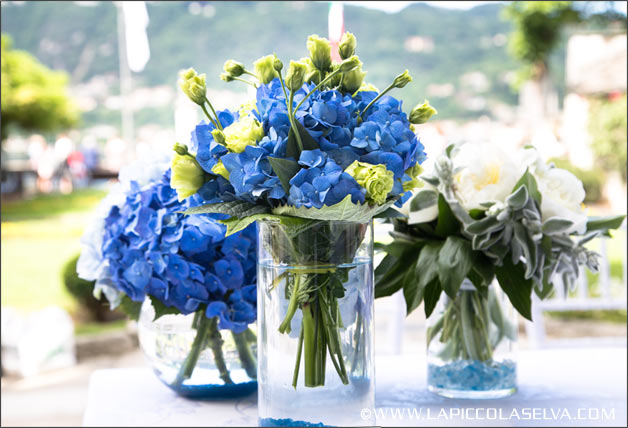 Floral decorations for a romantic same-sex civil ceremony on Lake Orta
For this special event Marco and Mario contacted Paola by La Piccola Selva floral designer. They told her why they chose Lake Orta for their special day.
We live in Brescia – Lombardy, but magic of Lake Orta enchanted us. We really wanted to have our wedding on its shores.
We would love to embellish Villa Bossi garden with Spring themed wedding flowers: simple flowrs, plant and a pretty decoration for the table oof the ceremony!
After a first meeting, Paola created the style for Marco and Mario's same sex ceremony. Marco loved hydrangeas, Mario loved peonies. So Paola created for them an elegant match of white peonies and light blue hydrangeas. It was all enhanced by Lisyanthus flowers in acid green shade. The final result was great, you can see it in these images here.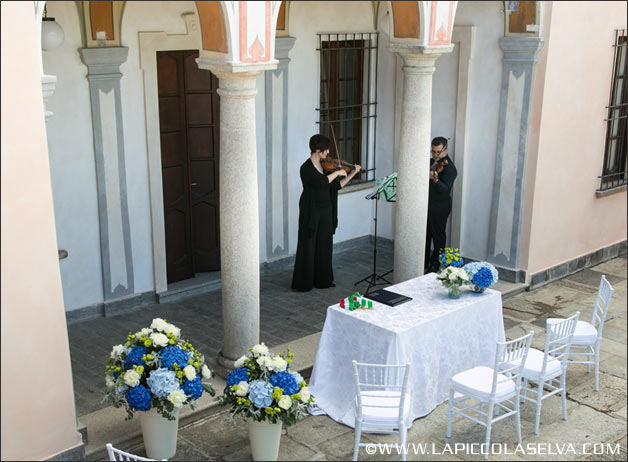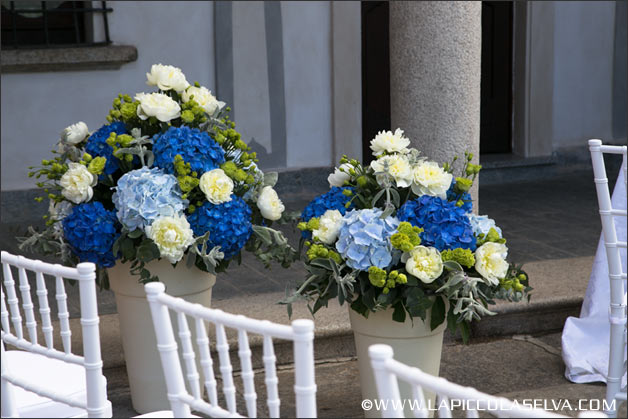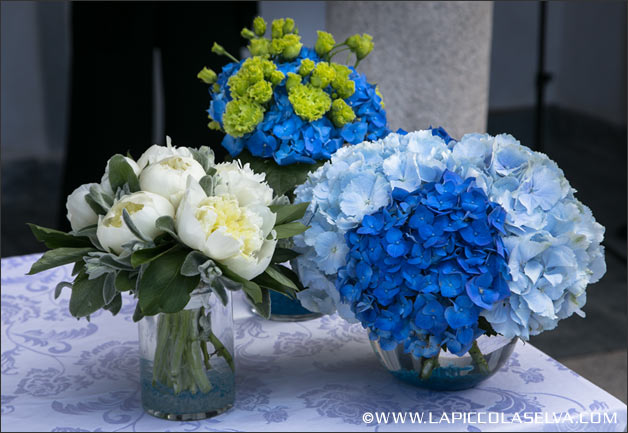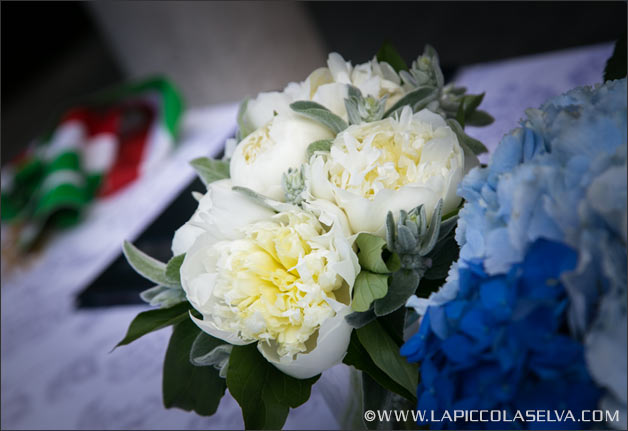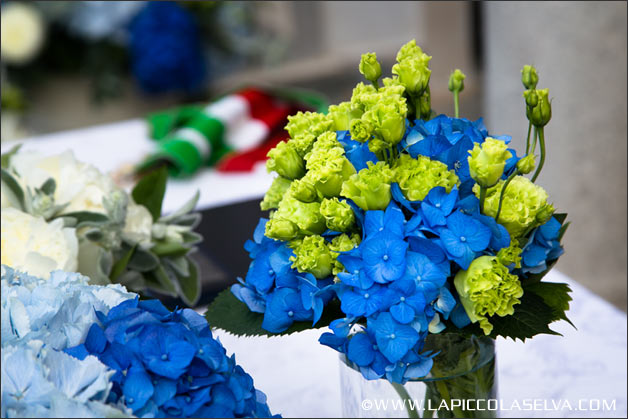 An intimate samesex ceremony in Villa Bossi
For such a special occasion – the very first samesex legal civil ceremony at Villa Bossi – mayor's delegate Ms Roberta Mattioli allowed to close all gates of the gardens to the public. Ceremony was even more intimate! Marco and Mario arrived by boat to Villa Bossi as tradition wants. A wonderful late Spring day: lake was very blue and mountains as backdrop with snowcapped Mt Rose made the rest.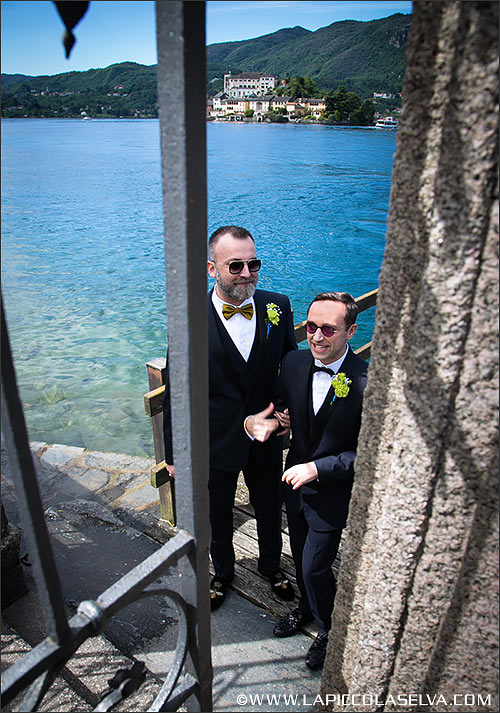 Marco and Mario walked down the aisle hand in hand and the sound of a string duo made this lovely walk so poetic.
A touching ceremony, everybody was really emotional and moved. After the traditional yes I do Mario and Marco tenderly kissed among big applause and hugs!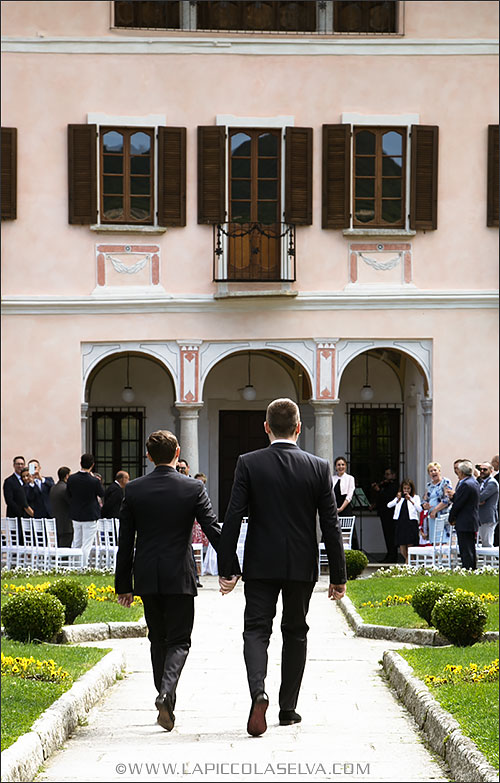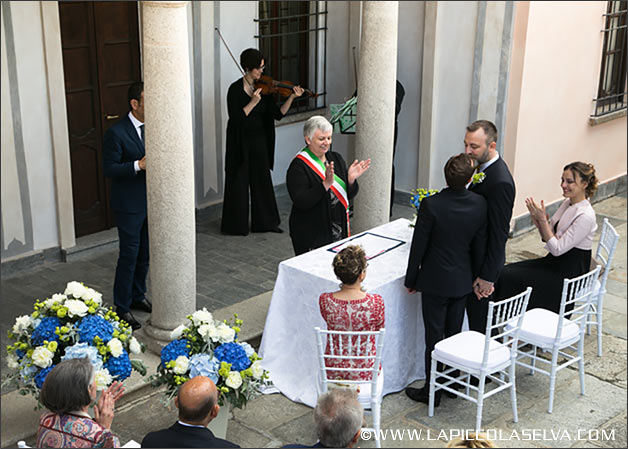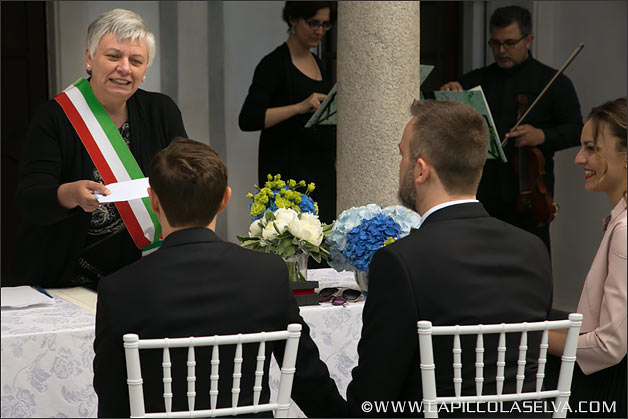 A touching intimate ceremony that everybody will remember for a long time.
A very special thanks to Mario and Marco for choosing Lake Orta for their unforgettable samesex wedding in Italy.