have to be honest
Lake Orta
has a very special appeal to me.
I love its charming atmosphere, the beauty of the medieval village, relaxing time you can spend here and romanticism of St. Julius Island view. A perfect destination if you want to live some days with no stress and pressure. Here you will get real and authentic Italy!
Laura and Brian
chose Lake Orta for these reasons. They wanted a lovely, cosy, intimate, relaxing wedding on the shores with close family and friends.
Since the very beginning they told me that they wanted a laid down event with some lovely details but necessary full of joy and happiness.
I suggested Lake Orta because this is the right destination for a wedding like this and they loved it.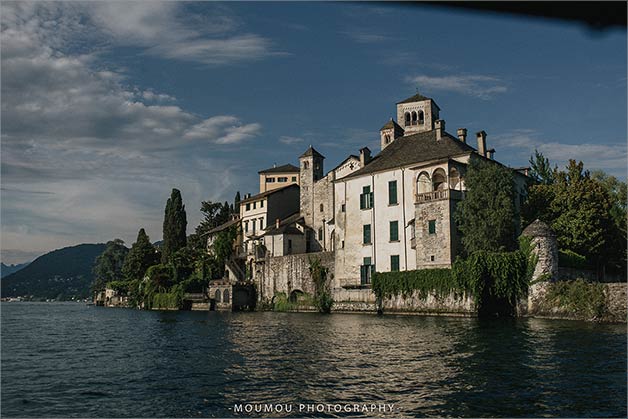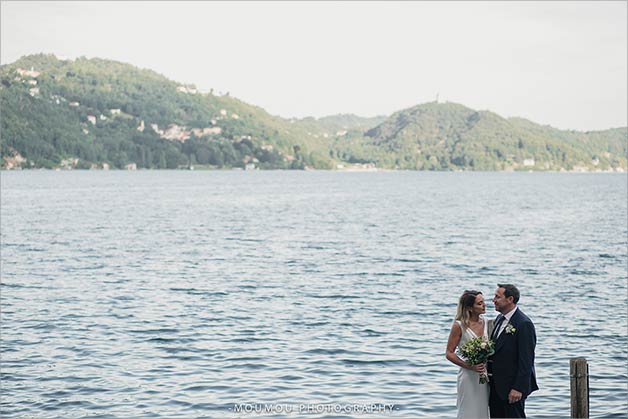 A Roman Catholic Ceremony at Maria Assunta Church
Laura and Brian come from Ireland and they wanted a Roman Catholic ceremony for their wedding.
We chose the local parish church in Orta village which is located on top of a little hill inside the beating heart of the small village.
Bride decided to walk up the cobble road to reach it and this gave her the chance to have lovely photos of her arrival.
Ceremony was short but very moving and happy at the same time.
Laura was really stunning in a silk dress that enhanced her perfect figure, her blond hair and sweet smile.
She choose a romantic bridal bouquet in the shades of white and light pink.
Country flowers as taken from the meadow.
Matching was perfect.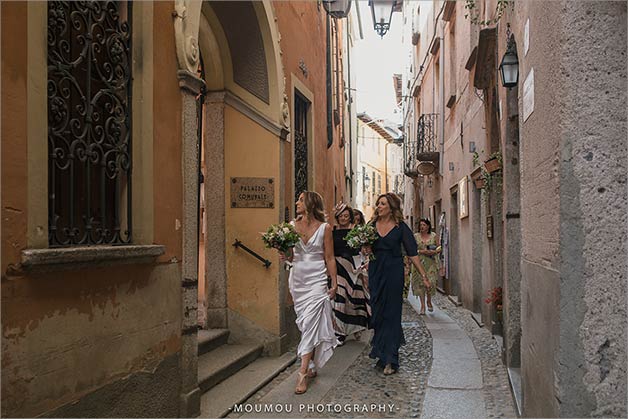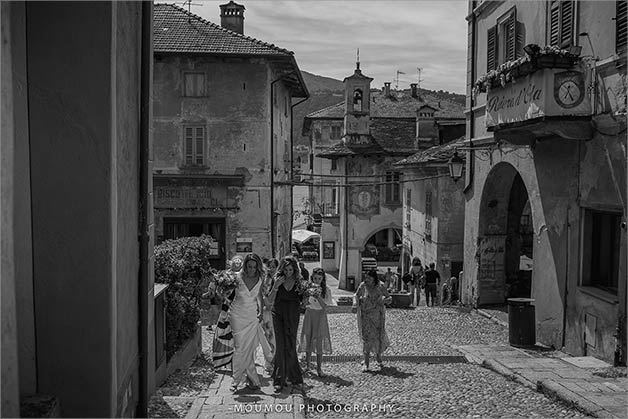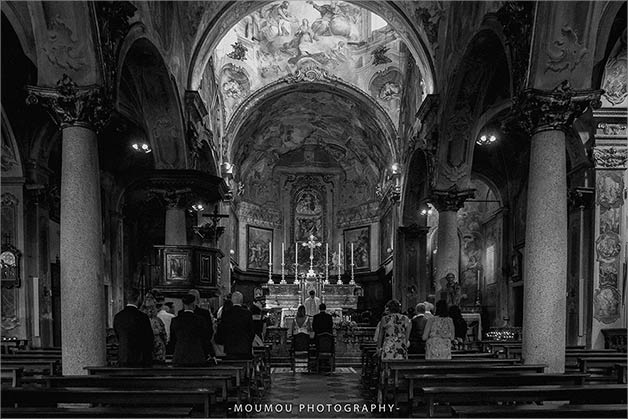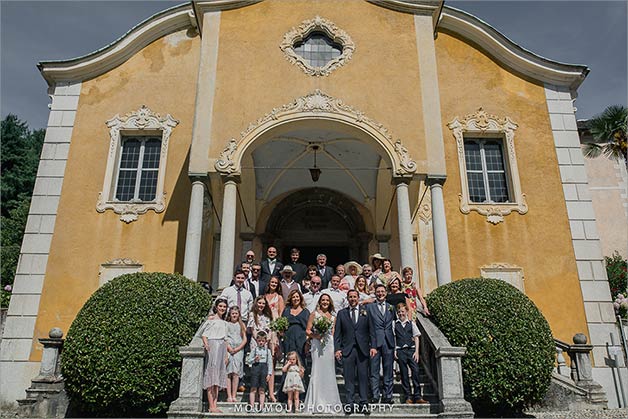 After the ceremony and a lovely group photo, bride and groom and their guests moved to Orta main square for a toast and some pleasant time.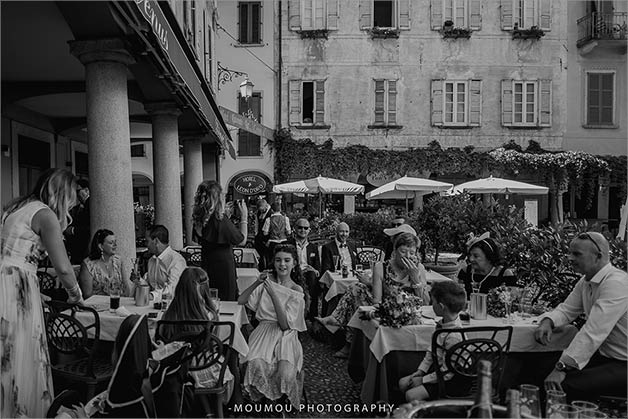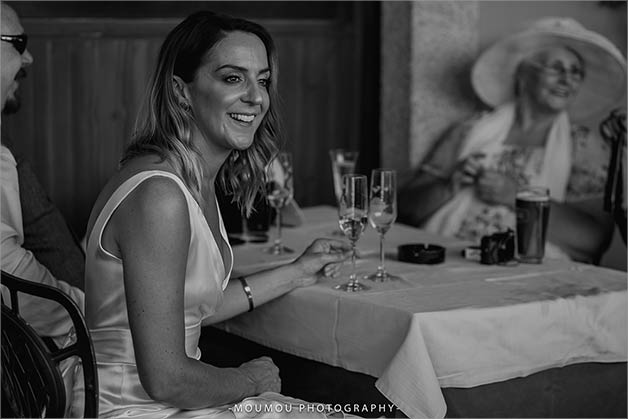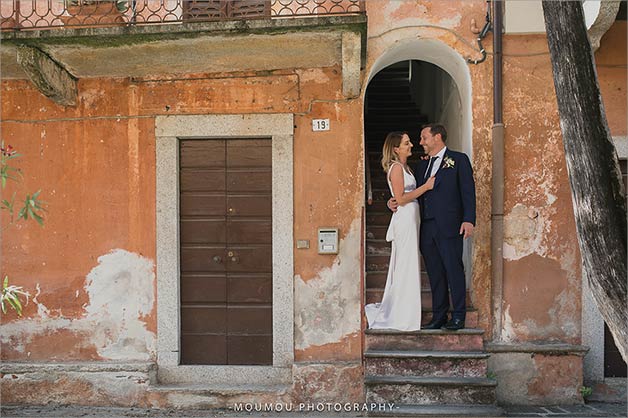 An intimate wedding on Lake Orta: Photos on St. Julius Island for bride and groom
As tradition wants in Orta, bride and groom took a private boat to reach St. Julius Island to spend some time on their own and get amazing wedding photos.
A lovely walk around the only path on St. Julius Island – the so called – Silence Island, could be a great experience for your wedding day on Lake Orta.
MouMou Photography took amazing photos and you can see the results here.
After the wedding photos, bride and groom reached back their boat which took them to the restaurant they choose for their reception.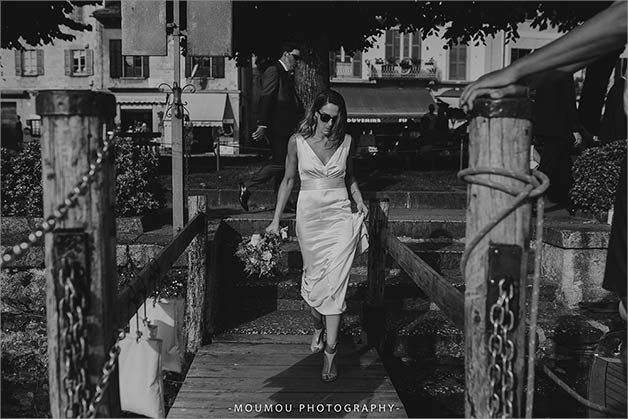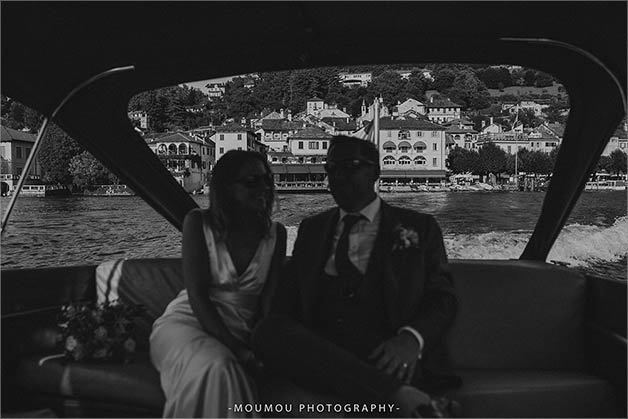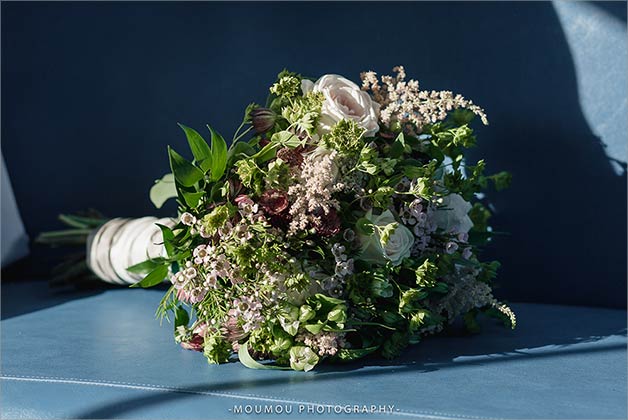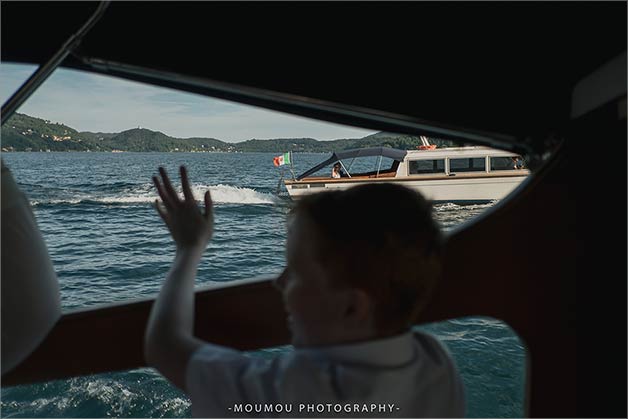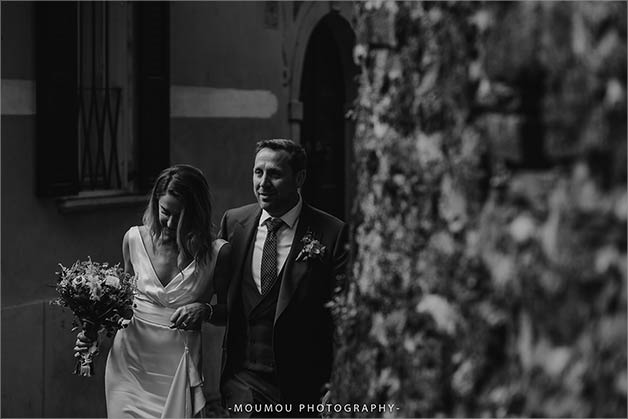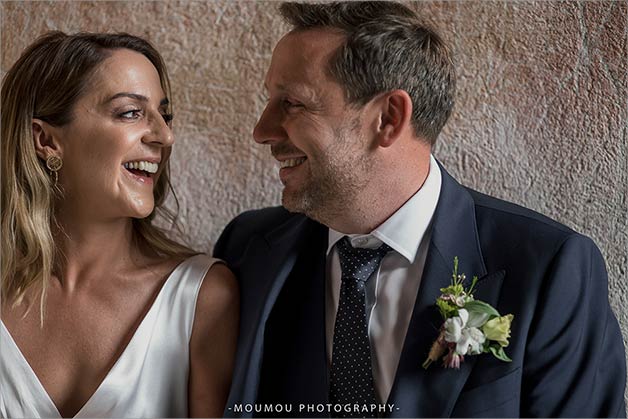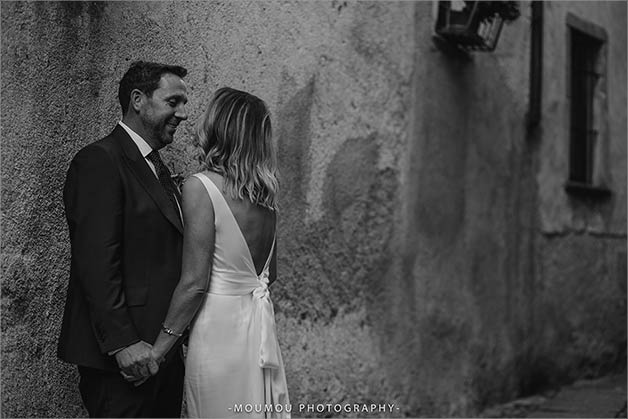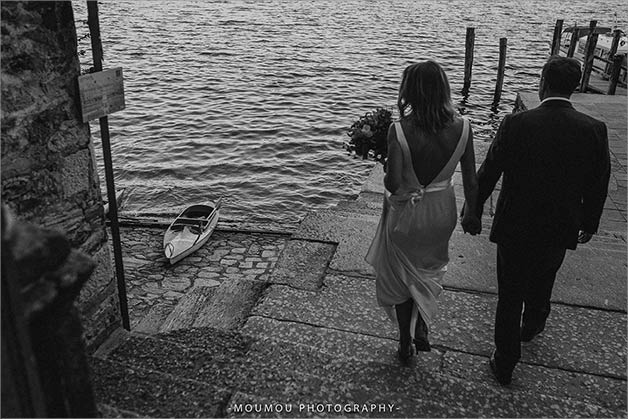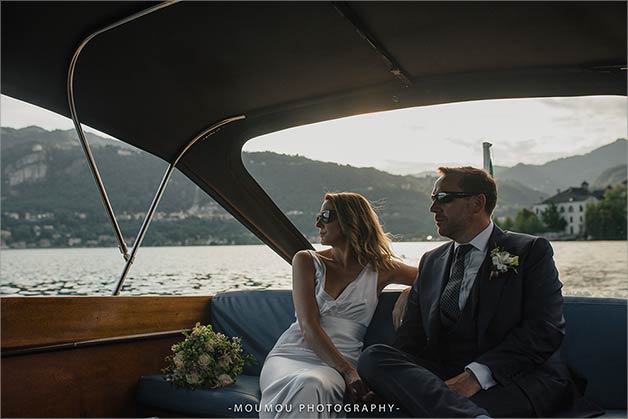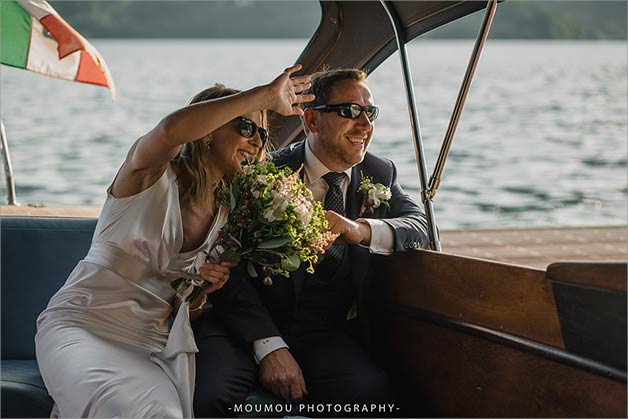 Ustaria Ca dal Rat a great choice for your fun wedding reception on Lake Orta
Ustaria Cà dal Rat was the restaurant Laura and Brian chose for their intimate reception on Lake Orta. It is the perfect choice if you are looking for a relaxing and fun atmosphere.
Staff of the restaurant is always welcoming and happy to host great parties and cuisine is delicious, very regional and traditional.
Every party we plan to Ustaria Ca dal Rat is a success!
Ad so it was for Laura and Brian's wedding reception!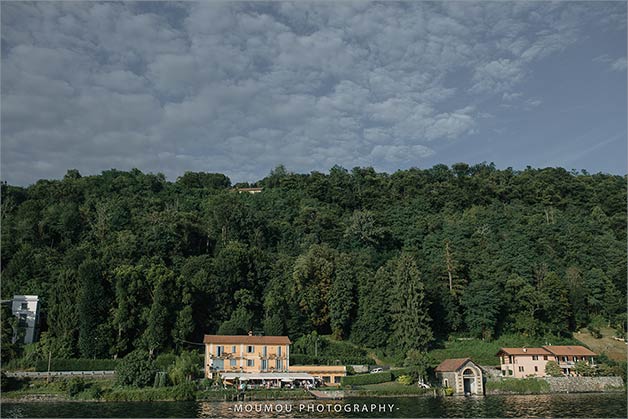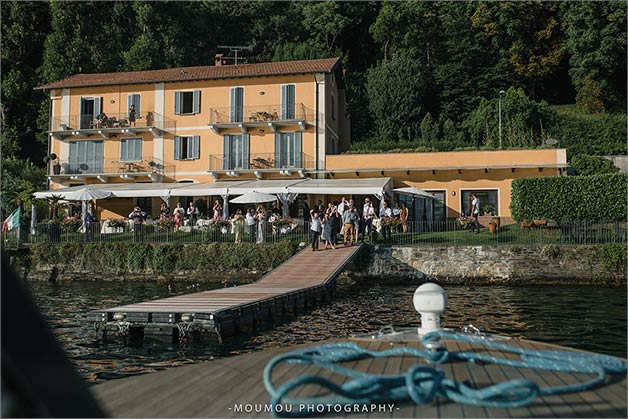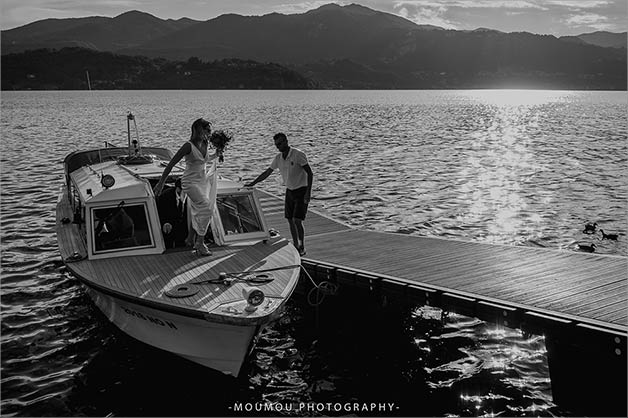 Bride and groom opted for a long table for all their guests to sit together and admire the beauty of the lake while tasting wonderful dishes Chef Carlo prepared for them.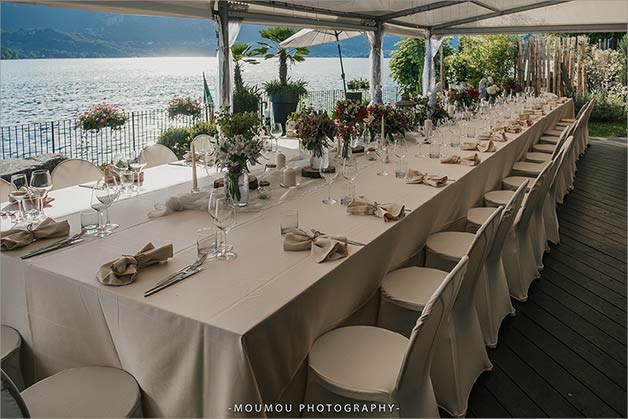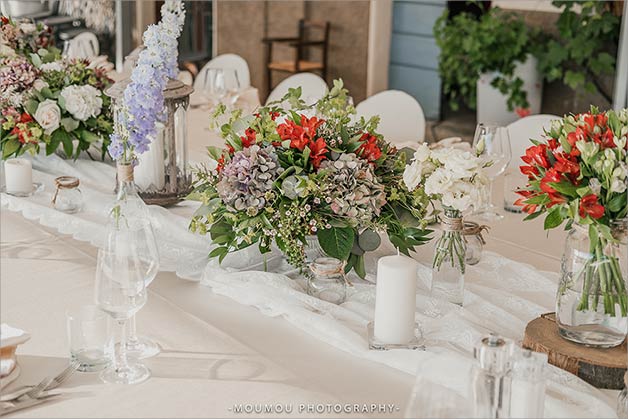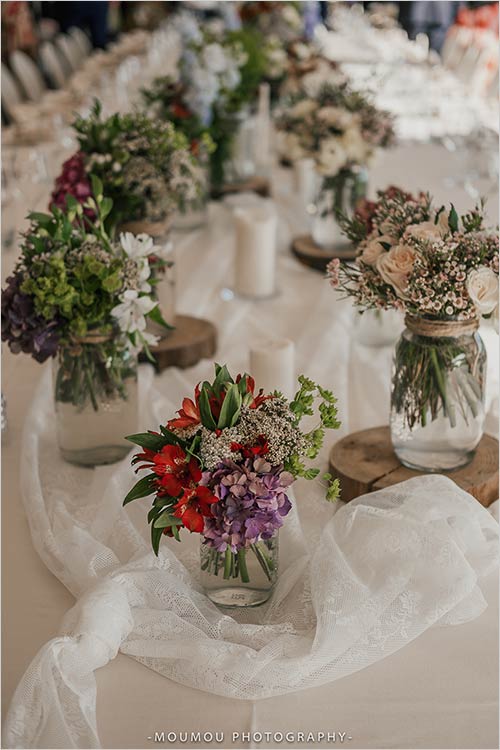 Laura wanted some laces on the table and some wooden elements with some meadow flowers arranged in different vases. A pretty country chic atmosphere that matched perfectly bride and groom personalities.
Fairy lights on the ceiling and some great music did the rest to make everybody dance after dinner!
No wedding cake was served but a delicious sweet buffet that all enjoyed.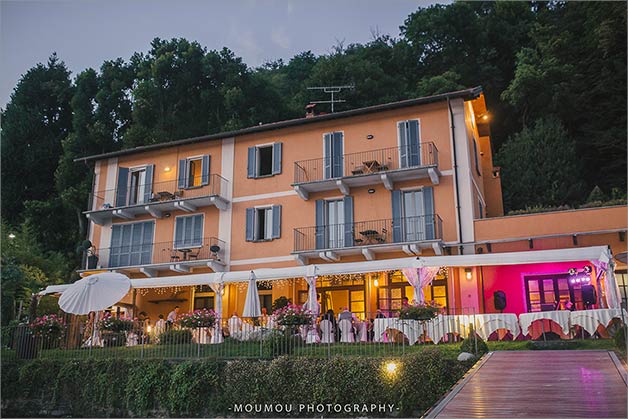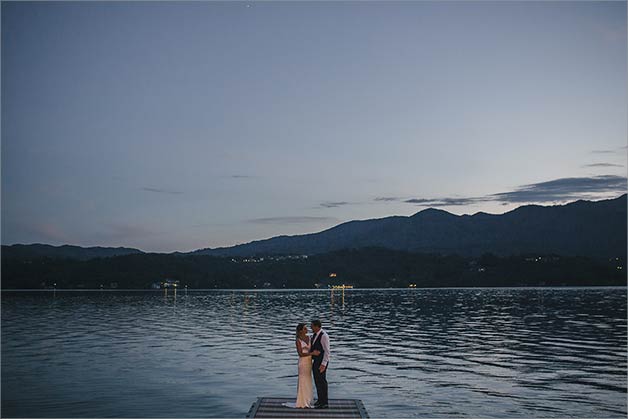 After that party could start… a fun dj set for for all to dance by the shores!
A night to remember on Lake Orta!