y first post of 2015 is for last wedding of 2014 season I planned on Lake Orta. As
wedding planner on Lake Orta
I can say that 2014 was surely a great year full of wonderful events and lovely weddings.
Gaelle and Ryan's wedding
was the best way to close such a great challenging year!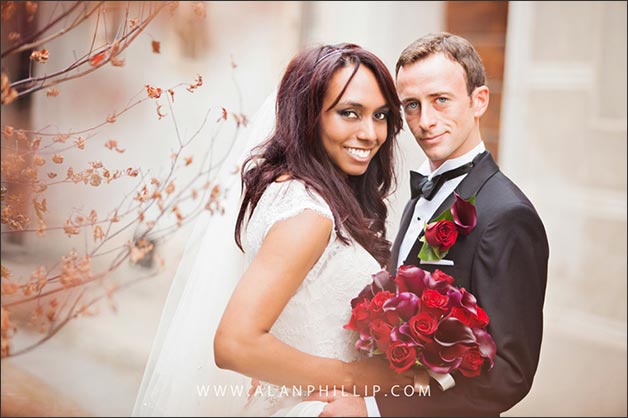 I had the pleasure to meet Gaelle in Orta in 2014 summer. She is a wonderful smiling person. She is American but she is fluent in Italian. She studied at MIP in Milan. A clever, smart and smiling young lady with a refined taste.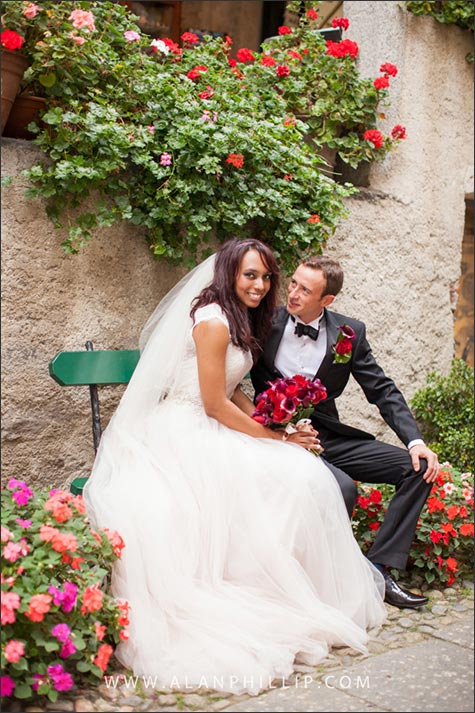 Since the beginning her tastes were clear. She wanted a vintage elegant and stylish wedding by the shores.
She chose church of Maria Assunta for her Catholic ceremony and Hotel San Rocco for her elegant outdoor wedding reception.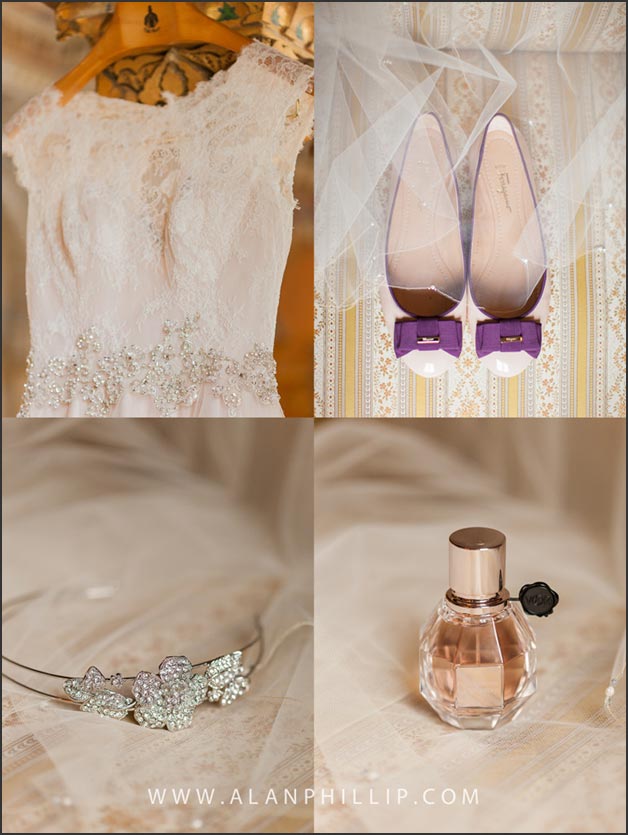 Talented American photographer Alan Phillip travelled with her and her family to Orta to take amazing shots of the day.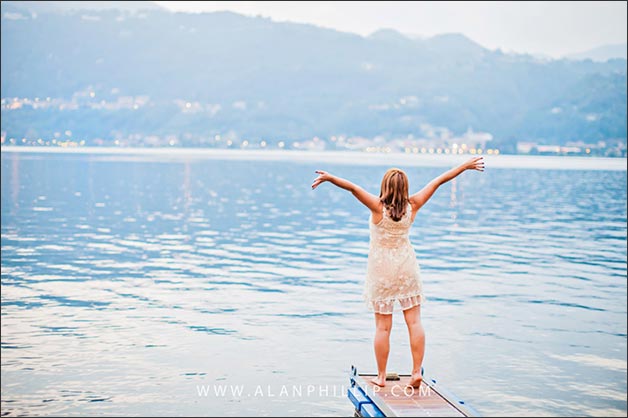 Getting ready in Style at Villa Crespi
Gaelle got ready at elegant Hotel and Michelin starred restaurant Villa Crespi.
Her beautiful mum and grandmother were with her.
She wore a wonderful romantic ivory dress with laces and sparkling details and for her bridal bouquet she chose deep red roses and burgundy cala lilies… matching… her ballerina shoes bow! Just ideal for Orta roads!
The final touch was her long veil and a simple sparkling tiara.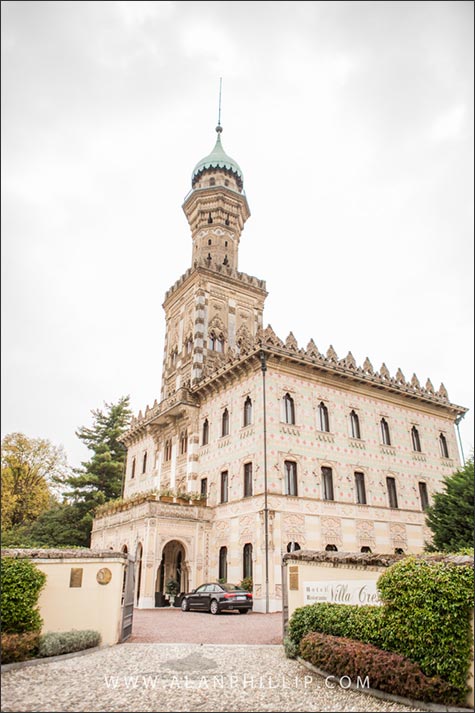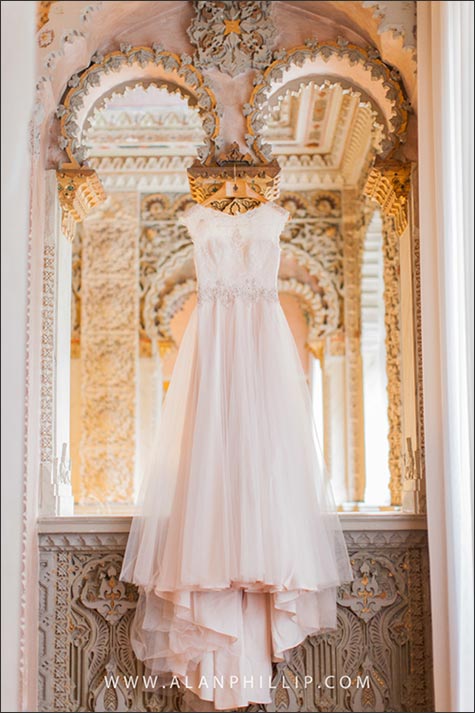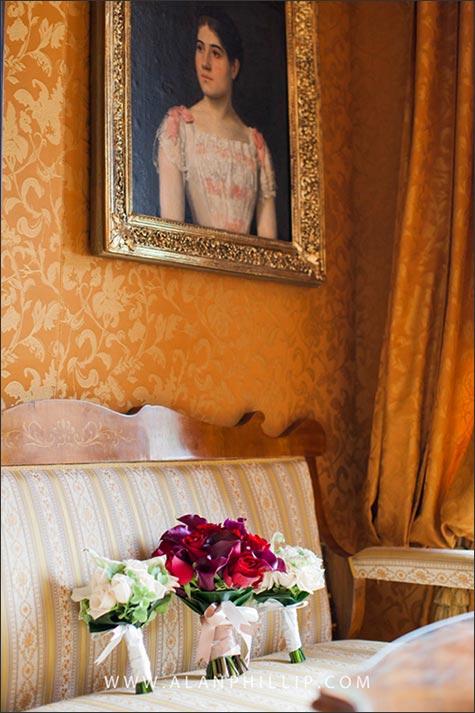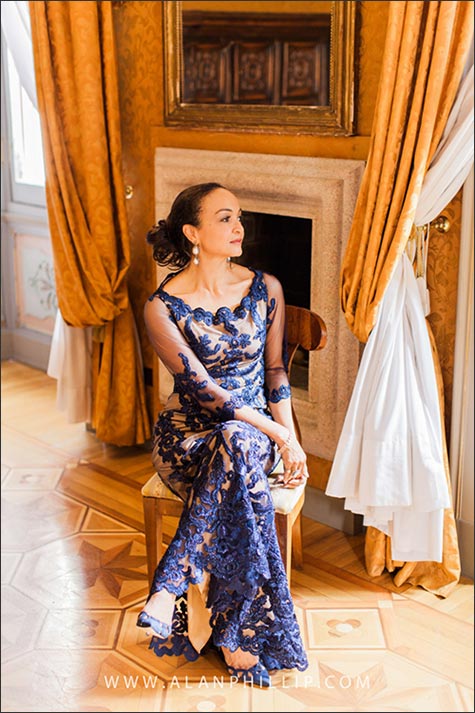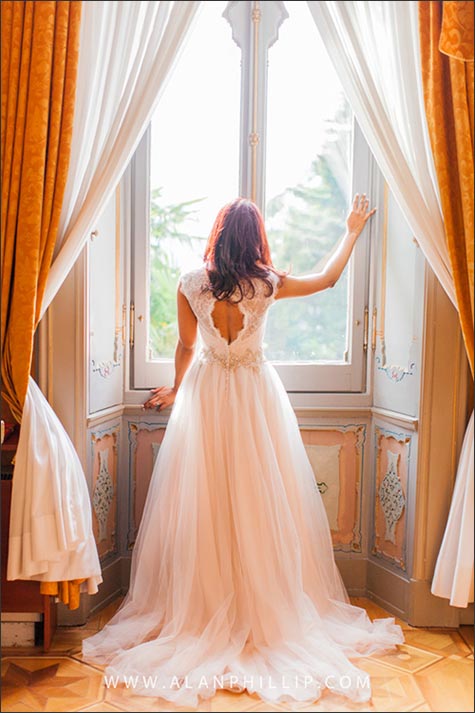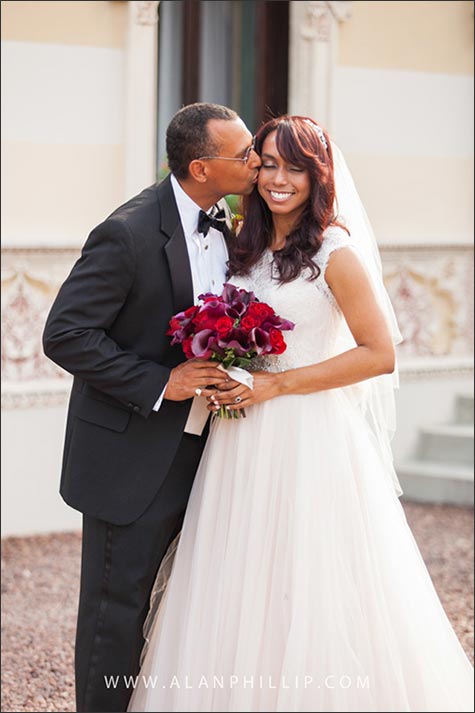 Once ready her dad reached her to give her away.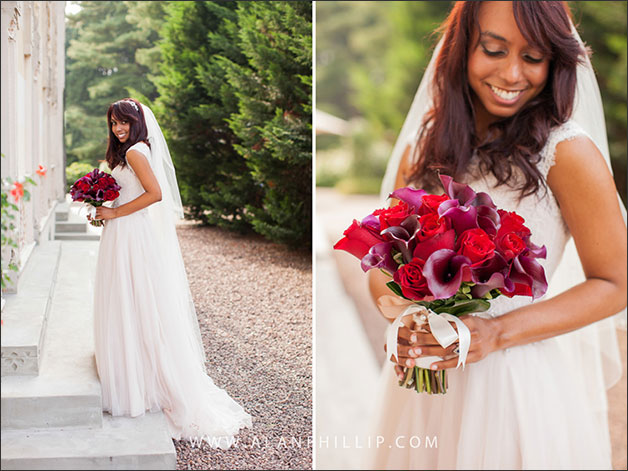 A Vintage themed Catholic Ceremony in Orta Village
At Maria Assunta church everybody waited for her, including handsome Ryan.
Flowers at the church matched Gaelle choice, deep red roses, burgundy calla likes and a touch of ivory with some wonderful ivory roses and ivory calla lilies too.
The sound of a string quartet accompaigned a moving ceremony until the fun recessional on the notes of All You Need is Love by Beatles!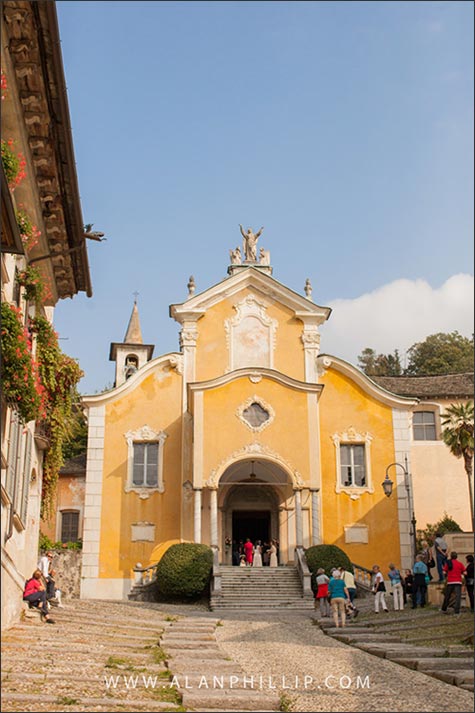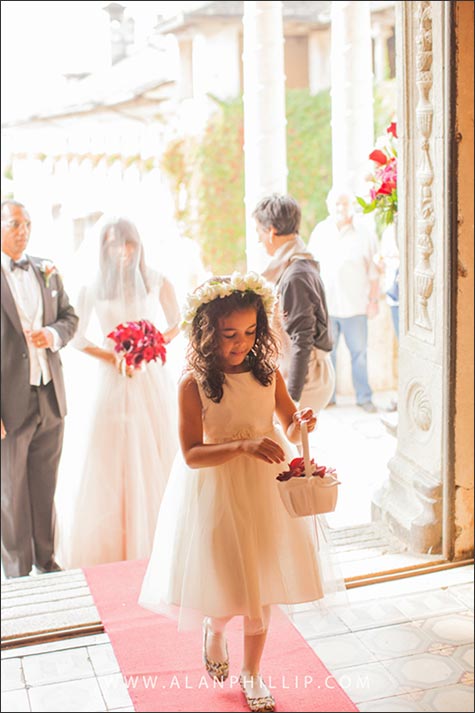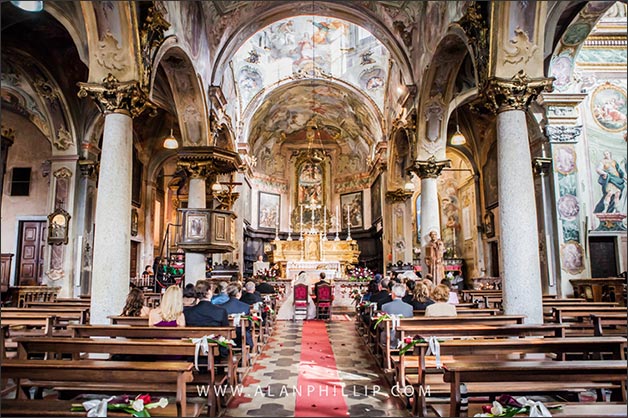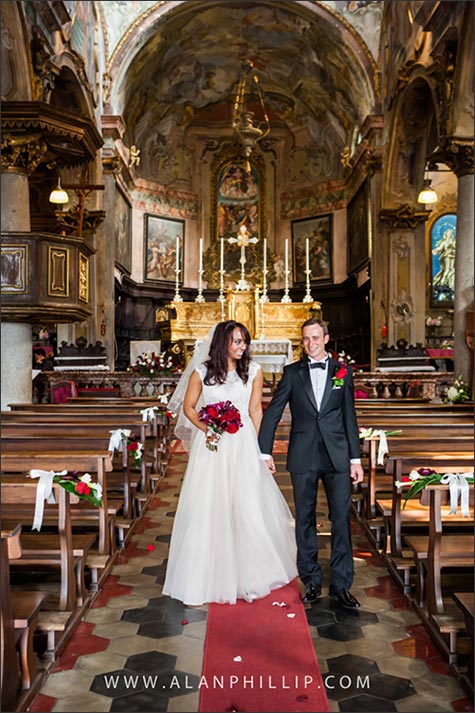 The real exit was planned on the Italian tradition: all guests are waiting outside the church and once bride and groom reach church exit they throw petals on them to wish eternal fortune!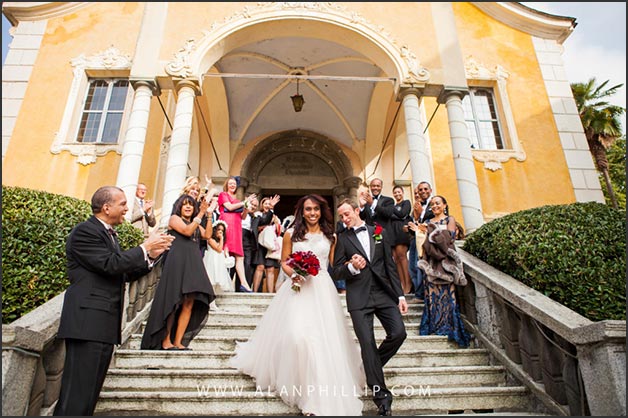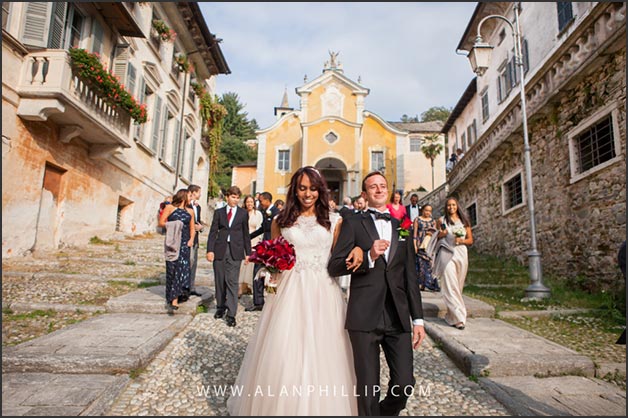 Some pictures in the main square and a boat tour for everybody!
While guests had fun on boats touring romantic Lake Orta, Gaelle and Ryan took the chance to spend some moments together on St. Julius Island.
Alan Phillip's wonderful photographs here are the result!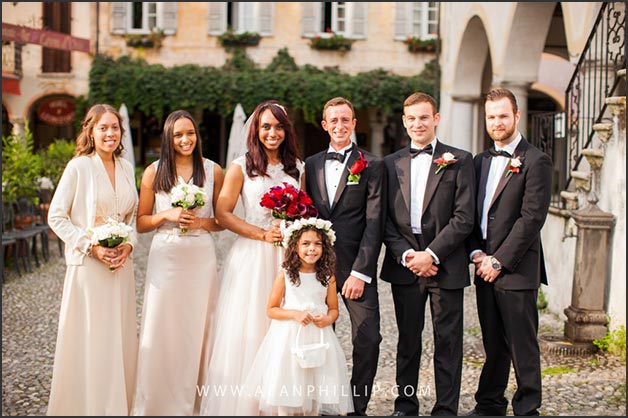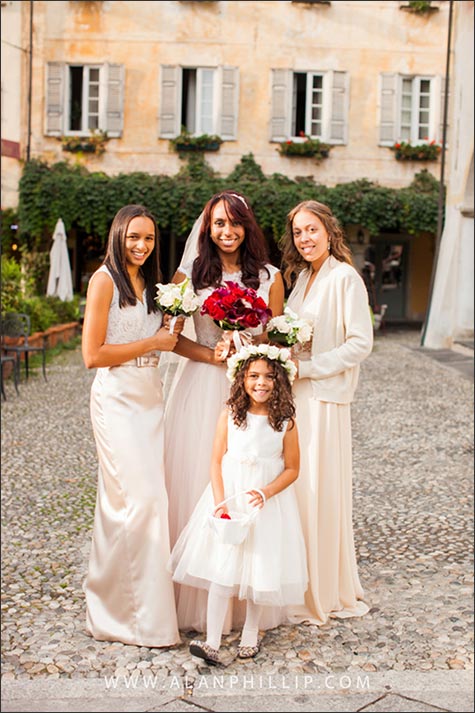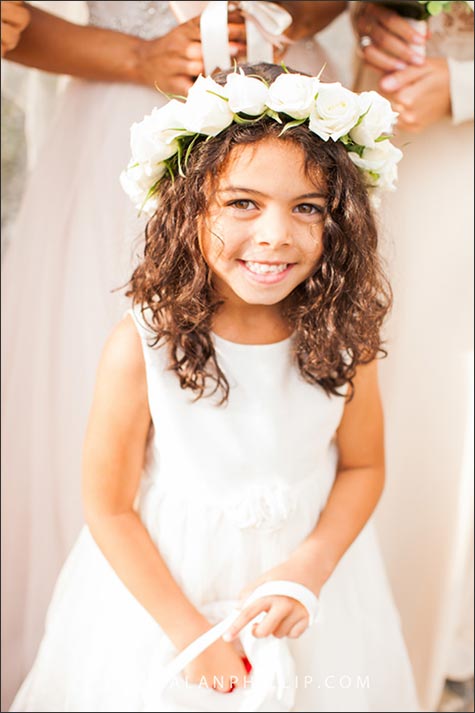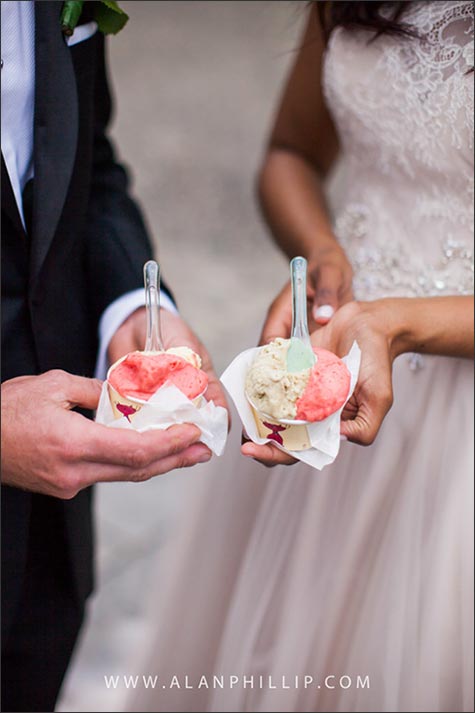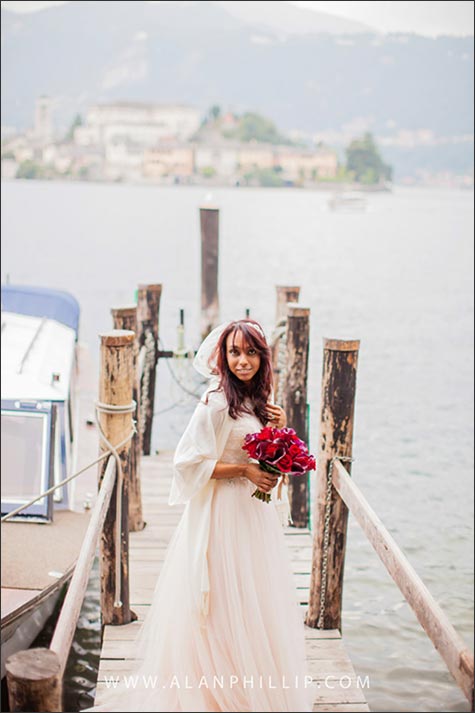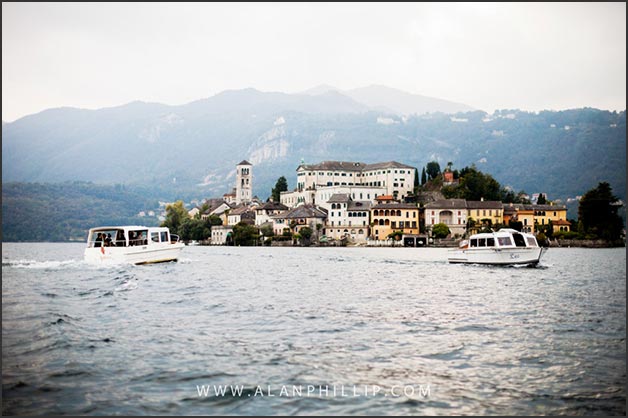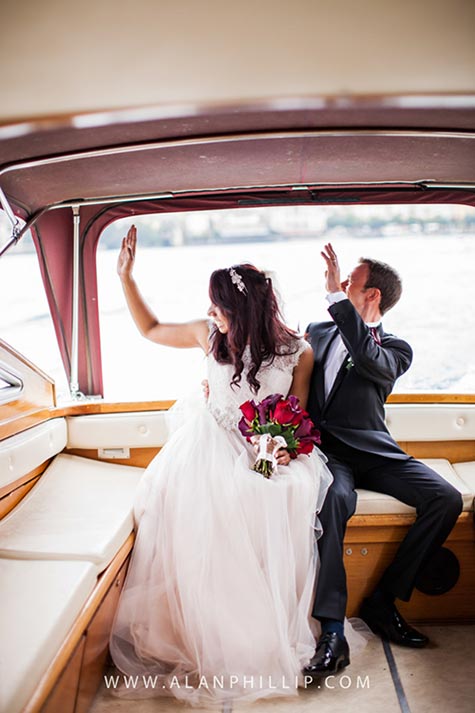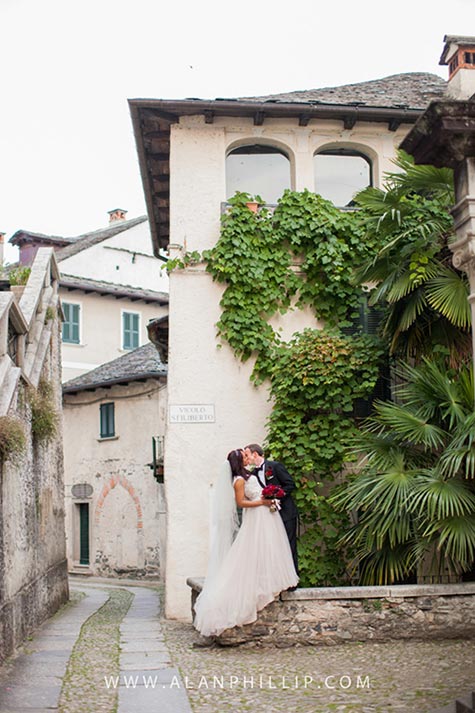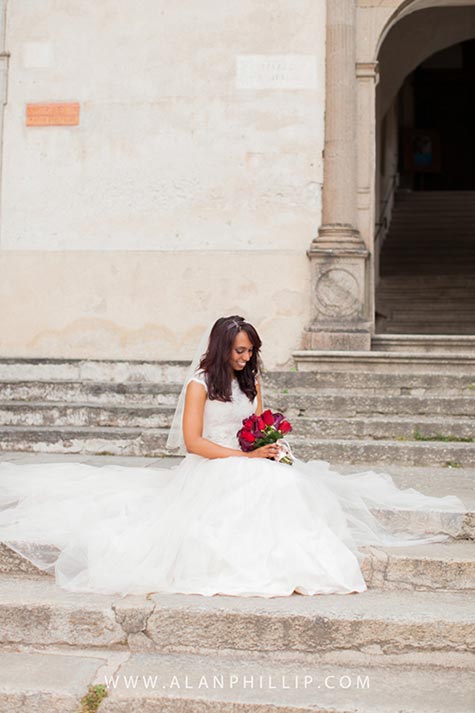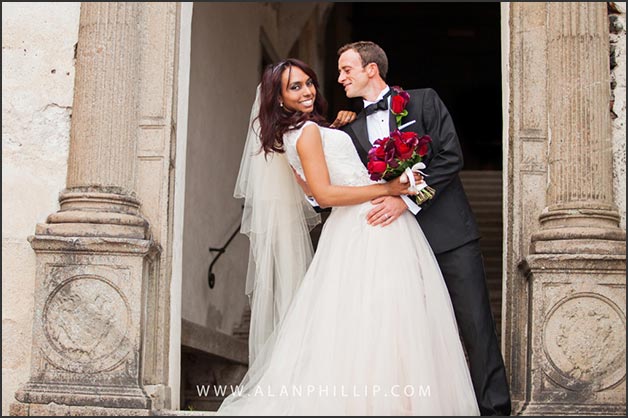 Vintage style outdoor wedding reception by the shores of Lake Orta
At San Rocco Hotel everything is ready for the wedding reception to begin.
A rich aperitif in Villa Gippini to start and then at sunset all could move to the main terrace to enjoy a gourmand dinner under the stars.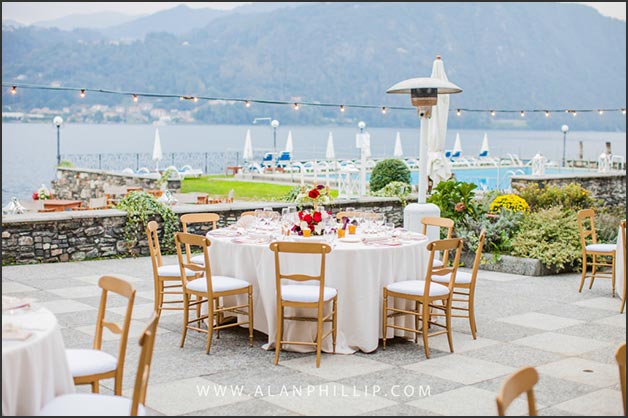 To add a special touch of vintage elegant style Gaelle wanted a golden touch.
We sorted for the day ivory table clothes and golden chairs.
But the real special touch were the gold candelabras on the table and golden tea lights around them.
They created that very special atmosphere Gaelle wanted.
Candelabra were decorated by Paola from La Piccola Selva Floral Designer with ivy, red and ivory roses and white and burgundy calla lilies. Very charming!
To complete the frame our stationary designer created vintage style matching mass booklet, table names and greeting cards. Little Italian style wedding favours with traditional sugared almonds inside were gently placed on every guests' seat to thank for their presence.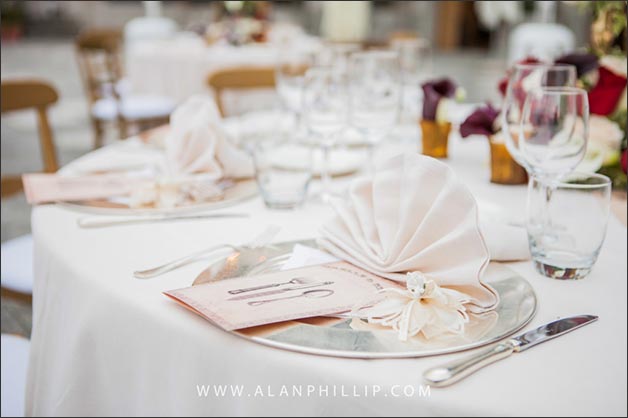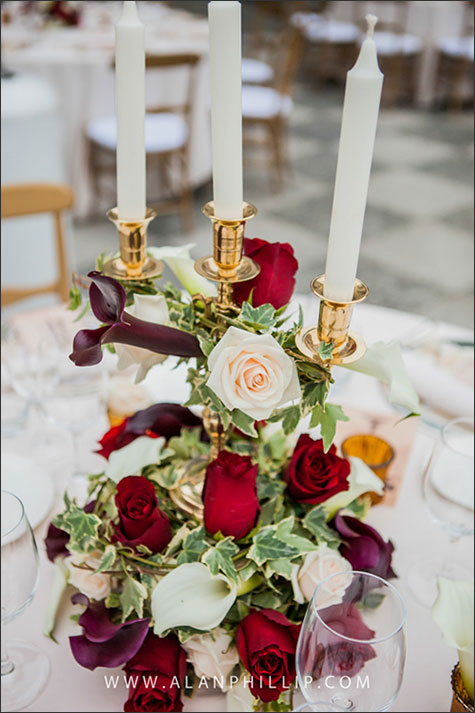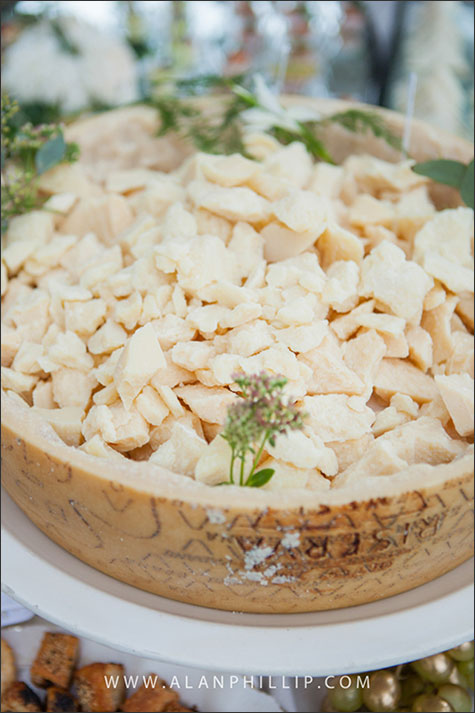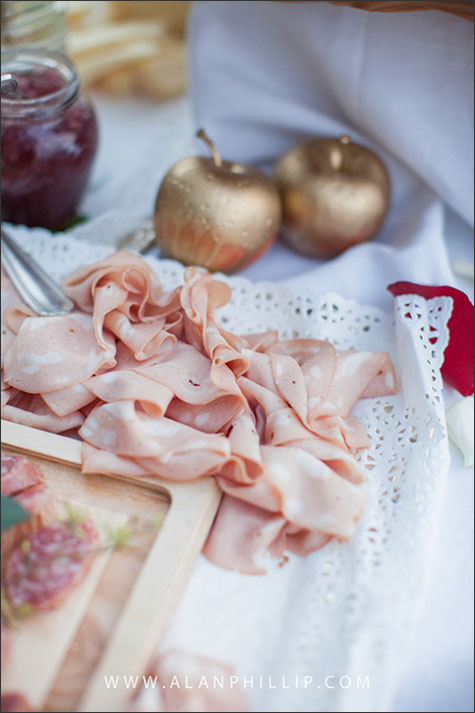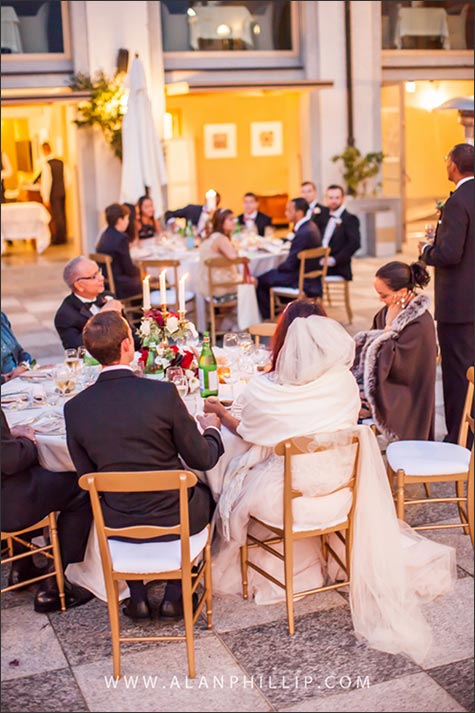 A wonderful and special evening for Gaelle and Ryan illuminated by romantic fairy lights placed on San Rocco Hotel terrace by our light engineer. Isn't it lovely?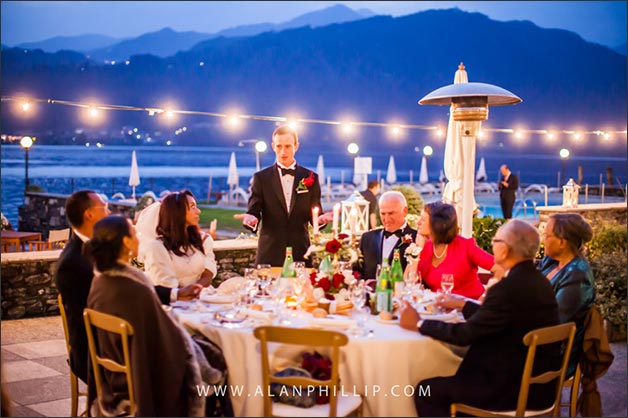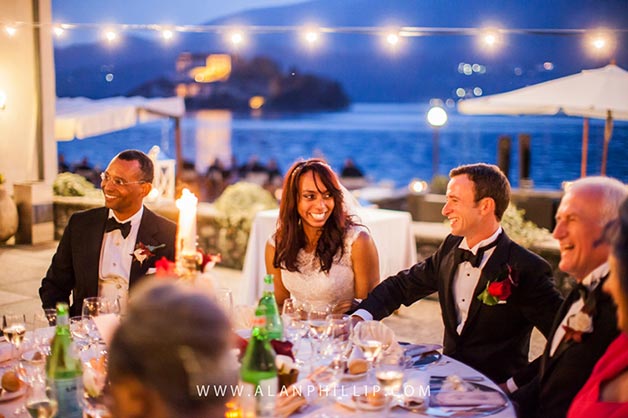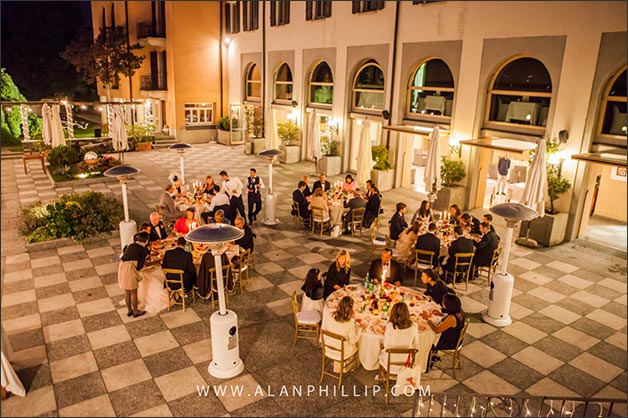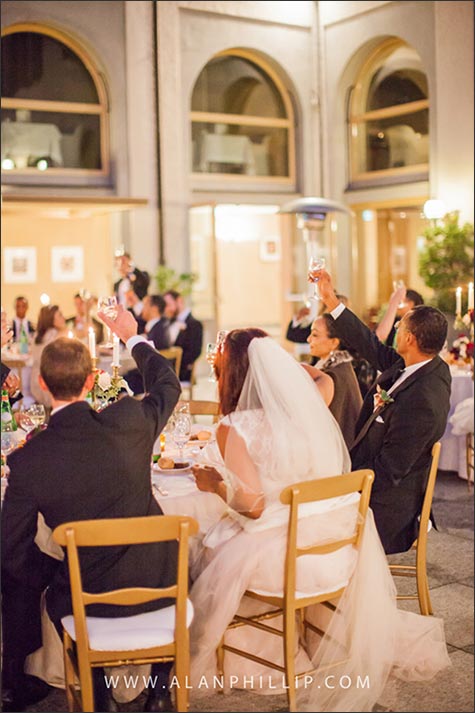 The dinner ended with the cutting of a wonderful ivory wedding cake with black details decorated with red roses.
Dances can start with bride and groom first dance and father and daughter dance. This latter one was one of the most moving moment of the day. This is what our job is all about and this is why I love it.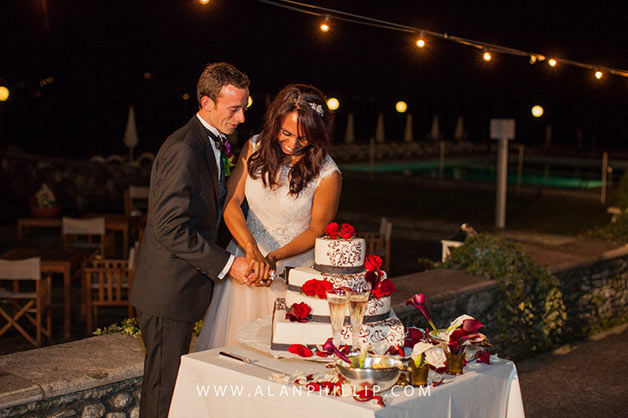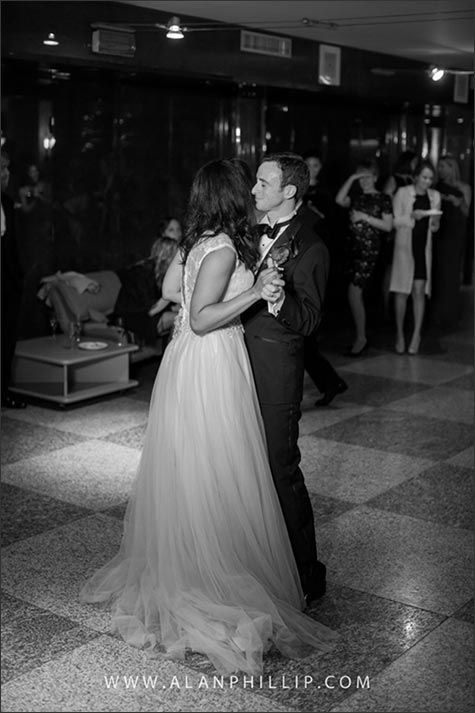 Congratulations Gaelle and Ryan! Your wedding was a wonderful way ti close 2014 wedding season! We are looking forward to new challenges for 2015!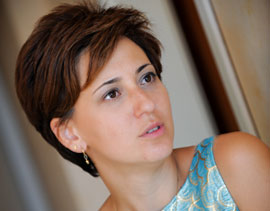 With this post I take the chance to thank all bride and groom who chose me as their wedding planner this year, you are all special and I keep a special place in my heart for all of you!
Thank you also to all professionals that work with me every year creating wonderful events and making everything much easier, woking in team with all of you it's always a great pleasure and honour.
Thank you also to our web master without him, all these stories will be just wonderful experiences left on a shelf to gather dust.
Thank you all and a wonderful challenging 2015!