'm glad to be back to you to tell you about a lovely wedding we planned some time ago.
We recently received the permission to post it and wonderful shots by
Luca and Alex of Luca Rajna Progetti Fotografici
you can see here.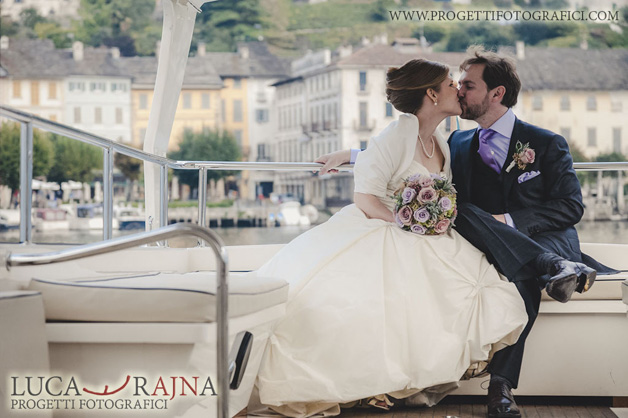 I had the pleasure to plan Maggie and Matt's wedding. They both come from California and they both work in movie industry. Matt is a director and Maggie works in animation movies industry. They chose Lake Orta for their special day. They taught that it would have been the best destination as it is authentic, charming, special and very Italian. I definitely agree!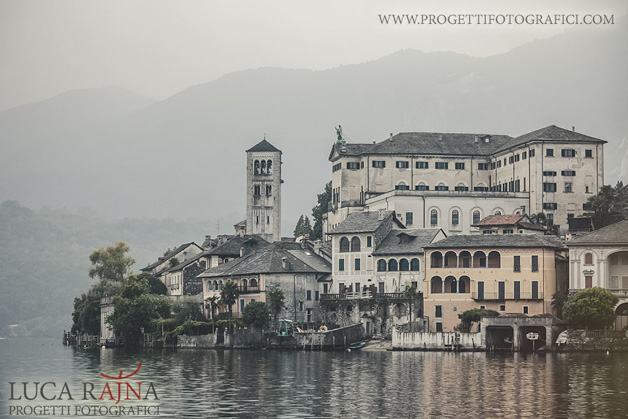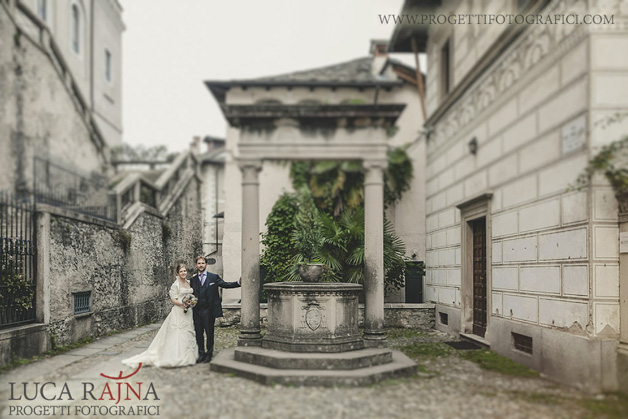 A big group arrived from
US
to celebrate Maggie and Matt and they were so kind to plan for them a special welcome.
On day one
– the day before the wedding – Maggie and Matt planned a special trip with all their friends and family members to
Lake Maggiore
.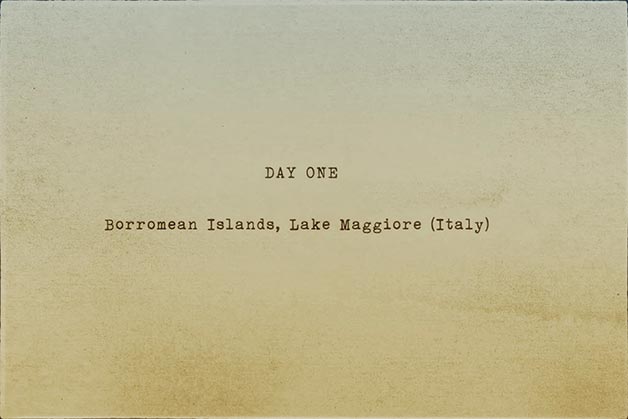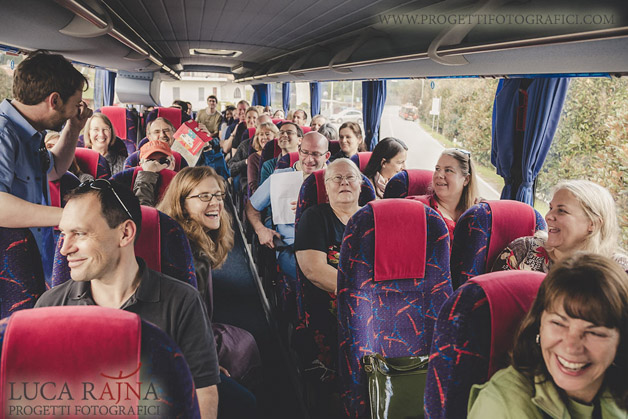 Lake Maggiore is located no more than 20 minutes drive from Lake Orta
and it could be a perfect destination for a one day trip before or after the wedding day.
Once arrived in Stresa the whole group got on a
motorboat
and reached
Borromeo Islands
. The tour included the visit to
Isola Bella
and a stop to
Isola Pescatori
–
Fishermen Island
– where Maggie and Matt were glad to offer an
outdoor lunch
to all their guests.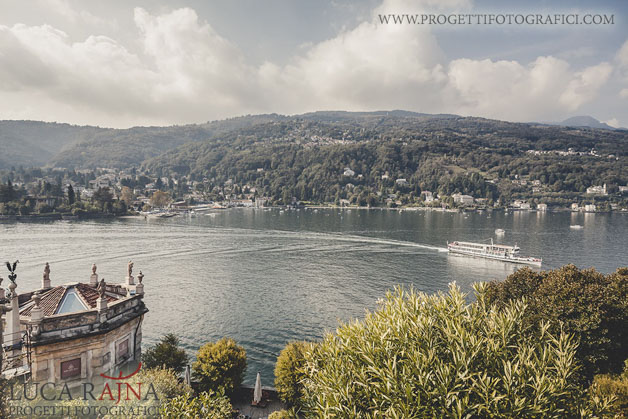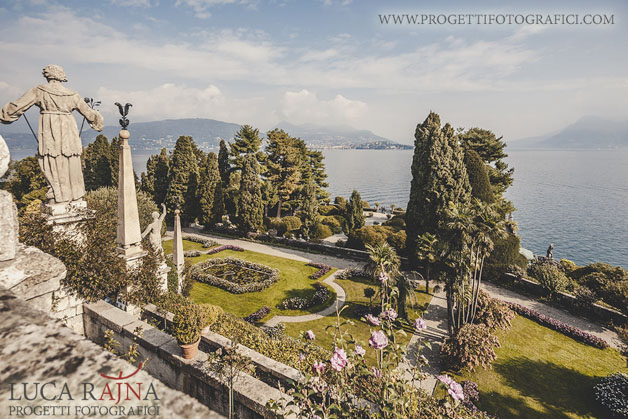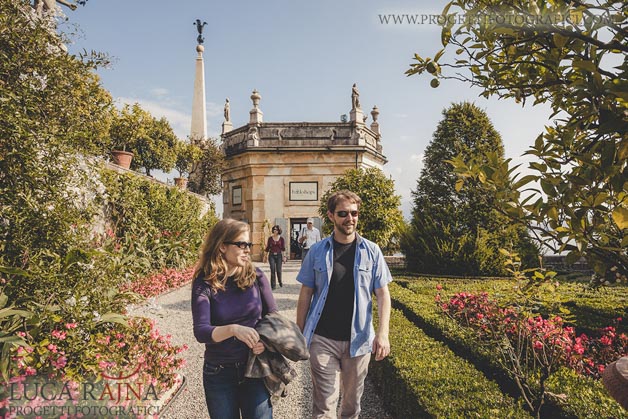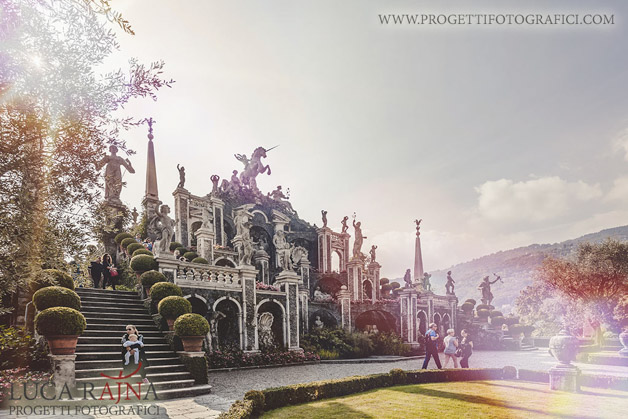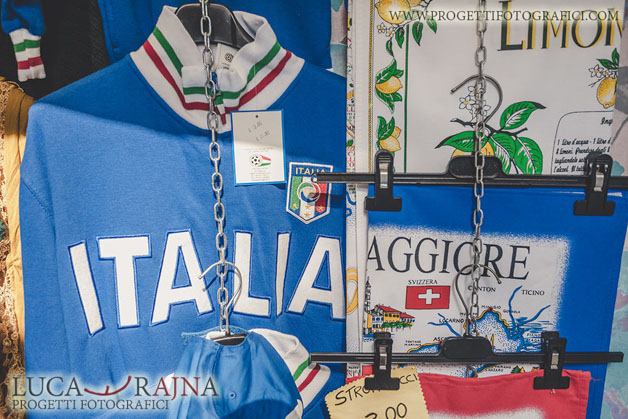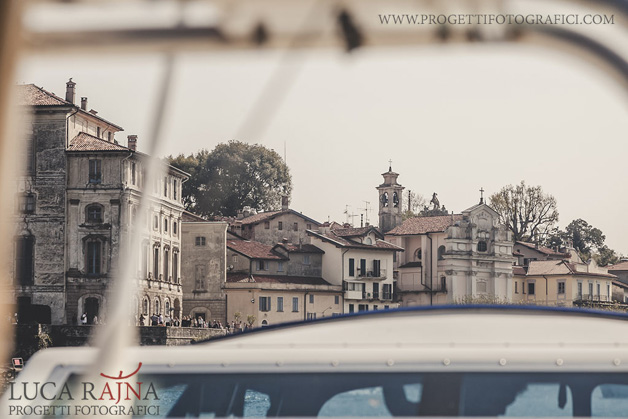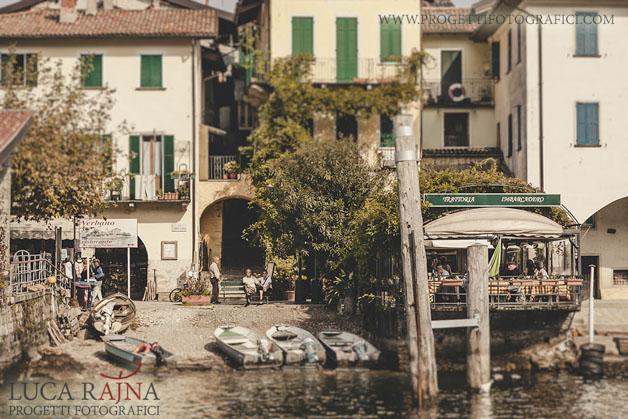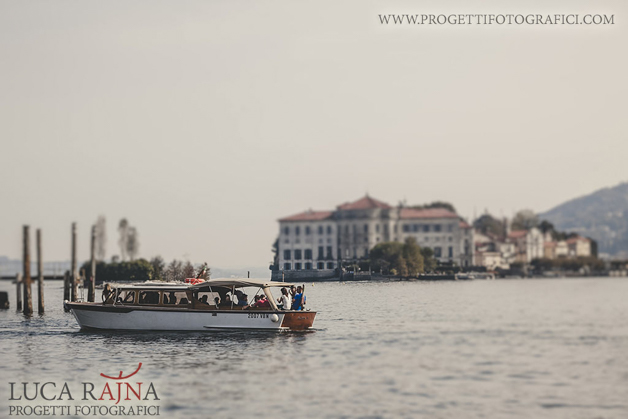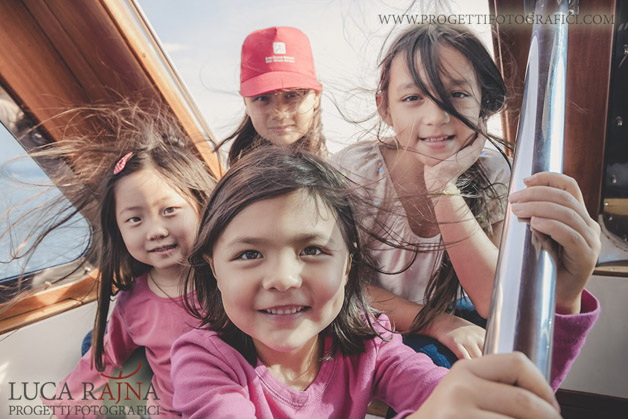 The tour continued to get back to Orta village with the fun touristy train that travels to the center of the center of pedestrian village.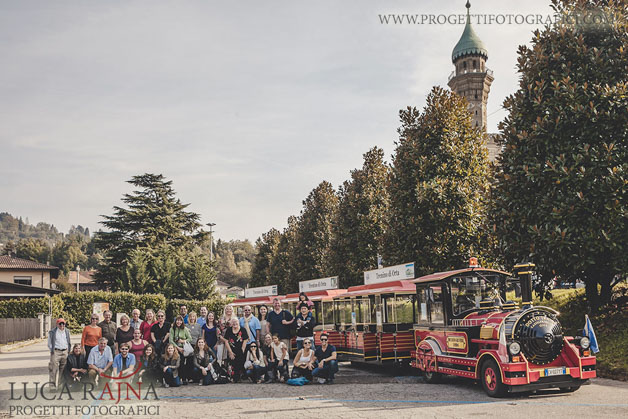 Day two was the day!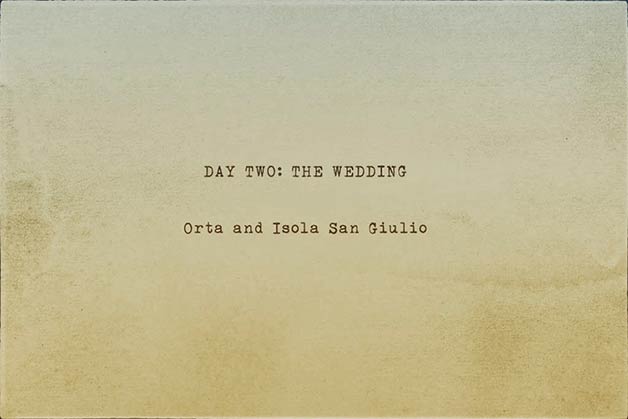 As special wedding venue Maggie and Matt chose Hotel San Rocco on the shores.
They got ready at the hotel and once ready civil ceremony was planned at Villa Bossi.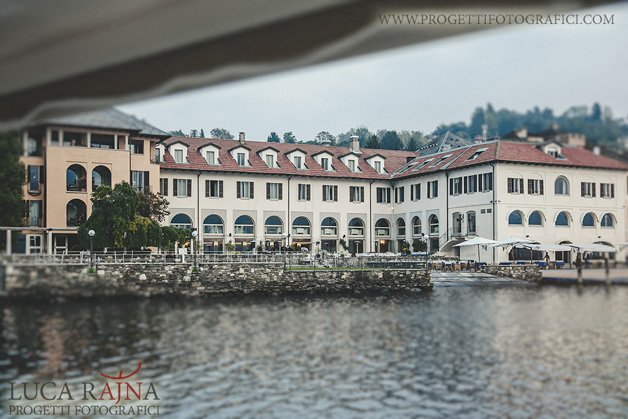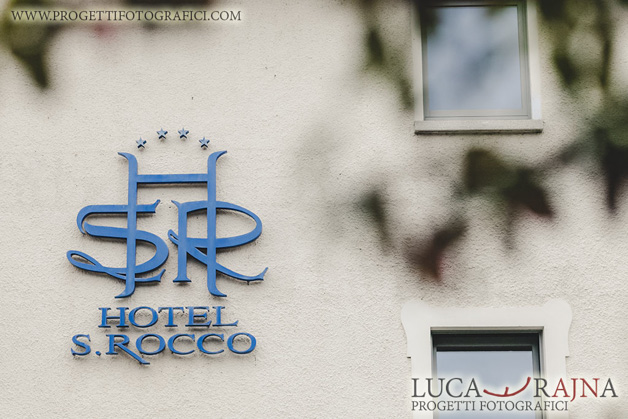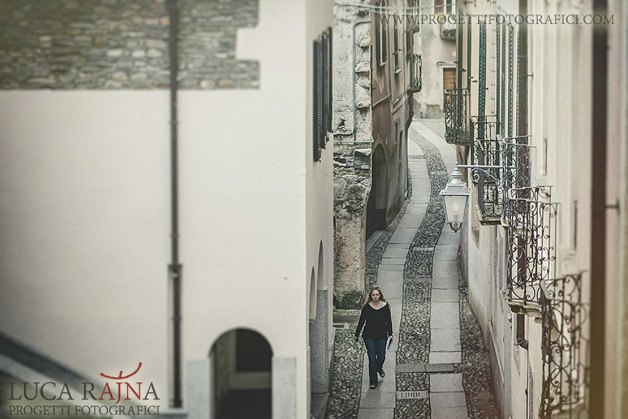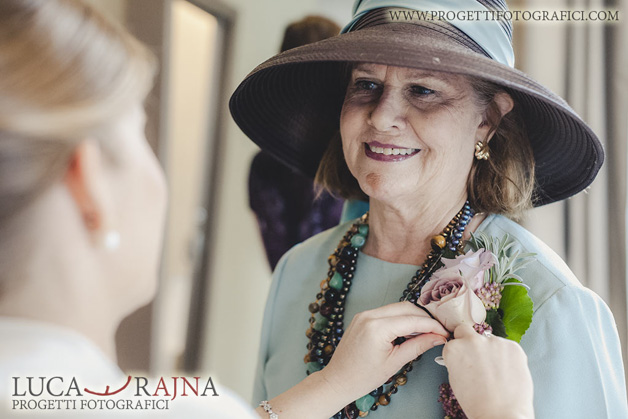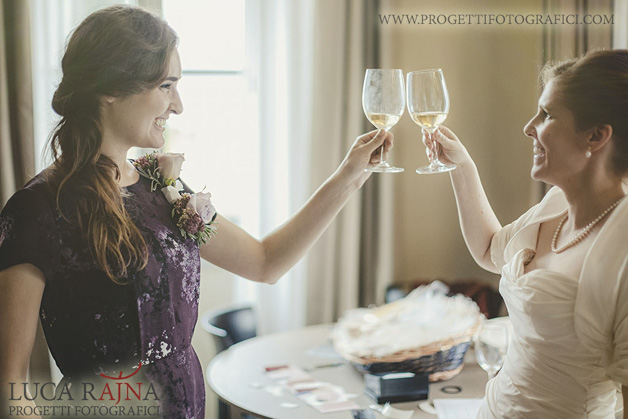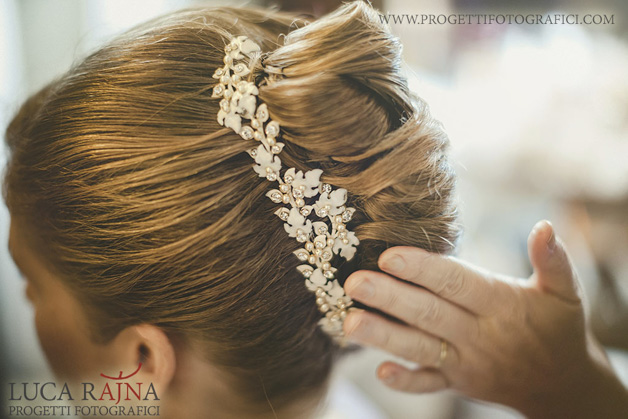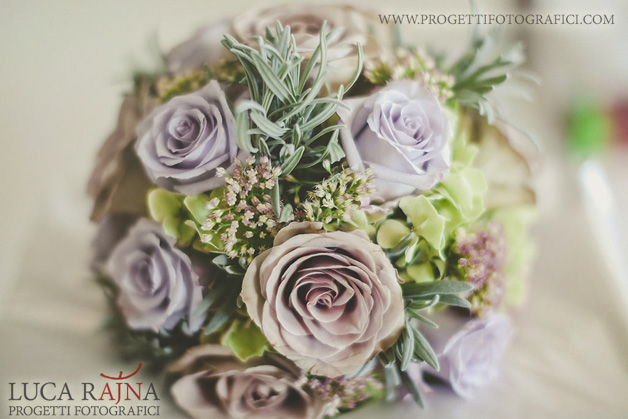 Villa Bossi was beautifully decorated with green and blue hydrangeas, lilac and dusty pink roses, and rosemary. These wonderful mix of flowers was on bride and groom's chairs, on the table of the ceremony. at the gate by the shores and in a garland hanged on the columns of the town hall.
The scheme perfectly matched Maggie's bridal bouquet, Matt's buttonhole and ladies corsages.
We have to remember that almost all composition were done by talented Maggie's mum! She did an amazing job!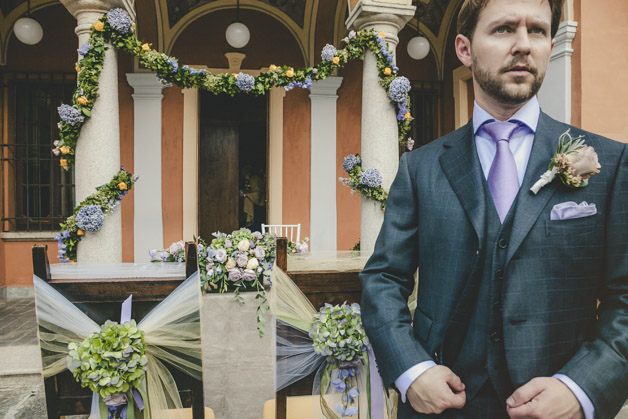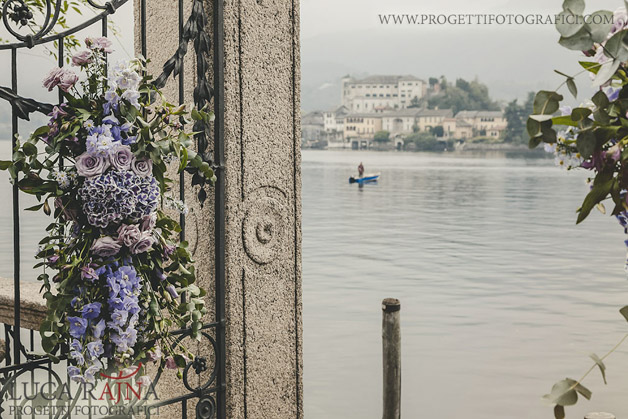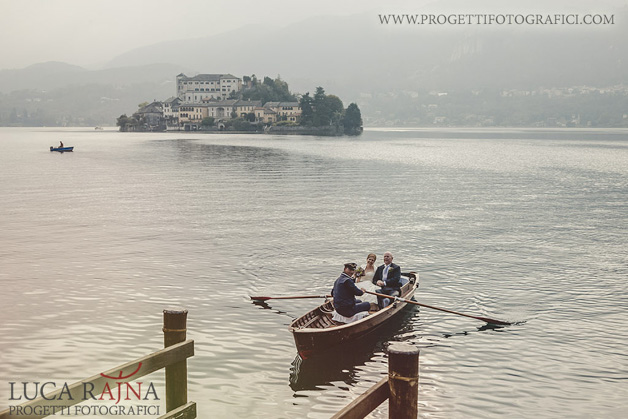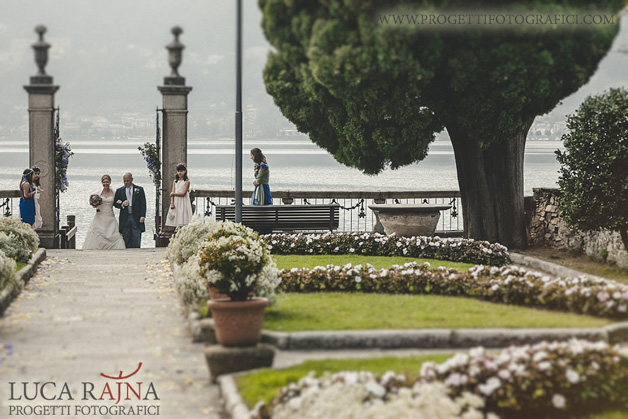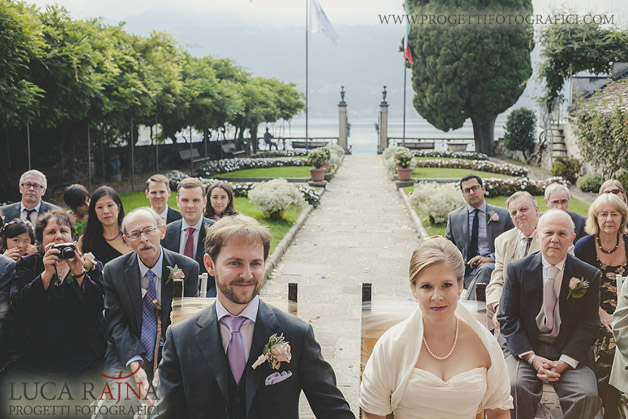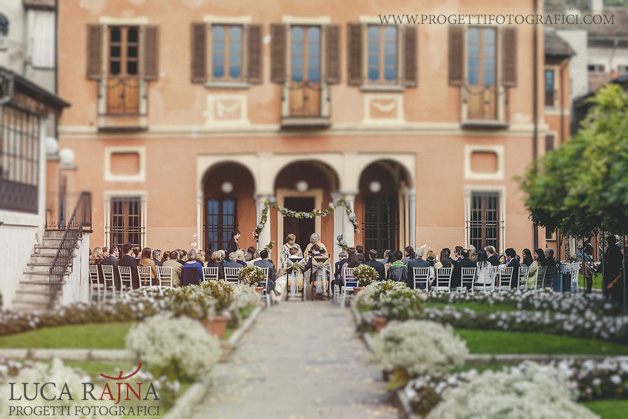 After a fun but moving civil ceremony the group reached Orta main square for photos and to taste a lovely Italian ice cream! What a great idea for a special Italian toast after the ceremony.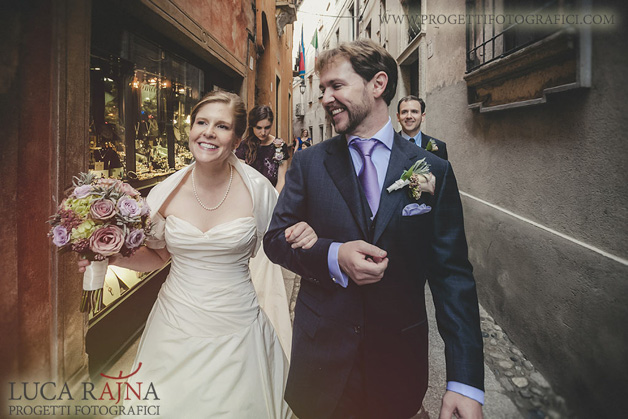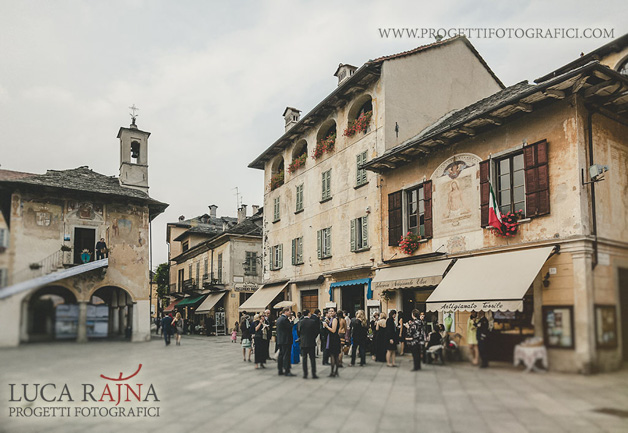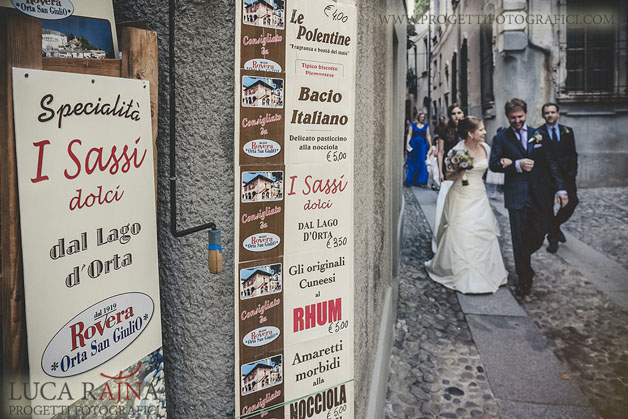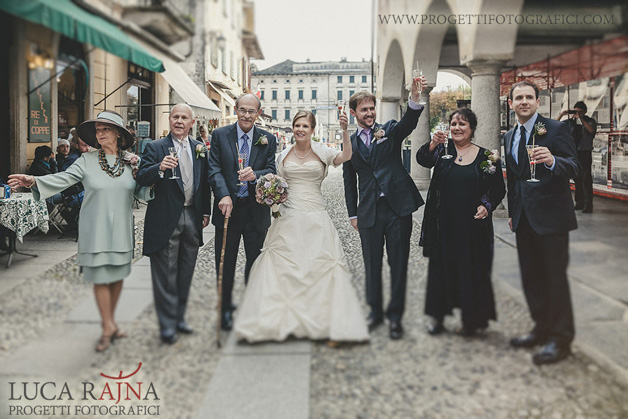 While guests where reaching Hotel San Rocco for the aperitif Maggie and Matt took some special and quality time for their own. They got on a private boat to reach St. Julius Island for some unique shots!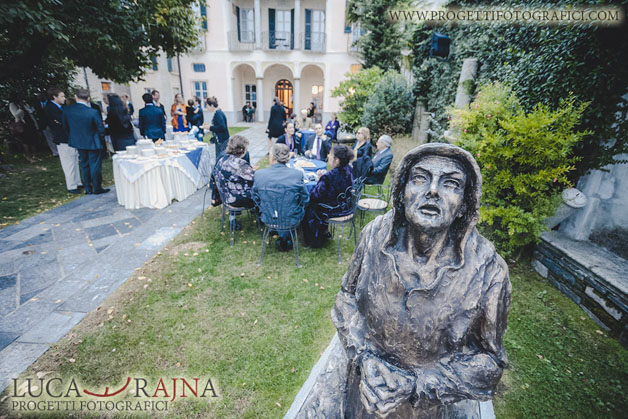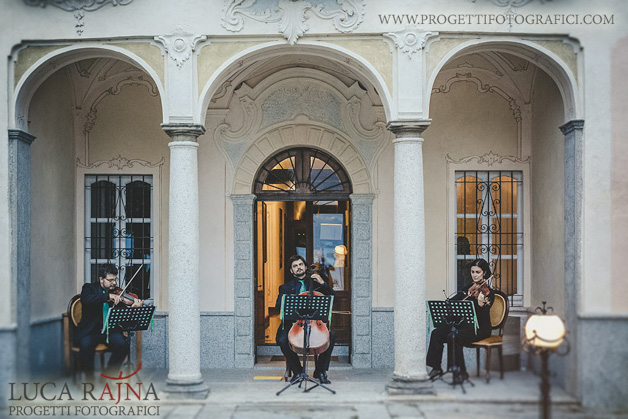 You can see them in these amazing shot taken by Luca Rajna.
Maggie is simply beautiful in her elegant dress and her chic hairdo.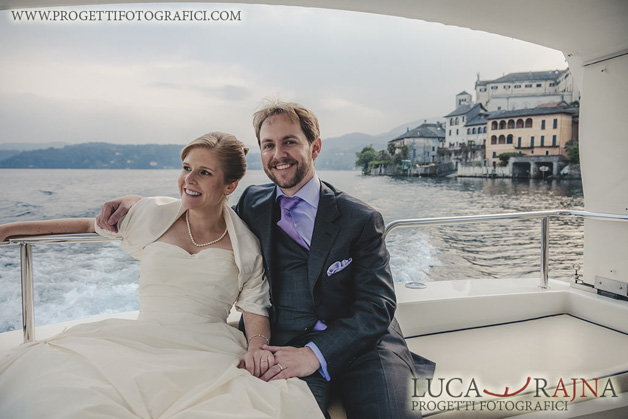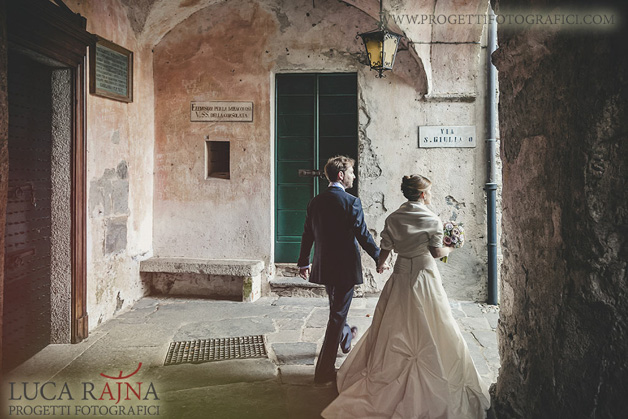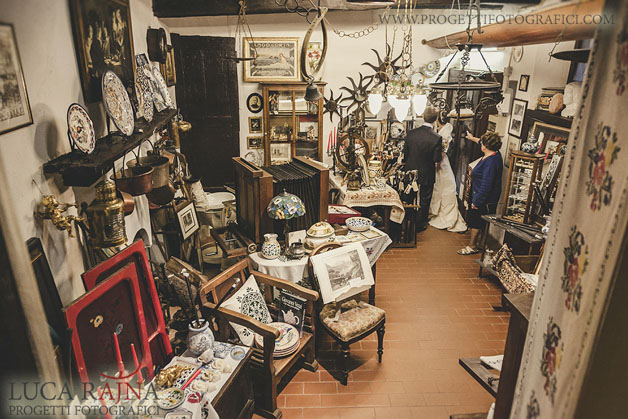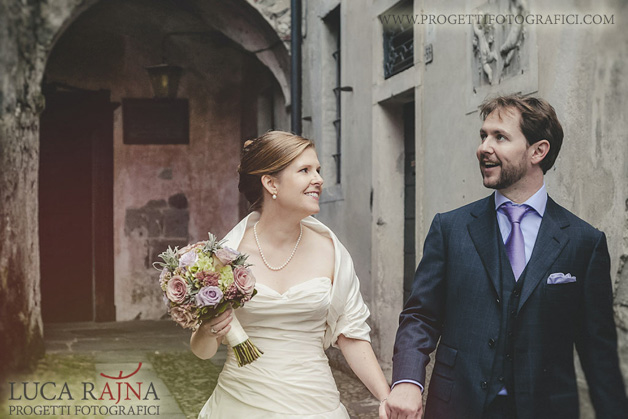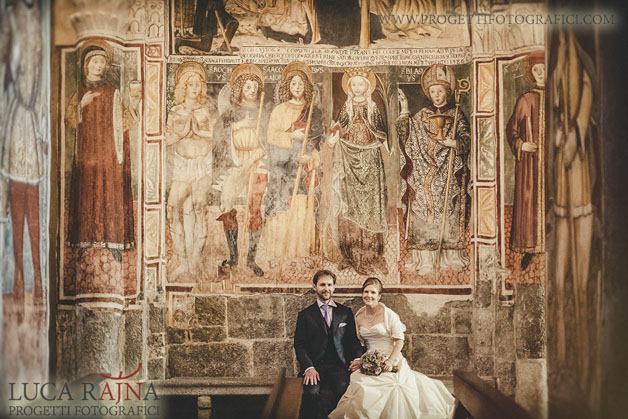 Wedding reception was planned on the main terrace of Hotel San Rocco.
Thousand of fairy lights lit up the evening and the view of St. Julius Island at night complete a perfect frame. The dance floor was set in the center of the terrace with tables all around it.
It was planned to involve all the guests in the dances afterwards when the party with a great dj set begun.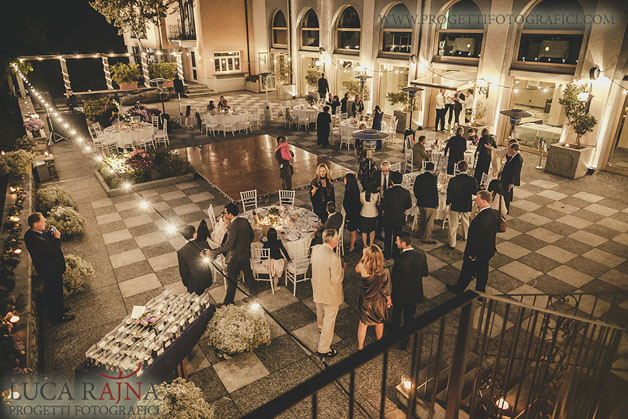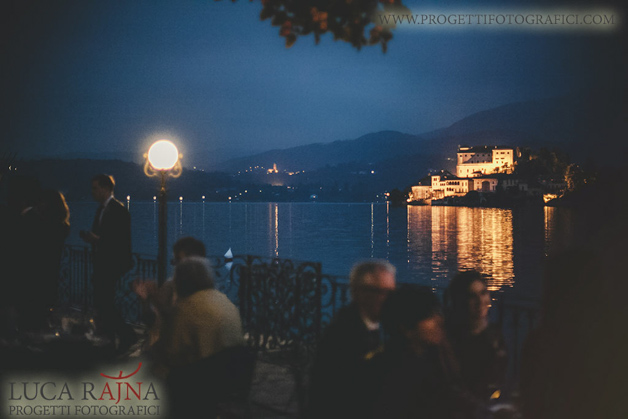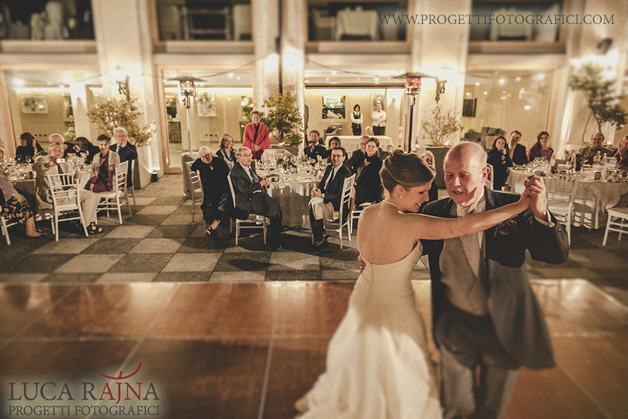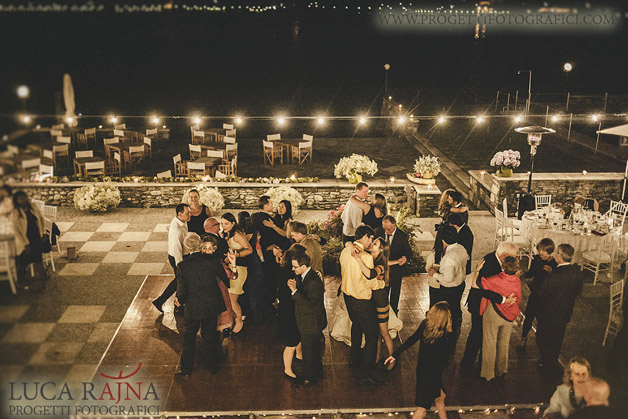 Maggie and Matt could not miss a traditional Italian Wedding cake celebrate with dozen of sparklers lit up by their guests and a special first dance to follow that opened the dances.
Maggie also wanted to give a touch of Italy to her guests as wedding favour. Traditional five wishes sugared almonds representing: health, wealth, happiness, fertility and longevity; and a little tin of original Italian olive oil to fast a touch of Italy once back in US.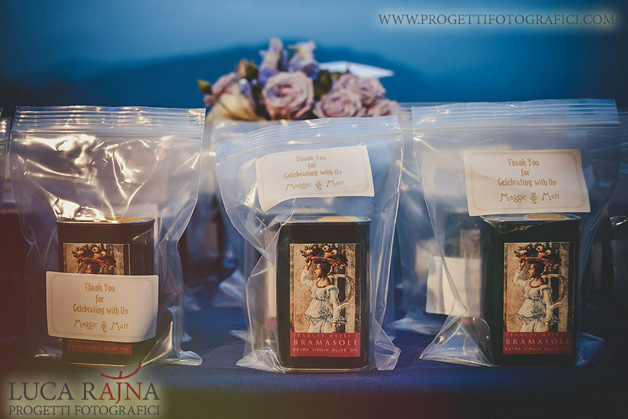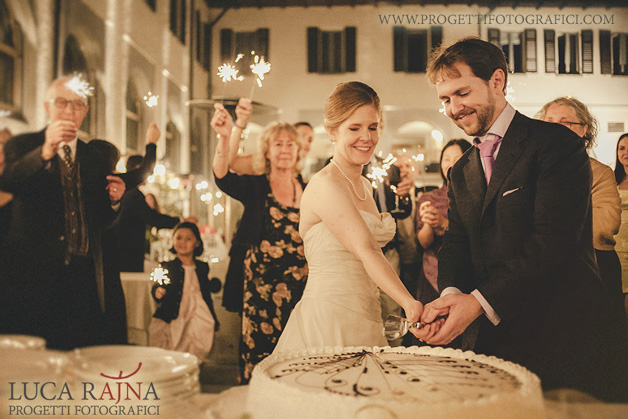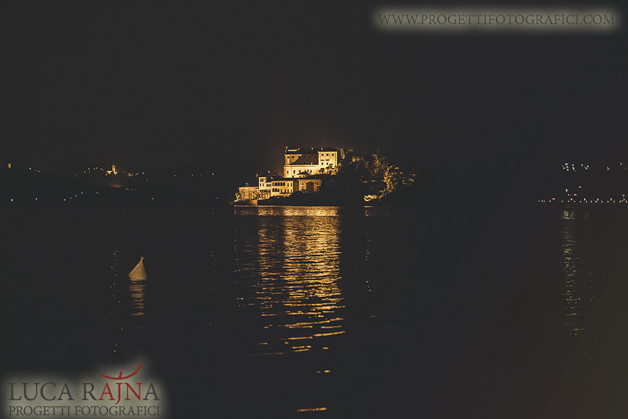 A lovely event I was pleased and happy to be part of.
Thanks Maggie and Matt for choosing us and for choosing Lake Orta for your special day!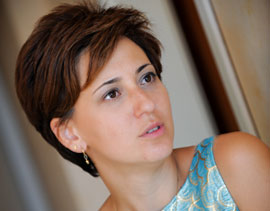 My name is
Valentina
and I work as wedding coordinator on
Lake Orta
and
Lake Maggiore
.
Before being a wedding planner and coordinator I worked for an American company planning events. I turned into wedding planning for SposiamoVi group, more than 5 years ago. Since Italian Lakes Wedding was founded I work with them to make bride and groom's dreams come true on this wonderful Lakes of North West Italy and Piemonte region.
l love creating with my couples the perfect event for them following their wishes and needs, helping to find the best solution for their ideas and budget.
I like meeting people talking with them and know more about their cultures and traditions. I do like sharing Italian customs with them and working in team with couples to let them experience a real and dreamy Italian wedding!
I will be pleased to guide couples along lovely traditional and pedestrian roads of Orta village discovering the beauty of this romantic Lake between villas, traditional restaurants wonderful churches and enchanting St. Julius Island.
I will be happy to let couples discover bigger and charming Lake Maggiore with its Borromeo Islands, wonderful hotels and villas overlooking the waters.
I'm sure you would be amazed by the beauty of these special corners of Italy so I'm simply wait for you for a lovely experience to create and live together.
For any information about wedding on Lake Orta CONTACT ME