or some reasons
12 July 2014
has been a very important day for
La Piccola Selva Floral Designer
. We come back to tell you about this only now as we felt that after few years it was a good way to celebrate a romantic anniversary!
As the matter of fact for the first time we had the chance to work for
a wedding inside the abbey just on St. Julius Island
. A wedding celebrated on
St. Julius island
is something really unique. As per a law made by
Novara Bishop
back in XXVI century,
weddings ceremonies here are allowed only for natives or residents on St. Julius Island and Alpiolo a small village
of San Maurizio d'Opaglio town and owning to Parish church of San Giacomo. If you consider how small is this territory you can easily figure out how many wedding ceremonies can be celebrated in this Abbey!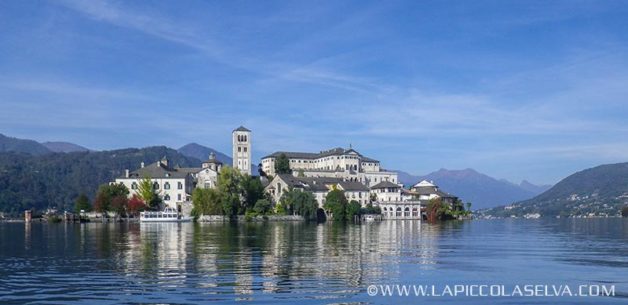 Our Italian groom Matteo was born just in Alpiolo, a small village located just in front of St. Julius Island on West shores of Lake Orta. Matteo is a huge fan of local history and traditions and he chose St. Julius Abbey to celebrate her wedding with Jodie. A great tribute to his land and his traditions and for sure a unique occasion to get married in a church destined to very few couples.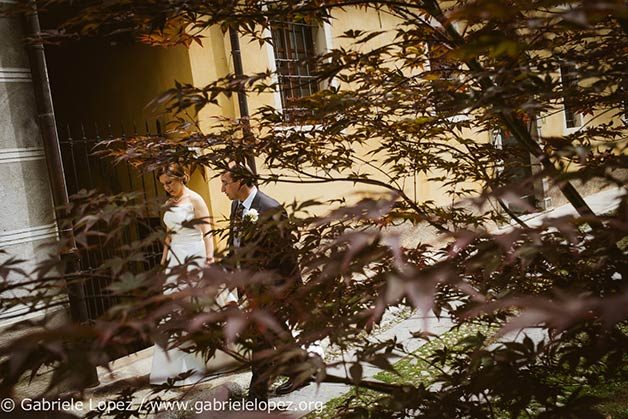 Tradition wants that this Abbey has been the 100th and last church founded by St. Julius in person back in 390. The Saint with his brother Giuliano (Julian) spent last years of his life spreading Gd then in 962 God's word on Lake Orta. Legend says that he reached the Island sailing on his cape. In VII century che church was renovated to be damaged after some fights on the island. At that time the island was ruled by Queen Willa, Berengario II King of Italy's wife.
Nowadays the church has three naves. It is as you can see it now since XII century, and it was built to be similar to Novara cathedral. Inside the abbey there is a wonderful sculpture made in green serpentine marble coming from Oira – a small village on West side of the Lake. The pulpit in made on 4 columns and it is considered one of the greatest masterpieces of romantic sculpture of XII century.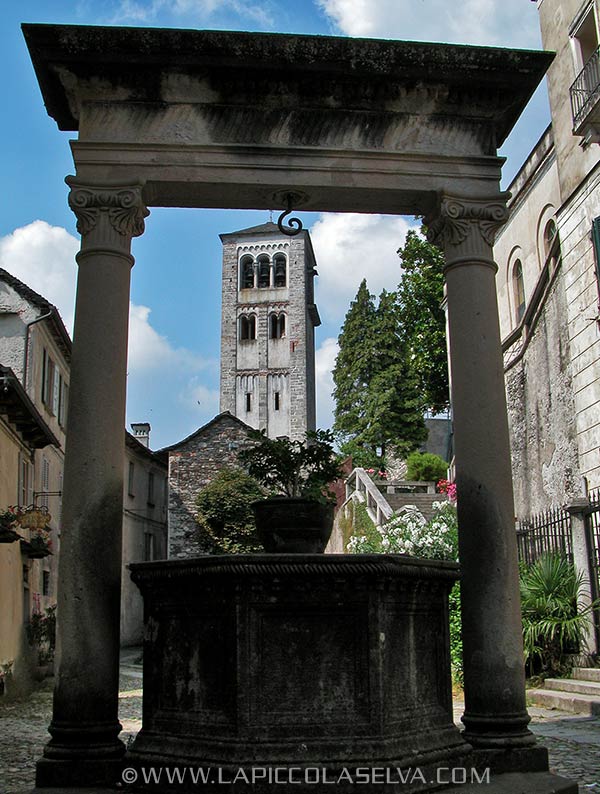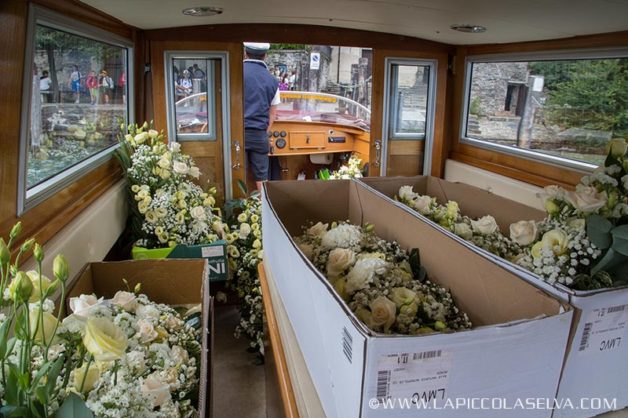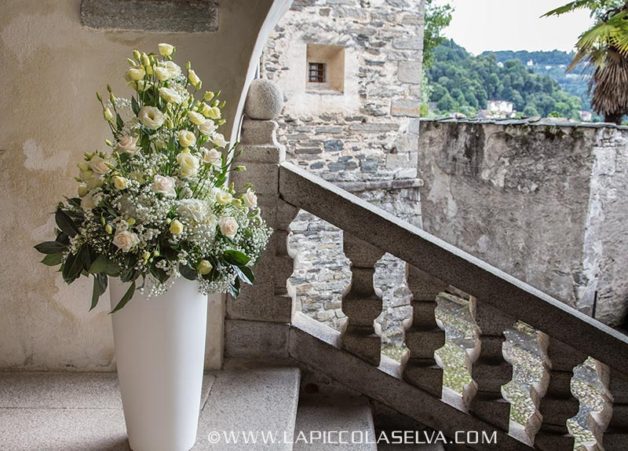 There are some Benedictines nuns living in the Monastery of the church. We take the occasion to thank them to share these wonderful photos of their "home". It is surely an exceptional occasion.
A very special thanks to Gabriele Lopez photographer Jodie and Matteo chose for their wedding. For further information please look at his web site www.gabrielelopez.com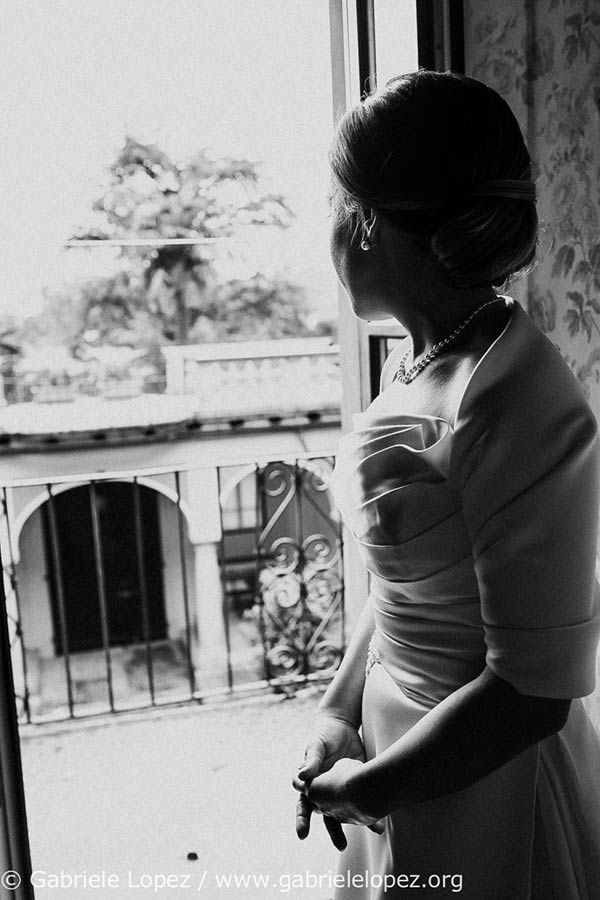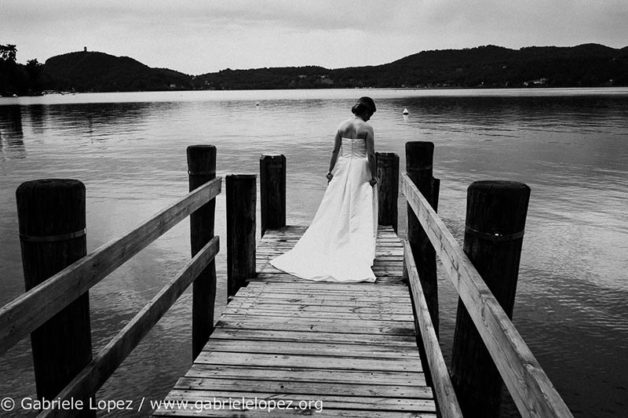 Jodie's bridal bouquet
For her bridal bouquet Jodie chose pastel romantic colors. They matched her tastes and personality. We mixed dedicated white Bouvardia blossoms with Lysianthis and Roses. Jodie wanted to throw her bouquet right after the ceremony on the steps of the Abbey. You can see her the precise moment in a shot of great photographer Gabriele Lopez.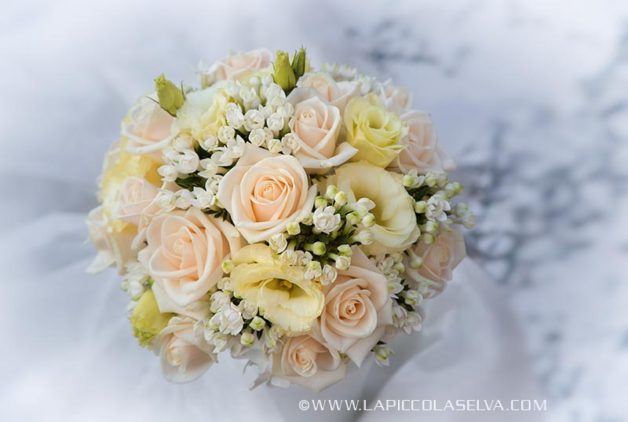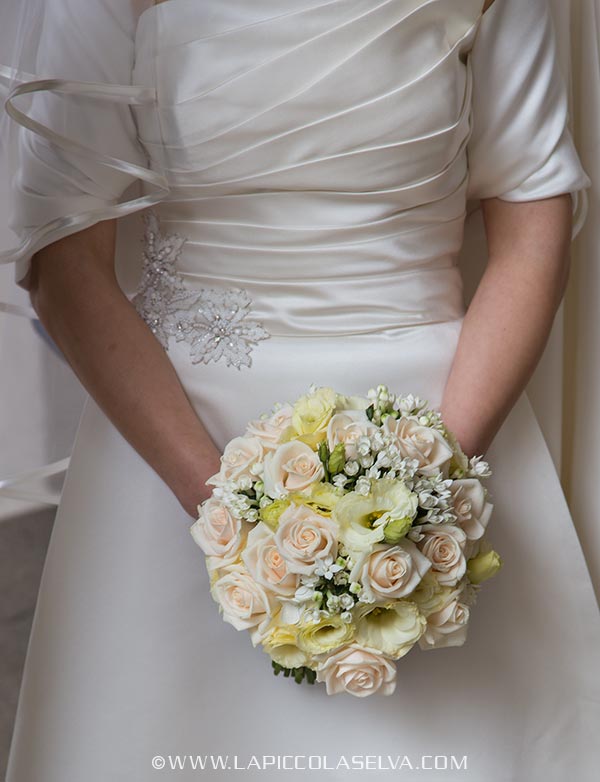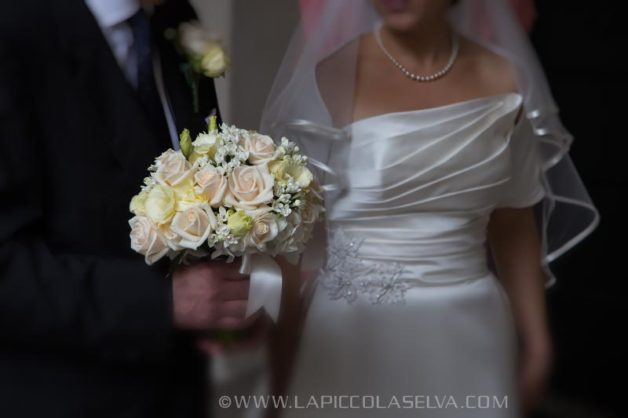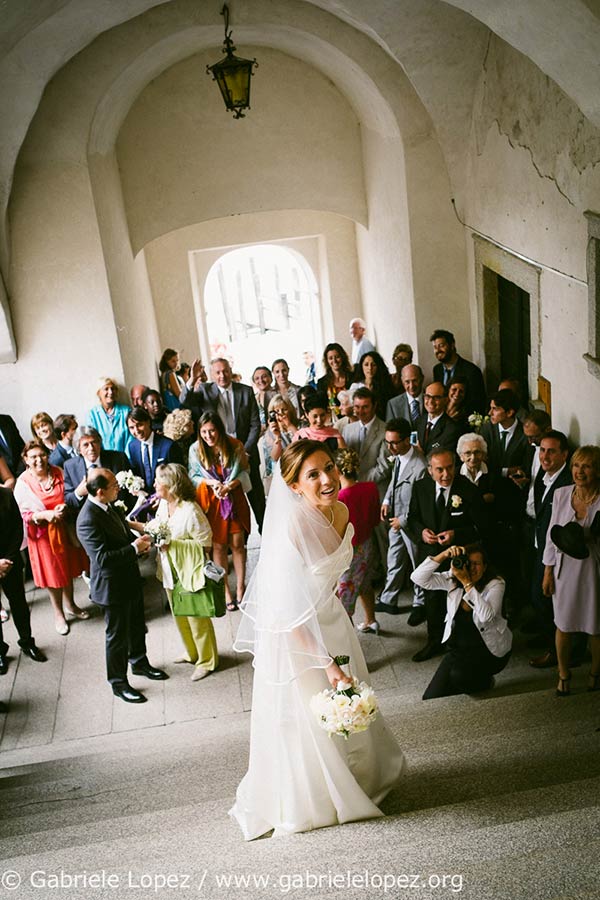 Floral decorations inside St. Julius Church on the Island
For the floral decorations inside the church we used the same palette and scheme as the one we created for bridal bouquet. We added a touch of Limonium and some carnation to give more body to the compositions. Jodie would have liked some peonies but made July is not ideal for peonies as the great heat can ruin them quickly. So we opted for some delicate flowers with a similar look to peonies. Outside the church side of the main entrance we added two big compositions with white hydrangeas that were just ideal to such a great entrance!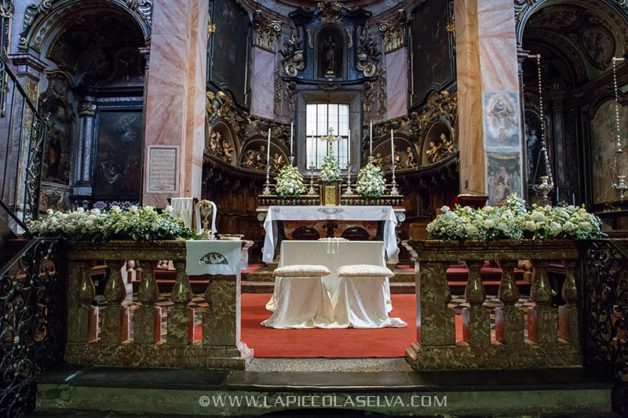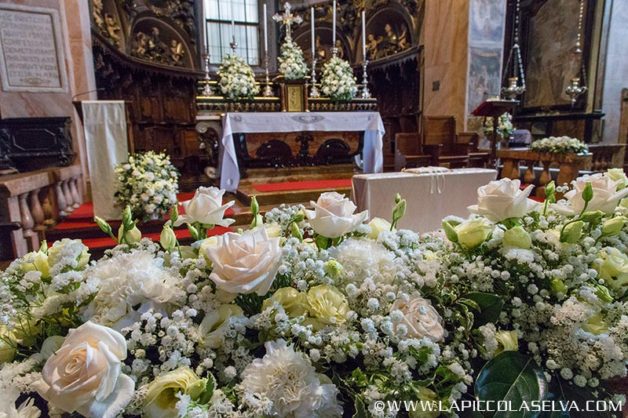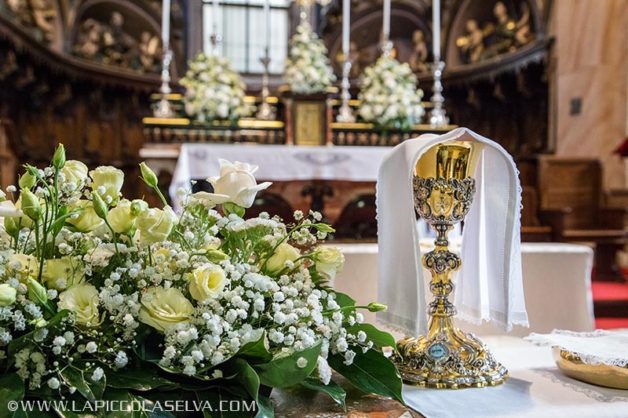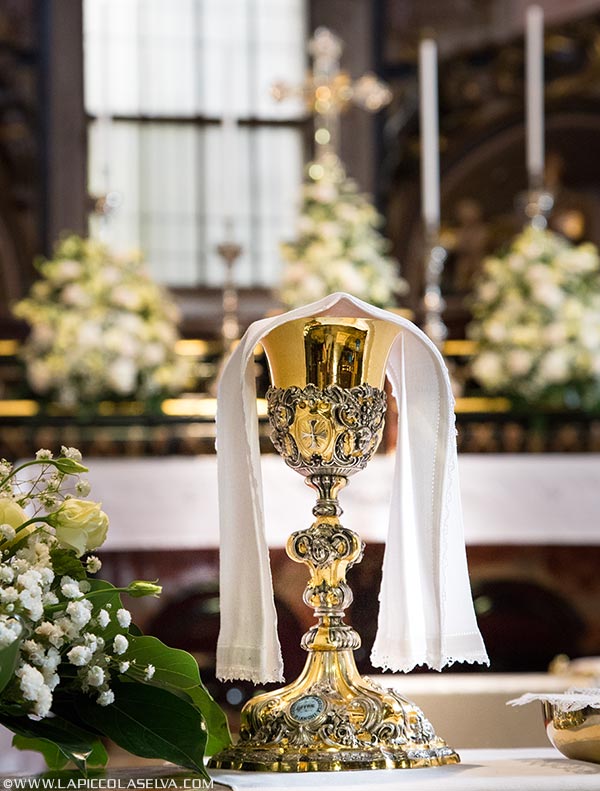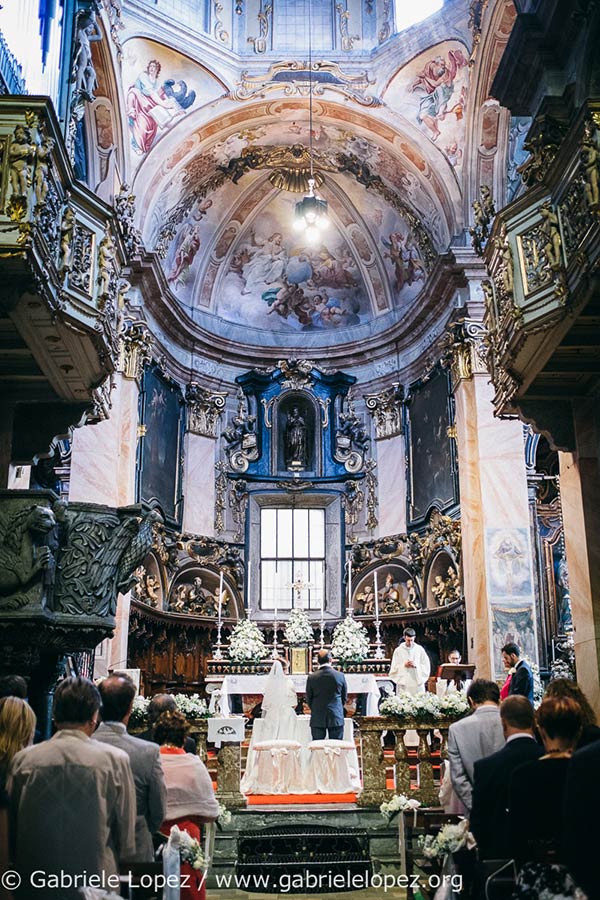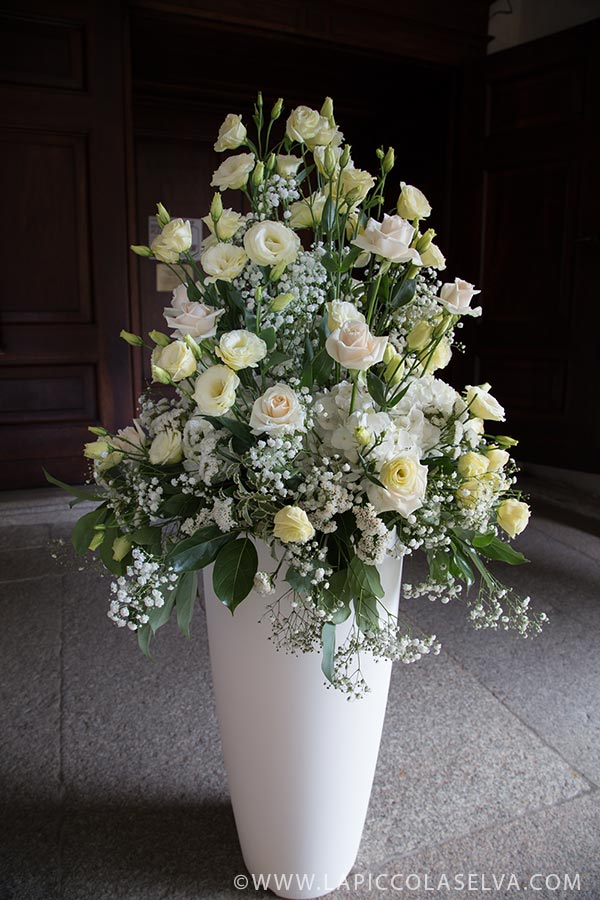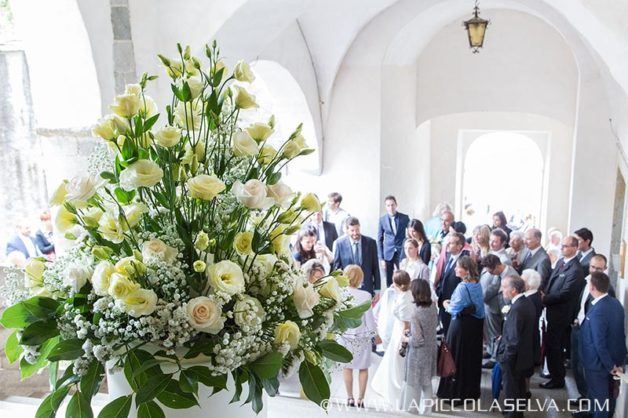 Floral Wedding Centrepieces and decorations at St. Julius Restaurant for the wedding reception
Restaurant St. Julius is located just few steps from the Abbey. The terrace on the lake is one of the best choices for an informal yet fine reception on the shores. View is just spectacular and the atmosphere is relaxed aside other people on main land, very private for sure! Last boat to Orta is at 6pm, after that time the whole island is for you!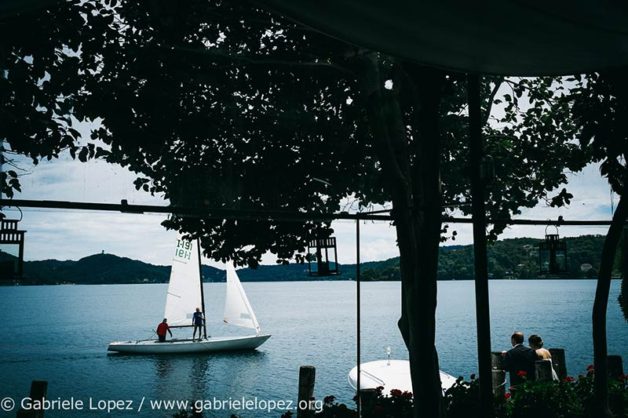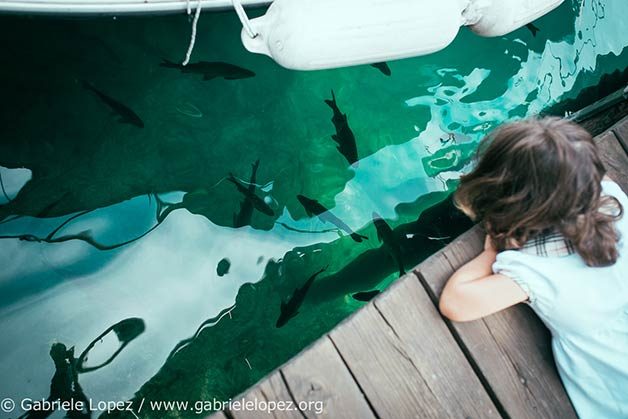 For the bridal table we prepared a long floral composition matching Jodie's schemed we used for the church decorations. For the centrepieces we matched Jodie's bouquet stye. We created a full coordination of styles. This is what we usually do on the wedding we follow on Lake Orta and Lake Maggiore.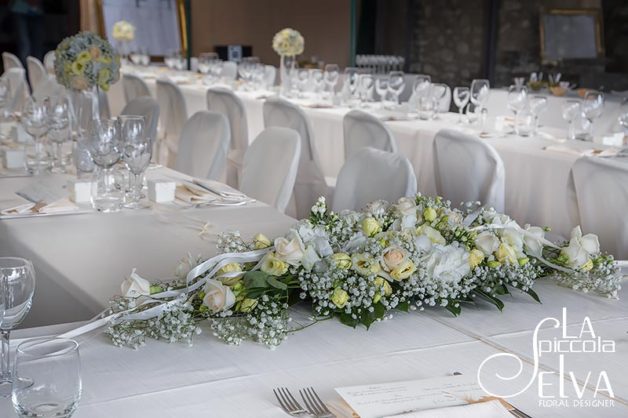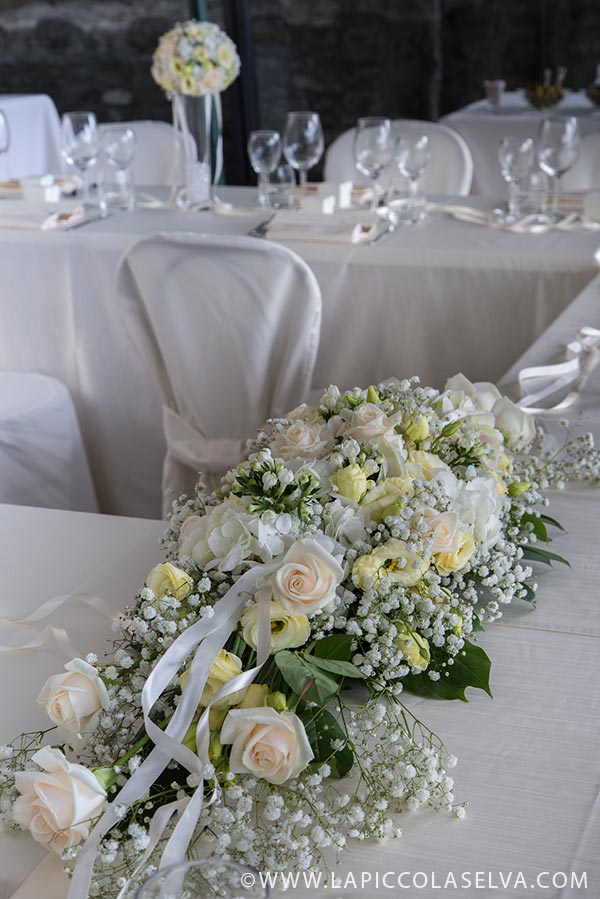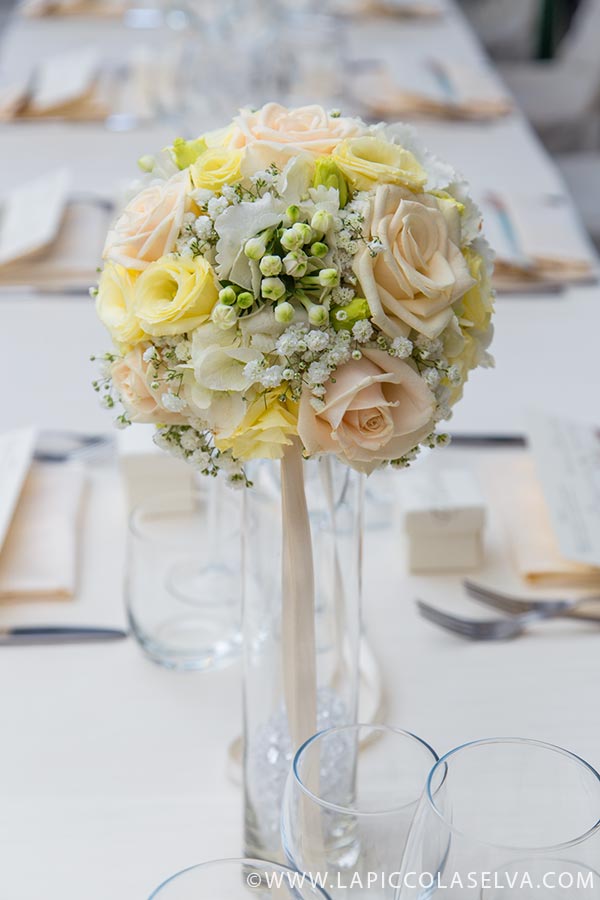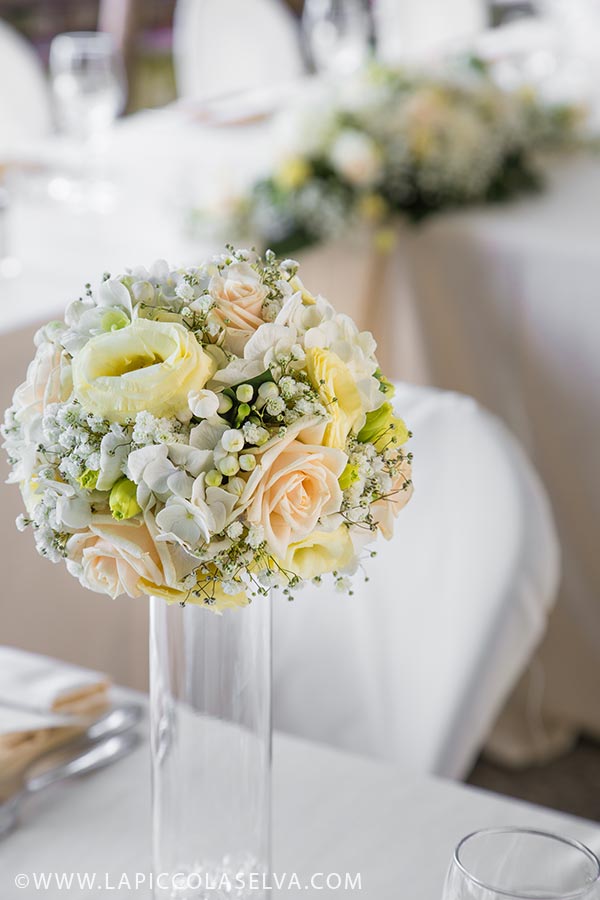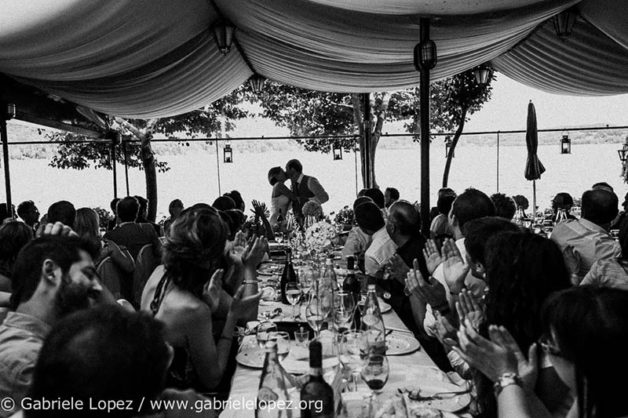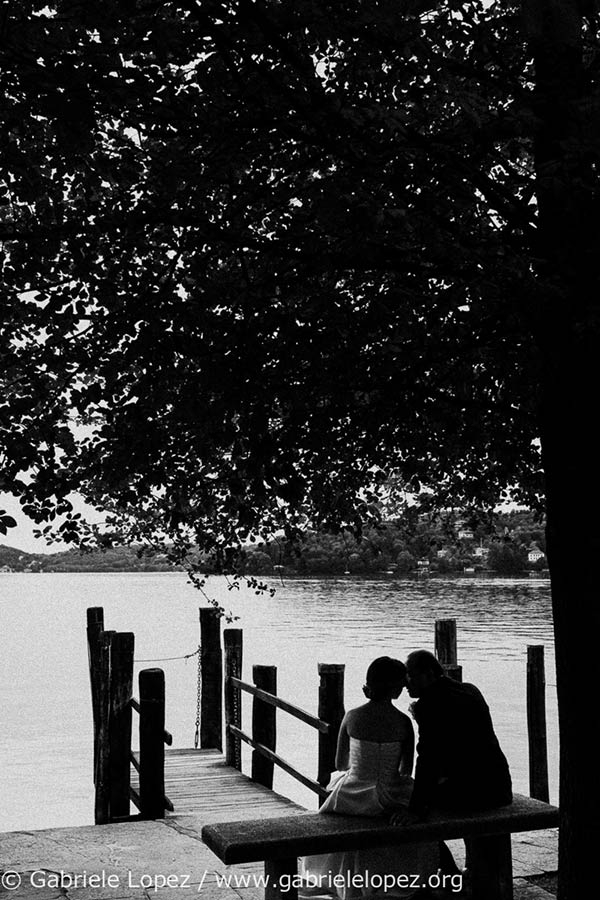 We would really like to thank our bride and groom Matteo and Jodie for choosing us for their unforgettable wedding on Lake Orta and St. Julius Island. And… happy anniversary from all Italian Lakes Wedding Staff.