ere we are back in lively
MALCESINE
, on the Northern shores of Lake Garda, for
Jacki and David's wedding
. They come from
London
and they chose Lake Garda as their wedding destination after loving advice of Jacki's mother, who remained awestruck by Malcesine after visiting it a few years ago.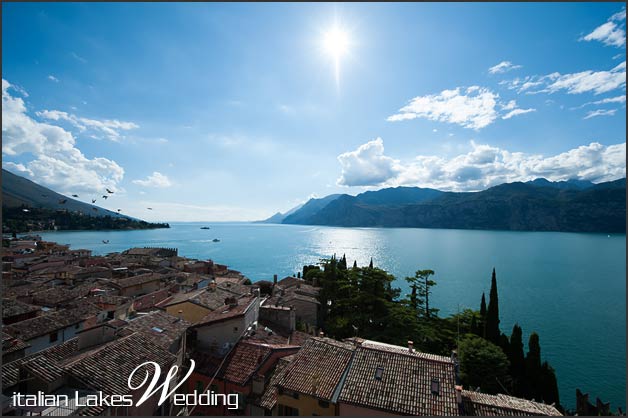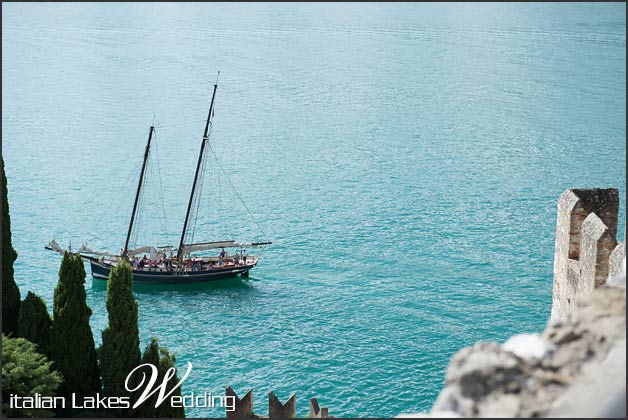 The charms of Scaligeri Castle
Jacki and David were also cought by noble beauty of Lake Garda and they chose extraordinary Scaligeri Castle as special set for their civil ceremony in Malcesine. An amazing place to admire the lake through the blackbirds circling ancient walls and Mediterranean green gardens. This is Italy!
Jacki and her excited parents arrived at the castle on the applause of onlookers, in a typical Ape Calessino, a fun tuk-tuk while guests and peach-dressed bridesmaids announced their arrival with the characteristic sound of car engines on the narrow cobbled streets.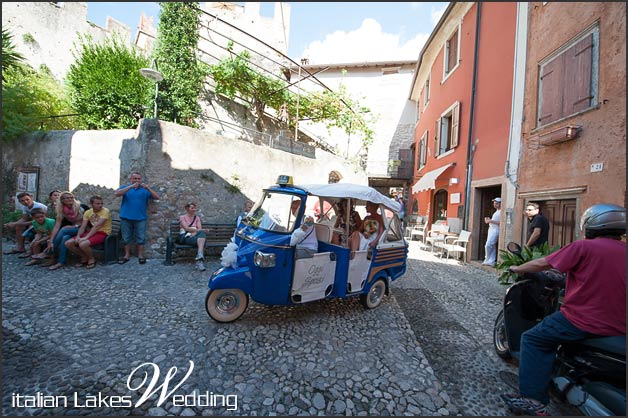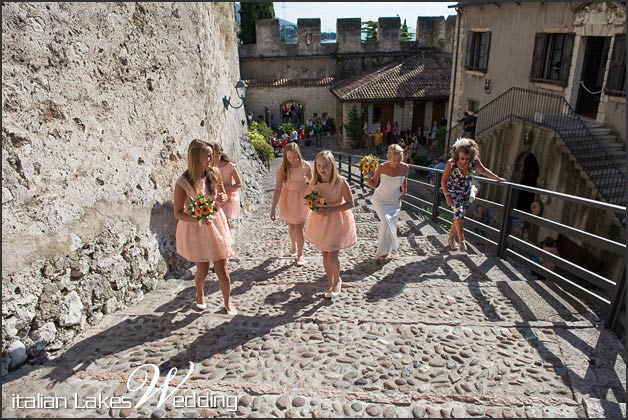 Under a wonderful sun, David waited for the bride beside the altar on a marvelous terrace with a stunning view on Lake Garda. With her mother at her side, Jacki walked up the staircase to the terrace. Her entrance was accompanied by the beautiful sound of violins.
Waiting for Jacki at the top of the staircase, her father, ready to accompany her down the aisle to meet her David.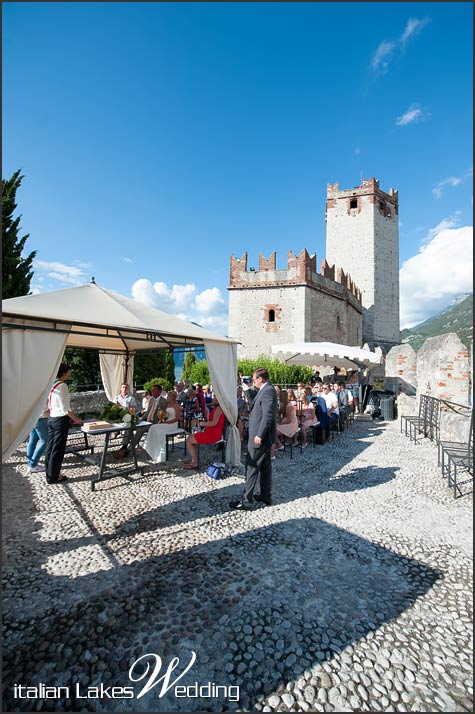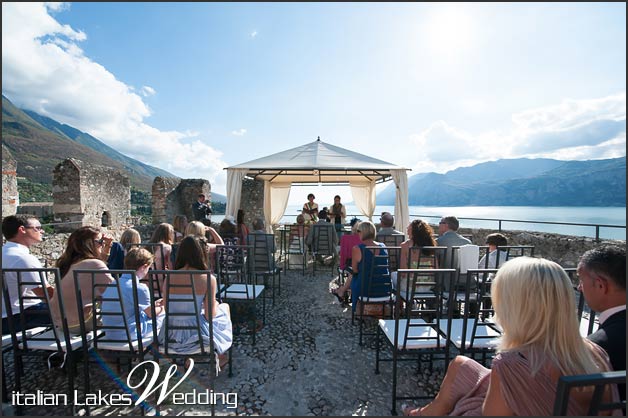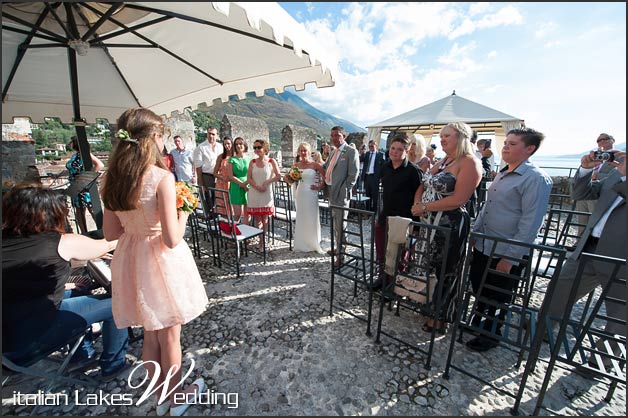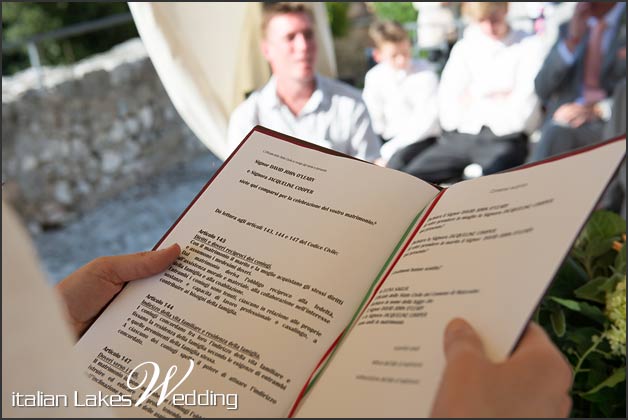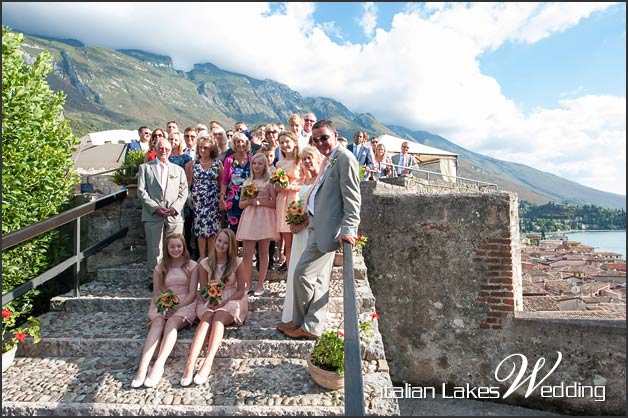 The magical atmosphere was perfectly caught by Mauro Pozzer photographer. After the ceremony the castle and lake were the perfect background for wedding photos. You can see some here, they really take one's breath away.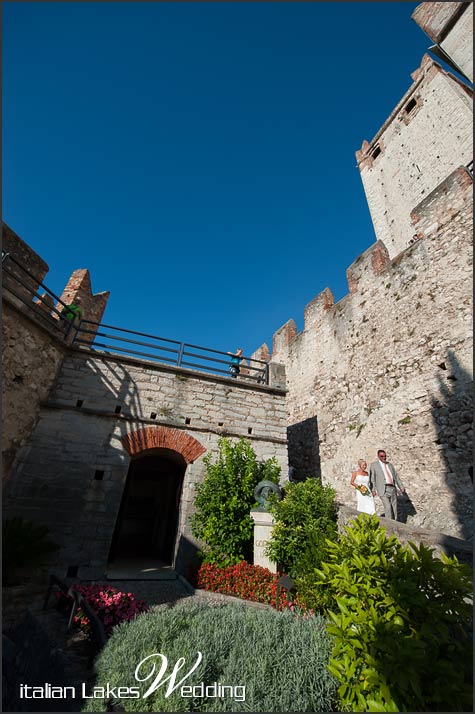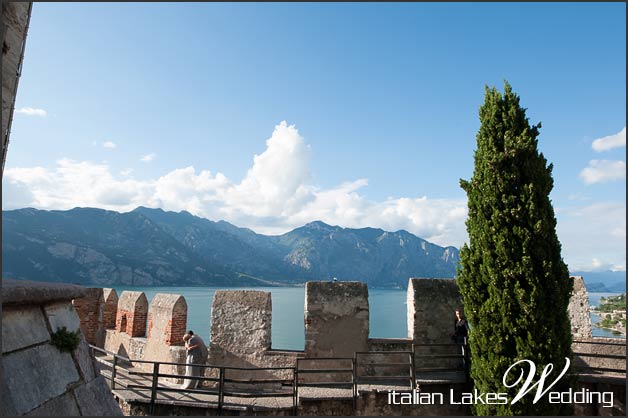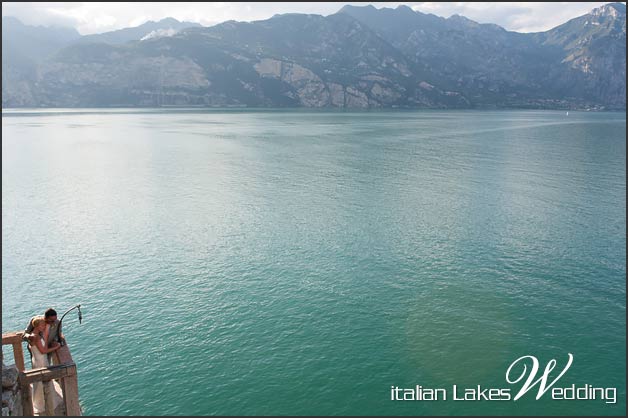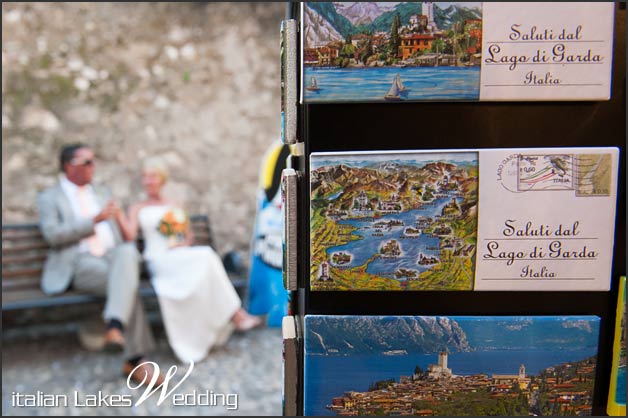 A Michelin starred restaurant in Malcesine
There was nothing ordinary about Jacki and David's choice of restaurant for their wedding reception in Malcesine. They picked up a place of refined elegance with the most beautiful terrace overlooking the lake. The restaurant is really the quintessence of Italian sophistication and style.
Wedding floral arrangements were arranged on the shades of green and white. They were all made with hydrangeas and gerberas providing a dash of contrasting peach.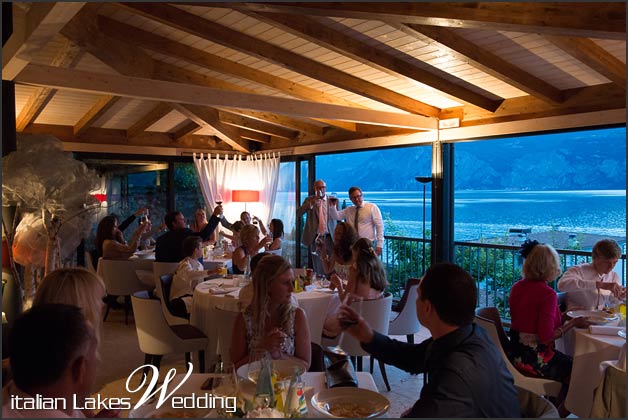 The newlyweds and their guests were welcomed in a wonderful garden with an exquisite aperitif. Here too, the sweet sound of violins and perfumes of restaurant's haute cuisine created a very special atmosphere. The banquet surprised and thrilled everyone with its tastes, perfumes and variety of dishes all complemented by a good local white wine.
Well, it could not be different as Jacki and David chose for their wedding a Michelin Starred restaurant!
As a memento for their parents and friends, Jacki and David wanted a bottle of Garda Limoncello for the adults and scrumptious lemon sweets for the children, they were simply sat by their names cards. What a lovely way for everyone to take home a nice memory of the flavours and colours of Lake Garda.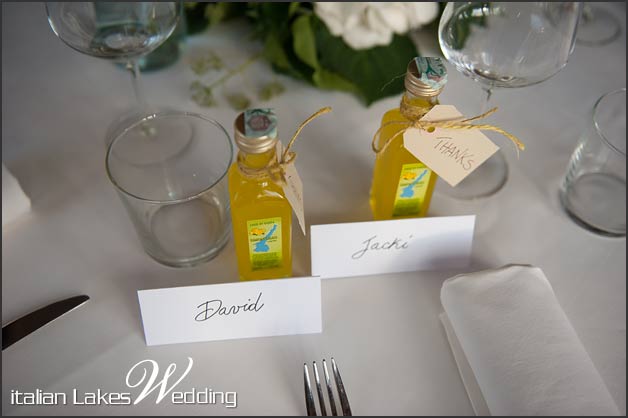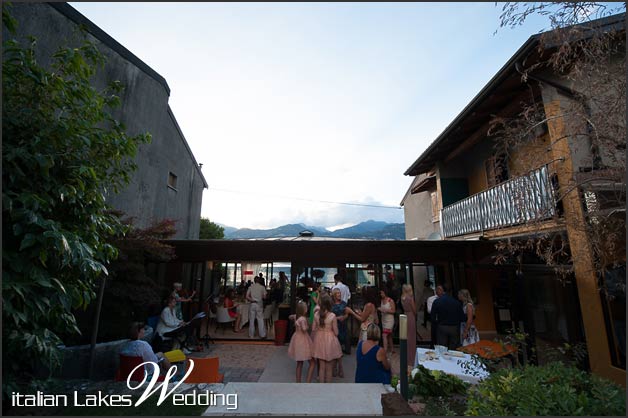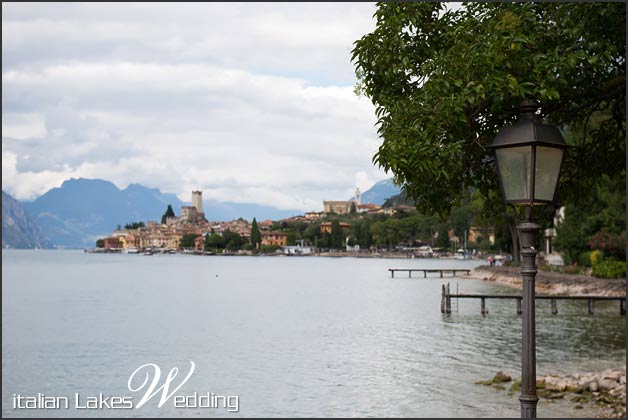 We can really say that Malcesine can really offer the ideal setting for an unforgettable wedding! We will be pleased to help you plan a wedding over here to experience the real beauty of this special corner of Lake Garda!