MALCESINE is a lovely and quaint village located on the north side of Lake Garda.
It is veryfamous for its castle and romantic civil ceremonies on its terrace overlooking the lake.
Scaliger castle is one of the most beautiful places on Lake Garda for a wedding. But Malcesine offers much more… it would be a shame do not consider also other possibilities!
As wedding planners on Lake Garda, we want to tell about a different wedding in Malcesine!
Debbie and Mark came from UK and they chose Malcesine for their wedding in a spectacular sunny day this last summer.
Ivory and light brown for a refined Civil Wedding
ride and groom wanted to offer their seventy guests a stylish wedding completely based on shades of Ivory and light brown.
Small details make the wedding really unique …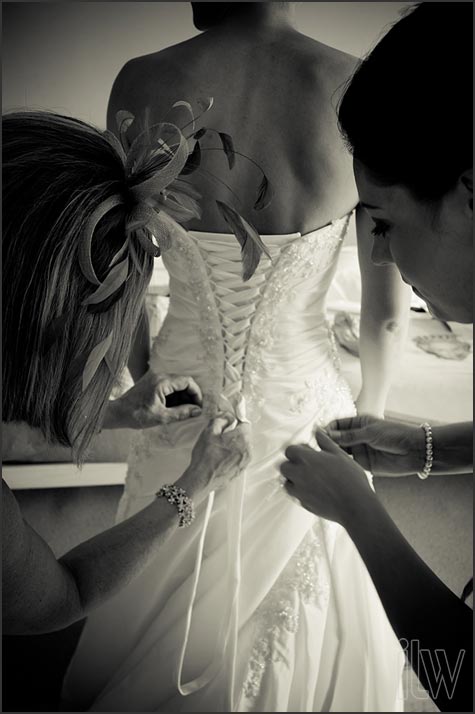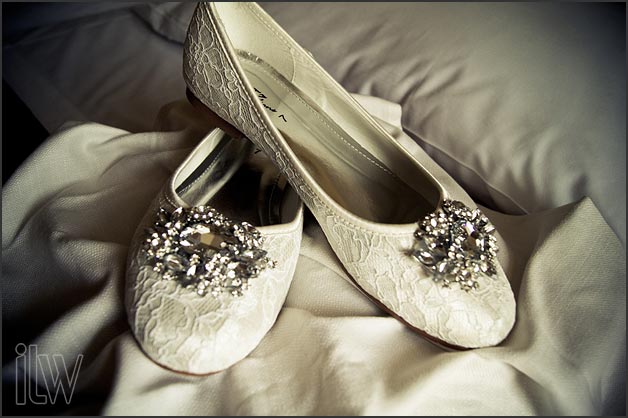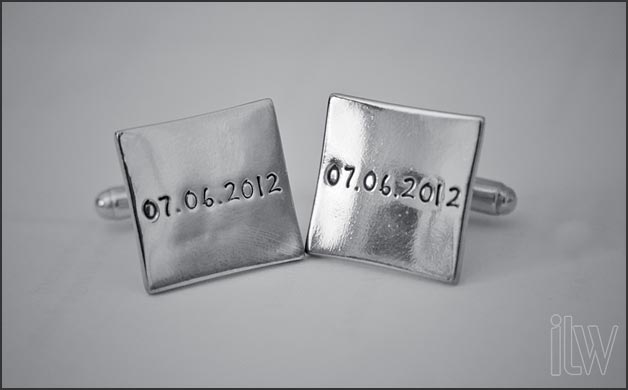 For her bouquets and floral decorations Debbie chose ivory roses only. All the guests closer to the bride and groom wore dresses in shades of brown and beige.
Mark and his groomsmen were in light brown suit with beige waistcoat, including the small nephew of the couple.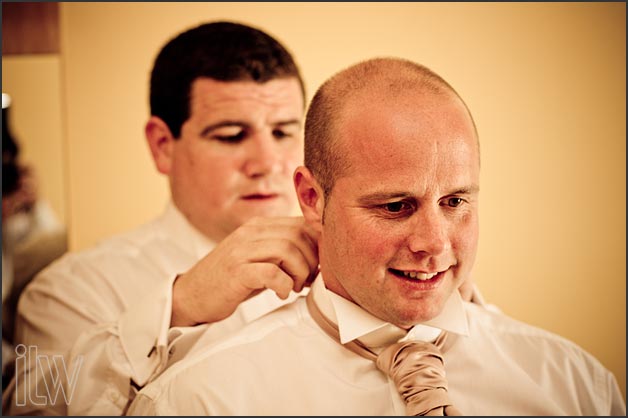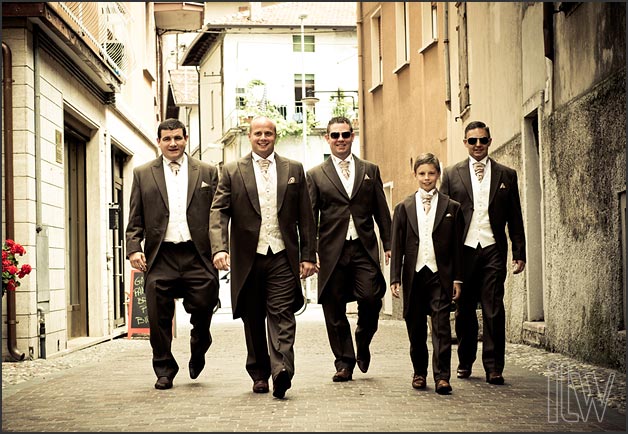 Bridesmaids, equally elegant, in their billowing beige dresses.
…as well as the mothers with beige dresses and pretty hats.
Waiting for Debbie, Mark and guests took their seats in the elegant frescoed hall on the first floor of the Palazzo dei Capitani.
PALAZZO DEI CAPITANI
This wonderful palace overlooking the Lake was built by Scala between the 13th and 14th century with a magnificent facade in Venetian style.
Noble hall at the first floor is finely frescoed with a rich wooden ceiling and can accommodate up to 100 people.
The entrance with vaulted ceiling, leads to the small lakeside garden, the perfect frame for an intimate aperitif just after the wedding ceremony.
It is really a stylish venue!
When everyone was ready, Debbie arrived from the small stone steps accompanied by the romantic sound of an harpist.
The atmosphere was really magical!
She was really pretty in her dress with sweetheart neckline that left her shoulders bare.
An intimate walk through the narrow streets
fter the ceremony, Debbie and Mark were the first to leave the hall followed by all their guests.?Italian couples usually do it differently. All guests wait for the couple outside of the ceremony venue to welcome the bride and groom and wish them the best.
So Debbie and Mark chose to honour both traditions . At the exit from the palace they let themselves to greet in the Italian way.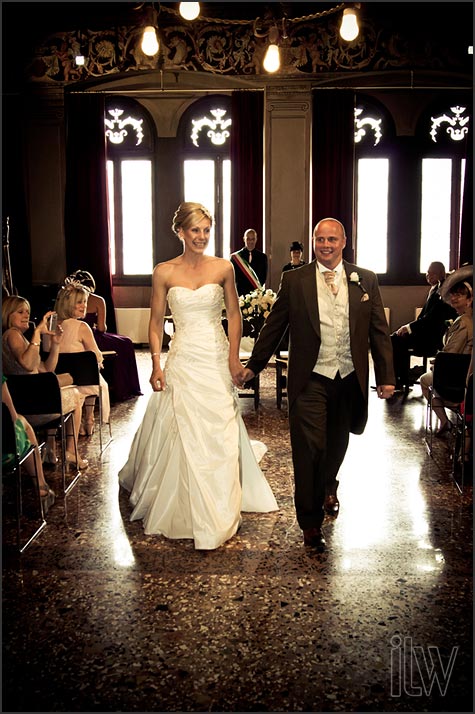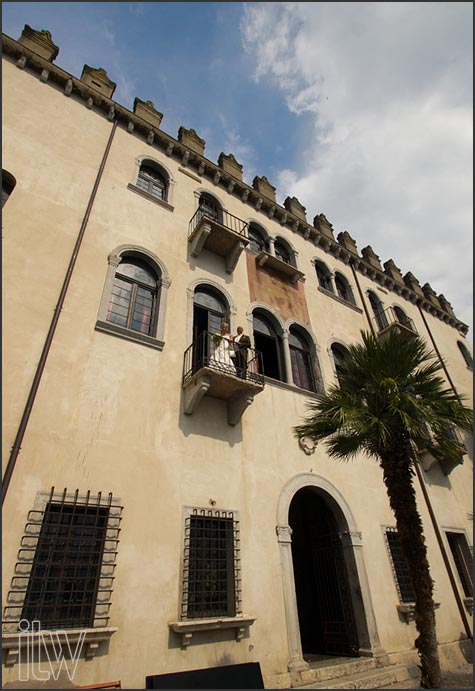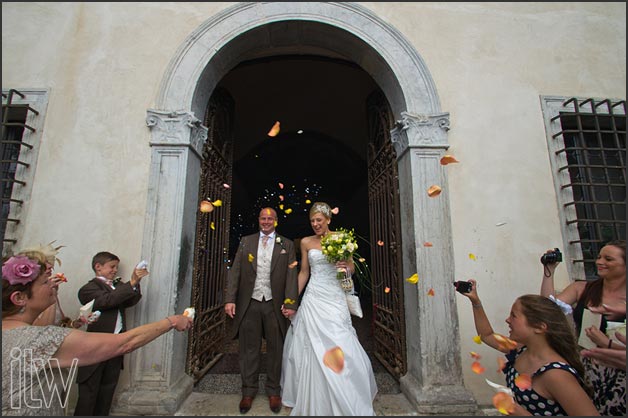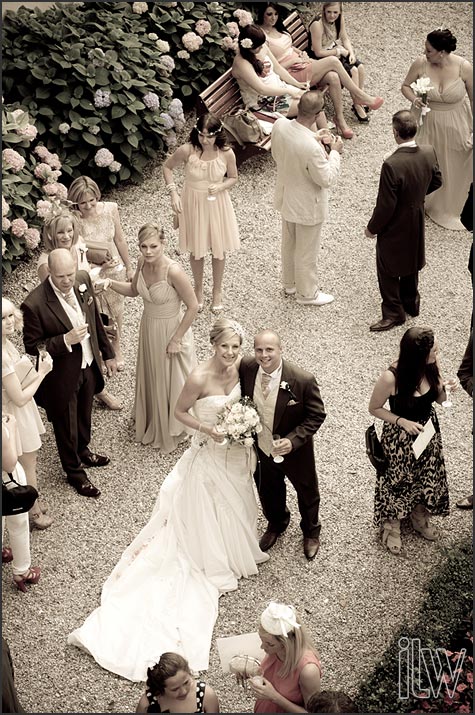 Newlyweds went to the garden for a long and relaxing aperitif with their guests.
Photographers took the opportunity for group shots.
While their guests were finishing enjoy the great Italian wine and landscape, Mark and Debbie took a special moment for themselves for some shots in the impressive frame of Malcesine castle.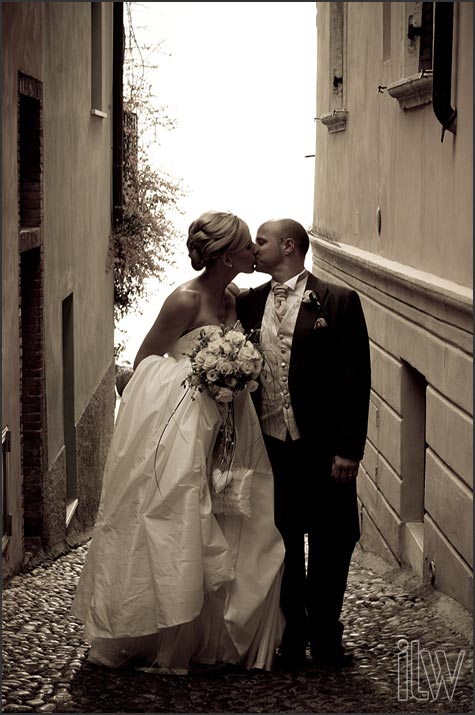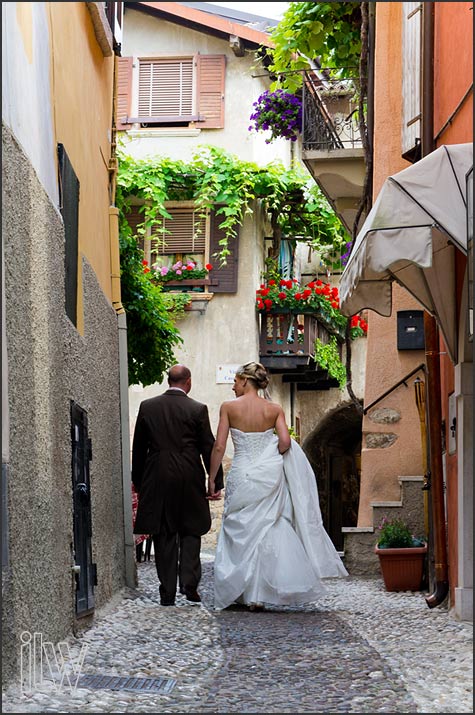 A stunning Lake View Reception for a Special Day on sign of Elegance
A coach took all the guests from Malcesine up to a spectacular restaurant on the hill and the view leaved everyone breathless!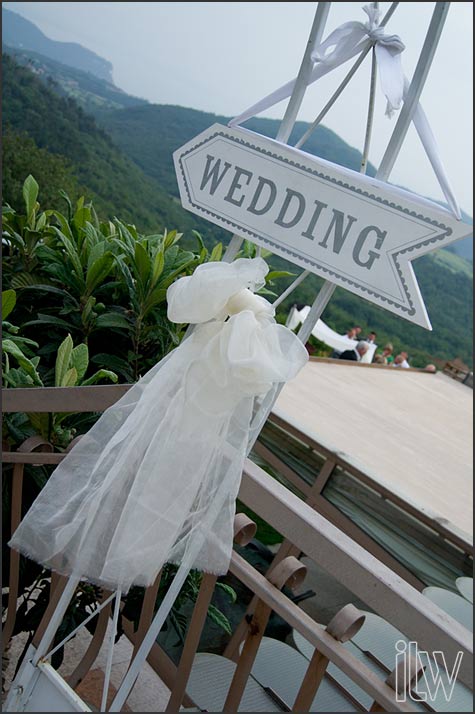 Here guests waited for the bride and groom to complete that perfect day with an elegant dinner. It could only end with a 3-tiered light brown cake and wonderful fireworks!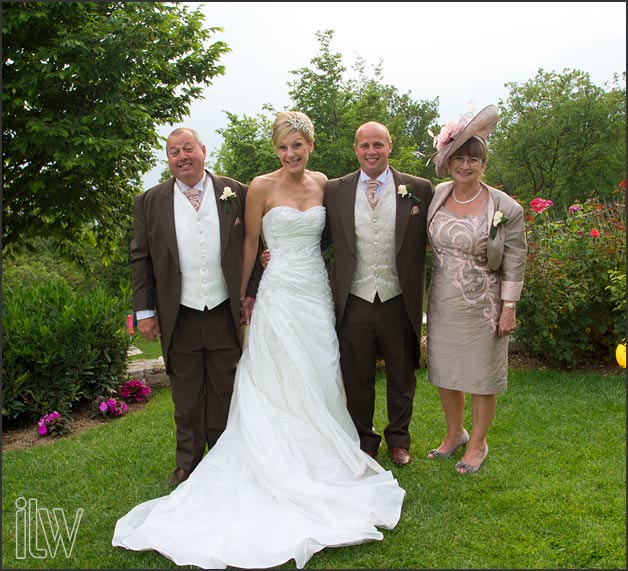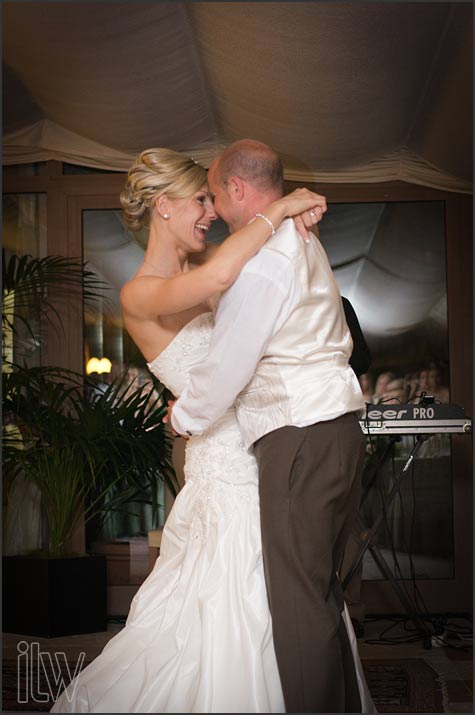 Dances and music accompanied the end of celebrations, but we are sure that in the memories of each one has been much more than we are able to tell!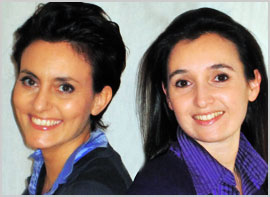 Angela and Katiuscia both work on Veneto region and Lake Garda. They will take you to discover traditions, savors and colors of Veneto region, not only on Lake Garda!
They can help and support you for a dream wedding on other wonderful locations such as Venice, Verona and Veneto gorgeous countryside where you could taste some of best wines of Italy.

For any information about
wedding in Malcesine
please
contact Angela and Katiuscia