know… I'm partial on Stresa! As
floral designer
I have did many wedding arrangements on Lake Maggiore but a
wedding in Stresa
is always magic to me. Stresa has a real special appeal I love. Well and today I get back to Stresa for another elegant wedding:
Federica and Gabriele's wedding
.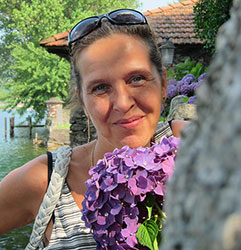 Monika Andenmatten
is
La Piccola Selva's floral designer
. She is part of
Italian Wedding Company
team who are specialized in floral arrangements and lovely bridal bouquets on Lake Orta and Lake Maggiore.
Based in lake Orta, has worked with brides for over 20 years to create floral arrangements for weddings on Lake Orta and Lake Maggiore.
His wedding arrangements are creative, elegant and sophisticated. Monika will be able to help you choose how best to incorporate floral design into your wedding celebrations.
From the initial consultation to the wedding day, she will make your wedding flowers truly an expression of your dreams.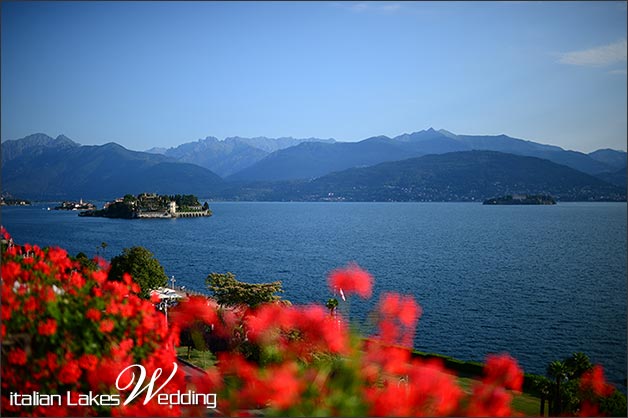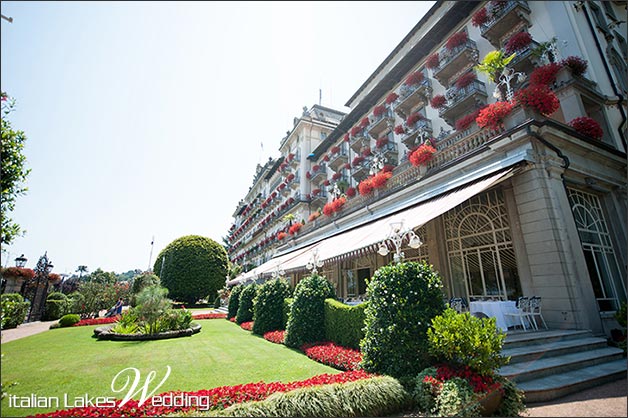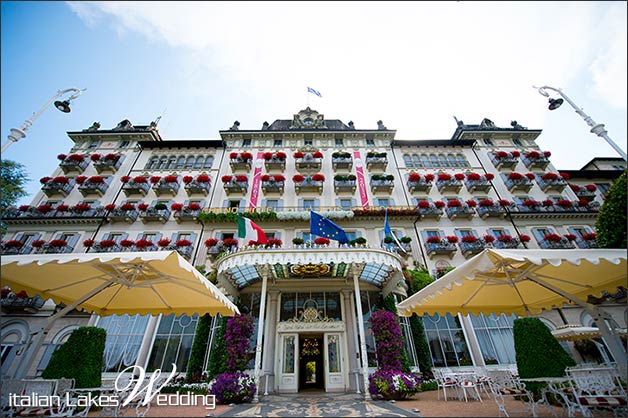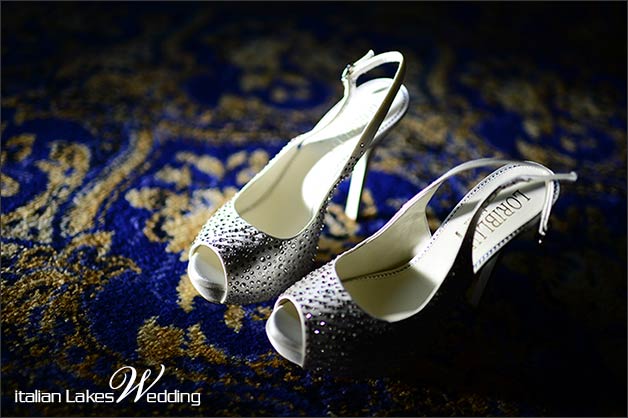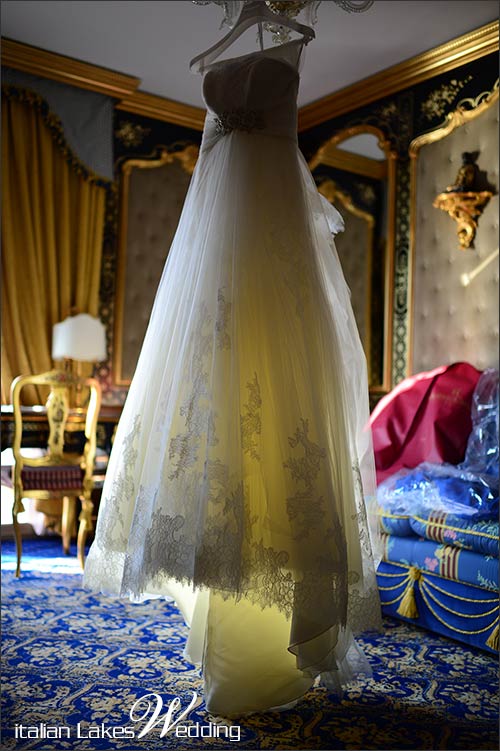 Federica and Gabriele come from Milan and they choose Stresa for their big day. A wonderful choice!
Weather was just great. A stunning and bright sky above Lake Maggiore putting on display amazing Borromee Islands and their nauure.
Federico Fasano was the official photographer of the day. He also followed pre-wedding/engagement service for bride and groom. He shot it on Stresa lake shores a couple of days before the wedding day. Same for the video… 2 days of storytelling taken from Federica and Gabriele experience in Stresa. I hope that we can shot the video soon on our pages.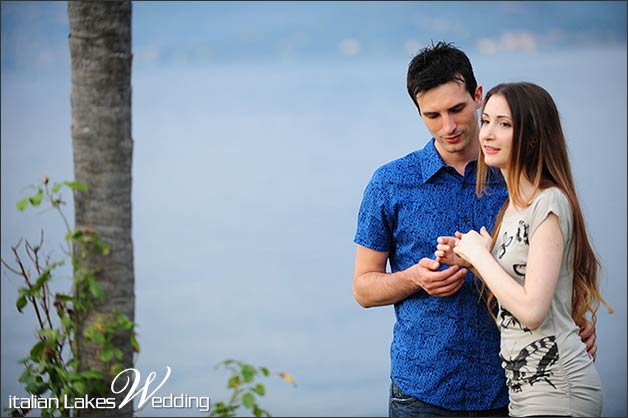 Eucharis and Nigella Damascena… special flowers for Federica's bridal bouquet
When bride and groom give me free rein for the creation of floral arrangements I feel very honored and happy! I can express my creativity always following indications bride and grooms give me.
This is what happened with Federica and Gabriele.
Federica wanted a different and unique bouquet but with some classical flowers as roses and orchids.
Being in summer I chose for her two wonderful summer flowers I love. They are not very famous for bridal bouquets: white Eucharis and blue Nigella.
Eucharis Grandiflora (commonly known as Amazon Lily) is very popular in pluvial forests of Columbia. Each stem has approximately eight big strong flowers that look like narcissus.
Its bright white gives to the bouquet a warm and happy touch for a summer wedding.
Nigella Damascena (commonly known as Love-in-a-mist) has little light blue flowers that really seem disappear in the of thin bloom leaves.
Since Elizabeth Age Nigella Damascena was always present in cottage English gardens. It is the flower of beauty and grace. It is just amazing in its simplicity. What's better for a bridal bouquet?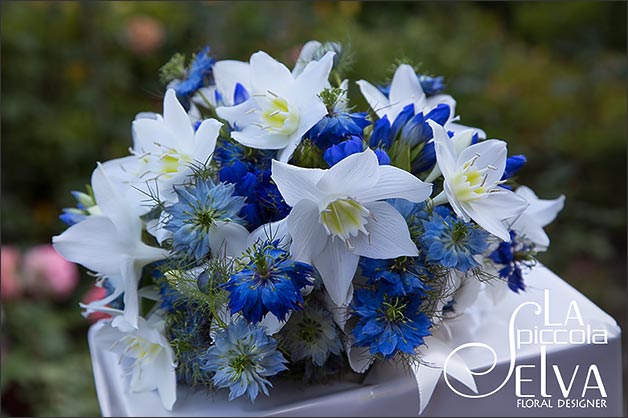 Matching these two minor flowers I added a touch of indigo with some gentians. I often suggest them for a summer bouquet, just fresh and happy.
We cannot forget that this year indigo is a trend shade… you can also see it on catwalks on many italian fashion designers… shoes, hand bags and dresses just a full indigo sensation!
We could use the same indigo sensation for a bridal bouquet… and we did! You can see the final result in the images of this post. I hope you love them.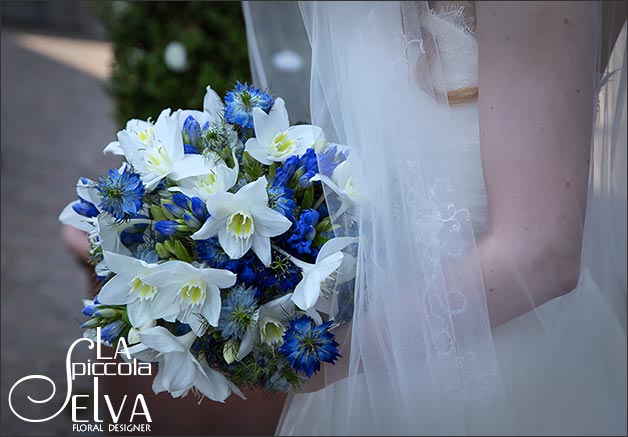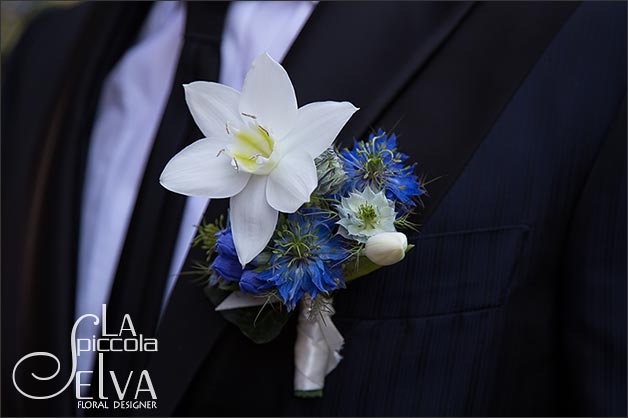 Wedding Ceremony in the church of Carciano in Stresa
If you chose Stresa as your wedding destination and you are keen for a catholic ceremony you could consider the church of San Biagio in Carciano – Stresa.
It is located in Carciano a small village close to Stresa and it overlooks the lake! It is far from the tourists of the lake and very intimate. The church is wide and bright. I love decorating it!
For Federica and Gabriele's wedding I created a classical arrangement for the alter on blue-white-ivory shades with gentians, lilies, roses and lisyanthus.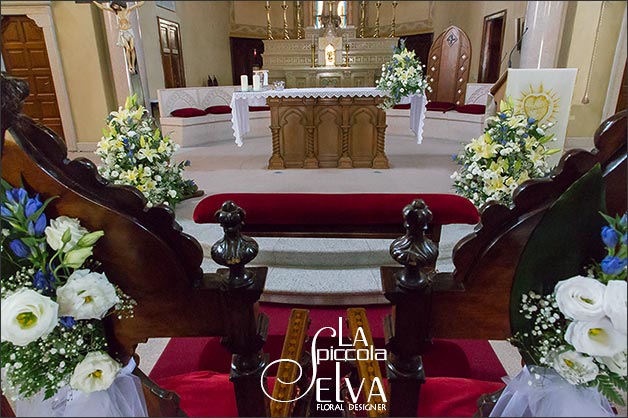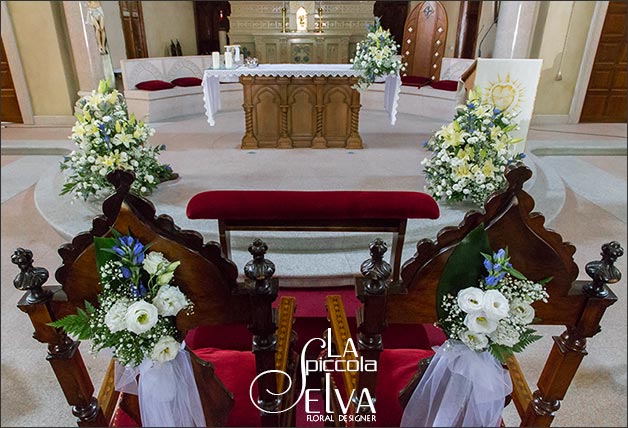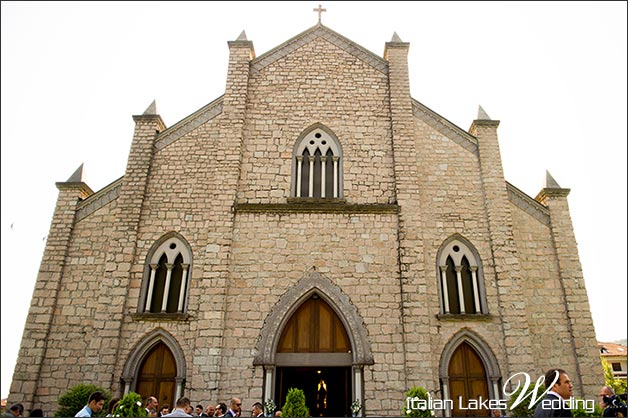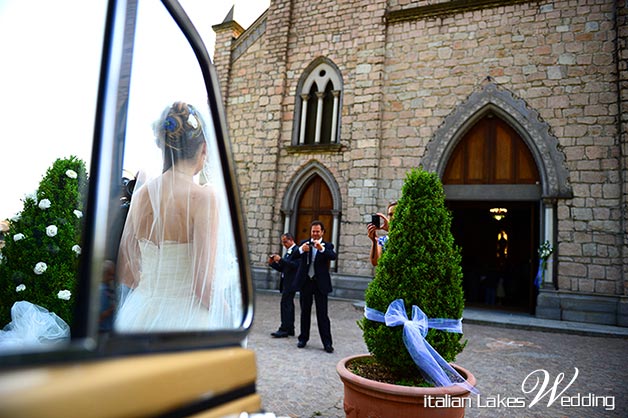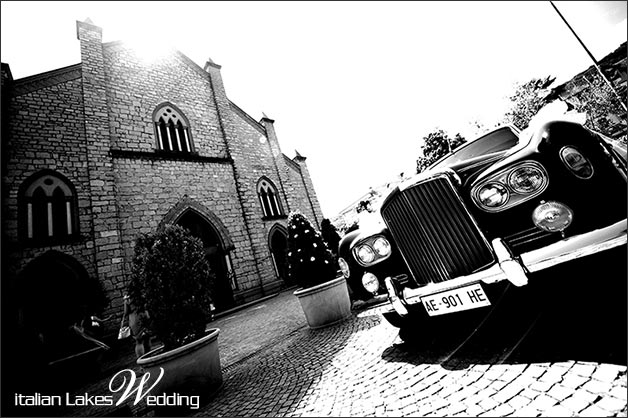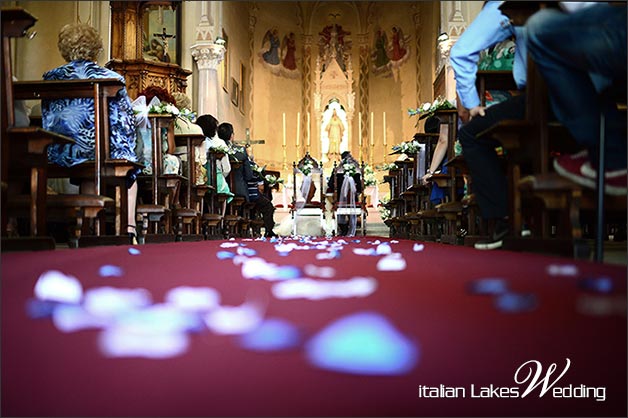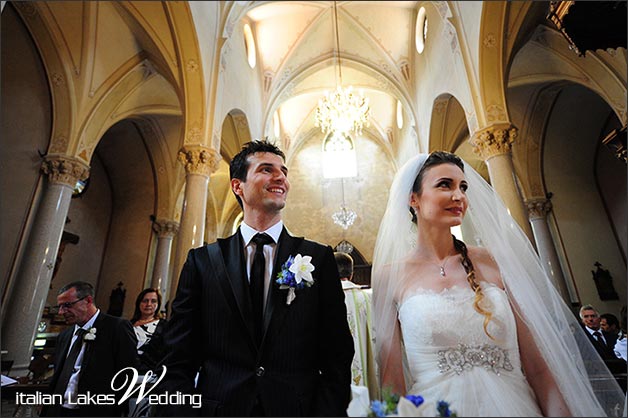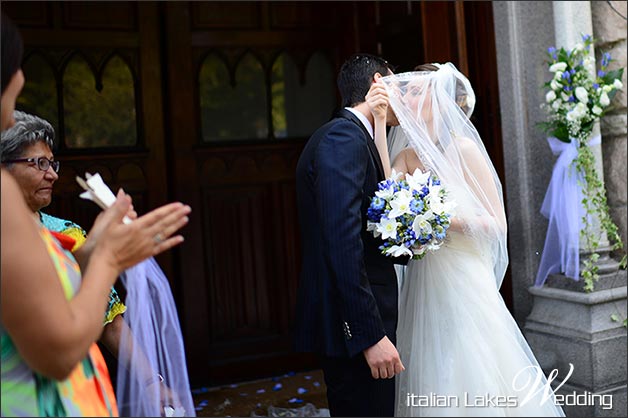 Wedding Reception at Grand Hotel Des Iles Borromées
Stresa is famous for its Belle Epoque buildings. Among these there is surely Grand Hotel Des Iles Borromées and Grand Hotel Regina Palace. Our couples not often choose these hotels for budget reasons or maybe just because they prefer something less formal for the wedding party. But if you are looking for a en elegant and classy reception Stresa Grand Hotels are just perfect. Just like Federica and Gabriele did. They chose Grand Hotel Des Iles Borromées. Alex and Sara chose Grand Hotel Regina Palace, istead… I will come back to you telling about this other wonderful event soon!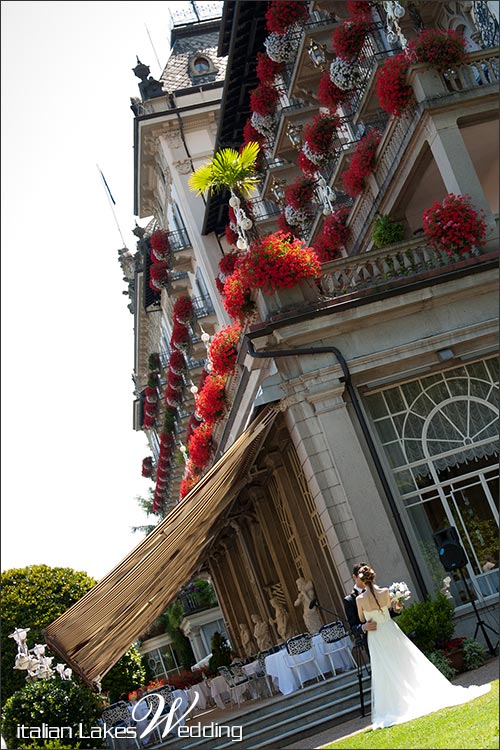 Federica and Gabriele's reception has been planned in Sala Caccia of Grand Hotel Iles de Borromees. As floral designer I created the arrangement for the bridal table. A lovely vintage bird cage full of coloured hydrangeas matching bridal bouquet colours and style. On the other side of the table a big heart of white and blue rose petals. Same style for the guests tables, same vintage bird cages with many coloured hydrangeas.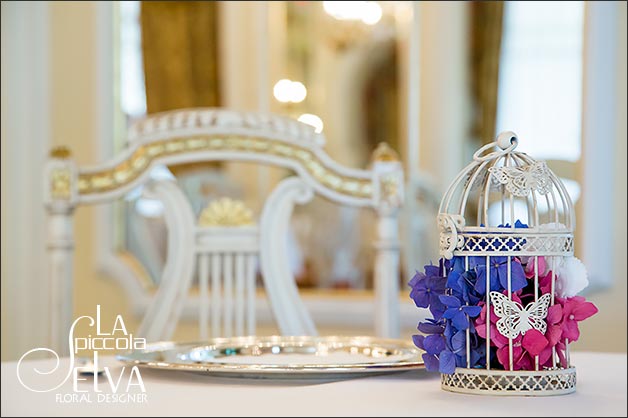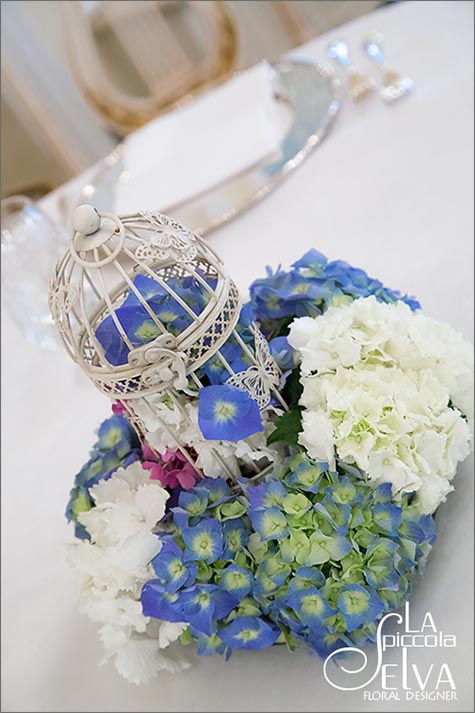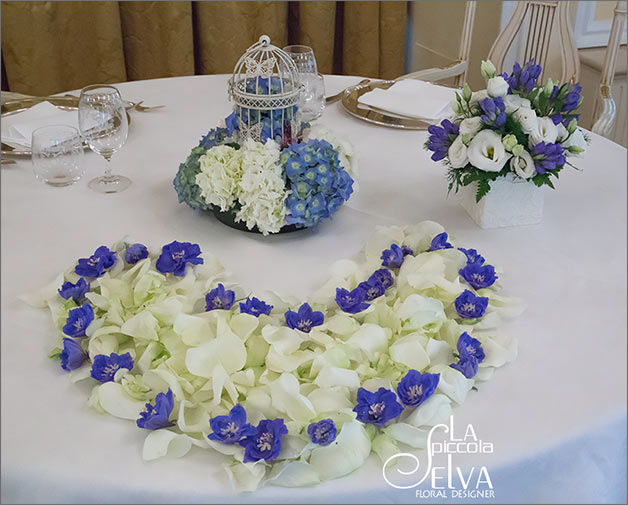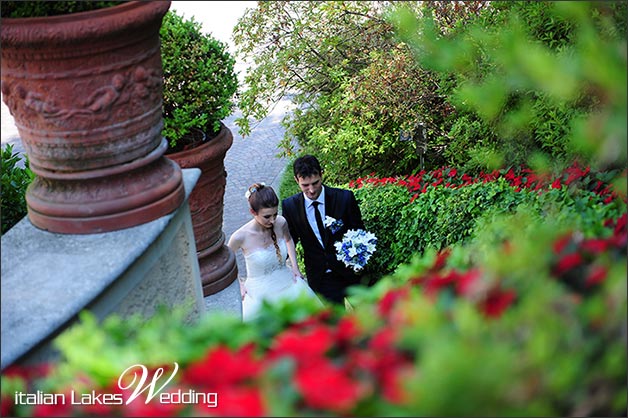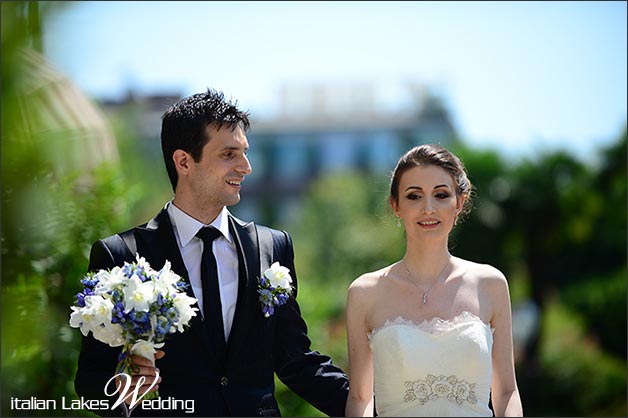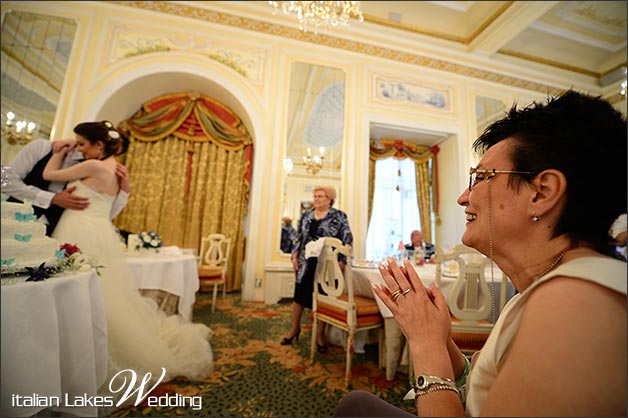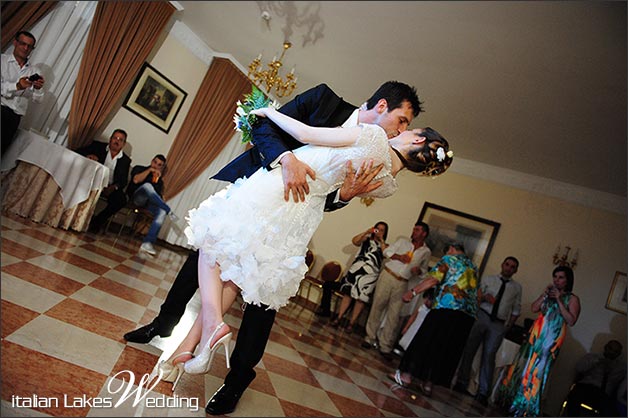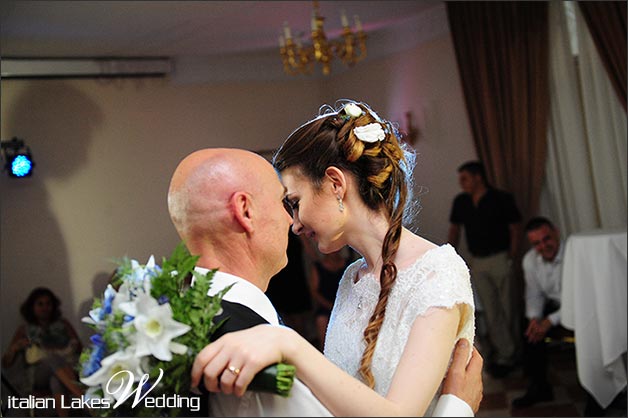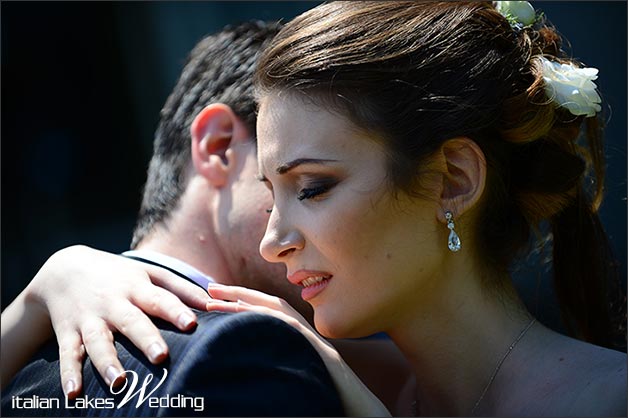 Most of the photos you can see on this post are taken by Federico Fasano. A very special thanks to Federico for his kindness and availability. We loved his photos for Federica and Gabriele's elegant wedding in Stresa. I hope you will love them too!