know I told you about a
wedding to Ustaria Ca dal Rat
many times but we never get tired to have weddings there! The venue is really charming, view is amazing and food is delicious: it could be a perfect reception venue if you are looking for a relaxed and laid down event on Lake Orta.
This time we have something new to show you! A lovely video for a sweet wedding we recently planned in Orta. We are talking about
Nicola and Tom's wedding
.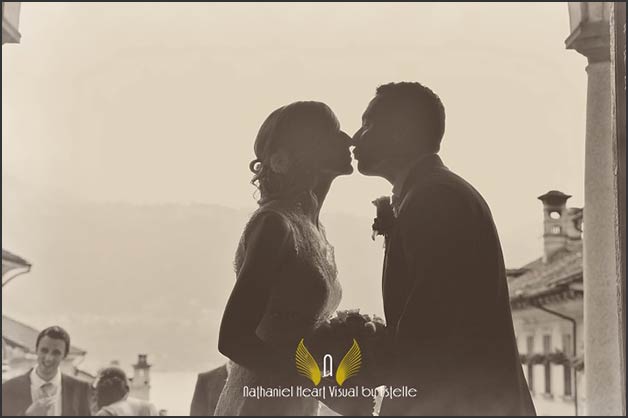 A moving Catholic Ceremony in Orta – Maria Assunta Church
Nicola and Tom are a wonderful couple. They fell in love with Lake Orta reading our pages on our blog and I was so happy to work with and for them. Such lovely people. All group was amazing.
Nicola got ready in one of the central hotel in Orta just in Orta main square. A very good solution so no transfers are needed if you decide for a civil or a religious ceremony.
While Tom opted for an apartment where he got ready with his grooms men. Another handy solution too!
Nicola and Tom decided for a catholic ceremony in church of Maria Assunta.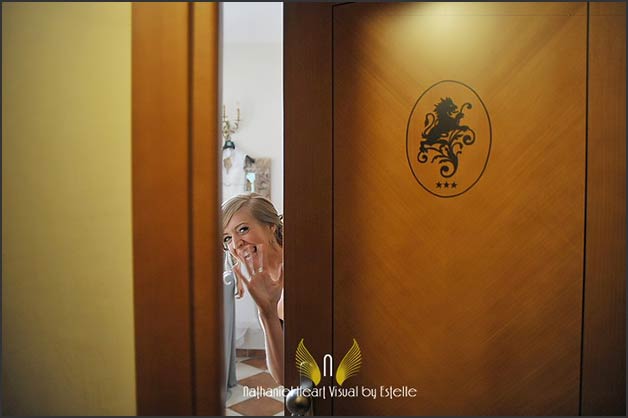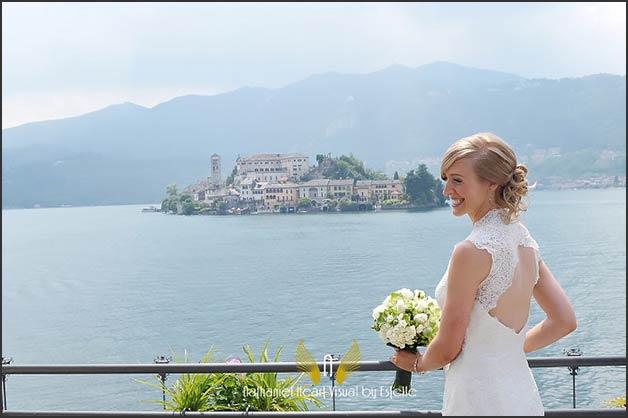 When Nicola was ready she walked up the hill called Salita Motta to reach the church.
She was with her father and bridesmaids while Tom and all lovely group was waiting for her in the church.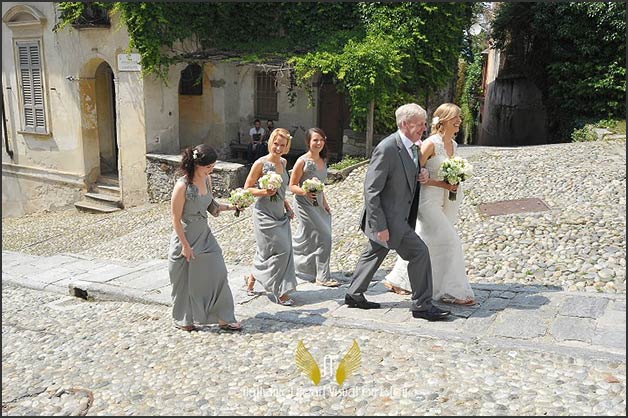 Nicola chose a very light and fresh theme for her floral decorations.
She wanted something light and romantic. La Piccola Selva Team created for her a lovely white and green bouquet and for her pretty bridesmaids smaller bouquets with white, green and a touch of pink. A perfect choice to match their silver bridesmaids dresses, don't you think so?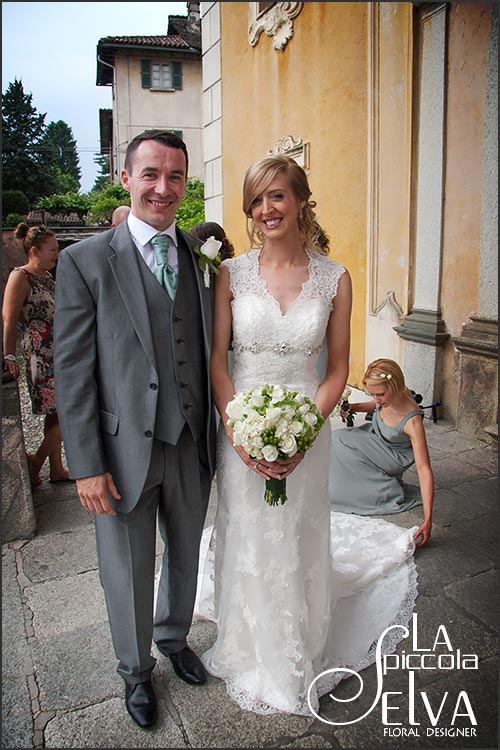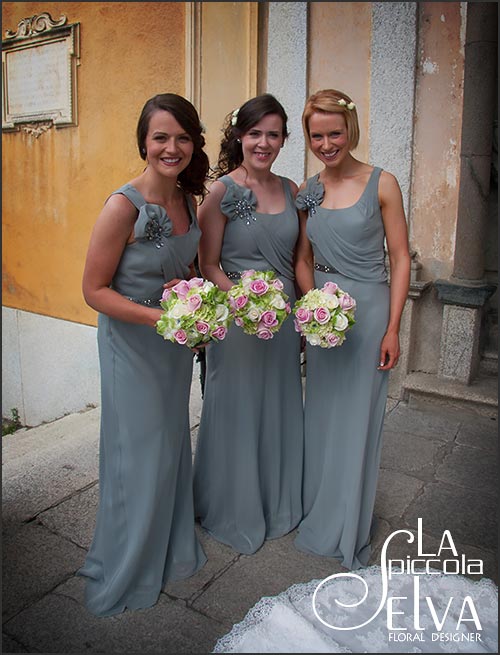 Ceremony in the church was really moving! There were reading by family and friends and both mother of the bride and mother of the groom bright to the alter the gifts for holy communion.
Everybody was really involved from every point of view!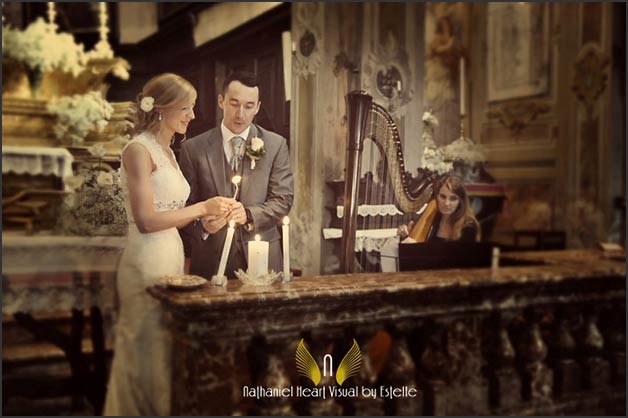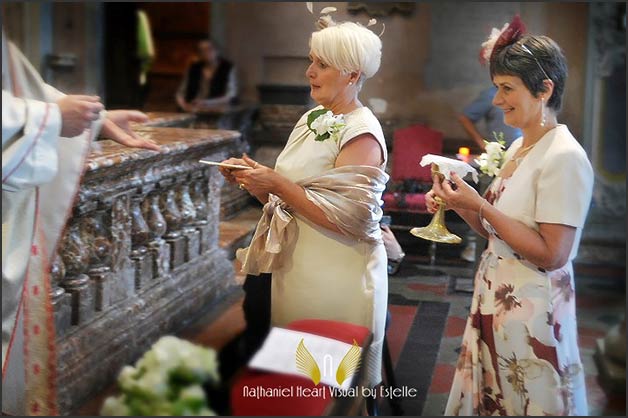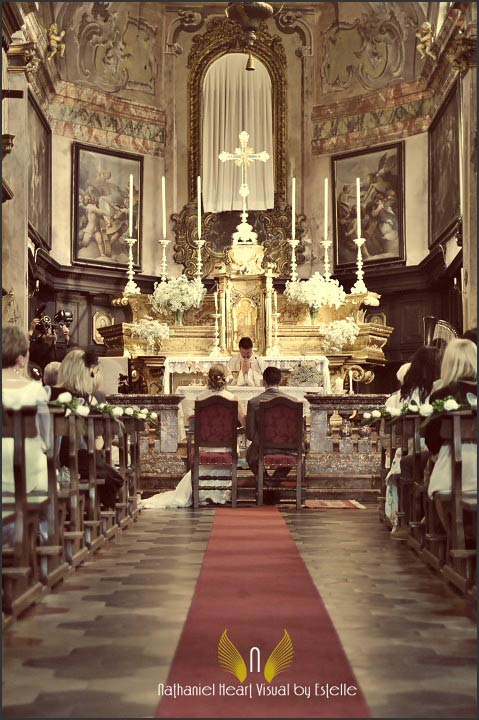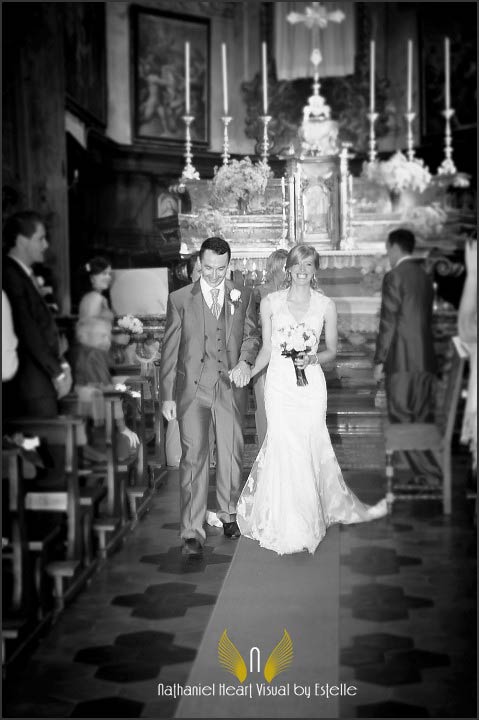 After the catholic ceremony to Assunta church in Orta village some photos first and then a light aperitif in the main square.
A great idea to have a toast to the bride and groom, take some time to say hello to everybody and take some other pictures in this wonderful square on the shores: Piazza Motta.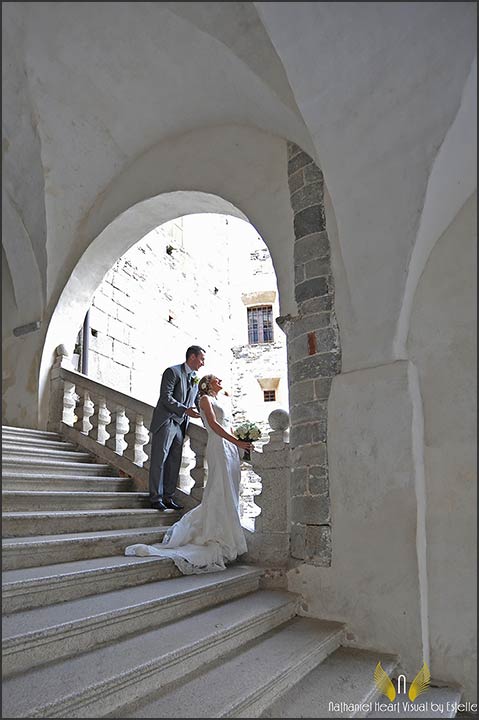 Talking about photos we cannot express how thankful we are to Estelle – Nathaniel by Estelle Studio.
They did a great job with pictures. You can surely appreciate them here.
Boat tour on Lake Orta
If you are coming to Orta for your wedding a boat tour is a must!
Just like Nicola and Tom did. They have their own boat to reach
St. Julius Island for amazing photos
while other guests were traveling by boat to reach
Ustaria Ca dal Rat for the wedding reception
.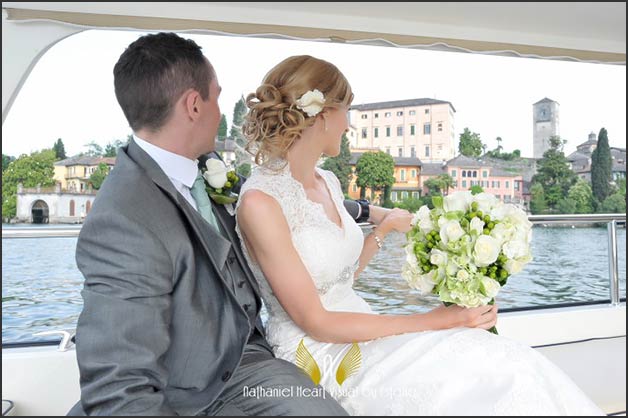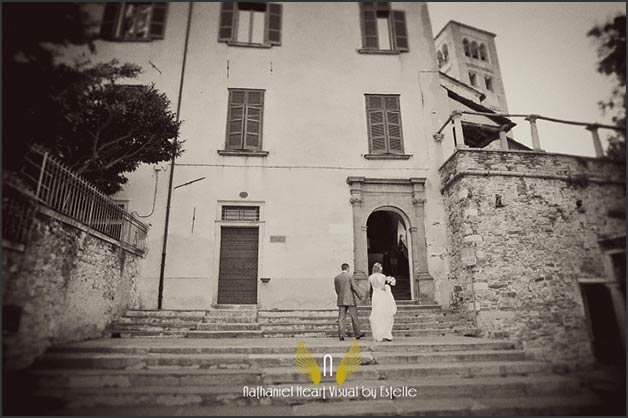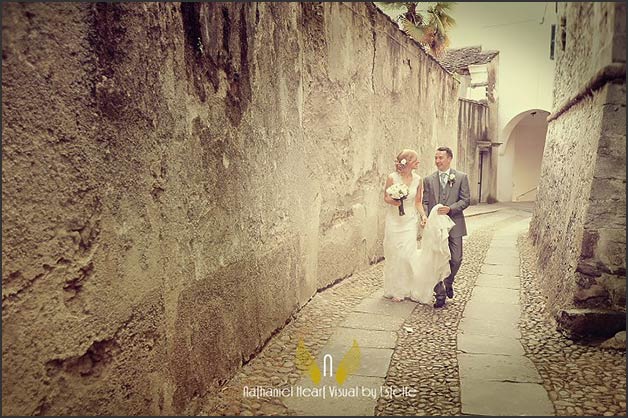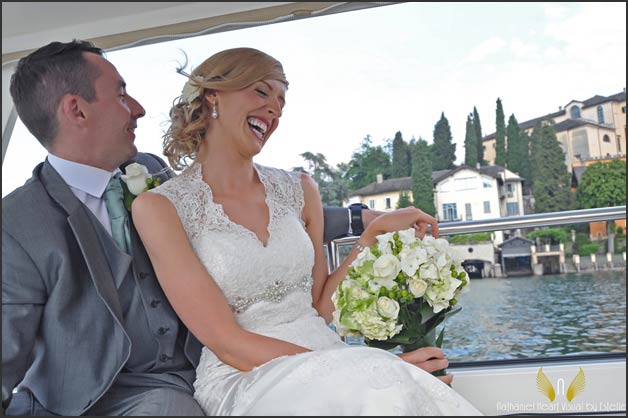 Having a separate boat for their own Nicola and Tom had the chance to stay a little by their own and most of all doing their special arrival at Ustaria!
here you can see some lovely shots on St. Julius Island and their romantic boat trip!
Everybody loved Nicola and Tom arrival!!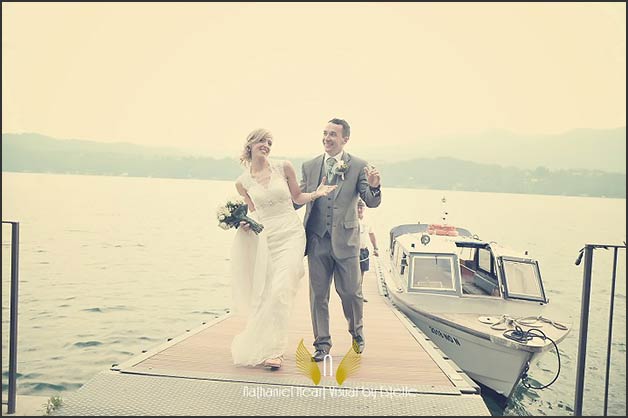 A Romantic Reception by Lake Orta Shores
What can we say about the party?
It was absolutely amazing and all had lot of fun!
For the occasion Nicola and Tom wanted a jazz, swing, jive band. They played ad the aperitif and for their after dinner… and all started to dance at the aperitif already!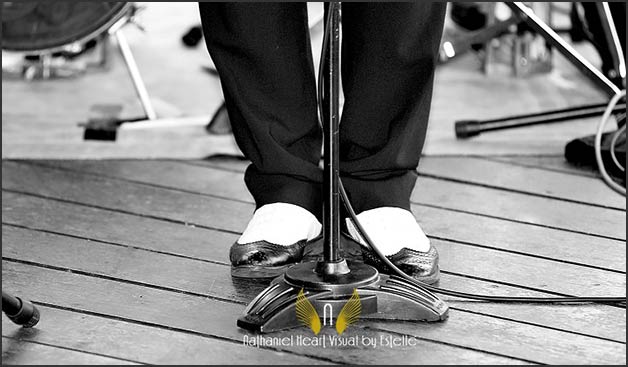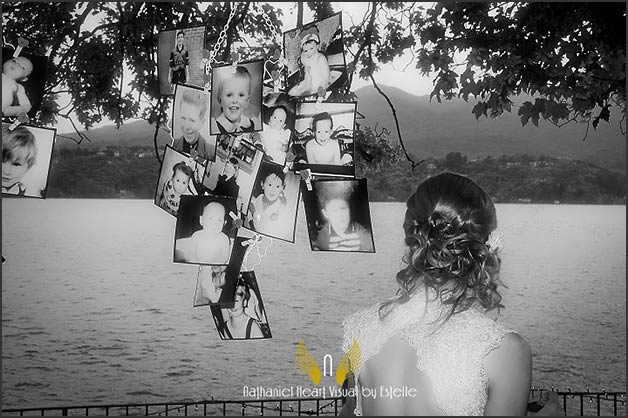 As little favour for all guests Nicola and Tom gave all fun sunglasses that everybody wore during the party. Such a great idea being on the Lake!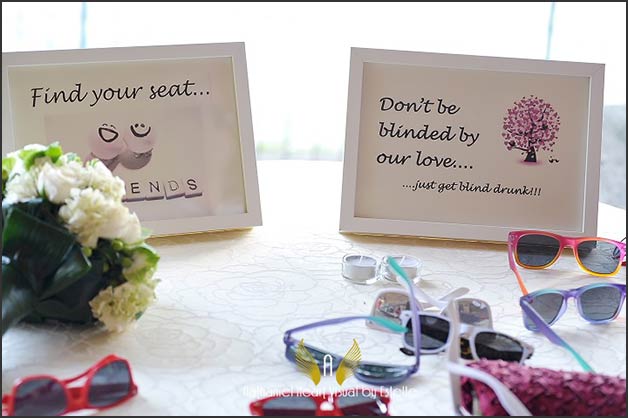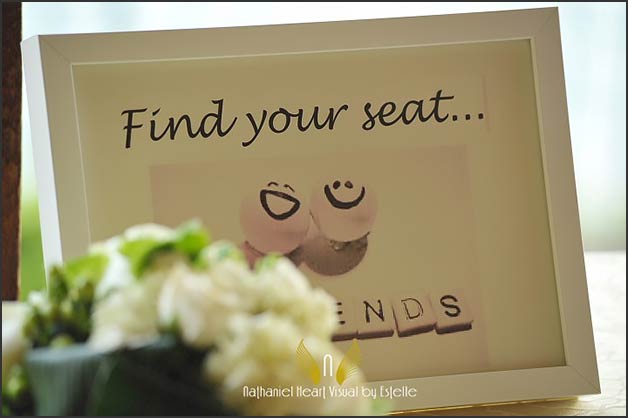 Dinner was really simple but at the same time absolutely delicious. Ustaria Ca dal Rat cuisine is a guaranty!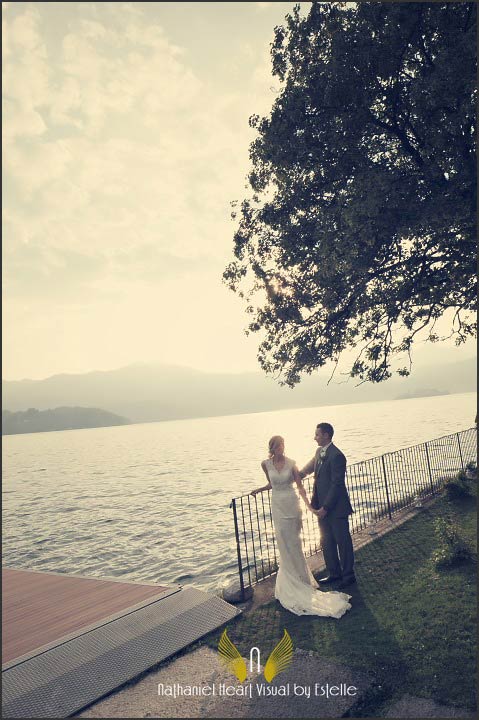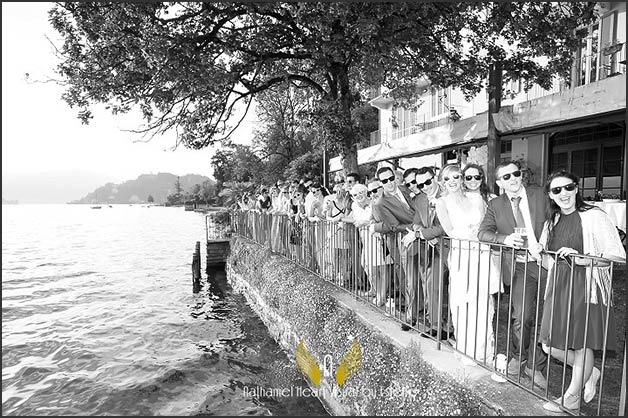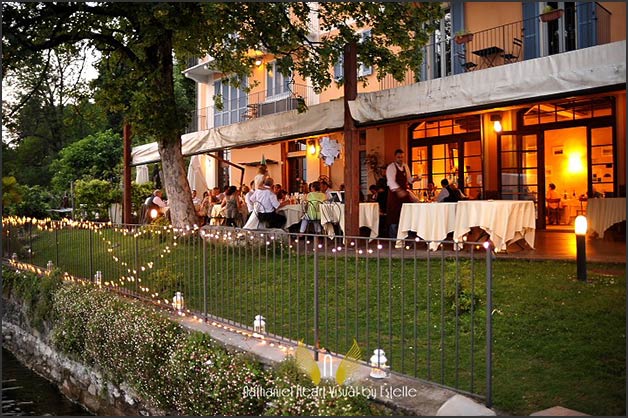 Centrepieces Nicola chose were absolutely simple… keeping in mind their love for Italian wines she opted for different empty bottles of wines with some loose and country flowers inside that matched the same flowers – roses and green berries – and colours Nicola chose for her bouquet.
And the wedding cake too! A white tiered wedding cake with flowers on top and green ribbons… Nicola's favourite!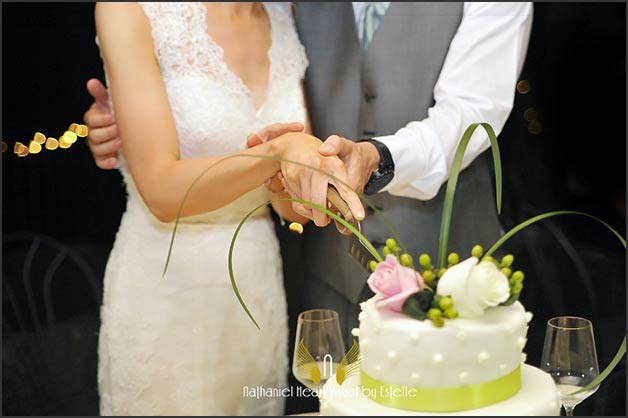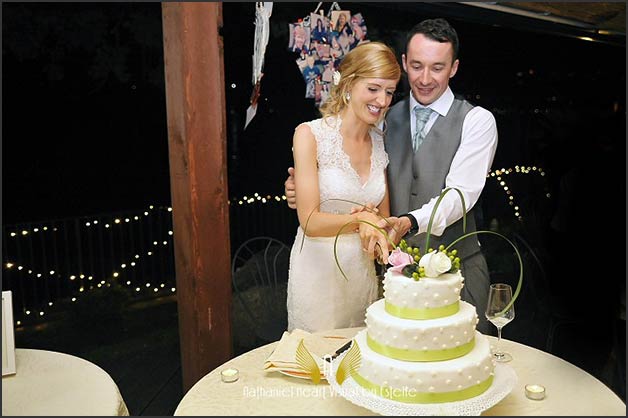 Party was s blast! Everybody danced and had lot of fun. Band was absolutely great! A great choice if you are opting for live music that everybody could like.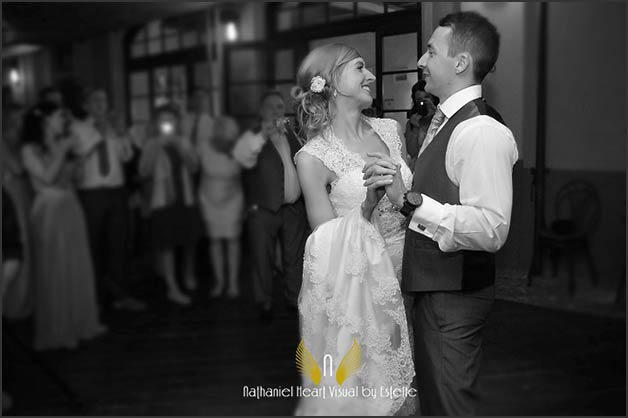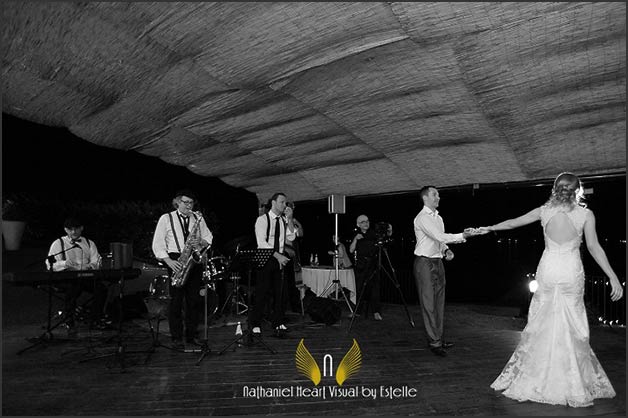 A relaxing, fun and gourmand party… this is just want Nicola and Tom wanted!
A lovely religious ceremony in Orta village, an aperitif on the square, great photos, boat tours and a great party.
We are so pleased they had so much fun and we will remember them for long time!
Congratulations guys!
Last but not least I want to share with you
amazing video Nathaniel By Estelle
provided for the couple. Take some minutes to see it as here you can really appreciate the beauty of Orta village, Assunta church and the charm of the lake.
I really think this give a very good idea of the special atmosphere you can breath in Orta.
With a lovely Italian song as soundtrack (could it be different?) Nicola and Tom will show you all the beauties that made them fall in love with Lake Orta….you will also appreciate relaxing and fun time they had for their wedding!
Thank you again ESTELLE for this wonderful photo and video service!