Once you reach Gardone Riviera, on Western side of Lake Garda, you can surely understand why this place is called garden town.
Elegant atmosphere, breathtaking views and wonderful panorama make this location a lovely frame all over the year…
When Ben and Flavia visited these places it was love at first sight!
Lush vegetation surrounding elegant villas, luxury 1900 hotels and blooming private gardens make this location just simply elegant and ideal for a wedding.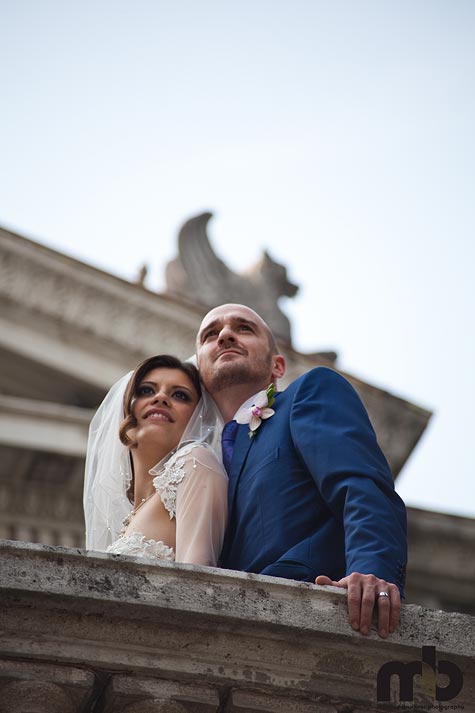 Flavia and Ben's wedding
was a wonderful mixture of cultures. Flavia's family came from
Italy
 and Ben's came from 
UK
. A lot of people with different cultures and traditions, but all there to celebrate this wonderful couple. A perfect cocktail for a joyful party!
An Elegant and Intimate Civil Wedding in Gardone
lavia and Ben planned a very
intimate and elegant ceremony
with close friends and family but for their reception they really wanted a great party!
Town Hall of Gardone is the ideal place for a stylish and intimate ceremony.
Ancient hall with the extraordinary wooden ceiling and painted walls overlooking the lush greenery of the surrounding gardens is one of the most elegant frame for a civil wedding on Lake Garda.
After the ceremony the newlyweds went down the elegant marble staircase to celebrate their union with their guests!
In the small garden of the Town Hall a lovely gazebo in forged iron was waiting for the guests for a small aperitif: a brief moment of relax before the great party!
A Garden on the Lake for a Fairytale Ceremony in Gardone Riviera
alking through the alleys of a majestic garden, Flavia and Ben and their guests reached the garden on the lake just under an ancient stone tower in Gardone Riviera.
A truly evocative setting for their
symbolic ceremony
with all their friends and family members.
Flavia chose shades of lilac and light violet for floral decorations, a wonderful romantic idea!
An arch of flowers framed the couple during the exchange of their vows by the lake.
The music of a violin accompanied every moment of the ceremony and the atmosphere was really dreamful!
Walking down the aisle of rose petals newlyweds bride and groom greeted all their guests… applauses and kisses for a wonderful couple.

A Magical Photo Shoot on the Lake
e cannot forget about pictures!
Such a lovely frame for wedding photos and Ben and Flavia just could not miss this opportunity!
And then a lovely boat trip on the lake for more photos and a little time for themselves.
A boat leaving from a private pier. Isn't it romantic?
Their photographer and friend Manfred Bruckner did an amazing job and we really want to thank him to give us such wonderful shots to publish.

The Wedding Dinner on the Lawn
en and Flavia's guests enjoyed a wonderful
aperitif on the lake
while waiting bride and groom.
When Flavia and Ben arrived there was an elegant dinner waiting for them accompanied by wonderful music as background.
Elegance was just everywhere…. and
lilac orchids
gave another touch of charm with white long linen table cloths.
A wonderful night in Gardone Riviera for a wonderful group… candles, lights on the lake made this night under the stars simply special!
Congratulations!
We take the occasion to thank all our brides and grooms and photographers that allow us to post on our pages their stories and their works.
All of the stories we post are fully planned or partly followed by members of by our Team (planners, photographers, video makers, floral designer, musicians…) but without couples and photographers permissions, work and material, they will be just wonderful events kept in a drawer.

Thank you all!