Performing in Lago Maggiore never fails to be an unforgettable experience and Lake Orta in particular commands a special place in our affections.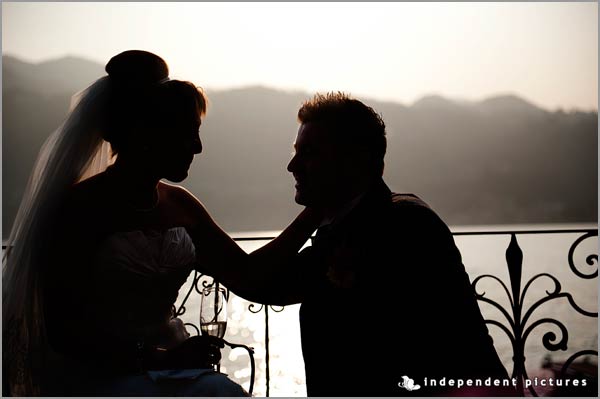 Siobhan and Stuart will forever feel the same, bound by the emotional experience of their early Spring ceremony, which was held in the perfectly manicured gardens of the charming Villa Bossi. It is the seat of the Comune in Orta and therefore famous for holding legally binding Civil Weddings in the area.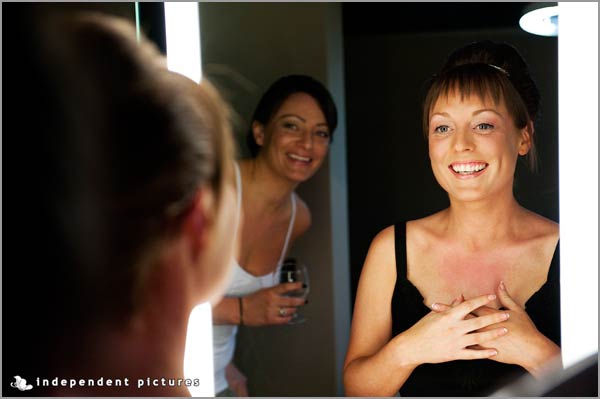 Lake Orta appears to be a particular favourite of couples who appreciate unique northern Italian lakeside charm and who are obviously seduced by its mystical powers and religious history. The area is famed for its spiritual tranquility and previously named after its fourth century Patron, Saint Julius.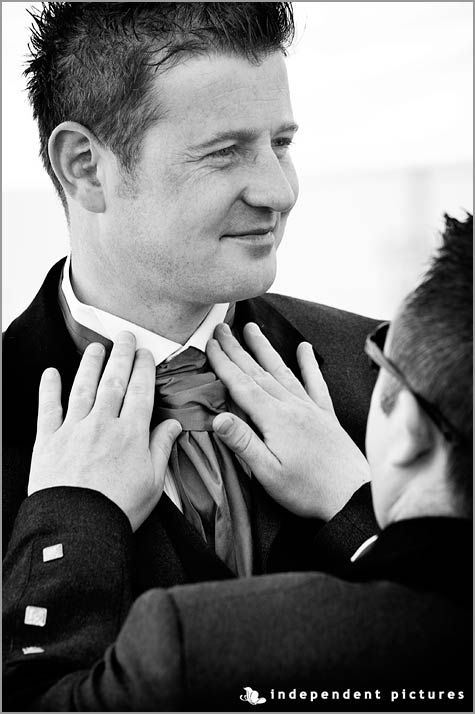 The intimate wedding party was comprised mainly of guests hailing from Scotland, enjoying a well earned break from recently insistent Scottish rain. A tiny tot sported a most becoming tartan kilt and spencer, very nearly stealing the show!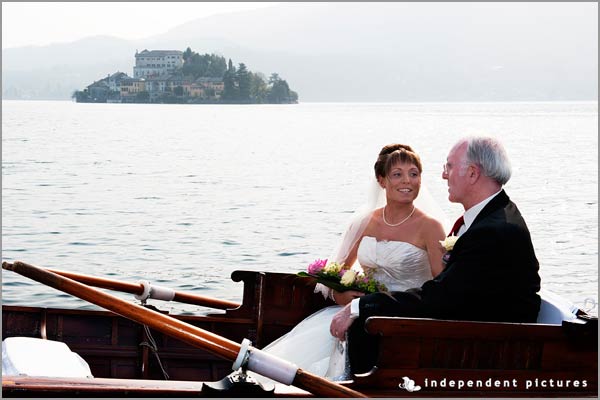 There is no more romantic arrival of a bride than by boat and Siobhan arrived as not only a stunning 'sposa' but a true Lady of the Lake, escourted down an open air aisle adorned with colourful rose petals, towards the 16th century facade of Villa Bossi, boasting an attractive loggia with a beautifully frescoed ceiling.
Siobhan was incredibly moved and in tears, even before the ceremony began but thankfully the ceremony contained humour as well as profundity, capturing the true spirit of what a wedding day should be… a joyously memorable and moving experience.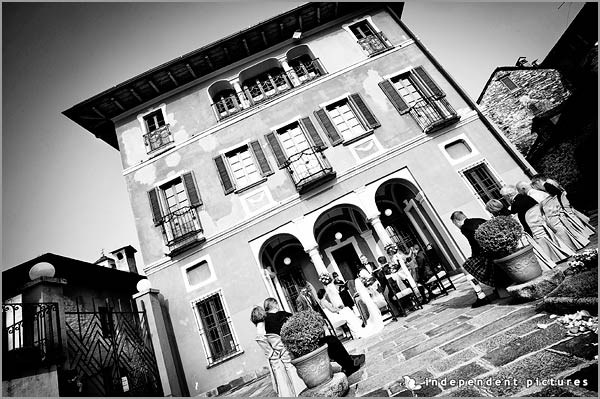 The ceremony was perfectly punctuated by the soft strains of a harp, which seemed the perfect choice given the delicate emotion of the ceremony. The fine notes resonated out beyond the confines of the wedding party towards the lake itself, enchanting all nearby.
If this wasn't enough, temperatures soared to around 22 degrees celsius and the whole scene was illuminated by a gorgeous azure sky and brilliant sunshine. The Bride and Groom really couldn't have been luckier considering that it was early April and the fortunate photographers expertly took advantage of the glorious light to immortalise the occasion.
The happy couple were delighted that they were able to have the flexibility of a Civil Ceremony held in combination with a romantic Blessing Ceremony, while still maintaining a religious theme. Rather than being constrained by bureaucracy or religious protocol they were able to achieve a wedding day that truly reflected their their own personal wishes.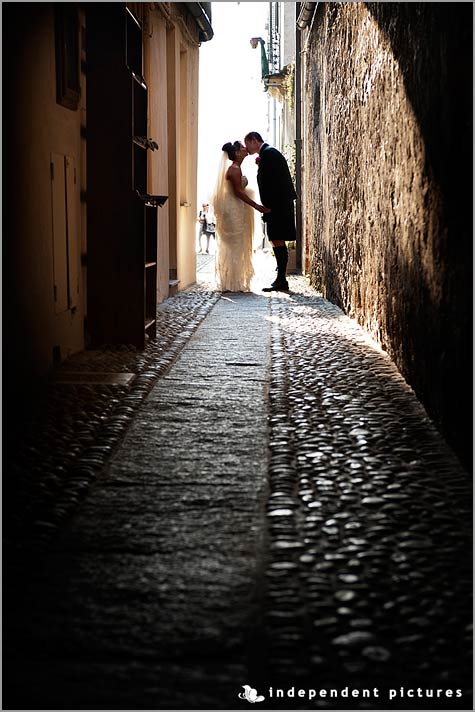 Siobhan and Stuart were a pleasure to collaborate with and we would like to offer our heartfelt thanks to them for allowing us to have played a part in fashioning their ceremony and wish them lots of love and happiness for their future lives together.
Diane Wheeler is an English Literature graduate and ex-teacher who has lived in Italy for many years. She has considerable experience of scripting and performing blessing ceremonies and will individualise your blessing by composing a script especially for and in close dialogue with you. Diane takes great care to ensure that every couple feel supported and guided through the process. It is more a passion than a job for her as you will soon see! Diane also complements the ceremony with expert recitation of some of the most beautiful poetry and moving readings of the English language.
For any information about blessing ceremony in Lake Orta please contact our Italian Celebrants – Blessing from Italy.
All images: © Independent Pictures, Torino. All rights reserved.