Do you remember post where Alessandra and I wrote telling you about butterflies themed weddings we planned? We are back!
We told you about Christine choices on Lake Como and Stephanie choice on Lake Orta.
Today we are back on Lake Orta to tell you about other butterflies themed wedding but adding also a little touch of vintage and shabby chic. Liz and Paul's wedding!
Their love for Orta was really at first sight! For their catholic ceremony they choose Sacro Monte di Orta church overlooking the lake and its Island.
Right after this they offered a little toast in the park of the church and then reached Hotel San Rocco for a lovely aperitif in the garden of Villa Gippini.
The reception was planned at Ustaria Ca dal Rat to be reached by boat on a sunny warm day of June!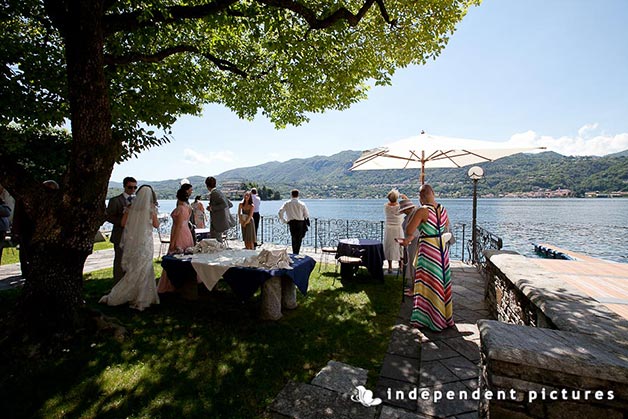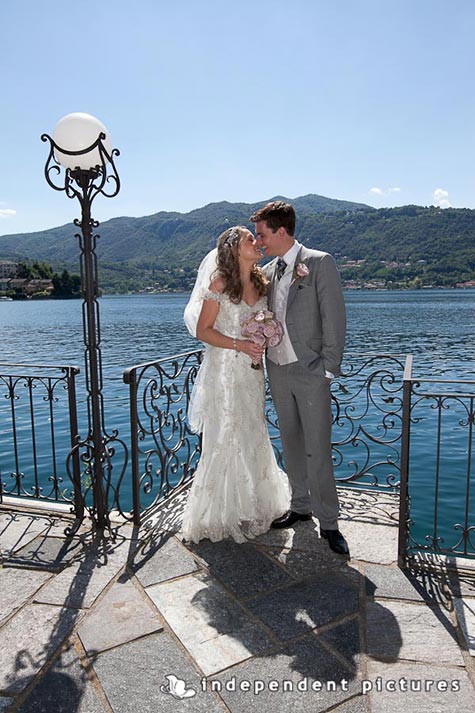 Liz has a romantic soul and she is in love with vintage and laces style.
These are the perfect elements to create a vintage themed wedding.
If you would like to arrange a vintage shabby and chic wedding perfect elements could be laces, vintage colored roses, loose flowers and maybe some shabby chic bird cages and romantic elements like butterflies!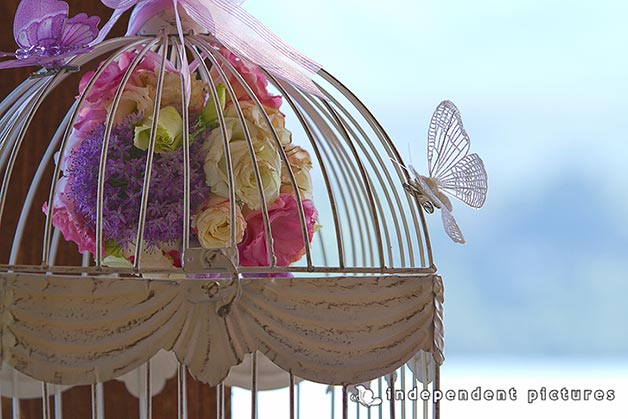 Adding butterflies to a vintage themed wedding could give a sense of freedom and lightness.
They are romantic and full of poetry! They are the symbol of nature and beauty!
Matching them with laces element was really a touch of charm!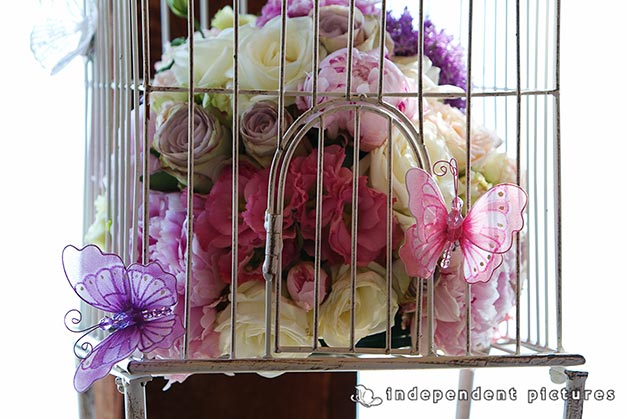 iz started from the beginning!
Sparkling
butterflies on her shoes
and laces on her dress still keeping the vintage pink color she opted for.
To give an extra touch of vintage style Liz also wanted laces on her bouquet…. you can see some laces roses in her bridal bouquet.
Isn't it a great idea?
Laces were present also on the butterflies on Liz' stationary.
What a great idea! You can see here order of service for the church and table plan with some bigger pink and purple vintage style butterflies.
Some others were placed on the decorative romantic vintage bird cages for the reception venue and the centerpieces, names cards and on her guest book.
A reception like this with vintage elements and with some shabby chic wedding decorations could match perfectly a relaxed venue on the shores of Lake Orta.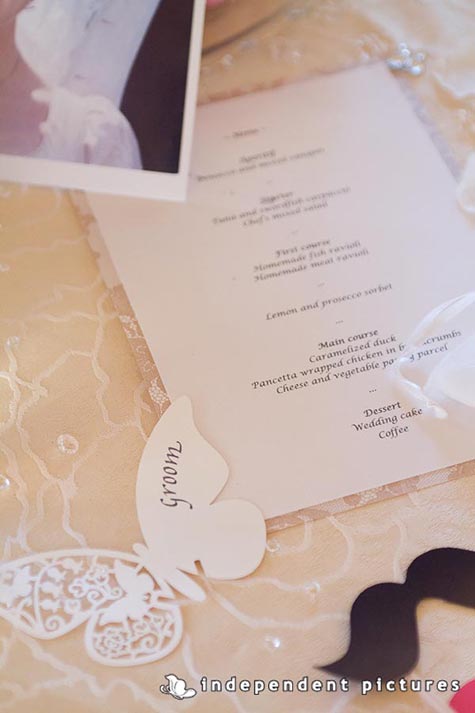 We cannot forget the cake!
A wonderful vintage polka dots cake with some sugar white butterflies!
A very special way to close the reception by the Lake at Ustaria Ca dal Rat.
I really liked working with creative Liz to create a special fine vintage and romantic event on Lake Orta!
Thanks to Independent Pictures team for their great shots and they great work on the day.
Note: In the last couple of days we posted Lisa and Rob's wedding story on our blog. We needed to cancel for unexpected privacy reasons.
We apologize with our readers. We won't post it again on our blog.
All post we publish are done with the permissions of the couples and/or photographers who worked on the project.
We take the occasion to thank all our brides and grooms and photographers that allow us to post on our pages their stories and their works.
All of the stories we post are fully planned or partly followed by members of by our Team (planners, photographers, video makers, floral designer, musicians…) but without couples and photographers permissions, work and material, they will be just wonderful events kept in a drawer.
Thank you all!
My name is Valentina and I work as wedding coordinator on Lake Orta and Lake Maggiore.
Before being a wedding planner and coordinator I worked for an American company planning events. I turned into wedding planning for SposiamoVi group, more than 5 years ago. Since Italian Lakes Wedding was founded I work with them to make bride and groom's dreams come true on this wonderful Lakes of North West Italy and Piemonte region.

l love creating with my couples the perfect event for them following their wishes and needs, helping to find the best solution for their ideas and budget.
I like meeting people talking with them and know more about their cultures and traditions. I do like sharing Italian customs with them and working in team with couples to let them experience a real and dreamy Italian wedding!

I will be pleased to guide couples along lovely traditional and pedestrian roads of Orta village discovering the beauty of this romantic Lake between villas, traditional restaurants wonderful churches and enchanting St. Julius Island.
I will be happy to let couples discover bigger and charming Lake Maggiore with its Borromeo Islands, wonderful hotels and villas overlooking the waters.

I'm sure you would be amazed by the beauty of these special corners of Italy so I'm simply wait for you for a lovely experience to create and live together.

For any information about wedding on Lake Orta please CONTACT ME.