n
Italian-Chinese wedding
it not something that happens so often on Lake Orta… and most of all a wedding with
more than 250 guests
coming from all over the world! Can you image it on Lake Orta?
They were maybe too many for Orta wedding receptions capacities so
Siju and Giorgio
decided to rent…
2 wedding reception venues!
Well, they are just one side of the other but they were two!
We are talking about
Palazzo Gemelli
and
Palazzo Penotti Ubertini
, both located in the heart of Orta village just few steps from
Maria Assunta Church
where Siju and Giorgio's celebrated their Roman Catholic wedding ceremony.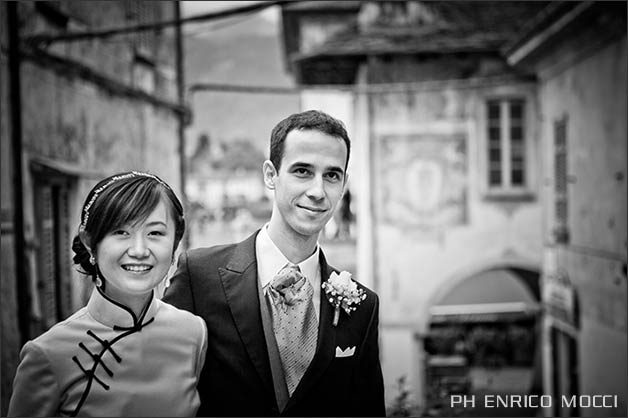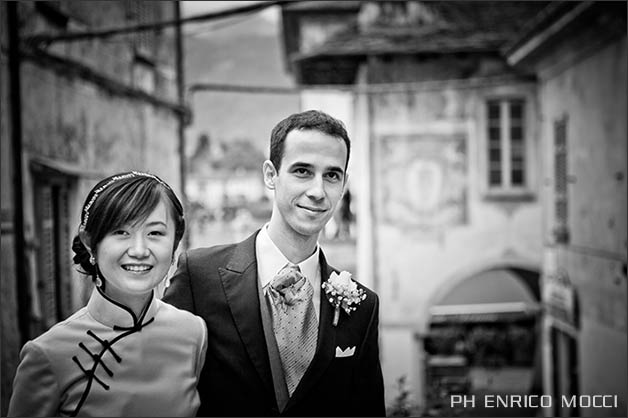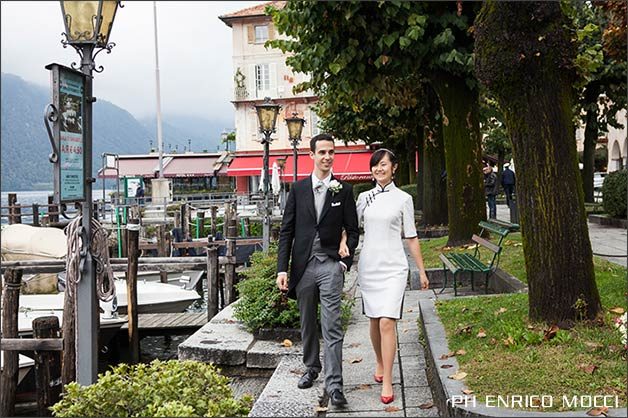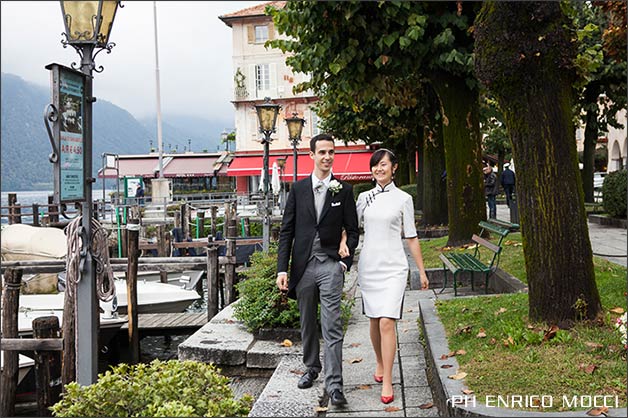 The whole event was followed by Enrico Mocci photographer one of the most known Orta wedding photographer. He comes from Sardinia but he has lived and worked just in Orta village since 30 years. In all these years he surely got a very good knowledge of the area and he developed a rich and personal wedding photography style.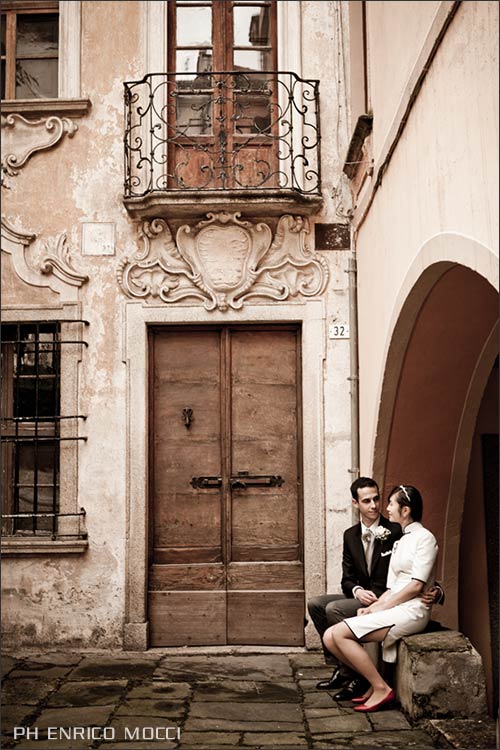 Siju is a wonderful Chinese girls. She is kind and kind. Giorgio is coming from… Orta! He comes from one of the noble families of the village. Famous main square of Orta village (Piazza Motta) is entitled to Eng. Mario Motta an Italian Partisan hero in the fight against Nazifascism during Second World War II, who died in 1944. Mario Motta is Giorgio's grandfather's brother.
Villa Motta built back in 1800 is located side of Hotel San Rocco and it hosted many celebrities: Mariangela Melato – famous Italian actress, Genova Dukes, Giuseppe Amisani painter, Cardinal Alfredo Idelfonso Schuster – Archbishop of Milan – who was declared as a Saint by Pope John Paul II.
Moreover during Second World War, Villa Motta was a safe refuge for many local Partisans and refugees going in Switzerland among them famous Italian journalist Indro Montanelli.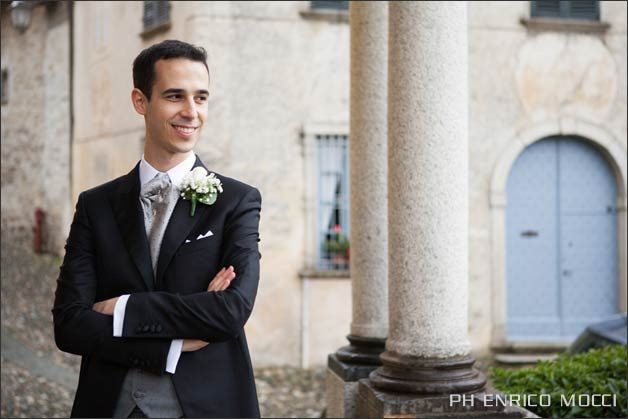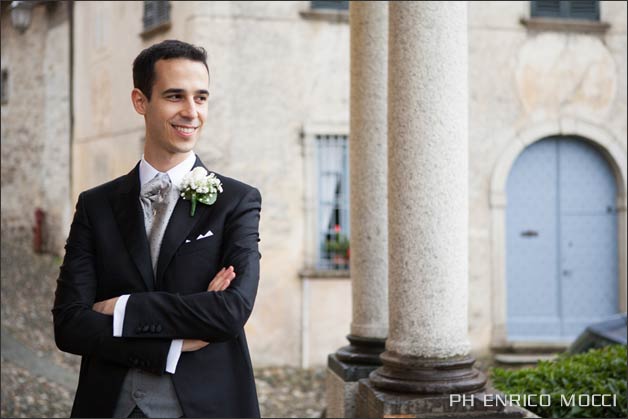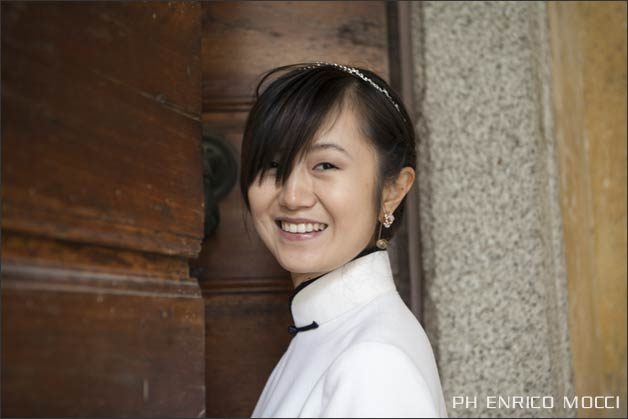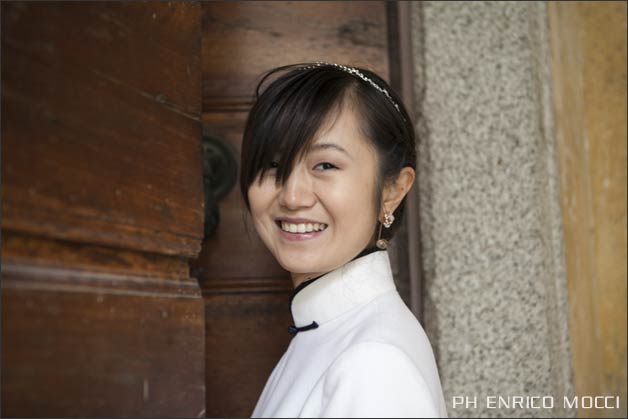 It was not easy planning such a big event with so many guests in such a small village like Orta San Giulio.
Situ and Giorgio solved the problem concentrating different events of the wedding day – getting ready, welcome cocktail, ceremony, aperitif and wedding reception, invenues very close one to each other.
They reduced the time to reach venues and movements that may be always difficult especially for elder guests or children.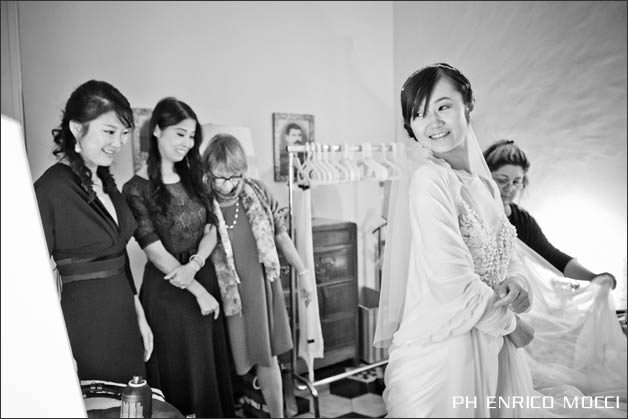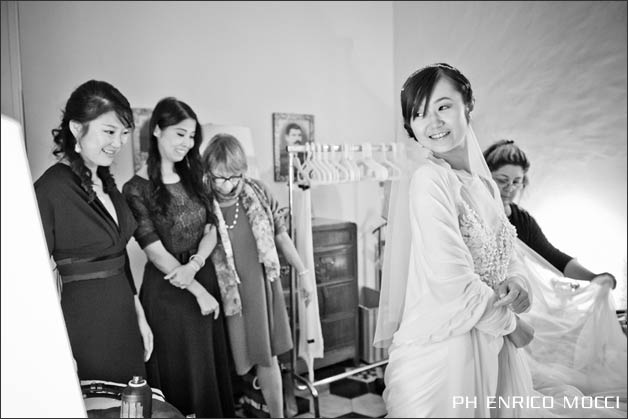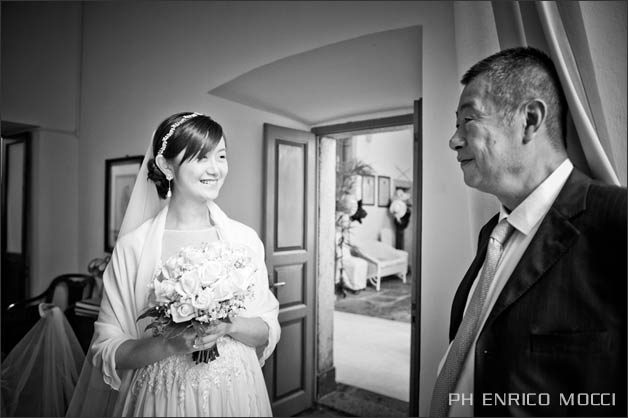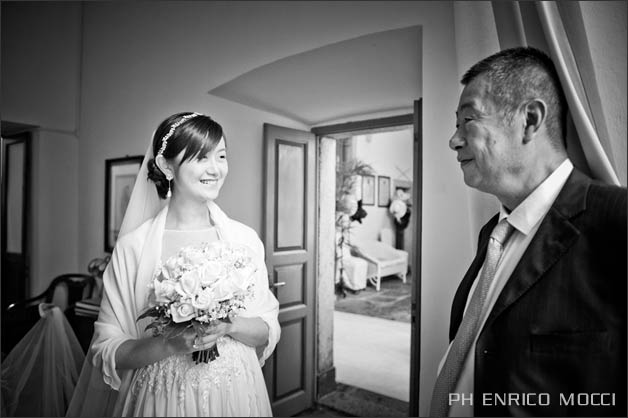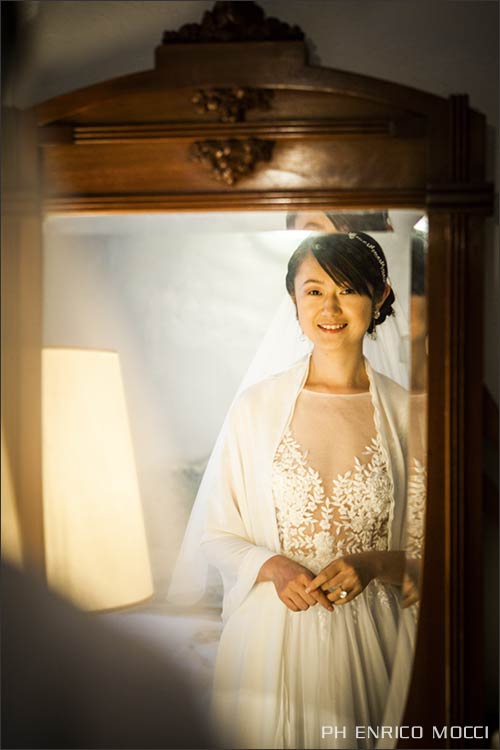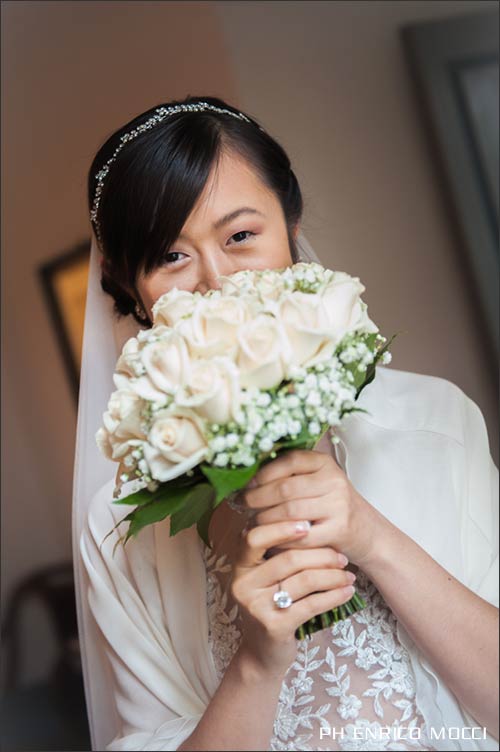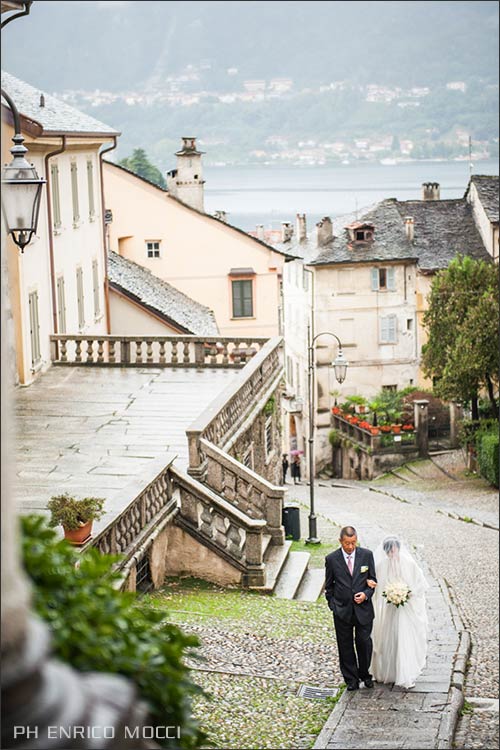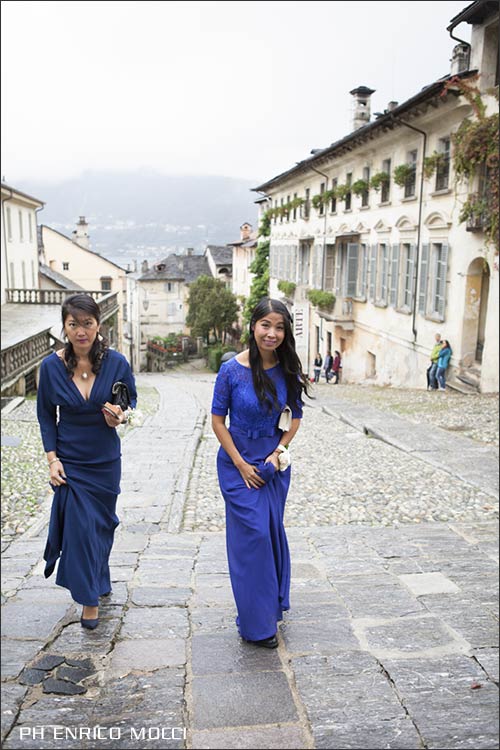 Palazzo Gemelli was the choice for bridal getting ready and welcome cocktail events.
Siju had just to take few steps to reach Maria Assunta Church for her Catholic ceremony. She was accompaigned by her two bridesmaids and of course… father of the bride!
Father Angelo got back in Orta for this special day. Father Angelo is a charismatic figure in Orta. He managed St Fancis Monks Convent on Sacro Monte in Orta. He celebrated many weddings on our blog but he recently retired. He was back for this special occasion, he could not miss!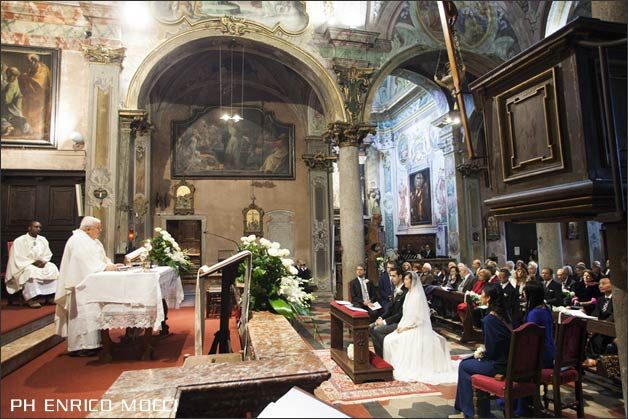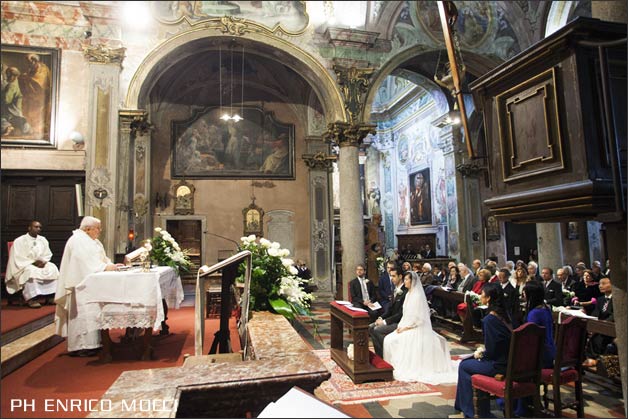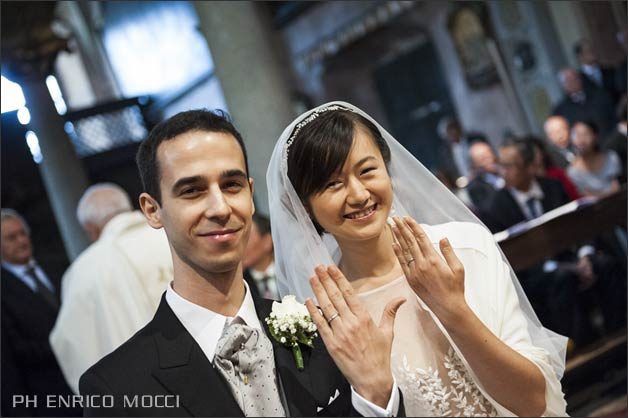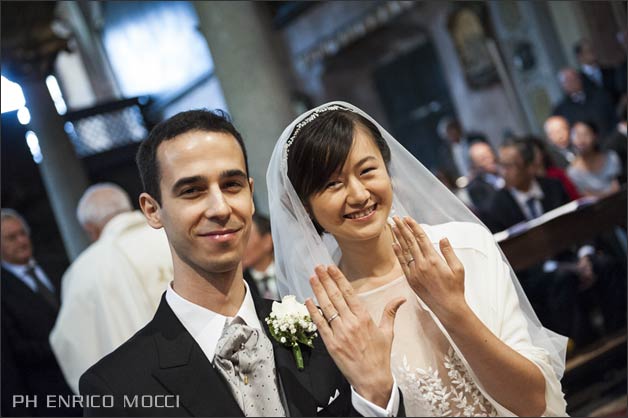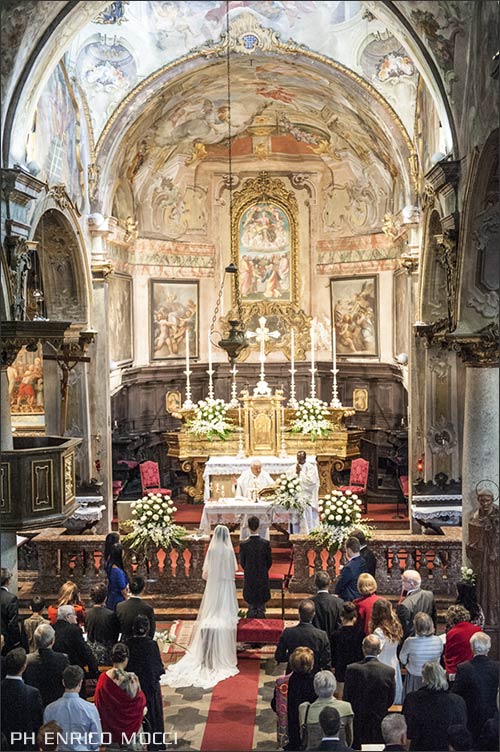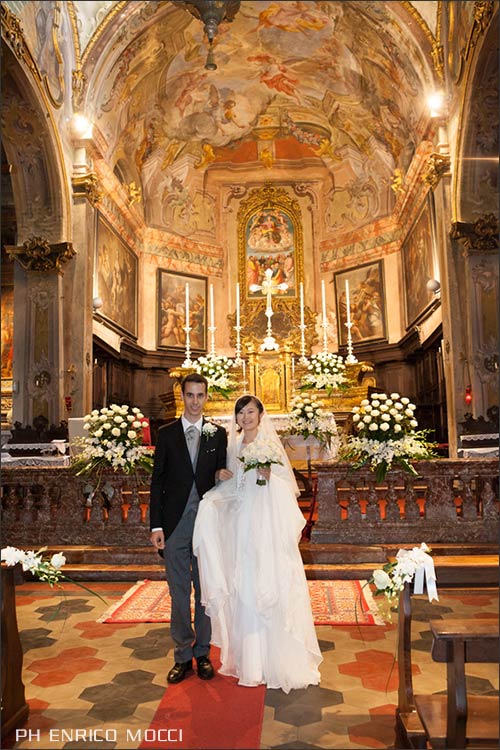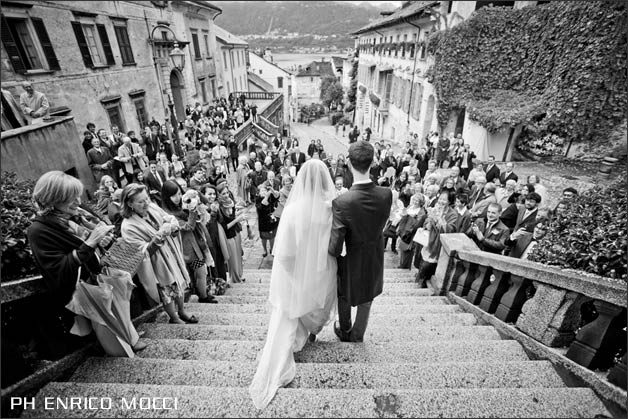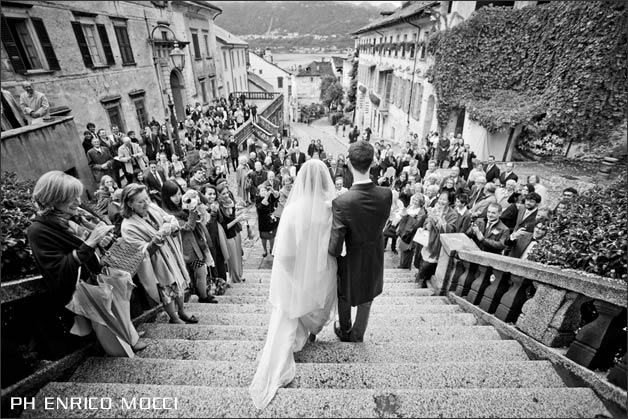 For the ceremony Siju wore a classical bridal dress with long veil, but for her reception she got changed to wear a lovely cocktail dress with some Chinese details.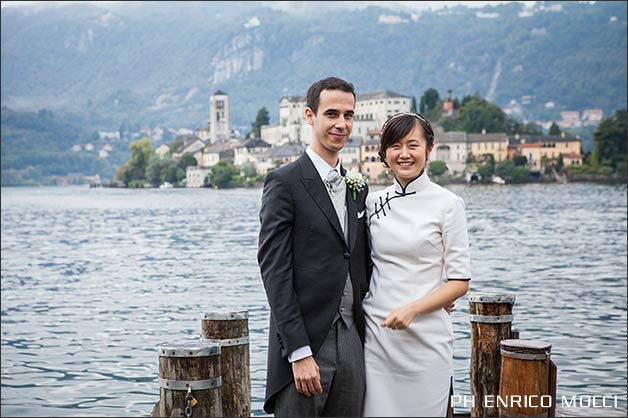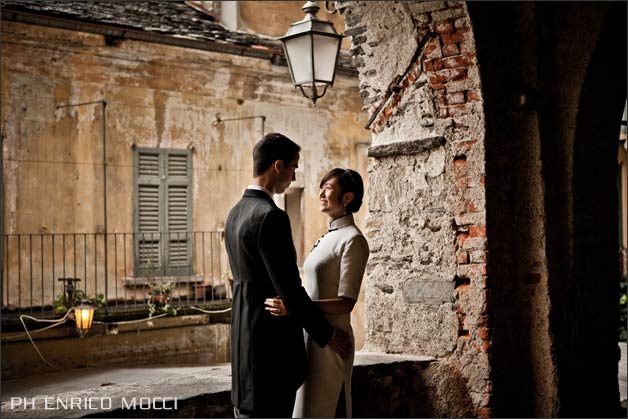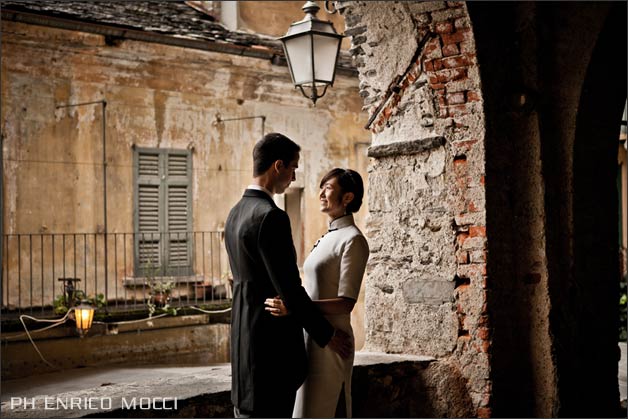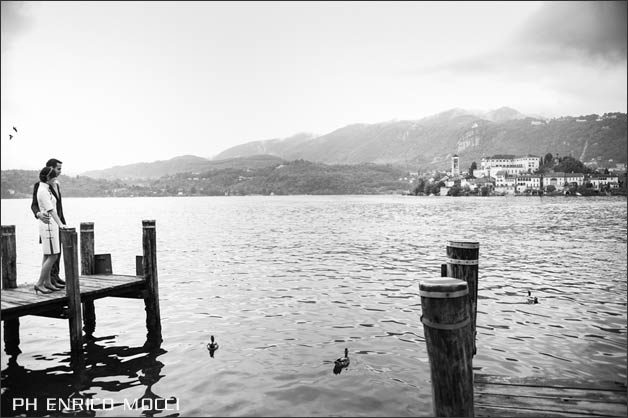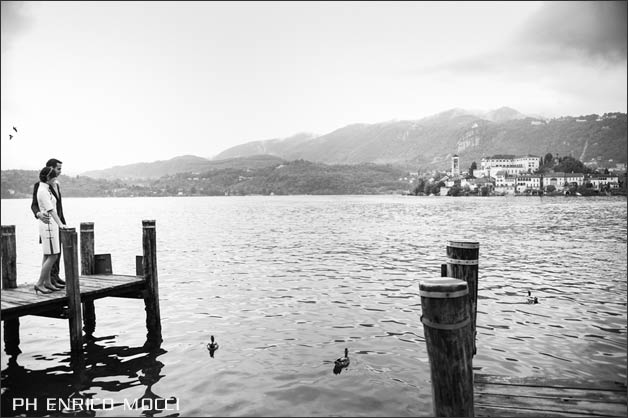 Wedding reception time!
As mentioned, guests were so many that could not fit all in the same venue so bride and groom decided to plan their wedding reception at Palazzo Penotti Ubertini and Palazzo Gemelli. The two palaces are bot located on top of the slope leading to Maria Assunta Chuch.
Both venues are among the most luxury historical villas in Orta. They have been built back in 1700 and they are owned by important noble families of the village. Side of that they are different in many ways. Let's discover these differences having a look to Enrico Mocci's photos taken at Siju and Giorgio wedding reception at Palazzo Gemelli and Palazzo Penotti Ubertini.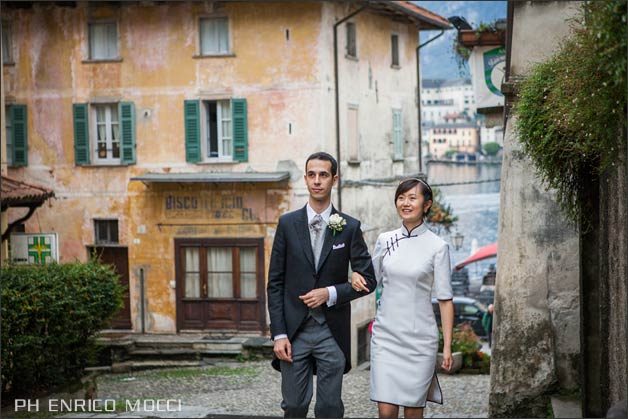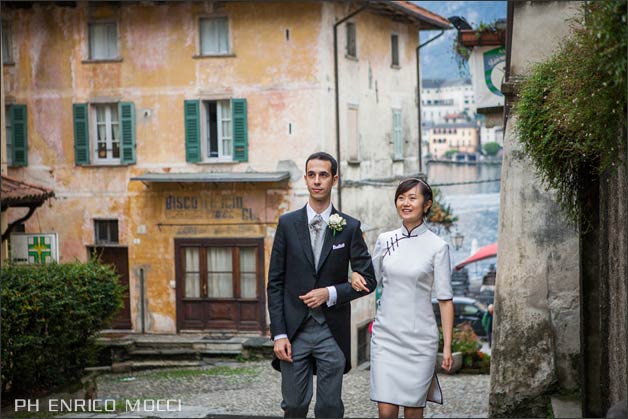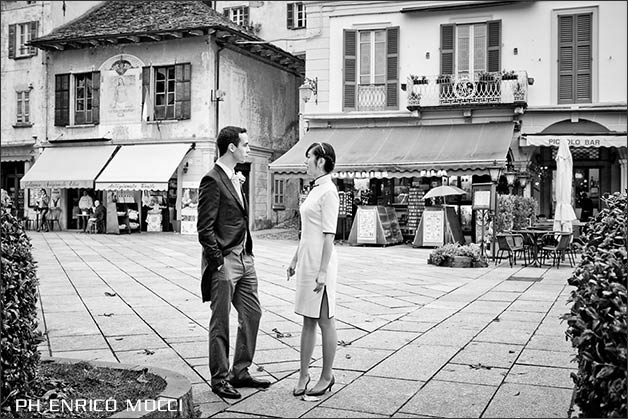 Wedding reception at Palazzo Penotti Ubertini
Side of being right by Maria Assunta Church, Palazzo Penotti Ubertini win-win are its precious rooms featuring baroque ceiling and special flooring. Another lovely feature are palace fireplaces, especially the marble one inside Pink Room (Sala Rosa). On the walls great paintings of Penotti Ubertini and Savoy Families are hung. You cannot miss amazing antique balconies overlooking Salita Motta with great view over Orta village and its lake.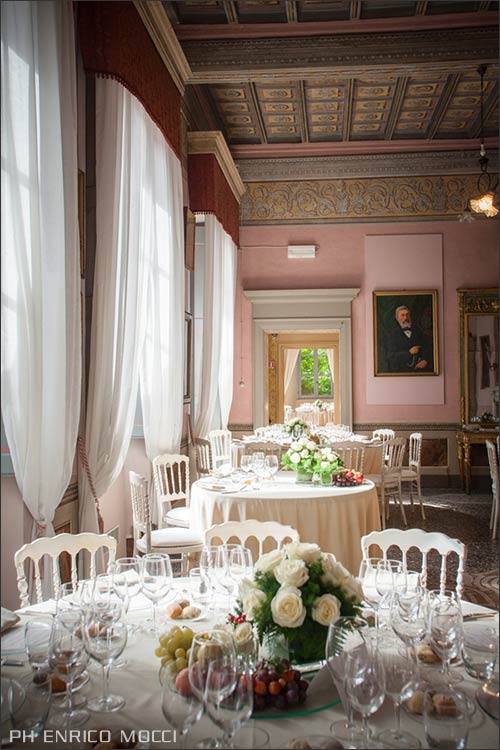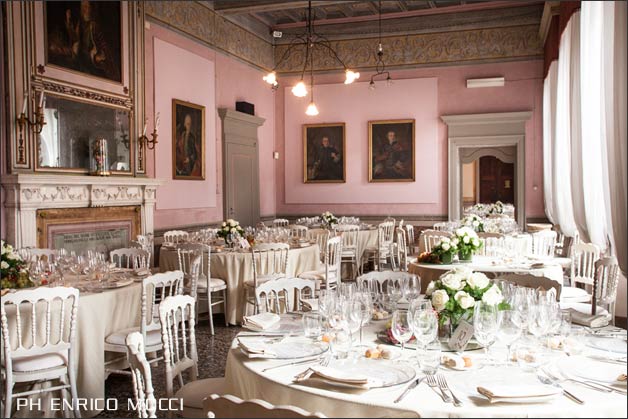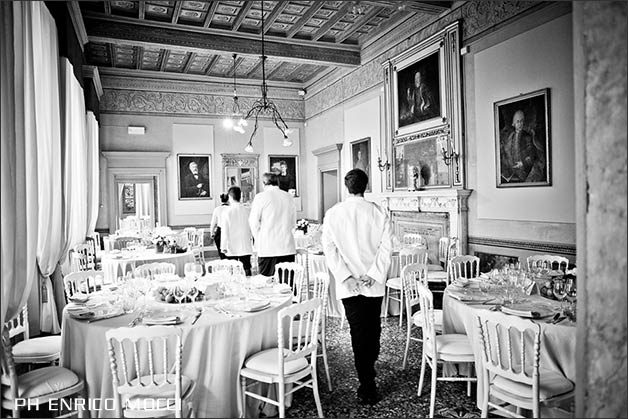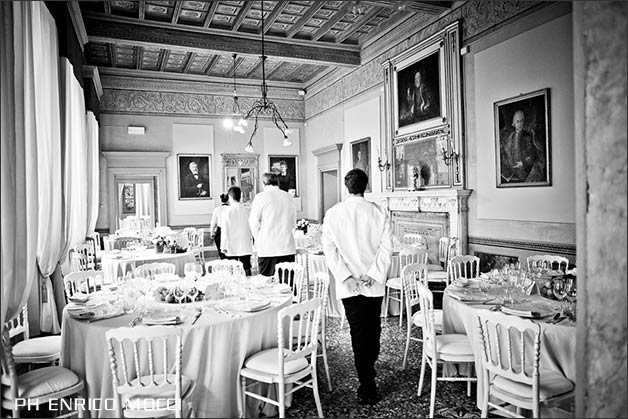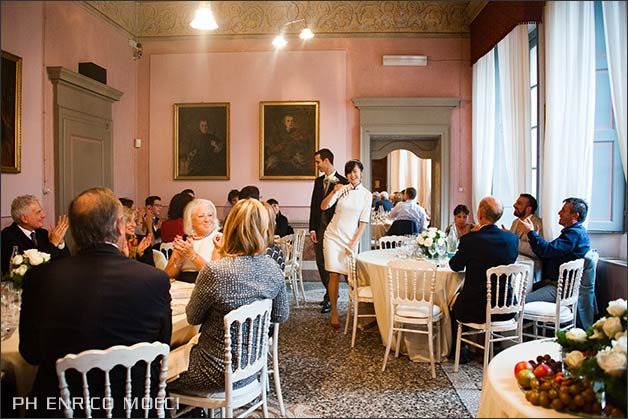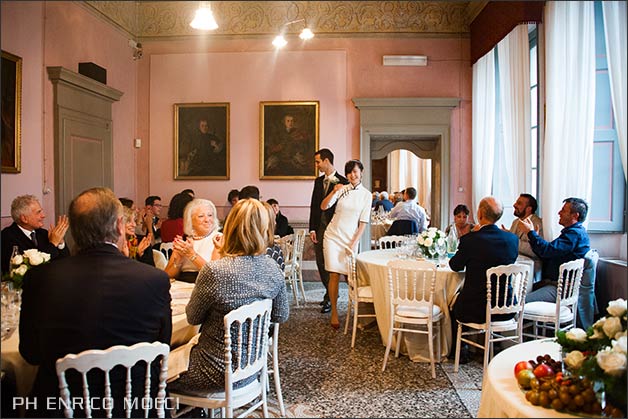 Wedding Reception at Palazzo Gemelli
On the opposite way Palazzo Gemelli win-win are: its lovely courtyard with frescoed walls and wonderful Italian style garden with a great view over Lake Orta. Siju and Giorgio planned their aperitif just here while on the frescoed courtyard they planned part of their wedding reception. To be safe as their wedding was planned for Autumn 2015 they covered it with a wide marquee embellished with elegant chandeliers and white carpets. We cannot forget about amazing caterer mise and place on the tables!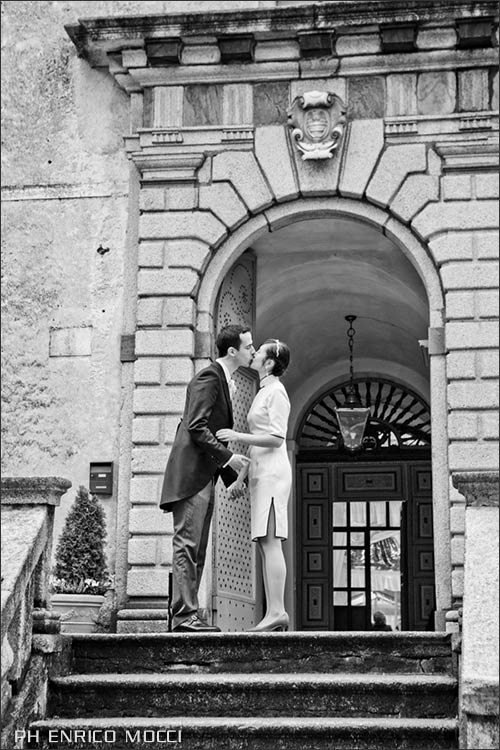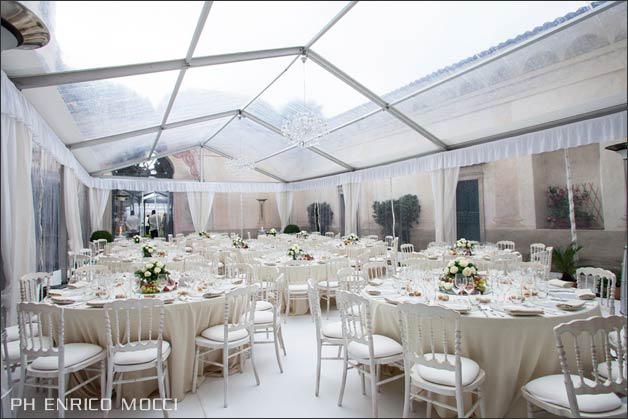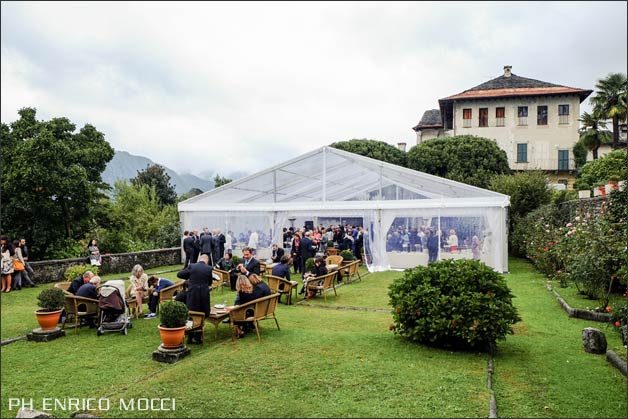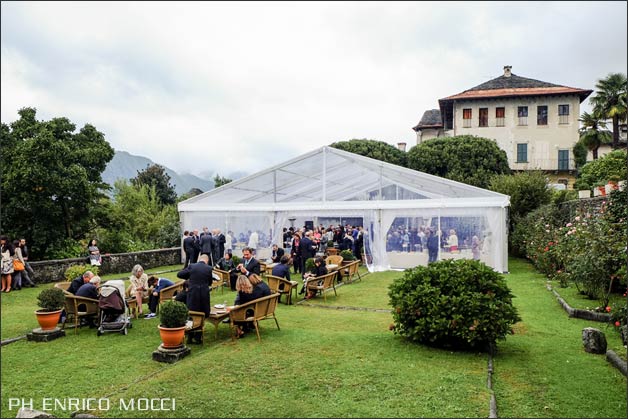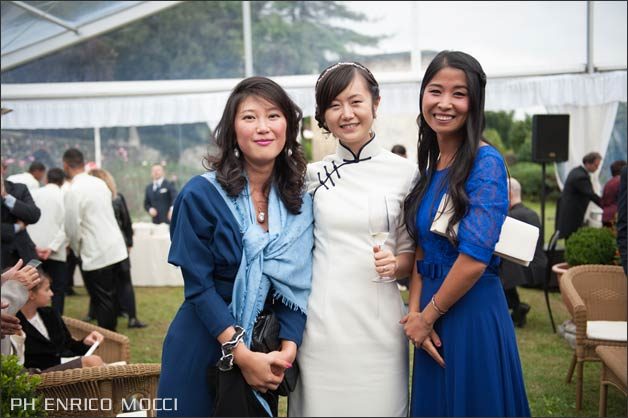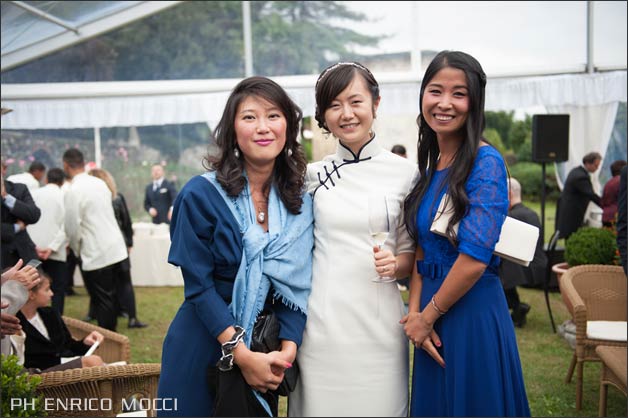 Floral arrangements for Siju and Giorgio's wedding
All floral arrangements for Siju and Giorgio's wedding were created by Paola by La Piccola Selva Floral Designer: bridal and bridesmaids bouquets, church floral arrangements, over 50 centrepieces for the wedding reception at Palazzo Penotti Ubertini and Palazzo Gemelli.
An all-white floral arrangement with Dendrobium orchids, Avalanche roses with some fresh fruits for the centrepieces such as pomegranates as a sign of good luck.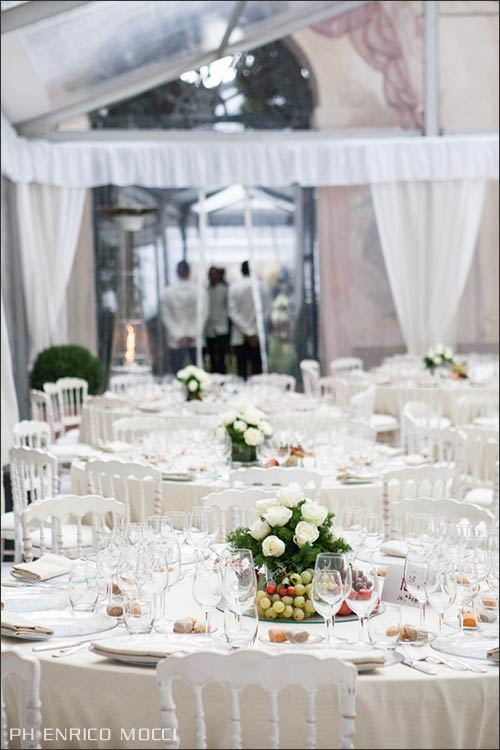 Wedding Menu – Italian tradition and China flavours
We cannot forget to tell you about the detailed choice of bride and groom's wedding menu. Many local dishes such as Agnolotti del Plin but also some traditional Chinese courses.
Italian tradition with a special Chinese taste… on Lake Orta!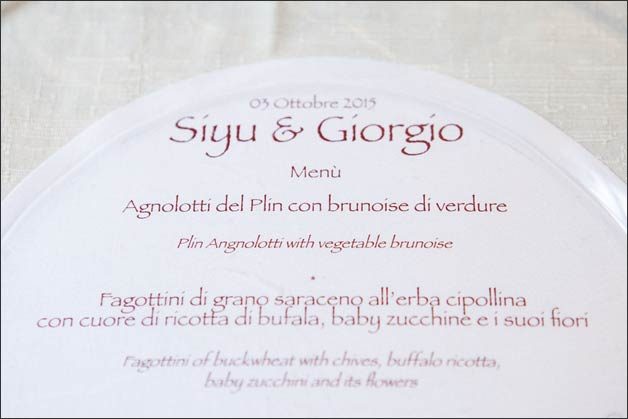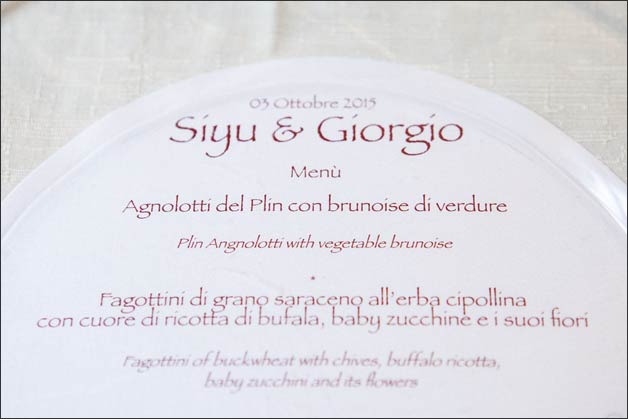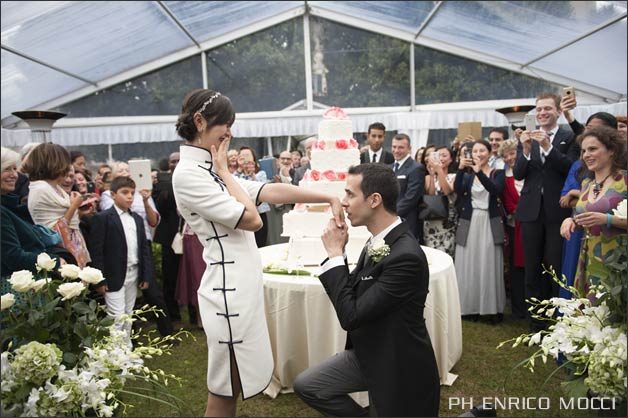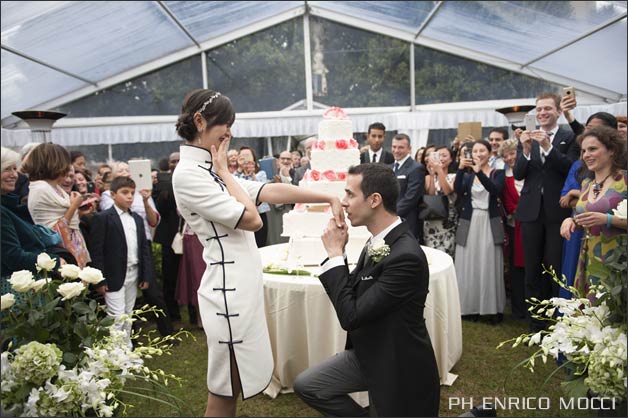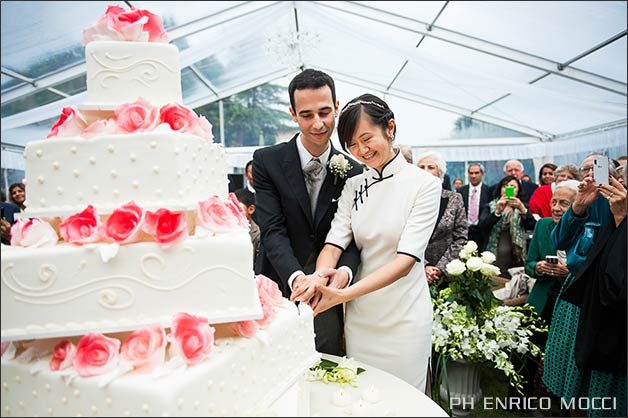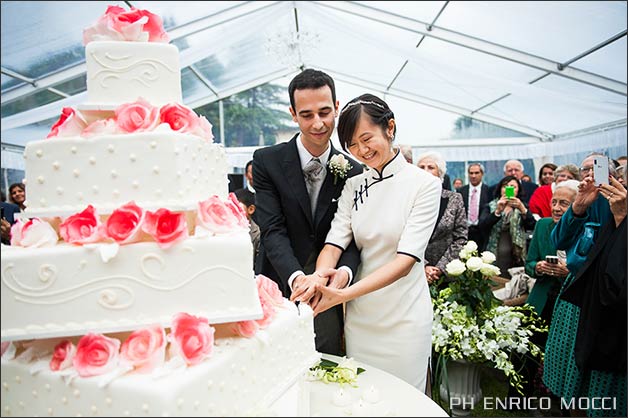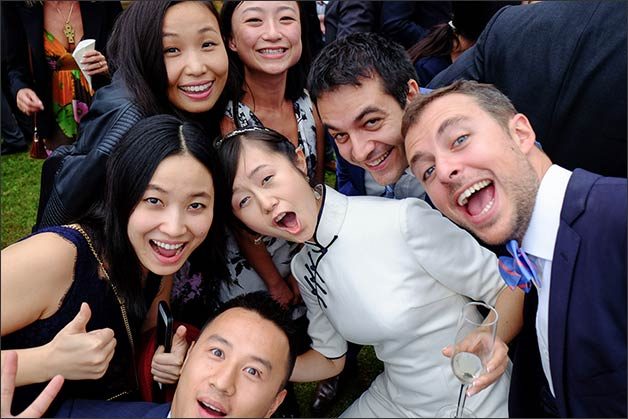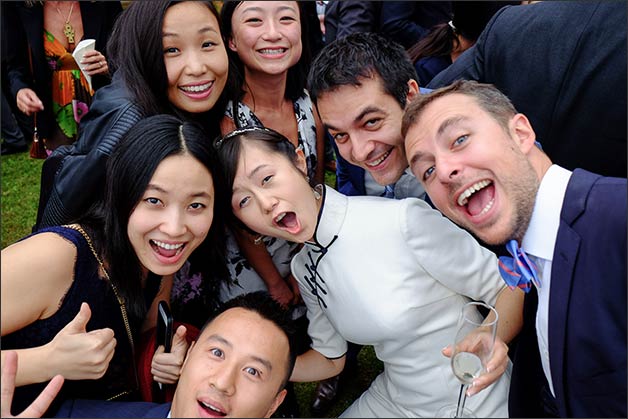 A very special thanks to Enrico Mocci for his great wedding photos and a big thank you to Siju and Giorgio for sharing their big Italian – Chinese wedding on Lake Orta.