Not every time bride and groom are coming with a full group of guests, sometimes they seem to escape the big festivities and have just a very small and intimate wedding. So it happened end of this September at lake Garda.
Kerstin and Wolfgang came from Düsseldorf and wished to get married at Bardolino. Why especially Bardolino and not any other village around Lake Garda? They had often been to this place and hat lots of wonderful memories, so they wanted to relighten all this nice thoughts from the former years of their life together.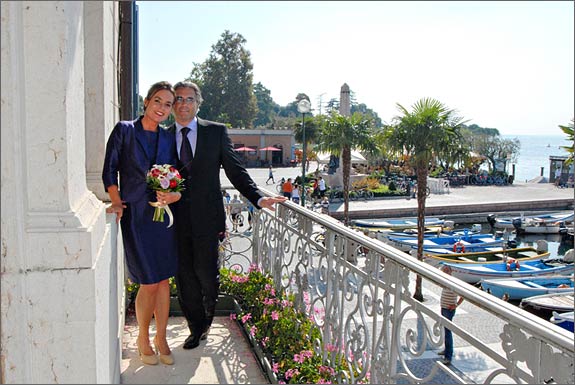 Kerstin, the bride came up with a very special colour for her flowers, it was a dark lilac and shoes and bag in gold, so the flowers hat to fit this combination. How perfect the flowers were, so bride and bouquet were shining and the groom had his little buttonhole.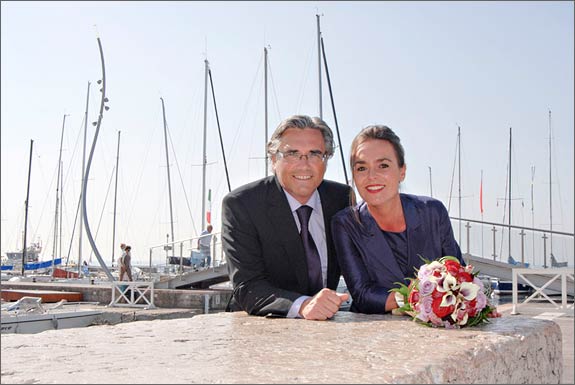 The civil ceremony was inside the Town Hall of Bardolino which is quite cool from the interior design. So I brought some ribbons and some petals to have the inside decorated and welcoming the couple warmly. My assistant had to be the one witness, as they were only accompanied by their mum.
To lighten up the ceremony, that consists mainly of the legal articles to be read out, I was prepared with a poem, Kahil Gibrain who talks about marriage in his famous book "the prophet".
When coming out of the Town Hall, the first task was to surround 3 times the old captains table made of stone, as it is said this will bring luck to newlyweds.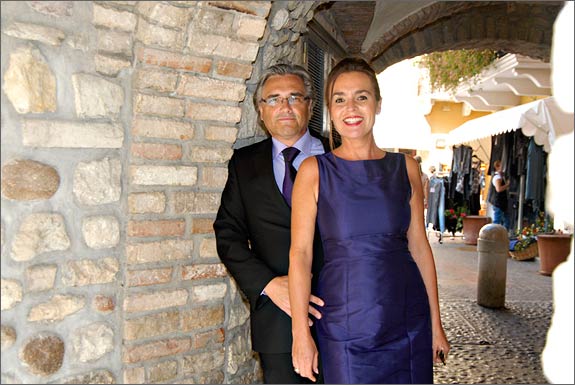 We had a photographer that was taking pictures of the bride and groom all over Bardolino until they stopped an hour later to have a toast with Italian Prosecco and canapèes in the cafè next to the lake.
And then there waited their little boat, in wooden shape, to bring them back to their hotel and relax, before in the evening they would have been able to enjoy their private dinner at their hotel.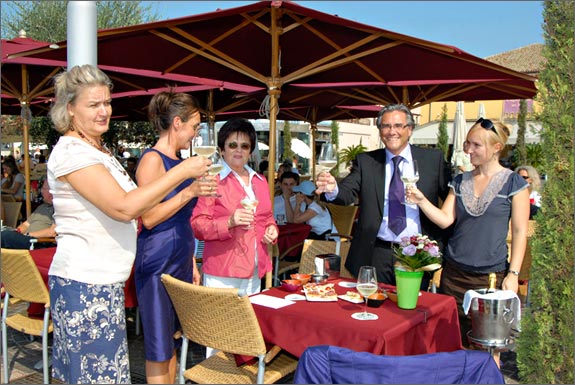 Just another way of enjoying very intensively the wedding day, as no guest and no big timetable to follow – they loved this day and will take it in their hearts forever. And I am happy that again I could help a couple realize what they dreamt of.
For more information about weddings in Bardolino, Lake Garda, please contact us.