yle and Veronica are a young American couple who decided to undertake a very peculiar journey: backpack, sportswear and… wedding clothes in their luggage!
 Destination:
Lake Garda and Italy
!!

As the matter of fact the idea of travelling around Italy created the perfect opportunity for them to realise their dream: an intimate
elopement on Lake Garda
.
Simplicity and spontaneity are the key factors of this romantic wedding in Italy: no rules of etiquette, no strict conventions but simply Kyle and Veronica's unforgettable day. Isn't it so romantic?
For their wedding day on Lake Garda they wanted to discover the most beautiful places of the lake. We started with their wedding ceremony at the Pieve di San Giorgio, one of the most ancient churches in Valpolicella countryside, we continued with peninsula of Punta San Vigilio, a very famous destination among princes, emperors and artists over the centuries. Finally Mount Baldo whose top offers the most fantastic and breathtaking view all over Lake Garda.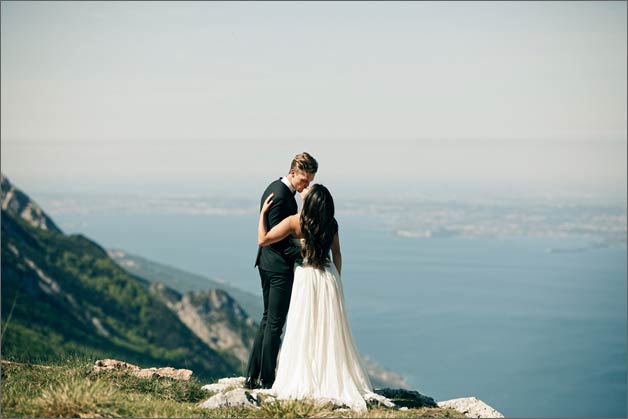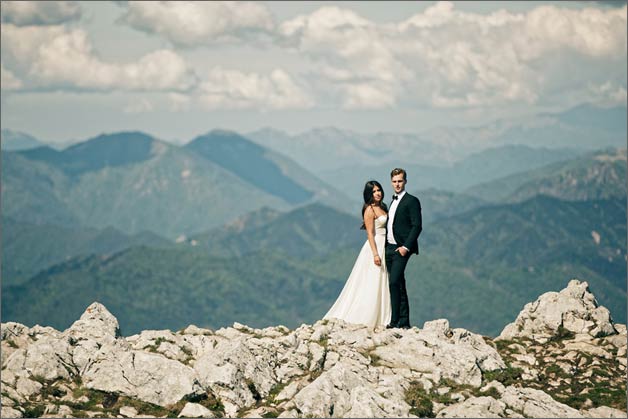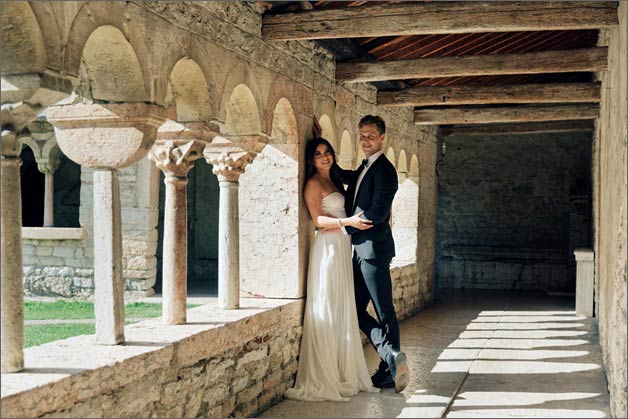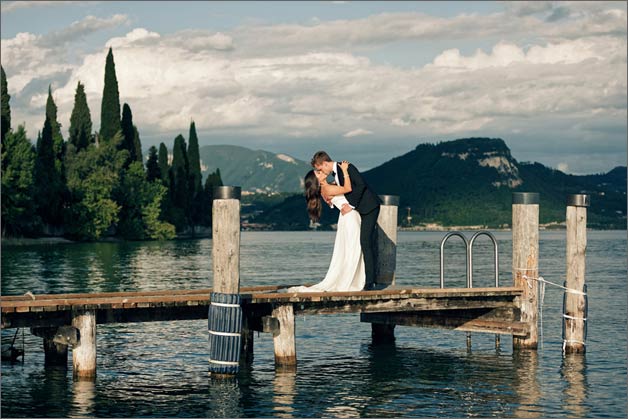 Pieve di San Giorgio in the hills of Valpolicella for an intimate wedding ceremony
Church bride and groom chose for their wedding ceremony is spectacular Pieve di San Giorgio in Valpolicella countryside. It is a marvellous building dating back back to 700. Its cloister and frescos inside was the perfect frame for Kyle and Veronica's Italian wedding on Lake Garda.
This house of worship is part of one of the most beautiful ancient hamlets in Italy. It is located on Valpolicella hills. It is surrounded by local vineyards where some renowned Italian wines are produced such as delicious Prosecco!
Once they reached the church, bride and groom walked down the aisle hand in hand, to support each other in starting the long road they were about to take together.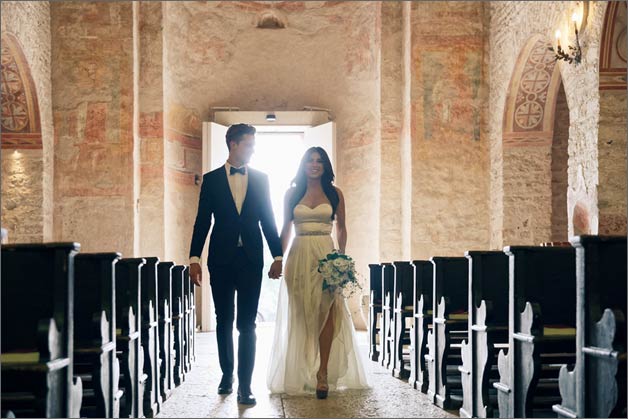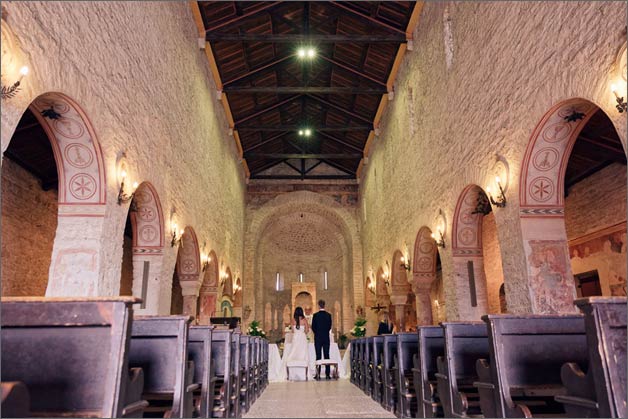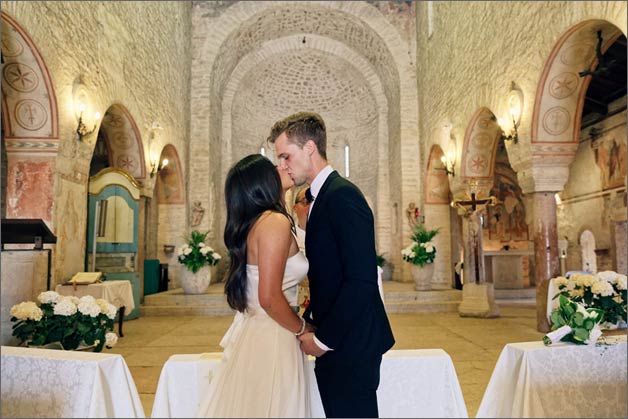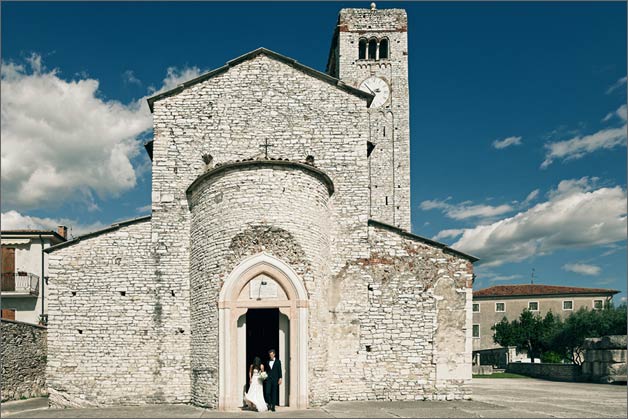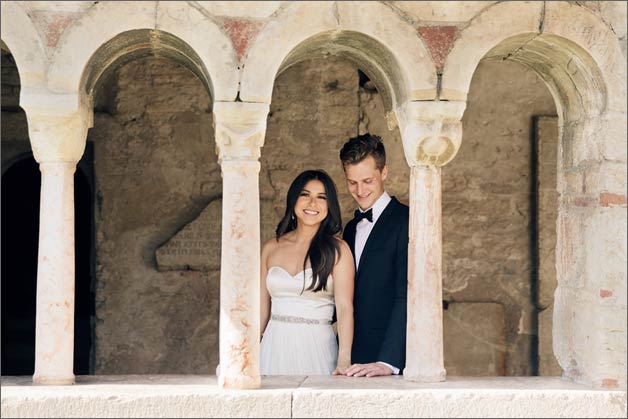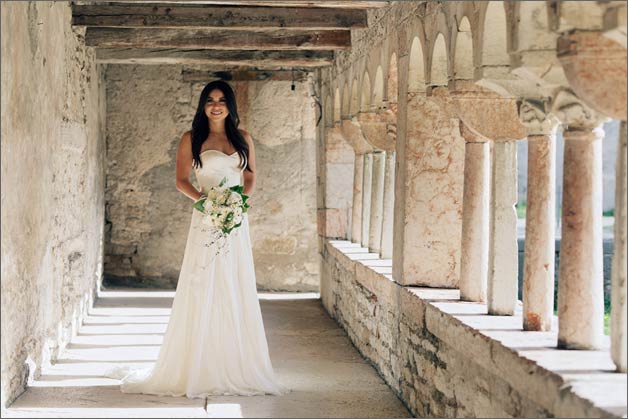 Punta San Vigilio, a leap back to the past on Lake Garda
Punta San Vigilio is a little peninsula on the Eastern side of Lake Garda. Here we can find an ancient mansion, a little church, a tiny dock and a park with a private beach.
A special wedding photo session for Kyle and Veronica! So many famous people in the past visited these ancient places. Punta San Virgilio still retains an enchanted atmosphere beyond the boundaries of time and space: a real dip into the past!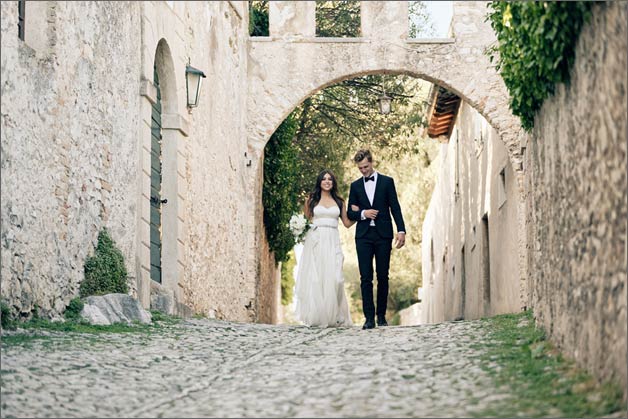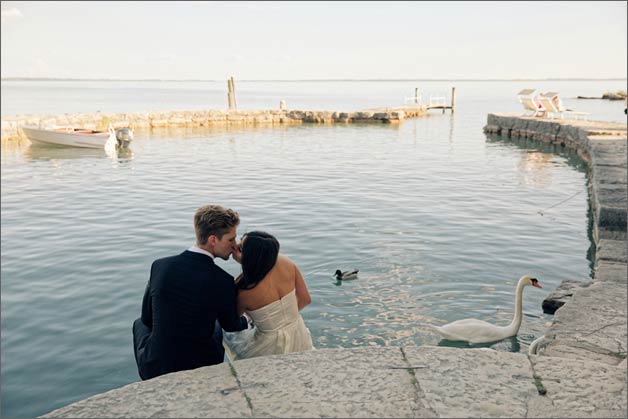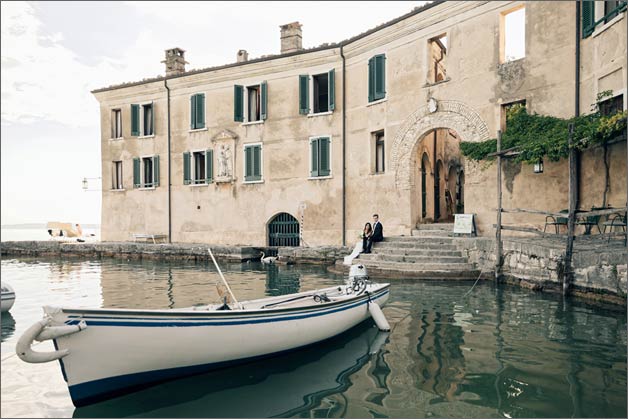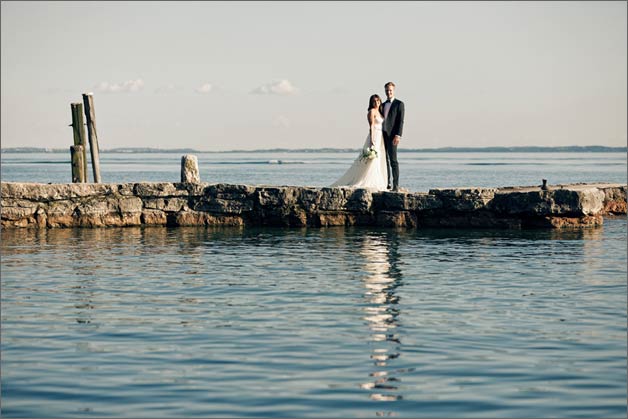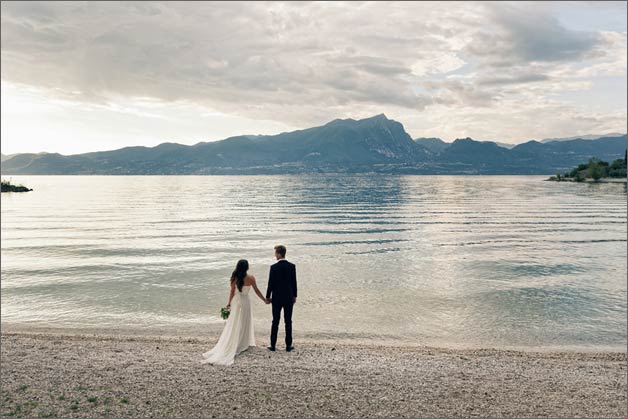 Lake Garda skyline on top of Mount Baldo
And after discovering the most ancient places of Lake Garda, Kyle and Veronica decided to to reach Mount Baldo to enjoy impressive scenery from the highest top.
Mount Baldo is located on the North-East side of Lake Garda. Here you can really understand how big Lake Garda is!
Mount Baldo is also called The Garden of Europe thanks to its wide range of plants and flowers.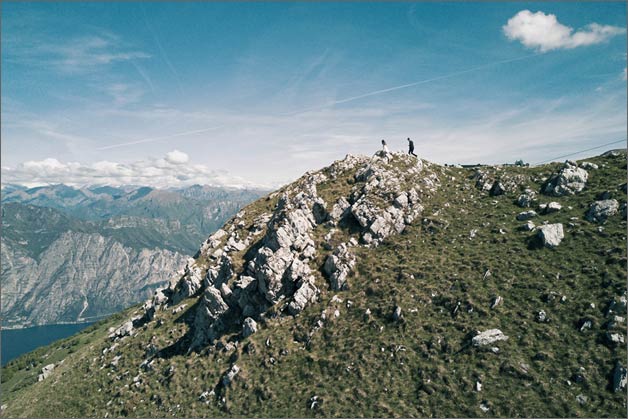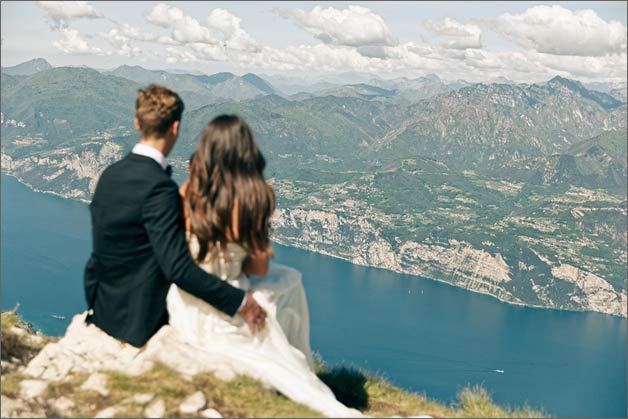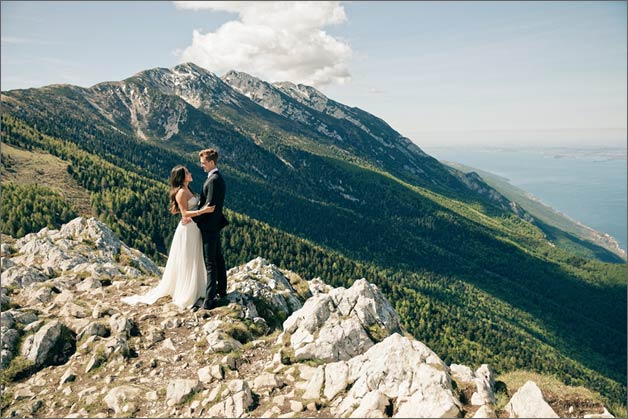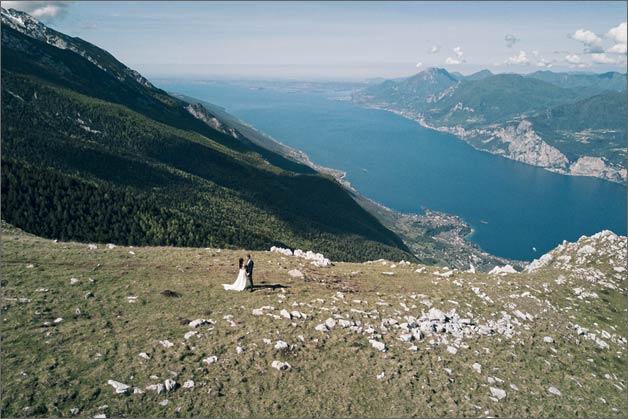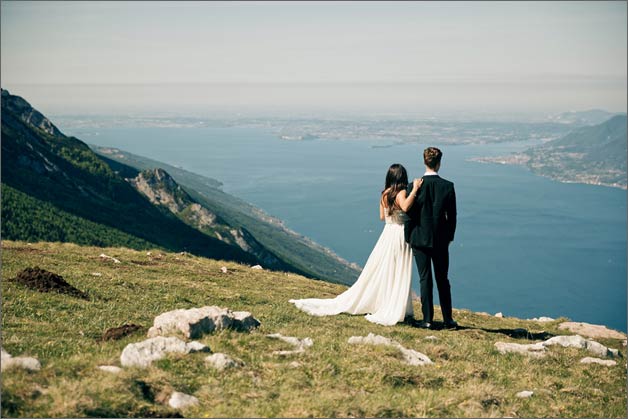 A delicious celebratory dinner with looking at Lake Garda
After wedding photo session, it was dinner time! What better moment to enjoy a local restaurant overlooking Lake Garda and taste some of the best dishes of Italian typical cuisine?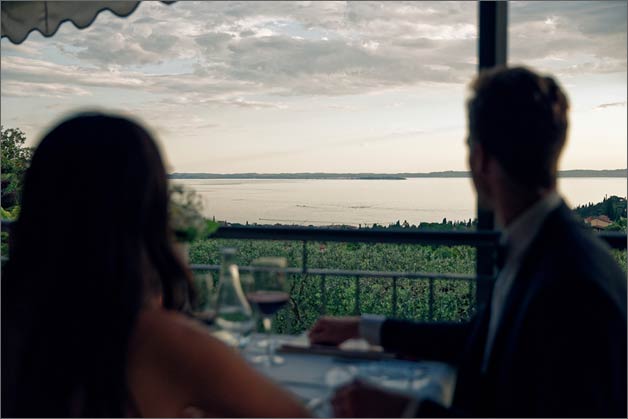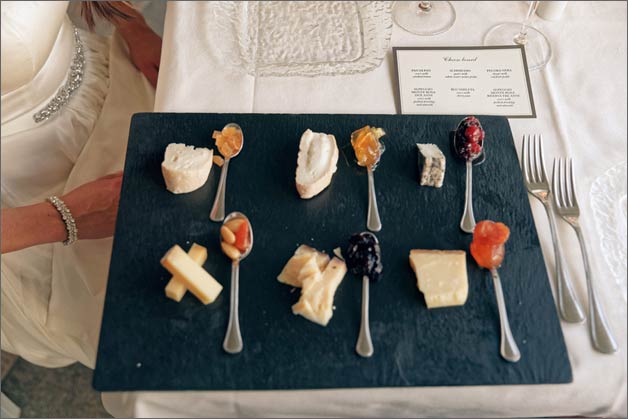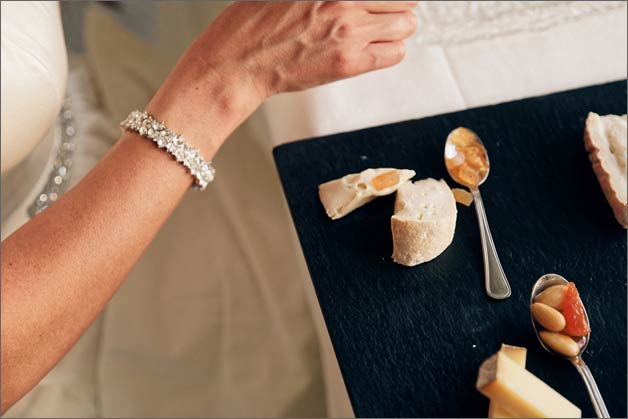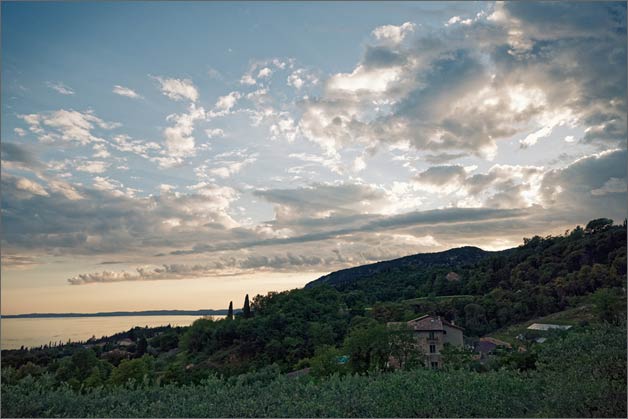 Kyle and Veronica's dream come true. The charme of Lake Garda enchanted them and we are sure they will keep this marvellous memory forever in their hearts!
A special thank you goes to David Christian Lichtag. A wonderful professional who took great photos to catch the essence of this romantic elope on Lake Garda.